Business experts claim that 80% of success is a merit of a wise investment. The mobile application market grows fast and brings more profit to entrepreneurs each year, that's why it's worth putting money in. This article is an app development cost breakdown for those who want to create a mobile application and are willing to find out about the approximate cost to build an application nowadays. It's also an outline of what exactly entrepreneurs pay for when they cooperate with freelancers or agencies and how they can save money for app creation in 2023.
How Much Does It Cost to Build an App?
The answer to the money question isn't straightforward because you need to add up all the factors that influence the cost to build a mobile app. The factors of cost to create an application that are going to be scrutinized further in this article are:
Targeted mobile OS;
Development team;
App functionality;
UI/UX design solution;
Programming technologies;
Project management;
Timescale.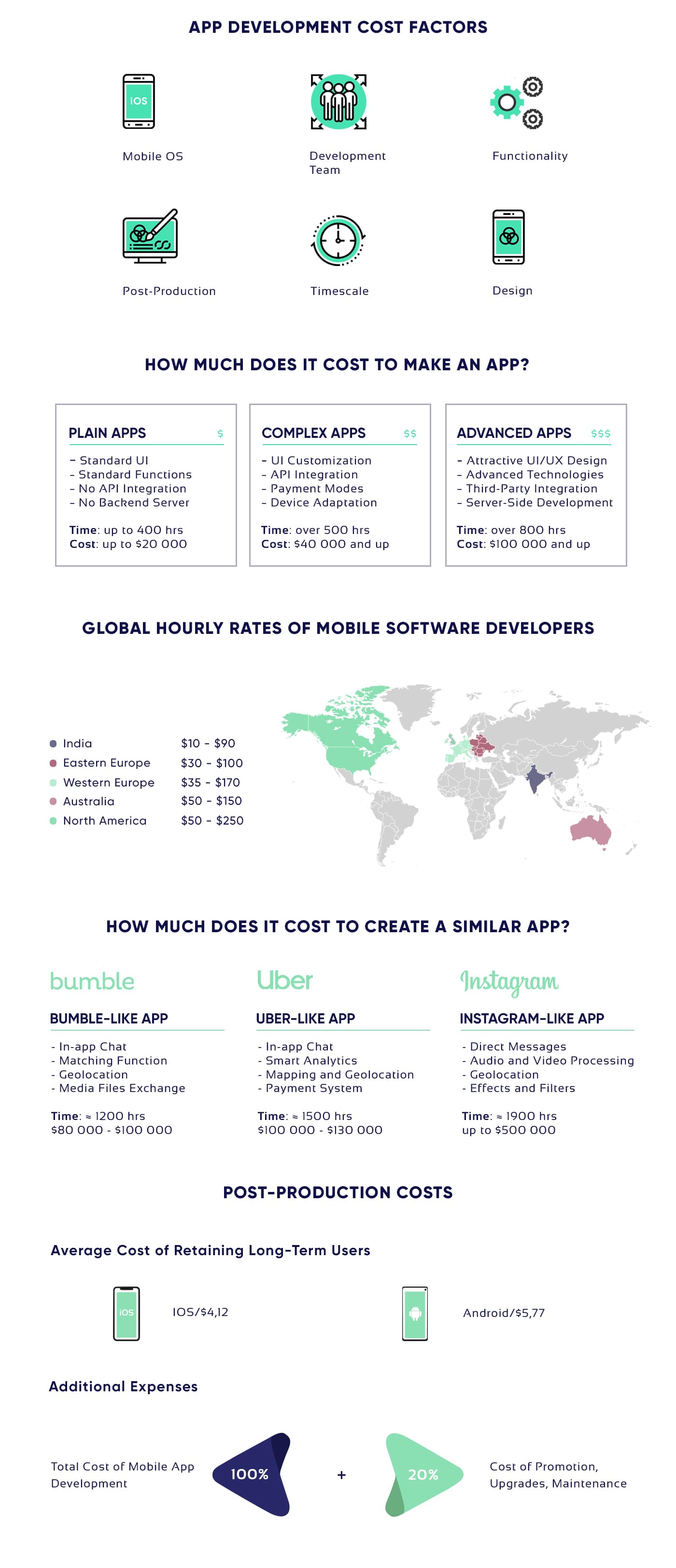 iPhone vs. Android Device Application
Targeted mobile OS affects the cost to create an app. The two most popular operating systems that compete fiercely to win the market are Android and iOS, that's why most apps are written for both platforms to engage a diverse audience. Android and iOS applications are written in different programming languages, which means you would have to do double work for double money. That's why it's recommended to choose just one of the two, especially if your budget is limited and the cost to make an app plays a major role in your business strategy. To understand which one would be good to start with, read the comparison below.
WHY ANDROID:
The open-source environment offers a variety of ready-to-use modules for almost any need, which lowers the cost to build an app;
Bigger share of Android devices on the market;
Android app development cost is lower;
The price for publishing on Play Store is $25 per year.
BUT:
Fragmentation is complicated because of Android OS functions on numerous devices, hence, there are more screen sizes to adjust to display UI correctly;
Even though the cost to build an application on Android is lower, the users are likely to switch to iPhone with time so iOS app development still is a necessity.
WHY iOS:
iOS is dominant in the countries with high-living standards that's why iOS users are known to have higher purchasing power;
Apple OS allows to pay less per long-term active user than Android;
Apple sets stricter policies on publishing apps to make quality a priority;
The more convenient OS in terms of fragmentation.
BUT:
The price for publishing on the App Store is $99 per year. Enterprises must pay $299.
iOS app development cost is higher.
Native vs. Hybrid Mobile Apps
Another factor that influences the app development cost is the type of application. Native applications are made for one particular mobile platform and written in the programming languages that are natural for that platform. These languages are Swift or Objective-C for iOS and Java or Kotlin for Android. Since native apps are meant for just one OS, they beat up the hybrid ones in terms of performance, but the cost to create an application is higher.
You can reduce the iPhone app development cost or create a cheaper solution for an Android device if you choose to make a hybrid application. It is a mix of a native app and a web platform written with HTML, CSS, and JS web technologies. They run on more than one platform, are easier to develop and maintain, but inferior in performance compared to native applications. However, they are the right choice for a startup because the cost to make an application is lower compared to the native ones. Besides, the development companies focusing on quality can create a hybrid app with a user experience that's almost equivalent to that of a native app. The React Native framework makes it possible to use hybrid technologies along with Swift, Objective-C, or Java components, thus, creating a native-rendered application. Consequently, nowadays there are ways to combine the lower cost to build an app with exceptional quality of the product.
Freelance Specialists vs. a Development Company
If to take the example of Upwork, the most popular freelance hub, an hourly rate of a freelancer makes somewhere between $20 and $100 per hour considering the qualification, location of a software engineer, and frameworks they use to write code. It is a very tempting cost to create an app from scratch these days.
However, if you have a full-time job and want to do some business on the side, it might be difficult to handle an extensive process of making the idea real. By hiring a development company, you get the advantage of collective experience under the leadership of a project manager. It means you don't hire just a couple of people from around the world to start working together, you get a unity of development strategists, managers, and designers who know how to organize their work. A reliable team always keeps clients informed on the progress to assure them everything is done according to requirements. Will the cost to make an app by the dev agency be higher than by a freelancer? Yes. Is it worth it? Definitely!
Development companies offer prices for their services depending on location, experience, and a number of specialists to work on a project. To let clients understand the proximate cost to develop an app, some companies offer to fill out a mobile app estimation template to count how much money you'd need to spend on their services. The cost to make an application varies depending on the full or part-time engagement in the project. Full-time developers charge less money because they have a stronger commitment to the project. Meanwhile, partial engagement may cause problems for both a client and a developer. For this reason, the higher price for part-time development works as encouragement.
In-House Developers vs. an Outsourcing Agency
The statistics represents the general stages of app development from most to least expensive development stages as of 2017. Up until now, the rates (and, as a result, the cost to build an app) have remained almost the same. The apps that involve advanced technologies like machine learning, NLP, and bots are on the top of the list with the rate of $150 per hour since it takes more effort and knowledge to integrate the AI features to an application. UI/UX design takes the second position on the list with an average rate of $100 per hour. The median cost to create an app, depending on the targeted OS, would roughly be $95. The bottom position on the list belongs to server-side and client-side JavaScript implementations. The average cost here is around $85 hourly. These figures are peculiar for developers based in the USA and Canada.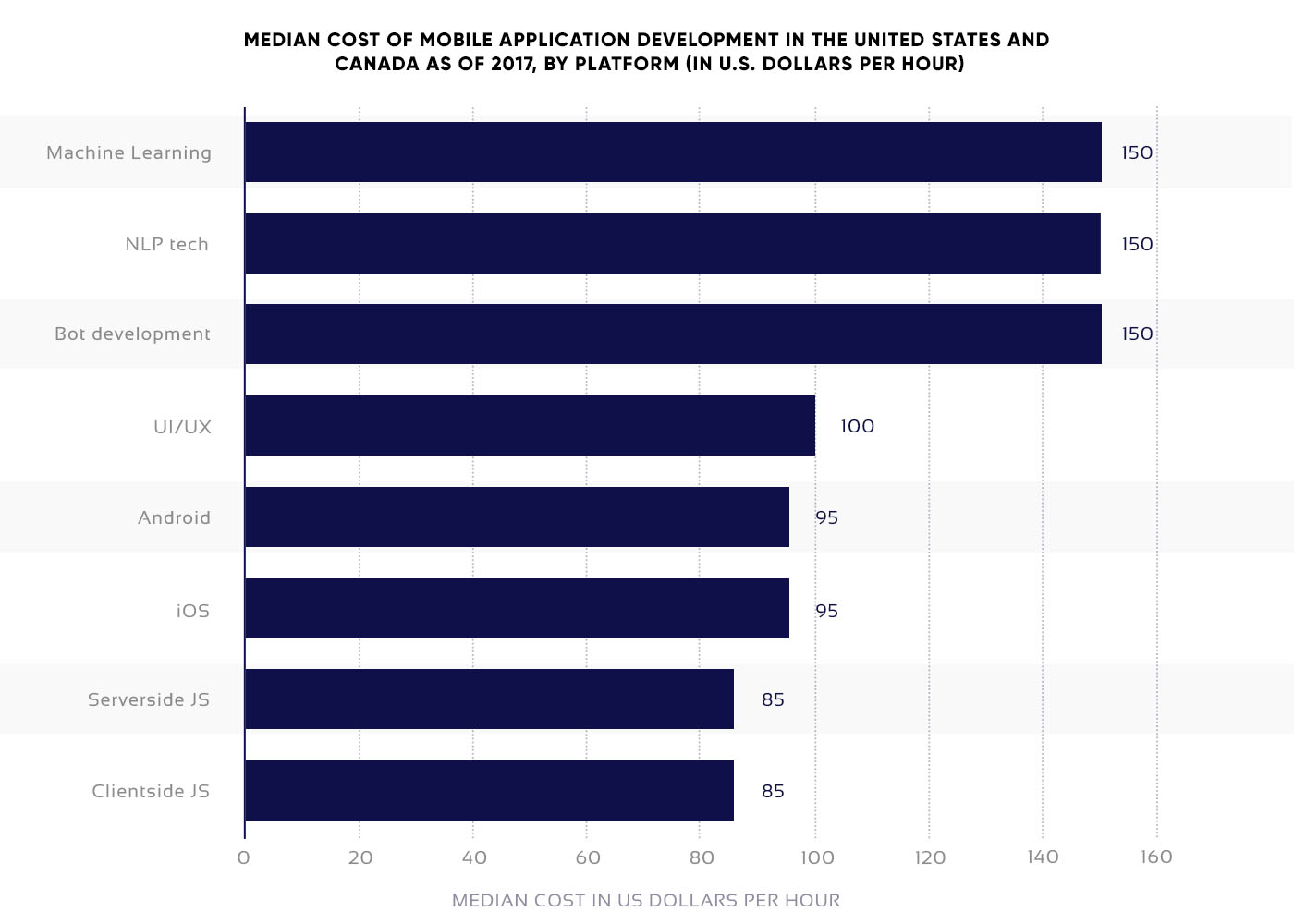 The most significant advantage for entrepreneurs who handle in-house development is the opportunity to control and follow the entire process of development by themselves. This option will influence the cost to make an app by increasing the expenses compared to outsourcing because additional money is paid for equipment, the needs of staff, etc. Even if the company has enough money to sponsor its own development team, they still prefer to outsource because of cheap Android app development and lower cost to develop an app using iOS.
Currently, the most popular spots for outsourcing are India and Eastern Europe, because companies out there make high-quality software at a low price. The average price for development in the US makes $50-$250 per hour, meanwhile, Eastern European engineers' fees range from $30 to $100 per hour based on skills. The leaders at providing the cheapest services worldwide are India with its $10-$80 per hour. To get more exact numbers, you can follow our detailed comparison graph on hourly rates of offshore experts by job title and qualification in our latest article on outsourcing. Besides providing information on the rates of each expert, it also describes the myths related to outsourcing web and mobile development and explains why they are untrue.
Simple vs. Complex Functionality
The number of functions and their complexity is a significant factor that defines the cost to develop an app. Simple apps have a basic interface, only core functionalities, and don't require any server-side development. Their development takes up to 400 hours of work. The cost to make an app like this would be around $20 000 and more with an Eastern European team of developers.
More complicated apps require UI customization, API integration, fragmentation, in-app purchases, and a server-side part. The time for development would be over 500 working hours. If to take a standard team with a team lead, project manager, 2-3 developers, and a QA, the cost to make an app would be about $40 000 and higher.
The trickiest apps that require integration of AI, databases, third-party integrations, audio, video, and streaming functionalities, advanced animations, social media features, real-time synchronization, etc. need over 800 hours of development, hence, they are more expensive. The cost to create an app then can be from $100 000 and above, and the cost to build an app in some cases may even exceed $1 000 000.
Standard vs. Customized Design Solutions
A primary user interface includes canonical buttons, pop-ups, drop-down boxes, forms to fill out, sliders, etc. that help users interact with the application. These default elements can be enlivened with the help of UI and UX designers whose job isn't just about "making it look nice." The burst of new technologies urged companies to compete for users' attention by creating convenient and unusual design solutions that get more human-centered each year. A designer now is both a researcher and a human behavior expert whose task is to facilitate user experience to make people stay on the app for long and buy products or use services.
Even though the advanced visual design technologies aren't that cheap, they pay off perfectly, so it's reasonable to get a UX architect to do the job. Depending on the qualification, the rates per hour of most UX designers around the globe are:
Junior UX architect - $19;
Middle UX architect - $37;
Senior UX architect - $67 and higher.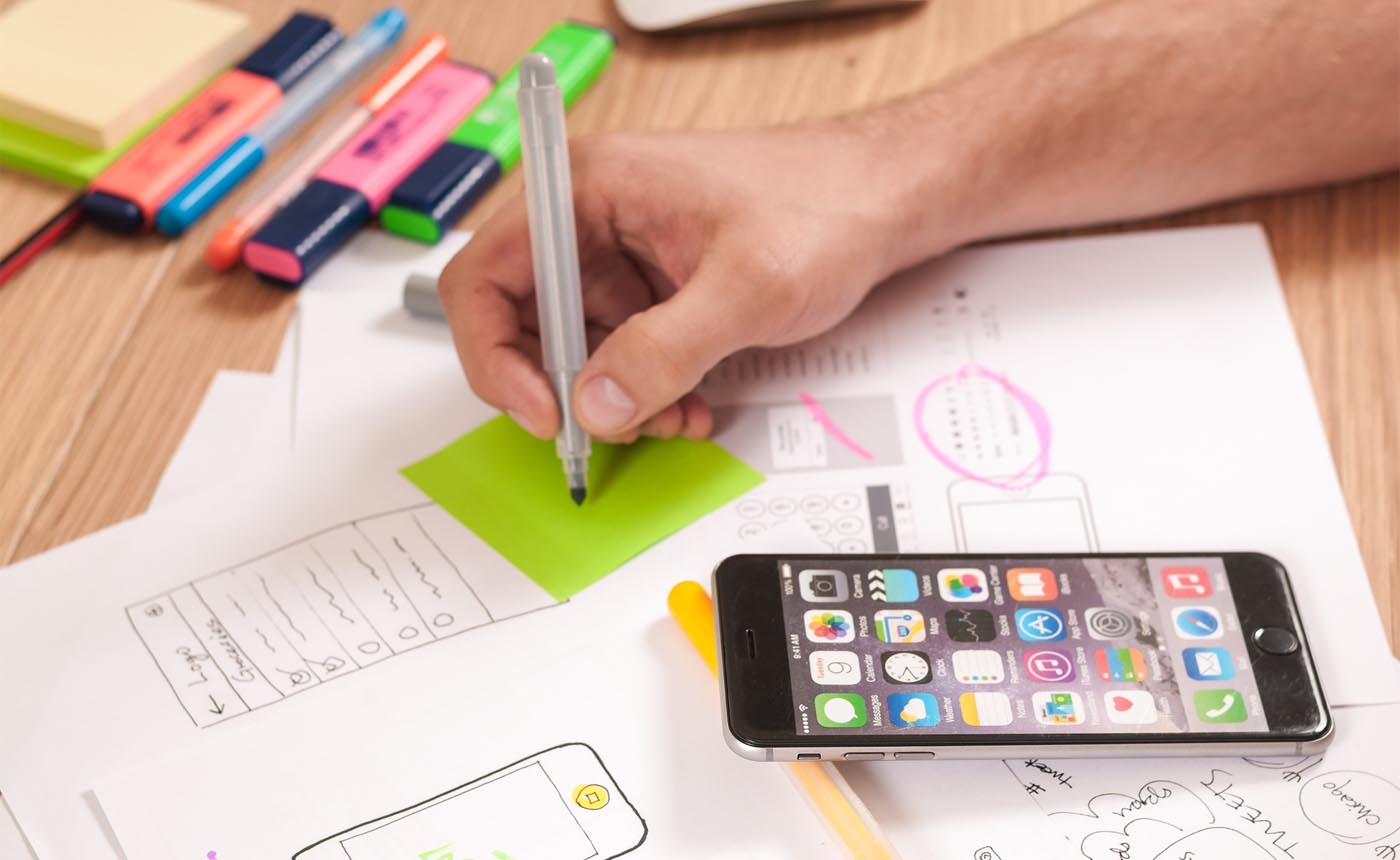 Fixed Price vs. Time & Materials Contracts
You can also select a model of cooperation with development agencies, which, in a way, will determine the cost to develop an app. A fixed price model implies that the cost to make an app is defined before the work starts and doesn't change throughout the process. At that stage, all deadlines are negotiated as well. Missed deadlines are completely the responsibility of the executors. A fixed-price contract is often used for simple or minor projects with limited functionalities that wouldn't require any additional work to be done after the release. The key characteristics of this model:
Fixed budget;
Fixed workload;
Fixed time for development;
No opportunity to make changes to the project after the contract is signed.
According to the time & materials model, the payment comes after some specific work is done. A company that offers this kind of cooperation is interested in providing a client with quality results to continue this cooperation in the future. The fundamental principle of work is dividing a project into smaller parts, tasks, and goals, and monitoring the progress at each stage.
Time & materials contract:
Suits well for complex long-term projects;
Allows to control and make changes to a project at any time;
Makes it possible to apply innovative technologies and try untested facilities in development;
May cause a change of the cost to create an app due to a flexible approach.
How Much Does It Cost to Make an App by Yourself?
If you know how to program, you can get the app done by yourself. Our world is full of talented indie developers who managed to create their projects from scratch having minimum money. A case in point, Kevin Systrom was a marketing specialist who decided to learn how to program himself, bearing in mind the idea of letting people check-in where they are through the app. He built the prototype named Burbn, found investors for its realization, and managed to raise the funding of $500 000 for his idea. The end of the story is in the great success of a platform that currently is the most prominent social media photo app. The only cost of that success was time. That platform is now known as Instagram.
You can make a basic mobile application from scratch via a mobile app builder. This option saves around ½ of the cost to build an app offered by developers. You just register online and select the type of app you want to create and pick a design from a list of templates that fall into different categories. Most ready-to-use interface patterns offered by such programs are far from trending but suit well for a simple app. Keep in mind that the result will be as follows:
"Raw" application with generic characteristics;
No ability to further change or update the app;
Standard user experience.
Any builder is a platform that's easy to find online and usually suits well for MVP (Minimum Viable Product). MVPs have only core functionalities and are often used to check how the audience would react to the idea of an app. Online constructors allow creating only non-native apps that aren't a software product in its classic meaning.
How Much Does It Cost to Start an App?
Suppose you decided to choose a development agency to make an application for you. To figure out the total cost for app creation, you should pick a payment model that suits best for your business, companies can offer a fixed price or time & materials payment model. Since you've already reviewed the approximate prices for development services, consider the price for quality assurance before the release of your product and money for promotion, maintenance, and updates after the software is ready.
Mobile App Testing
Tricentis.com reports that in 2017 about 300 companies representing different segments of business lost more than $1.7 trillion in total because of bugs, usability, and security issues occurring in their software. In order not to pay twice for fixing flaws that can be detected and undone at early stages, software and UI testing are needed before the release. The exact price of the QA services is difficult to measure since they vary around the world and are based on the challenges posed for an expert. The rough average rate of QA testers in Eastern Europe makes $15-$25 per hour, depending on a company, skills, and experience.
Post-Production Costs
Nothing ends up with the release of an application. Once it's on Play Store or Apple Store, you must keep an eye on how your app's working, provide users with new content and improve goods or services you offer based on the activity and feedback of your audience. The main point of budget management here is to allocate at least 20% of the total cost of app development for promotion and maintenance. So, if you plan to spend $60K, be ready to spend at least $12K to maintain your software. Apart from making a modification to the software, you'll need to provide relevant updates on your application to fill the need of the customers and keep your business competitive.
Conclusion
The words "high quality" and "low cost" seem unrealistic when put together, but that's exactly what we expect to get when buying any goods or services. Saving money and making a high-quality mobile app is possible with a thorough analysis of current prices. There are three options of how you can save money when developing an application:
freelance workers;
software engineering agency;
you.
If you decided to develop software by yourself, what you invest the most is your patience and time to acquire development skills. If you lack time for teaching yourself how to program or don't want to do it, freelance experts or an offshore company can do it for you. By hiring a foreign company, you wouldn't have to rely entirely on your project management skills because you get a team of professionals that has acquired productive teamwork experience over the years.
On the whole, the creation of a basic app is up to $10K, a medium complexity mobile app will cost around $40-70K and the most complex apps would need a 6-7-figures sum of money to be invested. Still, these costs are approximate sums that can vary according to the number of features, incorporated technologies, experience, and size of a team of software engineers. If you are interested in the accurate value of IT services, feel free to contact us and get more information on starting, managing, and allocating costs for your project.