Last updated: Aug. 2, 2019
IT services outsourcing is a widespread practice among companies of all sizes for a valid reason. Such practice is beneficial in many ways, and despite the fact that it has both advantages and disadvantages, outsourcing is a better choice than creating your own software development department, especially if your company doesn't need it on a regular basis. On the other hand, if you have a development team, outsourcing some tasks can upgrade the skills of your specialists and open new horizons for the entire company.
Outsourcing services have certain benefits and risks. However, the better development team you pick to work on your project, the more advantages you'll get and the less number of risks you'll face while cooperating. Below are the main reasons to choose a distant company for application development outsourcing or getting any other professional software.
What is Information Technology Outsourcing?
Information technology outsourcing means hiring a party outside (an outsource company or an individual freelancer) to perform such services as consulting, software design and development (desktop, web, mobile), quality assurance, product maintenance and support, etc.
Software outsource became a common business practice for companies over the world. Many startups and large corporations have a long-lasting fruitful collaboration with outsourcing software development companies, and 67% of companies state that they will continue this business practice.
According to Statista, the outsourcing services market will face revenue increase each year, and by 2021, total revenue is expected to approach $100 billion. This number indicates that outsource development will be in even bigger demand.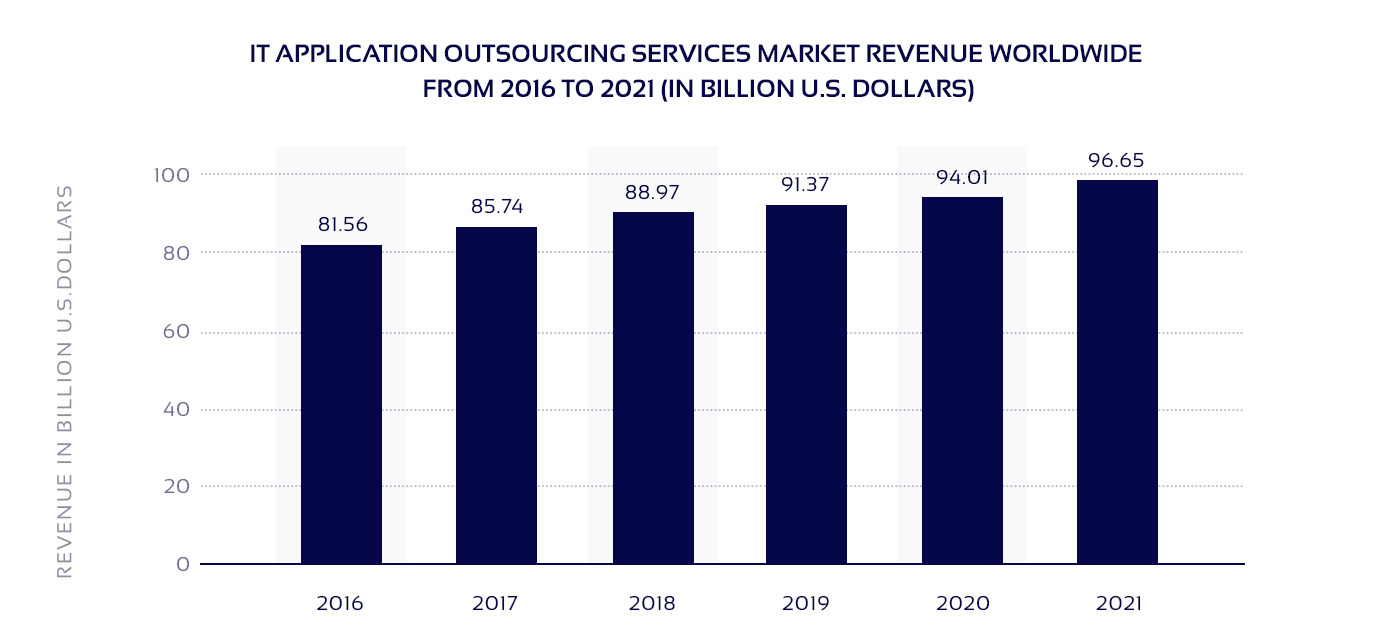 Types of Software Outsourcing
Despite the variety of names, all types of outsourcing services have many things in common. They all imply hiring one person or a team that doesn't relate to your company to handle your software or business tasks.
Depending on distance, there are three main types of IT services outsourcing:
- Onshoring
Onshoring means delegating some IT services or other business processes to an outsource app development company located in the same city or country. The main benefit is smooth communication between a company-client and a development team.
- Nearshoring
This type of IT services outsource implies that either both companies are located in the same time zone or the difference does not exceed 2 hours. Commonly, such close location implies a cultural crossover share and includes certain advantages for the company.
- Offshoring
Usually, the time difference between two companies is at least 5 hours, and by choosing to offshore software development, a company benefits from getting a good-quality product at lower costs.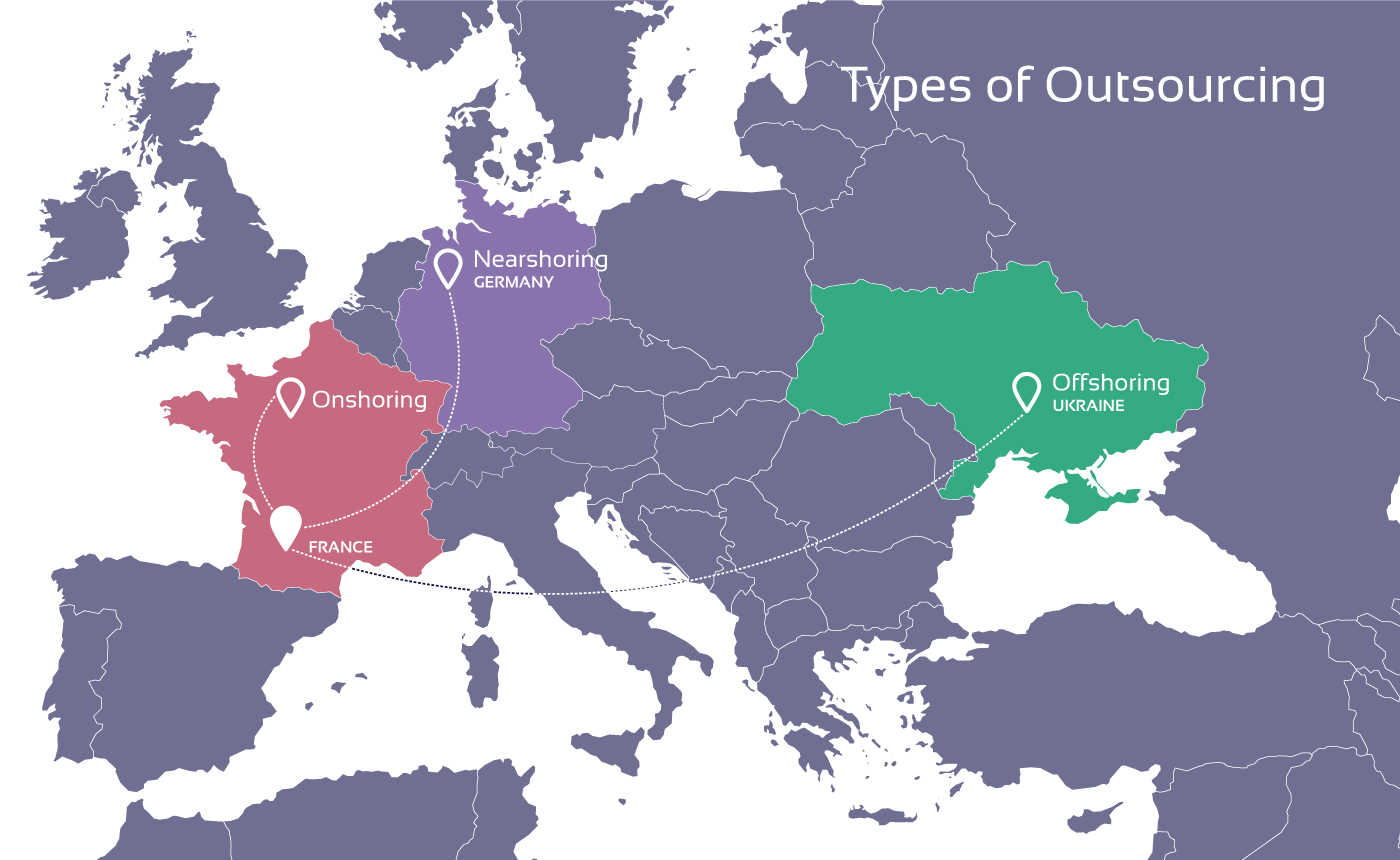 Information technology services like software development and support need resources and their quality depends on the development team. Having a personal IT department is not a necessity and is more of a luxury, which is why many companies use any opportunity to outsource web development and other services.
IT Outsourcing Models
Once you've decided to outsource your software development processes, you need to think of what model to choose to be sure it is most efficient and cost-saving for your company. Outsourcing business models can be divided into cost and staff categories.
In case if you're more interested in the financial side of outsourcing your processes, you can consider:
- Fixed Cost Model. This model offers your project many advantages if your project has short fixed deadlines, you already have a detailed specification, and plan to make no changes.
- Hourly/Time and Material Model. Since flexibility is always good for business, this model will suit you perfectly if you know that your idea is innovative and raw. In this case changes in workflow and a flexible budget won't hurt your project.
- Dedicated Resource Hiring Model. Complex projects need dedication from all engaged specialists. So if you're looking for a long-term collaboration and plan to expand your project and business in general, this model will make you pleased with its high effectiveness.
See the financial IT outsourcing models comparison below: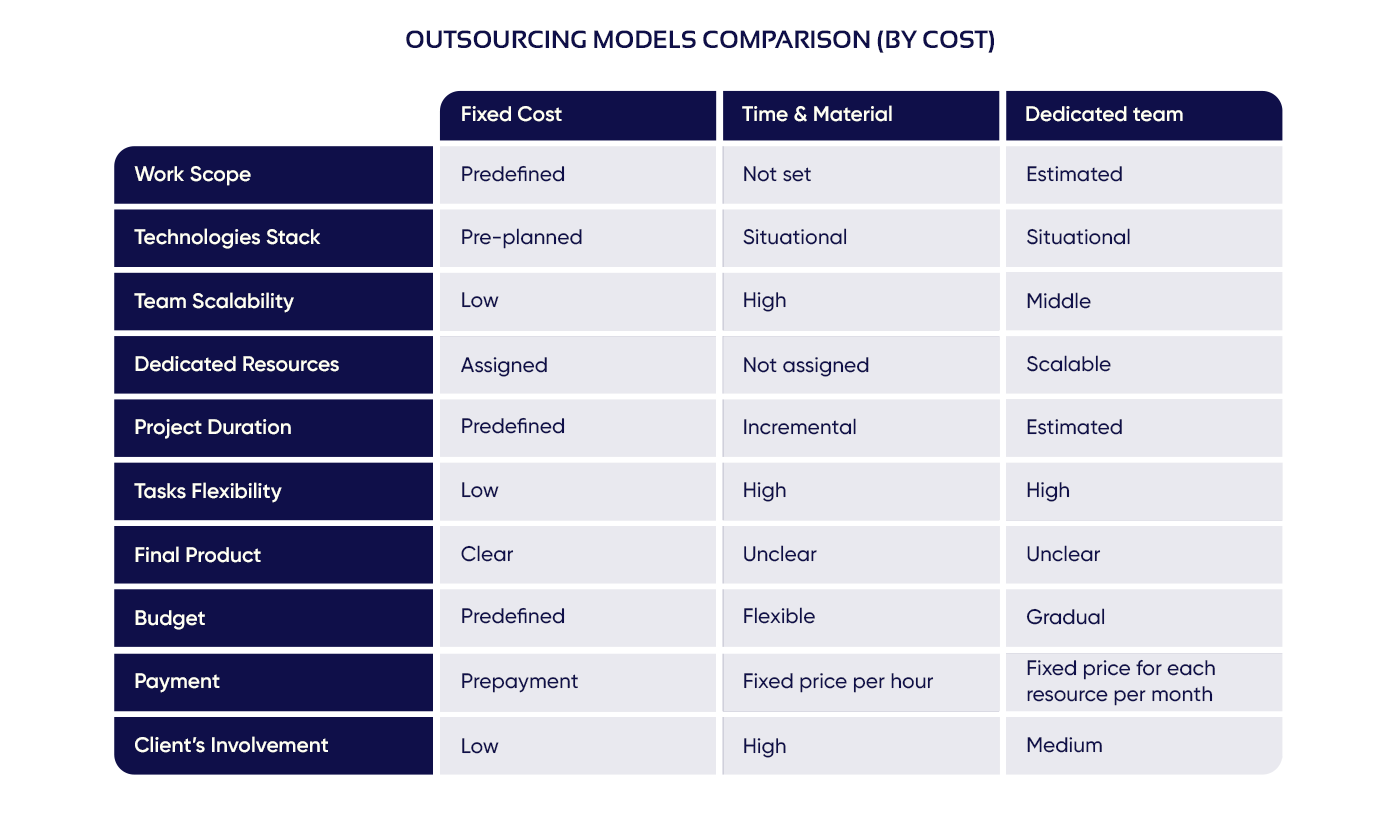 Staff-oriented outsourcing models cover the variety of business fields and include:
- Staff augmentation. Allows adding a professional to the team without spending time and in-house recruiting resources.
- Managed team. Makes possible to get a team that specializes in a specific business or technical area, yet remain being the center of decision making and other processes.
- Project-based. Helps to get a fully-functional product without spending the company's management resources on its development.
Consider the comparison table of staff-oriented outsourcing models.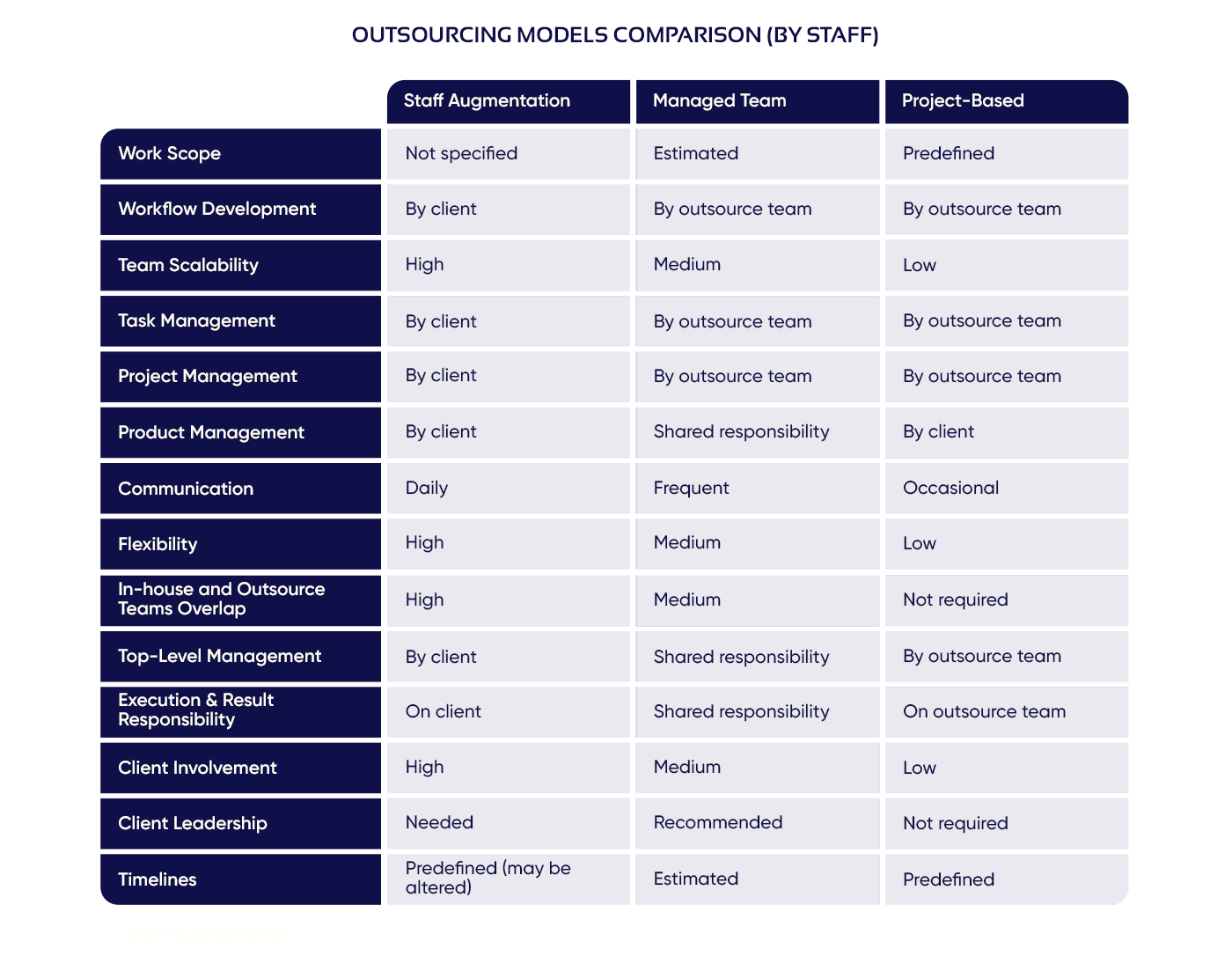 Why Outsourcing IT: Main Benefits
- Cost Reduction. Delegating software development processes to a third party saves plenty of company's resources. The reason why do organizations outsource some processes primarily lies in lower labor costs and other money-saving advantages in the outsourcing location.
- Time Saving. The speed and quality that come along with saving costs are among the main benefits of outsourcing IT services. Since your product is developed by skilled professionals, you don't need to spend time seeking, hiring, and training people for your project. You just tell the third party team what you want and need to get, and they start working on your project with no delay.
You will get your product a lot faster in case if you hire a good development team that includes QA and PM specialists.
- Professional Experience. In case if you manage software product development outsourcing wisely, you can find real jewels in the field of IT solutions. People who are both talented and have enough experience provide better services in a shorter amount of time. Working with professionals is always a pleasure, isn't it?
- Advanced Vision and Insights. Since development teams create software for companies engaged in different industries, they look at the task from perspectives you don't even know they exist. These specialists are very likely to bring valuable ideas into your software and make it unique as well as most efficient.
- Fitting Technology Usage. Professionals always know what stack of technologies is best to use for each project. Most important, they understand what technology should not be used to avoid hidden expenses occurrence in the long-term perspective. This reason is usually enough to answer the question "why outsource your IT services to a third party."
- New Perspective. Companies look at their software product only through their business objectives while any outsource development team will advise you to look at it from other perspectives as well. For example, software development specialists will point out flexibility flaws if they exist, check all features and logics from the user experience perspective, and can apply some changes based on predictive analytics.
- Reduced Risks. When you know for sure that your software is developed by a team of professionals, you can be sure that everything will go smooth on the development stage and will stay smooth after software is launched. It is difficult to eliminate all low-cost software development risks. However, if you outsource this business task to a team or a company instead of staying with only one freelance specialist, they will handle the majority of occurring problems by themselves. So, you will do nothing but enjoy the result of their work.
- Quality Based on Motivation. Since software developers are still in demand as specialists, they have no lack of work and are motivated to finish your project with no delays. In addition, they are motivated to create software products of the highest quality because once a company's name is associated with quality, this reputation is very likely to work better than any advertising campaign.
- In Tune with the Trends. New development technologies such as programming languages, libraries, frameworks and other come too often and what was widely used a year ago may not be used tomorrow. By choosing a software product outsourcing, you get specialists who are always in tune with current and future trends. Most important, they understand where to use a well-known traditional technology, and where to apply a new one to achieve the best result possible.
Outsourcing IT: Pros and Cons
Just like everything in this world, large, middle, and small business IT outsourcing has its advantages and disadvantages.
The main benefits of outsourcing information technology services are:
No need in hiring employees;
Lower labor costs;
Full control of expenses;
Access to innovative technology experts;
Risk mitigation;
Increase of focus on your core business processes;
Top-quality equipment;
Advanced knowledge database;
Professional advice on software optimization and improvement;
Enhanced project security;
Viable and competitive business product as a result;
Post-launch maintenance.
However, the main drawbacks of outsourced software product development are:
Communication issues (time zones, language skills);
Hidden costs;
Problems with quality;
Possible differences in business philosophy;
Data theft risks;
Low development speed and quality;
Failure to keep up with the deadlines.
Even though the mentioned reasons against relying your IT worries on a software development outsourcing company are valid, they all are easy to eliminate. All you need is to choose a proper outsourcing model and get a well-prepared contract that will cover consequences for data theft, failure to complete tasks on time, inability to adjust the schedule to your timezone, etc.
Why Outsource Programming to Ukrainian Developers?
Specialists living in Ukraine are well-known for their hard work, dedication, and motivation to be among the best ones at what they do. Each country has hundreds of skilled software development professionals, but consider these bullet-point reasons to choose the ones from Ukraine:
Big number of highly-skilled specialists.
Low labor costs.
Extensive knowledge of English.
Time difference flexibility.
Constantly growing IT market in the area.
Steady and favorable economy.
Growing number of IT graduates, and more.
To Conclude…
As a company that provides digital solutions across the globe, we invite you to check out our Case Studies to see why outsourcing IT services is always a smart idea for companies of all sizes.
Among other things, a good reputation in business depends on the quality of software. That is why all digital compounds of your company must be user-friendly, bugless, and most efficient. If you need a website, a mobile application, complex CRM platform or any other digital product for the internal or external use, don't hesitate to contact us and get the one that would fulfill your company's needs.