If you're reading this article, you've heard of some myths and risks associated with outsourcing. To help you find out where they come from and decide whether to try to outsource development or not, here we cover what software outsourcing is, define the signs of reliable and unreliable companies, explain the risks and debunk the biggest myths gathered around outsourcing.
What is Software Outsourcing
Software outsourcing is trusting the development of a website or app to the team that can do it for you outside your company. It has become popular for quality, costs and time-saving reasons and usually involves project work or tasks requiring finalization when it cannot be done in-house. Sometimes large companies get backup from the company abroad on a regular basis.
Signs of Efficient Offshore Development Team
If you're looking for an offshore development team, you must conduct careful research on different outsourcing companies. Look closely to their websites and find feedback on their performance. A dependable team focuses on:
Making clients' demands possible. As soon as all conditions are settled, your software development company serves as a third party that knows well about the needs and goals you set for how an application should operate;
Providing clear policies and conditions of cooperation. At the negotiation stage, a company prepares documentation containing the provisions on the control quality inside the company and the client's ability to monitor how the company meets its legal obligations;
Ensuring the delivery of a quality project on time. Providing masterful performance is in the best interests of an outsourcing team because by getting positive feedback a company can broaden its client base and, thus, get more projects to work on.
Red Flags of Working with Offshore Teams
If your only purpose is to find a cheap software developer, you should know there's a risk to come across a fraud. So think wisely exploring what the companies let you see about them. Check whether the company provides the address that can be legally confirmed. If you catch mismatches in work statistics or numbers given on the company's website, you're most probably looking at scammers or beginners. Those mismatches generally are:
Fake numbers, e.g. too many hours added to their work time or excessive number of clients they allegedly had;
Fake client feedbacks, all excessively positive, looking unnatural and you can't find a proof that a person is real by googling their name or job title;
No clear picture of their corporate life or how company representatives look like;
No case studies, thus, no proof of experience.
The last point on that list is the most decisive. Suppose you need to outsource iOS app development or get improved features for Android. To do it, you may need to explore Case Studies of the company to find out whether they've already had the experience you needed.
Explaining the Risks of Outsourcing
To know how to outsource app development with no loss for your business, you have to know the potential risks. The signs of a bad outsourcing decision would be:
Lack of clarifying questions. This leads to the risk of poor quality. By asking questions and putting objections a professional outsourcing developer wants to make sure that you get the desired result and their work on the project goes smooth.
Inability to predict possible software development risks. This inability will result in worse timing to deliver a project because the time would be wasted on solving problems that caught a team off guard.
Privacy risks. Your outsourcing partner must provide guarantees that the data gathered about your company will be kept safe. This can be avoided by making an agreement and following legal procedures during the negotiation.
Myths of Application Development Outsourcing vs. Reality
A simple misunderstanding and lack of experience caused some myths around outsourcing. That is why we gathered a list of popular disbeliefs and disproved them.
Myth #1: Outsourcing isn't that cheap.
Assumption: Companies in different countries that offer outsourcing development have different prices for their services and it's difficult to predict costs for possible additional services.
Reality: To let clients know how much money they would need to invest, some companies offer a full estimation of costs for their services. The total cost is defined according to the peculiarities of your project. To get an insight into the lowest hourly wages for services overall, look at the picture below. It shows that the countries of Latin America, Eastern Europe, and Asia are the most attractive outsourcing destinations of $25-40 depending on the seniority of a particular specialist. This makes three to four times less money for development services comparing to North America. This gap comes from the diverse economies in the countries under review.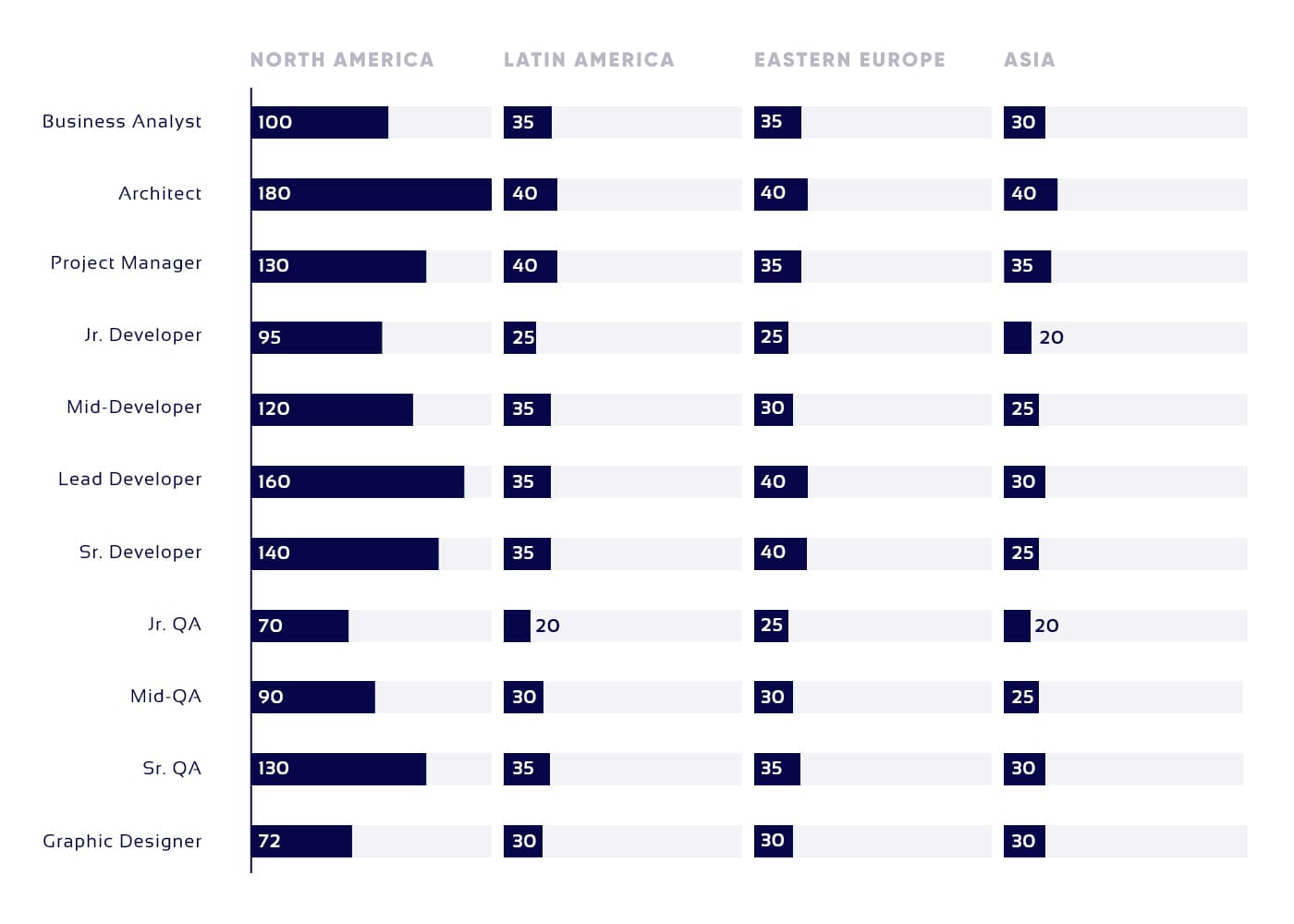 Myth #2: Outsourcing companies provide low quality of service.
Assumption: Low quality comes from the low cost of services offered by outsourcing companies.
Reality: What causes outsourcing is exactly the possibility to provide higher quality due to advanced programming skills for three times less money. Developers in top cheapest destinations in Eastern Europe get enough money for comfortable living in their home countries. Consequently, their motivation goes up, and the quality is on the same high level as that of their Western neighbors.
Myth #3: Outsourcing is unsafe.
Assumption: Companies are concerned about their private data to be fully disclosed.
Reality: Apart from conducting software development risk assessment, both parties work on drafting and following a software outsourcing contract and an additional NDA document. An NDA contains the provisions on how your private information would be treated and concealed.
Any reputable company must ensure a strict security policy for access control and Internet-connection monitoring for confidentiality reasons. Such policies allow getting leak-proof traffic that includes, for instance, checking instant messaging or emails on sensitive data disclosure. All financial information must be protected with the keys forbidding access to everyone except the keyholders. A reliable outsourcing company always cares about keeping it private, because the established trust will allow them to keep in touch with their clients for further cooperation.
Myth #4: You cannot take control of what's happening with your project.
Assumption: Many people are afraid that they wouldn't avoid software project risks, because they wouldn't be able to see how offshore development companies manage their project.
Reality: A reputable outsourcing firm ensures that a client will get timely reports on the work done and show the results any time if needed. They also know about the importance of project specifications and ready to hand them over upon the client's request. Both parties can communicate with each other using instant messaging, video chatting or other apps. For this purpose, companies also use Agile software development that specifies three rules:
People and relationship are more important than tools and procedures;
The product that actually works is more important than paperwork;
Readiness to make changes is more important than sticking to the initial plan with no right to decline.
Note: The Agile approach is about trust, mutual understanding and the ability to negotiate. Clients give the instructions and programmers get all technical job done, thus, if you don't know the nuances of software development, you better rely on choices offered by professionals.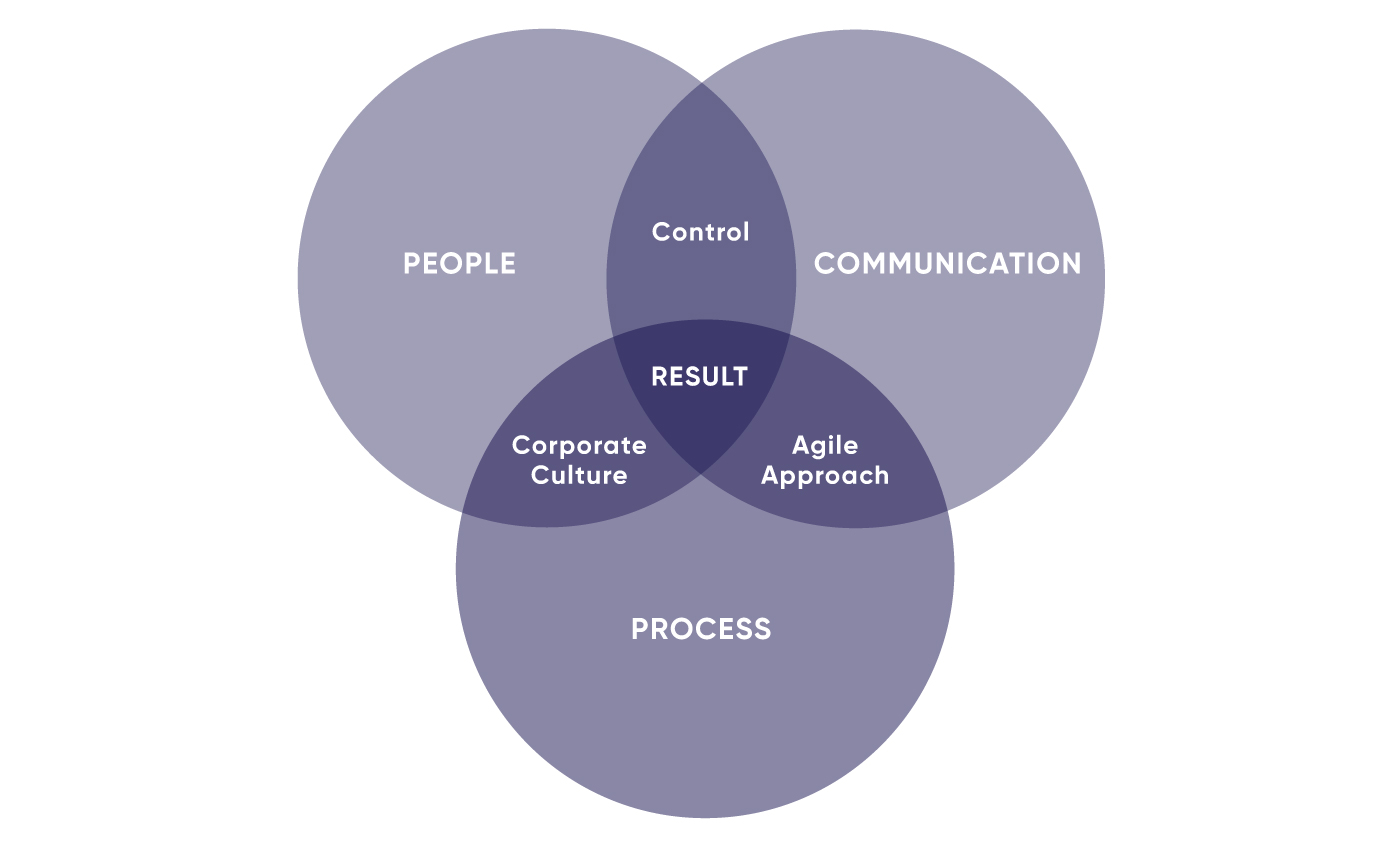 Myth #5: Time zones can be an issue.
Assumption: Many of us may wonder why outsource software development, if controlling someone at a distance seems way harder than controlling an in-house team.
Reality: First, the Agile approach to business solves the issue with deadlines. Second, specialists work on your project round-the-clock. Let's say, your company is based in the US, which gives you the minimum of 6-hours difference with Europe. By transferring a part of the work to the professional team overseas and combining insource practice with the outsourcing, your project is continuously under the development. Should any bug take place, specialists are able to fix it 24/7. It's also normal practice for specialists to adjust their working hours to the client's schedule.
Myth #6: Cultural differences can lead to misunderstanding.
Assumption: Before deciding to deal with people who live in a completely different environment, you may be concerned about the cultural pattern of communication or a language barrier.
Reality: Many branches of business move forward to broadening their influence globally. When it comes to foreign business, the focus is on personal and corporate communication rather than cultural aspects. Hard-working nature, straightforwardness, and attention to details make Eastern European people more open to challenges, so this collaboration would be solid and result-seeking. Besides, all specialists at Ukrainian outsourcing companies speak fluent English, so the language barrier is never a problem.
Myth #7: Small business owners don't practice software engineering outsourcing.
Assumption: Only medium-sized and major companies can afford offshore enterprises to do the work for them.
Reality: Since small businesses usually struggle with limited resources at the beginning, they often take advantage of outsourcing. First, assigning non-key functions to the companies overseas lets small business owners focus on other ways of making their business more competitive. Among other reasons for offshoring, there's a considerable cost cut, because of low property, maintenance and labor prices, which pays off perfectly with time. According to entrepreneur.com, many tech startups outsourced the development of their products:
Skype worked closely with Estonian developers and now is the most popular video call app;
The development of Github was done by freelance developers from all around the world;
Slack owes its $3 billion value to a designing firm that managed to create a logo, website, and app.
Conclusion
Myths of outsourcing appear because of a simple misunderstanding of what it is or on the basis of a previous failure working with unreliable companies. In the past, there weren't so many outsourcing development teams and their experience wasn't as vast as now.
Today, outsourcing companies understand that if they make these myths come true, they may cease their activity fast. If you're looking for a reputable company, but don't want to lose your time and money for searching, contact us to trust your project to professionals with years of experience in the software development field.