Today, eHealth comes in many shapes and forms that are welcomed and actively used by the general public. EHR systems, telemedicine, online pharmacy app development, AI-powered clinical decision support solutions, and even robotics are no longer perceived as something weird, potentially dangerous, or untrustworthy. On the contrary, people are mad keen on the idea of receiving all the needed medical services without having to face the inconveniences that usually come with that. And the growing popularity of ePharmacy proves that supremely well.
The following editorial will approach the subject of pharma app development from business and technical perspectives. You will find out all the information that will help turn a promising business idea into a fully functioning, market-ready online pharmacy.
Business Benefits of Creating a Custom Pharmacy App
When it comes to healthcare, a modern entrepreneur willing to enter the market with some kind of digital product has dozens of options to choose from. So why should you consider specifically online pharmacy app development and not another type of application? Because there are several perks that come with placing bets on this kind of software.
It brings actual value
A 2021 Global Survey by FIP showed that two advantages people appreciate the most regarding online pharmacies are increased access for patients and convenience. And we're talking convenience not only for the patients but for the medical professionals as well.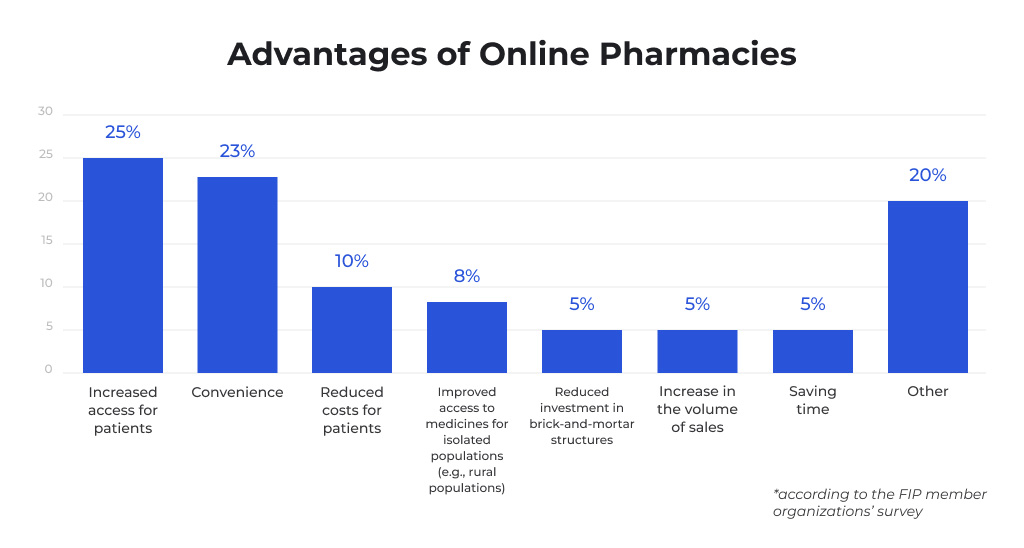 Above all, pharma app development is worth investing in because it solves a specific real-life problem — makes it easier to access a certain healthcare service. This means that people are willing to use these apps if they are done right.
The audience is loyal
This one is a logical extension of the first benefit. Unlike gaming, entertainment, or even educational apps that get removed and then replaced pretty quickly (once the user gets bored or too busy), medical apps have a very loyal audience. It sometimes can be challenging to find an app that "checks all the boxes" (e.g., delivers to your area or has a decent number of pharmacies represented). But typically, once the user finds that perfect match, it stays in their phone forever.
The business owner, in this case, has to reap all the benefits that come with having a loyal audience: the ads are more effective, the revenue is stable, the profits are higher, and there are more opportunities for growth and scaling.
It helps cut costs & improve workflow
Online pharmacy app development is the most effective way to streamline management processes and workflow for any company operating in the pharmaceutical market. With a well-thought-out intuitive app, the staff doesn't have to spend hours updating inventory levels, adjusting the stock, and tracking expiry dates. All of those tasks are automated and take less than seconds to be done.
Digitalization also drastically decreases the expenses required for keeping up with all the paperwork and significantly lowers the human mistake factor. All of this, in its turn, contributes to Healthcare Improvement's Quadruple Aim model established by FIP.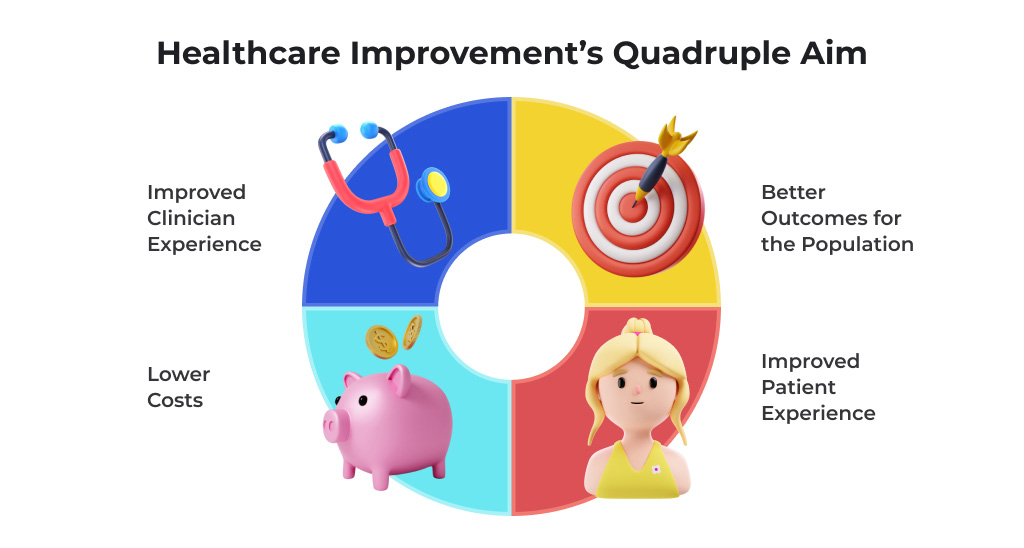 More marketing opportunities
One of the best things about custom pharmacy app development is its flexibility. The business owner isn't limited to a rigid framework and is free to add as many unique/useful features as they want.
Of course, it's still vital to stick to the principles of simplicity and smooth user experience, yet, there's no doubt that custom software has higher marketing potential.
For example, by introducing AI/ML algorithms into the app, the entrepreneur gets access to valuable insights and is able to study the customers' behavioral patterns carefully. As a result, a smart recommendation system can offer visitors complementary goods and/or services (tests, vitamins, care products, etc.)
Developing new markets is easier
When trying to develop a new market, it might be hard for a new player to compete with well-established brick-and-mortar pharmacies in a specific area. Going digital is a recipe for success here. By investing in high-quality online pharmacy app development just one time, an entrepreneur receives a powerful tool that helps them attract a larger audience that may not have been available geographically, socially, or economically.
Will Pharma App Development Be Sought-after in 2023? Market Overview
Is knowing that some business idea can be potentially profitable good enough for an entrepreneur to start spending money on its implementation? A thorough market analysis is extremely helpful when there is much at stake.
So what is the current market situation and the future of online pharmacy app development? This is exactly what we're about to focus on in this section.
eHealth is one of the industries that has managed to earn the audience's trust later than many other digital business niches. Just remember how long e-commerce has been around and how cautious people are even today when it comes to telemedicine. That's because not just money is on the line, human lives are as well.
However, it doesn't mean ePharmacy doesn't have good prospects. On the contrary, a report by Fortune Business Insights claims that by 2026 Global ePharmacy Market will exceed USD 177 billion.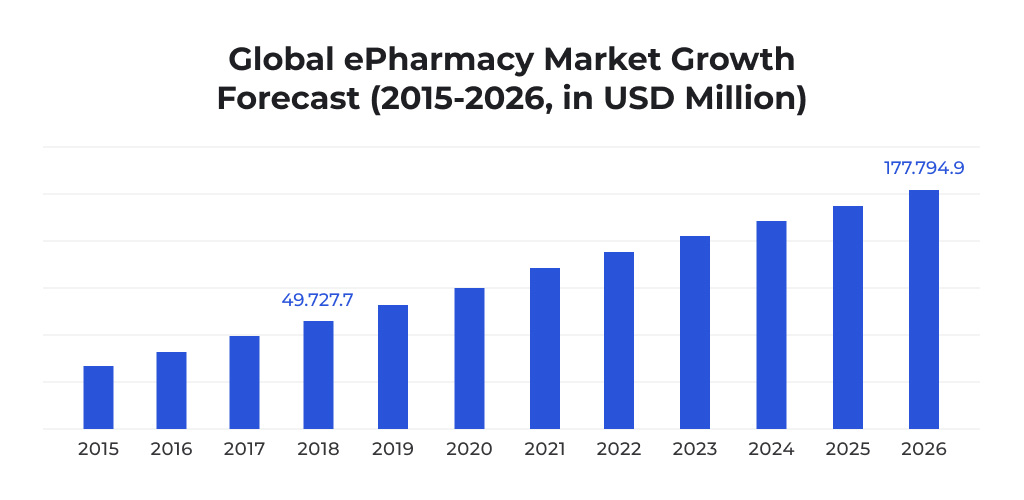 If you take a look at the chart above, you will see that the global market shows steady growth. It means that both the audience's interest and trust in ePharmacy solutions increase as well. Basically, people all over the world (and not only in mature economies) have understood that online pharmacies are safe, effective, and worth paying attention to.
Another strong market indicator proving that online pharmacy app development has a bright future in 2023 and beyond is the actual audience key market player have already managed to gather. Just take a glance at the number of monthly visits to five of the most popular online pharmacies in the world.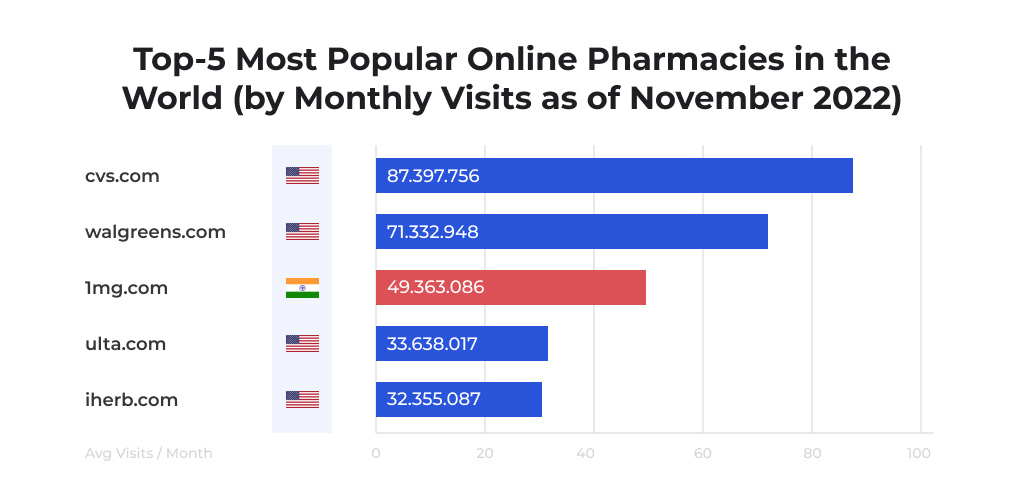 There are also other aspects to consider. One of those is a higher satisfaction rate among ePharmacy users in comparison with those who prefer brick-and-mortar medicine shopping. Another one is people's commitment to privacy when it comes to purchasing meds, and modern applications cater to that need to the fullest. And, of course, if COVID-19 strikes again, online pharmacies are destined to become even more popular as it is a simple and convenient way to ensure quick contactless medication delivery during quarantine.
Which Types of Pharmacy Applications Exist on the Market?
If, after weighing all pros and cons, you've decided that pharmacy app development is something you would like to try out, the next logical step is a careful examination of all the types of applications that exist on the market. That's how you'll be able to determine which one fits your business concept, vision, and expectations.
In this editorial, we will cover three basic types of ePharmacy apps: aggregators, online stores, and chain apps.
Aggregators
This is the type of app you can launch even if you do not own a pharmacy. This app typically unites offerings from multiple pharmacies and vendors located within a certain area (city, province, state, country, etc.). The customers register and then browse for the best-suiting option (which may include items from different vendors). After that, the order is processed and delivered to the end user.
Basically, in this case, the business owner profits off of creating a digital platform where pharmaceutical vendors and customers can easily find each other.
Online Stores
This type of online pharmacy app development works great both for well-established pharmaceutical businesses and for startuppers. It implies that you either already have an independent company or plan on creating one.
Online pharma stores help self-sufficient businesses (pharmacies and medical companies) sell their goods online and interact with the audience directly. Traditionally this sales channel becomes an addition to brick-and-mortar sales and a way to reach a wider audience.
Pharmacy Chain Apps
The best option for pharmacy market moguls and mid- to enterprise-level businesses. Think CVS, Wallgreens, TerryWhite Chemmart, etc.
Custom pharmacy app development for existing chains (either large or small) facilitates resolving multiple challenges and eliminating specific bottlenecks that may appear during the management process. For example, it can be IoT and smart device integration within the pharmacies, advanced analytical tools introduction, or modern inventory-tracking system implementation.
WHO Classification
Another interesting (but less popular among business owners) approach is the classification of digital health interventions by WHO. It's just another way to categorize ways in which digital tools and technology can be leveraged to facilitate the healthcare system's needs.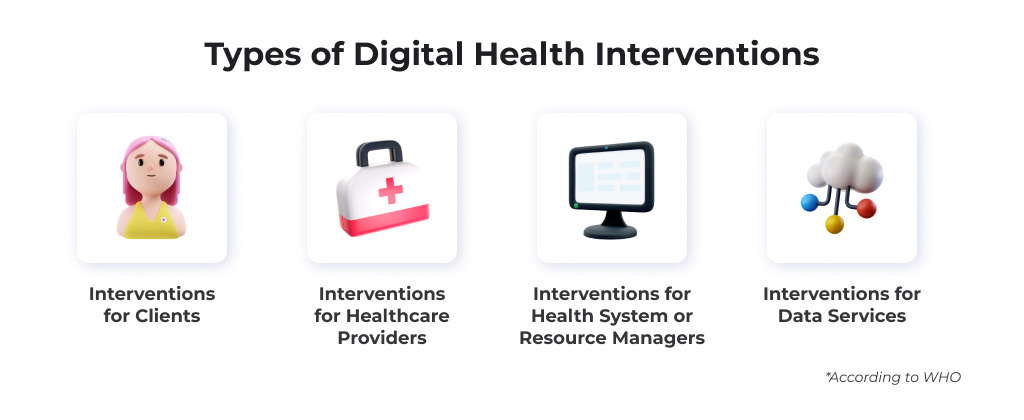 At the moment, WHO utilizes classification that focuses on the primary user of the digital solution. It includes the following four categories.
Interventions for clients: this category includes tools for people receiving healthcare services and their caregivers.
Interventions for healthcare providers: digital instruments for people providing the healthcare services
Interventions for a health system or resource managers: means to administer, manage, control, and supervise health systems
Interventions for data services: mechanisms to support and simplify all the data-related processes in the healthcare system (collection, management, processing, exchange, etc.)
Typically, pharma app development, in this regard, can be categorized as a digital intervention for clients, as they are the ones ordering meds and receiving healthcare services. At the same time, if you already have an online pharmacy and now need an application for the staff, software that will be more focused on inventory management, this app will no longer be considered an intervention for the clients, it will be an intervention for healthcare providers instead.
Breaking Down Online Pharmacy App Development Process
This section will come in handy to entrepreneurs willing to familiarize themselves with the "backstage" of healthcare app development. And even though this is the part where the tech team usually comes into play, it is always beneficial to know what's going on with the project and which step to expect next.
Must-have Features for a Pharma App
When it comes to custom pharmacy app development, there are no restrictions. Every solution is unique, and the feature set definitely varies. Besides, as you already know, there are different types of apps that may require drastically different features and content.
For example, if you're building software for patients/clients it might have functionality like medication price comparison, dupes suggestions, inn-app payments, and more. But if we're talking about a solution for internal use only, the feature set might include prescription checking, payment and order tracking, order management, and more.
However, to make this editorial a little bit more universal, we'll focus mostly on the functionality that is essential for any type of pharmaceutical app. All of the features listed below just can't be neglected during the development process. Otherwise, a business owner puts the quality of a final product at stake.
Login & Registration
Whichever primary user you have in mind, a patient, a pharmacist, an admin, or a delivery man, all of them will need a way to get access to the app's content and identify themselves each time. That's what you need the login and registration feature for.
Both the type of login and the amount of info required to complete registration may vary depending on the user. However, the most common option is username + password. It can either be the same for all user roles or change. For example, customers will use their phone numbers and passwords from SMS to log in, and the pharmacists will use ID and a prearranged complex password.
Notifications system
Receiving timely updates about what's going on in the system is crucial for every type of user. The specifics of the notifications will be determined by the user role, yet everyone should be notified if something changes.
E.g., customers should receive notifications about their orders being successfully placed, processed, or delivered, about certain medications being out of stock or put back in stock, about relevant marketing events like holiday sales, etc. The couriers, on the other hand, will have different types of notifications. They will require alerts showing info about new delivery requests and changes in those requests. Notifications for admins and pharmacists will be completely different as well. Still, you will definitely need to include this feature in your online pharmacy app development plan.
Search and filtering
An advanced search and filtering system is an indispensable component of any pharma app. However, the users will work with it differently depending on their roles. Customers will search for the necessary meds, couriers and pharmacists will search for orders and arrange those in sequence, and admins will have the need to search for and categorize orders, products, and users. Either way, a pharmacy app development team will have to incorporate an extensive search and filtering system.
Dashboard/User Profile
Every type of user should have all the application's functionality at their fingertips. That is one of the basic principles of good UI/UX. To achieve that, the app should always include some form of a dashboard or a user profile.
The goal here is to provide the user (customer, courier, admin, or pharmacist) with easy and quick access to all the application's features. Whereas the features will vary depending on the type of the app.
Contact/Communication tool
Despite each of the users having either their own apps or at least customized dashboards, they all still remain connected. It means they all should have access to an easy-to-use communication tool (e.g., online chat).
Customers should be able to contact pharmacists and get assistance if they have any questions regarding a specific product. Pharmacists should have means to communicate with the clients, couriers, and the admin (for updates and support if needed). Admins should be able to gather and process requests from pharmacists and couriers. And members of the delivery team should be able to stay in touch with the clients, pharmacists, and admins.
Only the business owner can determine which communication tool to include in a pharma app development plan, but at least one tool should definitely be included.
There also are additional features that are essential for different types of pharmaceutical apps (but not for all of them). You can check the list in the table below.
Type of application (by primary user)
Customer app
Pharmacist app
Admin app
Courier app
Meds comparison

Dupe/substitute recommendation system

Prescription upload and refill

Online orders

Payment gateway

Order history and tracking

Product return and/or replacement

Comments
Prescription management

Order management

Order history

Online billing

Payments tracking

Order dispatching

Inventory management
User management

Order management

Analytics and reporting

Price management

Marketing tools (ads, promos, social media integration, etc.)

Complaint management
Real-time navigation

Delivery history

Personal rating

Order status management
Regulatory Compliance for Online Pharmacy Application Development
Oftentimes entrepreneurs (especially startuppers) focus more on things that will help to make their product commercially successful. However, one of the main aspects that need to be taken care of first off is the legal one. For pharma app development, it means creating a solution that is fully compliant and follows all of the relevant rules, laws, standards, and regulations related to healthcare.
Сompliance requirements will vary from country to country as each area has its own set of laws that business owners must follow. HIPAA is one of the best examples. It is the US federal law that outlines the legitimate use/disclosure of protected health info. HIPAA compliance is so important yet quite tricky that compliance assessment and compliant software development are extremely popular among business owners. And if you want to know more about this topic, check this HIPAA compliance checklist created by Light IT Global.
But it's not just about HIPAA. There also are hundreds of other laws and standards that must be followed if you plan to market your software in other countries.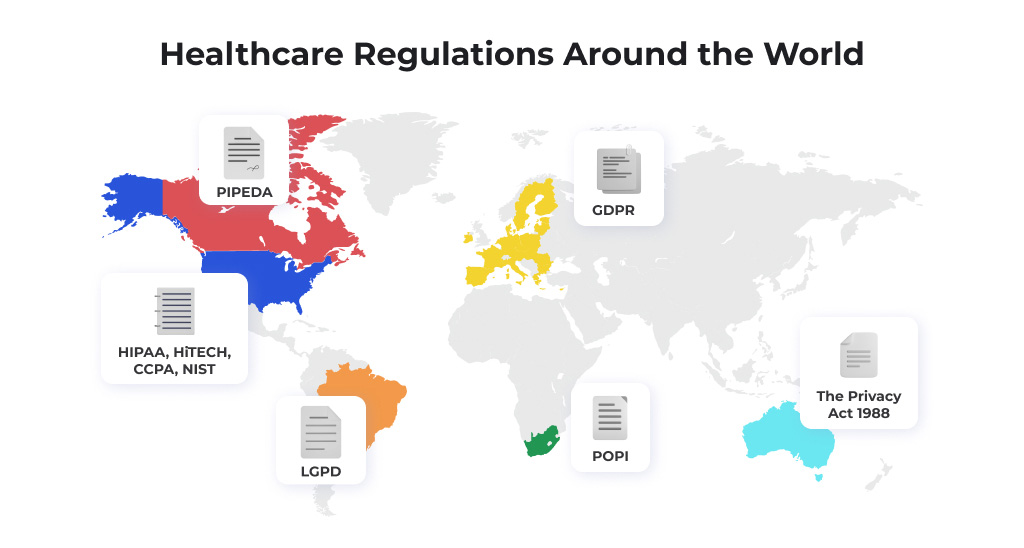 For example, PIPEDA compliance will be required for online pharmacy app development in Canada. The Privacy Act 1988 applies to solutions processing personal information in Australia, and POPI does the same in South Africa.
In a nutshell, if a digital solution is compliant, the end user can be sure that their personal information is protected to the greatest possible extent. This is crucial for eHealth software as it gathers, stores, processes, and conveys sensitive information like name, address, social security number, diagnosis, payment credentials, etc.
Choosing the Tech Stack You Will Not Regret
It is common for business owners to leave the tech stack selection to the development team. In fact, often, the choice of the team will pre-determine the tech stack, as every IT company has its own preferred toolset.
However, even though an entrepreneur doesn't have to be a tech guru and know everything about all of the most popular technologies, it's nice to have at least some sort of understanding. To make it easier for you, we've gathered and categorized some of the tech tools that will most likely be used during pharmacy application development.
Back-end: Python, Ruby on Rails, PHP frameworks (Laravel, Symfony, etc.)
Front-end: HTML/CSS, JavaScript, TypeScript, Angular,React.JS
Mobile Apps: React Native, Flutter, Swift, Kotlin, Ionic
Search: Elastic Search, Solr
Push Notifications: Firebase Cloud Messaging, Amazon Simple Notification Service
Databases: MySQL, Dynamo, Maria, Mongo, PostgreSQL
Cloud: AWS, Azure, Google Cloud
Payments and Orders: Braintree, Stripe, Skrill, Paypal
Of course, the tech stack listed above is the most basic and doesn't include all of the tools that can possibly be used in pharmacy app development. There are plenty of factors influencing the final selection that will be available to you. Here are some of the most important ones.
Budget. Some technologies are common, while others are rare. Introducing rare technologies to the project will cost more.
Functionality. Planning to launch an app with more features typically means more tools that need to be used during the solution development.
Compatibility. Some tech instruments are not compatible. This often becomes a challenge during the development of more complex, feature-packed applications. In this case, the team will have to find alternatives.
Client's goals and vision. The business owner should always remember that it's not their job to change their requirements in order to fit a certain tech stack. It's the other way around, a tech stack should be shaped in accordance with the customer's ideas and expectations.

Keep in mind that a decent IT services provider will assemble a responsive team that will make online pharmacy app development comfortable for you. In this case, tech experts will not only explain the purpose of the use of each technology to you but also offer alternatives if needed.
How Much Does the Development Cost?
Let's just say that software development costs a lot. When it comes to online pharmacy application development, it can go anywhere from USD 35К to USD 500K and even more! It all depends on how complex of an app you want to develop and which team you will choose to implement this task.
Luckily, there are multiple ways to cut costs without having to compromise the quality of a final product.
Outsource. If you live in a country where pharma app development and healthcare web development, in general, are expensive, consider hiring an IT vendor from somewhere with lower software development rates. The most popular IT outsourcing destinations as of 2022-23 are Ukraine, Poland, India, China, Argentina, and the Philippines.
Go for an MVP. As a business owner, you might want to build everything at once, and create an app that contains maximum features, is complex, and is multifunctional. That is a viable strategy, but it is not cost-effective. The smartest way to go here is to opt for an MVP, which not only will require less money but will allow you to test out the product on the market and make all the necessary changes literally on the go.
Research. In a way, pharmacy application development is a lot like shopping at the flea market. You need to take your time and really look to find a masterpiece for peanuts. The thing is that even within one country or one city, different software development companies will charge differently to implement the same project. That is why spending some time on careful research is crucial.
And what if you don't want to do all that and just want to know what average time and price are required to create an online pharmaceutical app? We can give that info to you as well! The average time to build an MVP of a pharmaceutical application is about 1100-1200 hours. Depending on the vendor's hourly rate, the price may change, but if we use an average of USD 40, the approximate price will be USD 44K — 48K.
5 Secrets to Choosing a Perfect Development Team
One of the keys to a smooth and successful pharmacy app development is the right technical team. If an entrepreneur has managed to build a strong trust-based partnership with an IT vendor, the product's success is almost inevitable. But if that's not the case, the development process will take longer and will require much more control and supervision from the customer.
So how not to miss the mark? How to find that perfect match among millions of options? There are several techniques for that! And in this editorial, we've gathered five of the most efficient ones.
Search for experience
As mentioned before, eHealth is multifaceted and can take many forms. That's why it's not enough for a company to have experience in healthcare app development to safeguard excellent results of cooperation. Search specifically for the team who already have pharma app development examples in their portfolio. Not just EHR software development or hospital management system development, look for pharma-related cases.
Ask about the strategy
This is the question you can ask a professional team right after you've told them about your vision. A trustworthy team has a framework that keeps all the processes in tune, which means they know what to do and can provide you with a sketch plan almost immediately.
Of course, as the communication goes further and the team finds out more about the customer's expectations, the plan becomes more detailed. But there should be understanding and some sort of a strategy from the get-go.
Throw a challenge at them
There are plenty of companies offering custom online pharmacy application development services on the market, yet only a small percentage of them is worth your attention. To understand if the team you're interested in is a filler or a winner, ask their opinion about a challenging task that you hope to resolve during the development.
It can be an incorporation of a certain rare technology, the need to increase the app's performance to a certain degree, a problem with the app's architecture, etc. A truly professional team will use this challenge as an opportunity to innovate and think outside the box. They will offer you several options that will help you resolve the challenge. If that's not the case, the team is not the one you should trust with the project.
See if they offer end-to-end development
Even if you plan to split the pharmacy application development processes between multiple teams, it is better if the chosen tech team offers end-to-end development. Consider this your backup plan if something goes wrong and the other contractor is unable to deliver.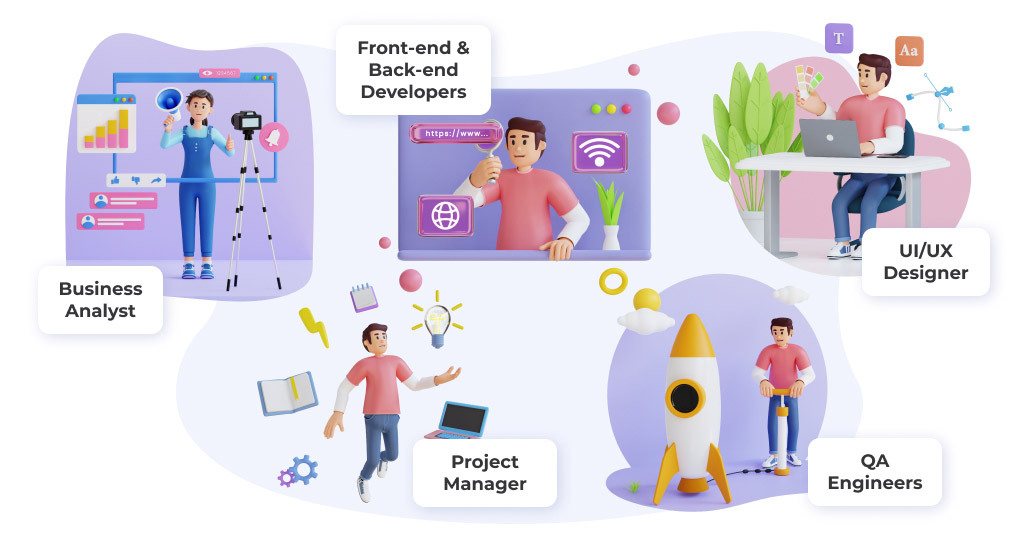 Ask if the vendor can equip the team with all the experts required to develop an application (business analyst, project manager, front-end & back-end developers, UI/UX designer, and QA engineers). And if the answer is positive, you're good to go.
Ask about the papers
No matter what type of digital product you plan to invest in, the tech team should be ready to sign all the necessary papers without hesitation and back up their legal status with all the necessary documents.
It might be a good thing to ask for available certificates and contracts and see if the team is ready to sign a non-disclosure agreement. If the vendor is honest and responsible, they will not only offer you to take a look at the papers but will also sign everything you need them to.
In Conclusion
Online pharmacy app development can be tricky and challenging. It requires time, money, forethought, and extreme attention to detail. To safeguard the solution's success, the business owner should trust the process to professionals, a team that has experience in custom software development, knows the modern healthcare industry inside and out, and can create something truly unique if that's the client's request.
Light IT Global is all of those things. We're not only experienced in pharmacy app development, we create many other types of healthcare software for more than 15 years now. Our team can take care of all of the development aspects, from thorough market analysis to quality assurance. In the end, you'll receive a custom solution that is tailored to your business needs and does exactly what you need it to do. No shortcuts and no unnecessary bells and whistles.
If all of this sounds interesting to you and you would like to know more or even get a free project estimation, contact Light IT Global now and let our experts turn your idea into reality!