Mental health app development has made it to the majority of "trend lists" for 2023 and doesn't seem to be losing its popularity any time soon. Modern healthcare digitalizes pretty quickly, and the swift adoption of the latest technological advancements contributed to the eHealth product-line expansion. Therefore, even the most sensitive aspects of doctor-patient interactions can now be safely and effectively handled online.
If helping people improve their psychological well-being while still owning a successful online business is an interest of yours, this editorial will be of great use to you. You'll discover how to develop a mental health app without making a bunch of rookie mistakes along the way.
Why Mental Health App Development Gains Ground?
Software for mental health issues didn't come out of anywhere. Therapists have provided online consultations for years now. Yet, it wasn't exactly popular at the beginning. Most people tend to preserve the status quo (especially when it comes to such a delicate ground as someone's health), so it was hard to put faith in some kind of innovative "magic pill."
However, the development of a mental health app nowadays is both sought-after and profitable. There are several factors influencing the situation, and most of them are significantly deeper than just technological advancement. Let's investigate the four most important elements and their impact on the market.
Direct demand
No matter how slow it is, the destigmatization process has finally started, and we see the progress, see tiny but vital changes. More people are actively seeking ways to take their psychological state and well-being under control. And downloading an app that can help with that is actually one of the most popular steps.
How many people may actually benefit from it? A report by Statista claims that it's roughly ⅛ of our race. This is the approximate amount of people who have gone through substance use or mental disorder in their lives.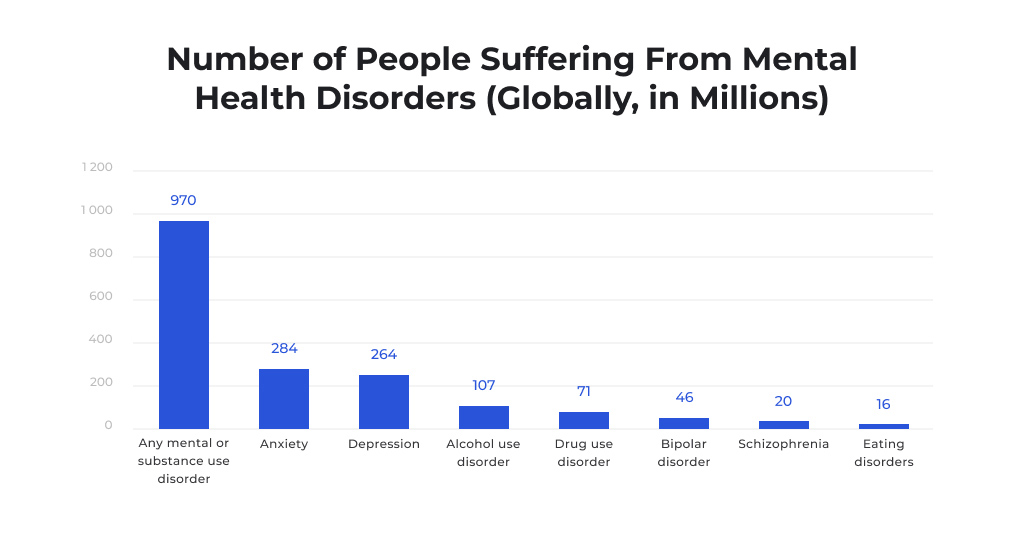 Keep in mind that those are only known cases, stories of people who were brave enough to share them. Not all individuals have the luxury of doing that. And this is why mental health app development has so quickly gained an image of a mighty "silver bullet." It is targeted at building and making accessible a multitude of digital inventions for different demographic, including those who are hesitant or afraid.
Creative freedom
Mental health application development gives an entrepreneur a lot of freedom to act. The variety of software that can be created and welcomed by the audience is stunning. Some choose to invest in online counseling platforms, while others prefer to rely on the power of telemedicine or build an unconventional solution like an app for meditation or animal therapy.
From medication reminders to mood trackers, from journaling tools to self-care guides, this kind of software comes in different forms. A business owner entering the market shouldn't worry about "everything being done already." This market niche isn't packed to capacity by any means.
Social approval
Mental health app development isn't really seen as a money chase by the general public. Why? Mostly because such solutions are built to resolve a specific problem, improve the quality of life, and can be literally life-saving for some of the users.
Another detail worth mentioning is society's disapproval of the authorities' attitude and level of alertness. For example, in the US in 2022, 58% of the responders asked about the state of federal investment in mental health viewed it as not adequate.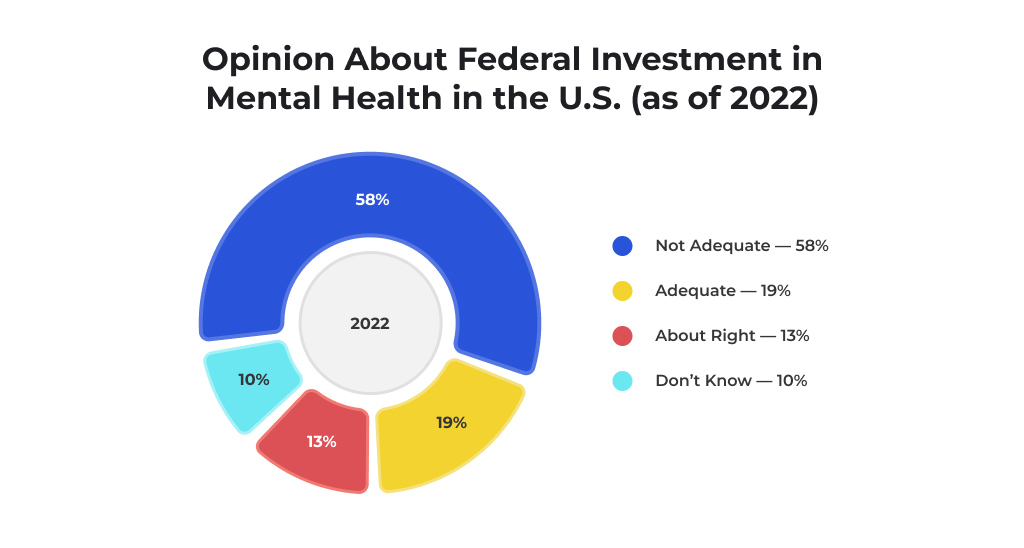 Clearly, the people and the power holders have a major divergence of interests. Mental health app development is one of the solutions to an issue that affects everyone essentially. Yet, those in power, for the most part, do not really see any value in something that isn't directly connected to the social or economic segments of well-being.
Easy market penetration
The number of PC, tablet, or smartphone owners, as well as internet adoption in different corners of the world, keeps growing daily. And for certain applications aimed at improving the psychological state of a human being, uniting a large international audience is not a challenging task. Depending on the software's specifics, all it might take to reach global coverage is translation to several languages.
Are There Industry-Specific Trends?
If you are wondering how to develop a mental health app that won't flop, the state of the market and the prospects for its further development should be the primary marker for you. 2023 is right around the corner, and we can determine at least five prominent tendencies that will shape this industry.
Companies pour cash into employees' contentment
Mental health struggles are among the top reasons for productivity decrease, lower performance, and shorter concentration spans. 2023 is expected to become a point where more and more employers will finally take it seriously.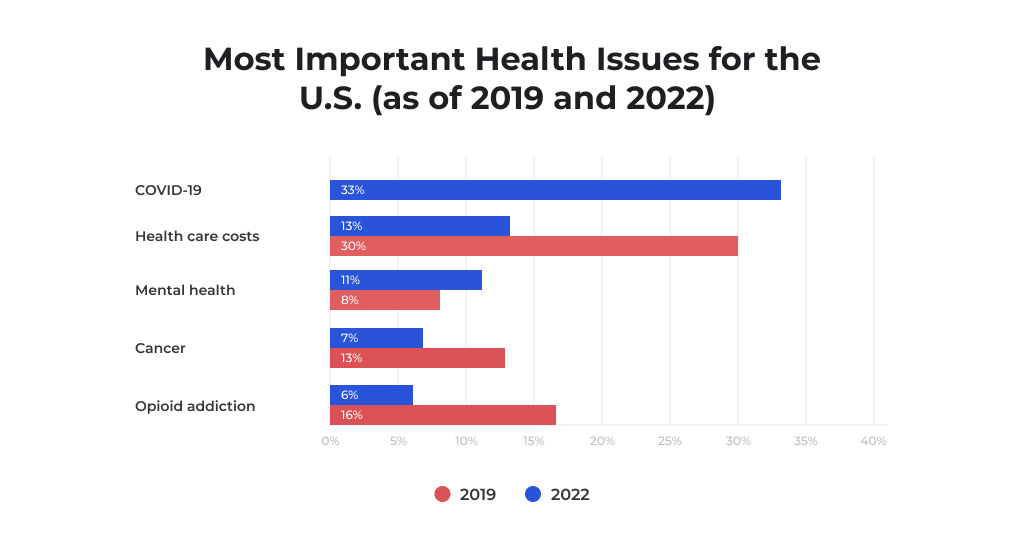 C-level, management, employees, venturers, and mental health app developers gain so much from mental health app development. Сontrary to the widely held view, money that an entity will be able to make with more productive and satisfied staff is not the only bonus of such a move. It creates an appreciative, light, and wholesome aura within the organization. And the overall interest in the development of wellness-related digital products facilitates product differentiation, which means more unique user-friendly solutions in the future.
Alternative methods of treatment are on the rise
Therapy still hasn't reached a "good and affordable" state. The vast majority of the global population has no access to guaranteed medical protection. But it doesn't mean that the problem doesn't exist and people who have no access to medical professionals do not get sick. It just creates a disequilibrium that becomes a breeding ground for unconventional treatment methods.
Apps that offer alternative ways of improving psychological health are sought-after among the public. Examples are psychedelic and art therapy, Ayurveda, and more.
Youngsters are crying out for attention
Not many are thinking about how to develop a mental health app for youth, yet it is expected to change soon. This means creating software that takes into consideration specific comprehension and mood patterns, attention-holding techniques, and gamification.
Telepsychiatry gains traction
Telepsychiatry is a subdivision of telemedicine that helps people get online counseling anywhere via a chosen device. The global pandemic facilitated the development of this kind of software. And even though we've left lockdowns behind, the customer demand for telepsychiatry will still be high.
2023 will be a great time for entrepreneurs to enter the market as telemedicine solutions are wanted, and the crowd is willing to pay for them if needed.
Post-COVID struggles settlement becomes digital
Angst, burnout, anxiety, anhedonia, tearfulness, and many other mental health struggles have become more common and often are not even seen as something alarming. Yet those are real consequences of a long, forced isolation period we had to endure.
Just look at the diagram depicting the number of people reporting anxiety symptoms from April 2022 to September 2022.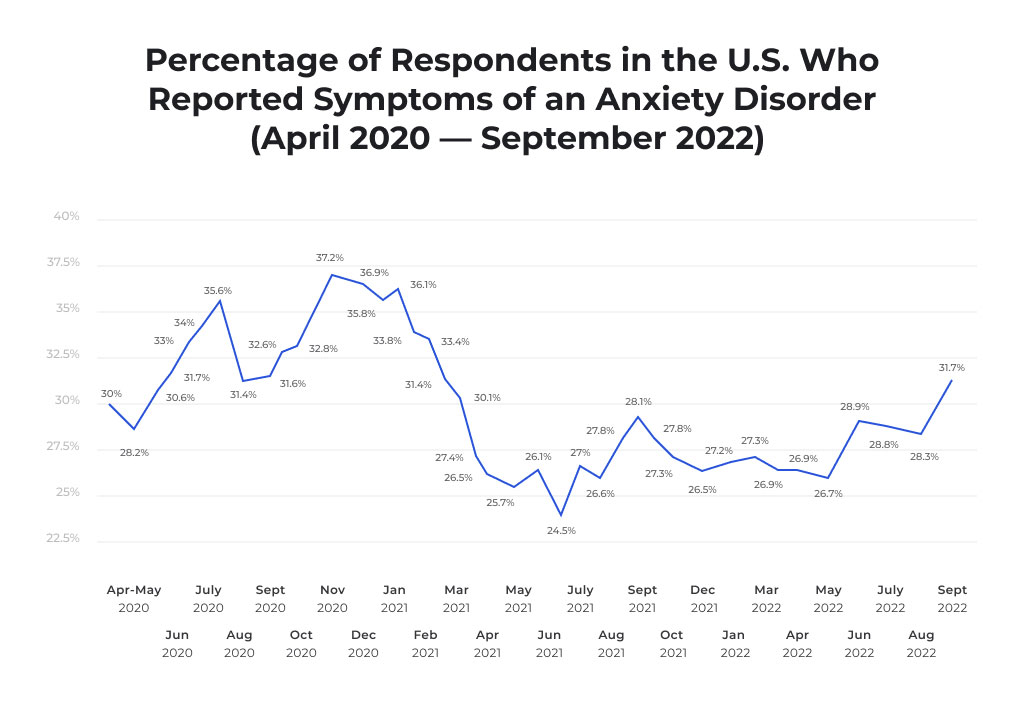 During the last week of September, the percentage of responders was almost just as high as in the last months of autumn 2020 (31.7% and 37.2%).
Depression symptoms show the same picture—a slow rate of growth.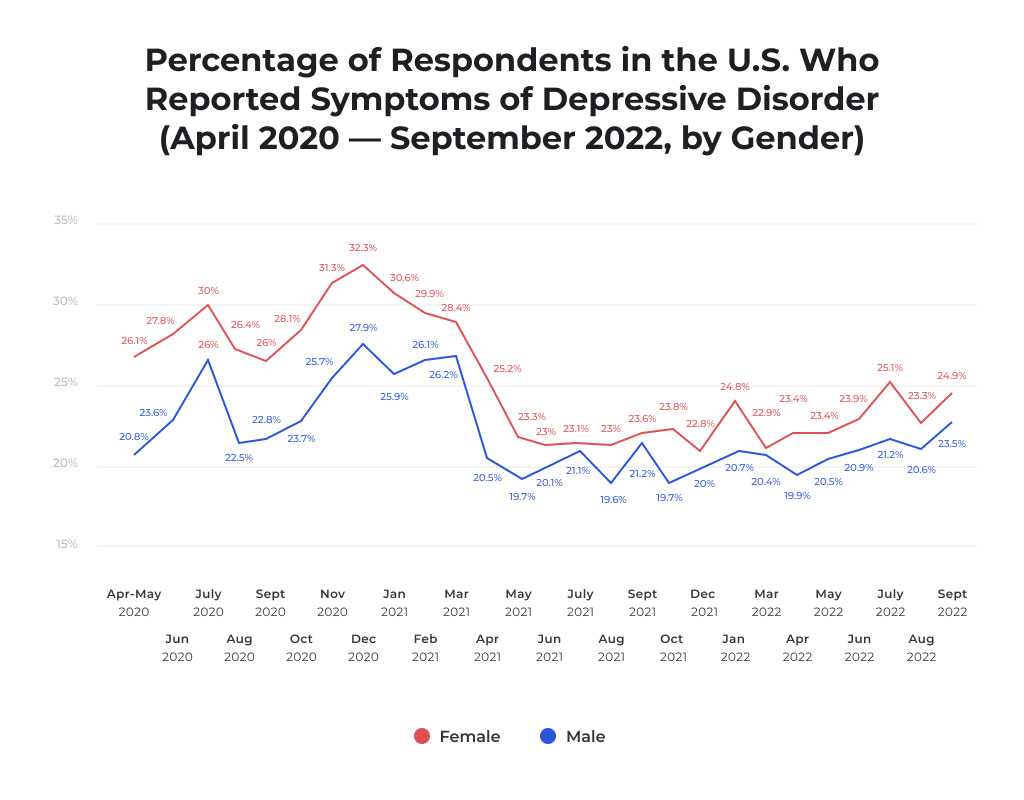 Types of Mental Health Apps You Might Consider Building
As we've mentioned prior, mental health app developers are able to materialize virtually anything. If one has an idea, a vision, a concept, or a theory, one may test it out by creating software. So don't be alarmed if you see different approaches to determining types of mental health apps in different sources.
To make it easier and more coherent, in this editorial, you may familiarize yourself with five groups of applications based on the type of content/service they grant.
Disorder Applications
These are solutions built for individuals having a particular diagnosis. It includes depression, OCD, PTSD, eating disorders, bipolar disorder, schizophrenia, ADHD, and many others. Generally, these apps provide neat tools to help users fix their issues, including field-specific consultations from dedicated experts.
Typical features of a mental disorder app include 24/7 medical support, stress management tools, a knowledge base, a symptoms/mood calendar, and more.
Mental Self-Improvement Apps
So many people do not have a diagnosed disorder or illness. Though they experience symptoms they would rather relieve. It can be stress, mood swings, frustration, anxiety, problems with sleeping, etc. Self-improvement solutions are aimed at helping users check, track, and improve their psychological state without being doomed to schedule an unplanned session.
Such software can be an amazing digital helper for individuals desiring to create and stick to a personalized care regimen The apps allow them to get into a habit faster, achieve determined goals, facilitate addiction recovery, offer step-by-step algorithms for alertness enhancement, etc.

Multipurpose Mental Health Apps
This is one of the most common types of applications, and it's understandable. If there's a way to find answers to all the questions, get all the possible consultations, order/buy the meds, and do it when needed via a single app, people will use it.
These solutions unite people suffering from specific mental health conditions and healthy people that require other kinds of medical assistance or are searching for counseling services for their loved ones.
Typically multipurpose medical apps are web-based, yet there are exceptions, and it is still possible to create a mobile version as well.
Telemedicine Platforms
Telemedicine became popular very quickly, which is logical and natural. Who doesn't want to be able to talk to their doctor whenever there's a need? And while at first, telemedicine kept the primary focus solely on physical aspects of health, later it changed, and psychological help also became accessible and convenient.
So, if we address the subject of mental health app development, this kind of solution typically helps with:
Launching sessions with the therapist by means of voice, video, or text
Picking an eligible mental health professional online
Establishing a comfortable schedule, taking care of the payments and medications
Telemedicine, teletherapy, and telepsychiatry software can be introduced into different kinds of medical settings. It can be used by individual practitioners, medical centers, correctional facilities, hospitals, etc. Naturally, the functionality will differ each time to better tailor to the customers' demands.
Women's Well-being Apps
Why applications targeted toward women are a thing, but men's apps not so much? There are a few points shaping the overall picture.
There's a myriad of conditions that affect women only. And it isn't just about issues interfering with reproductive health.
Women are still more open about their mental health problems and are more proactive in searching for ways to manage the challenges.
Historically, women's health has often been overlooked, with the situation changing just recently. This market niche still has room for new players, especially in developing economies.
So what does the term "women's well-being apps" include? The range is wide.
Pregnancy journals
Trackers (mood, fertility, menstruation, etc.)
Birth control digital assistants
Female-only online communities
Female hygiene apps
Breastfeading apps
Female fitness solutions
There's even a specific term for such software. It is called FemTech (by equivalent to Fintech or EdTech).
How to Develop a Mental Health App: 2023 Check-list
Now, we shall proceed to the hardest yet most important part—the actual creation of an application. In this section, you'll find guidelines making the whole process smoother and less complicated for a business owner. Which features to include in the app? How to monetize it? Which compliance challenges to expect? Time to puzzle that out!
Mandatory features
Let's start with the features any app should have. This set of functionality is applicable both to healthcare mobile app development as well as healthcare web development. It shouldn't be forgotten by a business owner because every user nowadays expects to see these features in any digital solution.
Registration/Log in
Healthcare software implies a certain level of confidentiality, ergo, users should be able to get access to certain application features after completing a registration/log in process.
According to the solution specifics, there may be several options:
user name + password
phone number + SMS password
phone number + automated call
However, it's vital to keep the registration short. Do not burden new users with in-depth forms and questionnaires. If the registration is complicated or too long, the user won't stay, which means deleting the app or completely forgetting about it.
Password reset and recovery mustn't be eliminated. The user should be able to get access to their account no matter what and do it without putting much effort into the process.
User profile
Knowing the customer is the cornerstone of quality medical service and is essential for a healthcare provider. Personal information is the digital equivalent of gold, and the more you have it, the better.
Upon registration completion, it's time for the user to reveal specific details about their health. For some, it might seem too invasive, but being informed about the patient's conditions, allergies, habits, experience with therapy, and medications they are on is crucial.
Surely, the optimal profile structure will be determined by the solution's type and the vision of a business owner, yet personalization, convenience, and clarity should remain a priority.
A calendar/symptoms tracker
This typically is "the heart" of a mental health app. During (or prior to) the mental health app development, you should think about providing the users with a convenient tool for self-monitoring. It can be a calendar with a list of symptoms, a journal, a tag system, a sleep or fitness tracker synchronized with an external device, etc. The customer should really think this one through and come up with a particular type of self-monitoring functionality chosen in correspondence with the expectations of a target audience.
For example, a mood tracker for kids should be as user-friendly as possible, while adults can handle a more complicated tag system or a digital journal.
Notifications
How to develop a mental health app that will bring actual value to users' lives? Take care of a comprehensive notifications and reminders system both for the patients/end users and doctors.
Push notifications work great both for web and mobile and will help the audience stay on top of their game every day. Medical professionals, on the other hand, should receive notifications each time the user wants to connect or schedule an appointment.
Chat/Messaging system
Even if you're eager to create a simple digital solution and are not planning to invest in more complex mental health app development, the application should have at least one communication tool, like a live chat or a messaging system.
In feature-packed apps, it will be a great way to establish a secure channel between a medical professional and a patient. And in a simple, one-feature solution, it is a surefire way for the user to resolve any possible issues by chatting with one of the members of a support team.
Note! All of the features listed above are mandatory. It is very hard to find a successful mental health app that doesn't have all of them. Still, there's an even longer list of "optional" features you might want to consider during mental health app development. Some software may have them, some may not.
Here are a few examples of functionality you might want to add into the mix:
Order management tool
Payment gateway
Social media integration
Rating system
Gamification
Media files upload/download
Dashboards for doctors and admins
Support groups, forum
How to monetize an application
The business owner should choose a monetization strategy before the process of mental health app development is over. And that is because a revenue model directly affects the application, its layout, and functionality. For example, if you have a solution with in-app purchases in mind, you can't inform mental health app developers about that after the fact. The same goes for other monetization strategies.
Now let's examine the most common ones.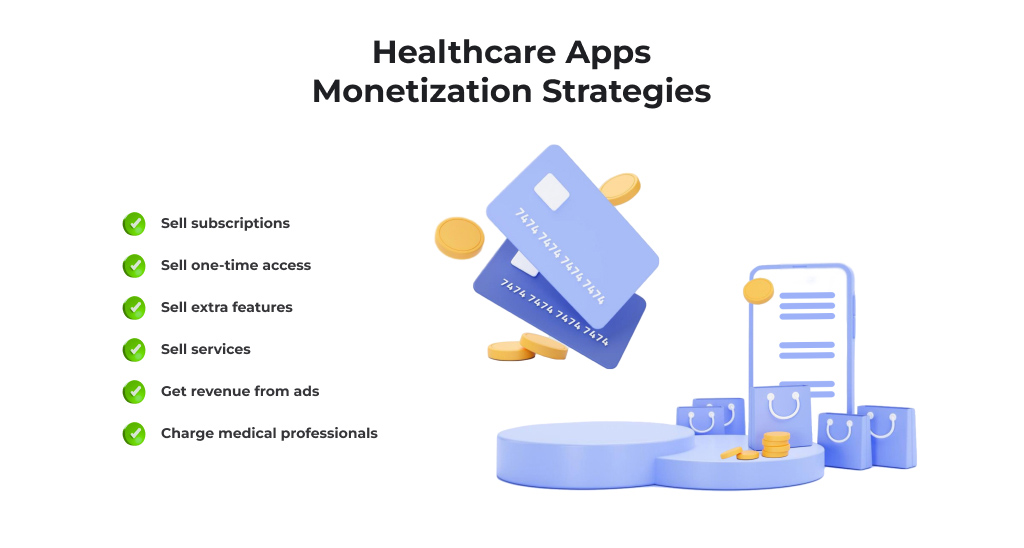 Sell subscriptions. This approach implies granting the user access to unique content or features that are unavailable to other users. It might be a specific number of one-on-one consultations with a chosen specialist, helpful media resources (videos, podcasts, library, etc.), 24/7 support from a personal manager or therapist, and many other features.
It's up to a business owner to determine the number of subscription plans, their cost, and their content.
Sell one-time access. This one is pretty straightforward. An entrepreneur sets up a price, and the user buys the app to get access to it. However, the owner should make sure the software is actually worth the money, is helpful, and works smoothly. There are plenty of free apps out there, and the customers should see the value in a product they've paid for.
Sell extra features. This strategy is also known as freemium. This principle offers a user some free content, yet a bunch of "premium" features requires payments. Some also choose to grant access to the full version for a specified time period, and once it ends, payment is required.
Sell services. An approach perfect for private practitioners. Are you a mental health professional willing to build a convenient digital platform to work on? Hire some mental health app developers, create an application, and sell your services using it.
Get revenue from ads. If content monetization isn't your cup of tea, make money by incorporating advertising into the app. But even though it is one of the most common monetization strategies, a business owner should closely monitor the ads and cooperate only with trusted advertisers to not cause harm to the audience.
Charge medical professionals. Why charge patients when you can charge doctors for using your app? This is a great way to attract users without risking their loyalty, as all the financial obligations will be imposed on the medical professionals working on your platform.
Deciding on a tech stack
Choosing a perfect tech stack is one of the aspects of mental health app development that doesn't really have a universal solution that will fit each and every business case. One of the best steps you can take is to hold several meetings with different mental health app developers and listen to their opinion.
At the same time, there are several things you should know to feel more comfortable while communicating with tech experts.
The tech stack is determined by the type of app and the platform you've chosen. Technologies required to create a web app will differ from the tools needed to build a mobile solution.
Innovative functionality will require the introduction of specific technologies. If you're thinking about incorporating Artificial Intelligence, Machine Learning, or Virtual Reality into your solution, be ready to search for experts that have mastered certain technologies like NLTK, Flow.AI, Tensorflow, ARKit, and others.
Your tech stack choice will influence the project's budget. Some technologies are "pricier" than others. However, you might ask mental health app developers to offer you a cheaper alternative if possible.
Now, as for the technical tools used to create an application, let's list the most popular ones.
For back-end: Python, PHP or PHP frameworks (Laravel, Symfony, etc.,) Ruby on Rails
For front-end: JavaScript, HTML/CSS, TypeScript, React.JS, Angular
For mobile apps: React Native, Swift, Flutter, Ionic
Databases: MySQL, Maria, PostgreSQL, Mongo
Cloud: AWS, Azure, Google Cloud
Payment Gateway: Stripe, Skrill, Paypal
Taking care of industry compliance
One of the biggest challenges a business owner will face during mental health app development is compliance. Due to the fact that patients trust the providers with sensitive data (personal and medical information), it is vital to stick to modern standards of data protection.
Specific regulations determine rules and best practices required to prevent data breaches and exposure. It is important to mention that each country has its own acts regulating sensitive information protection. For example, in the US, it is HIPAA, HITECH Act, CCPA, and others. In Canada, it's PIPEDA, in Japan—APPI, in the EU, it's GDPR. All of those are similar as they contain information about all kinds of obligations that healthcare providers have to the people whose sensitive info they're handling. Yet, they still differ as the requirements may vary.
So after defining a target market, a business owner should familiarize themselves with the regulations in force on the territory of the country and find mental health app developers who know not only how to develop a mental health app but how to make it compliant. In fact, this aspect is so important that questions about compliance should be among the first ones during the interview. Meanwhile, check our HIPAA compliance checklist to gain an overview of what to expect.
Coming up with the perfect design
Typically, graphic design is one of the elements in the development process where an entrepreneur has total creative freedom and can implement any ideas, no matter how wild they may be. However, mental health app development is an exception to that rule.
Here are a few recommendations that will help you create a beautiful design that will represent your brand in the best way while still meeting the needs of the audience.
Do not use special effects like flashing lights or loud sounds as those can be triggering
Do not go overboard with animation or decorative fonts. They may cause trouble ingesting information
Pick pastels or muted colors over bright ones (especially neons)
Sounds of nature will be the best pick for audio
Do not use more than 3-4 colors and 2 fonts
Keep it simple and coherent
Remember that finding a therapist is a daunting, exhausting, and not exactly budget-friendly process. The design should provide the customer with a sense of relief, uplift them, and infuse hope and optimism. So while mental health app developers put energy, expertise, and effort into building an actual product, your job as a business owner is to collaborate with the design team and come up with an appropriate visual style.
Now that you have an overall perspective on how to create a mental health app, let's discuss the pricing!
How Much Does It Cost to Develop a Mental Health App?
If you're reading this editorial, chances are mental health app development pricing is one of your biggest concerns. For many entrepreneurs, this information is even more important than actually knowing how to create a mental health app. So let's get right into it!
The short answer is: it may cost you anywhere from USD 40,000 to USD 250,000. Now let's determine where your app may be within this range.
There are some factors that form the final price. We will describe all of them briefly.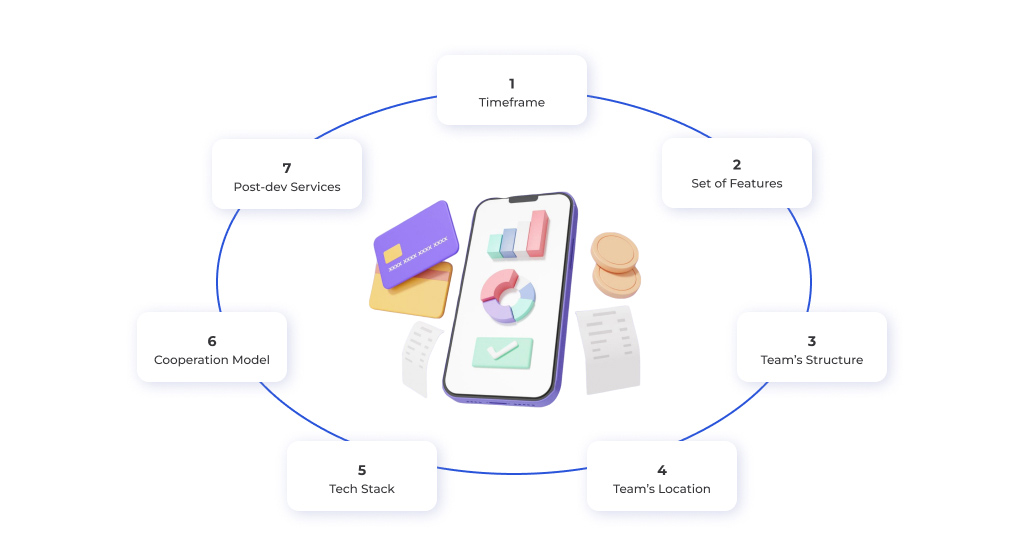 Timeframe
If the customer is in a hurry and requires a market-ready solution by a certain period of time, the cost typically will be higher. The tighter the deadline, the more money you'll have to spend, as the dev team will either have to work overtime or involve more specialists to get the job done in time. Therefore, if you're willing to cut costs, it might be reasonable to think about how to develop a mental health app without having to fit the whole process into a very short timeframe.
Set of Features
This one is not just about the number of features you plan to implement. Some of the functionality may not require that much time to incorporate into the project. The more important aspect is actually the complexity of those features and the compatibility of all the elements within a system. That is why many entrepreneurs prefer to start mental health app development with an MVP. It gives you a general idea about the market outlook, audience feedback, and the most adequate market strategy.
Team's Structure
How many experts do you want to include, and how experienced should they be? Millions of developers know how to develop a mental health app, but it's unlikely you will trust the project to someone who has zero healthcare-related projects under their belt.
You may hire a team consisting of seniors only. However, it will cost you a fortune. So the key here is balance. Talk this through with the chosen IT vendor, a trustworthy company will come up with a suitable option.
Team's Location
Startuppers are usually afraid to trust mental health application development to an IT service provider not from their country. And that usually is a highway to cost overruns. Let's take the US as an example. The average software development cost there is between USD 100 and USD 150. In Ukraine, the average hourly rate is three times lower! So if you plan on cutting costs, choose the dev team located in one of the countries known to be a good outsourcing destination.
Tech stack
There are many tech gurus out there who have vast experience with the most popular IT technologies. Yet, as a rule of thumb, the more specific or lesser-used tech tools you choose to include in the tech stack, the higher rate you'll have to pay.
Cooperation model
Some cooperation models (like time and materials, for instance) imply paying solely for the IT services and nothing else. Others (like assembling an in-house team) mean that the customers also pay for the employees' sick leaves, vacations, etc. Opt for a dedicated team or T&M model to save money.
Post-dev services
Once a business owner has figured out how to develop a mental health app and has actually received at least some kind of a functioning solution, comes the time to think about how to keep this solution competitive. A wide range of post-development services simplifies this task. Regular updates, security checks, troubleshooting, and performance enhancements are important and require spending some money. Think about which tasks can be taken care of by you or your team and which you will have to delegate.
4 Keys to Choosing the Right Team of Mental Health App Developers
Last but certainly not least, equip yourself with some useful life hacks that will not only make mental health app development easier but will help you find a reliable IT partner and establish some strong business connections.
#1 Industry expertise before anything
The development of a mental health app is a particularly challenging task, as even the smallest detail can make a direct impact on a real person's health and well-being. So while looking for a digital partner that will bring your project to life, take into consideration industry expertise and not overall IT experience.
Some potential contractors may try to impress you with "years of experience" and "hundreds of clients," but none of that really matters if the company hasn't developed at least a few solutions for healthcare. The chosen experts must not only know how to create an app, but they must also know how to create a mental health app in particular.
You don't necessarily have to narrow down the circle to only companies specializing in mental health software. If the provider has had experience with EHR Software Development, hospital management systems implementation, telemedicine platform creation, or special needs software building, it will be enough to prove a certain level of industry expertise. At least you will be sure that the team knows about healthcare industry specifics and will be able to deliver a relevant solution.
#2 Take a close look at the portfolio
The next step to finding a development team you'll be satisfied with is demanding a portfolio. It is a customer's right to ask for examples of previous work, and there's nothing wrong with refusing to cooperate with a candidate who is not able (or not willing) to show said examples.

After receiving a portfolio, take your time examining it. Analyze all of the available healthcare-related projects. Are some of those in any way similar to something you're willing to create? It might be the same type (mental health app development), a similar tech stack, or a set of features. Do you actually like the outcome? If the answer is yes, the team is worth your attention.
#3 Browse the web for reviews
Self-promotion is great and all, but prior to making a final decision on a contractor, you will have to look for an independent opinion. One of the best ways to do that is to search for company reviews on the Internet.
Check the available feedback on IT listings like Clutch or Manifest, and scroll down Google reviews. But what's even more important is reading not only customers' feedback but also reviews ex-employees have submitted. Those can be brutally honest (and not always pleasant) but will provide you with a lot of information about the actual working conditions and corporate environment. These detail may seem irrelevant, yet they are crucial. You don't want a stressed-out, unmotivated developer who is one step from quitting work on a mental health app.
#4 Ask to create a custom development plan
One of the final stages of the dev team selection process and one of the vital stages of mental health app development is getting a ballpark estimate from the potential contractor. If the company refuses to provide you with this kind of document for free, eliminate it from your shortlist immediately. But if the team is ready to create this kind of estimation, don't be afraid to ask for a detailed version.
The ballpark estimate is not a document containing a couple of sentences with the minimum and maximum budget you should have. It is a spreadsheet where every feature which you've already discussed with the team is taken into consideration and roughly estimated. This is how you know the team knows how to develop a mental health app and do it the right way. At the end of the day, it's your money and reputation that is at stake, so there's nothing wrong with being cautious.
Final Words
It takes a village to build a mental health app that is functional, eye-pleasing, effective, and commercially successful. So many different aspects and detail have to be taken into consideration, so many potential problems should be prevented or fixed on the go. Yet, creating this kind of apps is something Light IT Global takes pride in. And we can help you with a multitude of healthcare-related IT tasks: from building a brand-new app to revamping an existing solution, coming up with a breathtaking design, or ensuring the top quality of your digital product.
We hope this editorial helped you understand how to create a mental health app, and if you still have questions, contact us and receive a free consultation, during which our expert will get all of your questions answered!