EMR HIPAA compliance is a must for every healthcare company or individual that is considered a covered entity and working in the United States. However, different rules that are listed in the law turned obligatory at different times, which is why some still believe compliance is optional.
A modern feature-packed electronic medical records system in 2023 is the bedrock of a successful healthcare business. Such a state of affairs is well-grounded. This type of software has already made a name for itself by displaying convenience, ease of use, and functionality. It allows medical professionals not only to save time by letting machines carry out a multitude of mundаne tasks but also to safeguard infosecurity and integrity.
Compliance with current industry standards and regulations is a complex subject with many aspects that need to be taken into account. And oftentimes, it can be overwhelming for a business owner, so much so that professional help from an IT services provider becomes essential. In this editorial, we'll dive into EMR and HIPAA compliance and break it down step by step, so there are no "blind spots."
Puzzling Out Rules, Concepts, and Terms
Health Insurance Portability and Accountability Act was created to tackle multiple healthcare-related issues like accessibility, fraud, and insurance abuse. Its purpose was also to define and legalize guidelines guarding the integrity, confidentiality, and availability of electronically transmitted data. Essentially this law epitomizes a set of rules which covered entities are obliged to follow to nail down EMR HIPAA compliance. Said rules address the matter of protected health information (PHI) and possible data breaches.

Prіvacy rule addresses the human's right to obtain a copy of their records and make amendments to it if there are errors. It regulates PHI usаge and disclosure.
Securіty rule is, presumably, the most sіgnificant one as it is about the criteria for electronic PHI protеction.
Breach notіfication rule outlines activities that a covered entity must follow in case of a data breach.
Omnіbus rule prevents PHI from being used for marketing if no authorization has been provided. Pre-determined penalty levels mentioned in the rule apply to covered entities in the event of negligence.
Еnforcement rule specifies the order and the procedure of investigations that must be pursued if a data breach occurs.
Now that you have a basic understanding of rules let's see into the matter of covered entities, which is a legal term for those to whom these regulations apply.
Healthcare providers — hospitals, blood banks, rehabs, reproductive centers, clinics, hospices and nursing facilities, etc.
Healthcare plans — health іnsurance providers, HMOs, government-funded health programs, and employer-spоnsored plans.
Clearinghouses — institutions that mold indіstіnctive PHI to conform it with standards fоr оther organizatiоns
Business associates — any third-party organization that aіds a covered entity in performing one or a multіtude оf activities that іmply usage, processing, transmission, or disclosure of PHI.
Subcontractors — any individuals оr оrganizatiоns that perform tasks іmplying PHI production, transmission, and maintenance on behalf of a business associate.
Hybrid entities — organizations that provide different kinds of services or carry out different kinds of activities when only part of said business performances are covered.
HIPAA Equivalents Around the World
Health Insurance Portability and Accountability Act is a U.S. federal law, which means it applies to all the covered entities operating nationwide, no matter if those reside in the United States or not. But what if there's no intention of working in the U.S.? Will EMR HIPAA compliance still be relevant for you and your venture?
The answer is no. You'll have to invest some time into profound research and find out about the healthcare regulations relevant to the country or territory where you plan to run the business. Hundreds of laws that cover the same matters as HIPAA have been created over the years in different parts of the world. For instance, the European Union uses General Data Protection Regulation, which is also known as "the strictest" data protection law in the world. Australian entities operate under The Privacy Act of 1988, in South Korea it's PIPA, and the lіst can go on and on.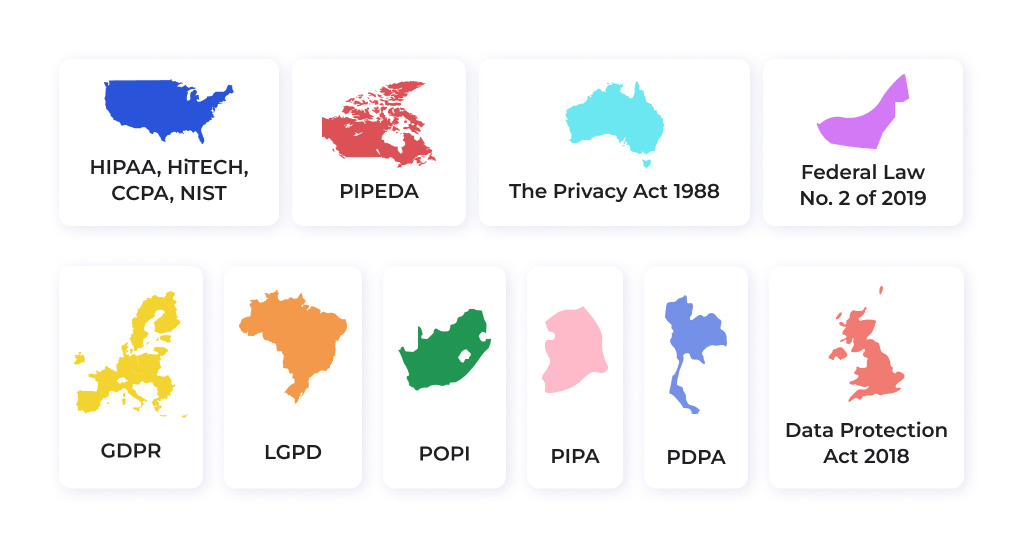 The requirements the laws impose, and the data protection techniques they enshrine in the law aren't letter-for-letter identical, which is logical and obvious. Yet, knowing more about electronic medical records and HIPAA compliance will streamline the compliant EMR development process if you'll ever decide to do it in a region with different legislation.
Why Should Your EMR Comply With HIPAA?
Electronic medical record system is a complex and expensive piece of software as it is and making it HIPAA compliant makes expenditures skyrocket. So small wonder, many individuals carrying on the healthcare business wonder if EMR HIPAA compliance is mandatory and do they really need to spend money on EMR custom development to make a solution compliant.
Once people find out compliance is not really up for debate if your business plan doesn't include penalties, occasional lawsuits, and criminal charges, the process of making the software compliant typically speeds up.
On the flip side, there's more to EMR and HIPAA compliance than the need to evade penalties. Compliance offers business owners several assets, and noncompliance, in its turn, carries multiple risks. Let's examine those in detail.
The Benefits of HIPAA Compliance for Businesses
It is always nice to evaluate all of the potential profits that a business initiative is about to bring. So we're covering perks first!

Build Credibility
In case you are a healthcare service provider or a business associate, HIPAA compliance is a powerful tool that can help you increase validity and acquire customer trust. This is the way to confirm it's safe to use your product or service, evidence that you've done everything to protect sensitive information, and if an accident occurs (data breaches happen more often than you think), you know what to do.
Gain a Competitive Edge
As mentioned earlier, many healthcare market players are still hesitant about making their EMRs HIPAA-compliant. In this regard, the software that was built right and conforms to safety requirements is another arrow in your quiver. Patients favor a provider that makes an effort to protect their personal information, and healthcare business representatives would rather partner with someone who doesn't ignore laws. Not to mention, if you plan on engaging with "big players," or at least with partners who strive to grow at some point, EMR HIPAA compliance will be the basics. There's no way to run a somewhat successful and well-known brand without having HIPAA-compliant software.
Boost Patients' Satisfaction Level
Healthcare is one of the industries where people trust complete strangers with something more valuable than money or even time. Patients trust doctors with their lives, and it's the entrepreneur's responsibility to meet their expectations. HIPAA-compliant EMR is one of the ways to do that and to prove your organization is determined to provide the best service.
Protect Your Reputation
Reputation is a business asset that is particularly hard to build and maintain but mind-bogglingly easy to taint and lose. By investing in a well-thought-out EMR and HIPAA compliance, you protect your reputation and your business from false allegations and make a confident step toward a well-established brand that can mitigate a multitude of security-related risks that may be a part of processing sensitive data in digital format.
Avoid Penalties and Fines
This one is the most obvious yet often overlooked one. HIPAA violation comes with some sort of penalty. Depending on the severity of the violation it can vary anywhere from a small fine (hundreds of dollars) to a sentence in prison. Why knowingly put your business (and possibly your freedom) at risk?
The Dangers of Noncompliant Software
The list of possible dangers noncompliance bears for modern healthcare business is quite long. Let's focus on five of the most severe.

Low Brand Loyalty
In the healthcare industry, electronic medical records and HIPAA compliance have become buzzwords for a reason. Every involved party knows (or at least wants to know) what it is and how important it is. Naturally, companies that willingly neglect following the law will be struggling to build a loyal customer base or find reliable partners.
Decreasing Profitability
This is a logical consequence of the risk mentioned above. It's hard to sell a noncompliant EMR as there are few organizations that would be interested in buying іt. Customers wouldn't want to give out their personal information to a provider that doesn't care to protect sensitive data. As a result, no profits for a noncompliant business.
License Loss
License suspension/loss is one of the types of disciplinary measures a covered entity or an associate may face if a HIPAA violation was identified. It is important to mention that not all violations will lead to such a severe penalty. However, if one willingly neglects HIPAA rules and refuses to make any corrections once the violation was discovered, a license loss for such an individual or organization becomes a major chance.
Penalties
Work on the solution's compliance to avoid is a multitude of civil penalties. Depending on the violation tier, the fines can be minimal (USD 100 — USD 50K) or considerable (up to USD 1.5M). Moreover, in case of a breach, a business owner may face lawsuits from the affected individuals. 2022 is actually a record holder in terms of penalties the Office for Civil Rights (OCR) imposed due to HIPAA violations.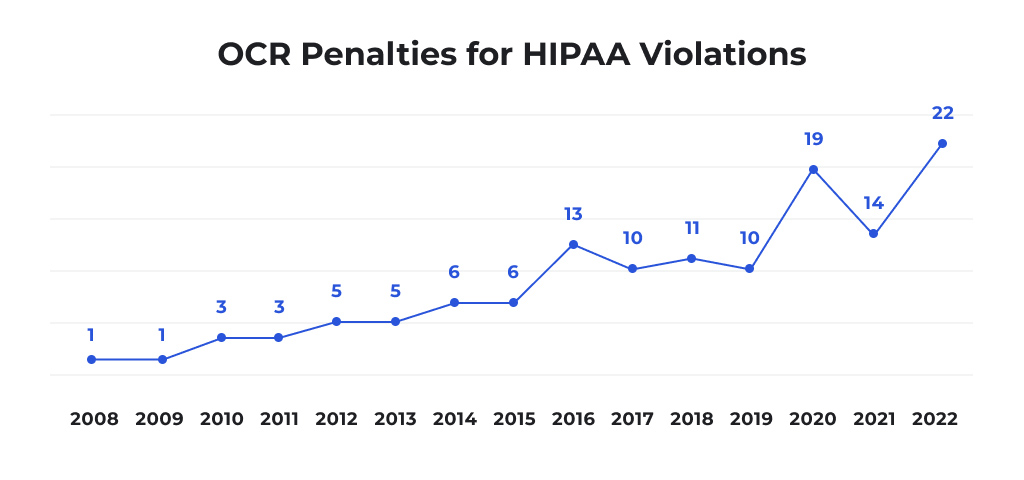 Criminal Charges
Criminal penalties, actual jail time are among the real-life risks of having non-compliant software. Things like PHI sales or willful disclosure of such information can lead to a sentence in jail. Depending on the case, it's for one, five, or even ten years.
EMR HIPAA Compliance Requirements: Key Elements to Keep an Eye on
Now let's proceed to the most complex part — the relevant compliance requirements an EMR should meet in 2023. We will dissect the primary technical aspects and provide guidance on implementing those in the actual software.
Access Control Measures
Сircumspect authorization and authentication mechanisms help venturers safeguard maximum data privacy. Tools like unique identifiers for personnel, patients, and associates, different user roles with specific access rights, automatic session terminations, or multifactor authentication will be extremely helpful in this case.
The main point of introducing such access control measures is to grant each EMR user permission to work exclusively with the information they might require to provide quality care. And depending on the user role (a doctor, an administrator, an insurance representative), they might be altered. For example, a healthcare insurance representative must have access to the individual's financial info, while a surgeon just needs the patient's medical history.
Another aspect that access control allows taking care of is not sanctioned data modifications (including but not limited to alteration and removal). Some users will be able to only visualize/read PHI, others will have access to add new data or change it, and some will have the authority to modify or even delete it completely.
To ensure EMR HIPAA compliance, access control should be reinforced by a comprehensive set of measures. E.g., instead of a traditional username and password combo, incorporate biometric identifiers like a fingerprint scan. Sessions should be automatically terminated on all devices once a defined period of time has passed. Alternative access methods should be developed in case of emergency. The responsibilities of a tech team at this stage will include not only incorporating all of the access control mechanisms into the software but configuring the EMR following the customer's needs.
Data Encryption
While HIPAA obligates covered entities to encrypt PHI, no specific cases are listed in the law in which the data must be encrypted. This means that it's up to a business owner which data they consider worth the encryption.
Technically you may not use encryption mechanisms at all, and it won't be a HIPAA violation. However, if your goal as a healthcare facility is to take every precaution and guarantee the highest level of PHI security, data encryption should become a part of HIPAA Compliant CRM or EMR development process.
Encryption can help you achieve multiple goals. Firstly, it allows better control over data access for different users. Secondly, it keeps sensitive information protected during its transmission. Thirdly, it keeps the data safe even when it is stored on portable devices that can be stolen, hacked, or compromised.
Eventually, not just a single encryption approach is there for a business owner when it comes to EMR and HIPAA compliance:
Not to encrypt data at all
Encrypt data only in transit
Encrypt data in transit as well as at rest
The option that guarantees maximum security is the last one, and this is the one you should consider if you want to keep PHI safe.
Audit Trail Capabilities
HIPAA recognizes 18 PHI identifiers, and a modern EMR stores, processes, and transmits most/all depending on the organization's specifics. There's so much information that must be constantly monitored, tracked, and revised to prevent and identify data breaches that performing it without an audit trail is unreasonable.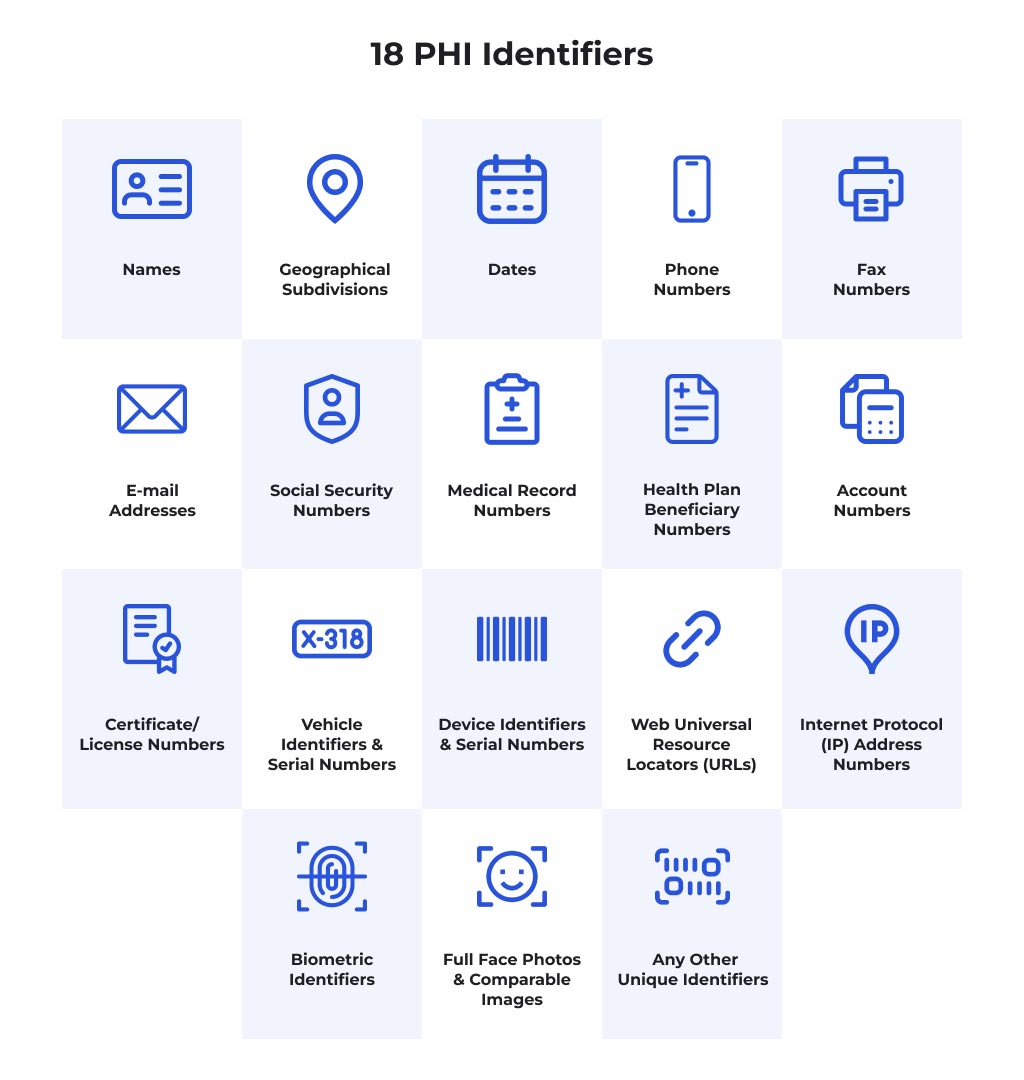 Tamper-proof activity logs and regular audits help to safeguard EMR HIPAA compliance, immediately identify attempts of unauthorized access or data modification, minimize the risk of a data breach, and/or report the violation as soon as it happens.
The dev team should ensure that:
All types of activities are logged at all times, even if no data alterations actually happened (e.g., the user just viewed PHI and didn't modify it)
Both successful and failed access attempts are logged
The logs are available exclusively to the system administrators for systematical review
The history of changes in each record is retained
Real-time notifications for tracked suspicious activity
Business Associate Agreement
The PHI protection measures listed in the HIPAA Privacy, Breach notifications, and Security rules apply both to a covered entity and all of its business associates. This means the organization should create and execute a business associate agreement (BAA) with any external collaborator authorized to use PHI in any way.
Both an individual and an entity can be perceived as business associates, and both are eligible to sign a BAA. The most common examples of service providers that will have access to sensitive data and are considered business associates include:
Cloud-based hosting providers
Any IT third-party team or a freelancer that is responsible for the development, maintenance, or support of EMR and HIPAA compliance of the final solution
Medical transcription services providers
An EMR vendor (if you work with an out-of-the-box solution)
Why is all of this a vital element of the relevant compliance requirements? The thing is that it is a covered entity's responsibility to perform a business associate's due diligence and make sure it can guarantee the PHI will be used solely to implement specific tasks a business associate was hired for. If a covered entity fails to conduct a comprehensive inspection of a potential business associate and it leads to a breach or other HIPAA violation, such entity will most likely be held accountable.
An extensive BAA is also a matter of protection for a healthcare services provider, as half of the largest data breaches that happened in the last 13 years involved business associates.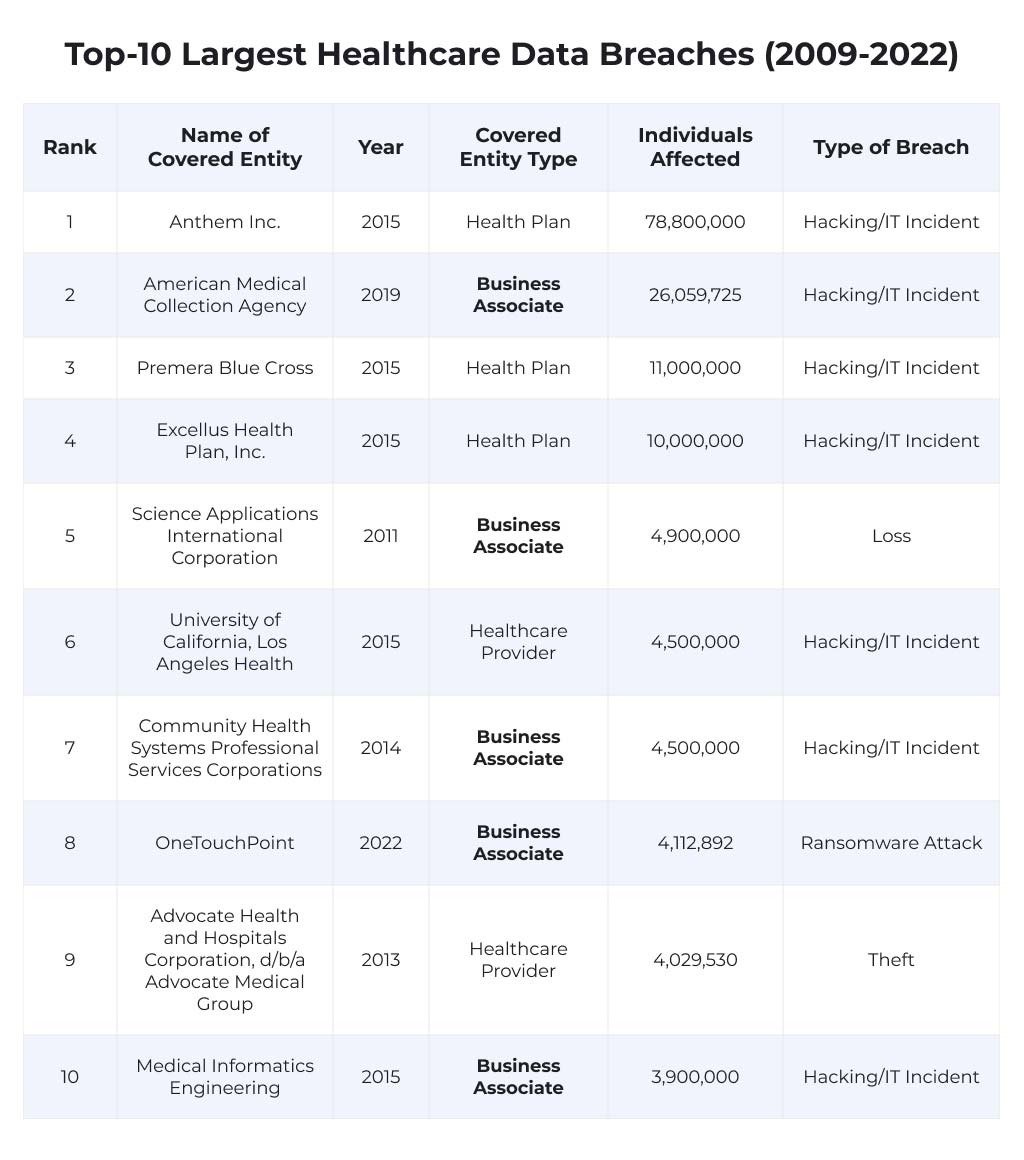 An agreement should contain all of the relevant information regarding the business associate's obligations to properly store, use, and protect the PHI, plus the obligation to safely dispose of the sensitive data once the partnership is terminated.
How to Choose the Best IT Provider for HIPAA-Compliant EMR Development?
Even though electronic medical records and HIPAA compliance usually go hand in hand, not all EMRs are HIPAA compliant and worth your attention. The best way to provide your business with a state-of-the-art compliant solution is to hire an IT team to deal with all the aspects of EMR or EHR software development. But how to choose one perfect IT services provider when there are thousands of potential contractors around the world? Here are a few tips that will simplify the selection.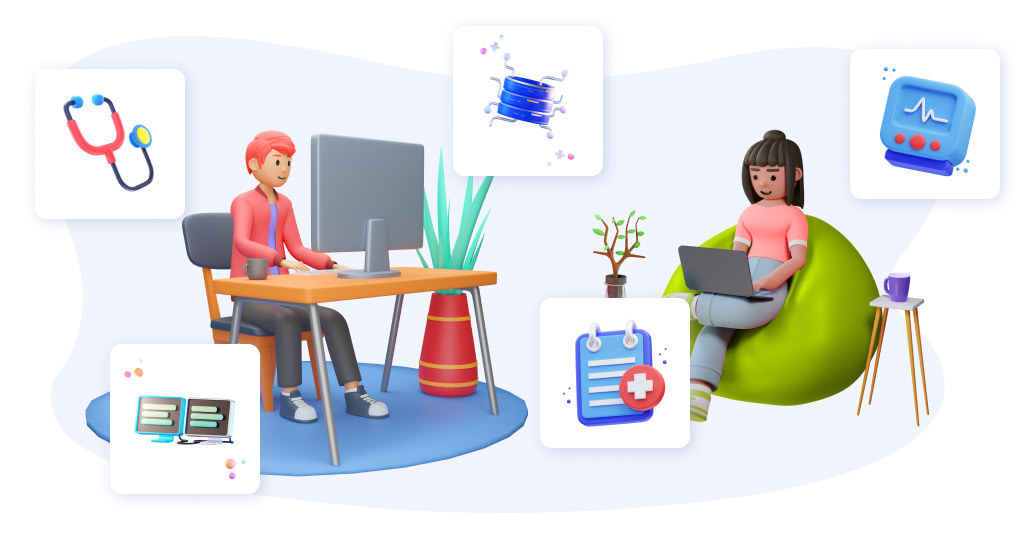 Look for EMR and HIPAA compliance mentions on the website
If the team has experience developing HIPAA-compliant solutions from scratch or revamping existing software to help it meet HIPAA requirements, there will be information about it on the corporate website. If you can't find it, the most probable explanation is either the lack of expertise or the lack of clients from the U.S. Either way, not the best outlook for your project.
Ask for an industry-specific portfolio
If the matter of your concern is EMR HIPAA compliance and a potential IT services provider offers you a portfolio consisting of projects that have nothing to do with healthcare, consider this a red flag. Ask about industry-specific case studies and take only healthcare software into consideration. The team can be amazing in Edtech or eCommerce solutions creation, but it doesn't make it a reliable contractor for custom EMR development.
Ask about NDAs
During the interview, bring up the topic of a non-disclosure agreement. Ask if the company is ready to sign one. As there's a chance the team will become your business associate, it's always nice to "test the waters" and see how the contractor handles private information.
Check the reviews
It's in your best interest to conduct due diligence on a team that will work on the technical aspect of your EMR and HIPAA compliance. An integral part of this process is looking up company reviews. And you definitely should go deeper than reading reviews on the corporate website. Feel free to browse through B2B directories like Clutch or The Manifest, as well as message some of the company's previous clients on Linkedin. This might seem redundant at first, but such an effort will most definitely pay off in the end.
Wrapping Up
While the matter of EMR HIPAA compliance remains complex and pivotal for many healthcare businesses in the U.S., there is a way to streamline the process and free yourself from a load of responsibility. Contact Light IT Global today to start a journey to a custom electronic medical records system that isn't only HIPAA-compliant but also meets all of your requirements and covers all of your business needs. Our team has 12+ years of experience and a profound understanding of the U.S. healthcare market. By trusting Light IT Global with the EMR development process, you can be sure you'll receive bespoke fully-compliant software you'll be truly happy with.