In 2023 business owners know that IT services are important and building a strong digital presence is vital. Yet, the matter of software development costs and overall budgeting still remains a stumbling rock for many. At the end of the day, the entrepreneur is forced to go for the lottery of choosing a vendor that seems right and promises to deliver a state-of-the-art solution for a discussed amount of money.
From there, things can go two ways: either the business owner is lucky and the contractor creates software that helps the business skyrocket or the final product is not up to par, the audience doesn't care for it, and the entrepreneur loses money.
One way to avoid that grim scenario is doing some research. To make it easier for anyone interested, Light IT has created a comprehensive software development cost guide. This editorial contains relevant information both about the dev services price range and the factors influencing the current rates.
A Short Answer
For sure, there's no such thing as a specific amount of money that will determine the software development costs for every project. But, the range an entrepreneur should keep in mind is from USD 25K to USD 250K.
A broad spectrum like that is not exactly convenient for budgeting. However, it offers at least some insight into custom software pricing. If a business owner is ready to spend less than USD 25K on a digital product, bespoke solutions made from scratch may be a bit out of the league.
Still, there is a way to discover whether your specific custom project will be on the cheaper or pricier side. As well as the way to reduce software development costs at least to some degree. If that's something you're interested in, keep reading!
Average Cost of Software Development in Different Countries
Nowadays, business owners are no longer afraid to cooperate with overseas IT vendors, as outsourcing has proved to be secure and profitable. The total number of software developers in the world is expected to reach 27.7 million in 2023, meaning the process of finding a suitable tech expert for any kind of project is now easier than ever.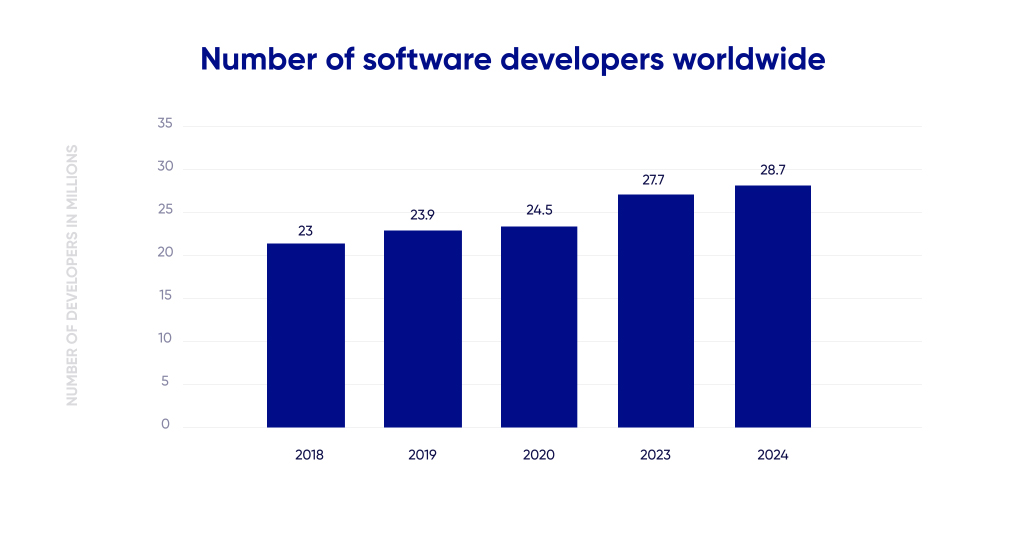 We will now focus on the software development cost map of the world.
North America
Canada and the US are the destinations with higher software development rates. The combination of economic factors, tax treatment, and market nature are contributing causes. The average hourly rates for software development vary from USD 75 to USD 150 depending on the developer's qualifications. This is up to three times higher than in most Eastern European countries and five times higher than in Africa. This is the prime reason why outsourcing is favored among business owners in the USA and other countries with similar development rates.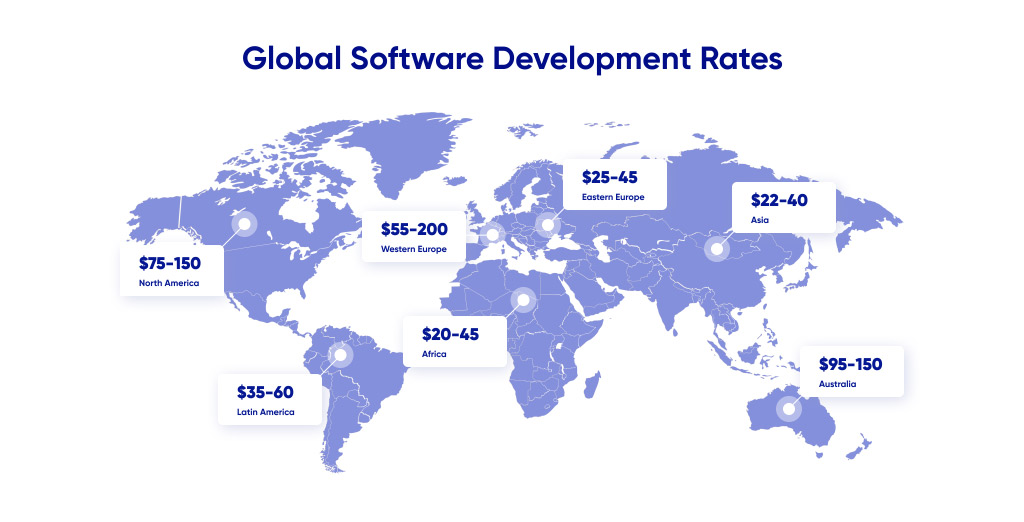 Latin America
This region is extraordinarily diverse when it comes to software development costs. There are countries like Bolivia and Peru where the average hourly rate is about USD 35, but at that, there are Mexico and Uruguay with hourly rates surpassing USD 60.
In 2023, Latin America is still way behind Eastern Europe, as the rates in this region are tangibly higher, while the political and economic stability are lower. At that, Latin America is a favourite outsourcing destination for Spanish speakers, as European outsourcing companies usually speak English but not Spanish. Plus Mexico is a favourite for nearshoring, as it has no inconvenient time difference and the prices are yet more reasonable than in the US.
Europe
The European IT market is famous for its distinct separation. The rates offered in Western and North European countries are comparable to those in the US (and even higher). Eastern and Sothern European countries offer significantly lower rates, which attract clients from all over the world.
Take a look at the diagram depicting the top-10 countries with the highest corruption control levels. 8 out of 10 are Northern, Central, and Western European countries. The overall high level of living standards and advanced economies keep the average software development rates high (from USD 55 to USD 200 depending on the country).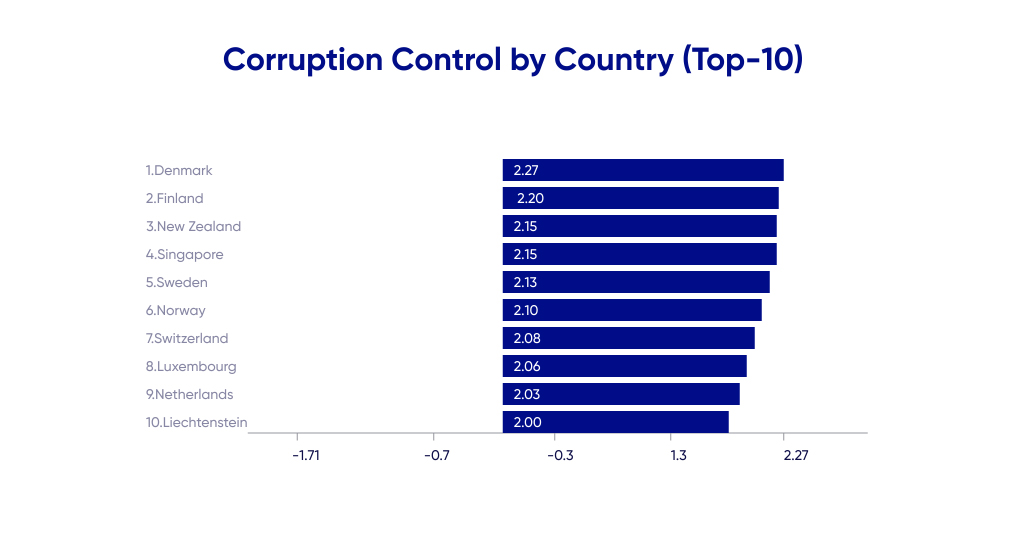 Eastern and Southern Europe, on the other hand, have lower average salaries and lower living standards, which influence the rates on the IT market as well. The price for one hour of software development ranges from USD 25 to USD 45. Some Eastern European countries like Ukraine, Poland, and Romania have already earned a reputation as global outsourcing powerhouses. Keen prices, high quality, language proficiency, and vast experience in various technologies are among the main advantages of this region. If you'd like to know more about software outsourcing to Ukraine, check our latest editorial.
Africa
Africa hasn't reached its full IT potential yet. The continent has only a few countries that can be described as software development destinations, which include South Africa, Egypt, Nigeria, and Morocco. The hourly rates are between USD 20 and USD 45 depending on the region and the company portfolio.
Software development costs in many African countries are the lowest in the world. The economic and political climate plays a major role in this. As you can see, African countries are at the bottom of the list when it comes to shadow economy control and/or corruption, which makes the continent less attractive to most of the investors.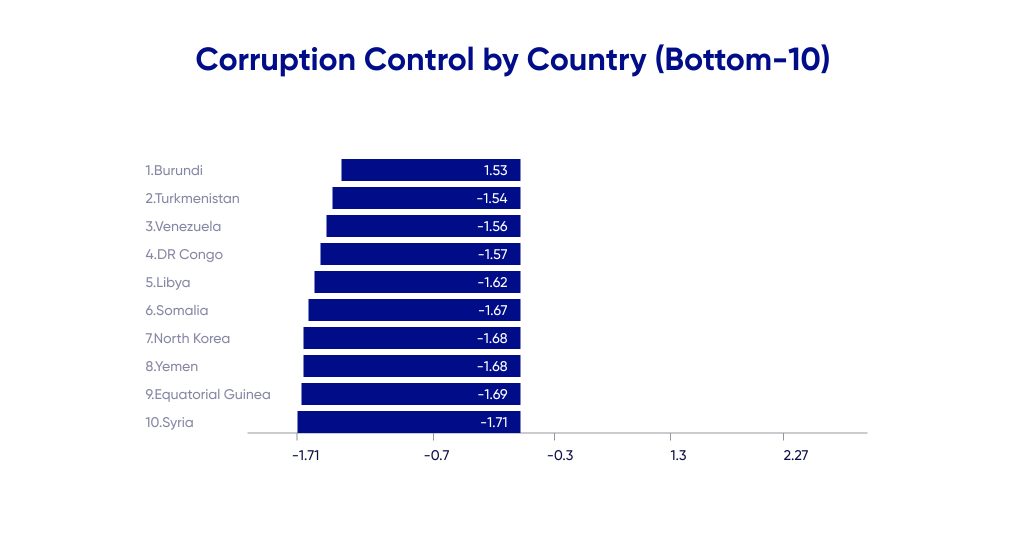 APAC
Asia is known for its tech talents, with the region remaining one of the major competitors for Eastern European vendors. The rates are similar, and the choice of potential contractors is truly mind-blowing.
The price for a software developer's services is somewhere between USD 22 and USD 40, but the poor political climate and huge cultural gap in the region make it challenging for some business owners to trust software development to Asian experts.
The most famous outsourcing centres in Asia are India, China, Vietnam, and the Philippines. Developers here usually have a decent knowledge of English and usually have extensive experience working on international projects, which is always a plus.
The IT market situation in Australia and New Zealand is quite a different story. Rates here are just as high as in the US and Western Europe (USD 95 to USD 150), and the time difference is noticeable. Because of that, the Australian tech pros work for the local entrepreneurs almost exclusively.
How Software Development Costs Are Formed
There are three main types of software price components: specific factors influencing mobile app development, aspects forming web app prices, and points affecting the development cost of any type of software.
Mobile development
In this section, we will conсentrate on specific mobile app development cost factors.
Platform
The platform choice is one key factor affecting the price of a mobile app. The app can be for Android devices, iOS devices, or both. Business owners are usually willing to maximise the reach and opt for apps that can be accessible to both Android and Apple users. However, there are cases when the client is willing to create an app for one platform only, which helps cut the costs.
Another aspect affecting software development cost is the choice between native and cross-platform mobile apps. Native solutions are platform-specific. These are typically faster, more user-friendly, and more accessible than their cross-platform counterparts. However, development is more expensive and more time-consuming (especially where the client requires working apps for several platforms). Cross-platform apps are cheaper and faster to create, as a single codebase is deployed to multiple platforms.
Integration
The number of standalone apps that do not require any integration and strictly define the device type is decreasing every day. And although these types of apps are much cheaper, most commercially successful apps require integration with multiple third-party services.
The type of necessary integration may vary depending on the app concept. The most common include social media, payment gateways, CRMs, etc. Consequently, the more integration points the app has, the higher the software development cost will be.
Mobile device hardware features use
Every mobile device has a set of technologies and features that significantly extends its functionality. Examples are NFC (typically used for contactless payments), gyroscope (detects motion and is vital for navigation, playing mobile games, etc.), GPS, and others. If the customer's plan is to use one (or multiple) of these features on the app, this will change the final price of the product.
Web development
We will now take a closer look at the most important web dev cost aspects.
Tech stack
The array of web development tools and technologies is truly impressive. Almost any task can be implemented in multiple ways using different sets of technologies. The chosen tech stack heavily influences the final price for IT services, as some technologies are more in demand and therefore pricier than others.
Availability on different devices
In 2023, developing a mobile-friendly web app is considered a must. However, if the client is 100% positive that the software will be used only on desktop devices, there really is no need to invest in responsive design. However, if the business owner wants to make the final product be as accessible as possible, it is better to pay for a responsive design that looks good on PCs, laptops, tablets, and smartphones.
Template solutions use
Using various template solutions like CMS, third-party integrations, or UI kits could reduce the time required to develop a project, which means the cost of web development will be lower. Out-of-the-box software is extremely popular among entrepreneurs looking to cut costs on IT services. However, keep in mind that template overuse may have a negative impact on the software's performance and the audience's perception of the brand.
All software development types
The factors listed in this section are universal, and influence both web & mobile development prices.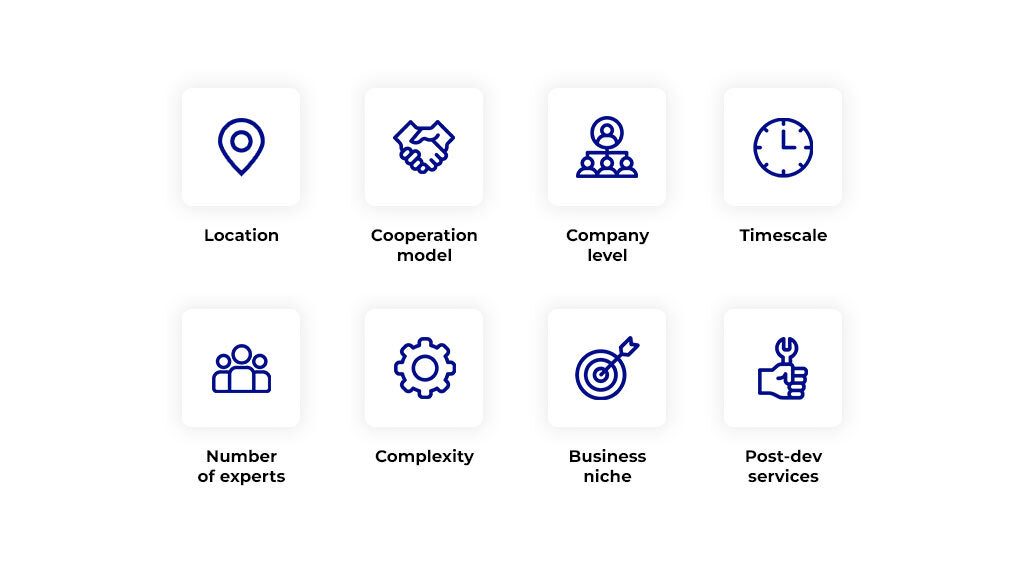 Location
Software development in the United States or in Australia costs more than in Ukraine, India, or Egypt. The difference in the standard of living, political environment, and social safety net will always be there and will always impact both the IT expert's average salary and the average rates.
Cooperation model
There are three main cooperation models in IT: in-house, freelance, and outsourcing. Each has different price ranges to offer. Hiring an in-house team is by far the most expensive. The final cost will include not only paying for billable hours, but also for sick leaves, insurance, paid-time-off, etc.
Freelance developers are known to be the cheapest but riskiest option. The security level for the project is the lowest, there may be communication issues and missed deadlines on a regular basis, and the lack of harmonious cooperation allows working on minor tasks only.
Outsourcing companies are often considered the "sweetest spot" when it comes to the price/quality ratio. There is always the opportunity for the customer to hire a coordinated team or a single developer (depending on the project's needs), and the control over the dev process is impressive. All in all, outsourcing software development costs less than hiring an in-house team.
Company level
IT services vendors (even in one country) are not equal either. There are "whales" that only work on projects with budgets no less than USD 500K. There are mid-level companies ready to take over projects starting at USD 50K. There are also small providers and startups developing only small/low-budget projects.
Generally, the more the company charges, the higher the quality of IT services it offers. That rule, however, isn't set in stone. You may be lucky to find a trusted vendor for a lower price, or you may opt for a well-known IT brand, pay a lot of money for the product, and still not to be happy with the result.
Timescales
Urgency is always adding extra charges to the bill. The less time you have, the more money you will have to pay for development because either the experts will take on extra hours, or the contractor will be forced to involve more experts in the project. Either way, the client will end up paying extra.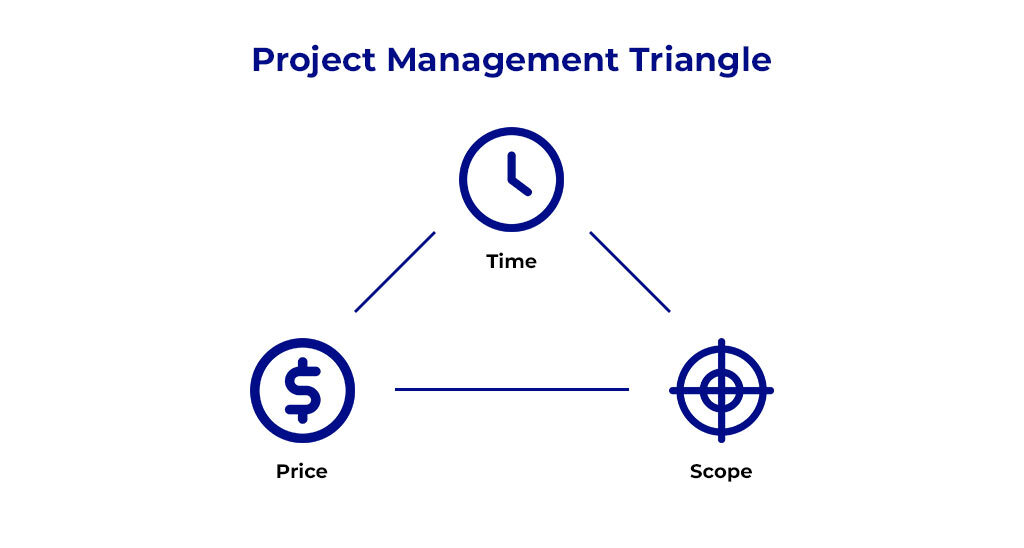 Number of experts
The more people working on a particular project, the higher the final product will cost. This is true for both developers and other professionals like managers, business analysts, QA engineers, and designers.
For example, if the client just needs to revamp an existing app, the project will cost less than building software from scratch, as the team needed to deliver the product will be smaller.
Complexity and features
This one is pretty easy to explain. The more complex the software is and the more features are packed in it, the more money the entrepreneur will have to pay the contractor. The common method to avoid unbudgeted expenses in this regard is to build an MVP first and then add new features step by step over time.
Business niche
The nature of the customer's business also plays a role in determining the final price of the software. Some industries like e-commerce, HORECA, and automotive are extremely popular, and many vendors are ready to deliver high-quality solutions for a lower price for these types of businesses. Meanwhile, there are niches that demand complex field-specific software (missile or aircraft industry), and those are typically more expensive.
Post-dev services
Not all business owners understand that after launching a particular software, it still requires investment. Specialised services like regular updates, bug fixes, and fixing security issues are all necessary and all require money.
Aspects Forming the Developer's Rate
Have you ever wondered why one developer costs USD 120 per hour, while another charges USD 50, and still there are those ready to code for USD 19 per hour? Maybe the more expensive experts know some coding secrets revealed only to the "chosen" ones? The answer is not that dramatic. Every developer's hourly rate is influenced by multiple factors. The following are the most important ones to consider.
The developer's expertise
The most common developer level classification is pretty simple:
Trainee (0 to 1 year)
Junior (<2 years)
Middle (2 to 4 years)
Senior (5 to 8 years)
Lead (8+ years)
However, the level is not determined exclusively by the years spent coding. It includes other factors like performance, code quality, proficiency in multiple technologies and tools, etc. Naturally, the higher the level, the quicker the professional will be able to deliver a high-quality product and resolve unexpected issues that may appear along the way.
Specialisation
Not all types of software development cost the same. For example, solutions for industries requiring compliance (healthcare, finance, etc.) are always more complicated, and only experts with specific skills and relevant experience can do the job.
Besides, the rates offered by full-stack developers are typically higher than the ones of front-end or back-end developers. Especially when it comes to freelance experts.
Soft skills and language proficiency
This one may first seem like a stretch. However, in the real world, it is far from it, as any developer (even a freelancer) becomes a part of a team. It is important for every tech expert to be able to compromise, communicate, and see things from a different perspective. Developers who can do that are in high demand and consequently offer higher rates.
Language proficiency, on the other hand, may not be a must, but it allows significantly expanding the client base and communicating with the client directly without a manager getting involved.
5 Tips to Help You Lower Software Development Costs
As we've mentioned in the previous section, the global IT market is very diverse. Different countries offer different average software development costs, so there's always an option to get the job done and pay less for it.
Don't be afraid to outsource (even the largest corporations like Microsoft, Apple, or Amazon do it!). If an entrepreneur trusts software development to a team from another country, it doesn't mean they'll receive a low-quality product or won't get any software at all. Outsourcing is completely safe and highly beneficial if you invest some time in the screening process. This leads us to the next point…
Take your time selecting the vendor
Time can sometimes be just as tight as the budget. Still, it doesn't mean one should trust the software development to the first contractor available. Rushing the screening process or making a hasty decision will almost definitely convert into a loss of money and a budget increase.
Carefully investigating all your options and weighing up the pros and cons is a surefire way to cut the software development cost and avoid unpleasant surprises during the cooperation process.
A step-by-step strategy works best for businesses willing to save a coin or two. Write down all the software types, functionality, and services you require and use that info to create a well-thought-out implementation plan.
For example, you need a web app plus Android and iOS apps for your startup. To lower the software development cost, prioritize one type of development over the other. Which one is more important at a given moment? What are the features that can be created in the future and not right now?
Sorting out priorities doesn't mean you have to forget about certain features or services forever. Just make sure once the first stage is over, you get an MVP.
Choose the tech stack wisely
A decent IT team will always help you choose the best tech stack for the project. Things like frameworks, libraries, or cloud-based software can make the final price more affordable. Using certain off-the-shelf solutions during the development doesn't mean your software isn't custom (if you do not rely on out-of-the-box products completely). It's just a smart way to cut software development costs when you need to cut them.
Impose clear requirements and don't change them
One of the most common ways to increase expenditures on software development is to come up with new ideas and demands every day. It's completely fine to want to add something new and exciting to the mix, but it is vital to remember that such changes will always cost extra.
So if your budget is tight or you just want to save money for other reasons, make sure you impose clear, detailed requirements on the project and do not change those at random.
Why is estimation important for software development cost determination?
How often have you heard about the stories where a startupper has chosen an IT provider, the parties have agreed on the time and budget, yet somehow the client is eventually forced to pay more? Unfortunately, this kind of scenario is not so uncommon. And the main reason for that is poorly executed estimation or lack thereof.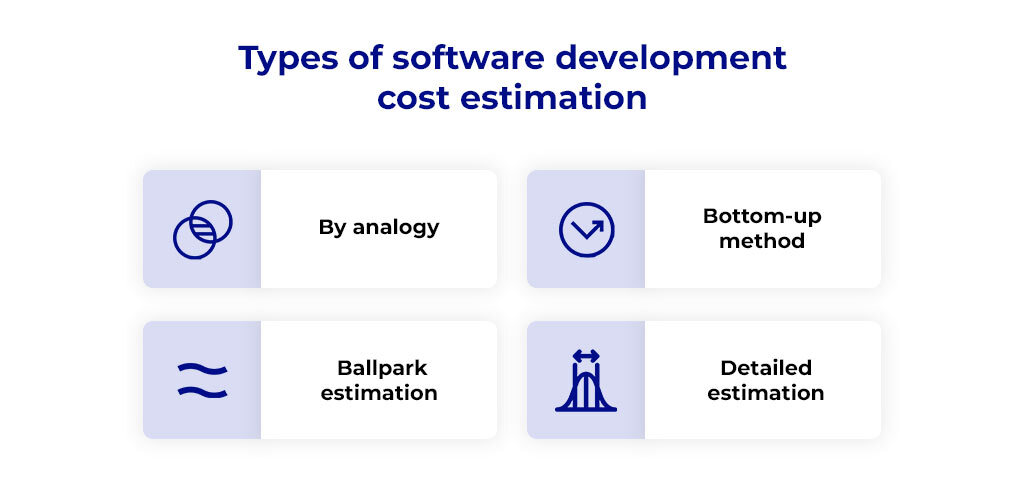 So what are the most common types of estimation, and which one to choose for the most accurate software development cost determination?
Ballpark. This type of estimation will be the first one you'll hear from a potential contractor. It is typically based on a short project description you'll provide the vendor with. Ballpark estimation is typically a bit vague, includes a broad price range, and is given to provide the client with at least some kind of understanding when it comes to pricing.
By analogy. This type of estimation is far more exact than the ballpark one. It implies that the customer has a digital product in mind, which inspires them. E.g., "I want an app like Uber. How much will it cost?" is a perfect scenario to apply estimation by analogy. With this method, the tech team is able to determine the number of features and a suitable tech stack more precisely. As a result, the contemplated software development costs will be more precise as well.
The bottom-up method divides the project into multiple simple tasks. Each of those can be accurately estimated. The final price is calculated by summing up the numbers required to develop all of the necessary tasks.
Detailed estimation is something a business owner should end up with once the discovery phase is over. It includes the time and costs required to develop each feature plus the budget both for optimistic and realistic outcomes. The numbers a client gets in a detailed estimation shouldn't change drastically (unless there are new features being added).
As you can see, there are different ways to estimate the project, and some are way less reliable than others. So if a potential contractor names a specific amount of money after just one call with you, it is not actually luck, it's a red flag. More likely than not, the mentioned number will definitely change over time.
Cost Estimation at Light IT
All the customer needs to have to receive a cost estimation for a particular project at Light IT is an idea. Even if you're a start-up owner and know nothing about software development, you can still contact Light IT, and our team will find out a way to turn your concept into reality. And if the client knows exactly which tasks need to be implemented, that's even better! In this case, the estimation process will go much quicker.
There are no limitations, really. Whether you are striving to create a completely unique market-changing product, an improved version of an existing software, or a full-on copy of a successful app, Light IT can help you with that.
Keep in mind that the rough estimate document will not cost you a dime. Our experts create it to provide the client with a vision and an approximate plan for future cooperation. The customer is always free to compare estimates from various vendors and make a balanced and informed decision.
The rough estimate is just the first stage in the cooperation process. After signing the contract, each Light IT client receives a detailed estimate containing all the expenses and charges for the project. If you are interested in knowing more about the estimate process, check out the article in which we explain every aspect of the cost of web development in detail.
Conclusion
The global software development market is multifaceted and fast-growing. Rates, trends, and market leaders are changing occasionally. However, it is always possible to find a reliable IT partner that will bring all the benefits of digitalisation to your business. When it comes to custom software development, Light IT has more than 15 years of experience and more than 600 projects under its belt. Our experts will be happy to provide you with a rough estimate for your project if ever you need one. Just drop us a line, and we'll get right back to you!