Who owns the info, he owns the world, they say. And this is especially true for health care. No doubt, the personal info you get from the customer is super useful for building a profitable long-term trusted partnership. But keep in mind that by the same token, sensitive health-related data is a lure for all kinds of cybercriminals.
To establish the highest possible standards for sensitive health information protection, HIPAA came into operation back in 1996. Since then, it's every entrepreneur's responsibility to ensure their business is HIPAA Compliant.
If you require an advanced healthcare CRM that is HIPAA Compliant plus fully covers the business needs, just keep on reading.
Can off-the-shelf CRM be HIPAA compliant?
Remembering that HIPAA compliance is obligatory for current healthcare solutions, you may question: "Aren't all of them compliant?". Sorry to upset you, but no. With the out-of-the-box CRMs, failing to meet HIPAA compliance demands is mostly the case.
Yes, off-the-shelf healthcare CRM may be HIPAA compliant. But it's crucial to keep in mind that not all vendors provide this kind of solution. A little background research is something a business owner should never neglect. It's your enterprise's revenue and reputation to put at stake.
Yet, out-of-the-box CRM (even if it is HIPAA Compliant) isn't the single option and definitely not the most flexible solution. There's an alternative for executives willing to get the piece of software that fits in with all the processes and is developed with the specific business needs in mind. It is a custom HIPAA compliant healthcare CRM.
Ready-to-use CRM vs custom HIPAA compliant healthcare CRM
Nowadays, the economic crisis has become trivial. A part of our lives we've managed to cope with. Against this backdrop, rapid healthcare CRM market growth only points to the relevance of full-scale modern software.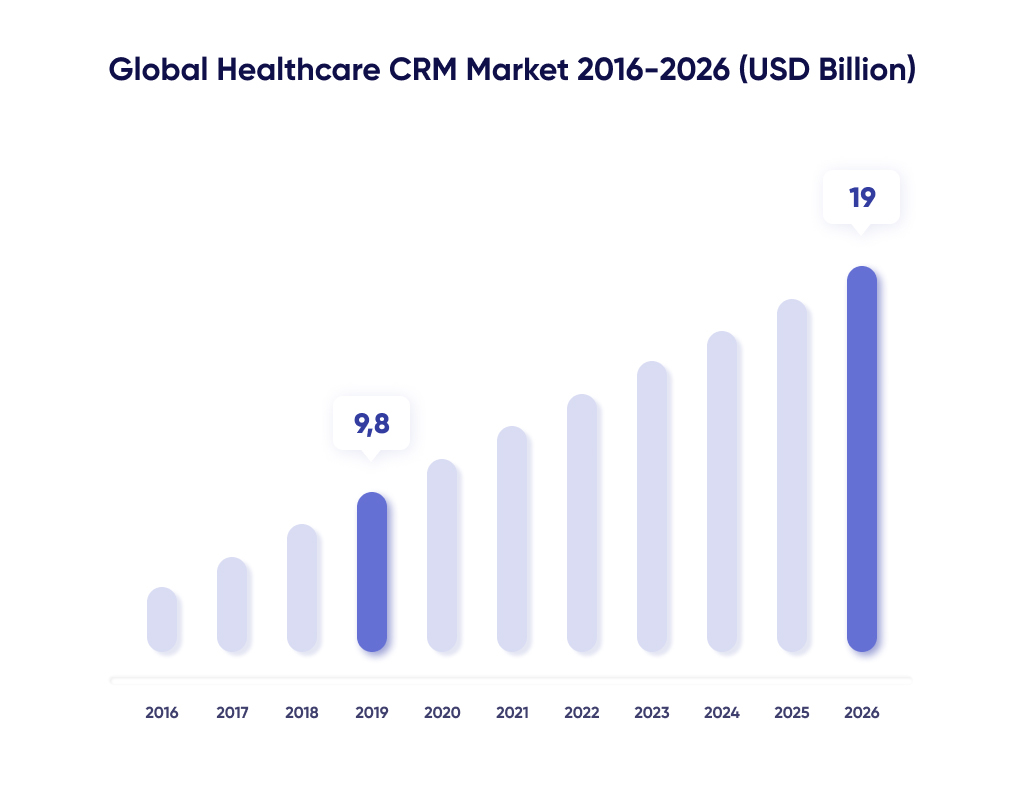 In 2026 the global healthcare CRM market is expected to reach 19 billion dollars, and these numbers become even more impressive, considering the pandemic.
But just like one size does not fit all, one CRM solution won't be able to meet the demands of all healthcare businesses types. It's unlikely a rehab, a pharmaceutical vendor, and a health insurance marketplace will use identical CRMs and be equally happy with the results.
That's why, to simplify the decision-making process we offer a distinct guide that shows all the main pros and cons of each healthcare CRM type you can use.



HIPAA non-compliant CRM

$

Out-of-the-box compliant CRM

$$

Custom compliant CRM

$$$

Compliance with laws




✔

✔

Smooth automated workflow

✔

✔

✔

More effective and transparent marketing practices

✔

✔

✔

Cost-effectiveness

✔

✔

✔

User Security Roles and Record/Field level security




✔

✔

A way to increase the credibility




✔

✔

Lower risks of leakage/breaches




✔

✔

Competitive gain




✔

✔

Problem-free existing app integration






✔

Adjustable to accommodate the business needs






✔

100% user-friendly, intuitive, and easy-to-use






✔
Compliance with laws
This one is pretty easy. Using HIPAA non-compliant software is unacceptable. It's straight-up against the law. So even though a CRM without HIPAA Compliance may be the cheapest one and may supply your business needs, it's still not safe. Choosing the non-compliant software may end up in seven-figure penalties and legal claims from the ex-customers affected by the leakage or theft of their personal info. The civil penalties reach up to $1,5M; the criminal penalties, on the other hand, can lead to 10 years in prison or more.
Smooth automated workflow
Using healthcare CRM makes the staff's life easier and reduces time expenditures. All kinds of tasks may be implemented via several clicks.
Schedule/reschedule check-ups and appointments


Send quick reminders to reduce the number of no shows and late attendances


Reach out to the patients online via chats or videoconference


Automate the billing process


Plan and carry out omnichannel marketing campaigns


Create and store all kinds of reports
Not to mention, healthcare CRM eliminates the factor of human mistakes. The system does not get tired and never forgets anything. So the business owner may utilize the best out of both worlds: humane treatment and system reliability.
More effective and transparent marketing practices
All CRMs simplify the marketing processes and give an efficiency boost. With this tool, your marketing pros can:
Create and bring to life omnichannel campaigns


Send personalized messages and take automated surveys


Increase engagement and feedback rates


Bring the patients' loyalty to the next level.
At the same time, different configurations of healthcare CRMs will grant different marketing experience. Out-of-the-box solutions usually cover the basics but not more than that. Customized software has an obvious advantage over "ready-to-use" CRMs when it comes to marketing. It can not only contain all kinds of tools a marketing pro may need but also measure the ROI and provide complex performance monitoring.
Cost-effectiveness
Healthcare CRM is a tech solution that actually saves money. Clean-cut workflow and enhanced customer experience will turn into higher profits in the future.
In this regard, the cheapest CRM solution may at first seem like the most cost-effective. But it's actually not. Cheap out-of-the-box software will pay off really quickly, but if at one moment an entrepreneur will find out that not all of the processes are covered or function the way (s)he expected, additional investment in the CRM will be inevitable.
More expensive custom solutions need a bigger budget but pay off over time. Once you've spent money on it, you don't need to re-invest over and over again.
A way to increase the credibility
Using the HIPAA compliant CRM software is a way to show the associates, partners, and clients, you value the data protection and make every effort to secure the potentially sensitive information. As a result, HIPAA compliance grows into a competitive gain.
Competitive gain
Once more, not all CRMs out there are HIPAA compliant. Failing to meet the requirements brings discredit to the enterprise and tarnishes the reputation. So an ability to guarantee the patient the highest protection level when it comes to the personal info will make your project stand out.
User Security Roles and Multilevel Protection
One of the elements a healthcare CRM should obtain to meet HIPAA compliance requirements is an ability to assign various user, record, and field security levels. Accordingly, any CRM user will have access solely to those parts of the system (s)he needs to get the job done. All of the other info will be inaccessible.
Even in 2020,
privilege misuse
is one of the dominant patterns in the industry breaches. This means the workers themselves commit potentially malicious actions with the clients' sensitive info, for example, out of curiosity.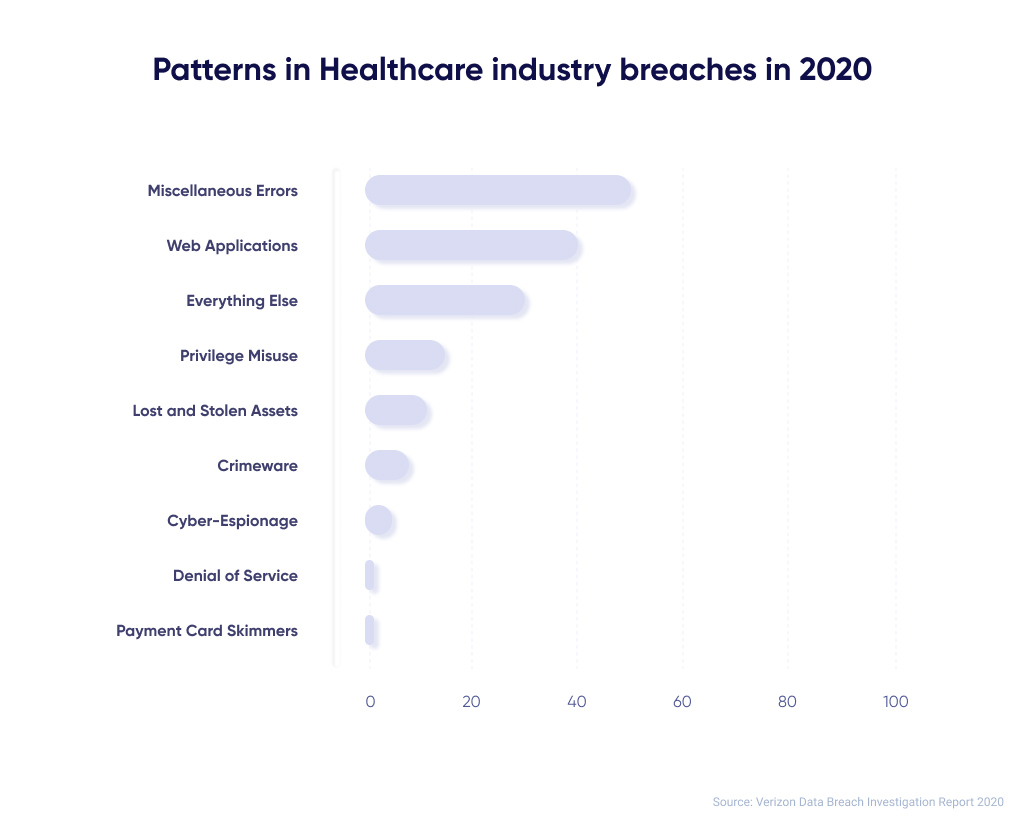 To avoid that, pick a CRM that provides multilevel security. And as out-of-the-box solutions may have a limited number of security levels, custom CRM software allows using as many types of protection as needed.
multiphase authentication including biometric verification


data encryption


multilevel access policy


digital signatures


tracking the history of changes
Lower risks of leakage/breaches
Another perk only HIPAA compliant systems obtain. It's simple: the more comprehensive security measures are implemented, the lower the risk of leakage or breaches.
Problem-free existing app integration
Software conflicts may happen and affect the workflow in a negative way. Choosing the custom HIPAA compliant system eliminates that risk. It's the vendor's responsibility to make sure everything works perfectly.
Adjustable to accommodate the business needs
Even though all healthcare businesses have something in common, they are not the same; it may turn out your company may need something extra. For example, there are some important features you will not find in out-of-the-box solutions.
It might be a specific video conference software or a particular tool to work with the study data. Custom CRM guarantees every tool needed to fit in with your business processes.
100% user-friendly, intuitive, and easy-to-use
Even though off-the-shelf healthcare CRMs usually have plain and clean interfaces, oftentimes, they still aren't intuitive enough or comfortable to work with. E.g., after the purchase, it turns out your staff needs an extra field in the patient's profile or would prefer to change the layout slightly. And with ready-to-use solutions, it's usually not possible or will cost extra.
Custom CRMs have no problem building 100% user-friendly, intuitive, and easy-to-use interfaces that live up to the tasks.
Why is custom healthcare HIPAA compliant CRM the best option?
Custom software has several advantages over out-of-the-box solutions. We're talking about the significant ones. Bespoke solutions are tailored to smoothly fit in with the existing processes, find answers to your business challenges, and provide a clear and streamlined workflow.
While out-of-the-box software may struggle with being equally productive and useful on different devices, custom CRMs don't have that issue.
Bespoke solutions allow looking up to every expert's needs. It means that a market researcher, a primary care physician, and a social media manager will have no problems while working with the CRM even though every expert has his own professional challenges.
Custom CRMs 100% cover and synchronize all the affiliated processes
referral management


onboarding


cooperation with pharmacies, insurance companies, consultants, equipment providers, and other third-party vendors
The true power of custom CRMs is on full display amid the pandemics. Healthcare workers, equipment manufacturers, pharmaceutical companies are dealing with extra pressure. Some businesses are straight-up crumbling.
Well-thought-out HIPAA compliant custom CRM can help overcome these challenges
Ease the tension put on staff


Protect the sensitive medical info


Reduce the losses associated with the patients' no shows


Eliminate the schedule conflicts


Provide remote consultations
Not to mention, due to the comprehensive QA and testing, custom CRMs are fail-safe in comparison with "ready to use" solutions. And that's what a healthcare-oriented software needs to be.
While working on Simpatra project, Light IT experts have delved into the HIPAA Compliance procedure inside and out. And even though, for now, HSS hasn't issued any kind of official documents that would confirm software compliance, take a minute to check our HIPAA compliance checklist and learn some of the aspects that make a difference during the healthcare CRM dev process.
Conclusion
HIPAA compliance is essential for anyone who operates a healthcare business. Without it, it's impossible to operate within the confines of the law and run a successful healthcare business.
Do not make a hasty decision in this regard. Take your time to weigh all the possible pros and cons. If you ever need help with custom healthcare CRM development, Light IT experts are here to lend a helping hand: from a comprehensive estimation to the fully-functional bespoke software.