How to start a news website and make it popular like Huffington Post, New York Post and The Guardian? Instead of telling you that it is as easy as pie we will give you valuable information that will help you to make steps in the right direction. This article may not be a step-by-step manual, but it has many useful tips and insights on what you should know before you start putting your time and money into making this idea real.
Here you will find ten pieces of advice that will help you to make an online newspaper, which is original, has a distinctive feature and easy understandable content that captures interest of your target audience, and has successful advertising capability.
1. Come Up with a Catchy Name and Domain
Today, you can find hundreds of news websites on the internet, so you need to think what will distinguish your online service from main competitors. In the very beginning of making a news website, create a name that would be catchy and tell your audience what kind of content they'll read. It is important that your name and domain are as identical as possible, so before you register the name of your news website, make sure that fitting domain is available and affordable to you.
2. Decide What Areas and Topics You'll Cover
Before you learn how to make a news website you need to decide what kind of news you want to post. This step is vital for your success because you'll have to target a specific audience. For example, some readers want to be updated on what's new in science and technology while others are more interested in business trends, fashion news, etc. However, if you want to create an online newspaper that covers the variety of topics, categorize them into separate sections. These sections may cover such topics as:
Local news;
Breaking news;
Events;
Music;
Art;
Economy;
Politics;
Sports;
Science;
Technology;
And other.
3. Don't Underestimate the Importance of Good UI/UX Design
Before you start an online newspaper, you need to visualize what would it look like. However, you must know that just make it visually pleasing is not enough to make your site crowded with loyal readers. To make information on a news site easy-to-read it must have a good combination of user experience and user interface parts of design. Design is not just "a pretty picture" it is also text size and space between the lines. People won't read news on a service they find uncomfortable, so it would be best to leave design to the hands of a professional.
4. Choose Your Graphic Content Carefully
Information on starting a news site wouldn't be full without mentioning that graphic content is as important as text. That is why images on your news platform must be of a high quality, of a perfect size, and creatively different. The best way to win hearts of your readers with visuals is to create your own images and photos. If you have no such opportunity, there are hundreds of photostocks at your service.
Think twice before using images from photostocks, and then think again!
In your case, using photostocks is risky, because once readers find out that you're posting something unoriginal your trust rate will fall dramatically and you'll have to work hard to restore it. So, you will benefit if your content team includes at least one talented photographer.
5. Identify Your Style of Writing
Good quality content is what turns visitors into loyal readers. Usually, the subject of the article dictates the style of writing. Along with reading information on how to build a news website, you need to learn more on writing news and other content for your site. Of course, there will be a team of copywriters who must know all this, but you are the one who sets the tone for the platform. Your outstanding feature can be a creative presentation of information, such as writing articles as if they were highlighted by a stand-up comedian. However, if you just stick to the classic writing style, and publish interesting and original articles on trendy topics, it will be equally great for your online newspaper.
All news brands mentioned in the diagram have traditional writing style, which does not prevent them from staying on top for years.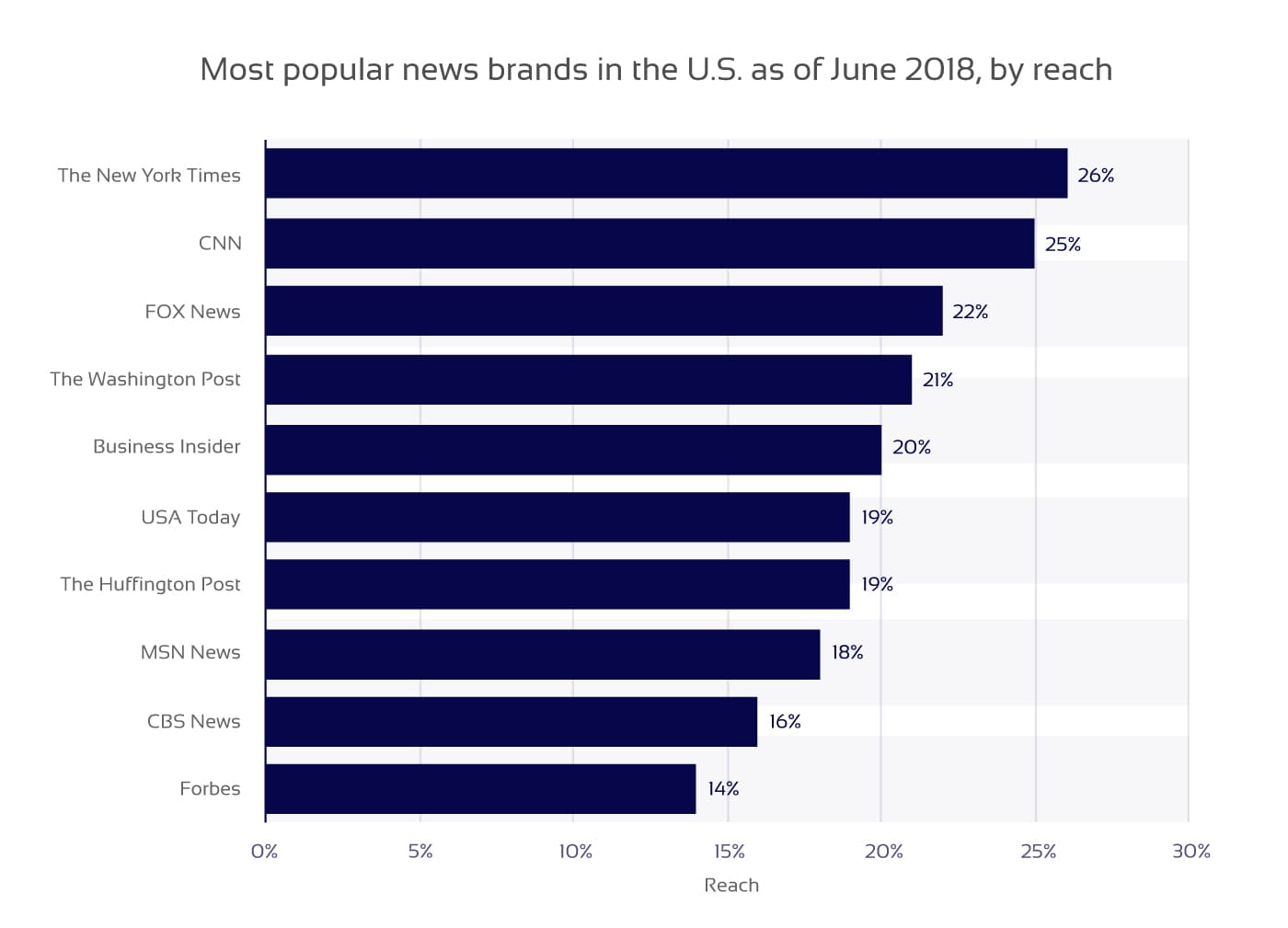 6. Choose How to Monetize Your Platform
Unlike many websites, a news site is one of the easiest to monetize, all you need is to choose the way that fits you. Native ads (like articles with sponsored content), ad banners, subscription packages, paywall and other will help you to get desired revenue. If you decide to integrate paywall or subscription, you need to get a reputation of a high-quality news service so people would want to pay money for getting access to your news. Thus, in the very beginning of starting an online newspaper, you need to lean on advertising monetization ways to help your platform become a popular news service and a financially profitable project.
One monetization way that might be interesting to the majority of your readers is offering an anti-ads subscription package. This is more applicable to mobile applications rather than to websites, but if you check out our Case Studies, you'll see that our specialists can do wonders when it comes to software development.
7. Get Professional Development and Testing Services
Even though there are plenty of website building services that allow creating the variety of websites by yourself, when it comes to business, better leave your site development to specialists with enough experience and skills. Our web and mobile developers will fully customize your news platform and make it fulfill your business goals and needs as well as make it most user-friendly to your readers and flexible to possible changes in future.
Just like in every business field, software development specialists constantly monitor trends, tendencies and everything related to their specialization. Thus, they can use or advise to use tools and technologies that fit your project instead of outdated ones. The IT field constantly evolves and expands and today you can easily apply such technologies as Artificial Intelligence, machine learning, data mining, cloud solutions, payment systems, etc. to your website and/or mobile application.
Another reason why it is better to hire a professional development team is the fact that they usually include QA engineers whose job is to make sure that all systems on the website function smoothly and there are no flaws or malfunctions.
8. Add a Mobile Application to Your News Website
Having a mobile application in addition to your website is not a must, but it will be a huge plus for you, because it will help you to cover bigger audience and make your service correspond to your readers' needs. By giving access to news on both desktop and mobile devices you will increase number of loyal readers and your news platform. In case if you want to create a news website, but don't want to spend resources on mobile application, be sure to make it mobile-friendly.
9. Use Email Updates and Media Marketing Wisely
Your news website may be the best one that has ever existed, but it doesn't matter if people don't know about its existence. That is why, in addition to learning how to make a news site you also need to know how to promote it and keep your readers updated. Today, many important email and marketing processes are automated, so you only need to use the ones that would fit your campaigns. You can use such email marketing service and a marketing automation platform as Mailchimp (our specialists can help you to integrate this service into your system) or similar, but equally effective platforms.
In addition, you need to create accounts in social media services like:
Facebook,
YouTube,
Twitter,
LinkedIn,
Instagram;
Local social networks
and other to promote your news website and increase interest in your platform with teasers to your news.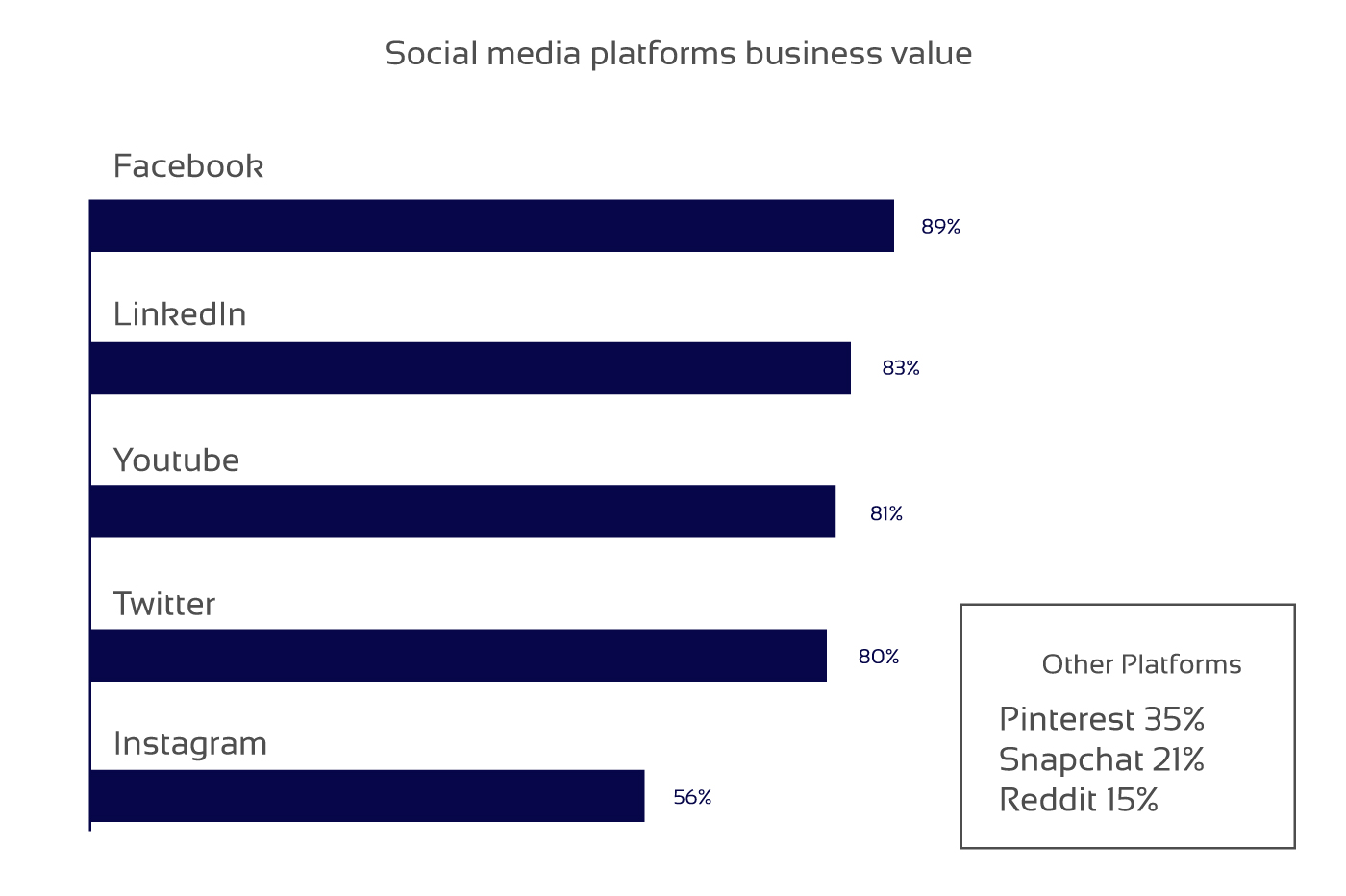 10. Work with Professionals Only
News websites can lose reputation fast and easy while gaining it always takes a lot of time and efforts. Reputation running on trust is the most solid, so when you build a news website and hire journalists, copywriters, SEO specialists, designers, photographers, web developers or other specialists, be sure that you hire professionals who understand the importance of a high-quality work and will give you original content only.
As a Final Point…
You will only benefit by making your news platform stand out from your competitors. Decide if you want to have your own unique and distinguishing feature and what would it be. This feature may be unique insights on the news, contradictory opinion, unusual storytelling, etc.
Before you come up with the final idea you need to investigate your competitors thoroughly to find their weak spots and see if your idea has already been used by someone in the past. By doing a deep research on your competitors you prevent yourself from doing typical beginner mistakes, thus, make your news service stronger and more competitive on the market.
Of course, these ten hints are not the only ones you need to know before starting a news website, but with them your service will have way more chances on survival and success. Just remember to make high quality your top priority so your readers will appreciate this approach and choose your service over and over again to see what new is happening in the world.