It would seem that the automation of HR processes and CRM operations in 2023 has long ceased to be an incomprehensible trend, but it has become a completely logical necessity. Knowing the difference between HRIS vs. HRMS vs. HCM is vital since every piece of data helps you solve the larger people puzzle. HR business process automation is no longer a new trend in world practice, but it has only just begun to affect local HR processes. Here, we will define the practical focus and the specifics of each solution and find what to choose based on your business needs.
Types of HR Systems
The primary purpose of any HRM system is to solve two main tasks:
Organizing personnel accounting management and account management operations
Documents loss prevention due to the flow-through of staff.
Several terms have been invented that describe the most common types of systems to navigate this variety somehow. We will look at them, but let's agree that there is no exact definition for each of them. Attribution of HR processes to a particular type of HR software is not carved in stone and can vary from system to system. And we can not deny the influence of marketing — many HRM systems belong to broader and more "advanced" groups just to be better sold.
What is HRIS or Human Resource Information System?
First of all, it is a database developed to track all types of personnel-related information. Because HRIS can be customized to meet any HR needs, it can be tailored to any company or industry. The HRIS can solve such tasks as candidates contacts tracing, maintaining each employee status data, and, in general, considerably facilitates the personnel management process.
What is HRMS or Human Resource Management System?
It is a single comprehensive hiring automation solution that can assist businesses in operating human resources and related processes throughout the employee lifecycle.
It allows automizing several HR functions through the use of information technology while offering all the features of an HRIS and the capabilities of an HCM.
What is HCM or Human Capital Management?
HCM provides talent acquisition and talent management tools to better handle HR daily processes from onboarding to performance tracking and compensation to offboarding. HCM can also be considered a strategic approach. Now that we know what these systems represent — let's dive deeper into how they are used depending on the specific business need.
A Complete Comparison Of HR Software for Businesses
The differences between HRIS and HRMS, as the borders between HCM and HRMS systems, may seem blurred at first sight. People often get lost with these names and concepts, while exploring each software's features and distinctive benefits before investing is essential.
Let's take a closer look at these systems.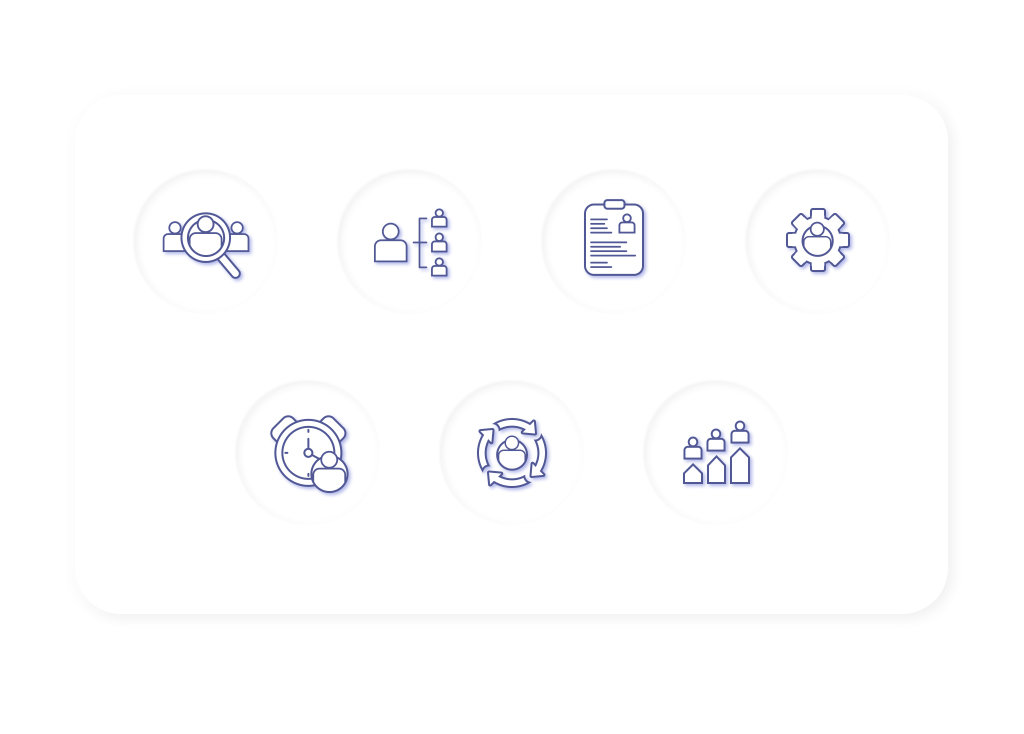 HRIS
Such software is designed to manage people, policies, and procedures and is focused on personnel tracking (tracks employee working time) and recruiting (workflows monitoring to help organizations optimize their processes.) It is a data-driven system that provides valuable data and insights for any business. Software features can vary widely depending on what kinds of companies are being targeted. With that caveat, here's an overview of HRIS software functions.
Main features of the human resource management information system:
Manages master employee data
Automates compensation and benefits planning
Payroll functions
Talent acquisition and retention
Helps plan position and department tasks and structures
Provides recruitment functions and tracks applicants
Tracks career development planning and training
Provides self-services for employees and managers
Provides reporting tools and basic analytics
Creates and tracks performance appraisals
Records absences and leaves
Provides approval workflows
Can be chosen when:
You have a large team involved in your day-to-day HR, payroll, and benefits functions
You need to automate your new hire check-ins and employee reviews
You lack assistance in documenting any written performance warnings or performance improvement plans
HRMS
Human Resource Management Systems typically offers all the features of an HRIS and functions of an HCM. Moreover, far from all HRMS providers have a progressive Talent Management component included in their suite. When investing in an HRMS, you can access everything included in an HRIS and HCM, plus a payroll system and some more efficient labor management tools.
Main features of HRMS:
Database administration
Employee interface
Training and development
Applicant tracking options
Time and labor management
Talent acquisition and retention
Workflows
Attendance monitoring
Benefits administration and management
Self-service portals
Automating routine HR actions (performance, and development, vacation requests, review scheduling, feedback collecting, training tracking)
Can be chosen when you need to:
Reduce the amount of paperwork as all documents, forms, and reports are stored and managed online. It also reduces paper use and physical storage expenses.
Prevent errors in employee data by automating data collection, processing, and documentation.
Automate mundane and repetitive tasks.
Increase the internal performance of your teams.
Ease payroll processing as attendance and time-off data are stored efficiently online.
Improve data security as every single piece of information is password-protected.
Diminish employee turnover by improving the overall corporate culture and development opportunities.
HCM
A human capital management system refers to much broader suites and includes practices and policies an organization uses to manage its workforce. It compiles different tools to monitor the entire employee life cycle, from developing talent pipelines for future recruitment to offboarding and pensions. Such systems can also handle HR admin and give employees access to their data and tools to, for example, request vacation. HCM software includes every HRIS feature under its umbrella and covers talent management and global capabilities.
It also collects different features and tools such as productivity analytics, payroll documents, timesheets — making it easier for companies to organize and track everything employee-related.
Main features of HCM:
Core HR, such as employee life cycle management with payroll and benefits administration
Attendance, time tracking, scheduling, and absence management
Workforce administration, task tracking, and labor forecasting
Talent management (recruiting, onboarding)
Performance management
A staff portal for self-maintenance of employees
Analytics for strategic HR, including reports, dashboards, and predictive analysis
Automation of manual processes, such as resume importing and data entry
Can be chosen when you need:
To mitigate the risk of losing vital technical experts
To easily share cross-departmental information
Increase and nurture employee engagement
Improve ROI on onboarding
Better flow of information through organizational communication
Increased talent recruitment and retention
Better Organizational Culture
A system to be tailored to each organization to support its activities and actions.
Workforce management and optimization (budgeting, analytics and compensation, and employee commitment features.)
Talent optimization (career pathing, competency mapping, succession planning, learning, and development.)
A Conceptual Difference Between HRMS vs. HRIS vs. HCM
To clear things up, HRIS and HRMS are the most similar, as they are both software with similar features, one including more complex features than the other. Compared to these, HCM is the most diverse, referring to a comprehensive HR software suite.
| | | |
| --- | --- | --- |
| HRIS | HRMS | HCM |
| Payroll | HRIS Capabilities | HRMS Capabilities |
| Tax Compliance | Performance Management | Scheduling |
| Benefits Administration | Succession Planning | Applicant Tracking |
| Time & Attendance | Recruiting | Training |
| Personnel Tracking | Onboarding | Budget Planning |
| Reporting | | Absence Management |
| Employee Self-Service | | |
Select HR Software For Your Business
Whether you go ahead with an HRIS or an HCM, your decision should be based on scrutinizing the present scenario and your growth plans. You need to find a solution that can connect people and workflows in meaningful ways. After all, your payroll and HR services impact every employee and affect the overall performance. The right software can offer so much more than administrative capabilities. It may support your daily operations, enable strategic growth, help reduce compliance risk and improve employee involvement. Providers who use advanced technologies and analytics practices can scale up your business to a whole new level. You'll be better positioned for strategic growth and be able to meet workforce, technology, and data trends proactively.
Checklist When Considering Different HR Solutions
You can get the impression that automation is effortless, and after purchasing a system, HR processes are optimized automatically. This perception is far from the truth. Any system needs customization and adaptation for your company. At the very least, you need to take the time to understand its functions.
Below is a checklist for you to make this process painless:
► Define Your Current Pain
Before you evaluate HR system features, define what you want to accomplish, change or improve. Study the relevant initiatives with senior leaders, consult with your IT professionals.
Answer these questions to faster determine your challenges:
What issues do you face with your current HR processes or HR software?
Where are your process gaps?
► Identify Future System's Requirements
When dealing with HR software vendors, possessing a complete list of features that you can prioritize can help to focus on your needs instead of aspects of the solution that the vendor wants to showcase. Always consider the role of technology and the related services in achieving their goals.
At this stage, you need to answer the following questions:
Are your employees equipped to adapt to a new or upgraded system?
What are the limitations concerning hosting all the existing data on the new system?
How flexible is it, and how easily can you upgrade or migrate to something different in the future?
What are the potential challenges you could face?
What are the must-have, good-to-have, and great-to-have features based on your needs?
Stakeholders from all business groups involved in your software selection project can record the functionalities that match their requirements. Project leaders can then determine the most critical features of the business and separate them from those that aren't mission-critical.
SelectHub defined the most popular requirements of HR Software according to their respondents' survey answers: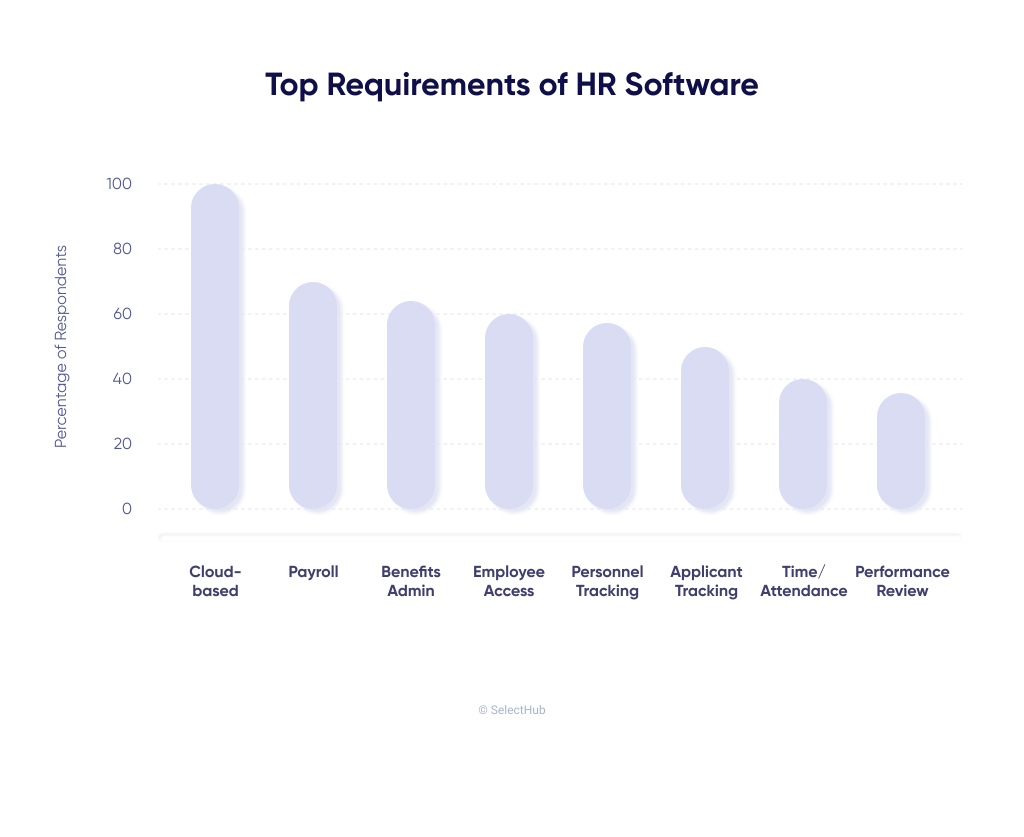 While examining the above survey results, I think you have noticed that all these features are typically included in what we consider the HCM system.
► Ensure Compliance
The ideal system and associated services must keep abreast of the briskly changing regulatory and legal requirements at the local, national, state, and global levels. If your operations span multiple jurisdictions, your payroll and HR needs will be more complex, and the requirements to stay compliant even more complex. That's why you might need multilingual systems and support, as well as multinational payroll while remaining compliant with ever-changing legislation.
► Prioritize HCM Security and Privacy Requirements
Secure your business processes, infrastructure, and sensitive information. Find as much as you can about how the data will be stored, transferred, and backed up. You may need multiple layers of data backup and system redundancy if you handle a high volume of sensitive information. HR system should also deliver advanced services and technology for privacy, fraud, and crisis management.
► Consider HR System Implementation Model and Set Long-Term Plan
Define who will be responsible for service, integration, and changes within the system. A robust implementation plan will get your system up and running efficiently and support your employees to keep things running smoothly. Such a plan may include a change management strategy, executive sponsorship, a network of change champions, and clear messaging. Look for HCM vendors with a successful track record with data conversion, third-party integration, and change management.
Make sure there are flexible financial models, the implementation fees fall within your available budget, and that you're protected against unexpected costs, such as those from a third-party integrator or API.
Extra Points Towards Paperless Processes
Implementing an HR system to your processes can improve the onboarding process, making it faster, saving time and money filling in paperwork while ensuring that all your data is secure. Another point for the digitalization of your HR processes comes with environmental needs. Industry research firm Gartner, Inc. estimates that as much as 3% of a company's revenue is spent on paper, printing, filing, and the costs to store and maintain tons of information. Just ponder on this: the average office worker uses 10,000 sheets of paper a year, and this year the world has already produced 160 million tons of paper. Every year from 2011-2015, about 20 million hectares of forest were cut down. Then things started to speed up. Since 2016, an average of 28 million hectares has been cut down every year. That's one soccer field of forest lost every single second around the clock.
Conclusions
The total volume of the market for hosted HR software was estimated at $13.8 billion. Developed initially as talent management tools, HR software platforms have evolved into irreplaceable systems. However, the upgrade train insofar shows no signs of stopping, so you can expect more robust approaches to enter the market.
Try not to rush in selecting between HRIS vs. HRMS vs. HCM. Think and focus on your experience, real automated processes, cases, and not only marketing and attractive interface pictures.
The system you choose entirely depends on your organization's needs, size, and goals, and the specifics of each software can be decisive when improving your HR processes. Take your time to ensure the selected software can take care of your needs. If it is chosen wisely, you will see an enhanced overall performance.
Moreover, as employees will be freed from routine and mundane daily tasks that will be automatized, they can be more prone to out-of-the-box approaches — a pretty good bonus, right? Picking the wrong software could make your company lose time, money, and even your data. So to make a decent investment in HR software and always consider cost, functionalities, limitations, data recovery, analytics, and customer service.