It's no secret that such things as the success of the company, the effectiveness of the search, recruitment of candidates, and employees' motivation and involvement depend on an HR specialist's work. HR managers deal with many important tasks and a routine, which, unfortunately, "eats up" most of the time.
And how can an HR employee cope with documentation and administrative tasks in the new environment? How to make life easier for your employees? Win time with automation. Today there is an opportunity to facilitate this part of the work for all participants: managers, HR, and employees themselves.
The worldwide shift to remote work only accelerated these everyday processes automation as people have had to perform their daily tasks more efficiently.
Big companies use enterprise software to automate and optimize various functions and processes to increase their performance. The same goes for HRM systems. When HR needs to track staff's involvement, motivation and keep key employees, they cannot afford to waste time on routine.
What is HRMS?
Today the daily duties of HR specialists are more extensive and involved than they have previously been. Managing employee information is enmeshed with recruiting and hiring, cultivating employees, evaluations, retention, and so much more. These processes' cost makes it decisive for HR professionals to integrate specialized software to manage the information more efficiently.
For this reason, organizations are now actively adopting Human Resource Management Systems into their processes, where HRs and IT are seamlessly integrated through single HR software.
How to Assess the Need for an HRMS Solution?
Your HR is typically involved in the following functions: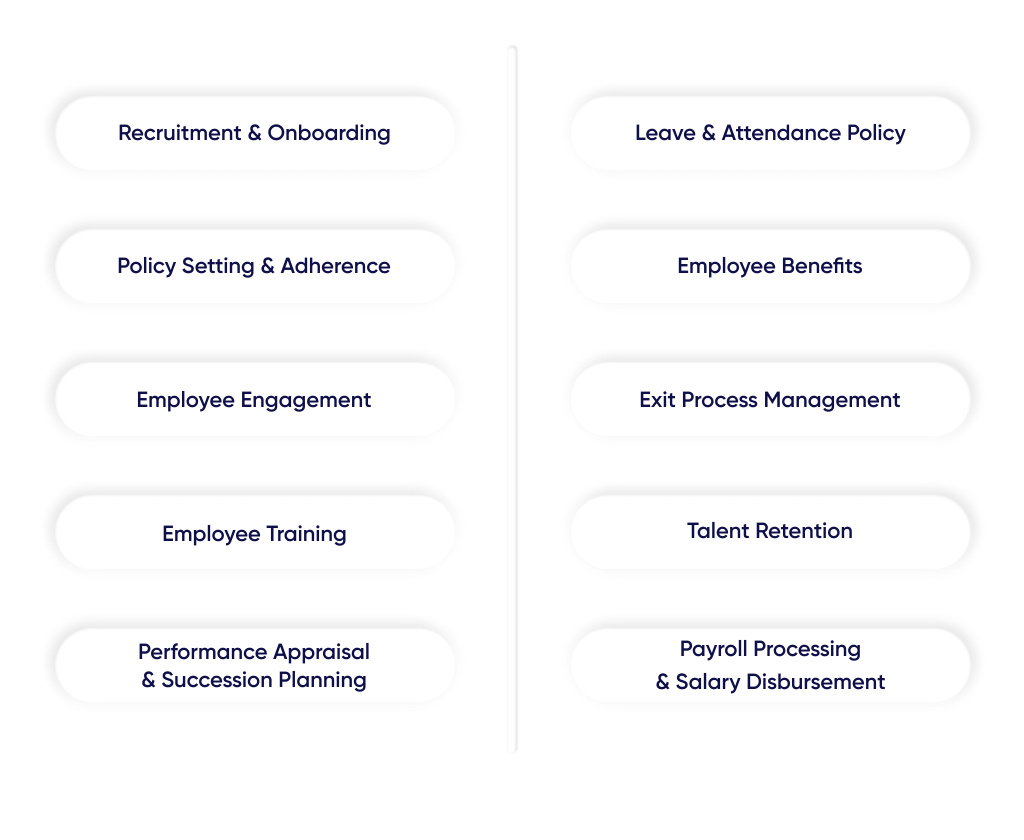 Before a company decides to select an HRMS solution, they need to identify their needs, together with short-term and long-term objectives. It is crucial to involve your HR specialists in this process.
You may organize a general meeting and discuss the HRMS goals and options.
We have selected for you some points to bring up for discussion and discover how you can benefit from an HRMS platform:
Your HRs are loaded with work and don't have time to accomplish all of their tasks or perform the tasks inefficiently.
The employees work in different locations and have no corporate platform to simplify supported communication.
You have no options to monitor and analyze possible reasons for employee turnover.
The employees have no opportunity/aren't authorized to manage their success assessments.
How HRMS Can Benefit Your Business
Many organizations manage their workforce without HRMS software assistance. Still, with a robust HRMS, everyone with access within your company can perform task management and access self-services. Executives or supervisors can assign new tasks, manage attendance of their staff, and track the location in their handy mobile application.
The system allows organizing company policies, improves employee and management collaboration, and increases its overall revenue.
HRMS can automate entire HR operations, such as:
Managing payroll;
Recruitment and hiring;
Collecting, storing, and reaching the required data;
Accrued vacations, sick leave/other types of absence;
Calculation of wages and other payments;
Performance evaluation;
Managing employees' training;
Bonuses and compensation administration;
Keeping statistics on HR and recruiting processes: staff turnover, number of closed and open vacancies, recruiting funnel;
Employee self-service;
Automatic posting of vacancies on job portals using integration;
Creation of polls of any complexity;
Reminders to employees about anniversaries, colleagues' birthdays, and other important events.
An inclusive HRMS is like a well-oiled machine where all the components work together to keep it moving forward, carrying out its function.
To adjust to the business, HR must modernize and transform. And to be a driving force of change, HR needs to define a set of desirable features that align with an organization's business objectives.
10 Key Features of HRMS Software
So, you have decided to choose the HRM system for your organization. Perhaps you decided to replace an already installed one or start the implementation from scratch. The main question is: how to pick a solid HRMS that meets the needs of the company? It's a complicated question, but thanks to our must-have features checklist, you can build the base that will lead you to a successful choice.
#1: Recruitment & Hiring
The system can automate and optimize a data analysis on peer positions and pitch the correct salary. The automated recruitment module of HRMS makes hiring procedures swift with easy to prepare templates and follow-up with recruitment. Moreover, an applicant tracking system (ATS) can simultaneously accept or reject applicants based on set criteria. And this not only increases the turnaround time but also saves costs on dedicated resources for placement.
#2: Employee Portal
HRMS can organize and store financial data. The type of employee data like their positions, employee records, start working date, salaries, insurance plans with banking and tax details, paid time off options, etc. becomes vital when companies get to a specific scale. Moreover, such a portal allows authorized persons to access their records in real-time, so HR doesn't need to supervise such things and save time.
#3: Payroll
The primary function of payroll is to calculate and pay salaries, withhold the appropriate taxes and deductions, and organize the printing and delivery of paychecks.
It easily handles all legacy systems for compensation and benefit, including salary, allowances, and overtime rates in an organization through its well-defined formulae. It can fairly be called one of the most valuable features of HRMS software. Automating payroll provides clear advantages, including:
Easy access to compensation and reward/bonus data.
Less need for manual data input (if the information is in a system, the payroll software can access it, ensuring single input).
A reduction in staffing time and overheads.
A coordinated approach that doesn't rely on a collection of databases, files, and spreadsheets.
#4: Workflows
Workflows allow businesses to automate most of the repetitive, regular tasks that drag down the efficiency of HR management. The system enables sending automated notifications to all participants to keep them informed. By analyzing the data, HRMS reduces the vast cost-factor associated with manual paper-pushing. It also reviews the employees' work, engagement, meeting expectations, asking for feedback from team members, and explores the set objectives. This can be a tiresome job, but facilitated data collection, shortened process cycle, and maintained consistency can immensely ease your life.
#5: Time Tracking and Leave Entitlement
The thick folders in closets, where hundreds of resumes are filed, are being replaced by ATS — Applicant Tracking System. It automates the process of searching for candidates, allows you to evaluate the effectiveness of various recruiting channels, and decide what works well enough and where it is better to direct additional efforts and resources. One of the distinctive features of the HRMS system that other software platforms don't provide is attendance management. Without any hassle, HRMS precisely controls absenteeism and administers tasks like leave entitlement, leave encashment, the total number of leaves taken and the balance left. Absenteeism is an essential strategic element of HRMS function to evaluate job satisfaction.
#6: Performance Evaluation
According to the HBR report, managing promotions effectively is one of the most effective steps leaders can take to succeed.
HRMS efficiently simplifies the assessment process by taking KPAs and KRAs into accountability. It gives more transparency and unbiased output of attendance and punctuality of every employee. With individual productivity track, knowledge management becomes effective and improves skills via training and development.
#7: Employee Training
With the change in technology and process, every employee needs to upgrade his/her skill sets. HRMS helps identify this gap of skills and guides in managing employees' training requirements and monitors the significant cost required for training and development. It is also forecasted that AI in HRMS will become an indispensable tool for improving learning, compliance, candidate assessment, and retaining new knowledge and skills.
#8: Employee Benefits Administration
The system allows HR experts to elaborate plans, configure eligibility rules, manage employee compensations, promotions, and conduct payments or deposits given by an employer to workers on top of their wages. It also provides self-service open enrollment and integrates compensation costs with accounting.
#9: Talent retention
HRMS helps to develop employee recruitment to retention strategies. If the attrition rate is high in an organization, HRMS will support the HR Manager with relevant analytical information to come over this problem. It also allows tracking behavioral patterns of each employee, providing them with forecasts of possible resigns. AI algorithms, embedded in employee feedback modules, can automatically send concerns to HR and even propose plausible solutions.
#10: Analytics and Data Management
Analytics and document management helps to analyze information in real-time and make better decisions, including:
Employee mood monitoring
MIS Reports
Emails
Images
Messages
Electronic documents
Electronic files
Documents sharing
Exit Process Management
According to Gartner's statistics, worldwide business leaders are increasingly becoming aware of the threats fluttering over organizational data. When it comes to corporate data, the human resources department is most vulnerable, as HR data comprises personal and financial details about the employees. That is why you should also consider the security factor when selecting a corporate HRMS. Only authorized people have full access to confidential data. Good HRMS solution goes with secure transmission as well as SSL systems that encrypt all the data as it gets transferred through the Internet.
Conclusions
The digitalization of recruiting and HR should provide a new set of tools, approaches, and corporate culture, leading to decreased time and resources spent on performing routine tasks and increasing focus on attracting, motivating, and developing expertise. An HRMS can help leverage technology to automate your tiresome HR processes and improve your current HR operations and an administration that meets current trends. Picking a suitable HR management software and implementing it to your existing processes can make an immense difference to the company's future growth and prosperity. Of course, you can always take care of the HR functions manually. Still, an automated system is an irreplaceable tool that can raise productivity levels and change your company's perception in the modern marketplace. However, you should always keep in mind that such systems can't be "one size fits all"; yet, just as each company is different, so there is a wide choice of variants available on the market.
Employees, administrators, and executives can benefit from improved productivity and informed decision-making obtained from proper access to HR data. Automation of HR management can reduce HR management costs and increase productivity.
Medium and large enterprises interested in such results are unlikely to succeed without implementing appropriate software solutions.
When selecting HRMS for your organization, your primary focus should be not only the type of system. Check what processes it may automate and compare it with other similar systems. Write down the list of requirements for your business processes, and compare systems by their functions and processes. Check development plans and history.
Remember that you need to focus on real experience, real automated processes, cases, and not just marketing and stunning interface pictures.