The pandemic changed the way we recruit. Today it's all about automating your hiring processes by empowering technology innovation. As we started working from home, these processes had to be adapted to be conducted virtually, and this is where ATS implementation can be of great value. According to Jobvite and HRD, for the next 12 months, companies are setting five priorities in their HR strategies:
Improve hiring quality – 52% of surveyed companies
Boost employee retention rates (reduce turnover and increase employee loyalty) – 24%
Speed up hiring – 23%
Increase the flow of quality candidates – 22%
Provide diversity in recruiting employees (by ethnicity, gender, age, background, etc.) – 22%
What Is An Applicant Tracking System
ATS acts as a database for job applicants to organize, search and communicate with large groups of applicants and empower handling recruitment tasks.
ATS allows you to accumulate and track candidate resumes, automate daily tasks, and make recruiters' work more efficient by monitoring analytics. A well-set ATS should also help draw great experts to your company through targeted recruitment advertising and employer branding campaigns and allow you to offer a better candidate experience for your applicants. It should help you to do your job well.
Who Needs ATS
According to Jobscan, 98.8% of Fortune 500 companies use an ATS. Modern ATS solves many challenges faced by businesses in personnel management and recruiting. Such programs can help companies understand how they need to change or enhance their HR strategy. The ATS is the backbone of the recruiting team's tech stack and can prevent going back and forth through different communication systems by having the whole recruitment process done within the software. Stakeholders can see progress updates with improved communication capabilities reducing miscommunication errors.
The pivoting tasks of ATS include the following:
Processing of the incoming flow of resumes and their storage;
Correlation of CVs with the vacancy;
Posting vacancies on a large number of sites (Job Boards);
Collecting responses to vacancies from many sources;
Work with external providers (recruiting agencies);
Working with hiring managers;
Work with social and professional networks;
Collection of an extensive array of data on candidates.
HR digitalization is in a row, and businesses are imbued with transforming processes using modern platforms.
All in all, Fortune Business Insights also forecast the global recruitment software market to grow: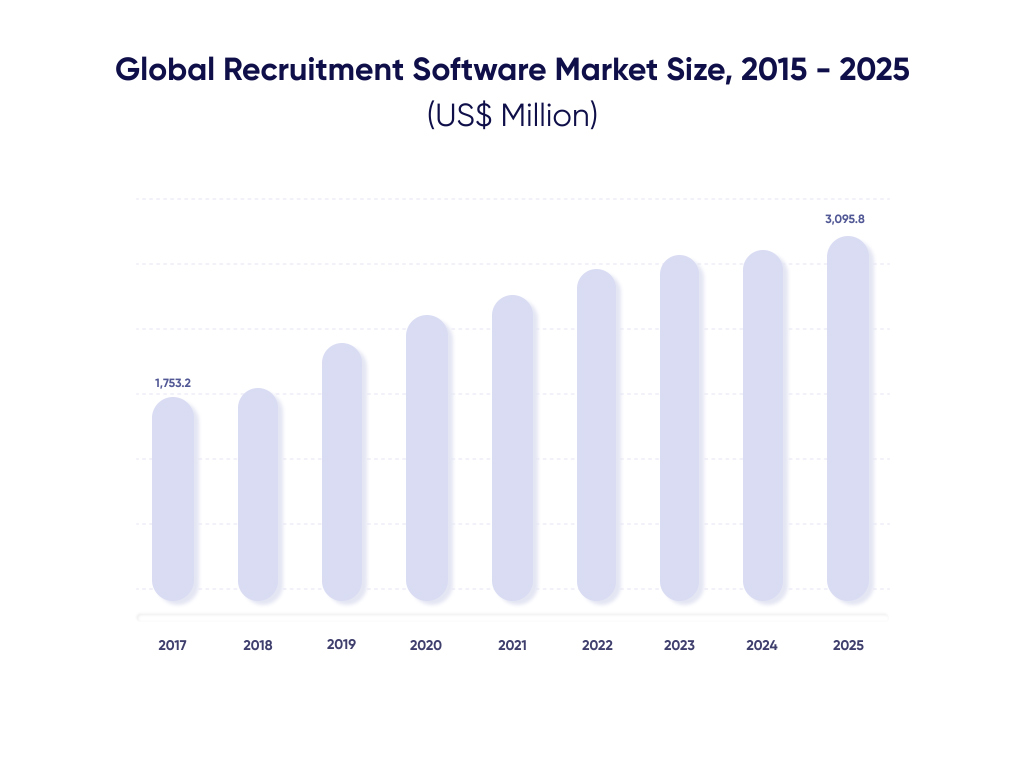 It's also helpful to think of an ATS in terms of tiers of users and their needs. For example, a chief human resources officers (CHRO) will have one set of requirements for the system because they're ultimately responsible for talent acquisition. But, CHRO won't use ATS often, and definitely not every day. Recruiters will. Next, consider hiring managers. They should be using the system more, but it will need to be intuitive and user-friendly.
Difference between ATS and CRM
There is some confusion between these two systems. Some don't even understand the difference. But it actually is. To define a profound distinction briefly and succinctly – CRM is a tool for achieving your strategic goals in recruiting, and ATS is for tactical purposes.
CRM helps build long-term interaction with active and passive candidates to maintain all communications in a single system. This system is your primary tool and cornerstone when crafting your HR marketing strategy. For example, CRM can segment your candidate base, prepare multidirectional marketing materials, and conduct analytics.
ATS is your working tool to structure all hiring stages, process the candidate, and track the vacancy dynamics.
First of all, the value of any ATS and CRM is in preserving structured information about the interaction with the candidate. After all, every recruiter knows that sometimes you have to contact the same candidate over and over again.
Types of ATS
ATS can be both a classic application (on-premise ATS) and an online service (depending on the needs and size of the company). You can choose between free ATS, open-source ATS, and SaaS.
On-Premise
You should think of an on-premise ATS if you already have existing IT hardware infrastructure that you can leverage without requiring extra capital investment.
SaaS ATS
Consider it if you do not have the required IT infrastructure or IT personnel to manage your ATS on-premise. You may don't want to run the software upgrades and don't want to make the required capital investment and support the necessary infrastructure. It is accessible anywhere, and you are not tied to a specific workplace. There are no fixed server costs, and implementation and updates are the responsibility of the applicant tracking system vendor.
Cloud-based ATS
Such solutions are more flexible and secured since there is less risk of internal breaches. Cloud-based ATS are generally billed as SaaS, so you will only pay monthly with no additional or hidden costs. It can save costs associated with on-site IT support, rental fees for equipment, and even money to maintain a larger space and utilities for storing equipment.
Ready-Made or Custom Solution

There can be two approaches here: choosing a standard ready-made solution from an HR system developer or develop an entirely tailored one. The advantage of the first option: the implementation will require less money and time. It all depends on your tasks, deadlines, and available resources, but in any case, I would advise at least studying ATS starting from the vendor of your core HR system. If it doesn't suit you, be aware that many ATS providers are eager to talk about integrating with standard core HR systems. The second option allows you to build the ATS with the most robust functionality while you can adjust your custom solution for your unique needs. It will enable you to get highly flexible and scalable recruiting software capable of sustaining your company's growth, even when your processes change or evolve.
What are other benefits of custom ATS development?
ATS integration with your company's website. It makes applying for the desired vacancy more accessible and faster, and applicants can read all the information about the company. Recruiters can also create and add vacancies to the website effortlessly.
Perfect for high-volume hiring. Recruiting software can deal with multiple vacancies simultaneously, which is especially useful now while most of us are working remotely. It keeps loads of data organized and allows hiring managers to search the database for suitable candidates by specific parameters quickly.
Effective cooperation. With an automated recruitment app, your HR managers can improve communication and not be afraid of missing something valuable. The system will consolidate all the hiring operations so that your team can exchange feedback, leave comments, and be aware of each other's progress.
Higher productivity rates. With HR software development, you'll be able to find candidates and fill the positions faster. Reduce the time needed to create new vacancies, keep track of new and existing applicants, and communicate with them for swift onboarding and revenue-generating.
Select Your Vendor and ATS Implementation Team
Whether the implementation is a concern of your IT department or the vendor is providing their experts, you will still want to pick an implementation team.
ATS implementation vendors offer assistance on this stage in varying degrees. For smaller clients, some vendors will provide case studies of successful implementations and light planning. Some vendors will even assign their own personal implementation consultant to manage every step of the process for large enterprise clients.
Take this time of high availability to dig deep into their customer service channel and see what level of access will be available to you and the quality of support once you go live.
Be picky when selecting your ATS implementation team. Ensure that you choose people who will be encouraged about the project and flexible enough to solve issues that may arise. Having a team prepared and ready to go when implementation begins may shorten the time taken to complete the project.
The Process of Applicant Tracking System Implementation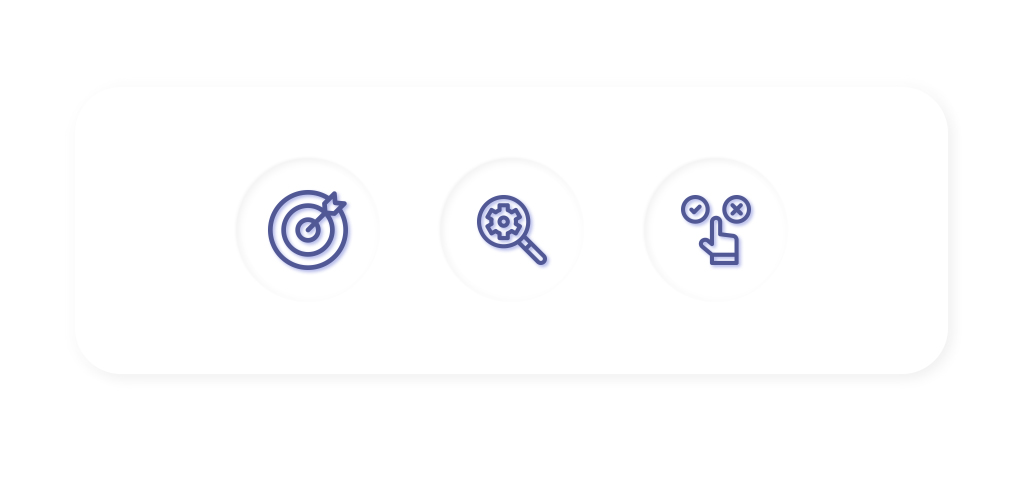 With a detailed implementation plan, you can avoid common pitfalls and set your talent acquisition team for maximum success and rapid ROI on your new recruiting technology. It defines what success means, clarifies the critical question of who's doing what, and spotlights risks to mitigate them before the rollout is compromised, and helps ensure that you maintain the collaborative spirit and excellent stakeholder communication.
Analyze the stages where recruiters waste time and candidates. To do this, draw up a recruitment process map – a diagram of the actions that lead you to your cherished goal (successful hiring). The benefit you can reap from this method is that the process becomes transparent: you see vulnerabilities and influence them.
ATS implementation stage also includes the following:
Setting business goals
Analysis of business processes and identification of problems that need to be solved with the help of ATS
Drawing up a list of criteria for the future ATS
Analysis of business processes, but together with the product supplier
Choosing the ATS that will take the company closer to business goals
Selection of systems that will integrate with your ATS and support communication with the IT team
Adjusting processes – lasts from a month to six months, depending on the mobility of processes
The vendor will usually deal with the development and integration of the new ATS. A good vendor will give a time estimation for this step, ask questions, discuss issues that arise, and share pertinent information. This step is generally the longest but necessitates your company's least amount of involvement and labor obligation.
ATS Implementation Cost
The price consists of the cost of the work of the internal implementation team (usually, employees of the HR and IT team) and(or) the cost of the solution itself.
It's vital to decide what features are required for your business and see if any additional features, implementation, or support costs will be needed. Usually, the price may depend on the overall headcount, the number of users you wish to include, level of functionality (and therefore time spent tailoring a system to your needs), and the workload.
The process for evaluating an ATS
Metrics are essential in helping you evaluate and improve a team's performance. The acceleration of internal recruiting processes increases the chances of a company getting a high-level professional before recruiters from other companies reach it, which is one of your efficiency indicators.
When evaluating your custom applicant tracking system, take a good look at these options:
Ready-to-use email templates and messaging multiple candidates at once
Job description templates that can be easily customized before posting
Custom pipelines that may be tailored for different roles
Effective scheduling options and calendar integration
The ability to have a comprehensive view of a team's hiring workflow and activity
A convenient search in the database of candidates
ATS should streamline candidate management
The system needs to provide handy navigation, resumes review, comments, candidate rejection, or proceeding from one stage to another.
A good ATS is more than a competent administrative assistant. It can also help companies become better at hiring.
Some features are must-have (tools to schedule interviews), while others can give you ideas on how to upgrade your hiring (adding an assignment stage or using integrated sourcing tools.)
Effective recruitment metrics and reporting
It is analytics that allows HR to speak numbers with management and optimize hiring employees to demonstrate the results of the work done. Metrics are essential in helping you evaluate and strengthen a team's performance. Hiring managers want to know how much of their team's time was spent hiring. It is laborious to create such reports manually; there is a possibility that an error will creep in. Your ATS should generate automatic reports that are accurate and save you time.
The recruiting automation service will remember the actions that the user takes and build clear graphs and diagrams according to the parameters required by the recruiter. For example, count the number of interviews for the selected time.
Large companies have drawn to the conclusion that their own database of applicants is a valuable asset that can significantly save money on recruiting. If a candidate has already had an interview but for some reason did not fit, then it is quite possible that in a few months or even years, this candidate can be a perfect fit for a similar vacancy.
ATS Integrations
You need to craft your ideal ATS technology stack, especially as your business grows and needs change. Social media, Payroll, benefits, compensation, TA, and onboarding. For example, such a feature as an integration of your ATS with social networks will help you complete the applicant's entire portrait. To make this integration comfortable for recruiters, ATS must save resumes from as many sources as possible. At the same time, the information should be preserved completely – for example, a portfolio from a design website will be significant when hiring and should be attached to a resume.
Test And Training
Even if you stop on a ready-made solution and testing may be done by the ATS vendor remotely, your team will need to do it also eventually. It is generally best to let your ATS project team do the first round of testing, as they are the most familiar with the system features and team needs. Tell your project team to give detailed feedback so that any bugs can be worked out at this stage.
After your project team has relayed feedback and the system has been updated with necessary changes, it is time to introduce it to the rest of the team. Scheduling a training session and assigning your team members training will help take the pressure off you and facilitate system adoption. Provide support that will help those impacted by the ATS adjust to the new system and find answers to any questions so that the acquisition is cause for excitement instead of stress.
As we can see on the below chart, businesses point out the overall improvement of their hiring: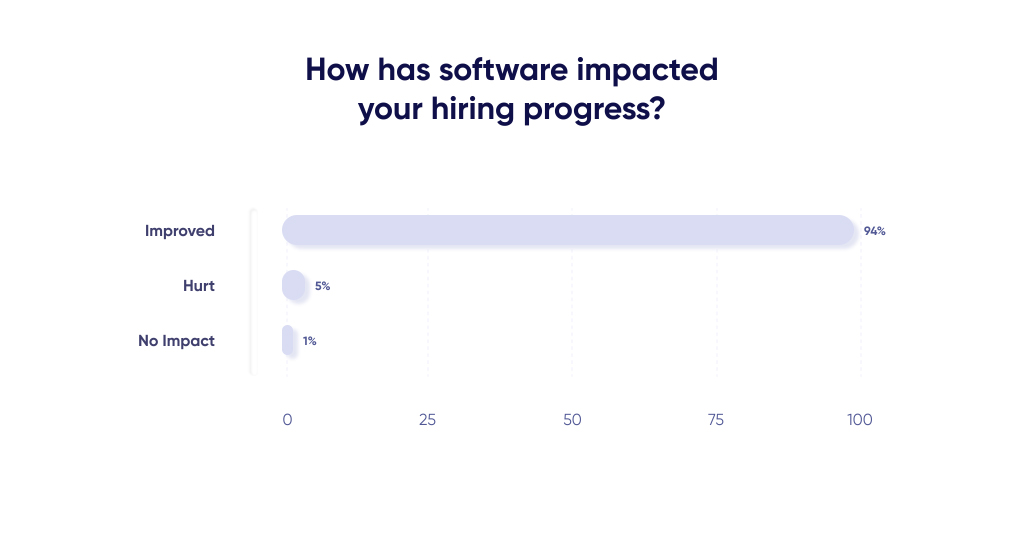 Challenges of ATS You Can Omit
Applicant filtering is one of the most challenging aspects of an ATS since it is a complex problem. Even two HR professionals looking at the same CV can have different opinions about whether that CV fits the job description or not.
Applicant filtering roadblocks may include:
False Negatives: Too strict rejection criteria will lead candidates who would otherwise be hired to be rejected.
False Positives: Similarly, setting too lax criteria will leave the HR team with too many unqualified candidate CVs to review.
Keyword-based application filtering systems can be easily tricked: Candidates who know about ATS settings can include specific keywords while preparing their resumes. It can lead to recruiters calling unqualified candidates for interviews. Similarly, keyword-based tests can reject qualified candidates.
Conclusions
There is considerable shifting in the ATS world, especially as industry-leading vendors come online with simpler solutions that prioritize candidate experience. To benefit from an automated recruiting system, determine which recruiting functions you need. Estimate what processes can be adjusted by the system. Select your vendor, implement, and enjoy the fruits of a tool that will allow you to focus on finding world-class talent. You can always develop your customized system. Landing your specific ATS entails some heavy lifting — a raft of steps, myriad considerations, and a battalion of internal and external experts of Light IT can guide you through the entire process.