This article is written mainly for those who have some grasp of enterprise software like HRIS and try to wrap their heads around the practical use of such systems. But, just in case, if you are a rookie here – welcome on board. We will walk it through together and guide you through HRIS implementation steps.
What is an HRIS system?
An HRIS bridges software and hardware technology to help you manage everything HR-related in one place. HRM includes a range of procedures from "hire to retire." These can be administrative tasks, especially the everyday routine processes associated with gathering, filing, maintaining, and distributing HR information, which can be inefficient if managed manually. All this, HRIS replaces with efficient data management and document storage in a secure, digital format. In the modern workplace, an HRIS is a hybrid of several types of information systems.
But, typically, HRIS consists of three primary functions:
Input
Data maintenance
Output
Input function – all the employee-related information is entered into the system. (data entry, scanning the original documents).
Data maintenance function – new data are updated and added to the database.
Output function – generated information.
HRIS system is only one of three popular HR management systems. There are also HRMS and HCM systems, and if you want to broaden your view, check our previous article about the conceptual difference between these HR systems and how to select between them.
HRIS is the backbone of data-driven HR departments and companies
Simply put, HRIS covers core HR processes and is usually adopted to optimize HR processes. No matter what industry you're in, you need an efficient human resources process to reach your business goals.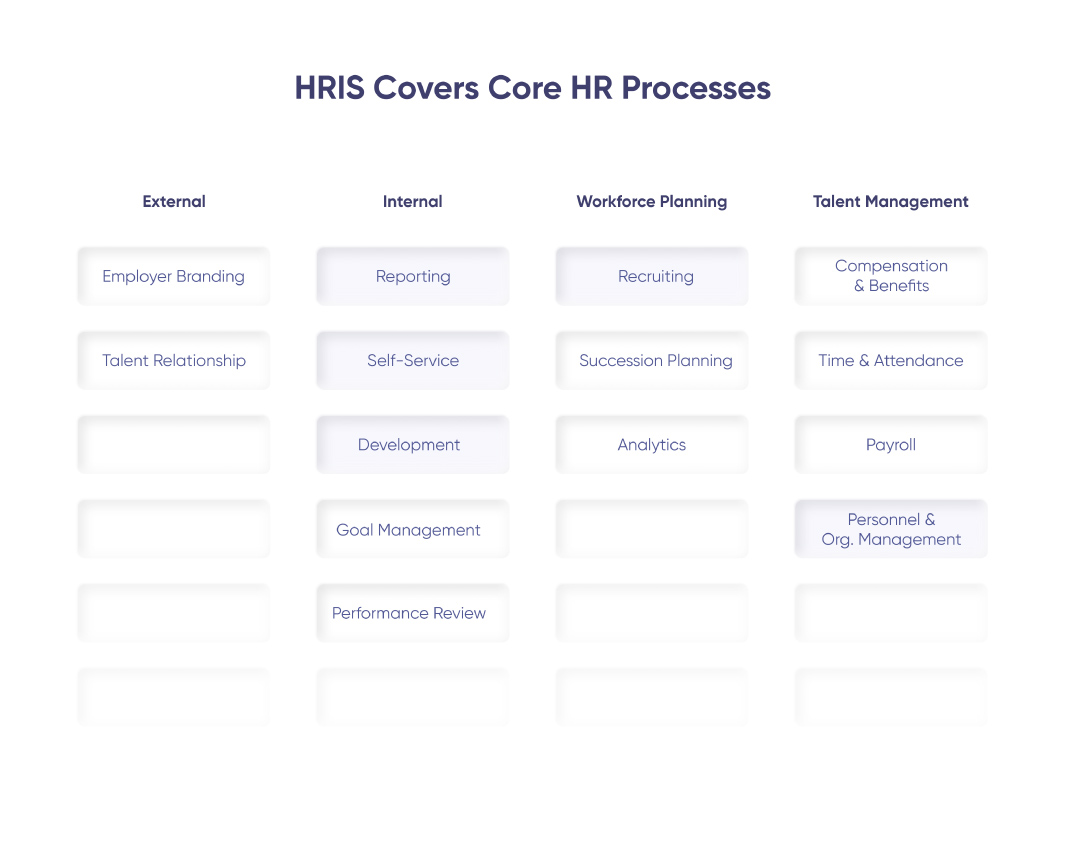 Perfectly designed HRIS can help you with:
Onboarding of new employees
Enabling efficient recruiting for your hiring managers
Managing existing talents within the database
Communicating with managers and employees for timely business notifications
Managing payroll and personal information
Retaining and securing personnel information to ensure compliance
Different Types of HRIS
Business organizations have widely utilized several HRIS types. These are Operational HRIS, Tactical HRIS, and Strategic HRIS.
Operational HRIS
Assists companies in analyzing information about their employees to figure out the appropriate job position for each worker based on their skills and experience. Also helps to complete specific tasks for stakeholders.
Tactical HRIS
Assists in making choices alongside managers with talent acquisition, employment and arrangement examination, onboarding, and income/incentive distributions within the organization.
Strategic HRIS
Assists in facilitating the arrangement of a business's personnel based on the accessible amount of skill level. It comes in handy when a company is looking to broaden and enhance its operations.
The majority of new HRIS implementations are in the cloud
Best working HR practices should focus on building a symbiotic relationship conducive to both employer and employee. We have disparate systems, redundancies, too many stand-alone applications, and we've over-customized and fragmented employee data in decentralized data stores. But the view of HR has changed from the how-do-I manage-the-HR-department view to a very people-centric view, and that view is global – the majority of new HRIS implementations are in the cloud. It is said that the view of HR has changed from the how-do-I manage-the-HR-department perspective to this very people-centric view, and it's clouded by the fact that that view is global.
System Platform: Cloud vs. On-Premise
Traditional Cloud Solutions
Have a monthly subscription cost and no hardware or hardware labor costs associated with them.
They offer the ability to scale quickly should the need arise.
SaaS (software as a service) offerings provide best practice guidelines and templates that can be utilized.
Depending on the solution, this can limit configuration and customization.
On-Premise Solutions
Require hardware that must be maintained and periodically replaced.
They also require you to perform your system updates.
Since they are self-maintained systems, you can usually tailor them to specific organizational needs.
Bandwidth is controlled internally.
Where to start and how to implement the system in the right way?
Implementing a new HRIS will most likely significantly impact the company than anticipated, thus challenging the operating structure and principles of all the HR-related departments.
What to think over when creating the HRIS implementation plan:
Who will use the system, and how will it be accessed?
How will it be updated?
Review human capital management processes. Find the weak sides and what can be done differently.
What strategic initiative might you simultaneously seek to pursue with a new HRIS deployment?
What technology functions are required to support the processes within those initiatives?
How will the combination of new processes and new technology affect your organization?
What will be the impact on your workforce?
Does HRIS need to be designed considering different generations?
Companies strive to meet changes in the workforce. HR professionals work to optimize talent in their organizations. Studies in organizational and human behavior find that people seek similar factors in the workplace, and these commonalities can be leveraged to bond employees in support of a company's mission, vision, and goals. Research shows that it is critical to leverage the strengths of each generation. In today's realities, HR has the unique opportunity to create a competitive advantage by guiding policy and program development and management strategies to increase attraction and retention of the four generations, whether in a domestic or global organization. Gen Z, for example, is a large, diverse generational cohort that is beginning to impact the organizational cultures of the workplaces they enter. Gen Zers are likely to be loyal to organizations with positive workplace culture.
Boomers are starting to think that retiring at 65 — when you may live to 80 or 90 — leaves a little too much time for golf. And that means we need to start redefining the standard career trajectory.
To retain talented members of this generation, organizations will need to examine their values and policies, from diversity to manager behavior to sustainability, as crucial retention tools.
HR Policies and Programs for Multigenerational Support
HR Policies
Examples
Work/Life Benefits
Flexible hours, work/life balance policies, telecommuting, family leave, allowance for religious holidays, etc.
Rewards & Recognitions
Compensation, rewards programs
Health Care
Wellness programs, sports compensation, long-term care, dependent care
Training & Development
Professional development, mentorships, temporary work assignments, job sharing
Succession Planning
Formal leadership development programs, temporary work assignments
Workplaces must be ready for the priorities of the newest and soon to be largest generational cohort. Catalyst research on the future of work reveals common values and a shared desire on the part of employees, shareholders, and customers to see social issues effectively addressed by organizations and leaders. An organization that is not only diverse but inclusive across all levels of its leadership structure will become key to attracting Gen Z workers.
HRIS Implementation Checklist For Businesses
The technology we depend on to run our business has to be as good as the technology we use in our everyday lives. An organization's footprint significantly impacts the odds that a system will be a good/great fit. Transforming HR through technology starts at the core, with an HRIS system implementation process that enables continuous innovation across your business. It goes far beyond checking functional boxes.
HRIS software delivers workable solutions to your business, but it's not always easy to find the right off-the-shelf solution. That's why sometimes you should opt for a custom one.
Any software can be implemented in two different ways:
You can make it so simple that there will be apparently no deficiencies.
You can make it so complicated that there will be no apparent deficiencies.
The first way is far more complex. HRIS software delivers workable solutions to your business, but it's not always easy to find the right system. That's why sometimes it is better to go for a custom solution. To make that process easier for you, we've assembled a short checklist for implementing HRIS and will go with you through all the steps. Wheels up!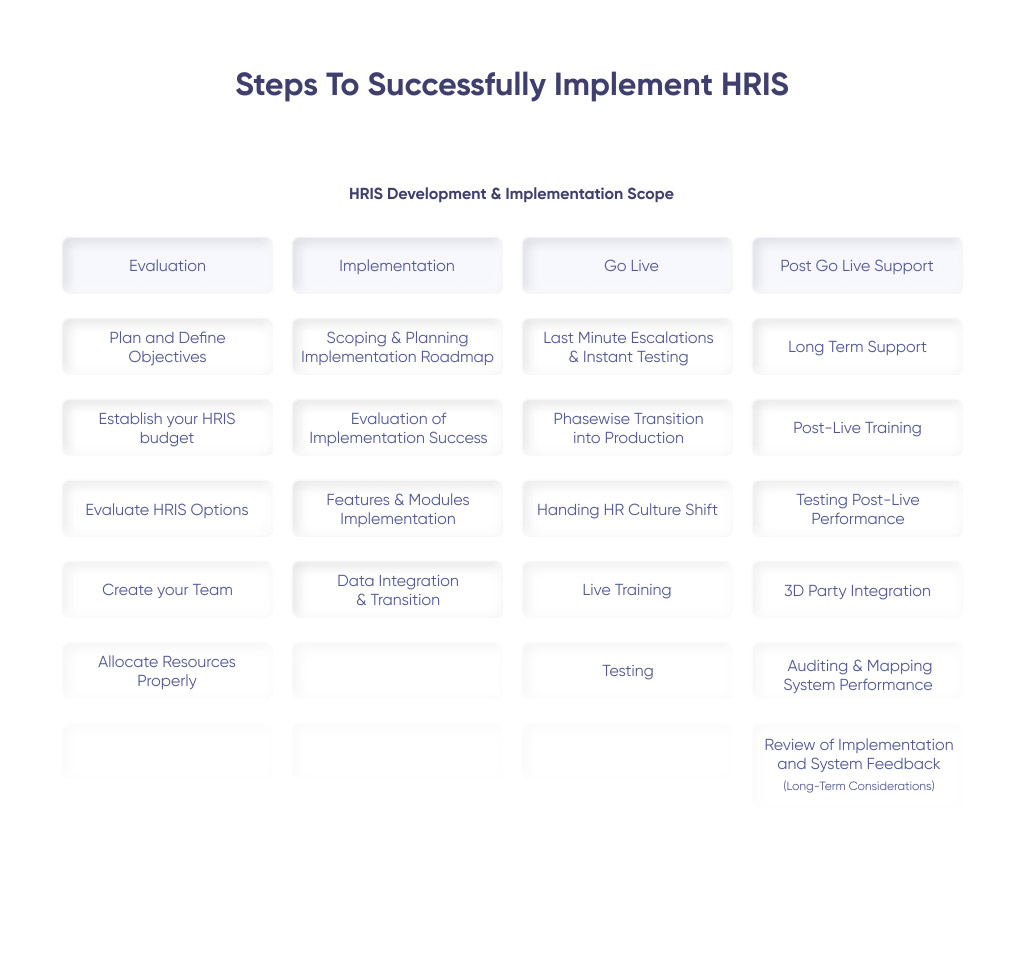 Evaluation
Plan & Define Objective
Everything starts with questions. An HRIS can be as simple as a small, internally developed employee database or as complex as a fully integrated multimillion-dollar enterprise resource planning (ERP) system, offering economies of scale to larger companies. The evaluation process is impossible without business owners and business partners because they usually have a vision.
Establish your HRIS budget
The rising costs of HRIS and the related software cause many organizations to reconsider whether to make such heavy investments/develop custom solutions or let outside vendors take care of it. Payroll, relocation services, and compliance are only a few functions that can be outsourced effectively.
Evaluate HRIS Options
There is no one-size-fits-all approach to evaluating and selecting a talent management system because companies and their needs are too diverse. There are numerous factors to consider when evaluating your future HRIS system – features and functionality is just one such area. These factors apply to organizations of any size. Large companies may have greater needs, but smaller companies also have needs and often face more constraints.
Create your Team
While selecting unknown companies to develop or manage the HRIS, you need to be sure that the chosen company is the right fit with the right expertise. Although it is vital to include the right people in the selection process, not everyone needs to be involved in all meetings. Choose a core team and an extended team so that the core team can take the lead with inputs from the extended team. This maximizes everyone's time, gives all a voice in the process, but doesn't bog people down with an abundance of meetings.
Allocate Resources Properly
Resource allocation helps you to choose the best available resources for your projects and manage them throughout the work, so you can avoid under or overutilization of your employees.
Implementation
Scoping & Planning Implementation Roadmap
Identify and outline the underlying objectives for the new HRIS. This involves determining which pieces must be implemented versus which would be nice to have. Keep in mind the organization's size, the number of employees, and overall scope of deliverables.
Evaluation of Implementation Success
Among common HRIS implementation challenges encountered when implementing technology, projects can be scope creep of the deliverables, poorly defined requirements resulting in rejected deliverables, late delivery, or poor communication between stakeholders, project management, and vendors. A strong project implementation team will identify implementation challenges early on to keep the project on track.
Features & Modules
An HRIS must also have a wide range of functions to meet your company's scaling needs. The more HR-related functions an HRIS offers, the more useful it can be to your long-term goals. Review the requirements and consider these points of key export of HR: onboarding, performance evaluation, payroll and benefits planning, workforce planning, succession planning, timekeeping, and dedicated/integrated dashboards.
Data Integration & Transition
Most HRIS project teams have many people assigned to converting historical data from the existing HR databases into the new HRIS and interfacing the new HRIS with other systems that rely on HR data. As this group starts mapping the historical data to the new system for conversion, group members may find when combining data from several existing systems that the existing HR data contains a significant amount of invalid, incomplete, or contradictory data. Keep in mind that the new HRIS was configured for new, reengineered, or streamlined business processes. The existing employee data may not fit well into the new system, and the new HRIS will demand more robust and accurate employee data.
Go Live
Last Minute Escalations & Instant Testing
After successful implementation, the organization and vendor/developer should conduct system testing, often concurrently with data migration and configuration, to verify data integrity. Are the data stored in the correct location? Can users query the data? Are the data available to individuals with appropriate security clearance? Technical software team members should test each module for proper functionality, and functional HR team members should verify that the module is working correctly and maintaining data integrity.
Phasewise Transition into Production
It's time for the big reveal. The information is uploaded, the software is working correctly, and the configurations are suited to you and your business.
Handling HR Culture Shift
It's important to step back, evaluate, and define your workplace culture—both what it is now and what you want it to be in the future — and how HRIS can either contribute or take away all of these factors from your desired culture.
Live Training
HRMS training is a make-or-break part of your implementation success. You will need to organize different user groups.
The users whose HRMS training and instruction you need to consider:
The Executive or C-level users who access HR analytics and strategic level reporting features.
Line managers – will be focused on employee record keeping, workforce scheduling and leave management, recruitment and onboarding, and performance management tracking.
Individual employees will need to know how to access their records, keep them updated, book/request time off, make benefits choices, etc.
HR staff – carry out various statistical and strategic number-crunching and so on.
Testing
Create a test plan including the following:
The testing scope, which should list the HRMS features that your team will test
Exclusion (the HRMS features you will not test.) This could be due to the phased implementation of the system, or other relevant reasons
Detailing the testing approach that you had mentioned in the test strategy
Testing entry and exit criteria
Test cases (functional & non-functional) and their respective success criteria
Testing schedule
Task assignments
A testing risk mitigation plan
Post-Go-Live Support
Long Term Support
Suppose your organization is rapidly growing or some mergers and acquisitions are envisaged for the future. In that case, you need a solution that can quickly scale to accommodate additional users, employee records, and bandwidth demands:
The system must be easily scalable
The solution must be easily accessible from new locations
Post-Live Training
Training – technical and non-technical – must be identified and performed to help people make the transition smoother to working with the new HRIS and the new organization model. The training needs to go beyond screen-prints and mouse-clicking sequences to explain how the new process fits into the organization, its relationship to other processes, and the execution steps in the process. Employees will have to know the why as well as the how of the process.
Testing Post-Live Performance
Testing HR software costs time and money but can save time, money, and headaches down the road. The best way to make sure that adequate time is devoted to testing is to designate a certain amount of time for just that at the very beginning of the project. If other problems creep up, be careful still to reserve an appropriate amount of time for testing.
3d Party Integration
Consider in advance what integration means and methods will be supported. Will there any libraries of pre-delivered interfaces that can be utilized? Think about the finance system, payroll processing, active directory, and time clocks.
Auditing & Mapping System Performance
Many firms also find it useful to preserve the steering committee past HRIS implementation and into the productive life of the HRIS. The steering committee is an excellent group to monitor the ongoing quality of HRIS operations, manage relationships with the HRIS vendor, and clear the path for later HRIS upgrades or enhancements.
Review of Implementation and System Feedback (Long-Term Considerations)
An HRIS should also come with security features that protect the account names, passwords, and all other pertinent data of its users. Apart from network security itself, this also means having different levels of access for viewing data depending on people's positions within the company.
Conclusions
It is always important to know why your business requires implementation of the system, to not simply follow the automation trend without considering the need and effect of implementation. It is vital to remember the needs of employees and put them first. The system should be implemented to improve business efficiency and to take care of employees. If you combine system, business, and employees, you get a puzzle that will ensure the productive and efficient work of the entire company.