Early on, surveys and repeated phone calls were the most important tools for seeking information about customers and their needs. In reality, people tend to show little interest in those two practices, often leaving calls without an answer and surveys unfilled. CRM systems have become a remedy for that. To know how to create a CRM system for your business and what factors influence the custom CRM development cost nowadays, continue reading this article.
Why Build Your Own CRM System?
Customer relationship management system software is used for regulating relationships between clients and companies. They collect, store, analyze, and make a follow-up of the information on the company's partners, current clients, and prospects. With CRM systems, business owners watch their sales go up due to various built-in analytical features and other integrations depending on a company's profile.
An example of the earliest so-called CRM system can be a simple Excel document used to help managers gather customer data and put it in order. This method proved its inconvenience because of bulky looks and the burden of entering too much data manually. Nowadays, technologies let you create your own CRM capable of handling sales, marketing, and customer service tasks by automating business processes in a company.
When to Use CRM
A dire need for CRM comes with the growth in the number of clients interested in your product or service. CRMs help to treat every client individually and keep in touch with organizations or clients who make regular purchases from your company.
Where to Use CRM
Customer relationship systems can serve a wide range of businesses, including governmental, financial, manufacturing, construction management organizations, real estate services, consulting, information technology, logistics, retail, healthcare, education, and sports industry sectors.
How It Affects the Workflow
It helps organize a continuous workflow in your company. If one staff manager quits working on a definite project for a definite reason, CRM makes it possible to reestablish partnerships or client relationships. To do so, you just add the block of a new employee to the system database and provide them with a follow-up to previous activities of a company to get down to work faster.
How to Build Your Own CRM?
The CRM development process is pretty simple for an experienced development team. What programmers do is set data templates and the corresponding rules to process them, so there are no sequence-related tasks that have to be thought out and accomplished. When building your own CRM system, be sure to include such essential components as:
Dashboards;
Simple Calendar;
Contact Information Panel;
Knowledge Base;
Pipeline Views.
Other implementations to add:
Ticketing System;
Payment Processing;
File Sharing;
Insights and Reports;
Third-Party App Integration, etc.
CRM is a data-driven software, so business owners can choose to enhance it with data analytics and advanced implementations like artificial intelligence and machine learning. These implementations can boost your system efficiently – from eliminating routine manual tasks to providing advanced sales and marketing reports, making customer analysis, optimizing employee performance, etc.
If you want to build a CRM system from scratch, but don't know how to make it work effectively for your specific niche, you should learn about the principles, types, and functions that are specific for modern CRMs.
Principles of CRM Systems
By designing a CRM application or platform, companies have the advantage of increasing profit, keeping costs down, and make the processing of client's requests go faster at the same time. This is confirmed by what a CRM system does, namely:
Provides a database of all the client-related activities;
Contains clients, stakeholders, and employees information;
Contacts and influences clients through emails, texts, reminders, or other notifications;
Analyzes leads (potential sales contacts) and channels where they come from;
Controls performance quality of every unit of the company with automatic data calculation;
Helps to design a performance improvement plan for each employee in the company;
Assists in the informed decision-making process through database analysis;
Develops business growth strategy based on ROI analysis and marketing campaign results.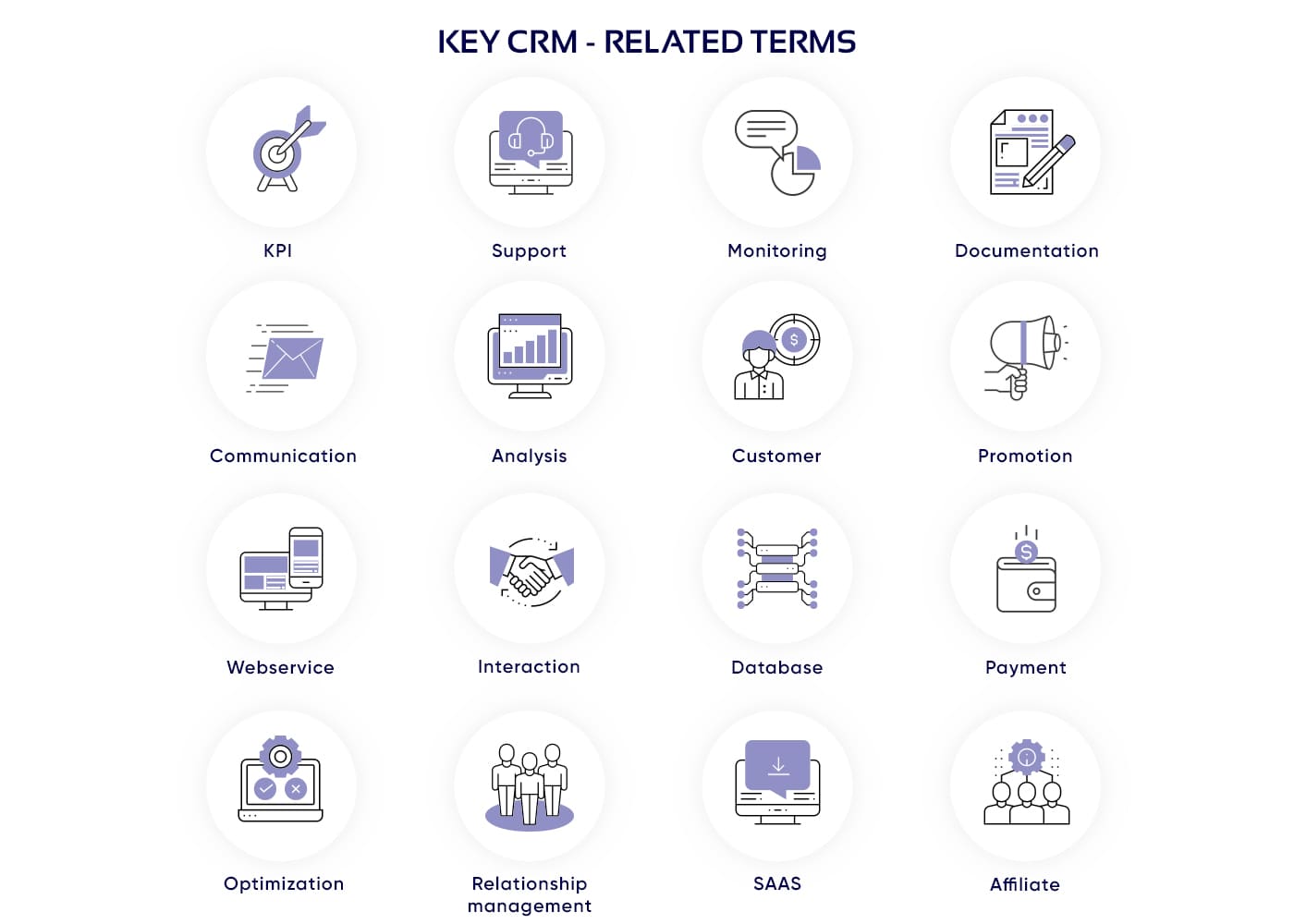 CRM takes on functions related to sales, marketing, and customer support departments, that's why it's reasonable to walk you through the concepts of the sales force, marketing and service automation.
Sales Force Automation (SFA)
SFA covers each stage of a complete sales cycle starting with the moment when a client entered their contact information and lasting until the deal is closed. It mainly keeps track of customer's behavior, records the client's personal data like name, tracking number, orders history, etc. It recognizes which stage of a sales funnel the client passes and generates the respective "hooks" such as push notifications or emails to offer clients what they want.
Marketing Automation (MA)
MA offers instruments for marketers that ensure efficient use of marketing strategies. It's an integral part of a CRM that uses tools for creating forms, landing pages, monitoring site visitor actions, scoring leads, discovering social media profiles of visitors as well as analyzing campaign performance. A company's marketing department staff can enter specified criteria and aftermath they expect to get from particular tasks that a CRM then interprets and processes to increase the productivity of marketing strategies.
Service Automation (SA)
SA reduces human intervention in the system to make time for accomplishing other tasks such as real face-to-face conversations and negotiations. This component can feature intelligent call forwarding, AI chatbots, self-service pages for customers, lists of predetermined answers to commonly asked questions, etc. for higher productivity.
CRM and Sales Pipeline
CRM takes part in a sales pipeline by making it possible to see:
The point of time when a user decided to leave your website;
The exact place of the website people decide to leave it;
Client groups to be designated with a higher level of priority;
The probability that a visitor will purchase your products or services;
Work processes for a company to eliminate to improve the sales pipeline.
Types of CRM software
Although CRM systems are alike, one of their features can prevail over others. Thus, they are divided into four types, each having a specific purpose.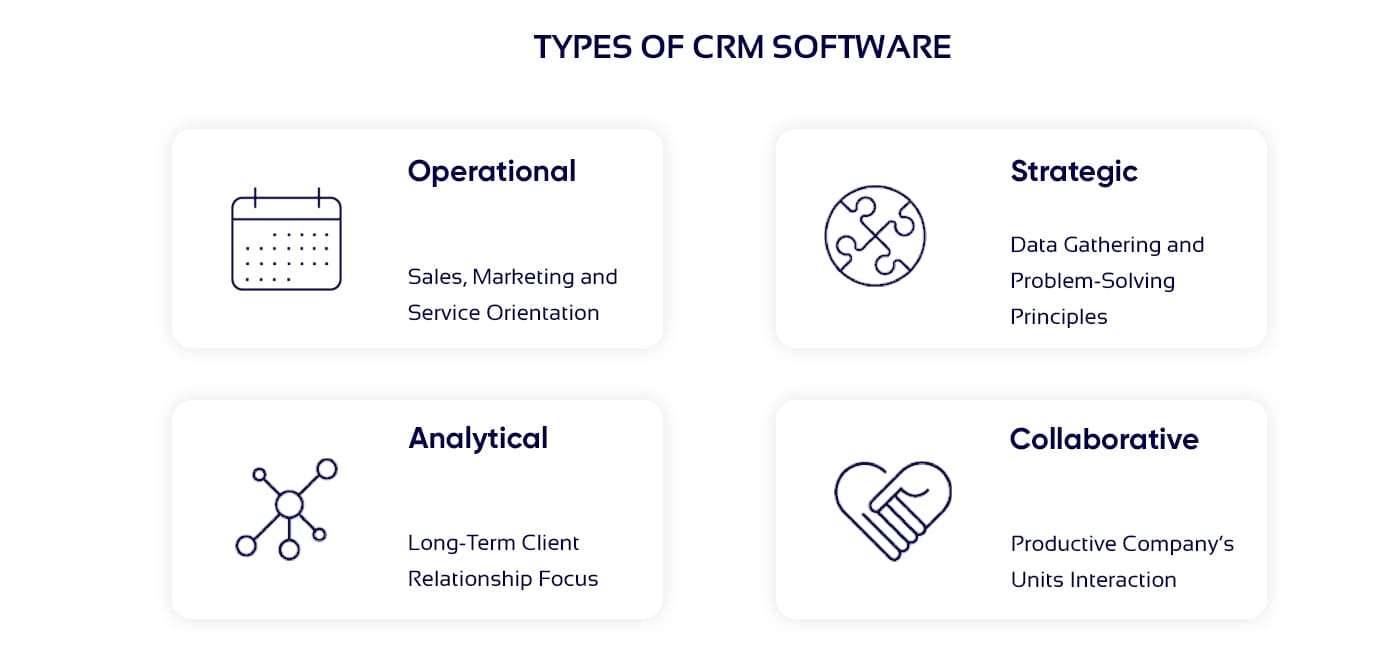 Operational CRM
The operational CRM fits your business if the main goal for you is in following sharply to the principles of marketing, sales, and client support integration and automation. It mainly deals with routine business tasks and uses dashboards to overview all processes happening in a company and monitor client individual pages. This type is now the most used by financial, healthcare and sports organizations, retail industry, construction and real estate services, etc.
Strategic CRM
The golden rule of building a CRM of the strategic type is "The customer comes first" because this model focuses on building long-term customer relationships and following rules of client-oriented business culture. The core of the strategic type is acquiring information on a client who passes the sales funnel and organizing workflow according to this information to improve interaction with the consumers by making it more personalized.
Analytical CRM
If you're wondering how to create CRM software that would provide you with insights on customers' behavior, try the analytical type. It deals with the analysis of the user's data collected from various sources. This data is then presented to business owners to help them make an informed decision. In such a way, it helps with launching marketing strategies strong enough to solve a particular problem. The tools used in analytical CRMs are charts, diagrams, dashboards, and reports.
Collaborative CRM
The collaborative type is suitable if you concentrate on how to build CRM software to ensure the work of subdivisions involved in a company, including tech support experts, sales and marketing teams, over different channels. For example, if a tech support crew of the company ends the customer session, they transfer the data related to the services that are of the highest client interest to the marketing department. The sole goal of a collaborative CRM lies in improving customer experience and the company's image by putting the quality of service on the pedestal.
Functionality of CRM software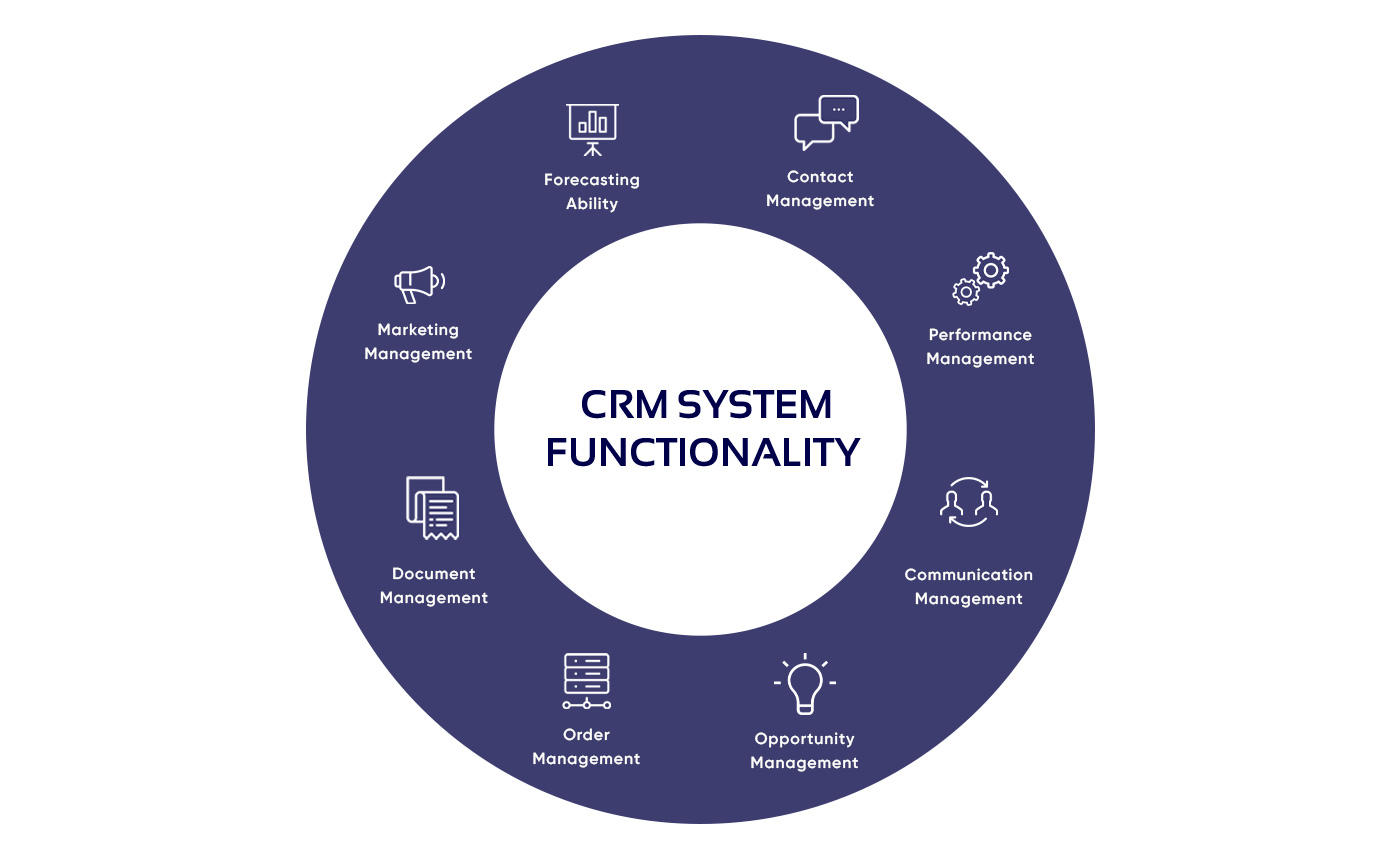 CRM software can differ by structure and functionality depending on how a company sees the way its business-specific tasks should be accomplished. For this reason, sellers prefer custom CRM solutions that fit their goals. Thus, an extended list of functions executed by a client relationship system may include:
Contact management. Used for collecting information that helps to get in touch with clients and view some personal data on the client's location, transactions, history of communication with support managers in one place.
Performance management. Aimed at observing and checking critical performance areas that obstruct achieving goals. In CRM, this function is primarily centered on the indicators of sales effectiveness, hence, client satisfaction, customer retention, and loyalty.
Communication management. Directed at providing suitable channels for keeping in touch with clients, partners, and the company's staff. The channels involved in communication are phone calls, emails, texting, chatting, and private messaging via social networks.
Opportunity management. Intended to follow and seize opportunities that occur during the client's journey through the sales funnel. It's a complex of instruments for tracking visitors' activity graphically and building the work accordingly.
Order management. Added for automation and simplification of processing orders, keeping records of client's refunds, payment, and delivery information to render services without confusion and delays.
Document management. Used to compose, manage, edit, access, and share documents among each unit of the company, providers, and clients. The functionality allows integration with other document management systems like MS Office or Google Docs.
Marketing information management. Oriented towards gathering marketing data to find a way of building a relationship that would meet the expectations of both the company and its clients.
Forecasting ability. Focused on generating sales reports to see which strategies work well at a particular stage of the sales pipeline and which of them are unlikely to have any impact on a client.
How Much Does a CRM Cost?
How much does it cost to build a CRM system? There's no exact answer to this question, but at least you should know what five major factors cause the CRM system cost to go up or down.
Functional Profile
This will always be the determining price factor when it comes to creating any software product. Although simple CRM isn't too hard to develop, the advanced features like AI incorporation would add tens to hundreds of thousands of dollars to the overall sum. To find out what will be the exact cost for the functions you want to get for your platform, use our estimation form.
CRM Software Design
You can save some money if you refuse elaborated design solutions for your software. However, without a well-designed user-friendly interface, each new user might spend more time learning user documentation on how to work with it.
Custom Development
Traditionally, the cost here depends on the company you turn to, its location, and experience. Small businesses get the benefit of saving money for services by practicing outsource development. In this way, they spend about three times less money, if they decide to try services in currently popular Eastern European or Indian destinations.
Support and Maintenance
If a part of a CRM system breaks down or its terms of service is expired, it causes the halt of all currently running operations. This explains the need for development by specialists who are able to provide prompt technical support when creating or selecting a CRM platform. The cost of support and maintenance is negotiable depending on the problem.
CRM Mobile Application
There are three versions of a CRM, namely, a desktop CRM, a CRM web app and a mobile version. The last one is especially helpful because it lets companies improve responsiveness to clients' requests because a CRM mobile app is:
Time-saving. Web and mobile versions don't require much knowledge of how to set up a CRM system from users, because all they would need to do is to open a browser or tap the phone screen and enter login and password to start working.
Easy-to-use. The web-version interface is intuitive, that's why employees don't have to spend much time learning how to use it. Some CRM apps give every team member an opportunity to customize it after logging in.
Easily accessible. With CRM apps, all necessary data is available in any place with Internet access, so the managers can visit a site or launch an application and view the client's data, deals, interaction history, etc. on the go.
Turnkey or Custom CRM System
There's also a handful of CRM applications you can run in your browser like Highrise, Salesforce, AgileCRM, etc. Each of them offers different prices, for instance, the costs of monthly services per user by Highrise would be $ 99, meanwhile, Salesforce charges $75, and Agile CRM sells a monthly full-featured package for $50.
The functionality of ready-to-use CRM solutions works well for a wide range of needs. However, among the excessive number of features offered by those solutions, you'd probably need just a few. A custom CRM software solution allows you to easily modify the scope of functions. For example, if you need to add more functions to your software over time, just set a task for developers to make the system flexible, so the implementation of new functionalities and features won't result in a malfunction of the entire CRM platform.
Conclusion
A modern way of selling products and services has changed a lot even just from a few years ago. Any business puts emphasis on establishing trust between a company and a client because selling is now about building a long and fruitful relationship. CRM helps to keep regular customers who make continuous contributions to your business and attract new ones by analyzing what people really expect to get when buying your product or service. It also serves to support the existing regulations and processes you've cultivated in your brand, so integrating CRM software is one more step towards shaping a competitive company. If you want to create a CRM platform, feel free to contact us for advice on the CRM implementation cost and its development process.