Considering a wide variety of transportation and logistics companies in the market, customers must go through a long journey before choosing one. They usually send requests to several companies simultaneously to understand which one would be the most suitable and reliable for them. The most substantial part of the company's revenue comes from regular customers. So, transportation businesses focus on improving customer relationship management to outrun competitors and turn prospective clients into loyal ones. One of the best ways to ensure that is CRM software for transportation companies.
By providing tools that optimize interaction with clients, the CRM for logistics companies makes it easier to win over prospects, build long-term relationships with them, and make profitable deals. In tough times, it helps to keep customers informed and loyal to the service. However, it's only a small part of what it can do for your company. If you want to know how CRM system development can give you more than expected, keep reading this article.
Industry Requirements for CRM Software
The logistics and transportation industry includes many complex business processes such as communication, agreements, budget approval, order preparation, packaging, warehousing, tracking, and more. Cost optimization and fast service are the two main goals of logistics. These factors depend on the interaction between various specialists from accounting and financial services employees to technical and customer care staff.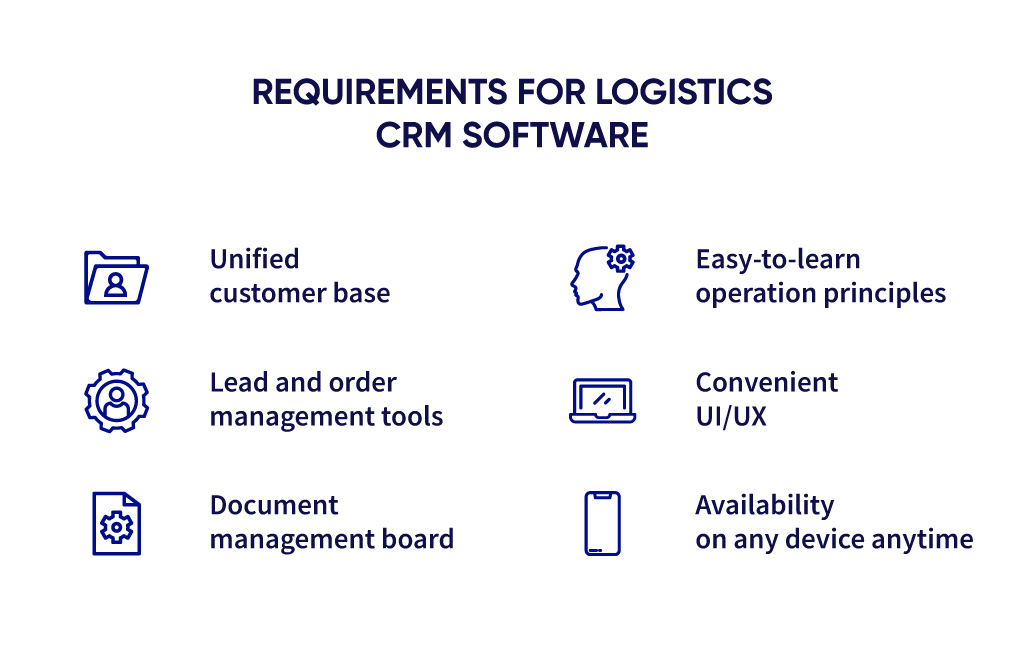 Enterprise resource planning, warehouse, and transportation management systems cover many of these processes and help specialists work on multiple orders simultaneously. The integration of logistics CRM software increases business efficiency and serves as a basis for improving the systems mentioned above. However, to do it in the best possible way, a CRM for logistics must comply with these requirements:
Contain unified customer base and tools for controlling managers' work;
Let the sales team quickly process leads and manage deals in the necessary order;
Make it easy to draft, print, and send various documents as well as create their templates;
Provide a convenient UI/UX to make the working process faster and more efficient;
Be available online and on the smartphone to ensure quick responses to clients and client-related activities. Mobile and cloud CRM systems must also help new employees learn to use them faster.
Benefits of Logistics CRM Systems
CRM systems have a variety of advantages that improve relationships with customers and establish productive cooperation within the team at the same time. They also provide you with all the resources to enhance further business development planning. Since their main goal is to automate and optimize interaction with customers, they significantly save your time and the time of your customers. In this part, we will discuss all of the benefits of CRM software in more detail.
1. Automated Request Processing
The aim of a CRM system is to remove employees' routine tasks from the very beginning of the client's journey. These solutions automate the processes of receiving requests, assigning them to managers, and managing orders until the deal is closed. Customers always expect companies to reply fast. A CRM for transportation collects messages coming from different channels (phones, websites, social media, and emails) in one place. Thus, a manager can react fast to requests from new leads and start a deal immediately.
2. Optimized Sales & Marketing
By adopting a CRM system for managing logistics customers, your sales and marketing teams can:
Manage new requests more efficiently to lead potential clients to the first sale;
Assess each stage of the sales pipeline and 'correct' the customer's journey at the right moment;
Identify the best channels to attract customers;
Use notifications to offer services to the existing customers;
Connect with multiple customers via email to provide them with updates and new offers;
Turn inactive customers into active ones by reminding about your services via different communication channels;
Make calls right from the CRM system via integrated telephony.
A CRM system is an efficient tool for complex analysis of client requests and sales data. This data lets a company's chief executives understand the level of customer satisfaction with a particular deal. Considering the information on the previous customer experience available via a transportation CRM, your marketing department can make communication with clients more personalized and work with them more productively.
3. Convenient Data Management
Logistics companies get all features for flexible adjustment of various processes, besides typical sales and deal management tasks. In the 21st century, Excel spreadsheets are no longer convenient for searching and using customer information. Besides a broad customer base, CRM systems provide detailed information on each customer via their profiles. A custom logistics CRM allows you to learn the following data:
Current and completed transactions;
Cargo status;
Order estimation;
Accepted commercial offers;
Vehicle, shipping/trucking, and costumes documentation;
Payment information;
Limited commercial offers, and more.
4. Increased Cost Efficiency
Customer service automation can help you unload or even reduce your staff to cut costs of human resources. Sometimes, companies have to pay a high price for their employees' mistakes. For example, if your managers failed to enter the correct data into the system, it would be a severe threat to the entire company's workflow. The system allows you to eliminate such mistakes via automation. It is also reasonable to invest in CRM testing to save money on handling severe technical issues with software.
5. Advanced Reporting
The company's heads can get detailed reports on the work of departments dealing with clients and assess the effectiveness of every manager based on these reports. For instance, you can see data about the deadlines, listen to the recordings of incoming and outgoing calls, and learn information in the clients' cards. Based on this data, you can analyze all previous interactions with their customers to improve the quality of services and even drive initiatives in consumer supply chains and other industry-specific aspects.
6. Improved Customer Service
There are two ways to show care about your customers. One of them is reacting fast to any client's request and providing them with all information they need within the shortest terms. With automated request processing and tracking every aspect of customer interaction, CRM systems allow informing customers within minutes.
Another aspect of customer care is handling unpredictable issues. Transportation and delivery are complex processes, in which many people get involved. One of the most important aspects here is keeping customers well-informed on any problems that the supply chain participants face. They can be shipping agents, specialists responsible for vehicles, ports, storage, and terminal workers.
CRM systems allow managers to inform about these issues on time, which is especially important in the fast-changing global business environment. Transportation companies must keep customers informed on any issues with their supplies due to a force majeure situation. It is an effective measure to prevent your customers from further material loss and protect companies from accusations and proceedings under the law. And a well-thought-out CRM for transportation takes care of that.
7. Organized Team Collaboration
A CRM system makes the data about leads, prospects, and loyal customers available across various departments and the company's chief executives. Every process is transparent and understandable to any team member. It makes the team more organized and eliminates confusion during task setting and execution. Anyone can continuously monitor the workflow and the quality of communication with customers. If some employees leave the team, CRM software allows new employees to learn the current processes faster.
Specialized vs. General-Purpose CRM
One can use a CRM system regardless of the company's specifics – be it first-party or third-party cargo transportation, import or export operations, express delivery, trucking, shipping, or omnichannel transport logistics. Still, you can choose from one-size-fits-all CRM systems or solutions based exclusively on logistics needs.
Field-specific customer management software has a full range of functions and advanced features to meet the required business needs. They work best for large transportation businesses dealing with elaborate warehousing and several means of transport. Highly specialized CRM for logistics is expensive, and learning its operation principles may take a lot of time and effort of your staff. Small and mid-sized companies focus primarily on preventing as many financial losses and risks as possible. Usually, they don't require too complicated features and choose general-purpose CRM software.
Another option is to get a custom CRM solution from a reliable development team. In this case, software engineers build the system from scratch based on the company's real needs. Such logistics and transportation CRM is the most cost-efficient choice because it doesn't contain any excessive elements, and business owners pay only for the functions they will use for sure.
Conclusion
Logistics companies are responsible for everything beginning from the preparation, packaging, shipping, drafting all necessary paperwork, transporting cargo safely, and more. Considering a great variety of processes, the logistics companies require coordinated work of all divisions and continuous productive interaction with clients. Maintaining relationships with existing customers is less expensive than attracting new ones. So, the goal of a CRM system is to ensure higher cost-effectiveness by turning prospective customers into loyal ones.
Automation and optimization of customer interactions also boost the company's efficiency. However, you should pay attention to whom you trust the development of your CRM software. Whether you want to get a complex industry-specific solution for omnichannel transportation or a custom-made system to meet your fundamental requirements, contact our team to get started. Our experience is proven by transportation and logistics CRM cases that help our clients maintain productive long-term relationships with customers and partners.