FinTech software development has been one of the most favored IT services in recent years. Both the market players' eagerness to adopt technological advances and the customers' love for simple-to-use goods and services shifted the financial industry in that direction.
And if in the beginning it was all about infrastructure, computerization, and streamlining trading/lending/banking procedures, nowadays FinTech has grown into a powerful industry with billions of end-users, billions of revenue, and numerous types of software.
This article will concentrate only on the most popular and profitable kinds of FinTech that can elevate business and yield concrete results.
What is FinTech software?
It may seem that "FinTech" is a buzzword that first appeared only a couple of decades ago, at the beginning of the XXIst century, but it has a much longer history. For example, online banking was utilized even in the 80s. Sure it wasn't the online banking we know and love today with all of the fancy apps and instant transactions, but it still was there, and it was "the early FinTech."
So what is this concept that has always been there but is often portrayed as the future of business? To keep it short, FinTech is a contraction of the words "financial" and "technology." Hence, "FinTech soft" is an umbrella term uniting all types of solutions intended to enhance and streamline the delivery of all kinds of financial services.
Modern FinTech is not exclusively limited to banking software (even though online banking is a significant part). It also covers many other industries, including insurance, lending and mortgage, asset and risk management, security, and more. This industry is so far-reaching and fast-evolving that, according to a report by Statista, the number of FinTech startups has already exceeded 25k in 2021.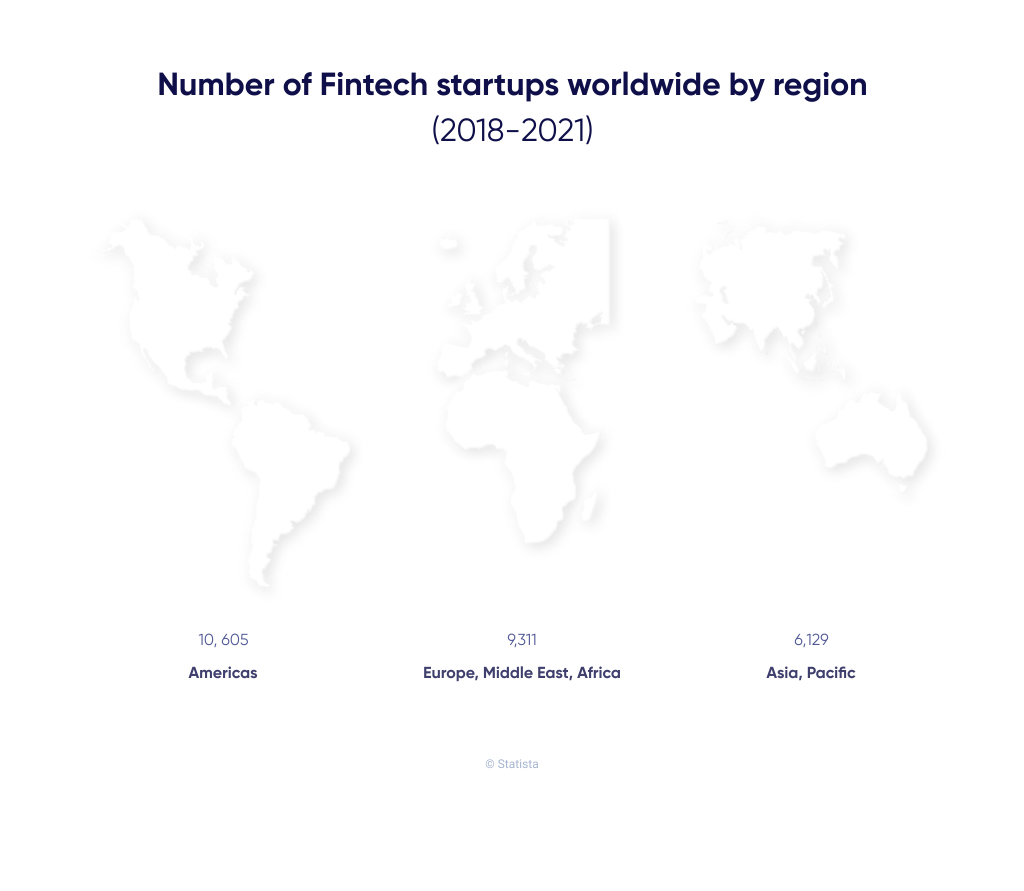 And this fact is very easy to explain. FinTech is on the rise because people love it! From P2P money transferring services and quick online loans to piggy banks on the smartphone and mining Bitcoins — it's all financial technology we're used to.
Top-10 most popular types of financial technology you should consider in 2023:
Digital banking
RegTech
Blockchain solutions
InsureTech
LendTech
TradeTech
WealthTech (personal finance)
PayTech
Business plan software
Financial social networks
It's obligatory to mention that there are more types of FinTech solutions than the ones listed above. There also are many different typologies and approaches to defining FinTech categories. For example, some consider PayTech a FinTech category implying it includes all types of payment solutions. The others are more comfortable with defining each type of payment solution as a single category (e.g. P2P, payment processing solutions, digital wallets, payment gateways etc.)
The most profitable types of FinTech soft in 2023
Now that we got the basics out of the way, let's dive into the most promising types of FinTech software focusing on why and how those can elevate modern business.
Digital banking
It is fair to start with the most popular type of financial technology software. Online banking solutions (both web and mobile) allow the customers to access their accounts and perform various financial operations remotely via a chosen device.
The first online banking systems appeared in the mid-90s (Wells Fargo, Presidential Bank, Bank of Internet USA, etc.) and dominated the industry for over a decade. After that mobile banking apps came into the mix and it became clear that digital banking is a gamechanger to the financial industry in the XXIst century.
Today it's hard to name a somewhat trustworthy bank without a functional app. JPMorgan Chase, UBS, NAB, Barclays — they all offer comprehensive digital banking services.
Why is it profitable from a business perspective?
Change in customers' perception
The general public is always suspicious of innovations. It took quite a bit of time for people to understand that digital money has the same value as cash and that paying with the help of smartphones or wearables is not risky but comfortable.
Today people appreciate digital banking as it's fast, efficient, and saves time and nerves. Both Millenials and Gen Z have spent most of their lives interacting with technology and do not have trouble picking up new tech trends in banking.
Digital banking industry is growing
Online/mobile banking may be a common thing now but it has a lot of room to grow. Cardless payments, the golden age of digital-only banks, adoption of voice technologies, micro personalization, and much more. Digital banking hasn't reached its peak yet.
The market is not oversaturated
Digital banking has some well-established and trusted brands but the market is still open for new players. Just look at the numbers. As a report by Statista claims, by 2025 the global banking apps revenue will reach US $613 billion.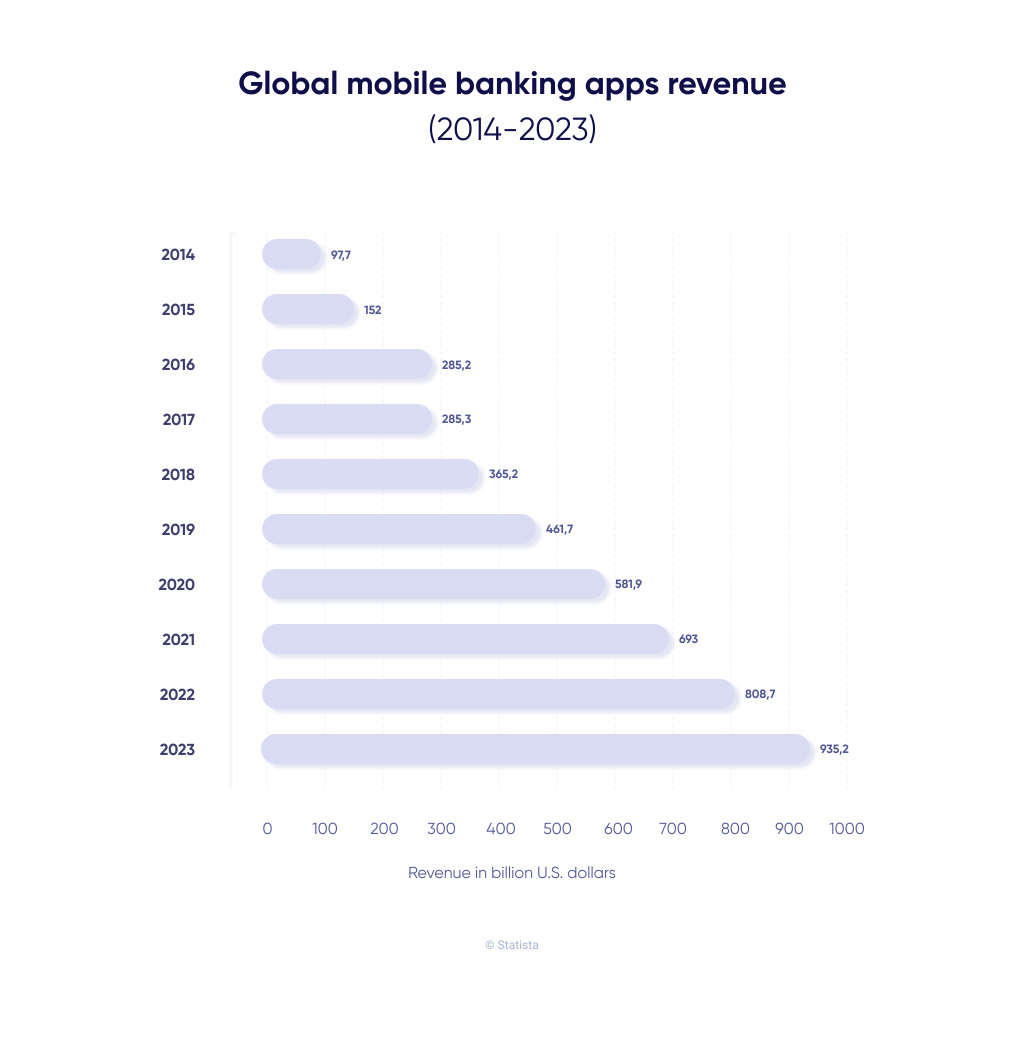 Blockchain
Blockchain is no longer new to the financial market. This type of technology has proven to be safe, decentralized, and quick when it comes to processing payments. From cryptocurrency exchange services like Coinbase to trading and investment platforms like Circle blockchain solutions are widely used in FinTech products.
Why is it profitable from a business perspective?
Blockchain solutions can be leveraged by many companies on the financial services market as it's truly multifunctional. This type of technology is perfect for trading and payment services providers. It helps to create a trustworthy digital identity for the user and launch a safe transaction channel for the banks. Blockchain can generate investments and ensure a smooth quick audit process. The options are nearly endless!
Blockchain technology at its core is decentralized and holds immutable record. It means once the data is registered on the chain, it can't be altered without changing all of the following entries. And that is impossible without the network's permission. Moreover, the data is encrypted and stored across the network, which guarantees transparency and the highest level of security for each transaction despite the amount.
Blockchain is the new sensation
It's been a while since blockchain and cryptocurrencies were introduced but it's only now that people begin to understand how profitable and safe this technology is. Relying on blockchain solutions gives any business bonus points for focus on innovation, and average users are willing to experience all of the benefits blockchain offers firsthand. In other words, blockchain is extremely thought-after and things aren't going to change any time soon.
Business plan software
One of the types of FinTech that kills two birds with one stone as it helps both startups/first-time entrepreneurs and well-established brands. The main purpose of this software is to take an entrepreneur through the business plan creation process using the step-by-step technique. It is aimed to simplify strategizing and provide the customers with an easy way to evaluate the risks and analyze all the data available.
Light IT has extensive experience with business plan software development. One of our projects is a multifunctional cloud-based business planning web app. It's a great tool for modeling and evaluating business ideas with risk management functionality integrated as well. The software evaluates not only completely new business plans but also the changes an entrepreneur is willing to make to the existing business model.
Why is it profitable from a business perspective?
Multiple monetization models
Business plan software can be used within a single company to evaluate risks and introduce innovations. At the same time, it's a great product that can be marketed to a wider audience on its own.
For example, it is possible to grant access to business plan software using a subscription model or freemium.
Modern business plan solutions are extremely easy to use. It is accessible and intuitive even for users that have never worked with financial software before.
Not limited to the FinTech software market
Business plan software is widely adopted by FinTech companies but one of the greatest market assets is its adaptability. You can use this type of IT solution to plan out marketing campaigns, evaluate the success of the medical treatment, and much more.
RegTech
The financial industry has always been bound by numerous strict regulations to prevent money laundering and terrorist financing, ensure data privacy and cybersecurity, etc. The legislation acts vary depending on the country/region and it gets even trickier if the financial institution plans to conquer the international market.
To help business owners meet all the requirements, RegTech providers appeared on the market. They offer convenient tools for fraud detection and financial risk management delivering comprehensive reporting, compliance, and monitoring with the power of AI/ML and advanced data analysis.
For example, a US-based company Forter introduced an "automated decision maker" that processes the payments and either approves those or marks for fraud. A German company Alyne monetizes a RegTech platform that offers instant risk aggregation simulations, in-depth analytics, scalable assessments, and more.
Why is it profitable from a business perspective?
A constant customers' demand
Compliance and risk management are essential for all the financial market players: from banks to trading platforms and insurance companies. The rules change, new customers appear almost daily, and the need for quality RegTech providers is never-ending.
Fraud schemes get more inventive
There's always room for the new players on the RegTech market as only the most innovative and well-thought-out solutions get the job done and actually provide high-quality risk management services.
The benefits are real and measurable
RegTech providers do not promise wonders, this type of software (if done right) delivers measurable results. It streamlines operational and support processes minimizes the human error factor and reduces costs. All these benefits easily transform into actual numbers and business owners appreciate that.
WealthTech
Every one of us may benefit from decent financial advice and assistance from time to time. These days people are paying more attention to ABC of finance and are willing to get the most out of the numerous digital products that help manage personal finances.
And that's what makes WealthTech such a broad term. Personal finance management software unites a great number of different tools and platforms. For example, WealthTech includes apps like Mint, offering the users personalized tips on budgeting. It also covers e-wallets like Apple Pay and tax preparation tools like Turbotax.
Why is it profitable from a business perspective?
A wide range of services under one umbrella
Once again, if you plan on monetizing personal finance management software, you have a lot of options. WealthTech is well-established on both web and mobile platforms and is sought-after.
You can create a specific app (e.g. the one that will build good financial habits) or a robust platform that will combine multiple features within one ecosystem. It's up to you and your preferences.
As a report by The Business Research Company claims, the global financial services market is expected to reach $28529.29 billion in 2025. This means that the customers' need for personal financial assistance will grow as well.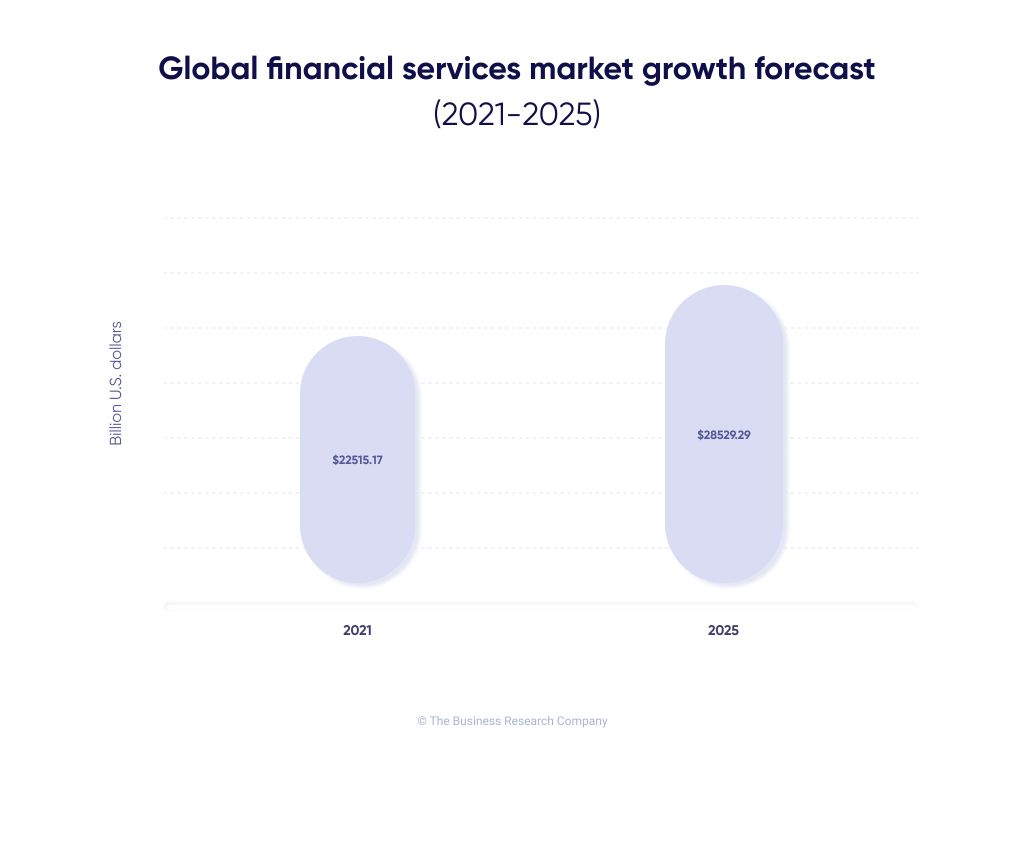 WealthTech solutions are among the most easily scalable on the FinTech market. An entrepreneur can start off a small "one feature only" app, test it out and then add some new functionality if needed.
PayTech
Just like FinTech or RegTech, PayTech is extremely easy to decode. It's payments technology. And it's another umbrella term including all types of digital payment services and solutions. The examples of PayTech are payment gateways, mobile payments, digital wallets, Payments-as-a-Service, P2P, and much more.
And even though this FinTech branch has to deal with probably the hardest competition with traditional banks, PayTech is recognized and loved by the end-users. The key benefits of this software are its processing speed, safety, and ease of use. Such PayTech market giants as PayPal or Venmo have become an integral part of the life for many people globally. And what once was perceived as risky, now is praised by the customer.
Why is it profitable from a business perspective?
Smooth payment experience
PayTech is aimed to make payment processing as easy and quick as possible. This is the asset both business owners and the general public appreciate. Instant transactions, 24/7 availability, multicurrency, and international payments… All of this ensures an effective and pleasant experience for everyone involved.
Depending on your needs the PayTech solution may focus on P2P money transfers, working with cards (prepaid, virtual, gift, white-labeled or co-branded), currency exchange (including crypto), etc. It also may combine multiple payment services in one if your business will benefit from that.
No regional market limitations
PayTech doesn't have to be limited to a local market and a single currency of a certain country. It might be, but it's not the only option. Look at PayPal once again — it grew from an unknown FinTech startup to one of the most famous brands in the world operating in more than 200 countries and supporting more than 20 currencies.
Of course, not all payments technology solutions have to be as ambitious as PayPal, but the ability to grow and develop over time is certainly something any business owner would like to have up their sleeve.
Conclusion
The FinTech industry is on the rise at the moment. The audience is curious and ready to accept state-of-the-art solutions and the business has everything needed to meet that demand. There's no doubt that we might see some new entries on the list of the most promising software solutions in the near future. If you plan to establish a solid business presence and increase revenue by the means of innovative software, consider Light IT as your trusted IT partner. Our experts can help you with developing any kind of financial technology whether it was mentioned in this article or not. Even if you're not entirely sure what type of FinTech software to leverage, contact us to claim a free consultation and turn your idea into a modern profitable tool!