2023 is now in full force and seems like it will be as unpredictable and turbulent as 2022 was. A global pandemic, strict restrictions, and quarantine will probably remain the keywords for this year.
That's why all of the business industries will have to continue to adapt to this new reality we've faced. And banking is not an exception. In fact, the current situation stimulates fintech further evolution and adoption, and even such a common tool as mobile banking is expected to change to serve both the business owners and the consumers better.
So what are the most noticeable mobile banking trends to dominate in 2023? In this article, we'll tell you all about it!
Trends in mobile banking you should be aware of
There's no doubt 2024 has a long way to go. Literally, no one knows how the situation in the world will turn out and how global economics will deal with the consequences of this horrific pandemic. However, there is a great deal of mobile banking future trends that are rather easy to foresee. Some of them resurfaced from 2022, and the others are brand new but still predictable and anticipated. So, without further ado, let's get right into it!
The Rise of Biometric Authentification
As a survey taken by
Business Insider
shows, active mobile banking users are not only ready but are demanding biometric authentification tools to be a part of the app. At first, it might be surprising, but the "fingerprint scanner" as a way to log in is the fourth most wanted feature among the users. 38% of the customers would like to have that option. Quite an impressive number, don't you think
?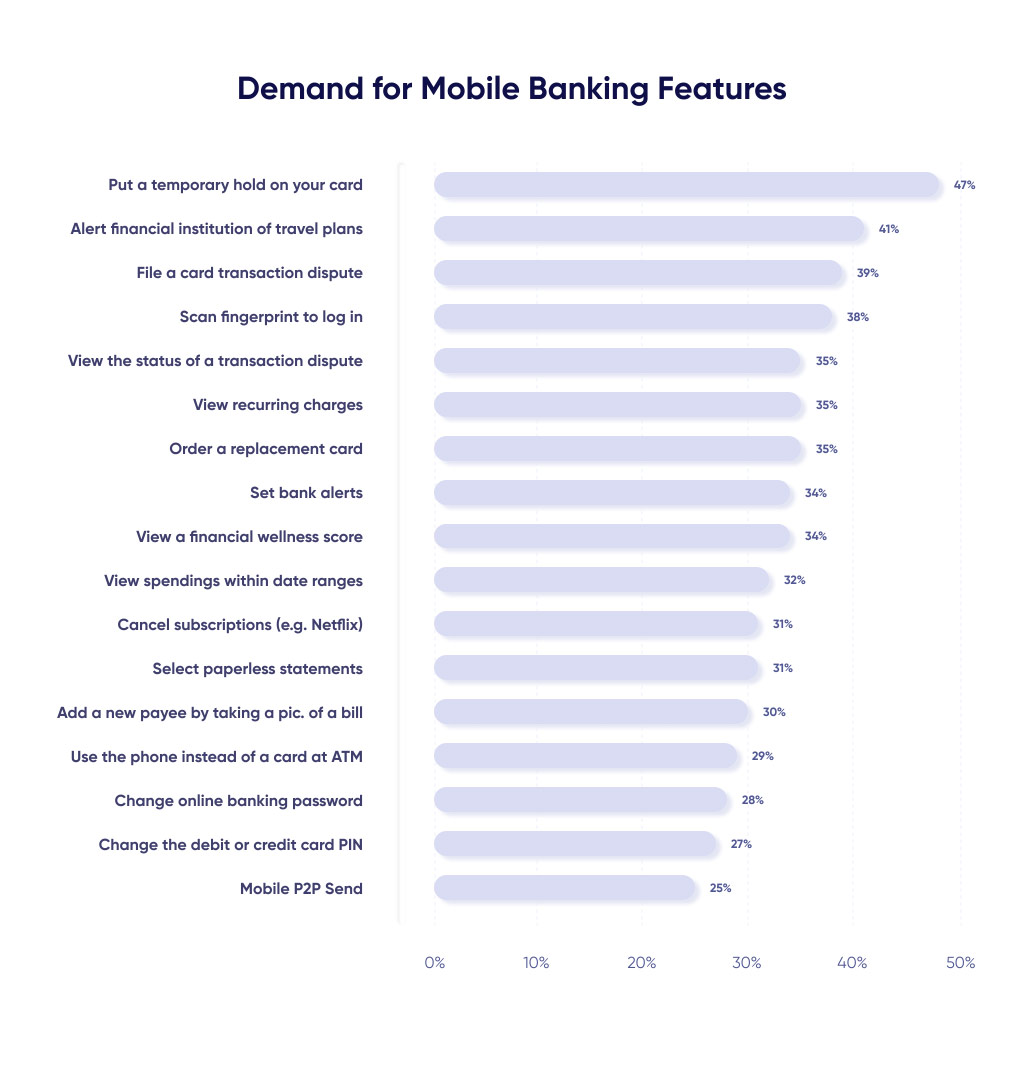 An entrepreneur just can't turn a blind eye to these numbers, as these days, every business is doomed to fight for the customer. So if your app doesn't have the feature that clients require, they will change the bank.
However, if you think that the biometric authentification trend is not going further than the mass adoption of fingerprint scanners, you'd be wrong. Of course, the demand for other forms of biometric authentification is much lower for now, but it's still there.
17% of the customers would like to use the face scan as a log in method
15% of the clients would prefer the eye scan log in feature
5% would like to be able to control the app via the voice commands
There's no denying, these numbers are much lower than the demand for fingerprint authentification. But it's safe to say that they will definitely grow in the future as biometric authentification becomes more common.
Why will this trend appear?
By 2023 people are pretty much familiar with biometric authentification. Fingerprint, face, or eye scan are used to keep numerous devices safe. Voice-operated devices such as Alexa or Siri have become a part of our lifestyle. They no longer scare customers off or seem off to people. On the contrary, such tools are seen as a way to ensure a higher level of protection, which is always important in the banking industry. Clients just want to protect themselves and their money.
Of course, some of the clients would still prefer the traditional password, and the bankers should combine several different log in methods to keep the audience happy. But focusing only on the common, dated tools will eventually frighten the younger customers, who are the future.
Open Banking Boost
Open banking is the next step the financial sector had to take once digital banking became a norm. The use of third-party APIs to access the consumer's financial info has always been seen as a way to keep the client satisfied and minimize the complications that may come with multi banking.
No wonder that as a report from Juniper Research claims, the number of open banking users will reach an impressive 40 million in 2023, which doubles the number of users in 2021 (18 million).
Why will this trend appear?
One of the main reasons is, of course, the better user experience for the client. When a person has an opportunity to manage all of the bank accounts via one app and at the same use several other financial services that are considered useful (e.g., personal financial managers), it's really hard to back down.
Another pro argument is that open banking, in fact, can be beneficial not only for the clients but for the entrepreneurs as well. Open banking provides every market player with an opportunity to turn the business into a platform that will combine the sleek, state-of-the-art front-end and the multifunctional back-end with a number of interconnected service providers. It's a great way to increase profits in the future, as for now, only several businesses are the trailblazers in this regard (e.g., Liv app from Emirates NBD).
Digital-only Banks and Blockchain
In the not so distant past, it was impossible to imagine a bank without a network of brick-and-mortar branches that basically did all the work. In 2023 it's totally ok if the bank has almost no "physical" presence whatsoever and operates via the modern mobile app. The cloud-based infrastructure and the focus on the benefits of the innovative digital networks make digital-only banks an impeccable environment for blockchain adoption.
This superb combo is able to meet the expectations of both clients and bankers.
Benefits of digital-only banks for customers
Easy sign-up procedure
Swift 24/7 access
Real-time updates
Cashbacks and other reward systems
Benefits of blockchain for bankers
Simple P2P transactions
Swift payments
Digital Identity Verification
Easier fraud detection
Why will this trend appear?
When it comes to digital-only banks and blockchain, the boost in popularity may also be fuelled by external factors, such as global pandemics. For example, as the
studies
held by J.D. Power show, Covid-19 has already shifted the customers' focus towards digital/mobile/online banking.
The clients tend to work with mobile banking more often while reducing the usage of cash and ATMs as well as the number of visits to the brick-and-mortar banks.
Besides all that, digital banking and cryptocurrencies are a perfect tool to increase financial inclusivity as not all people have access to brick-and-mortar banks.
Of course, there's no way that digital-only banks will totally replace the traditional facilities, but, considering the situation in the world, it's safe to say that both blockchain and digital-only banks will only grow the number of followers in 2023.
ML and AI
Artificial Intelligence (AI) and Machine Learning (ML) are two main "secret weapons" of the digital transformation in the banking industry, helping to enhance the overall customer experience and even incite certain behavioral patterns.
By 2022 the most common use of ML and AI in mobile banking was the chatbots adoption. Analyzing the customer's previous interactions, such bots can provide the client with almost any kind of assistance: grant access to the required information, resolve issues, offer financial advice, In 2023 smart bots are not going anywhere. ML and AI, however, are expected to help mobile banking differently: by ensuring the next-level predictive personalization.
AI and ML-based fintech solutions operate an impressive amount of real-time data and, for the most part, can provide the customer with better financial advice than the human manager. And the predictive personalization will deliver the required messages in the most effective form.
Why will this trend appear?
The days when every customer stayed with one bank for the rest of the life are long gone. Today the client is likely to switch to another bank if the current provider fails to meet the expectations.
At the same time, people are likely to stay with the bank that "knows them", which means it knows their preferences, habits, and needs. And that's what AI, ML, and predictive personalization can help with. These technologies help to determine and then predict the customer's behavior, stimulate certain actions, and measure the client's satisfaction in the end.
ML and AI remain on the list of the hottest mobile banking technology trends for a couple of years now. That's not only because these tools are extremely beneficial to the bankers but also due to the non-stop technology development process. Both AI and ML algorithms become more and more complex, so the software becomes "smarter" as well. So if you'd like to keep your place on top, pay heed to these technologies.
Regulatory Technology
One of the main concerns that stop many people from switching to mobile banking is security. Or, to be more precise, the lack of it. Many potential customers neglect mobile banking solely because they don't want to become the next victims of cybercrime or fraud. That is why state-of-the-art tools aimed to improve the level of data security will definitely be on the rise in 2023.
Such a toolset includes regulatory technology, big data, and, again, machine learning. Discovering certain patterns, correlations, risks, and trends due to the comprehensive data analysis allows protecting each client from digital fraud and laundering.
One of the examples of big data and machine learning working together to create an effective modern fintech solution is the custom data processing platform AI Loan Finance developed by Light IT. The combination of ML, big data, and CRM functionality allowed to increase the speed of the decision-making process up to five times!
Why will this trend appear?
In this case, everything is relatively simple. The increasing popularity of mobile banking, as well as digital banking, leads to the growing number of cybercriminals and hackers. As a result, banks need new effective ways that would help to protect the customers.
At the same time, people have become less tolerant towards the possible organizational flaws their bank may have. As a result, each bank is forced to ensure the highest level of data protection to remain competitive, and there's no reason to think the situation will change drastically in 2023.
Conclusion
In this article we've gathered five of the most influential mobile banking trends for 2023, and if you're wondering how to make one (or even all five) of those trends work for you, don't hesitate to
contact Light IT
right now. Our team specializes in custom fintech solutions development, and we're always happy to provide you with the assistance you may need, whether it's a comprehensive estimation, quote, or a simple consultation.