Ukraine is, by all odds, set to become an attractive option in its quest to outsource complicated information technology processes. Why is that so? Firstly, Ukrainian technical talents have earned a well-deserved reputation for being experienced and skilled experts. Secondly, the country itself can boast of several startups that have shaken the world with their advanced software solutions. Moreover, many global tech firms choose Ukraine to situate their R&Ds. As such, outsourcing opportunities in Ukraine are an amazing choice for everyone.
Software outsourcing to Ukraine is an alternative for companies that are looking to enhance their software development efforts without spending too much money and time looking for the best tech talent for projects of any complexity. Read on about 8 reasons why you should engage Ukrainian software developers for your projects.
Enormous Tech Potential
Ukraine has long been known for its technical talents and favourable tech environment. Its large pool of tech professionals, hands-on experience in various projects, and considerable expertise in diverse business domains — financial services, retail, hospitality, healthcare, transportation, education, eCommerce, telecom, and media — have made the country a desirable place for businesses across the board to consider IT outsourcing in Ukraine.
Many renowned companies across the globe choose Ukraine as a suitable place to open permanent offices and innovative R&D centres. The US, Europe, and APAC have discovered the full potential of the country and its experts. Here is a small fraction of international tech giants that have been operating in Ukraine: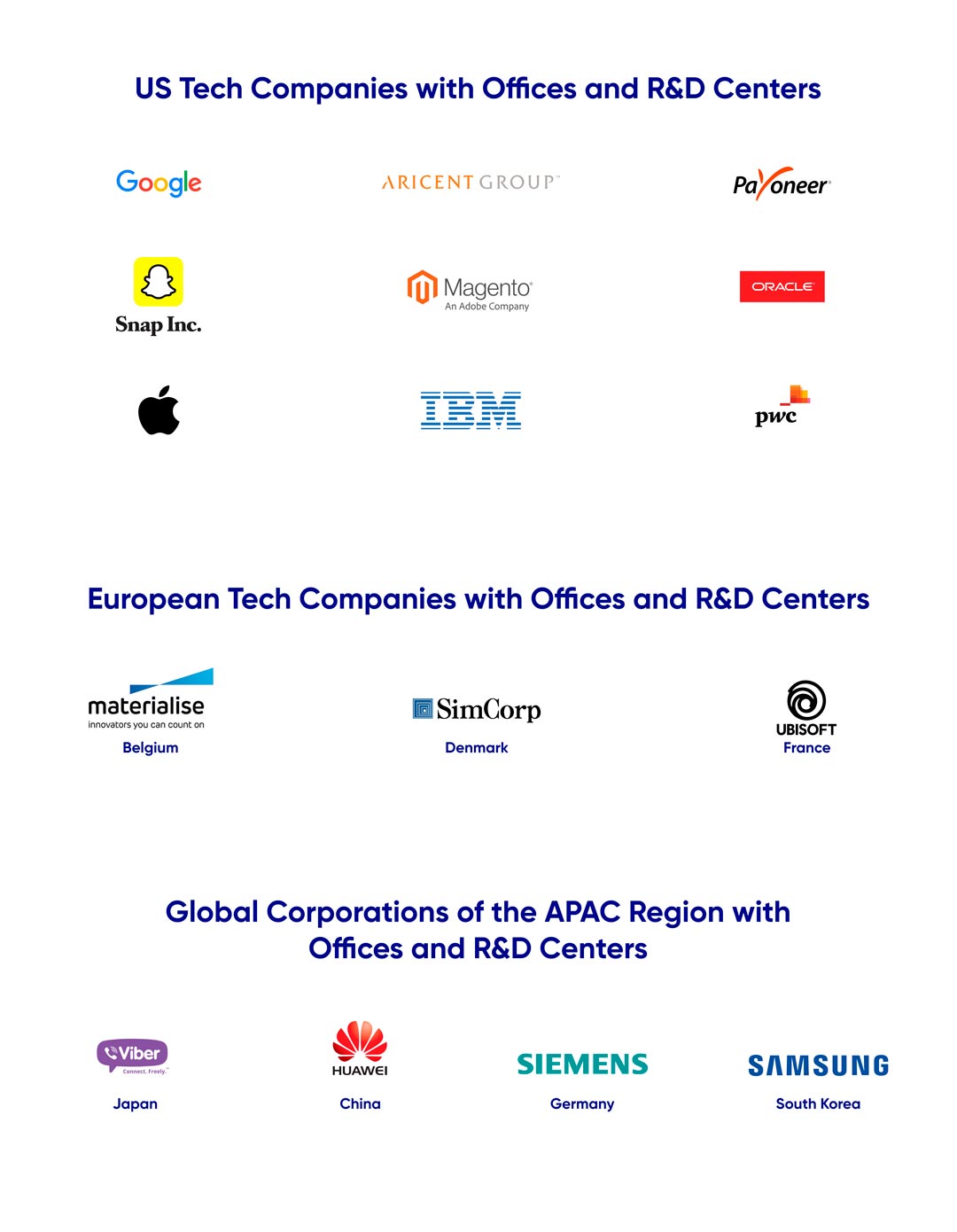 Ukraine is also the home to many forward-looking technological startups. Their advanced software has made a considerable difference in the business world. Grammarly, Depositphotos, Ahrefs, and many others have brought to the world truly high-level software products and services that are effectively being used all over the world.
Best Market for Outsourcing
Ukraine is one of the world's brightest outsourcing markets. Widely known for its accomplished IT developers, Ukraine offers access to capable yet affordable software outsourcing engineers. For instance, in 2019, Business Insider named Ukraine one of the top 5 countries to outsource to and praised the country's mathematics, security, and distributed systems as Ukraine's top software projects.
Furthermore, in 2021, the Global Sourcing Association in the UK – a reputable industry association for international outsourcing, awarded Ukraine Delivery Destination of the Year.
Strong Technical Background
Ukraine is number-9 on the list of the biggest tech hubs in Europe for software development talent, and the number of Ukrainian software developers is increasing rapidly every year. For instance, there were 192,100 developers in 2019, and in 2021, the number reached 212,500 tech professionals, growing more quickly than for any other job category in the country. What is more, Ukraine is the second-largest country in Europe after the Czech Republic in terms of the number of freelancers and independent contractors.
A computer programming career provides Ukrainian experts with financial stability and a creative outlet to express inspirational ideas, create sophisticated tools to impact various business spheres and develop ground-breaking software applications. As such, many students choose technical universities and computer science & information technologies as their major, which is in the country's top four majors.
The most famous universities with software development graduates are:
Igor Sikorsky Kyiv Polytechnic Institute
Lviv Polytechnic National University
Kharkiv National University of Radioelectronics
Dnipro University of Technology
Odesa National Polytechnic University
Vinnytsia National Technical University
Zaporizhzhya National Technical University
Future IT specialists spend at least four years acquiring theoretical and practical knowledge in various programming languages, web development, algorithms, data structure, SQL, data mining, CAD systems, 3D computer graphics, Artificial Intelligence, concurrent computing, information security, computer-aided engineering, and many others.
Technical students also combine studying with side projects, thus applying their theoretical knowledge, gaining hands-on experience, and honing soft skills.
Combining soft skills and a high level of technical education with real-life business experiences makes outsourcing IT projects to Ukraine economically attractive.
Profile of a Ukrainian IT Expert
The largest Ukrainian online resource on Ukraine's IT sphere, DOU conducts an annual survey on IT experts and for its readers. Here's the portrait of the Ukrainian IT professional of 2022.
46% — software developers
16% — QA engineers
5% — project managers
33% — HR, designers, business analysts, marketing specialists, data scientists, etc.
Most software developers work and live in the biggest cities in the country with comfortable IT infrastructure:
44.2% — Kyiv
14.5% — Kharkiv
12.8% — Lviv
5.2% — Odesa
2.5% — Vinnytsia
1.7% — Zaporizhzhia
Ukrainian software engineers are primarily involved in the following business domains: eCommerce, fintech, mobile, media, telecom, gambling, MedTech, GameDev, Big Data, cloud computing, logistics, ERP
Types of companies:
44.7% — outsourcing companies
35.3% — product companies
11.6% — outstaffing companies
4.4% — startups
4% — miscellaneous
Most widely-used programming languages in Ukrainian IT in 2022
According to DOU, the following programming languages are the most widely used by Ukrainian software developers in 2022:
JavaScript — 18.1%
Java — 14.7%
C# — 14.3%
Python — 12.1%
PHP — 10.1%
TypeScript — 6.9%
C++ — 4.6%
Swift — 3.1%
Ruby — 3%
Kotlin — 2.6%
Other languages include: Go — 2%, Scala — 1.7%, C — 1.2%, 1C — 1%, T-SQL — 0.9%, Dart — 0.8%, PL-SQL — 0.5%, Pascal/Delphi — 0.3%, R — 0.3%, Apex — 0.3%, Elixir — 0.3%
Ukrainian developers are also planning to learn in 2023: Go, TypeScript, Rust, Kotlin, Swift, Dart, Scala, F#, C, Clojure, R, Erlang.
Most widely-used programming languages in the world in 2021
Ukrainian programmers keep an eye on the latest technology trends globally, as they use the programming languages that are in demand. According to the Stack Overflow Survey 2021 , the most widely used languages for coding in the world are:
JavaScript
Python
Java
TypeScript
C#
C++
PHP
C
Go
Kotlin
Competitive Rates
Ukrainian software engineers cost less compared to their US and Western European colleagues. However, their solid technical background, soft skills, and business experience in various domains make them extremely competitive on the global market. A Ukrainian person works 40 hours per week on average.
Software Developer Hourly Rate in Ukraine in 2023
Here are the hourly rates for frontend and backend developers in Ukraine based on their programming languages.
| | |
| --- | --- |
| Programming Language | Average Rates in Ukraine |
| JavaScript | $33 |
| Java | $34 |
| Python | $35 |
| PHP | $32 |
| C++ | $34 |
The average working week of an American employee is 34.8 hours (September 2022). Here are the hourly rates of US programmers.
Software Developer Average Hourly Rates in the US by Programming Language 2023
| | |
| --- | --- |
| Programming Language | Average Rates in the US |
| JavaScript | $66 |
| Java | $60 |
| Python | $52 |
| PHP | $55 |
| C++ | $71 |
The average working week in the UK is 36 hours, while that of Germany is 34.3 hours. Hourly rates of software developers in these counties are as follows.
Software Developer Average Monthly Salary in Other Countries by Programming Language 2023
| | | |
| --- | --- | --- |
| Programming Language | Average Rates in the UK | Average Rates in Germany |
| JavaScript | $43 | $47 |
| Java | $40 | $43 |
| Python | $45 | $49 |
| PHP | $35 | $37 |
| C++ | $40 | $44 |
Flexible Working Hours
Positioned in the so-called "Eastern Standard Time" zone, Ukraine is only one hour ahead of Central and Western Europe and two hours ahead of the United Kingdom. Such an insignificant difference in the time zones means that there are no disruptions in business processes.
But what about countries that have more than a one or two-hour difference, such as the US, Singapore, or even Australia? While being seven hours (New York) to ten hours (California) ahead of the US, five hours behind Singapore, and five to eight hours Perth and Sydney) behind Australia, many companies in these countries still choose outsourcing software development outsourcing to Ukraine.
The difference in time zones gives companies considerable flexibility. Would you like to do business with the IT teams who are fresh out of bed, ready to start their day, and tackle your project while you're sleeping? Or do you want to work your regular hours and collaborate with your dedicated software engineers? Feel free to do as you please, as Ukrainian software developers can adjust their working hours to align with your time zone.
Convenient Geographical Location
International software outsourcing to Ukraine has become more effective than ever with the arrival of new direct flights to major airports in Ukraine. It is now just a couple of hours away from Western Europe and the US, compared to a full day or more by airplane from India. You can easily reach Kyiv and other major cities from London, Lisbon, Berlin, Paris, Amsterdam, Stockholm, Copenhagen, Rome, Prague, to name a few. There are also direct flights from the US, Canada, the United Arab Emirates, etc.
Ukraine is mostly a free-visa country. As such, it will be easy and hassle-free to enter the country to visit your dedicated team. Moreover, Ukrainian developers can visit the EU countries with no obstacles due to the visa-free policy with the European Union. All in all, Ukrainian citizens can visit up to 137 countries and territories.
Various Engagement Model Options
Ukraine provides quite a few options to businesses when it comes to engagement models between parties in outsourcing. You can easily opt for the most comfortable one — time & material, fixed price, dedicated team, or outstaffing.
Fixed Price
The Fixed Price outsourcing model is based on the principle that it's of deciding beforehand who is going to work on a project and what all software development costs will be, including any cost overruns. This kind of engagement is attractive to clients, who might be new to outsourcing, as it offers financial certainty during the project. The Fixed Price is also a perfect model for many offshore firms, as it enables them to deliver accurate estimates at the start of a project, thus creating confidence in their ability to meet their client's expectations. This model is good for you if you have a limited budget, fixed deadline, and precise requirements.
Time & Materials
Time & Materials is a classic outsourcing model. It i's one of several ways to structure an agreement between a business and an IT service provider. You only pay your dedicated team for the hours they put into your project and all the material they used. The agreement, which is more prevalent among large companies, is typically quite broad in scope, does not have rigid timelines, and does not define the result that you will get in the end. The Time & Materials outsourcing model is suitable for you if you have long-term projects, dynamic and fast-changing requirements, and require flexibility to iterate and pivot when needed.
Dedicated Team
Whether it is for a full-time project, customised product integration, or ongoing support, you can opt for a dedicated team model to ensure that you receive high-quality services. You will get a team of seasoned IT professionals backed by an account manager and supervised by an experienced project manager.
The dedicated team mode will help you gain access to a full range of IT outsourcing services, employing an easy transition from one task to the next, all within your budget. This eliminates dependency on third parties and gaps in continuity, thus ensuring that your business operations run smoothly.
Outstaffing
Outstaffing is an engagement model that allows you to hire remote software engineers to carry out all your tasks and duties. However, these professionals are officially employed by an outstaffing agency. The agency will be responsible for remuneration, taxes, bonuses, and it will provide your remote technical specialists with the necessary equipment and a workplace.
This model is quite appealing to companies, as it is much cheaper to hire a remote employee than in-house developers.
Proficiency in the English Language
Ukrainian software engineers need to have a high proficiency in the English language, as it allows them to collaborate with clients successfully. The prime target markets for the Ukrainian IT service industry are the US, the UK, Germany, the Netherlands, Canada, Denmark, Norway, and Sweden — the countries where English is the first language or where it is widely used.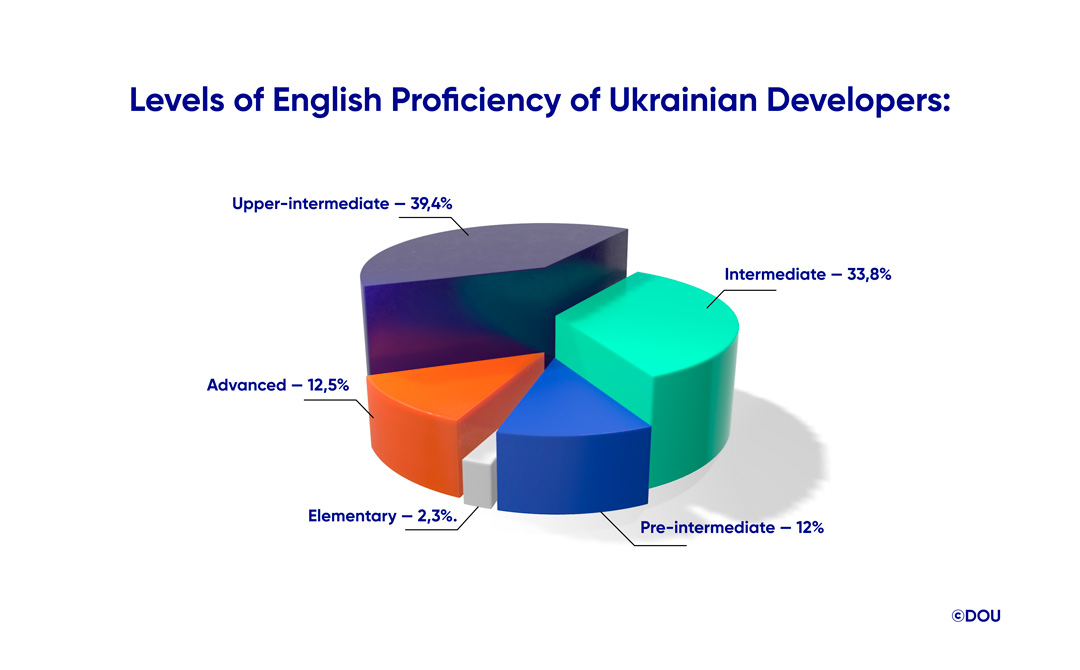 A high level of English proficiency is one of the main determinants for recruiters and employers during the recruitment and interview processes. It also enables candidates who speak English well enough to receive better job offers than those who are not-so-proficient in English is much to be desired. Many companies in Ukraine provide English language courses and hire native English speakers to help their employees hone their language skills.
Advanced Infrastructure
The Ukrainian IT market is growing each year. This tendency positively influences other business domains in the country. For instance, the real estate industry proliferates because many software developers move to larger cities like Kyiv, Kharkiv, Lviv, and Dnipro, and require more advanced infrastructure.
What is more, as the number and size of IT companies have expanded, there has been a tremendous need for high-quality office space. Thus, with foreign tech investors, Ukrainian authorities, and IT companies themselves, real estate firms have been building entire districts. For instance, Unit.City occupies 500,000 square metres, has housing capabilities for more than 15,000 residents, and includes 10 R&D laboratories. Other examples include Innovation District IT Park, LvivTech.City, and IT Village.
Why Hire LIGHT IT Developers
We offer the most complete set of software development services to start-ups and established businesses alike. The cost of Ukrainian development is quite appealing, and Ukrainian outsourcing is becoming increasingly attractive for clients from all over the world.
Why hire Light IT developers? There are a few reasons for this:
Reasonable price:
We keep our rates reasonable by employing smart and well-educated IT professionals who are proficient in multiple technologies and always keep an eye on the latest trends in the IT industry and other business domains.
A wide pool of talents:
Light IT has a big pool of in-house professionals: software architects, developers, business analytics, QA specialists, product designers — everyone you need to create an outstanding solution.
Comfortable working conditions:
All our professionals work in a comfortable, distraction-free office setting, and have all the necessary technical tools to tackle a client's tasks.
Language proficiency:
All our employees are local and have excellent English communication skills to meet your project goals. Moreover, our software developers also have a good command of the German language.
Don't hesitate to drop us a line and get one of the best tech professionals.