We are changing, and our approaches to recruiting automation are changing. Personnel selection is a rather painstaking and exceedingly tedious thing. Particularly within the context of how many resources you have to connect for effective and efficient work. But the world does not know how to standstill.
What is recruiting automation?
It is a category of technology that allows companies to automate day-to-day recruiting tasks and workflows to increase recruiter productivity, accelerate time-to-fill, reduce cost-per-hire and improve the overall talent profile of their organization.
This category of technology incorporates special tools and platforms that increase the overall efficiency of departments and businesses.
Furthermore, automation tools empower recruitment teams with data. Tracking key recruitment metrics — such as time-to-fill and employee retention rate — allows employers to monitor their growth goals more effectively and optimize their hiring process. In short, recruitment automation streamlines the process during every hiring round and provides essential information to optimize the broader workforce strategy.
Impact channels of the COVID-19 crisis
In the picture below, you can see all factors that influence the consequences of the pandemic regime. The restrictions on the governmental level of countries worldwide shattered the international economics that, in its turn, led to the domino effect.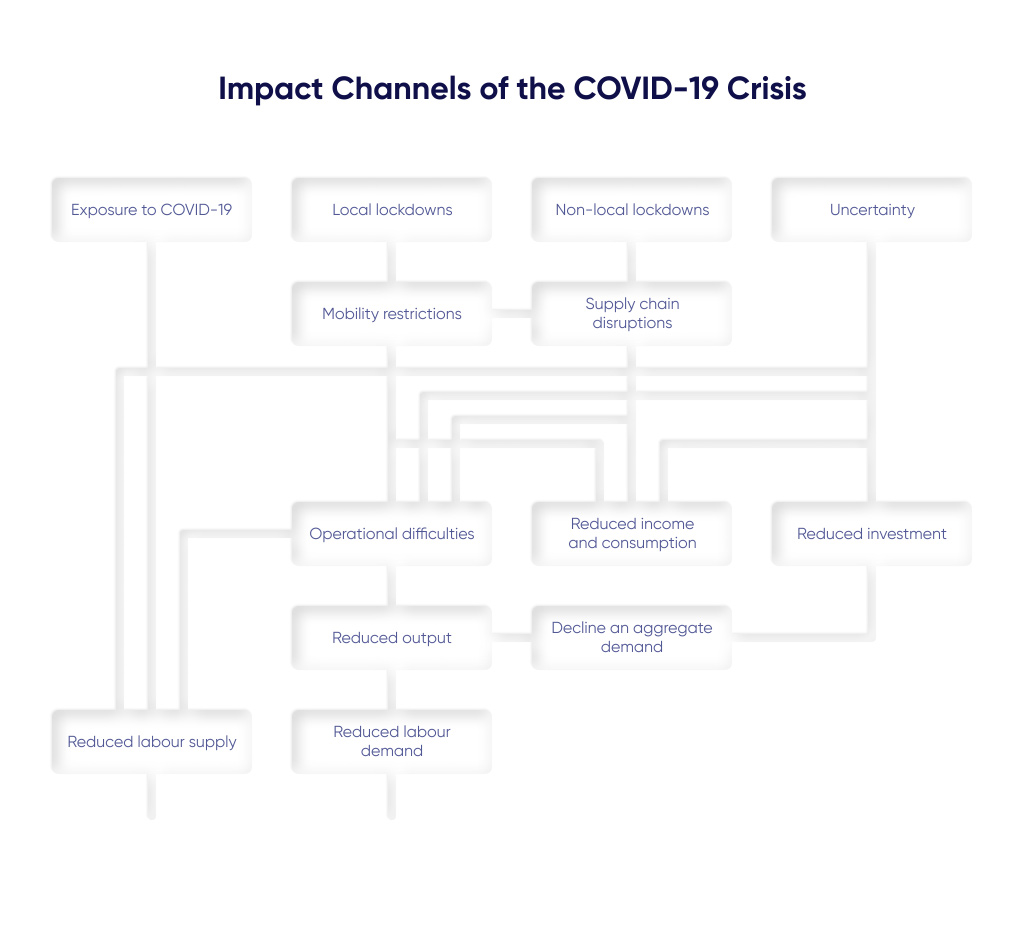 Accessing talent: who needs such software?
The market is expanding, and the business that is the first to find an efficient way to acquire the best talent will have an edge. Just have a look, as numbers speak for themselves: for 2021, employment growth is forecast at 100 million jobs, followed by a further 80 million in 2022.
With so much going on, from hiring freezes to reallocation to brave new world adaptations and countless maneuvering challenges to virtual talent acquisition, automating the hiring process somehow seems to be one of the least urgent things – at least at first sight.
Every recruiter, in most cases, is being asked to do more with less. Almost every talent acquisition budget is being critically examined for possible cuts, and nearly every employer is doing some form of human capital belt-tightening. So, how can you know that you already need to restructure your process?
Why do businesses go for automating candidate search?
If your team is having trouble hitting goals or scaling the recruiting processes, it's time to focus your efforts on developing a recruiting automation strategy.
Below are some good questions to ask yourself when searching for the right changes within your organization:
Are your recruiters bewildered by the number of requirements?
Do your recruiters spend a bunch of their time on administrative activities?
Do open requirements keep being unfilled for extended periods of time?
Is your average time to hire above the benchmark for companies in your space?
Do you rely on outside assistance (Recruitment Process Outsourcing) to fill your requirements?
Do you have a strategy that you would like to scale in the future?
Such an approach is changing recruiting in three major ways:
Automated resume screening
Automated pre-qualification through chatbots
Automated interviews that improve job fit by analyzing applicants' words, speech patterns, and facial expressions
Automation Can't Destroy Recruiting. It Just Might Save It
Types of Recruiting Processes That Can Be Automatized:
Automation of resume screening. (Background checks) (Finding top talent will depend on a recruiter's ability to automate their workflow intelligently)
Automation of incoming job applications coming from job postings on job boards
Interview process automation improves job fit by analyzing candidates' words, speech patterns, and facial expressions
Pre-hire assessment platforms
Applicants nurturing
Tracking candidate progress
Interview scheduling
Candidate rediscovery and ranking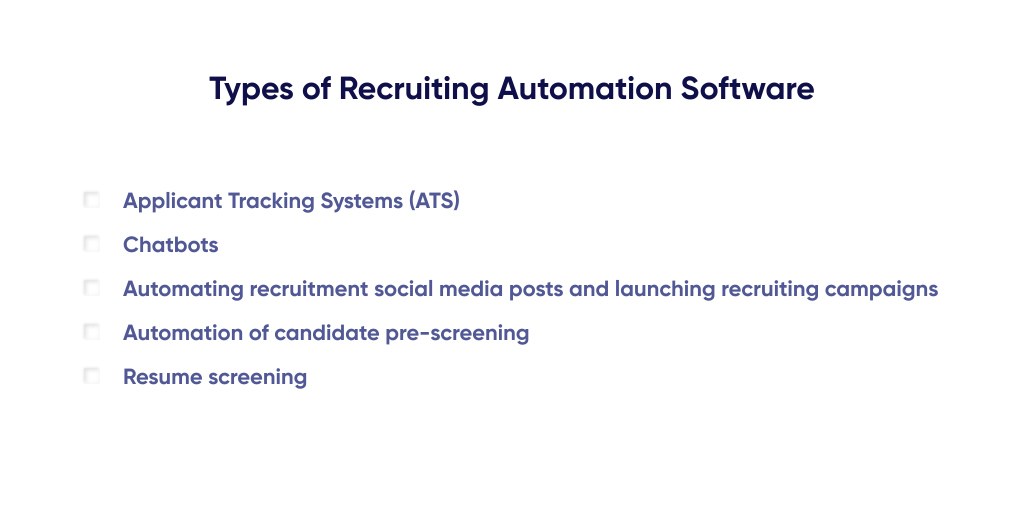 Advantages and values of recruiting automation for businesses
In fact, the benefits of an automated recruiting system are pretty evident to everyone: automation of most everyday recruiter's tasks and freeing hands to focus on global goals and strategies of your HR departments.
Automating stages of your hiring process forces your organization to consider evaluation criteria that are genuinely relevant for success. It makes it possible to ask each interviewee the same questions in the same way. And it ensures you have the same data on each applicant. That makes it easy to see the person who's truly the most qualified candidate and not just the one with the firmest handshake or the one who made the best first impression.
Most feasible benefits of automated candidates hiring software
If we talk about the business purpose of this type of software, we need to mention that any kind of automation is aimed to simplify your work or your business processes in general.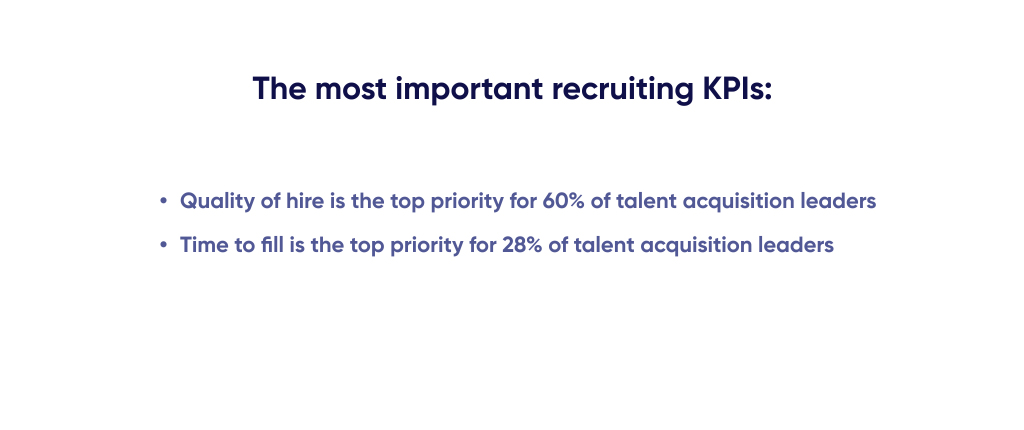 #1: Hiring for Attitude and Training for Skills
By prioritizing work ethics, flexibility, and teamwork over expertise and technical skills, this recently popularized approach to hiring helps build dynamic teams.
Hiring for attitude allows you to access a wider talent group. Moreover, candidates who pass the aptitude test can make better employees in the long term. They are in the right mindset to learn, develop new skills, and contribute to your company's future.
#2: Automated Applicant Search & Resume Screening
Candidate rediscovery is another practice that helps recruiters save time and money. It's also one of at least two reasons why you should never lose touch with candidates. Manage your followers' settings on LinkedIn to keep updated with their work status and do not lose the moment when they are ready to discuss the details.
#3: Automated Job Posting
Posting on multiple job boards is a great way to reach candidates across general, niche, or remote job boards and promoting your open positions to the fitting candidates, on the proper channels, all from one centralized location. Keep track of your job postings, post, pause, or close job postings in just a few clicks.
#4: Saved Time
It actually results in accelerated time-to-fill. Applicant volume can be increased by an average of 50-100 submissions a post (depending on if it's an exempt or non-exempt role); without automation, recruiters would spend a lot of their time trying to find a needle in a world of haystacks, and even more time screening those applicants' CVs for introductory phone screens.
#5: Advanced talent analytics
From better awareness of candidate fit to process and technology optimization to increased understanding of talent acquisition's impact on the business, analytics is a powerful force in sourcing and hiring top talents.
#6: Unbiased Evaluation Criteria
Research shows that most interviewers allow biases, not facts, to decide who to process through the hiring funnel. You're probably unconsciously faced one or more of these common errors:
Overconfidence bias
Similarity or affinity bias
Confirmation bias
Bandwagon effect
Halo/horns effect
#7: Retention-Focused Hiring
It is used for understanding and leveraging the demographics and drivers of short- and long-term job success. Evaluating the quality and depth of talent pools. Looking beyond the applicants' presentation to more objectively understand their motivations and work styles.
Retention starts right from the beginning, from the application process to screening applicants to choosing who to interview. It begins with identifying what aspects of culture and strategy you want to emphasize and then seeking those out in your candidates.
It's an increasing returns model – the longer someone's with your company, the more productive they become over time. You have to look at this as a long game and take steps to ensure you're doing it right by guaranteeing each employee is completely engaged with and part of the company's ongoing success.
#8: Hire at scale
By structuring processes and building workflows to help you work smarter, not harder.
Automation efficiencies won't fulfill their potential in your business if they're plainly replacing human interactions. And they won't help your business scale. But if you use them responsibly – with an understanding of how, when, and where you can automate to deliver a better experience – you'll create something your business can grow on.
Developing efficiencies in your recruiting operation gives your recruiting team time and space to provide more powerful human experiences to applicants, have deeper conversations, and get candidates into the right-fit jobs faster.
#9: Predict performance
Predictive analytics and integrating skills assessments into the recruitment automation process can help us address the failure points in recruiting, predict job performance, and ultimately lead to better hiring decisions that lead to better business results.
Types of custom recruitment automation software
Considering different types of software for recruiting needs, it is required to remember the specifics of the business and the particular recruiting pipeline strategy.
Below are popular candidate relationship management automation solutions on the market.
Applicant Tracking System (ATS)
It is one of the most common types of recruitment automation technology commonly used to store candidate information, interviewer notes, and automate communication based on their stage in the hiring process.
CRMs
Such systems help to better manage your candidate engagement with a CRM for Recruiting. A recruitment CRM (candidate relationship management) system is a tool that allows hiring professionals to build and maintain relationships with job candidates while simultaneously managing the entire recruitment process.
Chatbots
These are hiring assistants to automate the communication between recruiters and candidates. After candidates apply for jobs from the career pages, recruiting chatbots can obtain candidates' contact information, arrange interviews, and ask basic questions about their experience and background. Recruiting chatbots are the first touchpoint with candidates and can gather comprehensive information about a candidate.
Automated Social Media Posts
This type of machine learning software is usually used for launching recruiting campaigns on social media.
The most popular resources are:
ContentCal
Falcon
Loomly
Agorapulse
Sendible
Promo Republic
Sprout Social
Buffer
TweetDeck
SocialOomph
Automation Technology: Candidate Pre-Screening & Resume Screening
Many ATSs include as a feature at least basic resume screening functionality. Many companies use an online application process that includes behavioral assessment tools that have been internally validated. The goal is to adopt a robust and efficient hiring system that saves managers time, improves the quality of hires, and drives cost savings through a reduction in paper.
With the new applicant tracking systems, companies are increasingly moving their historically paper-based compliance forms online, creating many new efficiencies. When everything is done digitally, all the necessary data is already in the system. This automation also results in cost and time savings by reducing the amount of paper contained in new-hire packets. See Your Guide to Applicant Tracking Systems.
Cloud Solution
Cloud-based recruiting makes use of a hiring platform managed by cloud technology as your applicant tracking solution. Now, coming to the working of cloud-based recruiting software: Mainly, the working depends on the specific platform you have chosen.
Some recruiting solutions will help you cope with the hiring procedure, from posting a job vacancy to accepting and screening applications to executing background checks. On the other hand, other recruiting platforms perform one or two elements of the process and link to some other software that does the rest.
Unfortunately, many organizations still rely on legacy on-premises systems to manage their business. These systems were designed for desk-bound HR and finance professionals a generation ago, not for the new workplace and requirements that we are facing today. Managing a modern business requires continuous innovation and adaptability to create new and better experiences.
Conclusions
Today, it is almost impossible to imagine recruiting without special software. The evolution of recruiting is already here and is rapidly changing the "rules of the game" within the industry. And in order not to fall prey to natural selection, it is necessary to strengthen professional skills as well as your business toolkit, which do matter and abolish the mechanical tasks. If you need help or professional advice, you can always contact us.
Our technical specialists and consultants will advise you on organizing the process and what is required in your specific situation.