Business companies are the main driving force of technological advances, as well as their most committed users. Every new technology becomes either a marketable product or an instrument to improve the effectiveness of business processes. In the context of enterprise software, ERP solutions are among the most demanded due to their numerous benefits and a significant impact on companies' performance.
The discussion of software for enterprise resource planning is impossible without comparing two top solutions in this area: Netsuite versus SAP. While they both perform all necessary functions required from a typical ERP software solution, their differences make them better suited for different audiences and applications.
Main features of NetSuite
Netsuite is a powerful instrument for enterprises that finds application in over twenty different industries. It is mainly focused on large business companies, though it also has specific solutions and options for startups, small- and middle-sized businesses, etc. It is a purely cloud-based ERP and does not offer on-premises deployment. In addition, NetSuite also offers a CRM system, as well as other enterprise-related solutions that can be combined seamlessly with each other.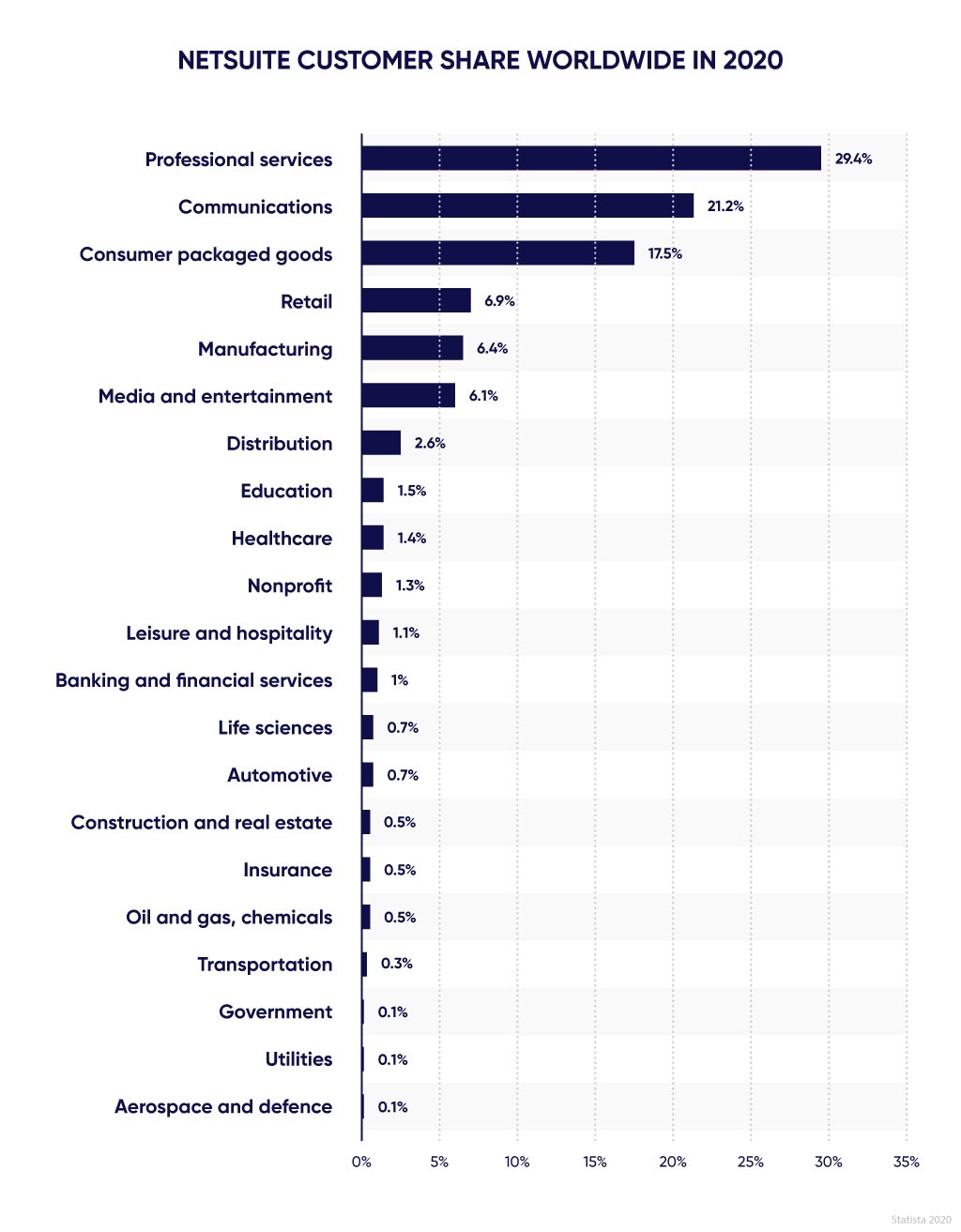 Finance & Accounting.
With this NetSuite feature, companies are able to improve their business performance by having access to role-based dashboards and real-time metrics. Also, it allows businesses to eliminate errors and accelerate the financial close. With NetSuite capabilities, large companies are able to:
monitor and adjust business workflows and processes;

have the full picture of the company's financial performance using customized or prebuilt reports;

have full audit trail visibility;

safely accept and process online payments from customers;

get complete visibility of integrated financials with the help of accounting-intelligent prebuilt capabilities, etc.
Budgeting & Financial Planning.
This ERP platform functionality helps companies to increase their financial capabilities by improving the accuracy of their forecasts. Thus, companies can:
evaluate and model the unlimited number of "what if" scenarios;

achieve easy-to-use reporting;

analyze the difference between the projected and actual results;

create plans with reusable formulas, custom data entry sheets, and allocation methods, etc.
Revenue Management.
NetSuite assists their clients with improving their business performance by giving them real-time access to ending balances related to revenue. Also, it allows companies to automate and control such recurring processes as billing cycles and renewal periods. By implementing NetSuite Revenue Management feature, you will be able to:
automate company's revenue recognition;

report your results in compliance with accounting standards;

automate invoice generation and dispatch;

automate schedule renewals;

improve cross-sell and upsell opportunities by setting reminders in advance, etc.
Expenditure Management.
This procurement feature helps companies and enterprises to automate their procure-to-pay processes, configure approvals, requirements, authorizations, and more. The feature is beneficial for companies in many different ways because it provides the possibility to:
procure services and goods fast and easy;

optimize procurement;

enhance compliance with purchasing guidelines and thresholds;

automate the entire procurement process for a company's services and goods;

accept different types of online payments;

ensure compliance with budget and spend control policies;

increase the accuracy of timesheet and expense processes;

get real-time access to your company's spending trends, etc.
Reporting & Analytics.
With this feature, companies get a transparent and real-time view of the company's performance across its business functions. Thus, it will be easier for you and your employees to:
comply with and accommodate all requirements with custom reporting;

build dashboards and reports that include KPI's and financial as well as operational data;

analyze statistical results and measures individually for location, department, and any other parameters;

achieve risk minimization with security, auditable business processes, etc.
Main features of SAP
SAP shares many features with NetSuite, so these two solutions are always regarded as rivals on the ERP software market. However, they also have a lot of differences that make each of them better suited for specific implementations. For example, the current cloud version of SAP S/4HANA is more focused on middle-sized business companies. For customers who prefer an "on-premises" solution, there is also a version of SAP that can be deployed on local servers.
Similar to NetSuite, SAP also offers a number of other enterprise solutions to complement and extend the capabilities of its ERP system. For example, SAP Ariba is focused on supplier management, and SAP SuccessFactors handles various human resources activities, etc. This wise approach and a well-thought business strategy have earned SAP billions, and its revenue keeps growing every year.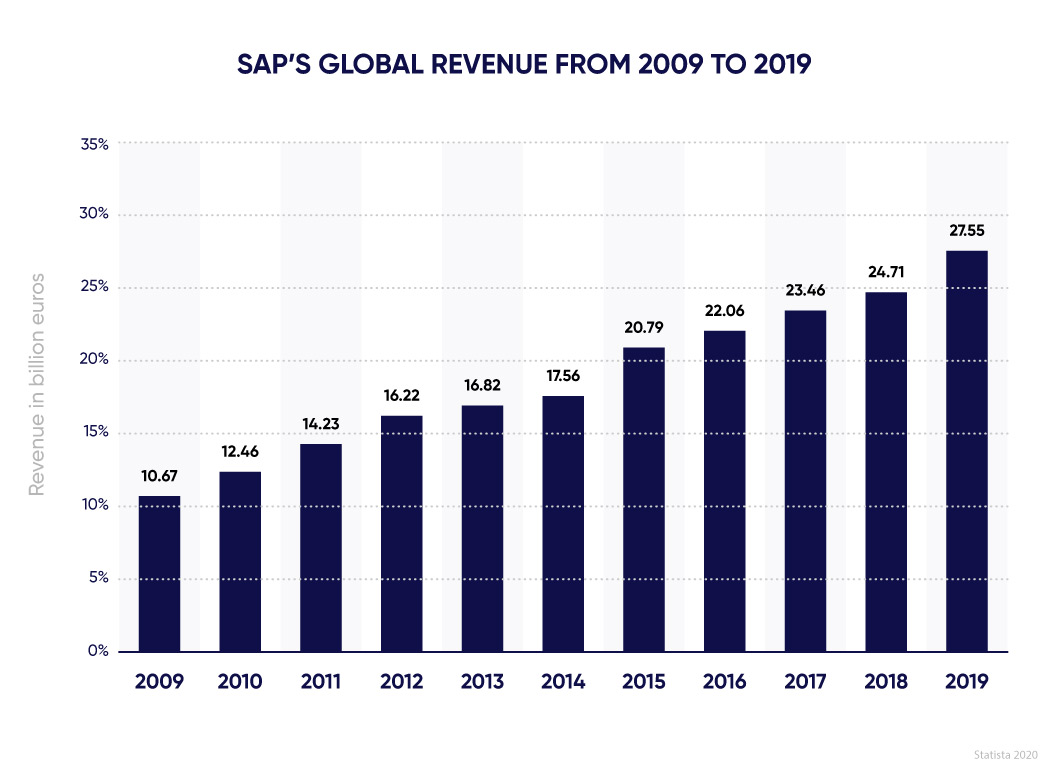 Here are just a few examples of SAP's various functionalities. Keep in mind that the true scope of features is much more extensive and will be further described in a later section of the article.
Financial Management.
SAP's set of tools for financial operations include:
cash flow management;

features for banking and reconciliation;

financial analysis and reporting;

accounting, etc.
All listed tools help companies to reduce different types of errors, improve their margins, and make their decision-making more profitable and efficient.
Business Intelligence Module.
Advanced reporting is vital for enterprises and SAP allows to create reports with:
enriched data visualization;

predefined metrics;

interactive analytics, etc.
The BI feature set ensures that all reports are accurate, customizable, and are built fast and easy.
Purchasing & Inventory Control Tool.
This tool is responsible for the entire order-to-pay cycle that comprises:
invoices;

receipts;

payments;

returns.
This feature is beneficial for companies of all sizes because it handles the supply chain and includes real-time data synchronization with all required databases, data management, streamlined procurement processes, etc.
Sales & Customer Management Features.
SAP clients have the ability to control all customer lifecycle and sales processes, from the initial contact to the after-sale support. This set of features covers:
customer management;

marketing campaigns management;

service management;

opportunity management;

mobile sales.
Analytics & Reporting.
SAP has everything needed for getting important information in real time and instantly put it in the form of accessible reports and dashboards.
Key differences between NetSuite and SAP
You might think that if SAP and NetSuite are enterprise resource planning solutions, they are oriented towards global corporations and large-scale businesses. However, these two solution providers cover companies of all sizes and have plenty to offer to medium and small-sized businesses in various industries.
It is important to understand that both SAP and NetSuite have evolved past the boundaries of enterprise resource management systems. Now, both these companies provide a wide range of dedicated solutions rather than a bloated "all-in-one" agglomeration.
There are a few valid reasons for this decision. The list of demanded features keeps growing every day, and different types of businesses sometimes need different functionality. A single software system may struggle to provide a fast yet efficient solution to cover all functionalities, such as payroll, professional services, inventory management, order management, project management, marketing automation, and many others. To ensure optimal performance and focused approach, ERP providers now offer a wide range of separate modules or smaller solutions that can be combined into one digital infrastructure.
To show the differences in a structured form, we have divided them into 5 categories. Let's take a look at each category and see what functionality SAP shares with Netsuite, and how many unique features are offered by these two ERP solutions.
Financial Management. NetSuite dominates over SAP in this field by offering almost every single feature possible. In its turn, SAP lacks such functionality as multi-company support, forecasting, subscription billing, etc. Both ERP providers have separate solutions for Financial Planning and Analytics: NetSuite Planning and Budgeting (NSPB) and SAP Analytics Cloud, respectively.
Supply Chain Management. In this area, both ERPs support a wide range of required features "out of the box". They do not require additional modules to manage orders, production, inventory, assembly, procurement, and many other aspects of a supply chain. Both solutions even support Material Requirements Planning (MRP), which usually requires a separate software.
Professional Services Automation. PSA is the essence of enterprise management, so both solutions handle all its aspects. Both ERPs ensure the automated management of projects, resources, timesheets, and expenses. However, for field service and repair automation, Netsuite requires a third-party solution, Service Pro from MSI Data.
Human Capital Management. This round is a disappointing tie. Both NetSuite and SAP require additional solutions for managing human resources and payrolls. Respectively, you will need SuitePeople or SAP SuccessFactors to handle all employee-related aspects.
Coverage of industries. SAP and NetSuite can handle the demands of most industries. Even though SAP claims to cover 25 industries, NetSuite seems to handle even more of them. However, it is important to remember that both these ERP systems are constantly developing. So, there is a high chance that they will increase their industry coverage in the future to satisfy customer demand.
To provide the results of SAP vs NetSuite ERP comparison in the most illustrative form, we compiled the table presented below.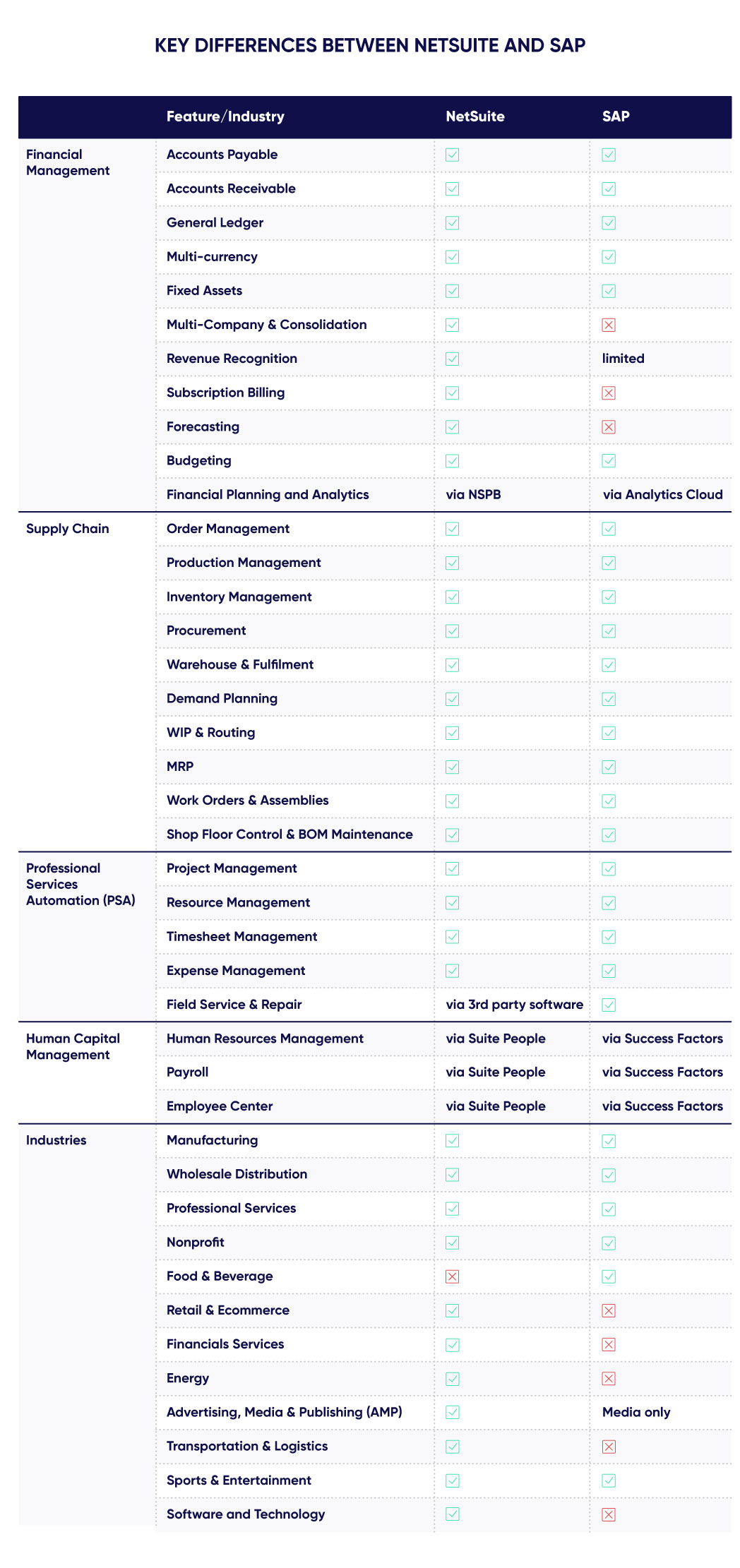 Can custom ERP solutions outperform SAP and NetSuite?
As you see, both NetSuite and SAP are outstanding solutions for resource planning. However, if you are an enterprise or a medium-sized company engaged in a competitive and demanding industry, you better consider a custom ERP solution. In many aspects, a quality EPR system developed by skilled specialists for a specific company will be more effective than the biggest generic solution for enterprise resource management. Here are a few reasons to choose a custom-made system.
Increased data safety
All ready-made solutions host data of their clients on their physical or cloud servers, and you cannot be 100% sure that one day your confidential data will be hacked or leaked to third parties. Of course, companies like SAP and NetSuite protect their clients and their reputation, but as a client, you don't know where and in what conditions your data is stored.
Custom solutions allow you to choose by yourself where to store data and who gets access to your confidential information like payment transactions, archives, etc. You can have physical servers or enjoy the benefits of cloud solutions, or combine them together.
Enhanced performance
The best thing about custom solutions is the opportunity to create software with a stack of functionalities and features adjusted specifically to fit your business processes and needs. Depending on your needs, developers will offer you the most efficient programming languages, architecture, database, etc.
Software flexibility
It is vital for an enterprise to have software flexible for adjustments and upgrading. The IT world continuously presents new technologies that outperform already existing ones. Thus, by making your custom ERP ready for minor or major changes in the future, you will protect your business and be ahead of your competitors.
Access to predictive analytics
Artificial Intelligence and Machine Learning are more affordable today than ever, and you don't need to spend a fortune in order to have them in your custom ERP. All Data Science-driven enhancements will maximize quality and efficiency or your planning, customer service, supply chain management, customer and employee satisfaction, data security, etc.
You can sell it!
Who said that your own ERP solution cannot be the next SAP or NetSuite, and even better than them? In addition to using this software for your company's needs, you can make good money on additionally offering them to other enterprises. To stay ahead of your competitors, you can use the advanced version and offer your potential clients its cut version. For example, your enterprise can use the software variation with AI or ML, while it can be excluded from the version for other companies.
Conclusion
The digital transformation has turned ERP solutions into a necessity for every business that plans to survive on the market. Regardless of industry, companies realize the benefits of automated enterprise management and choose corresponding software solutions.
While such popular ERP systems like SAP and NetSuite have their benefits, they still remain generic in their nature. A custom solution designed specifically for your business can offer better performance, flexibility, and response to any demands that may arise. Contact us, and we will develop a top-quality ERP system tailored to your needs.