Artificial intelligence and machine learning are gradually becoming a conventional part of many industries. One of the most common application areas of advanced digital technologies is customer service. And banking chatbots are the illustrative examples of such implementations. Let's take a look at various types of AI assistants and see how they improve customer support in the banking industry.
Potential use cases and real-life examples of chatbots in the banking industry
The main purpose of chatbots in banking is providing a better customer experience. However, they also help the staff and prevent stressful situations that arise from direct communication with clients.
Artificial intelligence may assist customers in many ways. The most common use scenario for chatbots in bank customer service is the automatization of repetitive mundane tasks. Such tasks need fast and simple solutions that require self-learning, but at the same time, do not imply creativity. They include, among other activities:
greeting customers;
obtaining information regarding their problem;
providing the requested information to clients;
accepting a payment from a user;
and many other simple tasks.
A report from Salesforce reveals that only 32% of companies if the finance industry currently use AI chatbots, and 37% are planning to start using them within 18 months. That results in the potential growth rate of 118%, which is a good sign for data science companies that develop corresponding software solutions.
Banking chatbots may be realized within dedicated mobile banking applications or be an integral part of banks' websites. As for their origin, chatbots may be custom or ready-made. Custom AI assistants are generally more effective and secure as they are developed using precise specifications and under the strict supervision of a particular financial organization where the bot will be integrated. Ready-made solutions are generic bots that are built with maximum versatility in mind but still allow a certain degree of customization.
Several real-life examples of custom chatbots are Erica employed in Bank of America, Eno developed for Capital One, and Aida – an award-winning bot in Skandinaviska Enskilda Banken (SEB).
American Express uses a rather unusual approach to chatbots. It employs the functionality of existing AI assistants, Facebook messenger bot and Amazon Alexa, and adds extra features to them. This way, customers may perform basic tasks with their bank accounts, such as balance checking or making payments, using these extremely popular software solutions.
A recent survey conducted by Statista revealed that only 13% of responders worldwide believe that customer service chatbots are not effective at all. At the same time, 54% find that they are somewhat effective, and 33% consider customer service chatbots very effective.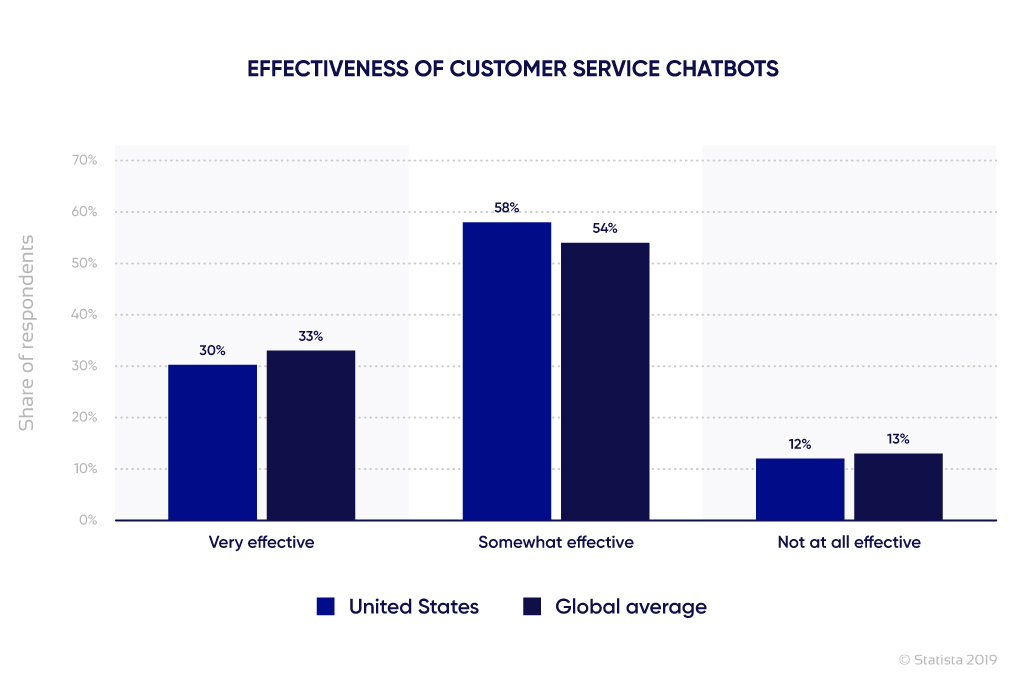 Top 5 benefits of chatbots for banks and clients
AI technologies offer numerous advantages for any industry that implements them. The most notable benefits of conversational banking chatbots are presented below.
Fast-paced communication. This is especially true in case of voice chatbots. Some people find that phone calls with live managers are too slow and give a frustrating experience. Live communication may be stressful for customer service staff as well because they have to deal with mostly angry clients. Moreover, they have to do it on a daily basis and stick to the protocol, no matter how dumb, angry, or annoying the caller is. Properly programmed chatbots are always polite. Their behaviour does not depend on the mood, they respond at once and don't forget stuff.

Round-the-clock support. Chatbots provide 24/7 client support, so existing and potential customers can try and solve their banking problems after work hours and on weekends. This ultimately also leads to better customer experience.

Enhanced productivity of bank personnel. Not all clients' problems require the help of a staff member. Artificial intelligence may successfully deal with minor issues leaving only the most urgent and complicated cases for the "human approach." So, the use of chatbots frees a part of personnel's time and improves the efficiency of the customer support. Such use also allows companies to focus the attention and efforts of skilled specialists on important things that cannot be solved by AI.

More convenient mode of communication. Chatbots may combine various functionalities that would make them convenient for customers of different age groups. Psychologically, people of younger generations prefer instant messaging over voice communication, so chatbots may satisfy this requirement. On the other hand, elderly people may have trouble typing their requests, so a voice bot may suit their needs better.

Providing a personalized experience for clients . Chatbots have access to the full information on the existing client even before they start the conversation process. They recognize and verify the client automatically based on the phone number, login/password, authorization token, or other means of secure and reliable identification. This way, they may greet a client by name, communicate in their preferred language, suggest customized offers and promotions, etc.
Keep in mind that this list is far from complete and is not limited to the five examples described above. There are many more advantages that may be envisaged in this context. Naturally, with the further development of AI and ML technologies, the set of benefits will grow in the future.
Current concerns regarding chatbots
Despite all existing and possible advantages, there is much room for improvement in the field of AI assistants. While artificial intelligence and machine learning technologies are constantly evolving at an astonishing rate, there are a number of flaws that bother users.
The survey conducted by Spiceworks shows that 59% of chatbot users complain about various misunderstanding issues that arose during the communication with AI. The logical result of such lack of understanding is the execution of inaccurate commands that were encountered by 30% of responders.
Voice recognition technologies are still flawed. It is further proven by the abovementioned survey. 29% of people noticed that AI chatbots have trouble understanding accents. 23% complain that intelligent assistants cannot distinguish their owners' voices.
Other concerns regarding the implementation of AI assistants are their cost, as well as possible security issues. This is especially true for the banking industry, where data protection is the top priority. A poor-quality bot may turn into a huge open gate to the bank system, including client accounts.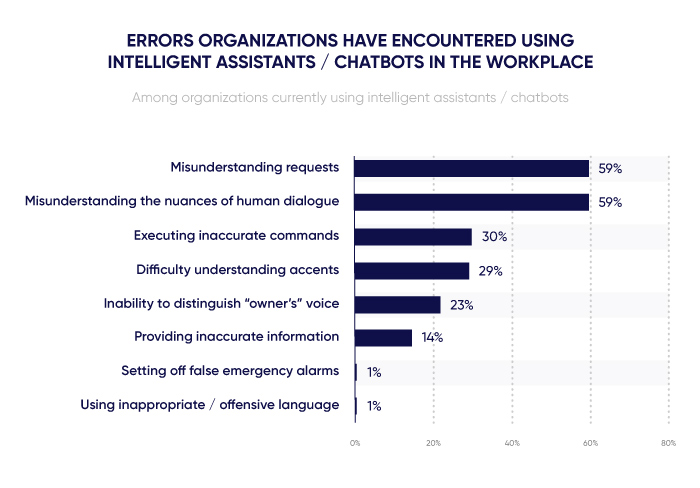 Technologies used by banking chatbots
To maintain a balance between performance and functionality, chatbots use only a fraction of the whole range of AI technologies. This way, banking assistant software gets rid of excessive or rarely used functions associated with artificial intelligence. For example, these features may include face recognition, map navigation, and other functionality rather useless for a program focused on voice or text communication.
The highly required part of artificial intelligence is called conversational AI and is based on the close cooperation between machine learning and natural language processing (NLP). Its core function is to recognize, interpret, and respond to a human speech. As an example, here are some steps of the language processing routine:
language recognition;
machine translation between relevant natural languages and programming languages;
recognition of spelling mistakes, accents, and slang;
detection of spam, noise, or other indicators of non-productive or pointless conversation;
data extraction from user's text or voice information;
analysis and classification of data obtained from a user;
response generation;
and others.
For some implementations, chatbots are required to imitate human behavior to the point when a user cannot distinguish a dialogue with AI from a dialogue with a human. However, such a degree of authenticity is not needed in the banking sphere.
Moreover, sometimes AI assistants that use natural language programming may be too advanced for certain implementations. There are simpler alternatives, such as rule-based bots and choice-based bots that have their own advantages. Though such types of chatbots have severely limited functionality, they utilize a more practical and efficient approach to solving problems. By using pre-programmed dialogue paths and pre-written responses, such bots do not need NLP to provide a swift answer, restart a dialogue, or switch the user to a customer support officer.
Banking chatbots should be able to initiate a maintain a productive conversation with the client. However, they should focus on the effectiveness and quick resolution of the problems encountered by a client. The close imitation of a "natural" human dialogue is not a priority or even a necessity. This should be the defining factor for using AI and ML technologies to build a chatbot for banking.
There are several programming languages that can be used for developing chatbots for mobile or web apps. These languages include, for example, PHP, Java, Ruby, Closure, and some others. However, Python tends to excel in this area due to its impressive set of advantages and an extensive set of libraries and frameworks. More importantly, Python also has a number of useful libraries for machine learning to combine with language processing.
Future of chatbots in banking: forecasts and insights
The share of banks that use AI solutions and chatbots in particular is constantly rising. As another factor, the use of smartphones and other smart devices is also a rapidly growing trend. These two driving forces determine the near future of artificial intelligence assistants in the banking industry.
More and more banks tend to integrate chatbots into their mobile apps. This is a convenient way to stay in touch with their clients and, at the same time, reduce the involvement of human personnel. According to estimations calculated by Juniper Research, in 2023, chatbot interactions will save 862 million hours for banks, which equals to $7.3 billion cost savings worldwide.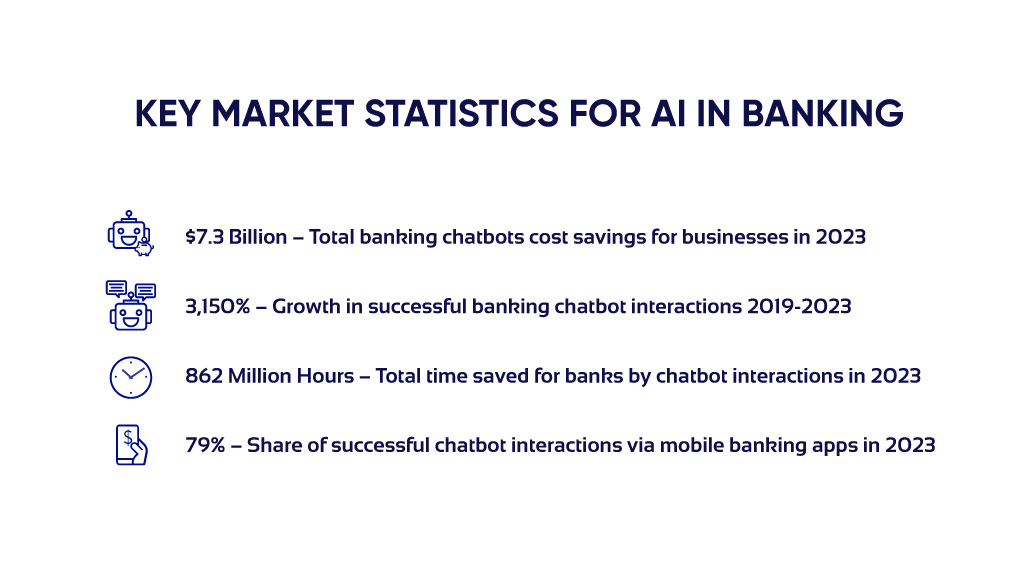 The quality of chatbots will definitely improve over the next few years. They will become more "human," and will learn to interpret requests much better. As a further development, chatbots will predict human behavior more accurately and use this information for self-learning.
In the nearest years, we will definitely see the rise of voice assistants in all fields, including the banking sector. For example, they will greatly speed up the process of communication with clients. The supported functionality will also grow and will result in more use cases for chatbots.
Security concerns regarding the use of chatbots in the banking industry will persist in the future. The need for well-protected and reliable AI solutions will become a major driving force of digital technologies development. The reason is simple: people will agree to share their private information and access to their credit cards only with the most protected and trustworthy software solutions, including chatbots.
Conclusion
As we can see, chatbots and other types of AI assistants are of great use in any industry that has to provide high-quality customer support. One such industry is the finance or banking area, and it is rapidly integrating these technologies into its workflow. Banking is all about money and reputation, and AI chatbots offer numerous benefits for both.
If you need a custom-made high-quality AI solution for your bank or any other financial organization, we are ready to help.
Contact us
, and our specialists will develop a chatbot that would bring you significant savings, as well as better customer experience.