When it comes to Edtech software, the modern IT industry offers entrepreneurs a wide range of options: LMS, LXP, LCMS, MLP, VLP, and much more. And even though new types of education-oriented software appear pretty frequently, the ultimate battle on the market is LXP vs LMS.
Not to beat around the bush and not confuse our readers with tons of useless info, we've created a comprehensive business guide comparing LMS and LXP software capabilities. This piece aims to make the decision process easier for anyone planning an investment in the next-gen Edtech solution. Without further ado, let's get into it!
What's LMS?
The LMS acronym stands for learning management system. This kind of platform is used to develop, manage, deliver, track, and analyze online training. The core of any modern LMS is total control over the educational content the employee will receive. The administrator has the power to create specific courses, training programs, and sets of tasks the user will have to interact with. And the advanced analytics/reporting helps to get the comprehensive efficiency overview.

A perfect example of the business industry that can benefit from the LMS platform is healthcare. Medical professionals never stop learning. They're obliged to keep up with the latest best practices, technological and pharmaceutical developments, healthcare legislation amendments, etc. Not to mention, this industry doesn't have much room for "creative expression" as there's a specific set of skills you must have and a certain knowledge you must obtain. The doctor or the nurse can't play "I don't want to learn that" card as someone's life is on the line. That's why introducing a digital platform that will deliver all the necessary training programs to the staff is a healthy choice in this case.
What's LXP?
LXP, in its turn, stands for learning experience platform. Unlike LMS, it focuses on delivering the educational information the user wants to acquire, not the information the employee must digest by any means. There are no strictly assigned courses or mandatory pieces of training the user is obliged to complete. The principle of any LXP solution is different. It is aimed to arouse the employee's interest in a particular subject and equip the user with all the necessary information on it.
Think about the Youtube algorithm as an example. You type the keyword into the search bar, watch a couple of videos on the topic, and the system starts to offer you similar videos that you might enjoy. That's exactly how LXP works.
The platform delivers content using three different methods:
Skills-based (employee's position and skills)
Usage-based (most popular and most liked content)
AI-based (using the power of artificial intelligence to analyze and create assessments).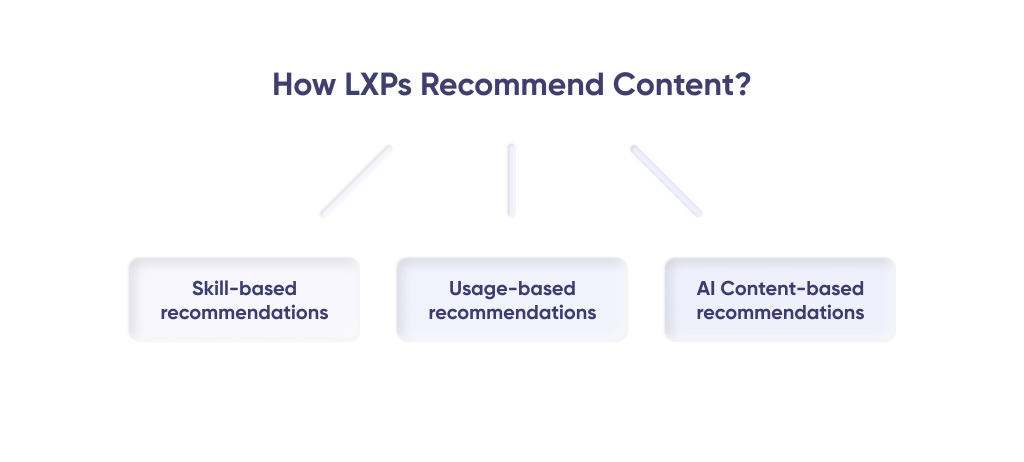 A great thing about LXP is that any company can profit using it. The platform makes sure to deliver relevant and engaging information every time. But it's highly beneficial for e-commerce and businesses based on human interaction (e.g., travel industry, real estate, social media, etc.).
LMS and LXP comparison. Are the differences that distinct?
Now that we got the basic terms out of the way and you're familiar with the concepts of LXP and LMS, let's compare these two and highlight every difference from the business perspective.
Educational approach
One of the most remarkable differences between these types of Edtech software is the educational approach they embrace.
LMS solutions represent traditional "push" learning, feeding the necessary information to the audience. The administrator determines what the employees will be learning, when, and how they will be doing it. With the help of LMS, you can establish the rules and make sure those are followed.
Develop specific training programs for each department
Establish the timeframe
Specify the content format (text, audio, video, etc.)
Review employees' performance
Provide extensive feedback
This type of educational software is so sought-after because it gets the job done. The users learn what you need them to know, and you control the process at every stage.
LXP systems advocate for "pull" learning, an on-demand approach that's far more employee-centric and personalized. The users utilize a learning experience platform not because they were told so but because they feel the need to do it. LXP is an employee's assistant boosting professional growth. And even though the business owner doesn't have as much control over the process, the perks are still there.
Improve engagement with the personalized educational process
Introduce microlearning to keep the users' motivation to train high
Allow the employees to participate in enriching the corporate knowledge base
Provide continuous upskilling/reskilling process
Get a comprehensive overview of the employees' field of interest
Considering the fact that educational apps consistently make it to the top 10 of the most popular and profitable apps both on Android and iOS, LXP can be a great corporate alternative to quench the employees' thirst for knowledge at all times.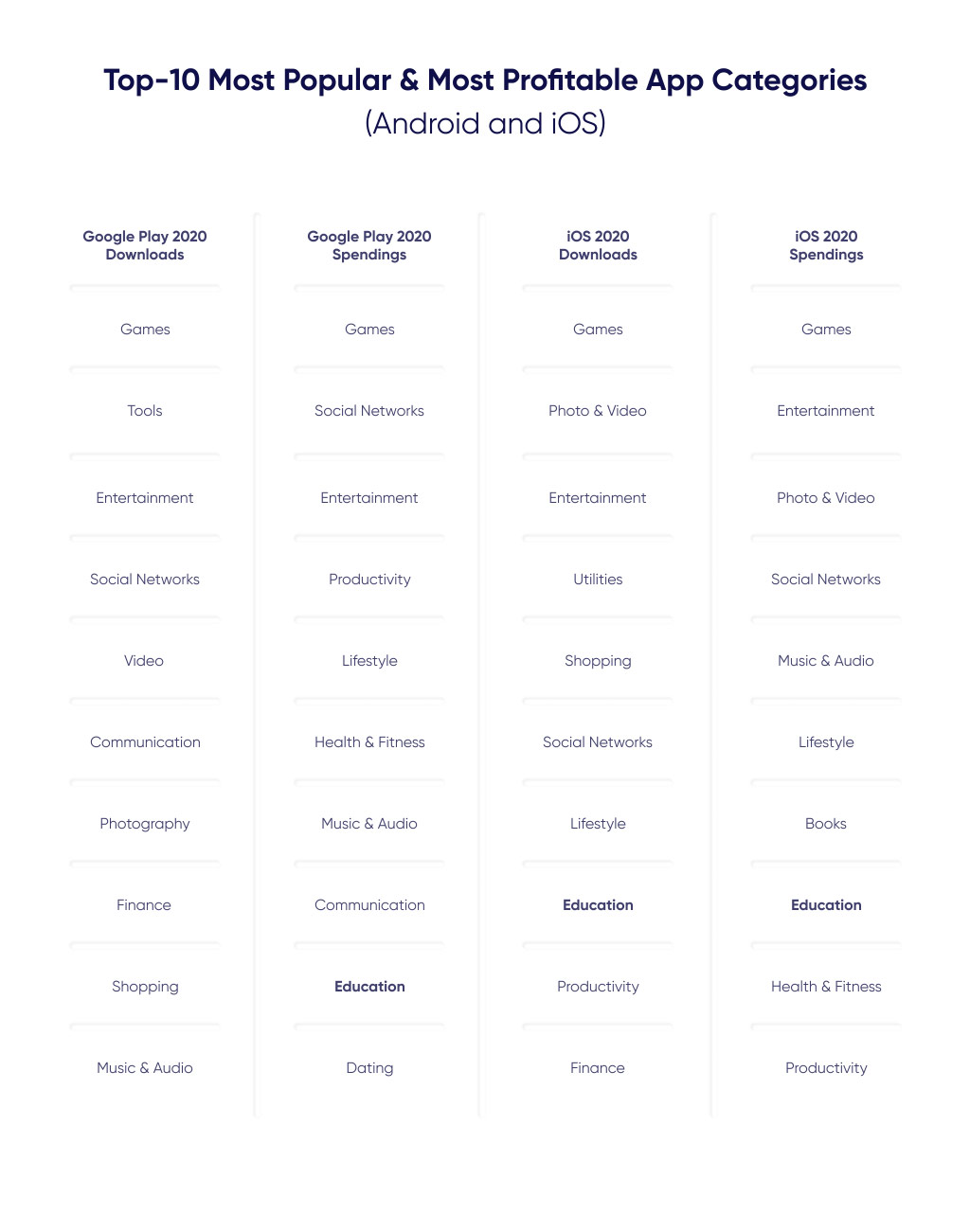 Available features
Another aspect you can't overlook. Whether you choose LXP or LMS, both systems will help you establish and streamline the educational processes, but the instruments will differ. That's why any entrepreneur needs to know about the key software features not to buy a cat in the sack.
For better or for worse, no one can give you an exact number of the features a "perfect" LMS should have as every business owner decides which functionality to pack the system with. But at the same time, there are some key features to every LMS.
Extensive third-party integration
Both online and offline assessment tracking
Alert & notification system
Comprehensive reporting & analytics
Cross-device availability
Full compliance
Various multimedia formats support
Multiple assessment tools
Scheduling system
Once again, these are not all of the features you'll find in a modern LMS. The list can be nearly endless depending on the LMS type and the entrepreneur's vision. However, the number of features you see above is a "go-to list" when evaluating the ready-made LMS. Customized learning management software usually has even more features, and if you'd like to know more about that, check the article about custom LMS development.
When it comes to LXP main features, some intersect with LMS functionality (e.g., 3rd party integration, reporting and analytics, cross-device availability, etc.) but there also are some features that are illustrative of LXP software only.
User-generated content support
Maximized personalization with structured and behavior-based data
Social media functionality (shares, likes, comments, personal profiles) to ensure easy peer-to-peer connection
Highly flexible, user-friendly UI/UX
Powerful search system supporting several searching methods (keywords, tags, images, etc.)
Pre-set user engagement campaigns
Just like a sustainable LMS, LXP software is also better when customized. Sure, tailored solutions are always pricier than ready-made software. Still, at least you will be sure the new platform is packed only with the functionality your employees will actually utilize.
Business purposes
The specifics of LMS and LXP software pretty much determines the business purposes for each type of software.
LMS works best for industries with the complex onboarding process, mandatory formal training, and compliance. Think healthcare, finance, retail, transportation, aerospace and defense, etc.
These are the business fields where it's essential to convey specific messages to the employees and make sure the learning process is effective. Numerous analytical tools and the comprehensive reporting system that is "the heart" of every LMS streamline the process and help you keep everything under control.
LXP, on the other hand, focuses on the continuous process of sharing experiences amongst the employees, professional growth in the chosen field, and reskilling when necessary. It is often called the "high-end version of LMS," but that's not correct. LXP software has other purposes and works for other industries like IT, media, tourism & hospitality, entertainment, etc.
LMS or LXP? Which should you opt for?
Now that you know most of the necessary theory, the learning experience platform vs learning management system choice should seem effortless. But what if it's not, and you still have second thoughts? Then follow our simple 3-step guide to make an informed decision.
Evaluate internal resources
The best thing you can do before making such drastic changes as LMS/LXP introduction is interviewing your employees. They are the ones who are going to work with the system daily, so the business owner should prioritize the staff's needs and desires.
Try to find out as much information as you can. Specifically the following:
Which factors set back your employees' professional development?
What skills would the staff like to obtain/perfect?
What kind of content would the users prefer to work with (text, audio, video, etc.)?
Are the staff members willing to participate in the knowledge base enriching?
Knowing all this info, you'll be able to clarify the goals of the Edtech software introduction and define whether you need a platform with user-generated content support (LXP) or a system with the ready-to-use knowledge base and external methodological assistance (LMS).
Sum up previous experiences
If your company has already established some Edtech software, evaluate its efficiency. Did your previous (current) learning platform meet the requirements and fulfill business goals? Were you (are you) happy with it?
With all that "LXP is better than LMS" fuss, some entrepreneurs feel like they're obliged to switch to the new e-learning platform even though their current solution still delivers. Remember, the Edtech market is growing. As the report by Market Research Future claims, in 2023 it will reach 30 billion USD.
Consequently, the new software will appear in the blink of an eye. But it doesn't mean you have to abandon trusted systems every time. If you've already tried LMS and it works for you, maybe you don't need to switch to LXP. However, if you're not happy with your current Edtech software or had some negative experience in the past, don't be afraid to try new things on the market. Just choose thoroughly.
Think about blending it together
Who said that the LXP vs LMS argument has to be an "either… or..." thing? Yes, it is possible to take the best from both worlds and create a custom super system that will contain only the features your company requires. There are only two potential drawbacks: the higher price and the clear vision a business owner should have.
If you're thinking about creating a custom platform that will be both LMS and LXP, you must know what you expect of the final product. Often the executives aren't really sure if their business requires an Edtech solution, and they eventually become disappointed as the freshly introduced system doesn't deliver the results they've expected. But if you have a clear vision and a precise plan, bank on the custom development. It indeed can do wonders for your business.
Final words
It's safe to say that there's no winner in the battle of LMS and LXP software. Both are equally useful and can elevate the business offering various opportunities for professional growth.
If you've made up your mind and are considering introducing either LMS or LXP to your business model, contact Light IT, and we'll be happy to assist you with the technical part. And if you're still not sure whether Edtech is for you, message us right away, and we'll answer all of your questions. Who knows, maybe the only thing standing in the way of your business's digital transformation is just a message?