June 24th marks 16 months since the beginning of a full-scale war Russia started against Ukraine. During this time, many of the promising IT projects in our country were either postponed or closed. The others were forced to adapt to a new reality. And Light IT Global is no exception in this regard.
For the last 16 months, our team has combined providing custom software development services with volunteering. We not only raise funds in order to equip our defenders with everything they might need, but we also help the population in the cities that are on the contact line with the enemy and engage in various initiatives aimed at preventing a humanitarian and ecological crisis in Ukraine.
How Light IT Global supports the Armed Forces of Ukraine
Helping the Armed Forces of Ukraine is not just a type of volunteering activity for Light IT Global's employees, it's something all of us are passionate about because it is the way to precipitate our country's victory.
And while during the first weeks of the Russian invasion, we mostly focused on providing the soldiers with food, warm clothing, and hygiene supplies, as time went on, we united to achieve even bigger goals.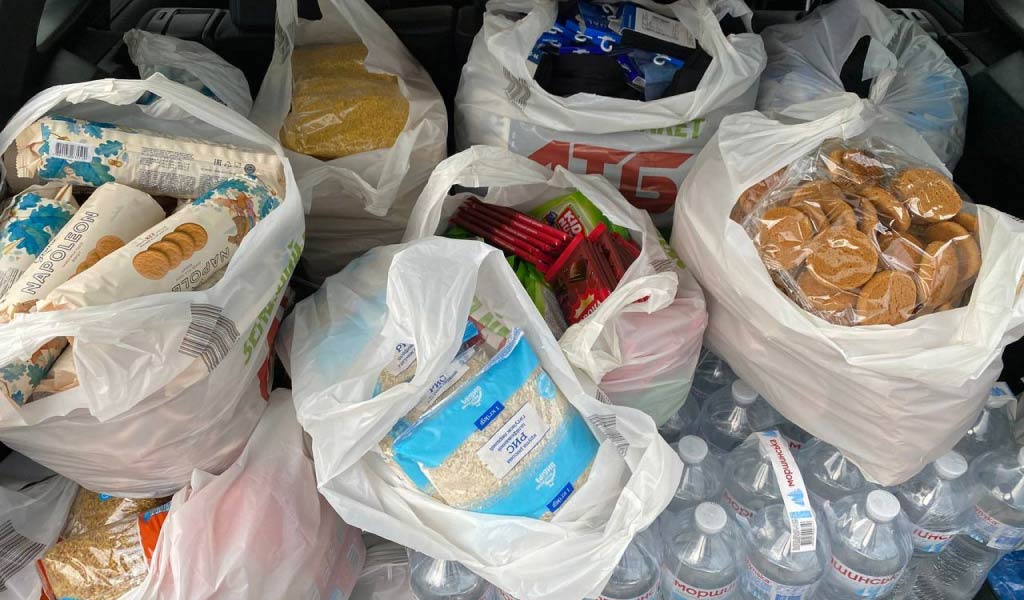 For example, Light IT Global has successfully raised enough funds to buy 3 cars, 1 drone catcher, 5 remotely-piloted aerial vehicles, 6 thermal cameras, and other equipment like collimating sights, helmets, night vision devices, and more.
As of June 2023, our company has managed to solicit UAH 2,575,261 (USD 69,711) and turn those funds into equipment, clothes, and supplies for our defenders and civilians that were affected by the war.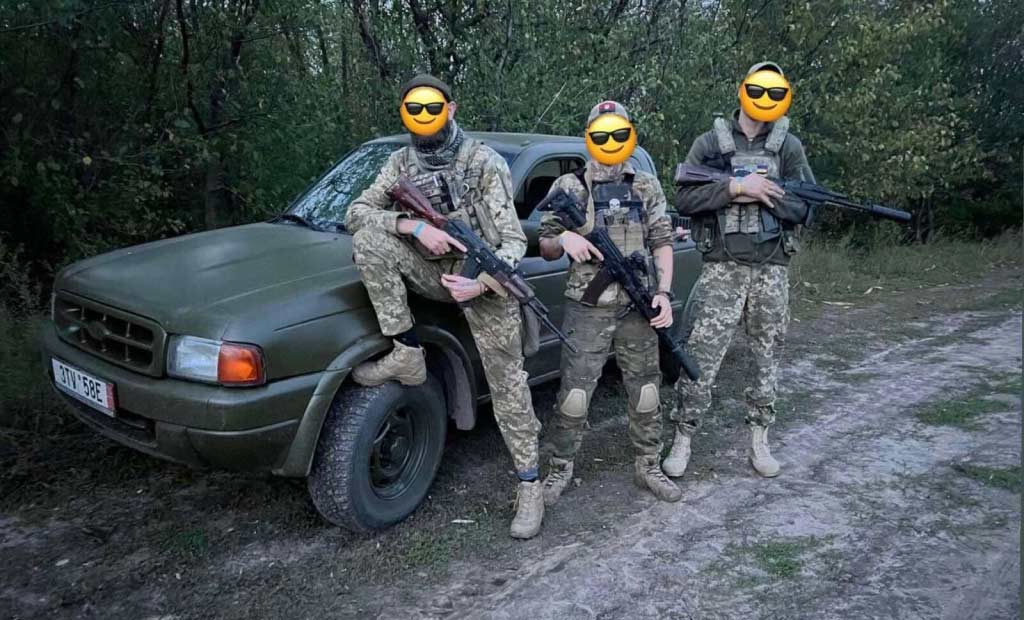 However, financial support isn't the only way Light IT Global tries to help the Ukrainian army. Many of our employees regularly donate blood due to a bank blood shortage, especially in the medical facilities in the cities near the front line. And Light IT Global fully supports such an initiative by arranging additional days off for the donors. We've also bought and delivered medications for the military hospital in Zaporizhzhya, which was vital for the facility during the first months of the war.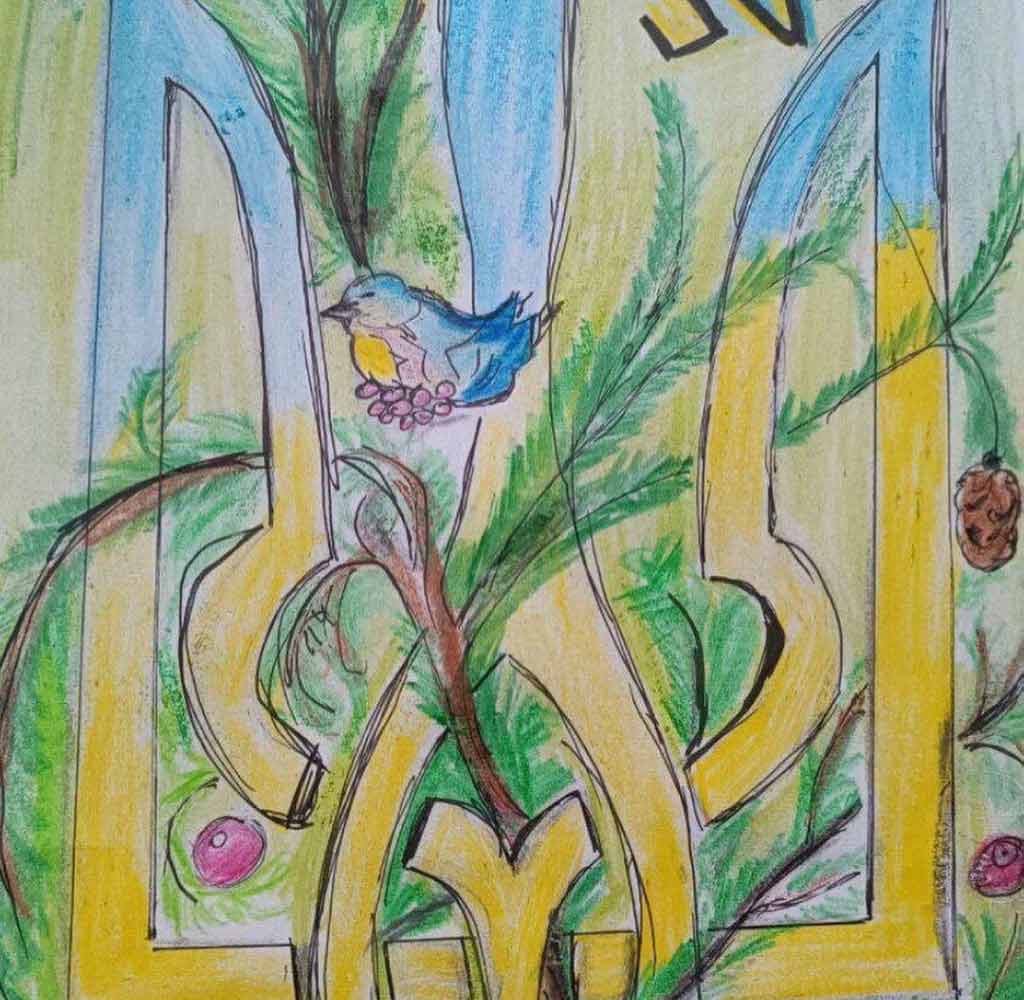 Moreover, we've launched multiple charity auctions where each lot was a drawing created by our team member's children. This helped us raise money to support the army and send the soldiers warm, uplifting messages from home.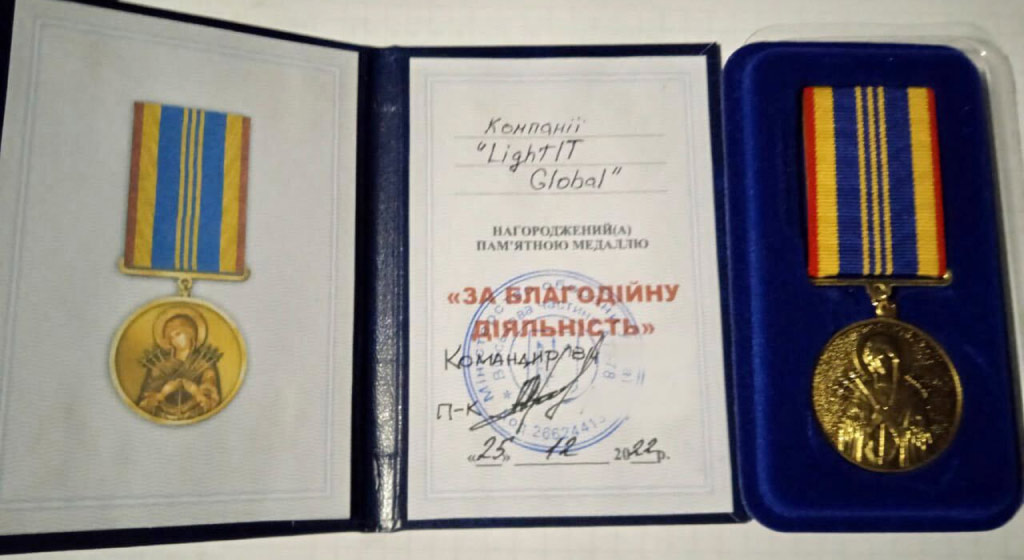 The greatest honor for Light IT Global is the gratitude and acknowledgment of our efforts that we receive from the Armed Forces. At the moment, our company possesses two commemorative medals "For charitable work" from military units that we've raised funds for.
How Light IT Global supports employees during the war
Our team unites more than 150 experts in different IT fields, and their safety and well-being will always be a priority for the company. Since day one of the Russian invasion, Light IT Global has supported the relocation of the employees as most of them were residing in the cities like Kyiv, Zaporizhzhya, and Odesa and were directly affected by the war. The company not only arranged paid days off for those who decided to relocate but also provided compensation for the financial costs of the relocation. Now many of our team members work from safer areas of Ukraine and Europe, where they can continue their work calmly and effectively. And all of the team members who decided not to relocate still have that opportunity and full company support.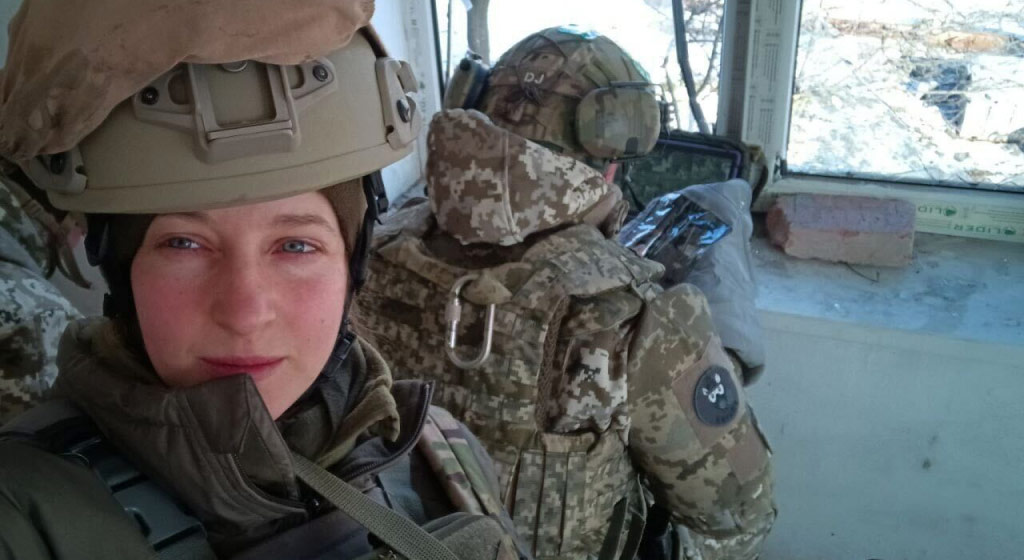 Some of Light IT Global's employees were enrolled in the army, and not only were their positions saved, but the company continues to pay their salaries. We keep in touch with all of our team members who currently protect our country's freedom in the ranks of the Armed forces and raise funds to provide them with the necessary equipment and transport.
As the mental health of our workers is equally important to the company as their physical health and safety, we've also launched multiple online training sessions held by professional therapists. This helped all of us fight stress and anxiety better and find the necessary support within the team. Aside from that, our HRs also were always monitoring each employee's mood and mental state, which helped to avoid breakdowns even during the hardest of times.
In winter, when Russia committed attacks on Ukraine's energy infrastructure, blackouts became a part of life for 30+ million of people in our country. During that time, we found secure workstations in different cities where our employees could have access to electricity and also bought generators and charging stations for the workers.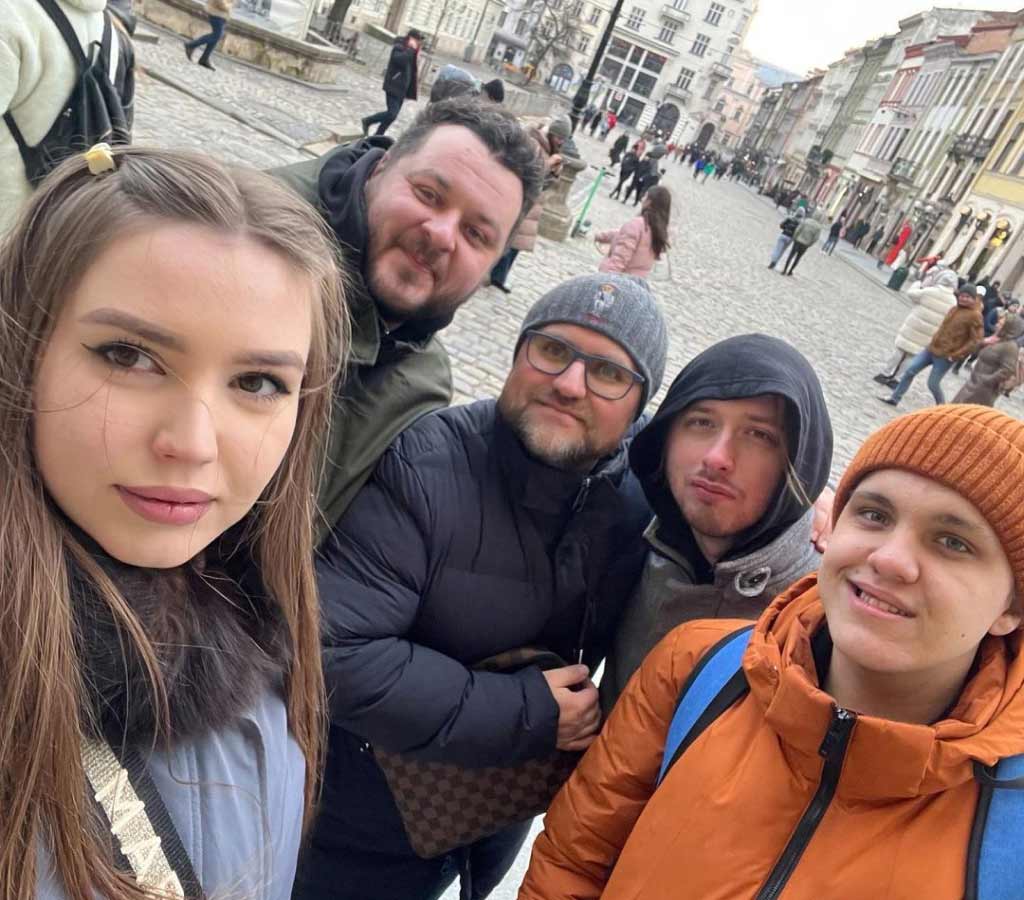 While many of our experts still live and work in Zaporizhzhya, Light IT Global is working on a support and relocation plan in case Russia commits a terrorist attack on a Zaporizhzhya Nuclear Power Plant. We encourage everyone to move to the safer regions of Ukraine but still support those who can't relocate because of personal reasons.
Other initiatives
While war forever changed the lives of millions of Ukrainians, everyone still does their best to work towards a brighter future for our country and its people. That is why our team members have always been highly invested in different kinds of volunteering and charity, which helps them support the causes they care about.
Green activities
Despite current political and economic struggles, Light IT Global continues to introduce various initiatives aimed at protecting the environment. Our employees partake in sustainable waste management and disposal (useful items donation, recycling, waste sorting, etc.) and actively participate in other green activities initiated by the members of their local communities.
For example, several members of our team volunteered to clean up the banks of the Dnipro reaver and other water arteries of south-eastern Ukraine that suffered from a disastrous water level decrease due to the undermining of the Kakhovka Hydroelectric Power Plant.
At Light IT Global, we encourage employees to make more thoughtful green decisions, like replacing plastic items with more environmentally friendly alternatives (reusable bags, refillable metal or glass bottles, metal straws, etc.). Even our corporate merch and a welcome kit were designed to stimulate the new team members to partake in a more eco-friendly lifestyle and make more green decisions.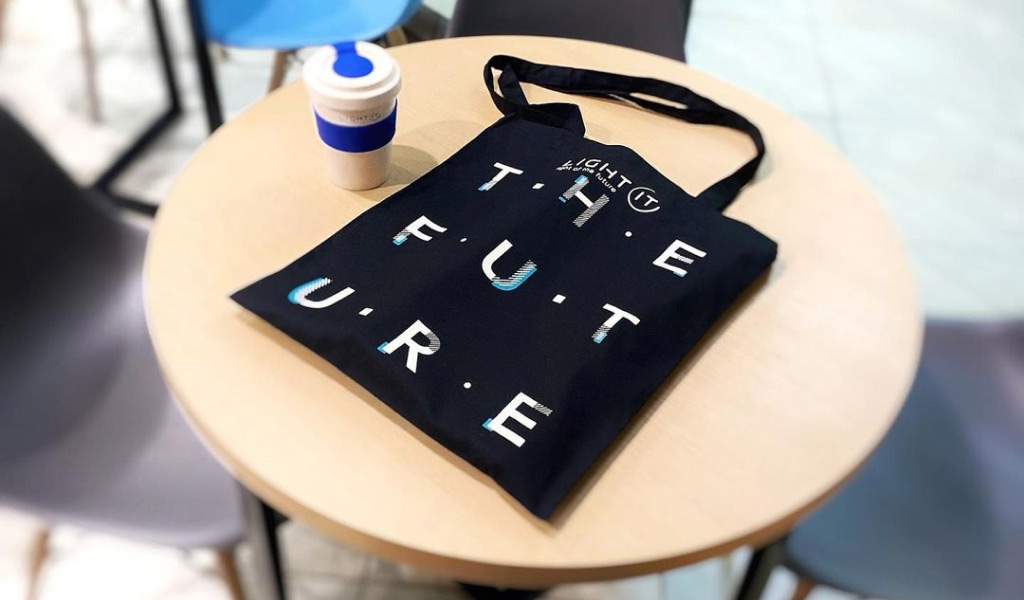 We also continue to support multiple animal shelters across Ukraine, as most of them experienced major funding problems since the beginning of the Russian invasion. At the same time, the number of homeless animals grows exponentially as people often are forced to leave their homes and relocate without having an opportunity to take their pets with them.
Leadership and education
Light IT Global has always focused on providing the younger generation of Ukrainian IT talents with more opportunities to find their place within the industry and build long-lasting careers. To achieve that, we opened Light Academy in 2015. During the lessons our top-level employees share their knowledge and experience with people who want to learn Python, PHP, and Front-end development. Our company also helps the graduates to find their first IT job. 200+ students have successfully completed their courses, and more than 40 have become Light IT Global's employees.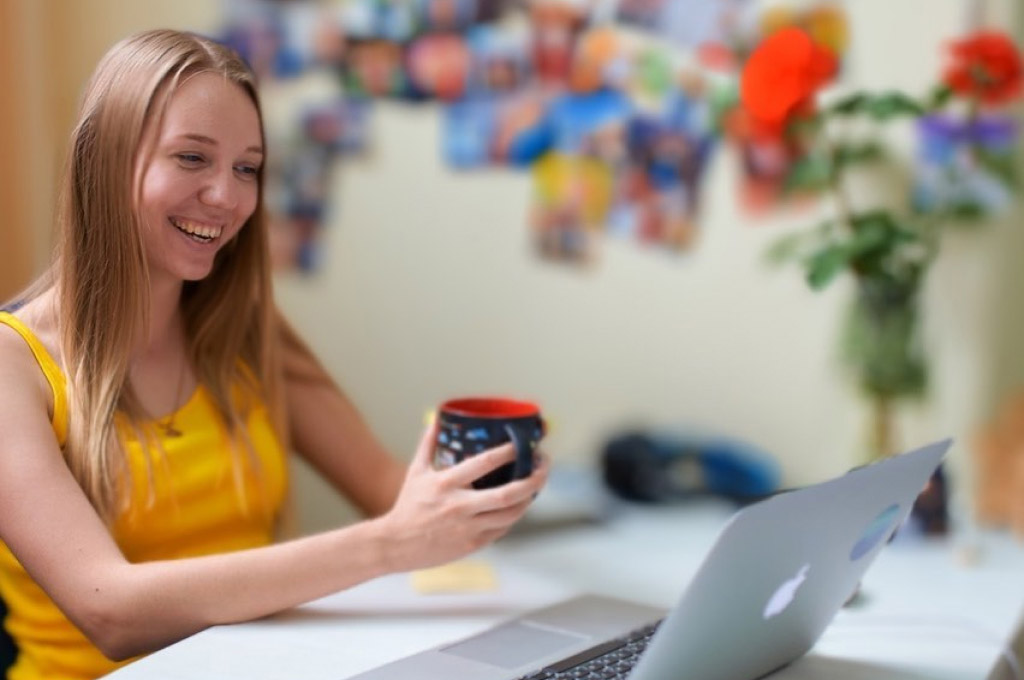 Recently we also partnered with AIESEC — a leading international non-governmental and not-for-profit organization providing youth leadership development opportunities and cross-cultural internships. On April 23rd 2023, Light IT Global's team members took part in the World's Largest Lesson, sharing their experience in securing a dream IT job.
Philanthropy
One of the main causes Light IT Global's employees are passionate about is improving the quality of life of children with disabilities and orphaned children. We've been cooperating with the Orikhiv Regional Center of Social and Psychological Rehabilitation of Children for several years. Light IT Global's team stayed in touch with the center's management and regularly raised funds to ensure the children in this facility lacked nothing.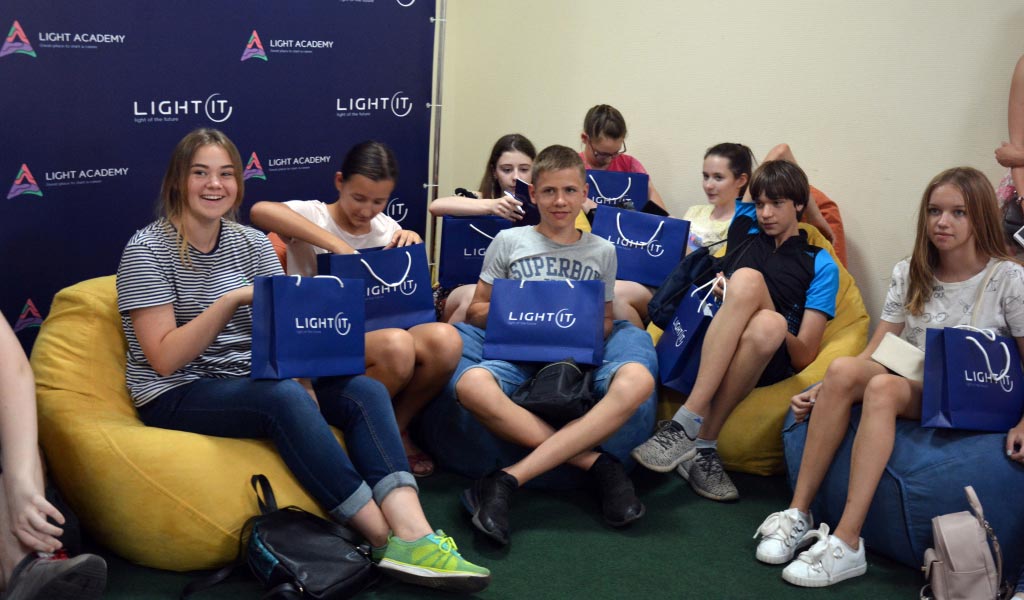 At the same time, the Orikhiv Regional Center of Social and Psychological Rehabilitation of Children isn't the only organization Light IT Global supports. Our team members also make donations and volunteer to help other public organizations working with orphans across Ukraine.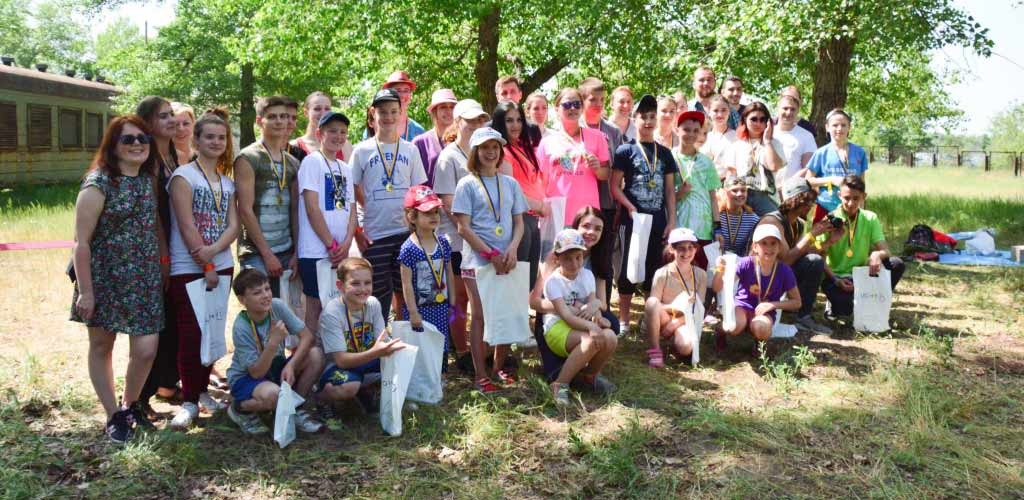 Final Words
We all know when this barbaric war started, but no one knows when it's going to end and how many struggles we'll have to fight through. But if there's one or maybe, two things we know for sure, it's that Ukraine is going to bring peace and independence back to its land and that Light IT Global will continue to support our country until is necessary and despite all the hardships. And if you would like to join us and make a donation, you can do it using the banner below! Glory to Ukraine! To Heroes, Glory!