To succeed in business nowadays, one doesn't have to be a jack of all trades. On the contrary, the art of delegating specific tasks to highly qualified contractors often becomes a difference maker, separating profitable enterprises from not-so-fortunate ones. That's when outsourcing stands a business owner in good stead.
Yet, defining which tasks should be delegated and searching for a skilled, reliable service provider is not a walk in the park, especially if there is a need for outsourcing an IT project.
Is it even possible to avoid "rookie mistakes" and safeguard the project's success from day one? After reading this short editorial packed with useful info, the outsourcing process will definitely be clearer, easier, and more effective even for novices.
What is IT project outsourcing?
The concept of outsourcing can be explained precisely in four words. To "contract out the work." As simple as that. If an entrepreneur is willing to pay another company or an independent contractor to perform particular tasks that typically could have been executed by an in-house team, it is outsourcing. Coincidently, it is not important which tasks the potential employer is willing to contract out. It can be practically anything: administrative functions, customer service, marketing, and, of course, technical aspects, aka IT project outsourcing.
Contrary to popular belief, searching for a third-party contractor to deliver specific IT products or services is not a small business prerogative. In 2023 it is a common practice praised by small, mid, and enterprise level businesses alike. Even international market moguls like Google, WhatsApp, or Microsoft don't hesitate to reap the benefits of this cooperation method.
Modern businesses rely on contracting out their IT needs so heavily that currently, it is the most popular type of outsourcing. According to a report by Deloitte, outsourcing IT projects is leveraged by 54% of respondents. Financial services and payroll round out the top–3 with 44% and 32%, respectively.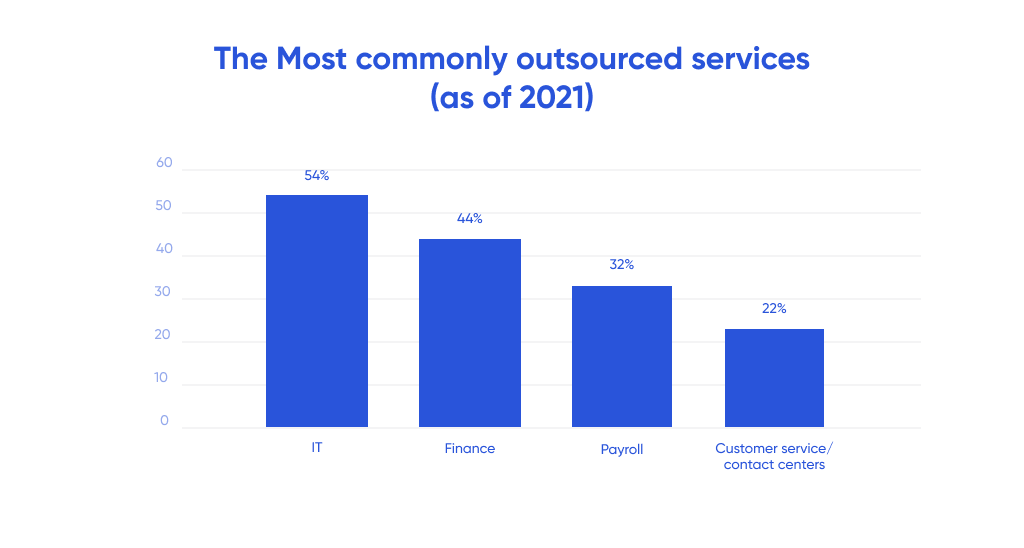 To dispel another myth right away, outsourcing doesn't force an entrepreneur to hire a team from the other end of the world. The chosen contractor might even be located in the same country as an employer, and it still will be considered outsourcing. In fact, there's even a name for this practice. It is called onshoring, and we will explain its specifics later in this editorial.
Now that the basic terminology is out of the way, let's examine IT project outsourcing even deeper.
Which types of IT projects can be outsourced?
A reasonable question one may ask is, "Ok, I understand what IT outsourcing is, but what work specifically can I outsource?" The answer is both inspiring and confusing because nowadays, businesses can delegate to third-party contractors all types of IT-related tasks.
So thinking about outsourcing IT projects solely as a cheap way to create new software is another prevalent misapprehension. Even though it is common to outsource this type of work and hire a web developer or a mobile developer to build a digital product, it is not the only use of IT project outsourcing.
Yes, software development takes up the lead when it comes to outsourcing IT projects. But then again, such functions as application maintenance, data centers, IT infrastructure development and management, network establishment and maintenance, systems integration, or IT business processes are often also outsourced.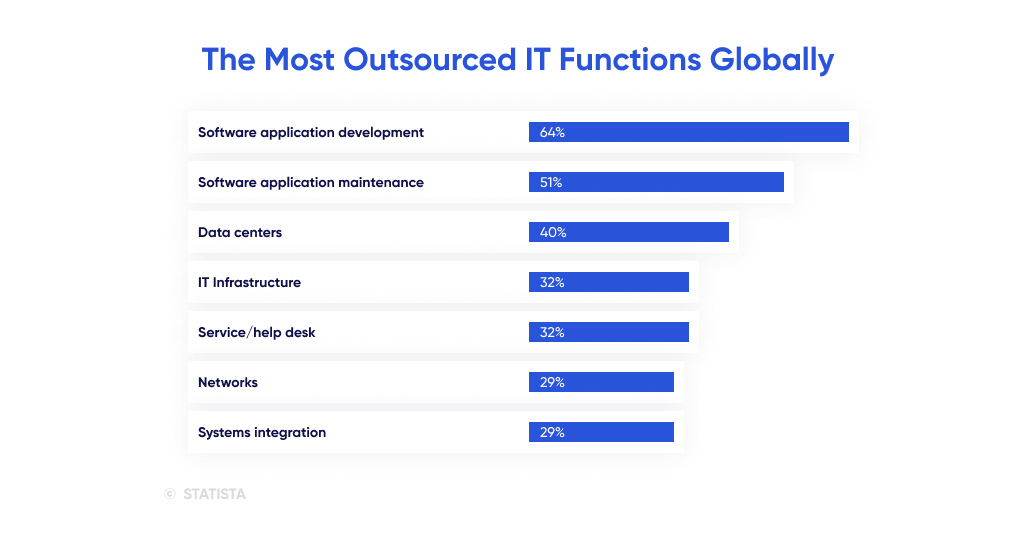 Let's closely examine the most popular types of IT projects that businesses tend to contract out.
The era of simple websites built via online constructors like Wix, Tilda, or Squarespace is coming to an end. To be considered successful and actually attract an audience, modern web-based solutions have to fit the times and meet certain requirements. High performance, responsive design, and lack of errors are just the tip of the iceberg.
Custom software solution tailored to hit all the marks and satisfy specific business needs is no longer toy for rich people who have the strangest habits. It's a must. The audience knows a generic webpage when it sees one. And it decreases the trust level drastically.
So these days, any business in any industry requires a bespoke solution. However, a custom web app creation requires plenty of resources a company might not have. This is when outsourcing an IT project saves the day. It allows an entrepreneur to receive a unique digital product even if the members of their own team have no tech expertise whatsoever.
Mobile traffic won the "mobile vs. desktop" competition several years ago and since then has kept growing year by year. Consequently, businesses worldwide have to keep up and create mobile applications to not miss out on the audience.
At first thought, technological trends like zero-coding can knock mobile development outsourcing out of the park. However, it is not happening as business owners typically do not have time, patience, or desire to learn how to create apps on their own and prefer to hire an app developer instead.
Another aspect worth mentioning is mobile solutions' complexity. Modern apps are feature-packed. They may be as challenging to develop as web-based software, making outsourcing IT projects a reasonable alternative.
Industry-specific projects
As mentioned previously, all types of companies trying to win the market in 2023 have certain IT needs. Yet, if one takes a look at the top-5 industries outsourcing IT the most, one will notice that most of them have to deal with industry-specific legislation and compliance (take HIPAA for healthcare or AML/KYC for Fintech as an example).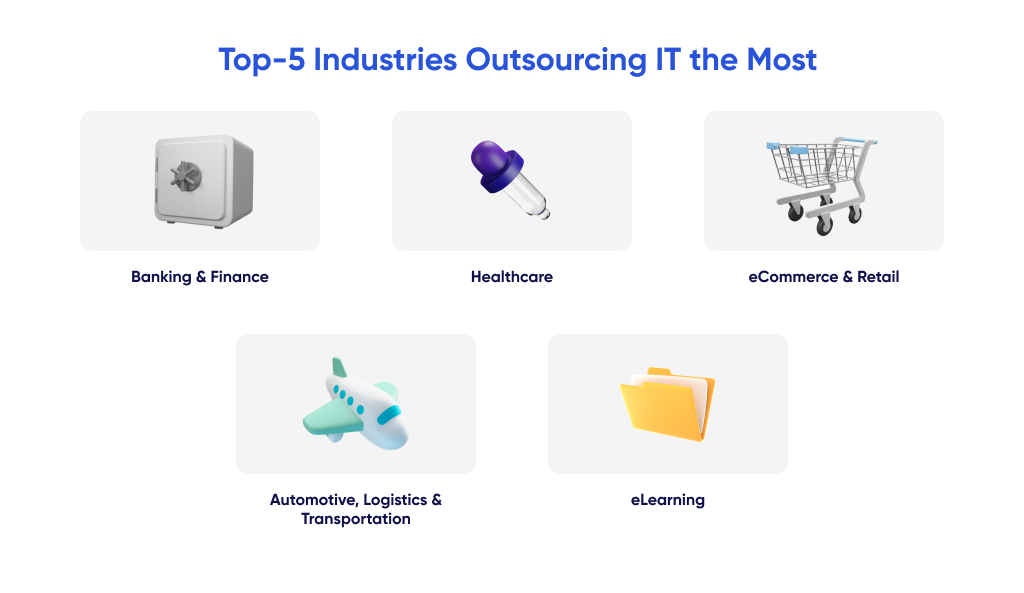 That is exactly why industry-specific projects are often outsourced. Their development and maintenance require deep tech proficiency coupled with industry knowledge and IT trends awareness. So even if an entrepreneur is able to code, it won't be possible to pull off such a project single-handedly.
Sure, a certain percentage of companies (usually large enterprises) choose to create an in-house team that will take care of all the IT tasks, but the vast majority of businesses turn to the power of outsourcing.
Identity theft, information extortion, sabotage, and theft of intellectual property open the list of major threats a business may face when it comes to data. And there are plenty of items on that list as the software becomes more advanced, but hackers and frauds adapt as well.
A modern entrepreneur has two secure ways to protect corporate data. One of them is costly and time-consuming. It's forming a robust IT department. The other one is cheaper and a lot faster. It's opting for IT project outsourcing and trusting the company's cybersecurity to tech professionals. Both ways are valid and effective, but contracting out cybersecurity tasks is just more affordable and simple.
Innovation-based solutions
Many entrepreneurs take business development very seriously and are always looking for ways to improve their brand's digital presence. One of the paths here is innovative technology introduction. Things like virtual reality, artificial intelligence, computer vision, or the Internet of things are slowly but surely becoming part of our lives. And businesses willing to win the audience and give the global IT trends a try require an experienced tech provider familiar with the world of innovations. Outsourcing is the easiest way to achieve that.
Note that the five types of software listed above are just the most common when it comes to outsourcing IT projects. The whole list is nearly endless and includes all types of tech services, from software revamping and data migration to DevOps and business intelligence. Every IT need can be satisfied with outsourcing.
What are software outsourcing models, and which one to choose?
Despite being pretty easy to comprehend, outsourcing of IT projects comes in many shapes and forms. And choosing the right one is essential not only for the product's future success but also for a smooth cooperation process (which, by the way, may take months and even years).
Let's explore this topic in detail!
Location-based models
A location-based typology divides outsourcing into three types depending on the distance of a chosen contractor from the employer. Those types are onshoring, nearshoring, and offshoring.
Onshoring is hiring a contractor from the same country as the employer. E.g., when an entrepreneur from Argentina chooses to cooperate with a company or a freelancer from Argentina.
Onshoring is a great way to avoid difficulties in communication that often appear when the contractor is from another country and happens to have a different cultural background. This type of outsourcing IT projects also helps to ensure maximum control over the cooperation process as the business hours are typically the same, and it's not that hard to meet the provider in person.
However, if the employer resides in a country where IT services are more expensive (States, Canada, Australia, Norway, Germany, the UK, etc.), they risk missing out on one of the most valuable benefits outsourcing brings, which is cost cutting.
Nearshoring is choosing a provider residing in a country located in a timezone with a 2-4 hour difference compared to the employer's location. E.g., if a business owner from Lisbon outsources to a contractor from Kyiv.
Nearshore software development is often considered a "sweet spot" for businesses willing to try outsourcing IT projects. The parties usually do not experience communication barriers, and there are ways to cut costs as the list of outsourcing destinations to choose from is long enough. Besides, the workflow remains pretty smooth due to an insignificant time difference. Yet, the price may not be as low as in the case of working with an offshore contractor.
Offshoring is working with a vendor located in a country that is more than 4 hours away from the employer. E.g., if an entrepreneur from Mexico works with a provider from China.
This outsourcing model provides business owners with access to a giant talent pool for a very reasonable price (usually the cheapest on the international market). However, these assets come with a price. Firstly, the employer should be prepared not to get immediate updates/responses as the time difference is major. Secondly, cultural differences may influence the process as well.
Still, it is possible to overcome all of the disadvantages an offshoring model has if an employer is willing to put effort into the screening process and compromise once in a while.
Process-based models
Unlike the previous typology, this one is based not on the vendor's location but on the amount of work an employer is willing to contract out. It includes full process outsourcing, a managed team, and staff augmentation.
The full process outsourcing model is exactly what the name would suggest. In terms of IT project outsourcing it means transferring all the IT-related processes to a third-party contractor. It includes development, management, maintenance, and other related services (QA, analytics, post-launch upkeep, etc..)
This particular model waives responsibility for the final product from the business owner and puts it on a chosen IT services provider. The vendor still reports to the employer, executes tasks according to an approved plan, and takes certain actions only if those are authorized by the client. Consequently, the entrepreneur has more time to concentrate on non-technical work.
The project's success in this scenario fully depends on whether or not the employer has chosen the right contractor to do the job. So it is vital to conduct a thorough screening of potential vendors. However, if the choice is right, the full process IT project outsourcing gives a business owner more freedom than any other type of cooperation.
Being particularly popular among clients with no technical skills or knowledge, full process outsourcing is also a perfect choice if the entrepreneur experiences a high workload, is overwhelmed with responsibilities, and requires professional assistance to keep all the business processes up and running.
A managed team (aka dedicated team) model is based on a balanced division of responsibilities between the parties. It implies that the customer already has some kind of tech team (even if it consists of a single person). A chosen vendor, in this case, performs a certain pre-discussed volume of work, manages the process, reports to the client, and shares responsibility for the outcome with the client's team.
For some, it might be unclear why to opt for IT project outsourcing if there's some sort of in-house tech team. A managed team model is typically chosen if the customer's IT department is overstretched or simply doesn't obtain the expertise deep enough to deliver certain results. It solves the problems mentioned above without the need to extend the in-house team on a regular basis, lowering the software development cost.
The staff augmentation model, at first glance, may seem reminiscent of a managed team. It also involves an established tech team on the client's side and additional team members provided by the contractor. However, these cooperation models are not the same.
If a business owner chooses staff augmentation, they must be ready to manage the whole team (in-house experts + outsourced professionals) directly. The responsibility for the project's results is on the client as well. A vendor has the only task in this case — to provide the customer with a certain amount of IT professionals that meet the requirements established by the business owner.
This type of cooperation is perfect for executing complex IT projects requiring advanced tech expertise as well as for speeding up the development process by introducing an additional workforce.
Outsourcing IT projects for beginners. Step-by-step guide
Now when all of the "outsourcing theory" has been explained, let's get to specific actions and practical steps one can make to outsource IT processes successfully.
It's actually not that hard and includes just four simple steps!

Set an Objective
A key to making outsourcing of IT projects beneficial and trouble-free is not choosing the contractor with the lowest rate, not working with the most experienced developers in the world, and not even having the ability to control every second of the process. It's setting up the right objective and determining what exactly one is willing to get out of IT outsourcing.
For every company and every entrepreneur, the answer will be different. Some might want to build a mobile app for less than USD 10K, others would like to present an MVP to the investors in three weeks, and for some, the most important thing will be to develop a "perfect" digital product where every detail corresponds their vision, no matter how much time and money it will take.
The best thing a business owner can do to set a clear objective is to be honest. It might be useful to document all the requirements and expectations that come to mind as well as the restrictions (e.g., budget, time, or specific tech stack). A recent study by the Dominican University of California proves that even a step as simple as writing down a goal will increase the chances of success.
Explore the Options
Once the goal is clear (e.g., to build a cross-platform food delivery mobile app for not more than USD 50K within the next three months), it's time to start the screening process and look for vendors specializing in IT project outsourcing. Luckily, the modern IT market has plenty of options to choose from!
One of the safest search channels is word of mouth. If one of the people an entrepreneur already knows and trusts has had satisfactory experience in outsourcing IT projects, it makes sense to give the same vendor a shot.
The other way is to turn to online B2B directories like Clutch, the Manifest, or Software Advice. These platforms contain information about IT agencies that can take care of one's tech, design, or marketing needs. The search and screening, in this case, are pretty simple as all of the platforms offer extensive filtering systems. A business owner can choose a future vendor by rate, location, tech stack, overall rating, and many other criteria.
Another path to finding a trustworthy contractor is working with one via a talent marketplace. Platforms like Upwork, Guru, People per Hour, and many others attract hundreds of thousands of IT professionals from different countries. This is the fastest way to find a provider with the lowest rate as well as to receive hundreds of applications within a couple of hours. Yet, online applications work predominantly with freelance IT specialists, not agencies, so this method is only profitable for smaller projects' execution.
Screen the Candidates
Careful screening is the most secure way to make a balanced decision in terms of choosing a contractor for IT project outsourcing. The secret here is to take some time to evaluate all the candidates thoroughly, even if the schedule is tight. Rushing to make the final choice can cost a business owner thousands of dollars wasted on the development of a poor-quality product and months of lost time.
The best strategy is to select 10-15 companies that made a good impression during the previous stage and research all the available info regarding all of them. To be effective, the research should be comprehensive: information from the corporate website, social media activity, customer reviews, portfolio examination, etc.
Notice that even the slightest red flag at this stage is a reason to cut the candidate off. There are too many trustworthy and experienced teams specializing in outsourcing IT projects for the customer to be tolerant of unprofessionalism.
So only if everything seems nice should an employer proceed to one-on-one interviews. It is time to discuss the future project in detail and receive a ballpark estimation from all the teams that have made it to this stage. Comparing the proposed terms will simplify the decision-making process.
Make a Choice & Start the Cooperation
The last step in the IT project outsourcing journey is to choose the vendor offering the best terms and take care of the legal aspect of future cooperation. One should note that a valuable IT partner should have no problem signing all the required documents, whether it's an employment agreement, an NDA, a performance bond, or other legal documents.
Once that is taken care of, the cooperation officially starts, and within the discussed time period, the customer should receive the final product.
What does outsourcing with Light IT Global look like?
Software outsourcing to Ukraine is one of the best options in the international IT market these days. The Ukrainian IT community is well-respected and professional. The rates are affordable, and English proficiency is high.
Light IT Global has worked its way up from a small Ukrainian startup to a trustworthy international IT provider with 16+ years of experience in web and mobile software creation. Over that time, our company has developed a consistent yet flexible workflow framework that helps us deliver high-quality digital products for businesses of all levels operating in different industries.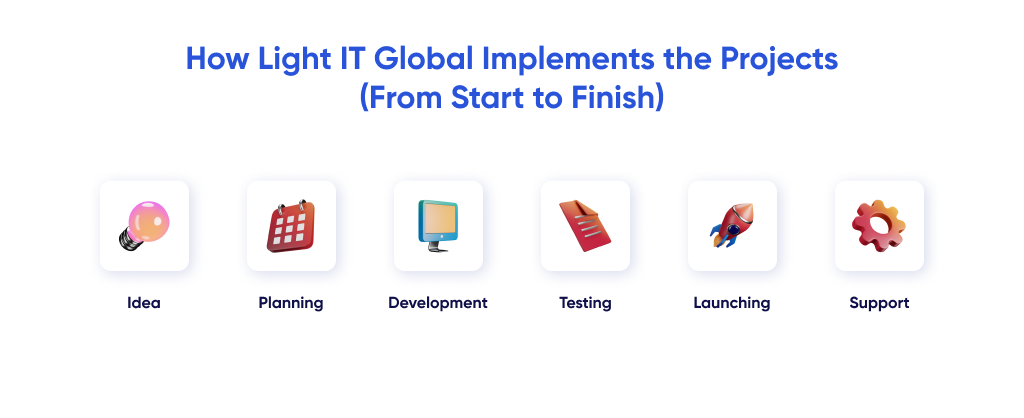 Due to its simplicity and clarity, this approach helps to make the process of outsourcing IT projects as smooth and enjoyable for the client as possible.
Idea. All the client needs to have to cooperate with Light IT Global is an idea, a concept, a vision of a future product. Our team of experts will conduct in-depth research to obtain all the necessary information and make sure we're on the same page with the customer. It is possible to proceed to the next stage only if the client is happy with our understanding of their needs and goals.
Planning. At this phase, the development process is broken down into smaller stages. This is when our experts define the development workflow, set up deadlines, and determine deliverables for each stage.
Development often takes the longest out of all cooperation phases. This is the time for an idea and a plan to become code lines and receive that digital incarnation. Note that the client is still able to make changes to the project during this stage. It is possible to add new features or remove unnecessary functionality if needed.
Testing is an essential step in the software development lifecycle. Light IT Global's QA professionals test the software's performance in multiple ways using several different methods and various devices. All of this is vital for the project's success as well as the customer's satisfaction.
Launching. Some people may think that this is the phase where IT project outsourcing ends. The product is out there, the audience has access to it, and the monetization strategies start to work…. And even though during this stage, our team will make the client's project up and running and available for everyone to see, it's not the end yet.
Support. During the pre-defined period after the project's launch, the Light IT team will take care of all the technical aspects of the newly created software. If any bugs or glitches appear, we will fix them. If any updates are required, we will do them. If the software's performance is not up to par, we will optimize it. The client simply should not worry about any IT-related issues while Light IT Global is their partner.
Wrapping it up
The practice of outsourcing IT projects comes with many benefits a modern entrepreneur will appreciate: lower costs and stress levels, more time to spend on core business processes, better software, and, as a result, higher profits…. If giving IT outsourcing a try is something you might be interested in, drop us a line and give your business a strong digital boost essential for a successful company in 2023!