The implementation of artificial intelligence in business is one of the wisest things that ever came to the human mind. The gap between companies already using AI and the ones that are just thinking about it is enormous. Moreover, in a few years, it will be nearly impossible to gain leadership on the market and compete with businesses that apply simulation, prediction, data protection, and other AI capabilities to their processes.
Software, driven by artificial intelligence, is already changing the rules and the laws of businesses, markets, and entire industries in the United States, Europe, and Asia. This article points to business areas that faced radical changes and how your company/startup can boost its efficiency, productivity, and, most important – profits.
AI in Business: Best Use Cases
The fact that global spending on artificial intelligence and automation business processes continues to increase means only one thing – AI is available and effective for business. According to Statista, in 2022, 2.4 billion U.S. dollars will be spent on AI business operations.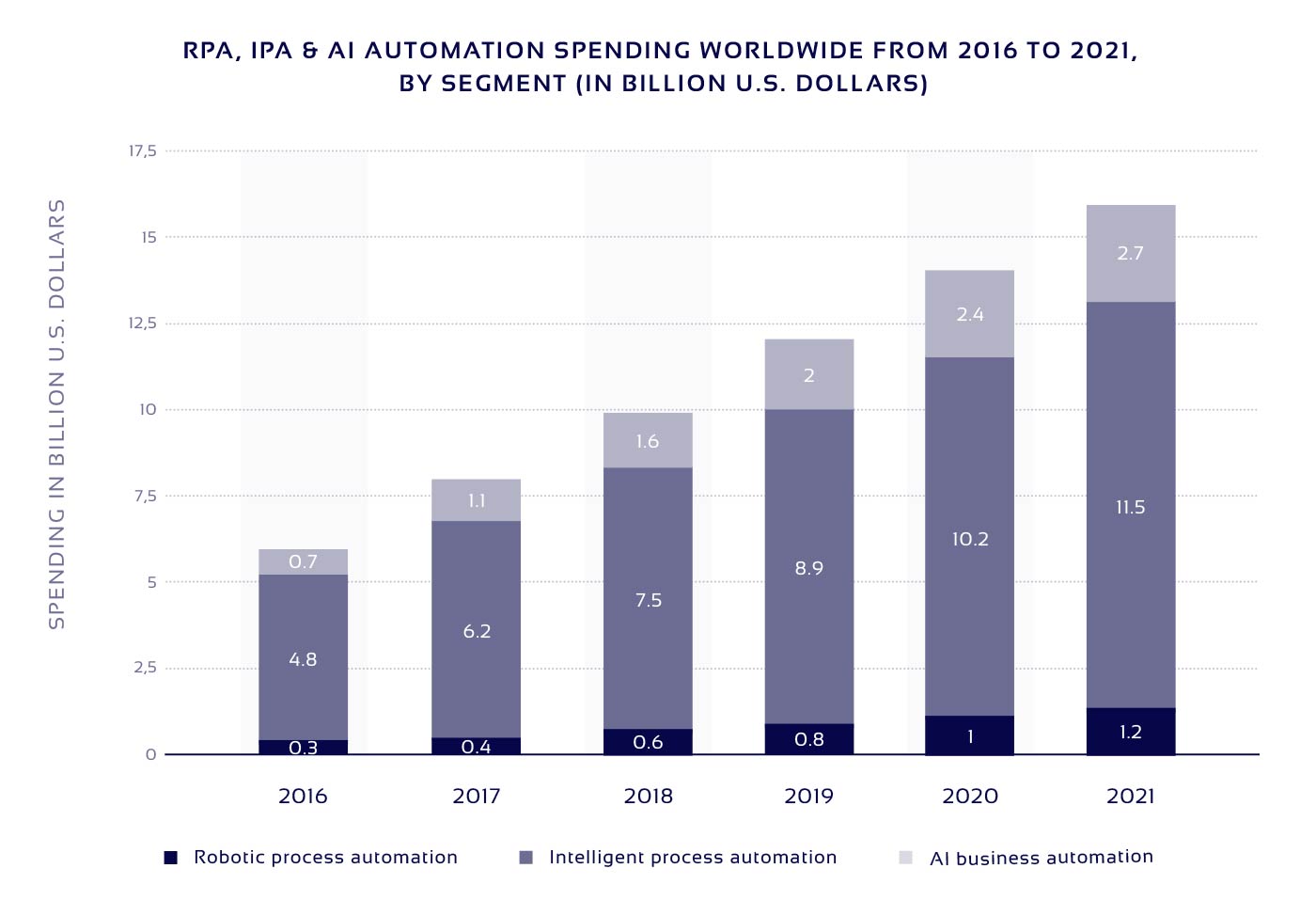 Consider what sides of business were improved after companies started integrating deep learning, machine learning, and other subsets of artificial intelligence into their processes.
Human Errors Elimination
Both intentional and unintentional human errors are a huge threat to businesses of all types and sizes. When a company or a startup has certain guidelines and protocols that must be strictly followed, artificial intelligence becomes a colossal aid in eliminating human errors from the processes or at least reducing them to the minimum.
Many financial institutions already use custom-made software like Know Your Customer (KYC) to simplify and speed up the process of checking the financial and administrative history of new clients and, most important, making a decision on whether to give them loans or mortgages, or not.
Main types of human errors and flaws that can be easily solved with AI software include:
- lack of concentration;
- false conclusions;
- mediocre experience;
- bad task performance;
- mood inconsistencies, etc.
All human errors can be divided into knowledge-based, skill-based, and rule-based. Today, using artificial intelligence, companies can significantly reduce or eliminate them all using only one piece of software. It may be costly for startups and small companies; however, companies interested in scaling their business and moving to the top positions on the market should already consider the creation of custom solutions that would entirely meet their needs. Luckily, companies can outsource the creation of such software to any Data Science company that has enough experience in this field.
Client Experience Personalization
Today, business and startup owners who don't understand the importance of making offers for their clients personalized are doomed to be far from the market top players. However, companies that start building their marketing and business strategies using the AI-based software can successfully:
- make advertising campaigns more effective;
- widen client database;
- optimize and customize emails;
- improve customer experience;
- reduce expenses on advertising;
- automate content creation for promotion in social media, etc.
Custom artificial intelligence software can be a huge help for companies because it can autonomously mine required data, analyze it and give the most precise predictions on customers, their possible change of interest, future market trends, etc.
Brand Loyalty and Sales Increase
Studies show that eight out of ten consumers are most likely to purchase goods or services from brands that provide them with a personalized experience. Today, companies that include artificial intelligence in developing their brand spend less money on getting most loyal customers.
Good-quality and custom AI software helps companies improve their customer service and sell more effectively because it generates all required information on how to make products and offers personalized. This advantage has proven to be effective in B2C, B2B, and other market sectors.
Sales managers can get a full personality description of each client using machine learning and artificial intelligence. Most important, this software can give information on the clients' current preferences, changes in their preferences over the years, and calculate what to expect in the future.
Data Security Increase
Knowing your weak spots gives you power because you can eliminate them or even turn them into strengths. Data security is a top priority for every company, and the bigger the company, the better data protection should be.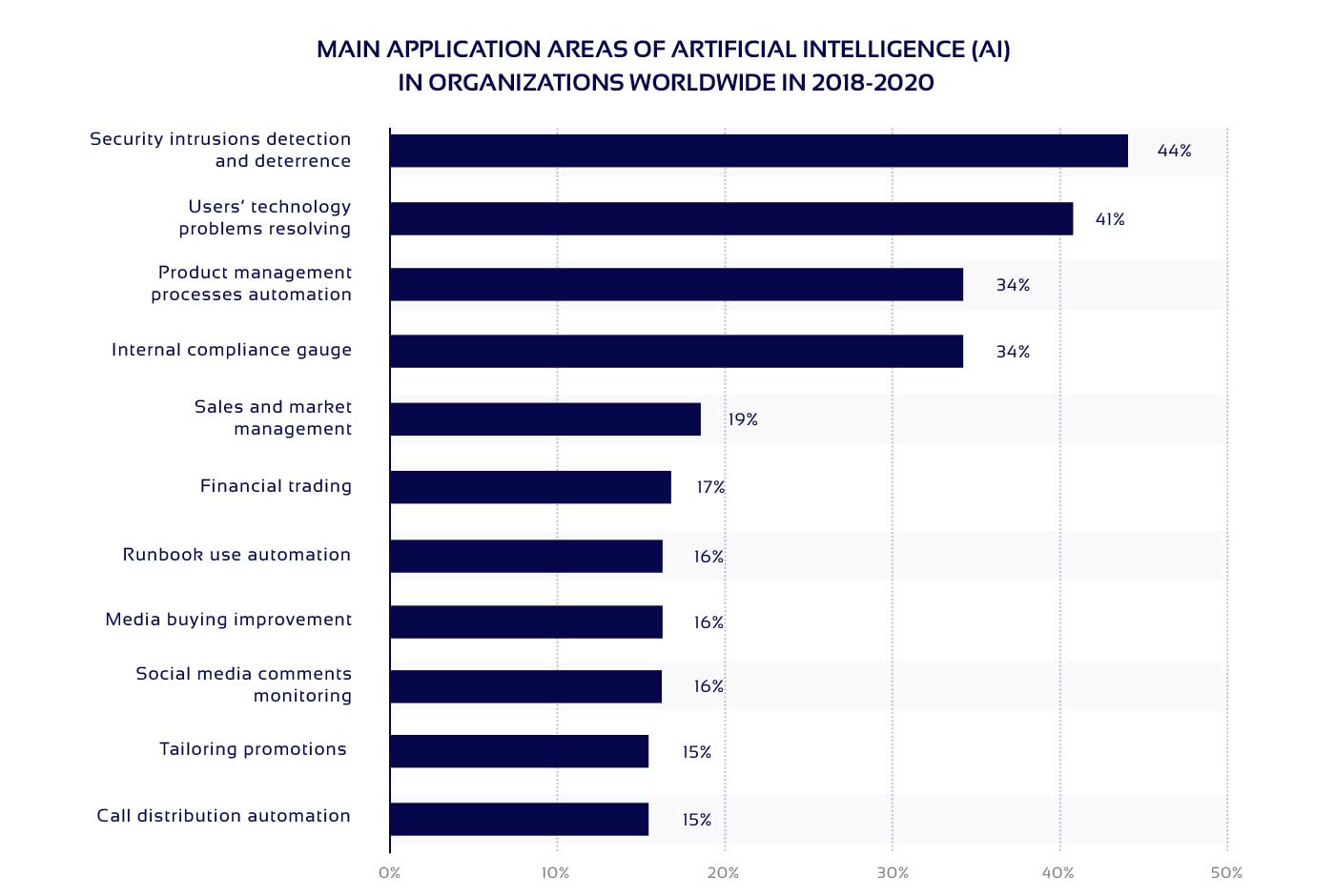 Companies engaged in Healthcare and Fintech industries understand the importance of using advanced systems that include machine learning or artificial intelligence.
The application cases of AI in data protection usually include:
- voice or face recognition;
- fraudulent transactions detection;
- pattern anomalies recognition;
- vulnerability management;
- phishing detection and prevention;
- data encryption and backup;
- staff education and notification;
- anti-malware and firewall functions, etc.
The best thing about integrating artificial intelligence into your business is that you can solve several problems with only one software program.
Simulation and Prediction Upgrade
Precise and top-quality simulation and prediction software are like a magic mirror that shows the future. No wonder that companies that already use them for business are at the top of the market chain and won't go away any time soon.
AI-based simulation software is applicable to any industry. For example, if you own a real estate or retail business, you can simulate occupancy of a room, building, or an entire block and see what behavioral patterns people may have under different circumstances or weather conditions before starting a project construction design. Modern technologies allow simulating everything a person can imagine depending on their goals and needs.
The predictive powers of artificial intelligence make businesses reduce the amount of investment and resources spent on creating, developing, and scaling. The information has always been the key to success, and companies that can predict market changes, possible threats, and upcoming opportunities will always be far ahead of their competitors.
Prediction and simulation can change the laws of business and marketing, especially when they are driven by the combination of a big amount of data, artificial intelligence, blockchain, and other game-changing technologies. Thus, startups and small companies may face certain difficulties on the market until they start using AI software and do it wisely.
Time-Wasting Tasks Reduction
The bigger the company, the more time-wasting activities its workers have. The most common types of mindless labor that are poisonous for revenues and business in general, and can be significantly reduced by implementing AI-based advancements are:
- excessive and/or unnecessary reports;
- excessive communication and tasks discussion;
- useless meetings;
- outdated manual processes;
- working with unimportant or outdated data;
- unimportant repetitive tasks, etc.
It doesn't matter whether it is a startup or an enterprise, smart customer relationship management systems (CRM), enterprise resource planning services (ERP), business intelligence platforms (BI), and others will eliminate weak spots in business processes.
Constant Real-Time Assistance
Live customer support, call centers, and similar services will be soon entirely replaced with AI-based text and voice-enabled chatbots. Today, many companies have already moved from hiring people and spending enormous resources on licensed software and hardware for customer support activity.
AI voice technology has a massive impact on business change because, basically, one software program can replace hundreds of humans without compromising the quality of services. Moreover, AI bots that have access to Big Data increase client satisfaction rate, because they can easily simulate different communication scenarios and immediately provide people with top-quality problem solving.
To make AI systems closer to human thinking, development specialists intentionally include inconsistent data to bring the machine learning process to the new advanced level. Today, chatbots are affordable to startups and companies than ever before because there are hundreds of ready-made and custom offers. Of course, if you want to be sure of the quality of your text and voice chatbots, we strongly advise you to rely on a trusted software solutions provider that knows how to develop complex ML systems.
In case you have a low budget and there is no need in fancy software, you can use services like CollectChat, Drift, Intercom, or DialogFlow. However, you need to keep in mind that some of these services require at least basic programming skills.
Effective Staff Training
The majority of companies of all sizes have one thing in common – the need for trained staff. The evolution of artificial intelligence made it possible and accessible to use it for training workers and increase their qualification in such business areas as:
- sales;
- recruitment;
- customer support;
- management;
- research;
- accounting;
- content creation, etc.
When created by skilled and talented developers, machine learning technologies can simulate any scenario in any industry. For example, surgeons can train their skills and study the human body using Virtual Reality software.
Good-quality AI simulation is a highly powerful tool for practical training and education, especially for professions that include or may include life threat possibility, such as:
- pilots;
- police personnel;
- rescuers;
- security guards;
- medical personnel, and others.
Hiring and HR Processes Improve
The AI-driven decision-making software can make the candidate seeking and hiring processes a lot easier. Based on special algorithms and input information about the candidate, such system can predict whether the person fits for the job, how fast they will face professional burnout, to what extent they blend into the team, etc.
Human Resources also can delegate some of their functions like notifying coworkers about changes in the company and automate collaboration with staff that doesn't require a human touch and psychology skills.
Such AI-based systems are already implemented in big companies for years, which is good for smaller companies. Business owners can observe what difficulties such software may cause when done improperly and see why they need to rely on professional developers only. In 2018, BBC News posted an article about the man who was fired by the machine, and gave many companies a vivid example of what consequences a company may face when their artificially intelligent machine makes a mistake.
Will AI make your company better?
It doesn't matter in what industry you already have or want to start your business, with the right AI software and its automation, optimization, simulation, prediction and protection capabilities you can achieve fast success and high profits with ease.
Artificial intelligence and its subsets like machine learning, deep learning and others already have a significant impact on the development of all industries, so we advise you to consider the following technological advancements and opportunities:
- Virtual reality (if your company is in Healthcare, gaming, education, etc.);
- Predictive software (Fintech, Healthcare, retail, energy, real estate, etc.);
- Simulation platforms (Healthcare, real estate, gaming, gambling, automotive, etc.);
- Chatbots, AI assistants (highly useful for absolutely all industries);
- Data-driven predictive systems (highly useful for absolutely all industries);
- Data security software (Fintech, Healthcare, eCommerce, etc.).
These examples are only the tip of the iceberg that represents the power and capabilities of artificial intelligence for business, industries, and the entire humanity.
Final Words
Artificial intelligence and business already go hand in hand. However, while AI can happily exist outside companies, markets, and industries, the same cannot be said about business. AI and its machine learning, deep learning, and other subsets already have a considerable impact on companies because they reduce time and other resources, and increase their return on investment, client satisfaction, brand loyalty, and a lot more.
If you want to make your business stronger and more effective but don't know where to get affordable and high-quality AI-driven software that will turn your company or startup into one of the most influential market players, contact us.