Startup owners who seek
private startup investors for their products usually have many questions and no answers. That is why, for many startups, finding a trusted and reliable investor turns into a long and desperate journey, which may be even more demotivating in reality than it sounds. However, by knowing where to seek, what to present, and how to make a startup or a product attractive to possible investors, you can hear a desired "shut up and take my money" fast and reasonably easy
So, if you're a future entrepreneur and search for tech startup angel investors or other funders, but don't know where to start, continue reading to get few valuable tips and insights.
Where to Find Investors for a Startup?
The internet is the unlimited source of information available for everyone 24/7. You just need to research several sources to find out which one should be your target.
Websites for startups seeking investors
You can find different types of investment services online, such as:
- Equity crowdfunding platforms (e.g., Microventures);
- Services for angel investors, startups, and people looking to work at startups (e.g., AngelList);
- Open database for finding information about public and private companies (e.g., Crunchbase).
Accelerator programs
Such programs offer startups and entrepreneurs more than just money. In addition to the investment, accelerators may provide startups with a supportive network and ecosystem that include mentorship, management and business consulting, feedback on the product's weakest and strongest sides, free office space, and more.
Getting into one of the reliable accelerator programs is not an easy task because the number of startups counts in thousands, while there are a lot fewer programs ready to invest in a new product. Even though the task is difficult, it doesn't mean that you shouldn't try to get accepted into one of these startup accelerator programs:
- Y Combinator (located in the USA)
- TechStars (located in the USA)
- 500 Startups (located in the USA)
- Startupbootcamp (located in the UK)
- Wayra (located in the UK)
- Start-Up Chile (located in Chile)
Pay attention that these investment sources have successful programs around the world, and they are not the only ones existing on the planet.
How to Get Investors for a Startup?
To get an angel investor for your startup and start a long-term and mutually beneficial business relationship, you need to do a massive amount of work and show the world that you have already created or will create a competitive product.
Before asking your future investors for money, we strongly advise you to develop in details:
- Business plan,
- Minimum viable product (MVP),
- Product development team.
Business plan is one of the most important and primary elements of every startup and established business. To make your product attractive to investors, you need to make your business plan detailed as possible and include:
- Cover page (should include contact information (i.g., your Gmail), so investors can reach you);
- Executive summary (must be perfect because investors won't read your business plan if they don't like the executive summary);
- Startup overview (include information on legal entity, location, achievements, etc.);
- Industry and/or niche analysis;
- Marketing analysis and plan;
- Financial plan;
- Management team, etc.
Minimum viable product should have enough functionalities and features to make investors interested in your startup. Having a good MVP significantly increases the possibility of hearing "yes" from app startup investors because it gives people a full picture on:
- how the final product will look like;
- whether the product is user-friendly and competitive;
- what the product lacks, etc.
Product development team is an essential element of any startup because unskilled executives can ruin even the greatest idea. In case your startup requires creating a software product, you need to make sure that you gather the team of professionals. Thus, your development team should include:
- Back-end and front-end developers (or a full-stack specialist);
- Quality assurance expert;
- Project manager (if you want to concentrate on your business tasks);
- Designer;
- Business analyst;
- Marketing expert, etc.
Who Should Be Your Target Investors?
According to Statista, the number of investments in startups steadily grows each year, which means that more business owners turn into reliable investors. For example, by the first half of 2019, the total number of such investments in Europe reached and exceeded 2 300.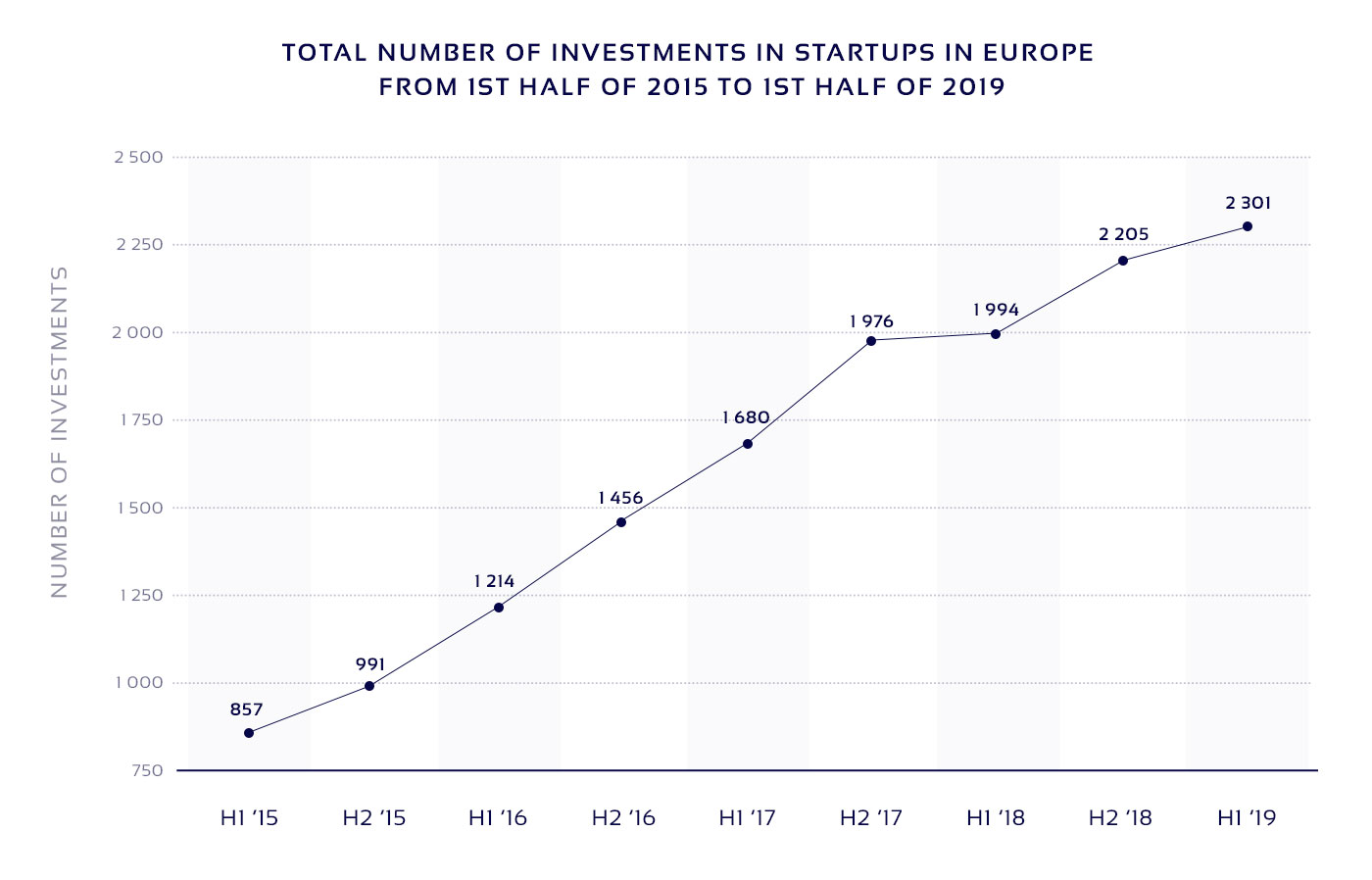 Many startup owners try to get any funder, which is an understandable yet wrong strategy. If you want a long-term and fruitful collaboration with your investor, you need to consider:
- To what extent the investor is interested in your niche;
- How many startups owners succeeded with this investor;
- Why the investor would want to give you their money, etc.
Once you know that your startup and the investor you chose are on the same page, you can be sure that there will be fewer difficulties and misunderstandings on your way than it could be.
How to Make Investors Interested in Your Product?
Investors are not philanthropists, they are businesspersons; that is why you need to prove that your startup and product are worthy of their money. Thus, we strongly advise you to consider the tips below.
Show that you know your market and your niche.The vast majority of investors have enough experience to distinguish people who really know what they're doing in business and a good understanding of market rules, difficulties, and trends. Thus, if your business plan has a weak market and niche analysis section, investors will immediately see it.
Providing solid market research is vital for your business in general. Investors may give you the money, but other resources like time, efforts, and nerves will be on you, so if you want your startup to grow into a competitive business, don't underestimate the value of research and analysis.
Make your idea and product unique and strong. Each year it gets more and more challenging to create a genuinely unique idea; however, it doesn't mean that you shouldn't try to make it real. It is not a must to have a unique startup product, but it is a must to have a strong and competitive business product. Funders won't give you money for copying someone else's idea, but they will more likely to invest in your product if it has a unique selling point (USP).
Show your and product's reliability. No one wants to invest in something doomed from its beginning because it is just an extended version of seeing money vanish into thin air. That is why you must present investors the information to what extent their money will be safe with your product.
Most important, you must show that they can rely on you as a startup owner. In this case, your main goal is to make investors feel safe about their finances and reputation. Remember that the clarity of your name is equally important for investors as your business plan and MVP.
Present a solid business and marketing strategy. Research and analysis are important; however, if you cannot turn them into a good business strategy, they become just a waste of time and money. Investors don't expect to get their ROI the next day; they understand that it will take months or even years, and they want to know that your business can survive in a hostile business environment. Once you show that you have a strong business plan that covers a plethora of inner and outer difficulties, you can consider yourself one step ahead of your peer startup owners.
Check out Forbes Brandvoice paid program for valuable information on starting your brand.
Give information on how investors can additionally benefit with you. If you give funders more reasons to choose your startup for funding or venture debt, you'll have more chances to win their business hearts. Depending on the type of your startup and your product, such benefits may include:
- additional advertising of investors and/or their business;
- reputation increase;
- mutually beneficial barter;
- custom products or services designed specifically for your investor, etc.
How Can Rejections Make Your Product Stronger?
If you have no experience in finding investors, or worse, if you have only negative experience in this area, then you need to get as much information from peers and social media on how to react on rejections as possible.
Each rejection is not a missed time and opportunity but a chance to make your startup and product even more competitive. Of course, it will be great if you'll only hear "yes, I want to invest in you" from all businesspersons you meet, but, let's face it, you're not living in the perfect world, so you would very likely hear few "no."
If a possible funder declined your idea, even if you have developed a great startup business plan for investors, always ask them why your concept got rejected. Keep in mind that venture capitalists, angel and other private startup investors can tell if a business idea has no viability and why. Thus, hearing from the professional what your product lacks or what you lack as a future business owner, and analyzing this information is a great first step to making your product stronger.
Never be afraid of asking why exactly someone doesn't want to invest in you and what you can do to change their mind.
Final Words of Advice
The success of your product depends only on you and your ability to handle both comfortable and hostile environments. Finding angel investors for a startup is easy, but making them interested in your product is the most difficult and resource-consuming part of your business development. Remember, the harder you work at the beginning, the faster your startup gets its venture capital.
If you want to make your product technically strong, unique, and competitive, contact us to make it real.