Logistics is a dynamic and complex domain with intricate processes that always need optimising. This is why trends in logistics are constantly changing. The supply network connects producers and consumers via different transportation modes — truck, maritime, rail, and plane shipping. And to provide timely, disruption-free, and efficient delivery of goods to the end-user, national and international businesses use cutting-edge travel, transportation, and logistics software.
In this article, we have picked the top-9 logistics market trends that have dominated the industry this year. You will read about drone delivery, 3PL, Big Data analytics, automated material handling, and last-mile delivery, as well as and other logistics solutions that every company must follow closely in 2023 to gain crucial insights.
Main factors impacting logistics
Logistics is to industry and trade as the coronary system is to the human body. The multiple air and marine routes, roads, and rails of the transport complex are like veins, arteries, and capillaries that provide various goods, materials, and equipment to the final destination. As a highly sophisticated system, it is not isolated from the outside world. Any changes in other spheres of human activity potentially can impact the entire supply chain. In recent years, a few crucial factors have influenced both the positive and negative logistics industry trends in logistics.
The coronavirus has had an incredibly significant impact on modern logistics. It has led in some regions to the imposition of full bans on travel and transport, as well as national and worldwide lockdowns. Governments have had to impose strict safety measures and formulate new policies to stop the further spread of the pandemic. All these measures have naturally slowed down the progress in logistics development achieved earlier and resulted in a decline in the industry.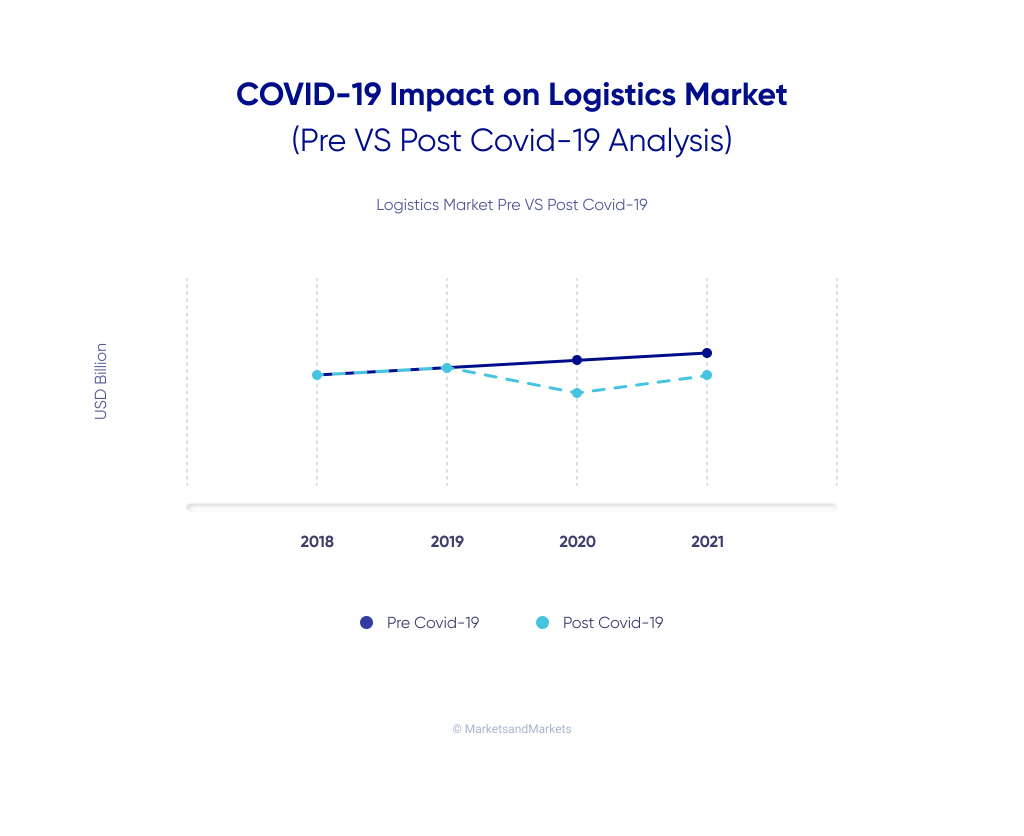 However, the coronavirus virus has impacted some business spheres quite positively. For instance, the lockdown has forced consumers to order food, beverages, sportswear and sports equipment, and various essential goods on online marketplaces, e-tailers, and apps.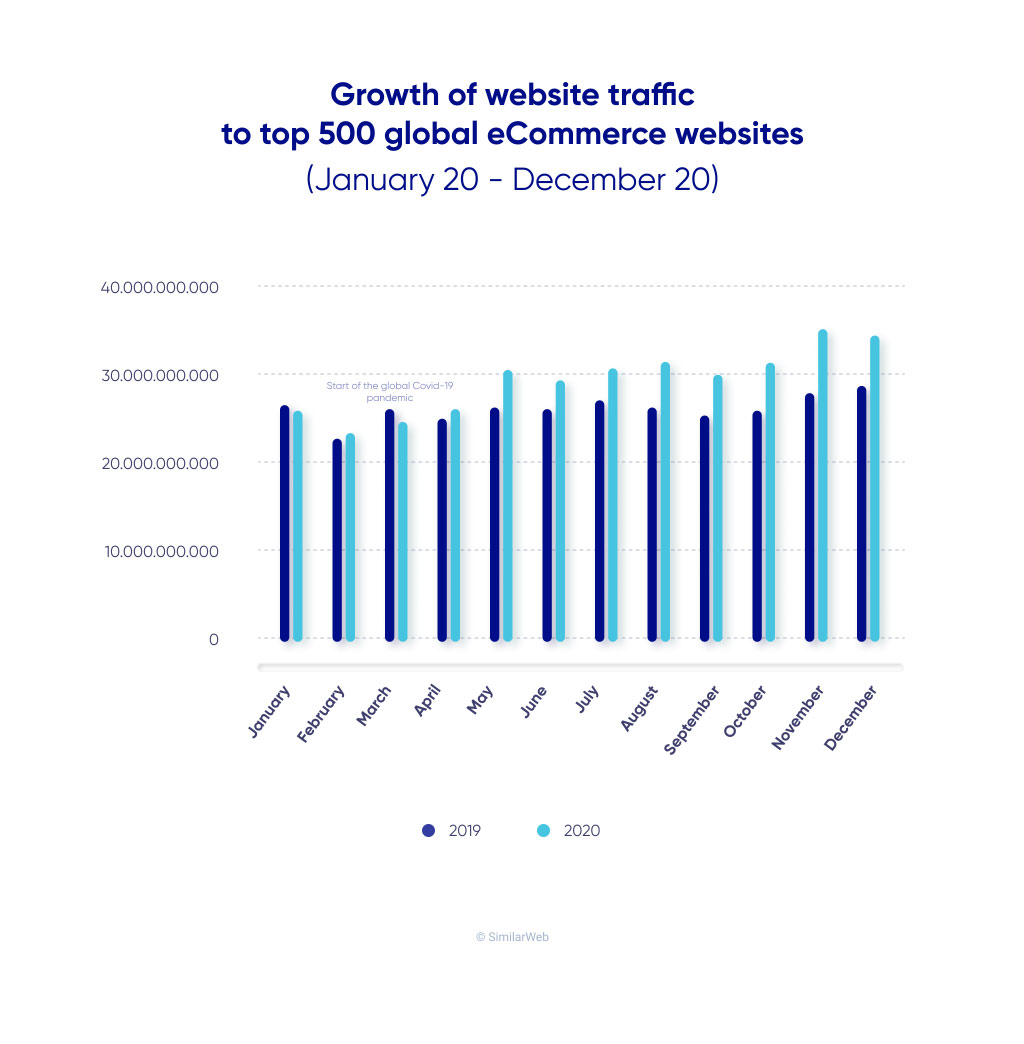 Moreover, the immense significance of antivirus discovery and timely provision of medical equipment and meds to hospitals and other medical institutions has also made healthcare a priority almost everywhere globally.
Therefore, the rise of e-commerce and the flourishing of FMCG and pharma industries have been positive factors during the outbreak that have significantly propelled the rise of several optimistic trends in the logistics sphere. These factors have played a massive role in shaping multiple logistics trends in 2023.
Top-9 logistics industry trends in 2023
2023 has witnessed many vibrant trends influencing the entire logistics sphere. Drone delivery, cutting-edge solutions for travel, Big Data & analytics, and much more — are all shaping the industry and boosting the supply chain. We will now consider them in more detail.
Drone delivery
With the rapid rise of e-commerce, drone delivery has become all the rage in the last couple of years. While Amazon has failed to launch its Amazon Prime Air, at least in the UK, other companies are running drone delivery productively. Manna, an Irish startup, provides drone delivery as a service to restaurants, cloud kitchens, and online food delivery markets in Galway.
The company can proudly boast of 2,000 to 3,000 flights per day using chubby white drones that fly at 80 km/hr or 50 miles/hr and cover an area of 150 to 200 feet.
According to the CEO of Manna Bobby Healy, drone delivery is not only better than road delivery, but it is also much cheaper. He argues that drone technology can easily make twenty deliveries per hour, while a person can make only two deliveries. Such results make this type of air shipping incredibly cost-effective and a viable alternative to cars, bikes, and trucks.
However, Manna has another super USP that clouds even Amazon's same-day delivery — the company's drone is able to deliver an item to the customer in five minutes with an average of two minutes and 40 seconds. Such a unique selling point is hard to beat.
Besides, this innovative startup has quite a far-reaching plan that is likely to come true pretty soon. With a European-wide license from the European Union Aviation Safety Agency, the company holds all the cards to expand its business to the 500-million-people market. Just imagine the great colossal possibilities that drone delivery could open up to businesses.
Manna is not a mere exception: the following are several more notable examples of tech startups changing logistics technology trends with their drone delivery services. These companies operate not only in the US or Europe, but also in Africa — Zipline, Wingcopter, Matternet, just to name a few.
Drone delivery can be used as a radical alternative to third-party logistics companies and the last-mile delivery services that use cars, bikes, and trucks. Or even ships and planes.
Travel & logistics solutions
Strict measures like physical distancing and lockdowns have been devastating to travel, transportation, and global logistics companies. However, there is still no denying that coronavirus has propelled some positive changes even in them. A few logistics market trends, such as an increased emphasis on extra safety, bringing back travel capacity, and dramatic digital transformation of businesses, started to emerge in 2022. These trends seek to address the traveling and logistics challenge and normalise it.
Currently, businesses are heavily investing in digitalisation to prompt significant and rapid changes in transportation, logistics, and travel domains. They should never forget that the customer experience journey has always been complicated, and the virus has made it even more so. The pandemic and worldwide and domestic lockdowns have made traveling hectic, troublesome, and, literally, more unsafe.
Although the travel capacity is still declining, renewed business trips, vacations abroad, and emergency trips are in full swing. And due to the virus, travellers are now burdened with new safety protocols. They have to take care of their health certificates, testing, be aware of countries' policies, and think about other safety measures during their trips. Any disruption in their customer journey can and will bring dissatisfaction that will negatively influence a travel company.
To eliminate all the bottlenecks in the customer journey, companies have begun investing in digitalisation and using various technologies. For instance, a full-fledged customer relationship management system offers many various benefits. It can automate the entire customer journey, boost lead generation, and help companies retain customers. A sophisticated CRM will help streamline all travel and logistics departments, from marketing and sales to client support and IT services. With such a system, anything can be resolved efficiently.
Big data and data analytics
Big data and data analytics is another hot trend of 2023. Powered by artificial intelligence and machine learning algorithms, cutting-edge digital technology has begun to be used for many immediate business tasks.
To implement adequate safety measures, airports are testing special cameras to assess the number of people standing in line and how much time they spend there. Such monitoring with AI-based technology can help travellers at airports to keep a safe distance and make their traveling more tolerable. Moreover, AI-powered technology can be used nearly everywhere — offices, retail shops, supermarkets, stadiums, or any potentially crowded venues.
Big data technology can help with other business challenges in the logistics supply chain as well. For example, demand forecasting is invaluable for retail and e-commerce businesses. Their market experience, profound expertise, seasonal cycles, historical data, and sophisticated software technology help them overcome significant logistics obstacles.
This big data trend is assisting businesses in scaling demand planning, allowing large companies or firms with a large assortment of goods to forecast and deliver items throughout an entire country or even across continents.
Сompanies have two options to address these challenges. They could purchase ready-to-use forecasting solutions from tech product startups, or they could employ the services of third-party software service providers with profound experience in artificial intelligence, machine learning, and solid knowledge of their domain. Such companies could create a custom solution to meet the specific needs of their client.
Automated material handling
Automated material handling is an important trend of 2023. Simply put, AMH is an automation process and/or technology that reduces and eliminates any human interaction. Such processes as checking in/out, categorisation, moving heavy items, containers, or other massive objects are performed by programmed machinery and only involve human supervision.
Significant breakthroughs in wireless, driverless technologies, and robotics have made it possible to provide warehouse companies and plants with cost-effective, economical, and efficient automated material handling systems. Among such AMH solutions are automated conveyors, portable lifting devices, devices for automatic check-in and check-out, singulators, scanners, and many other systems.
Automated material handling offers many benefits. First, the use of automated systems eliminates human error, decreases injuries, and guarantees greater safety. Second, the adoption of automated material handling devices is fast and more efficient than manual systems. Human-operated technology is slower and time-consuming, and it almost always requires human handling.
What is more, AMH solutions do not involve people, and the processes of moving, locating, retrieving, and storing material, goods, and other items are precise and rapid. They can be performed simultaneously with other tasks.
The only downside of automated material handling adoption is that it is incredibly expensive and requires time for implementation. Companies have to invest a lot of money in costly technical solutions, which also take time to carry out.
Nonetheless, this trend is worth the hustle. Many renowned companies can back this up. For instance, the trustful market research company, Fortune Business Insights states that the global automated material handling market will reach USD 56,51 billion by 2027 (in 2019, the market reached USD 35,80 billion.) IndustryARC, one of the most prominent leading market research consulting and intelligence companies, also anticipates the rise of the AMH market in the future.
Many startups worldwide – from India to the US and Europe, are ready to help fast-forward this logistics market trend.
Sustainable logistics
Being aware of their harmful impact on nature, large corporations are looking for new ways to become more eco-friendly. What is more, the era of Covid-19 has shown that it is entirely possible to reduce the negative impact on the climate. For example, the temporary absence of air flights and heavy traffic at the beginning of the pandemic improved air quality and reduced noise pollution. It also lowered the greenhouse effect.
The next logical question is how companies could sustain the environment. And reducing harmful emissions, utilising electric vehicles, and sophisticated technology is the reasonable answer.
For instance, one of the largest logistics companies, DHL Express, has announced a grandiose plan to reach a net-zero target by 2050. To achieve its ambitious goal, the company plans to adopt green solutions such as 10,000 electric vehicles. DHL will use them and bikes for the first and last-mile delivery services for local areas. Furthermore, other large corporations have joined this trend in 2023. UPS, Amazon, and FedEx will add electric vehicles to their fleets to reduce emissions and become more eco-friendly.
Blockchain in logistics
Logistics is a business domain involving multiple parties — companies, various service providers, clients, and even entire nations. The complexity of the field has made it much harder for everyone to monitor large flows of financial information and other vital data. This is why leading players in logistics have been looking for a way to help them handle things securely and transparently. And it seems that they found the solution in blockchain.
The technology offers many benefits for everyone in the supply chain, — from customers to operators and C-level management, as it provides full transparency of processes, safety, and reliability. For instance, the widespread adoption of smart contracts will enable performing transactions between parties without involving any centralised entity, be it a legal organisation or, a central authority. And cryptocurrency can become viable for payment transactions.
3PL (Third-party logistics)
Third-party logistics, or simply 3PL, is a major type in the transportation industry and an important logistics market trend. The philosophy behind 3PL is simple: — companies offer logistics services to businesses ready to outsource some (or even all) of their supply chain functions to external providers.
3PL firms may vary depending on what type of services they offer. Asset companies have their warehouses, fleet, and staff to offer complete logistics services. Non-asset firms have none of those. But thanks to their expertise in the industry, they offer individualised solutions that help manage all the intricacies of the supply chain.
How has 3PL become the major model type of logistics and a top trend? Both asset and non-asset providers utilise effective technological solutions that help resolve even the most challenging supply chain problems for their clients. Their inventory and fleet management solutions, forecasting, reporting & analytics tools, financial, and other software help successfully manage all logistics areas. Effective running of transportation, warehousing, packing, picking, inventory forecasting, order fulfilment, shipping & return, and other processes by 3PL firms brings many benefits to those who use their services.
3PL firms help companies cut costs, save resources and money, and shift their focus primarily towards core business processes. The service providers already have all the necessary knowledge, expertise, best practices, and sophisticated technology at their fingertips. Therefore, businesses will not need to invest in expensive software solutions, staff training, and resources such as fleet and warehouses.
Last-mile delivery
The US, the UK, Japan, Italy, Germany, and other countries experienced a rapid increase in online shopping during the pandemic. Cooped up in their homes with no access to the outdoors, people started ordering food and goods via the internet. As a result, e-commerce companies flourished. For instance, Amazon's profit soared to 200% since the start of the pandemic.
Other companies tried to adapt to the new environments. For instance, brick-and-mortars and other retailers moved their businesses online and began providing delivery services to their customers. However, where such companies as Amazon are able to handle all their logistics independently, other companies have to find help elsewhere.
This situation spurred the last-mile delivery trend in logistics. This is the last step of the supply-chain process when a parcel is delivered to the customer (a person or a store). This type of logistics must be fast and cost-effective, and the customer must be satisfied with the delivery service. This is why many companies work with 3PL companies such as FedEx, UPS, USPS, DPD, DHL, or use digital marketplaces — Onfleet, Track-POD, Brigg, Onro, and many others.
Warehouse automation
Once again, the rapid rise of e-commerce during the pandemic has had an impact on warehouse automation. As the number of orders grew, the need for efficient handling of logistics became of paramount importance. Thus, cloud-based warehouse management solutions (WMS) turned out to be much more efficient than on-premise ones. Accessed through the internet, this software allows employees to manage supply chain processes from anywhere. Moreover, WMS is cost-effective, as warehouse companies do not need to upgrade or install the software, and their workers can use the cloud technology instantly.
Among other technological solutions for warehouse automation are automated cleaning robots, drones, AR wearables, and wireless fleet management technology. The last latter allows companies to track their vehicles online in real-time, helping to see information about a fleet, e.g., what needs maintenance, where a vehicle is located, etc.
Wrapping up
The complexity of the logistics industry, various business challenges, and the current state of affairs, primarily the pandemic and the popularity of online shopping in the world, have set a few dominant trends. Drone delivery, travel & logistics solutions, big data and data analytics, automated material handling, sustainable logistics, 3PL and blockchain in logistics last-mile delivery, as well as warehouse automation are the top nine current trends in supply chain management and logistics that every company engaged in transportation, travel, and logistics domain must follow in 2023.
If you are looking for a reliable and experienced tech partner in the logistics industry that will help you get a software project off the ground, Light IT is here to assist you. Our dedicated specialists will help you build a solution of any complexity — from a full-cycle customer relationship management system, advanced travel agency booking engines, to an innovative peer-to-peer package delivery platform.
We will be glad to dispel all your concerns via a short call. Simply leave your details here, and we will get in touch with you shortly to provide you with the necessary information.