Being a business owner is hard, especially when you have to make unpopular decisions like fire someone or shutdown your office and tell your workers that they have to work remotely. Still, when you have to do what's best for business, you should make it as painless for your team as possible and think beforehand about how to make their remote job most organized and productive.
Even though this article is credited to a copywriter, all tips are based on the information given by professional HR managers. All suggestions below are not theoretical and have already demonstrated their effectiveness. So, let's begin!
Tools for Most Optimized and Effective Remote Work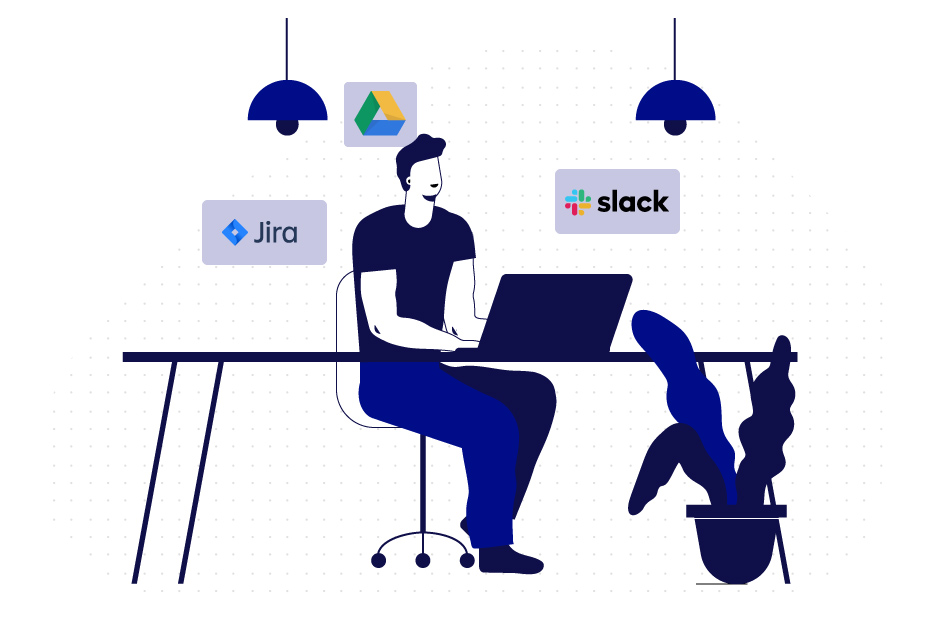 When your staff needs to work from home they need tools to do it right, and as the one who's in charge you need to load them with the most useful tools that include:
- Management tools (Jira, Trello, Asana, etc.)
- Communication tools (Slack, Google Hangouts, Zoom, Twist, Skype, Telegram, etc.)
- Corporate database (corporate site or app for personal use, Confluence, Google Drive, etc.)
Management software tools like Jira and Trello are cloud-based, which makes them outstandingly helpful for large and small teams because they allow to set tasks, track the history of their processing, change task status, and a lot more. By having these management tools, you won't have to ask your staff for updates, thus creating the feeling that they are constantly being monitored.
Having proper communication tools is very important for the quality and speed of working on tasks. You can find many excellent apps for messaging and video calls, and many of them are free, so small companies also can enjoy the benefits these tools bring to their business.
Even though messaging is the most widely used way to communicate tasks, you shouldn't underestimate the importance of video calls or phone calls. When having a video call, you can see people's mood, reaction, discussion engagement, etc. while these things are difficult to track with just messaging or corresponding.
If your company has a corporate database with information necessary for all workers like an event calendar, educational materials, access points, archive, etc. your specialists shouldn't have difficulties with it. At the same time, your information must be protected from all kinds of third parties. You may use Google Drive for storing and processing company's non-confidential information and use more protected cloud services like Confluence for everything that is even slightly considered as important and confidential.
Managing Logical and Emotional Sides of Working with People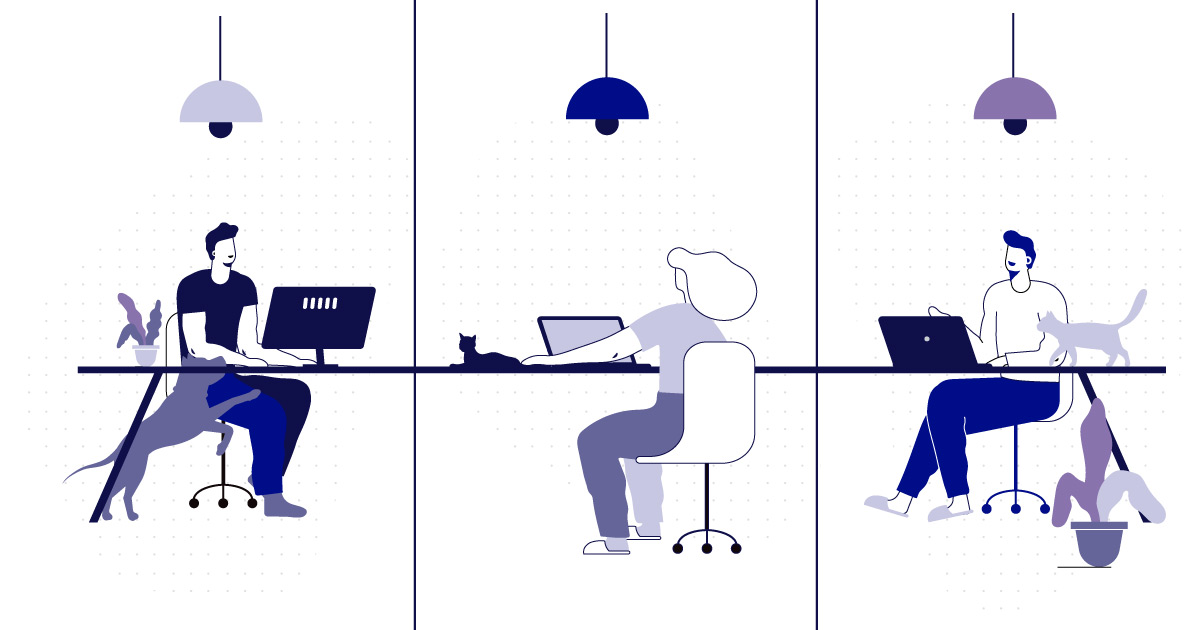 It doesn't matter what was the reason for moving your staff to remote work, if you don't want to lose your specialists, you need to know what are your "dos" and "don'ts".
Your Dos
In addition to giving your workers all the necessary tools, you need to remember that any company's biggest asset is people, so you need to know how to manage your human resources wisely.
Get regular reporting. In addition to checking how much time your staff members spend on specific tasks, it would be useful to reach them out personally and ask whether they faced difficulties accomplishing tasks or everything was smooth. Brief daily meetings are possibly the best way of getting regular reports without being pushy.
Give regular feedbacks. Giving feedbacks is always important in working remotely. In fact, giving feedbacks is always important, no matter the working conditions. By doing this, you can improve the performance of your workers because you will point out their strong sides and the ones that require improvement. Also, each member of your staff will know that their work is being properly and objectively monitored, which would motivate them to do their job even better.
Keep your staff updated. Informing people about good or bad news related to the company will make them feel safe, which is especially important when a company faces difficult time and has to dismiss several staff members at once or send them on an unpaid vacation (like thousands of companies worldwide have to do this in 2020). To make updating your staff most effective, all the most important news must come from the company owner. This way, your team will see you not just their boss but a leader.
Ensure fixed working hours. At the beginning of remote work, some people may not follow the schedule properly, which often results in decreased productivity, failed deadlines, and even more significant consequences like burning out. By making sure your staff accomplish tasks in fixed hours, you'll help them to find a balance between work and personal time and adapt to such a dramatic change like moving from working in the office to doing it from home.
Inspire staff as a leader. You can do it in different ways, like telling the good news about the company and it's success (of course you should point out that this success won't be possible without thoughtful work of the entire team). In case a company experiences difficult times, you need to reach out to your workers at least fortnightly, keep them informed on the taken measures, decisions, predictions, etc.
Praise a job well done. It is always a good move to praise an excellent work of the team and separate team members who showed the highest motivation, engagement, and final result. In this case, you'll show that you see their hard work and grateful for their efforts and what they do for the company in general. Never underestimate the power of saying "thank you for doing a great job", especially if you cannot give them a financial or professional raise.
Monitor the mood of staff members. You can do it by yourself or delegate this task to HR managers. If you fail to detect signs of burnout at the early stage, you may lose good specialists fast. Stress and depression are also bad for your workers and your company, so by knowing what staff members need emotional support, you can help them with special measures like praising their work, adjusting workflow, replacing demotivating tasks with easy or the most interesting ones, offering additional day-offs, etc.
Provide a team-building activity. This may seem challenging to do in the context of distant working, but we live in a world of flash mobs so they can help you a lot. You can post a topic in your main chat and ask your team members to send their photos that correspond to the topic. It can be a silly topic like wear pajamas to work, show your pet or bring your kid to work. Every topic will do as long as it is interactive and exciting for the majority.
Online meetups and workshops are also a great team-building activity because sharing knowledge with other team members helps to increase the quality of relationships between specialists.
Your Don'ts
Not all management measures are suitable for the team; thus, for the company. So, here a few points that you better omit from your strategy.
Time tracking. If you didn't have time trackers in the office, don't start using them now. In fact, you would think that at home people work less, but you'll be surprised to hear that people actually start working more, thus, get tired faster. So, instead of worrying that your specialists will loosen up, you need to prevent them from working more hours than needed and burning out. Time trackers are appropriate only with "pay per hour" model, otherwise, they will bring your company more harm than good because such software represents mistrust in staff members' professionalism and self-discipline.
Constant checking. Since you are a company owner, it is natural for you to have a desire to constantly check whether everything is under control and goes smooth. However, many owners tend to cross the line between keeping updated and excessive monitoring. Writing your workers every hour and turning days into one neverending online meeting is not the best way to handle the working process. Remember that the time spent on preparing the reports for you and attending the meetings with you is the time where all actual work and tasks are left behind. Thus, you should always keep in mind that working on tasks and working on regular reporting must be balanced.
Pressure. Pressure doesn't necessarily mean excessive checking mentioned above. It can come from short deadlines, screen capture programs, etc. If you want to implement something new into the working process and need to find out whether these innovations cause pressure on the team, just put yourself in the team's place and analyze your feelings and emotions. However, to get the most objective opinion, we advise consulting a professional HR manager.
Lack of corporate news. People always want to know what's going on in the company, especially in the most challenging times. Information deficiency often causes harmful hunches, conspiracy theories, and mistrust, so you shouldn't keep corporate news a secret. At the same time, you should know that people may have different reactions on the same news, so remember to monitor the mood of your team members individually.
No emotional support. Even though you are a company owner, not a babysitter, your team still needs your support when switching to remote work. Since they haven't participated in making this decision, such dramatic change causes a lot of stress that should be managed wisely. The vast majority of people are not comfortable with being in remote working conditions on a regular basis, so if you don't want to lose your specialists try to make their remote work a new comfort zone.
Final Words
Even though the office workspace doesn't have multiple distractions like family members, pets, video game consoles and is a lot more convenient for professional activity, it is still possible to make your team show excellent results and productivity while working remotely. As long as your team is solid and united, and has all required management and communication tools, you'll be able to move mountains in business.