Startup and business owners outsource their software product development for many reasons. Experienced clients have no difficulties at this stage of their product creation, while people who consider outsourcing their web or
mobile
app development for the first time face a dilemma who to choose – a freelancer or a software development contractor?
Software developers who work in the office and freelance specialists differ from each other even more than you think. Each of them has strong and weak sides, and even though I work in a company that provides software solutions, I did my best to stay objective while writing this article. So, let's begin with the comparison table and proceed to the detailed explanation of each point.
Freelance Coder vs Software Development Firm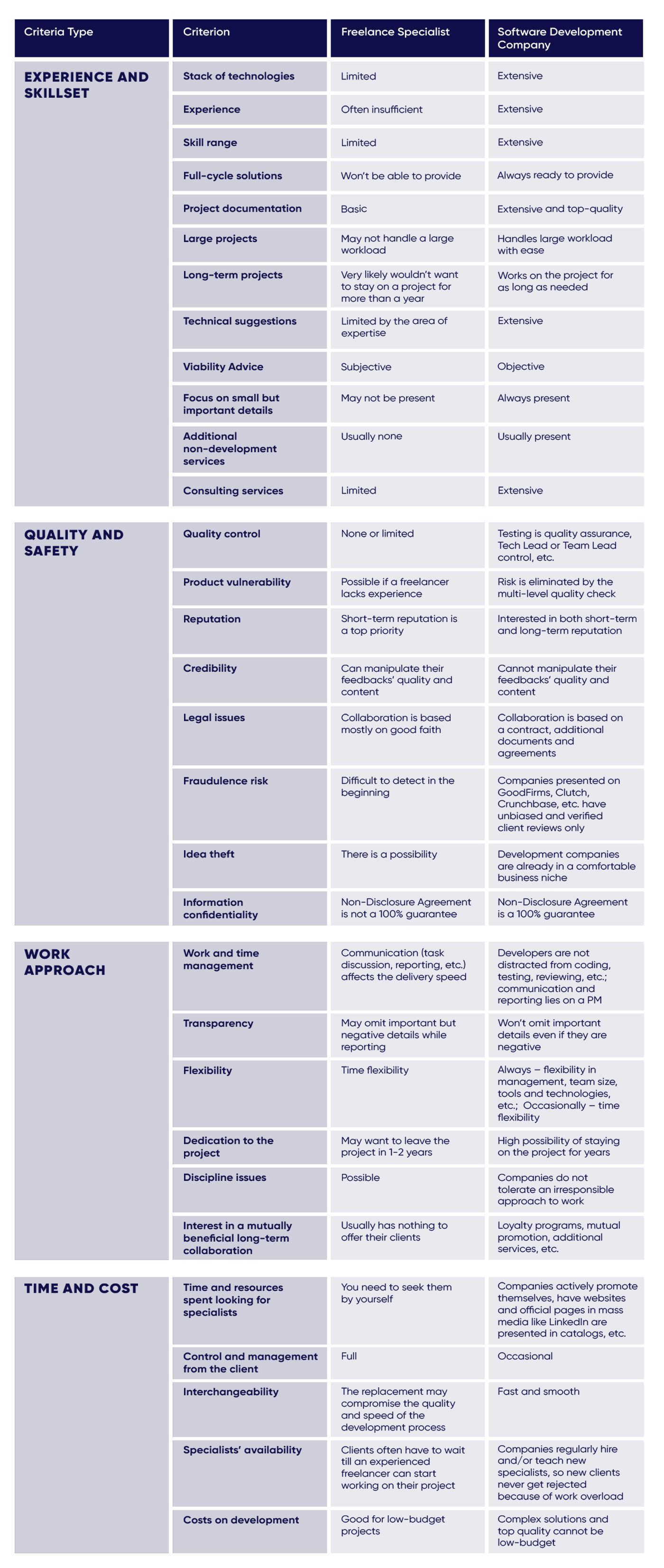 Who to Choose: 24-Criteria Comparison
Of course, the information presented on the table is not enough to get the full picture on whether you should hire a freelancer or a company. That is why I prepared two dozen descriptions to give you more details on each point.
Based on Experience and Skillset

Stack of Technologies
One person cannot be an expert in all development technologies, especially knowing how fast new programming languages and tools appear on the market. Thus, in case you need to change the programming language for the server side for some reason, it may affect the client side and trigger changing other technologies as well.
If such thing happens, you'll need to seek another freelance developer by yourself. However, if you work with a software development company, they will offer you a software contractor with a high level of expertise in the required programming technology.
Experience and Skill Range
The sad truth is that a person cannot be great in many fields of expertise. They can be great in one area and be good (or at least not bad) in the rest of them. When you choose to work with a freelancer, you usually collaborate with a specialist who is good in one area. However, when you hire a development team, the top expertise range you get widens with every member.
For example, we constantly increase the knowledge and skill base of our mobile and web development specialists by organizing workshops and meetups, where our top development experts share valuable or new information. At the same time, our experienced team members participate in conferences, summits, exhibitions, etc. to be among the first ones to put the newest knowledge into practice.
Full-cycle Solutions
Some clients enjoy controlling every part of the development process while the majority of entrepreneurs and startup owners who want to focus on building a winning business strategy and reaching their goals choose companies with a holistic approach to software development.
Unlike software development companies, average freelancers won't be able to give you full-cycle solutions that include:
Client's requirements assessment;
Planning stage;
Development process;
Quality assurance;
Product launch;
Post-release assistance (i.e., maintenance, support, etc.)
Project Documentation
Upon request, you can receive documentation on your software product development from both a freelancer and a development team; however, its extensiveness and quality will differ significantly. A development team includes such experts as developers, QA specialists, project managers, designers, business analysts, etc. and each of them looks at your product from different perspectives.
Thus, the project documentation you receive when you're working with a software solution company may include but won't be limited to:
Software Requirements Specification;
User Stories;
Product versions development plan;
Architecture design;
Style and design concepts of the future product, etc.
Large and Long-term Projects
Small tasks and projects don't need a big team of specialists, and in many such cases, individual freelancers appear to be a perfect option. However, the size and complexity of the project dictate the number of specialists and their skills, so if your project needs more than two developers, you will only benefit from relying on the development company.
When the team members work side by side, the quality of communication and the final result delivery speed increases significantly in contrast to having freelancers working separately from each other.
Technical Suggestions and Viability Advice
Companies that provide software solutions are more willing to give clients their objective recommendations on tools and technologies prior to starting the development process. While freelancers are only interested in getting a new client, companies are interested in their clients' success.
If the idea of your product is doomed from the beginning, the company's specialists who detect it based on their knowledge and experience may suggest you some product improvements or even change the idea. They will do it to save your money for something more worthy, even if such advice might cost them a client at that moment.
Focus on Small But Important Details
Specialists who work and actively communicate with others within a team have a broader perspective on the product comparing to remote freelancers. For example, you need to build a corporate website to promote your services. Freelance web developers will only provide the functionality you defined while specialists from a solution providing company can see whether there are gaps in your requirements and will suggest how to fill them.
If the company has SEO specialists, they would recommend adding certain search engine optimization actions at the beginning of the website development process. For instance, adding correct robot.txt, sitemap.xml, canonical pages, etc.
Additional Non-development and Consulting Services
You can get consulting from both a freelancing developer and a software company, yet its breadth will differ. Consulting from a freelancer is always limited by their area of expertise. On the contrary, a company has experts in different fields, both related and non-related to software development.
Thus, the consulting services of a development company that provides software solutions will give you a broader perspective on the product. Freelance software development rates may be lower than the ones of a company, but you also won't get from them such additional services as:
Market research;
Product viability assessment;
Design;
Business analysis;
Quality assurance;
Post-release maintenance and support, and a lot more.
Based on Quality and Safety

Quality Control
In case your project is in the hands of a development company, the work progress is under close control of a team lead, or a tech lead. It is their responsibility to be aware of everything related to the project, especially problems and challenges, and help developers to overcome them fast and easy.
We cannot speak for all companies, but here, at Light IT, all projects are monitored and checked by a respective team lead or a tech lead, and no project is delivered to the client without their approval. If you hire a software engineer who chooses to freelance, very likely, they won't be able to offer you the same.
Product Vulnerability
Novice programmers don't have enough experience, and, because of that, their code can have different kinds of exploits. Code exploits allow unauthorized access to various components and functions of the app. Depending on the type of vulnerabilities, it can be used for stealing private data, allowing access to paid services, control equipment remotely, etc.
Development teams include QA specialists who always check software on this criterion and eliminate this problem. Startup and business owners who collaborate with freelance developers cannot be completely sure that their software product doesn't have code exploits.
Reputation and Credibility
A good reputation is a key to success in everything, especially in business. The peculiarity of a freelance market dictates the focus on a short-term profit and reputation while companies intend to achieve both short-term and long-term reputation to make their brand highly competitive on the market.
Some freelancers who are new in the field may manipulate their rate and feedbacks on the platform to get more clients now. Software development companies avoid such promotion as it is harmful in the long run. However, if you're working with a skilled and responsible freelancer, you won't need to worry about the quality of their services.
Legal Issues
All software development outsourcing companies are legally operated, which cannot be said about all freelancers. When working with a development team, you start with signing a contract and, if needed, additional documents like a non-disclosure agreement, etc. At the same time, working with a freelancer is usually based on good faith.
In case if your freelance executioner unlawfully compromised the quality of your product, and you have no legal document supporting that you're a victim, it will be difficult to prove it in court. Startup and business owners who work with companies never face this problem because both sides understand the importance of documenting collaboration.
Fraudulence Risk
Most commonly, people make their decision on purchasing goods or services basing on testimonials and reviews. However, if a freelancer who is bad at what they do, has plenty of negative feedbacks from clients and even got banned on a freelance platform, they can create a new "clean" account and delete the old one.
This strategy never works for companies, because they cannot create and delete corporate accounts just like that. Most important, development companies strive to get official profiles on such trusted platforms as GoodFirms, Clutch, Crunchbase, etc. Companies presented on these services have unbiased and verified client reviews only.
Idea Theft & Information Confidentiality
Some people may object, but any average software development company has a more responsible approach to working with their clients' information than an average freelancer. For example, companies understand what consequences they may face for denying to follow the terms of the Non-Disclosure or Non-Compete Agreement.
Also, development companies never steal business ideas from their clients because they are already in a comfortable business niche. When working with a freelancer, you don't have this level of safety.
Based on Work Approach

Work and Time Management
Every person has only one head, two arms, and a limited number of hours they can work per day. Thus, when you collaborate with a freelancer, and there is a necessity in constant communication, you need to keep in mind that the time they spend communicating with you, discussing tasks, reporting on work progress is the time they don't do their actual job – creating software.
In this situation, working with a development team is always beneficial because every member is doing their specific job – developers create your software product, while project managers take care of management and communication sides. Thus, the client stays informed on the progress, and developers are not distracted from coding, testing, reviewing, etc.
Transparency and Flexibility
Time flexibility is a strong side of freelancers; however, if your project for some reason has unexpected and really big changes that must be done overnight, it is very likely that separately working freelancers won't be able to deliver them on time.
We don't say that you cannot rely on freelancers because there are many responsible experts among them; however, companies offer wider flexibility and transparency. You can be sure that a development team won't omit important details in their reports, even if they are negative. Everybody knows that experts from a development company have stable working hours. Nevertheless, they are more comfortable to work with because of flexibility in their client-oriented project management, tools and technologies, team expansion, etc.
Dedication to the Project
Usually, people who choose to freelance don't want to get engaged in long-term obligations with one project. Thus, if you intend to start a project that would be active for at least few years and want to get a loyal team that wouldn't change constantly, think twice before hiring freelancers for the job.
Specialists working in the company tend to change their place of work less than people who prefer to work remotely. Thus, there is a lot higher chance that these team members will stay on your project for years.
Discipline Issues
Many freelancers are diligent; however, there are also many freelancers with a severe lack of discipline. Companies don't tolerate irresponsible approach, and if corporate experts begin to show signs of irresponsibility to their work for no valid reason, they are just get fired.
Full-time experts have no problems with playing by the corporate rules, meet deadlines, communicate closely with other team members, put emotions aside, etc. You can never know if a freelancer who works on your project has the same qualities.
Interest in Mutually Beneficial Long-term Collaboration
For freelancers, money is the only top priority, while for software development outsource teams, there are several priorities, and one of them is a mutually beneficial collaboration with their clients.
Software providers usually give their clients more than freelancers just because they can and want to do it. For instance, software companies can offer:
loyalty programs (discount, free trial period, special offer, etc.);
additional services without charge;
mutual promotion in mass media, etc.
Based on Time and Cost

Time and Resources Spent Looking for Specialists
To make sure an excellent expert develops your product, you need to find one first. It may take weeks or even months searching freelance platforms like Upwork until you find your perfect player. You can delegate this search to the recruitment specialist or an agency, but it will cost you additional resources.
When it comes to the development company or a team, you don't need to seek them because companies often advertise their services, they have websites with comprehensive information on services, location, expertise, contacts, etc. Also, they are presented in various trusted catalogs.
Full Management and Control from the Client
Many startup owners who prefer working with individual freelancers have no other option but to take the project manager role. This role implies doing a big coordinating and controlling job because they usually have no other person for the job but themselves.
At the same time, if you ask a development team to work on your project, you won't need to control every aspect because the team commonly includes a project manager who does all the controlling and problem-solving. Instead of spending plenty of your time on management, you'll spend few minutes on listening or reading the PM's report on the work progress.
Interchangeability
Having the possibility to replace a specialist without compromising the development process is highly useful. Working with a freelancer has its advantages, but interchangeability is not one of them. When force majeure situations happen, i.e., a freelance specialist cannot continue doing the job or simply disappears without prior notice, the project pauses until you find a replacement expert.
Working with a development team eliminates this problem entirely because when a developer cannot proceed with doing their job, the company has peer specialists for replacing them. In addition, a project manager has all the information needed to fill new team members in on the project.
Specialists' Availability
Good specialists are always in demand and loaded with work. You can find thousands of freelance specialists, but there are only dozens of really good ones, and they are always loaded with work. So, clients often have to wait until the freelancer can start working on their project.
When a development company sees that all specialists are busy on the projects, it expands and hires new experts or starts teaching, so there are always developers available for new projects. For instance, at Light IT, we created Light Academy with front-end and back-end courses to train new developers. Also, the number of our specialists grows continuously, so new clients never get rejected because of work overload.
Costs on Development
Freelance specialists will always be in demand because they have lower rates for their development services. However, Benjamin Franklin once said:
The bitterness of poor quality remains long after the sweetness of low price is forgotten.
Even though he said it centuries ago, these words represent modern business values. Companies are always about quality because to survive on the market they must have loyal clients who trust in their brands. Consider the comparative table of what you can get from a team and a freelancer for the more or less same price:

To Sum Up...
In many cases, software development companies and freelancers are not competitors for each other because they perfectly fit different project conditions. Companies are the best choice for large, complex, and long-term projects with a huge workload that requires a big flexible team of various specialists like business analysts, designers, QA experts, marketers, and, of course, web and mobile app development engineers. At the same time, hiring a freelancer would be wise for small and low-budget projects, which need software solutions based on one or two programming languages that won't be changed.
In case your future or existing project needs a comprehensive approach and complex solutions, do not hesitate to contact us for top-quality software design and development services.