February 24th, 2022 has not only brought war to Ukraine but also has changed the global economic landscape for years to come. EU, the UK, the USA, and other countries have already imposed sanctions on Russia and Belarus, and the list of restrictive measures keeps growing. World-known brands from all over the world continue to leave the country that started a bloodbath in the center of Europe.
Many entrepreneurs who trusted Russian IT specialists with their business needs are on a bad streak. They either have already faced the problem of relocating their businesses from the toxic economic environment or are forced to think out an escape route for the nearest future. The following editorial aims to simplify this troublesome process and give answers to the most popular questions business owners might have.
Reasons to move software development from sanctioned countries
To be clear, we will not focus solely on Russia in this article. The information in it will be helpful for any entrepreneur who requires assistance with relocating the business from a sanctioned country for one reason or another.
The most important reasons to move the business from a sanctioned country are the following.
Losing brand loyalty
Whether a business is big or small, the entrepreneurs simply can't ignore the buyers' opinions. And people do not support war, destruction, and human rights abuse.
Brand loyalty is one of the greatest assets any company might obtain. The fear of losing it and facing a publicity storm pushes business owners toward the decision to stop operating in countries that do not stick to the norms of civilized society.
Increasing risks
Sanctions make all the business processes more complicated. Logistics, financial transactions, taxes, and even simple communication become more challenging and high-risk.
The IT industry is no exception. Operating in a sanctioned country, an IT company faces many problems and potential risks. It becomes more difficult to access innovative software and hardware. It's harder to equip the teams with highly-skilled professionals as many of them decide to out-migrate.
The lack of economic stability
Any sanctions imposed on a particular country always lead to economic turbulence, making market predictions and corporate strategy development almost impossible. It's hard to do business and reap profits when you don't even know how the exchange rate may change in a matter of days, which of your partners may suddenly leave, and will there be any other sanctions you should be prepared for.
Such a toxic environment may kill even the most promising business ideas. Therefore, business relocation is often considered the only way out.
Nationalization threat
Any sanctioned country will eventually introduce some sort of counter-measures to try and stabilize the economy. One of the most daunting prospects for any business is a nationalization threat.
This is something Russia has already announced but hasn't yet implemented. Still, the possibility of losing a business ultimately forces entrepreneurs to search for a safer business environment in other countries.
Ethics
Sometimes, entrepreneurs don't even need reasons to move their companies from sanctioned countries except for the ethical ones. It's hard to run a business in a country if you do not support its policy or do not share its people's mentality.
Thousands of companies worldwide have stopped operating in Syria, Venezuela, Russia, and other countries solely because of their unwillingness to support the existing regime and accept the situation.
Which countries are sanctioned as of 2022?
When discussing the topic of sanctions, It is vital to remember that restrictive measures are not always imposed on the whole country. There are different types of sanctions that various countries, as well as international organizations, may impose.
For example, sanctions may be imposed by the United Nations Security Council, European Union, and individual states (the UK, Canada, Australia, the USA, etc.)
There also are different types of sanctions. The restrictions may refer to the military or economic sector, sports, or environment. The most common types of sanctions include:
Financial
Commodity restrictions
Arms embargo
Diplomatic restrictions
Travel ban
Shipping & aviation restrictions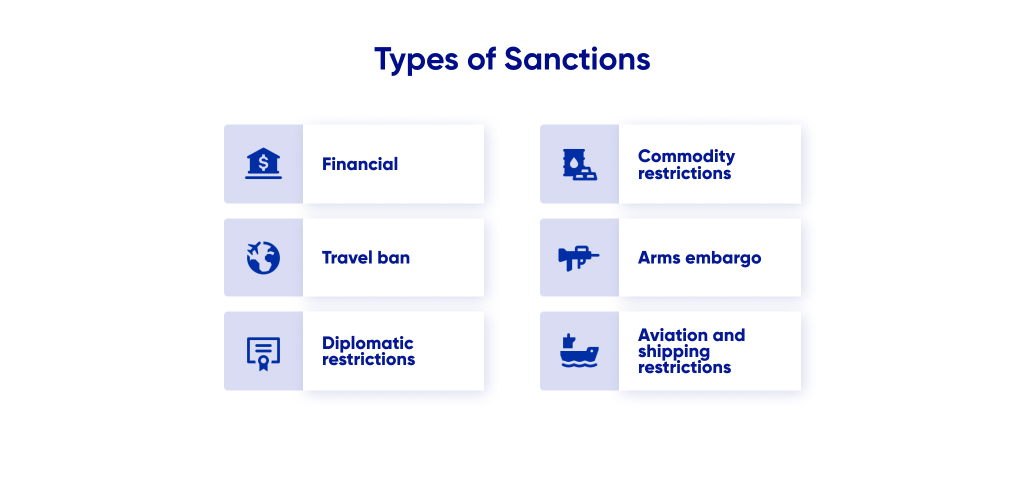 Different countries and organizations may have sanctions lists that are distinct. Consequently, the list of all sanctioned countries may be quite long. This article will focus on the most sanctioned countries as of 2022.
Russia
As a study by Statista shows, after Russia invaded Ukraine, it made it to the top of the list of the most sanctioned countries. And the number of restrictive measures taken after the beginning of the war in Ukraine has already exceeded the number of sanctions imposed before.
Moreover, the number of sanctions is expected to grow, making it even more difficult to run business in Russia.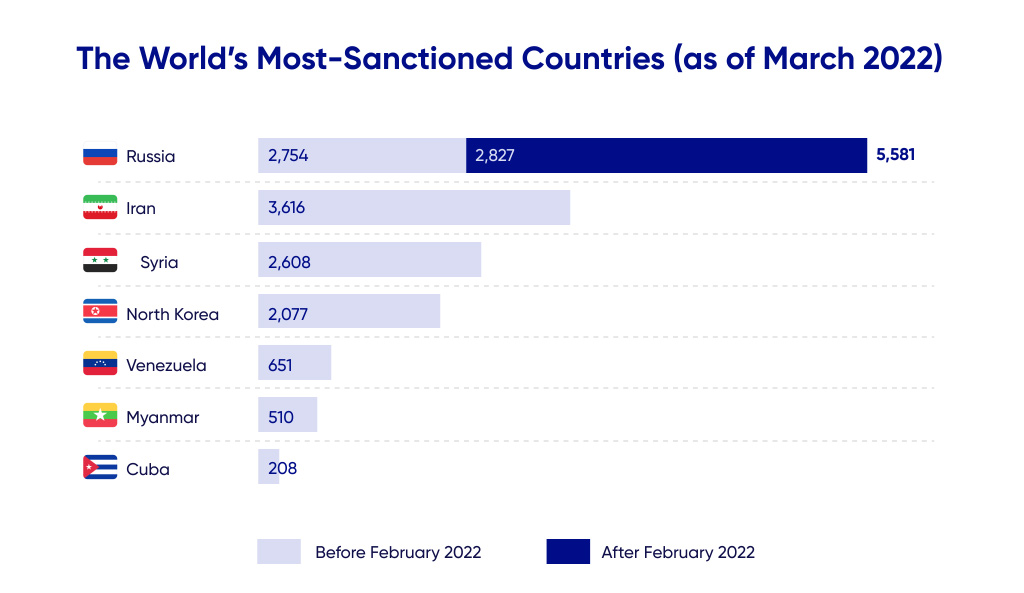 Belarus
Like Russia, Belarus became an object for another massive round of sanctions in March 2022. Before the Russian invasion, sanctions were imposed primarily on the country's leadership as the president of Belarus has been remaining in power for 27 years. People suffer from human rights violations, and the basic principles of democracy are compromised.
In March 2022, the EU, Canada, the US, and the UK have imposed sanctions on Belarus as the country supports Russia in its brutal invasion of Ukraine.
Alongside Eastern European countries, Russia and Belarus are known as IT powerhouses. Therefore, when discussing the subject of software development relocation, these two countries are stealing the spotlight. However, we can't but mention other sanctioned states to expand on a topic.
Iran
The first sanctions imposed on Iran are from 1979. And prior to the Russian invasion of Ukrainian lands, Iran held the title of the most sanctioned country in the world, having 3616 imposed sanctions in total.
In this case, restrictive measures are viewed as a tool helping to push nuclear negotiations further. Sanctions also cut the government's ability to support terrorist groups and help to reduce the number of cases of human rights abuse.
Syria
Syrian scenario, in many ways, is similar to Russian. The country made it to the international sanctions list due to the events associated with the Syrian civil war. The conflict started in 2011, and since that time, Syria has suffered from a severe humanitarian crisis followed by the displacement of more than 50% of the country's population.
North Korea
North Korea is a prime example of isolation from global economic and cultural exchange. And sanctions imposition, in this case, is a measure preventing nuclear peril.
Venezuela
When it comes to Venezuela, the sanctions aim to battle the Maduro regime. The country suffers from corruption, drug trafficking, illegal gold mining, terrorism support, money laundering, and human rights abuse.
The sanctions help to cut off the sources of income for the Maduro regime. However, the number of imposed restrictions is significantly lower than in Russia, Iran, Syria, or North Korea (651 total).
Myanmar
Myanmar struggles to protect democracy as the junta captures the country after the military coup. Democratic movements are being oppressed. People suffer from human rights violations.
To respond to the inhumane actions of the Burmese government, many countries (including the UK, the US, and the EU) imposed various sanctions, including arms and trade embargoes, travel and investment bans.
Cuba
Cuba has been sanctioned for over 60 years now, as the first restrictions affirmed by the US go back to 1960. And this fact proves that it's easier to impose sanctions than to remove them. Even after Fidel Castro's death and Raul Castro's retirement, the restrictions and embargoes aren't going anywhere.
How to move software development from a sanctioned country: step-by-step tutorial
If you've happened to run a business in a sanctioned country, remember that the best way to avoid major losses is to develop a thought-out relocation strategy and carefully execute it. Light IT's step-by-step guide will help!
Secrets of choosing a country suitable for the software development business
The global IT market is growing and changing each year. But still, there are well–known IT hubs that have already earned the reputation of the most reliable development services providers.
For example, Eastern Europe is ahead of the game in software development. Ukrainian, Polish, Romanian, and Czech companies offer a great combination of affordable prices and superior quality.
Asian countries (India, China, the Philippines, etc.) are often seen as an alternative to European talents as hourly rates are even lower. For many companies, that's the difference-maker. However, lower rates usually come with the refusal to follow clean code practices, unrealistic estimations, and rocky communication.
Latin America is not at the forefront of the global IT market yet. Still, it continues to grow and attract many investors from the US due to the more convenient geographical location and time difference.
Remember that moving the software development business doesn't always require physical relocation. Often offshoring or nearshore software development may suit the purpose.
If you're not sure which country to choose, consider the following factors:
Convenient location and simple traveling
Acceptable time difference
Lack of cultural gap Suitable average software development rates
Language proficiency
A large number of highly-skilled and well-educated experts
Low business and trade barriers
As you can see, there can't be one "perfect" country for every entrepreneur. The business owner's preferences, background, and previous experience play a major part here.
But still, if you'd like to know about the five most promising business destinations for software development, it's Ukraine, Poland, Argentina, Mexico, and the Philippines.
The algorithm for choosing a reliable software development contractor
Once the country for business relocation is chosen, you must pick a software development services provider you can trust.
During the selection process, focus on the aspects listed below.
Software development experience
The more years of experience a potential contractor has, the better.
Portfolio
A diverse portfolio with relevant cases is a must for any software development professional (both freelancers and companies).
Proven track record
Customers' feedback, industry-specific awards, and publicity is a great bonus.
Tech stack
Inspect the tech stack a future contractor is using. IT is not a conservative industry, and it's always better to work with people who know everything about tech innovations.
Talent pool
The chosen contractor should be able to meet the customer's recruitment needs.
Favorable price
The software development cost may vary significantly even within one country. Finding a contractor with an acceptable quality/price ratio might take time.
Meeting all of the criteria listed above is essential. Otherwise, the cooperation won't be mutually profitable and long-lasting.
The pitfalls of the business relocation process
Finding the right contractor is half the battle. But to win it and successfully move a business from a toxic or sanctioned country, an entrepreneur should ensure a smooth transfer process, which may be tricky.
Study local laws
Even if you plan on relocating the software development business to the neighboring country, the labor legislation there may be different. For example, at-will employment common in the US is illegal in Canada even though these countries share a border, speak English, and are similar in many ways.
Keep an eye on regulations
Every country may have numerous unique rules to which a foreigner might not be accustomed. Differences in healthcare standards, accounting systems, and safety net — all of it is important. Yet it is almost impossible to foresee every possible particularity. Therefore, getting external assistance is essential for a business to relocate successfully.
Get legal support
No entrepreneur will be able to set up a profitable business in a foreign country without professional legal support. Lawyers will not only help the business owner understand the local laws but will assist when it comes to getting the best terms of the lease agreement, obtaining work permits, drafting employment contracts, etc.
Choose the engagement model
Once again, an entrepreneur willing to move the software development business to a safe business environment doesn't have to leave their home country. The modern IT market offers multiple cooperation models that allow running a business and receiving development services remotely.
It can be well-known software development outsourcing, co-sourcing, a dedicated offshore development center, or a build-operate-transfer model. Evaluate the benefits and the drawbacks to select the right one.
Hire local experts
Even if you plan to relocate an already existing team, consider hiring some local IT professionals. Coding is the same in every country, but local experts still might be helpful for business establishment and growth. Managers, HR pros, accountants… The wider pool of talents is on hand, the better business outcome it will bring.
Why is Ukraine a great place to move the software development business?
Ukraine indeed counters Russian aggression at the moment. Still, there are many reasons why this country is one of the most promising business destinations for software development in 2022. Let's focus on the most important ones.
Lower prices, better quality
The average software development rates in Ukraine are not the lowest globally. However, they are more than affordable compared to Northern or Western Europe, the US, or Canada.
For example, average hourly rates in Ukraine are about two times lower than in the US, while the quality remains just as high.
One of the best talent pools in the world
Unlike many European countries, Ukraine hasn't faced a shortage of IT specialists. Hundreds of software developers and engineers graduate from Ukrainian universities annually. Ukrainian tech pros work with well-known brands and well-established companies worldwide. Consequently, any software development business will be able to get experienced professionals to work with Ukraine.
European future
Ukraine is a part of Europe geographically and culturally, and geopolitically. In March 2022 EU has launched a procedure to consider Ukraine's membership application. Of course, Ukraine's way to being a rightful EU member will take time. But there's also no doubt that it will eventually happen.
English proficiency
The majority of Ukrainian IT professionals have command of the English language and can communicate with English-speaking clients directly. It simplifies the cooperation process and eliminates misunderstanding and possible delays while simultaneously increasing productivity.
Final words
Moving software development business from sanctioned countries isn't easy by all means. It requires time, effort, and both psychological and financial resources. However, the payback is worth all the work. Every business owner (even an ambitious startupper with no experience) can make a splash in the IT world by placing bets on the right tech partner. And if you're looking for one, Light IT is ready to provide you with a free consultation that might be the beginning of a success story. Contact us and claim it now!