Marketplace apps are not just a convenience that allows people to get any goods they want in seconds. Buyers' demands are getting more sophisticated and, as a result of that, marketplace owners shift their focus to providing personalized customer experience and implementing strategies that would urge people to purchase more. One of the most surprising success stories belongs to the Wish marketplace, which price-based strategy helped their owners to raise profits. If you want to know how this platform makes money and what it takes to create a shopping app like Wish, continue reading this article.
What Is the Wish App?
Wish is a discount-based online shopping app primarily known for extremely low prices, a large variety of products, and the ability for merchants to sell products directly to consumers. In 2022, the app hit its first $1 billion revenue and made its founder, Peter Szulczewski, a billionaire.
Wish in Figures
Forbes reports that, in 2019, Wish became the most downloaded application with more than 100,000,000 downloads worldwide and brought twice more profit of $1.9 billion compared to the previous year. The same year, the app was awarded a second place on the list of 10 best shopping apps for women by Marie Claire. In 2022, around 90 million people out of the overall 500 million audience of Wish declared they use it at least once a month.
How Does the Wish App Work?
There are no distinct structural differences between Wish and any other online marketplace. Within each marketplace, there's a typical catalog with products each having their price, a search field, filters, an item description, and a seller's or buyer's panel. Nevertheless, the principles of how Wish works are:
Low Price. Wish is about affordability. It offers Chinese-made products right from Chinese manufacturers what makes it one of the cheapest marketplaces. The lowest shipping cost makes around $3-4, vendors only pay for a definite volume of goods instead of paying for shipping per product.
Rewards. Besides the cheap cost of items, the store frequently offers various customer loyalty programs , for instance, daily login points, 60-90% discounts, or bonuses for purchasing a special group of items, event-based rewards, mini-games, promo codes, etc.
Simplicity. The app has a plain look and standard navigation. However, its strength is in the simplicity of an online shop that puts the buyer's focus solely on purchasing and nothing more.
Diversity. The platform is an everything-you-need-in-one-place spot, so the list of items includes a variety of beauty products, clothes, jewelry, kitchenware, electronic devices, cables, and more exotic goods for any taste.
Delivery. The marketplace offers 1-2 or 5-7 days special delivery service depending on where the store is located and what the customer destination is with an opportunity to track each stage of arrival. There's also the same day door-to-door delivery within a few hours for closer destinations.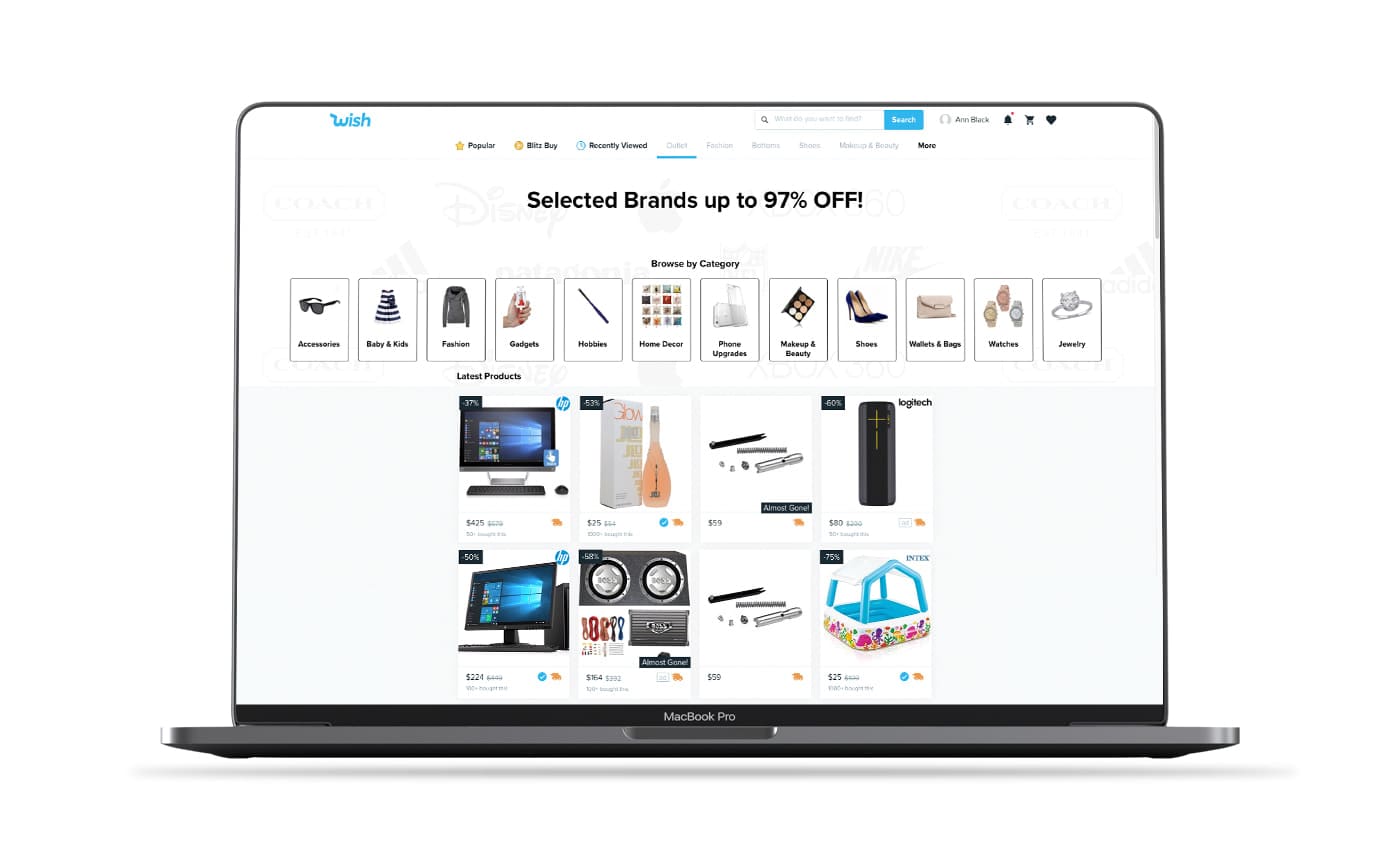 What Is Wish for Merchants Used for?
Apart from the client-side application, Wish has created another app called Wish for Merchants to provide retailers with space for selling. For best sales experience, Merchants Help Center contains various guidelines and useful tips for sellers on how to launch, manage and grow the store, walks through important Wish policies and legal documents that cover sales, logistics, payment processes, refunds, intellectual property, and customer relationship questions.
How to Build a Marketplace Like Wish?
To build a thriving marketplace, you need to observe the typical features of the shopping apps like Wish. There are two sets of features on Wish to highlight. The first one includes standard-type features common for most online stores, and the second type describes the unique characteristics of this particular marketplace app.
Consumer Registration
Apps like Wish require users to register before they start browsing products and shopping, although the registration process takes about a few seconds. A user can log in through Facebook, Google account, or email without having to wait for a confirmation letter to start shopping.
Merchant Registration
Wish for Merchants requires sellers to complete a more complicated registration form. They must indicate a truthful and accurate name of the store and the information that can prove the existence of their brand. Merchants are also required to agree to the Terms of Service to start using the application.
Common Marketplace Features
A set of typical characteristics to regard in mobile apps for shopping comprises:
User Profile. The purpose of a user profile in a marketplace app is to make a customer spend less time creating it and proceed with buying goods faster. To create a Wish profile, you only need to enter your name, add a photo, enter a birthdate, select gender, and start shopping.
Product Catalog. This is the basic functionality of your marketplace where all items and prices are gathered or can be found through search, compared, and bought.
Shopping Cart. The cart contains goods that a consumer wants to buy and is featured with a calculator to count the total order amount. A buyer can apply coupons and then proceed to checkout and payment procedures.
Wishlist. This component helps marketplace vendors build an efficient selling strategy. By analyzing what people add to their wishlists, you can explore the peculiarities of buyer personas, identify trends, and generate offerings according to their preferences.
Push Notifications. Notifications are sent to customers through API to the notification server to keep them informed on new items, abandoned shopping carts, or anything else that would make a buyer go to and stay on the app.
Order History. An important part of a platform that makes it easier for both merchants and buyers to follow their in-process and completed orders. It also takes part in defining the customer's preferences.
Social Integration. Wish has a feature that enables sellers and buyers to follow each other. In such a way, customers don't have to search for a particular vendor over again, and vendors can expand their base of regular customers. Messenger is also integrated for buyers and merchants communication and negotiations.
Customer Support. When a customer wants to solve some problem with the account or payment, they interact with a chatbot first. If a chatbot can't help with the problem, it redirects the customer to the support manager.
Delivery Tracking. Any mobile commerce app must show the delivery status of products and indicate the approximate time of arrival. You can also add a geolocation feature to let buyers see where their order currently is.
Reviews and Ratings. Reviews help analyze customer attitudes towards goods. By comparing ratings you can build the right product arrangement and selling strategy by letting you know which products are more appreciated by customers.
System of User Roles. This system involves setting rights to create, manage, and view products depending on the role. Super administrators (app owners), administrators (merchants), and buyers make the typical set of roles for shopping apps.
Smart Product Recommendations. Wish analyzes the activity of each individual buyer to craft customer personalization experience. Thus, it recommends products based on what a customer has previously searched, viewed, and added to the wishlist to urge them to buy more.
Multiple Languages. If you want your marketplace to go global, you should think of app localization. The language base of Wish includes 36 languages to cover diverse audiences.
Wish-Peculiar Features
Besides the typical functions of a shopping app, Wish has features that make it stand out from similar platforms. Some of them are interactive, which means they engage users in some kind of a win-win game aimed at providing customers with discounts.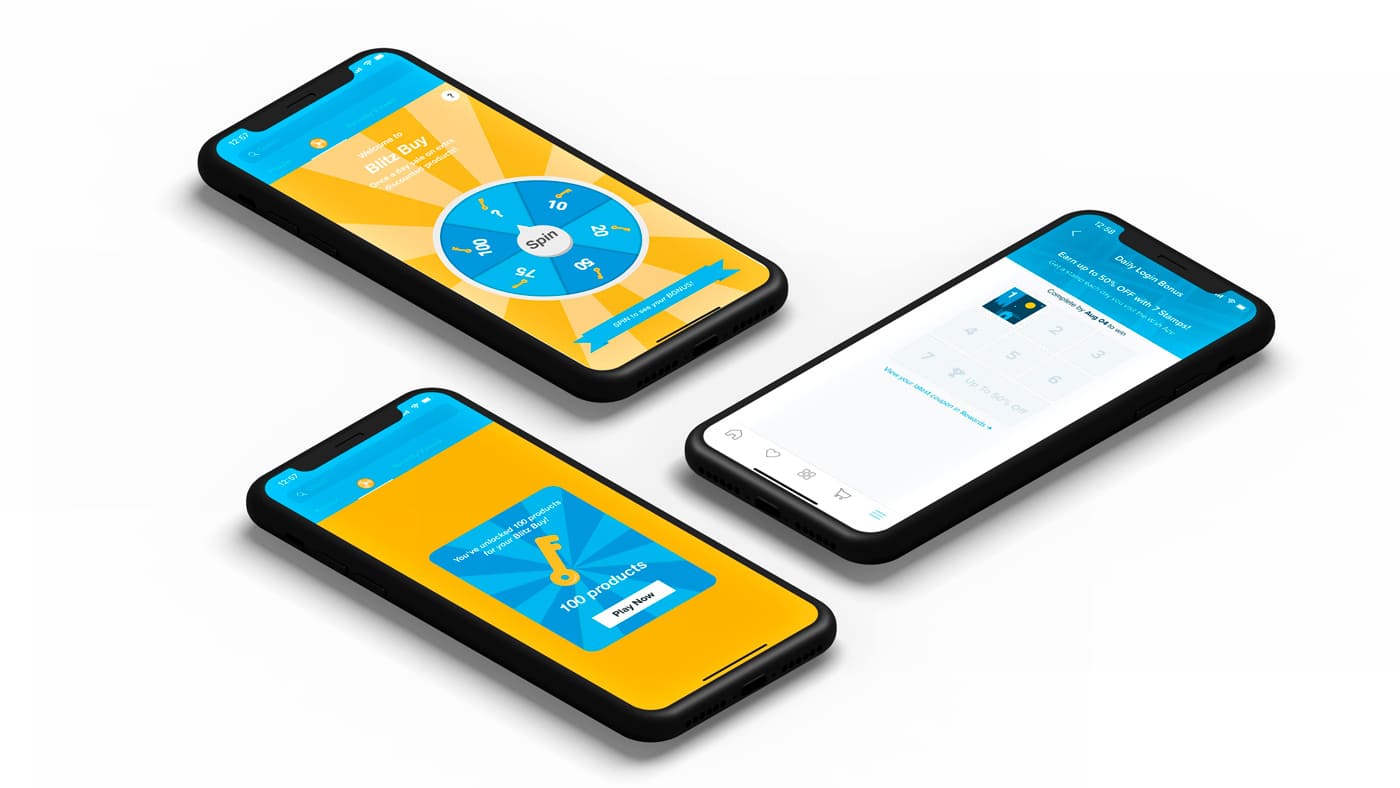 Collecting Games. For each day a user visits the app, Wish grants them an item (a stamp, for instance) to collect and get a bonus.
Blitz Buy. This is a wheel of fortune-type game. Once a day, a customer can spin the wheel to get a bonus, the loss is impossible.
Wish Cash. In some situations, for instance, when a customer has a complaint about the products they bought, Wish may put money to customers Wish Cash as compensation. Buyers can refill the wallet with real money anytime they want.
How Is the Wish Business Model Peculiar?
Wish started as a platform for creating wishlists. Later on, it transformed into a bigger e-commerce marketplace, and the owners' focus shifted to set the lowest possible price for products. As the vendor and customer base expanded, the app owners started to take a 15% cut of each sale and charge merchants for promotion. The business model used by Wish creators is based on three foundations covered below.
Focus on Mobile Commerce
In recent years, mobile commerce has seen a growing tendency as more people prefer to save their time by purchasing stuff on the go. This is affirmed by Wish declaring that 90% of all transactions on the app are made on mobile devices. Still, if this business model works for Wish, it doesn't mean it will work for your marketplace.
Statista's research as of March 2018 shows that buyers are more likely to use their shopping app on a phone or tablet only once every few months, which is not too frequent to get the app on top. Besides, 13% of respondents said they don't shop via mobile apps at all. So, the true popularity of mobile shopping has yet to come.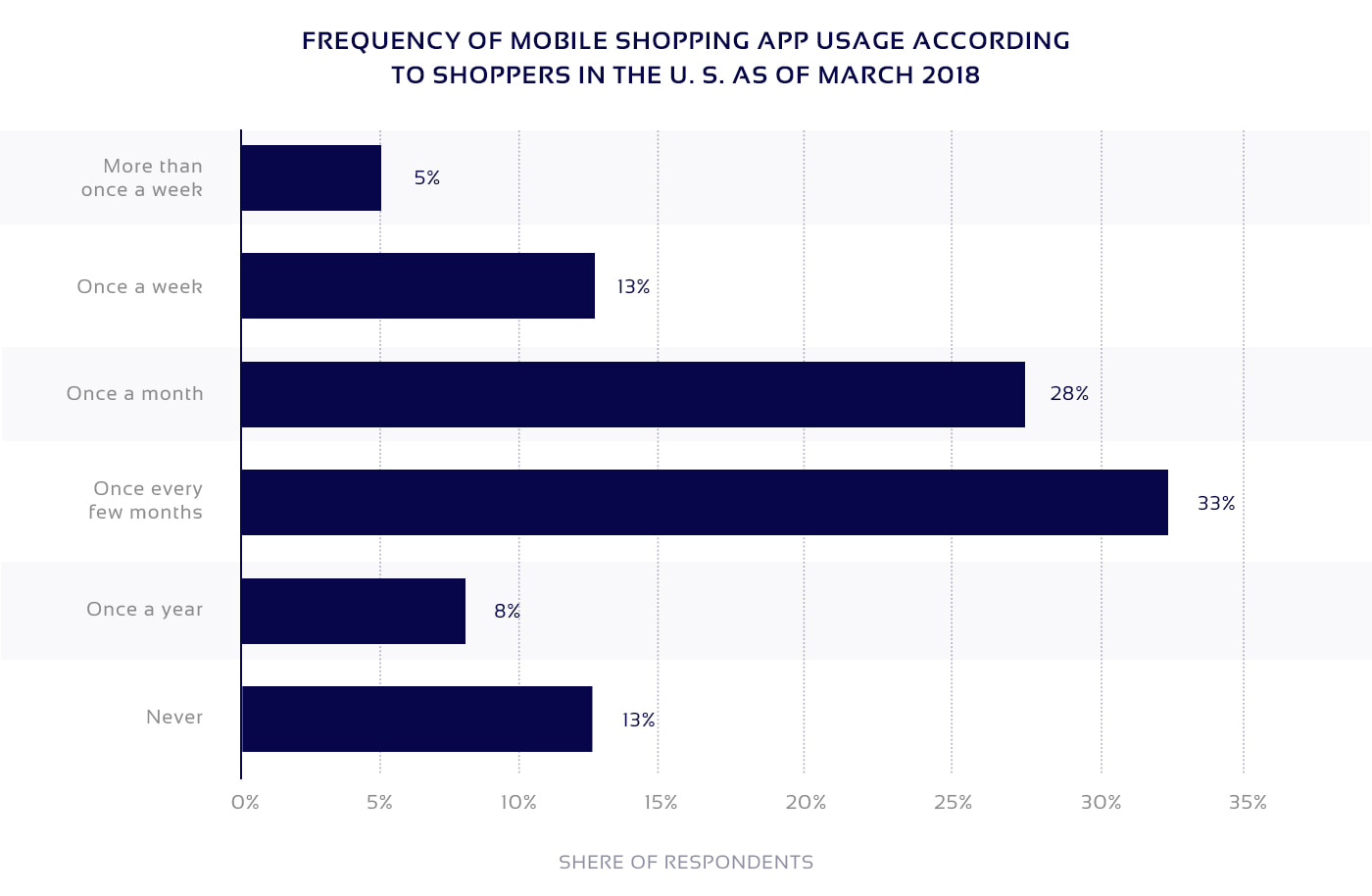 Impulse Purchase Strategy
Impulse purchases are induced by frequent discounts and ridiculously cheap prices. Since Wish makes it possible for manufacturers to sell their products directly from the spot, the price for sunglasses, for example, can make about $2-3 and the cost for a nice electronic watch may let a check of $10-13 leave your hand. Likewise, discount and bonus offers are in abundance, which draws shoppers' attention a lot and may prompt them to buy more stuff.
More Wish-Driven Applications
Wish has four branches that cover different specific product categories called Home, Cute, Mama, and Geek. Home is used for selling household items such as furniture, backyard facilities, kitchenware, etc. Cute platform deals with makeup & beauty products. Mama is a maternity and kids shop, and Geek is a platform selling electronic technology.
How Do Stores Like Wish Make Money?
There are 5 common ways to monetize an online marketplace, used by different markets. To understand which way is better to use on your platform, let's compare them all.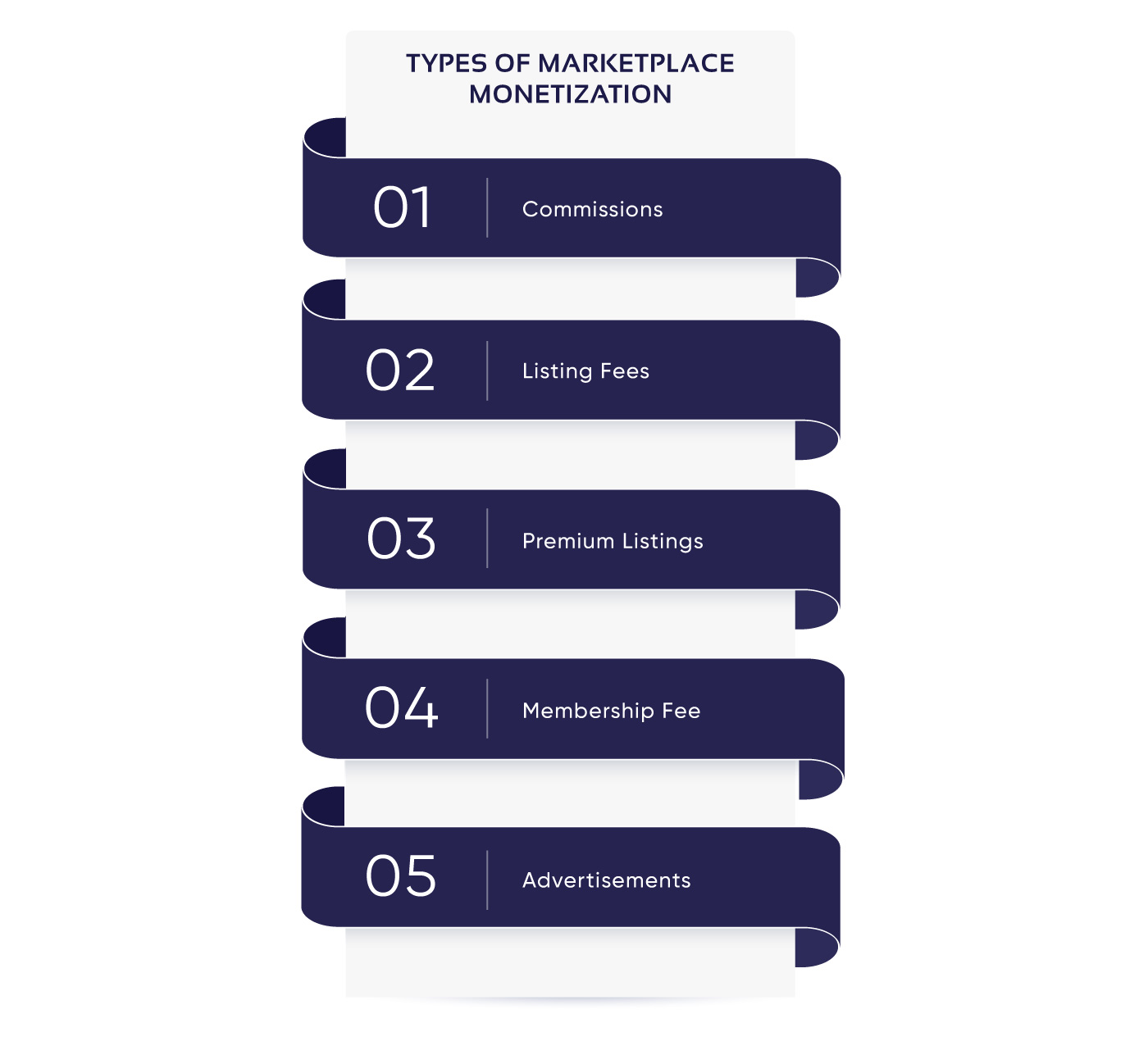 1. Commissions. If your marketplace allows making transactions right on the platform, you can take some percent cut of each transaction. Wish uses the commission strategy by charging 15% of each sale.
2. Listing Fees. Along with a commission fee, you can charge some amount of money for making seller's offers available on the app, but don't set a price that's too high for sellers, or else you risk losing them. The examples of marketplaces charging listing fees are Etsy, eBay, and Alibaba.
3. Premium Listings. By following this strategy, you offer vendors a free platform for selling, but charge them for making their goods more visible on the app (usually, by putting them on the top of product lists). This type currently works on Craigslist and OLX.
4. Membership Fee. With this model, you get constant revenue and don't depend on the vendor's performance. Still, if your fees are over $40, most sellers would be likely to switch to more affordable platforms. Amazon and eBay use this model on their platforms.
5. Advertisements. Some online marketplaces make money by enabling vendors to run ads on the platform to attract more customers to a particular product. Solely for this purpose, Amazon launched the Amazon Advertising platform.
How Much Does It Cost to Create a Shopping App Like Wish?
The cost of a similar application for shopping depends on various factors, such as the complexity of an app, timescale, number of features. It can also be influenced by, development experts involved in the work, their rates, and experience. In this paragraph though, we outlined the cost factors that should be considered when creating a marketplace application.
Taking Two Sides
Every marketplace app is two-sided because it has two types of users: a seller and a consumer. If you want to follow the Wish model, you should think about making an app for shoppers and allocate additional costs for another app for vendors like Wish for Merchants to provide them with tools and tips necessary for successful selling.
Looks Does Matter
Since marketplace apps exist in abundance now, the real battle happens between design solutions used on those apps. UI design can make your platform stand out from rivals, meanwhile, UX design ensures smooth and intuitive navigation. For instance, Target can boast one of the most eye-pleasing designs among other shopping spots because it ensures people with the classic aesthetics of a real retail store. If you want to make your app look similar and even better, the designer's services can cost you $15-65 per hour depending on the rank of a chosen freelance specialist.
Choose Outsourcing Companies
If you aim at lessening your costs for development, but getting the quality result, you should choose an app development company abroad. For detailed information on the cost to develop an application via outsourcing companies, see the comparative price list of specialists based in different countries.
Keep in mind that the number of software engineers involved in the shopping app development and their rank (junior, middle, or senior specialist) also influence how much money you need to spend and differ depending on the company you choose. Because of the blurred lines we have when it comes to defining the price for development services, you should visit our estimation page, describe your idea and get the accurate cost calculation based on your requirements.
Conclusion
Although Wish has mixed customer reviews, its success is still undeniable considering profit that the app got in 2018. What made Wish profitable is extremely affordable products and the simple interface that doesn't distract people from the buying process. Still, no matter how much low prices can attract customers when you decide to build a marketplace, you must put quality first and find ways to establish trusted relationships with vendors and customers. To ensure the high quality of your platform, choose the app development company with proven experience in creating marketplace solutions and save your time and money