If you're not living under a rock, you already know that TikTok has become a real social media gamechanger, and in just two years hit the top 10 most used social media worldwide.
The social media video sharing app is sought-after by the younger generation, so it may be beneficial to follow the footsteps of this Chinese phenomenon and build a mobile app like TikTok because the music video app trend isn't going anywhere.
To find out how to do that from scratch, just keep reading this article!
How Does the TikTok App Work?
Basically, TikTok allows you to watch, create, and edit short videos. At first, the max length was limited to 15 seconds, but as the app became more popular, it was extended to one minute (four 15 sec pieces combined).
Most of the tools built into the social video app provide us with the ability to customize the video and then share it for the community to appreciate.
Filters
Visual effects
Built-in music library
Stickers
Voice effects
Text
The Main Features
Even though TikTok's concept is fairly simple (upload and watch short videos), the set of features packed into this app is vast. But the core includes the following.
Login
Video upload
Video effects and filters
"Smart" video feed
Search
Video editing
Likes and commenting
Social sharing
Profile settings and editing
Geolocation
Notifications
Let's dive into each of those features.
Login
Tik Tok has several different registration options, which makes sense because if one way is convenient for some users, it doesn't mean it will work for all, especially when we're talking about the global social media platform.
Login via various social media (Facebook, Twitter, etc.)
Google account
Email
Phone number
The reason why you should incorporate several ways to login is simple: it will become more user-friendly, and people will appreciate you taking care of their comfort. Besides, if the app is targeted towards users from a particular region, you may choose some popular social media platforms (e.g., Pinterest for the US market or WeChat for China).
Video upload
This is a core of TikTok as it's aimed to let everyone upload videos with no fuss. If you want to replicate (or maybe even surpass) TikTok's success make sure that the video upload button is a centerpiece of your app's UI so that it could be possible to create a video from scratch as well as upload and then edit the existing one.
Video effects and filters
Once graphic and video editors became generally available and fairly easy-to-use, it changed the social media landscape forever. Why willingly neglect an opportunity to perfect your creation?
Tik Tok has a mighty arsenal of filters and editing tools that make the posting process very exciting. The user can choose a suitable filter to smooth out the skin, pick the right music, add text, or special effects to the video. People love experimenting, and in this case, "the more, the better" totally works.
"Smart" video feed
One of the main reasons behind TikTok's popularity is that it's always there to provide you with another portion of fresh, entertaining content and not repeat itself once, no matter how long you're staying on your phone.
The user doesn't even have to upload a single video to enjoy TikTok. Once you're registered, the app will start showing you videos that you may find interesting. The more time you spend in the app, the more precise recommendations will be. Eventually, the user feels that TikTok "gets him/her" and builds that loyalty towards the app.
Search
Of course, the "smart recommendations" mechanism is vital. However, it's also essential to let people search for what they want. That's exactly what the search bar is aimed to do.
Video editing
Besides all the bells and whistles, you should consider developing at least some of the basic video editing tools. E.g., the cropping tool, an ability to rotate the video, etc.
Likes & comments
The whole point of any social media platform is not only sharing the content but also getting approval from the audience, and it's impossible without some kind of rating system (stars, hearts, thumbs up/down, etc.) and comments. TikTok uses heart rating just like Instagram, but you may choose any other system; just make sure it's there.
Social sharing
TikTok lets you both enjoy the video while in the app and share it via various platforms, send it via SMS or embed the video using the link. This is a perfect tool to build up the community as everyone enjoys sharing entertaining, fun, or useful videos.
Profile settings and editing
Granting users the opportunity to add and edit personal info, links to other social media profiles, change passwords, etc., is also a must. TikTok has a great number of settings (two-step verification, screen time control, preferred language, family pairing, and much more), but you may either implement all of those or choose only the most important ones.
Geolocation
Another feature that allows TikTok to deliver personalized content to each user and target the ads more precisely. No doubt, you may build the app without it, but geolocation is super useful.
Notifications
Push notifications may have become a thing only recently, but they keep the audience interested and aware. That's why Tik Tok has a whole range of notifications.
New likes, comments
New videos and live streams from people the user follows
New messages
New recommended videos
Personalized news
This list may seem intimidating at first; however, each feature listed above is paramount for the app's success, and you can't overthrow them.
5 Essential Stages to Develop an App Like TikTok
Don't know where to start? Here are five essential stages you need to get through.
Know the market
Yes, it may seem boring, but it's vital. Spend some time on TikTok and other similar platforms that have already gained popularity (Likee, Dubsmash, Zoomerang, etc.). Try to find some features that make every app stand out, and then think about what will make your app different from the others.
Define your potential audience. Who will use your app? What's their age, gender, location, income, interests? Find your competitors and read customer reviews about their products on Play Market and App Store. That's how you'll secure your future app from major downfalls. For example, people may find the interface design inconvenient, or the registration process may seem too complicated, or the ads may be too annoying. Get to know your rivals!
Think about monetization
Obviously, you're not spending thousands of dollars on app development just for the sake of it. Think about the ways your creation will generate profits.
You can follow the footsteps of TikTok and combine several monetization models like:
fundraising
in-app purchases
advertisement
subscription
Having a monetization plan will make everything a lot easier and will cost you less in the end.
Pick the right team
Take your time to make the right decision while opting for the development team. Pick the best option for your business: in-house devs or outsourcing, freelance experts or outstaffing. Check out the portfolios, take some time to chat with the representatives of the teams that caught your eye, get some estimations, and compare them.
Just remember that no one rushes you, and the main thing you need to take care of is to pick a team that is proficient and pleasing to work with.
Build the MVP
Mobile development is pricey at times. If you're not in a mood to blow a five-figure or even a six-figure on an app that users may not even like, consider building the MVP first.
MVP is a "skeleton" of your application, which has minimum features but is just enough for the audience to check it out and provide you with feedback. After launching the MVP, you'll know if you need to change or add something and which direction to move forward. Quite valuable experience, isn't it?
Promotion
Some people think that once your brainchild is on Play Market or App Store, it's all over! Everyone will download it, enjoy it, and the effort will finally pay off. But it doesn't work that way.
Once the app is out, the whole new journey starts. Do everything it takes for the audience to find out about your project. Use social media (Youtube, Instagram, etc.) and your website to promote the app. Consider buying ads on social media and/or Google. Once you make the app visible, the audience will start growing, and then word of mouth will start working for you. Be patient and persistent.
Which Tech Stack to Rely on?
The "secret weapon" of TikTok is an advanced artificial intelligence (AI) mechanism. That's the "magic trick" that allows showing the freshly registered user entertaining videos from the get-go. Find a team proficient in this technology as AI solutions have numerous advantages to offer your business.
First and foremost, pick the development approach.
Native apps (iOS, Android)
Hybrid app using Flutter, React Native, etc.
There is no right or wrong way to do it. For the most part, future success depends on your concept and (let's face it) your resources.
iOS native apps are developed with Swift and C, Android apps — with Java or Kotlin. The number of hybrid app development tools is way more diverse. It includes Ionic, Flutter, React Native, Cordova, and others. If you have any doubts, check an article comparing Flutter and React Native both from a business and development perspective.
Besides that, there are other tools you may need: specific APIs for geolocation, Amazon S3 for cloud storage, chat functionality (e.g., Twilio), and others. It all really depends on what you're about to implement.
How Much Does the App Like TikTok Cost?
To comprehend such a vast topic, we've created an article where you'll find out how much does the app cost and how the price may vary depending on the chosen technology stack, functionality, and the number of developers.
Mobile apps of medium complexity cost around $40.000-70.000 and the number may go both up and down depending on your requirements. But if you ever need a free estimation that will be way more precise, just contact us!
Perspectives
TikTok is by far the most rapidly growing social media these days. As the report by Statista shows, it keeps beating both Facebook and Instagram showing solid download numbers even in the times of global pandemic.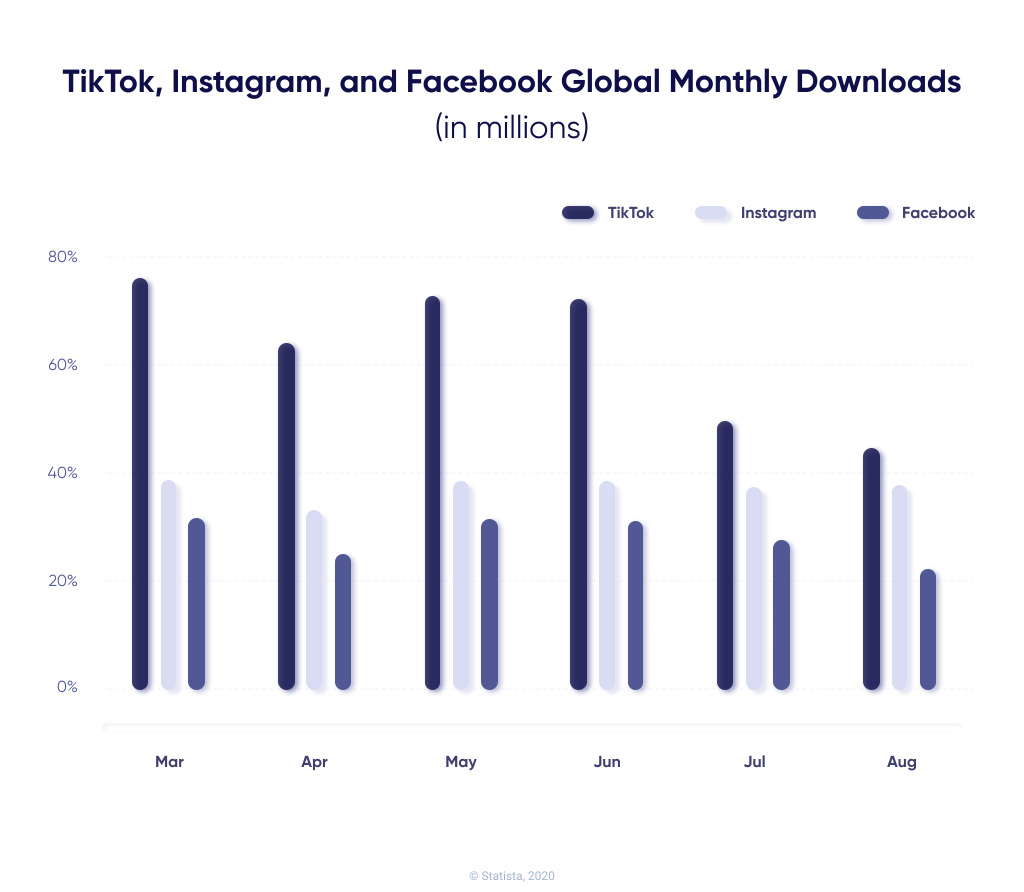 And sometimes it's hard to believe that this app entered a global market just a couple of years ago!
The main reason behind TikTok's success is its sense of the audience. It's well known that TikTok is "for kids" as the majority of the users are between 16 and 24 years old. And while the older generation doesn't want to spend hours watching random short videos or just doesn't get the point of it, the younger audience enjoys TikTok to the fullest.
And the most interesting part is that the "army of Tiktokers" will only grow as time goes by right until the new social media giant appears on the market. TikTok has already earned an image of a "cool and hip thing for young and fun", so it will keep growing the audience, getting more teens interested every year.
For now, TikTok is only 7th in the list of the most popular social media in the world. It still can't beat Instagram, Facebook, or the Chinese sensation WeChat.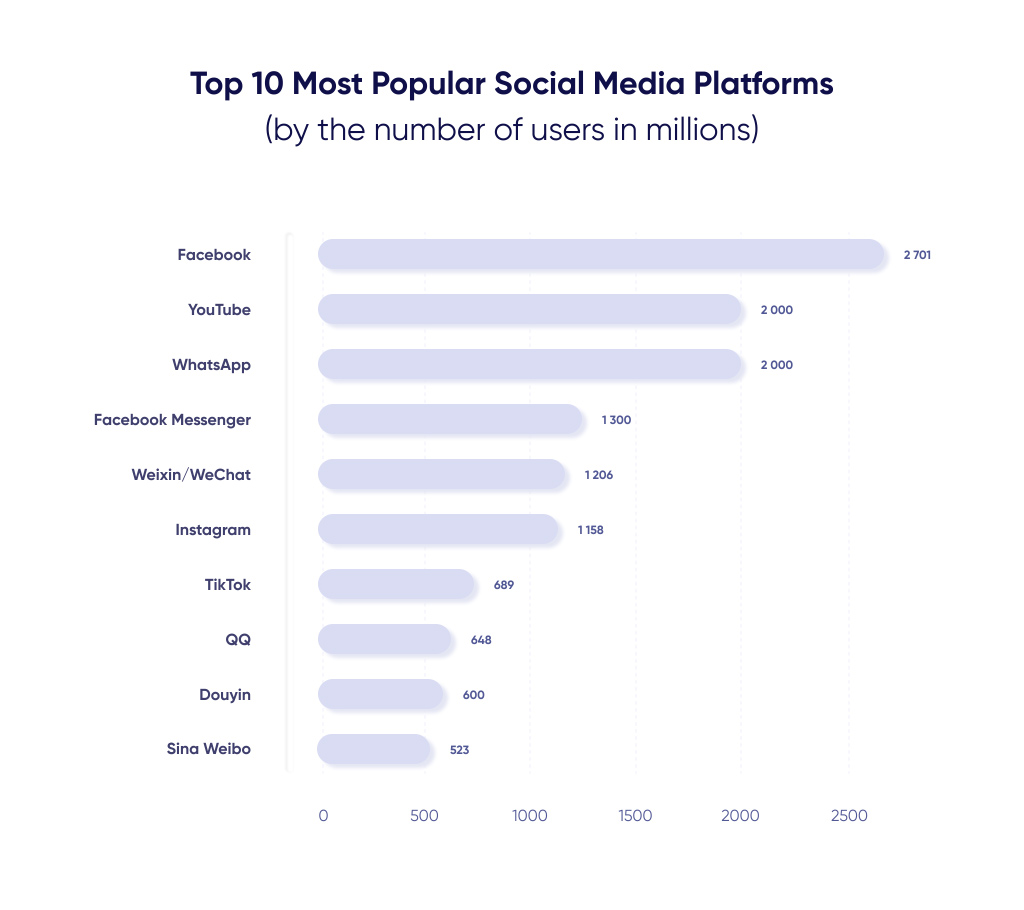 However, it all may change in the nearest future, and we'll probably see TikTok cast Facebook from the throne.
How is that even possible, you may ask. One of the factors that made TikTok so popular is that it's targeted towards the generation born and grew up in an era of the generally available Internet. Younger people don't know how to live without the Internet and gadgets. The "clip thinking" or "mosaic thinking" is something TikTok reaches out to.
It's hard for the younger generation to concentrate on something complex or time-consuming. All of the social media are flooded with content promising "fast", "easy", "5 minute", "fun" solutions to any problem or task. So no wonder we get so addicted to short and entertaining content. And that's what TikTok does! It just gives the audience what it wants!
Mobile apps like TikTok will be popular and profitable for years because people are used to receiving information in a certain way: short, simplified, and entertaining.
And what's a better example than an app providing you with a bunch of fun videos at any given moment?
Conclusion
TikTok became a trailblazer inventing a brand new format for social media to go along with. And while this trend is relatively fresh, it's right about time to create something both great and profitable!
If you're looking for someone experienced, who will guide you through all the trials and tribulations that come with mobile development, and who will turn your concept into a real flawlessly working app, get in touch with the Light IT team for a modern custom solution!