Advancements in technology created too relaxed conditions for people around the world, which resulted in global obesity and obesity-related mortal diseases. So, it is no wonder that all kinds of diet and nutrition applications are in a constantly growing demand. Since starting a food and nutrition tracking app is a business decision that requires spending financial and time resources on design, development, and promotion you need to know more than just the basics of how to build a diet assistant app that is both efficient for its users and profitable for you.
Key Features and Functionality of a Diet and Nutrition Application
Just like any other web or mobile application, a nutrition meal planner app must have a certain functionality set and a number of basic features that help its users to improve their physical condition and make your health tracking platform differ from your main competitors.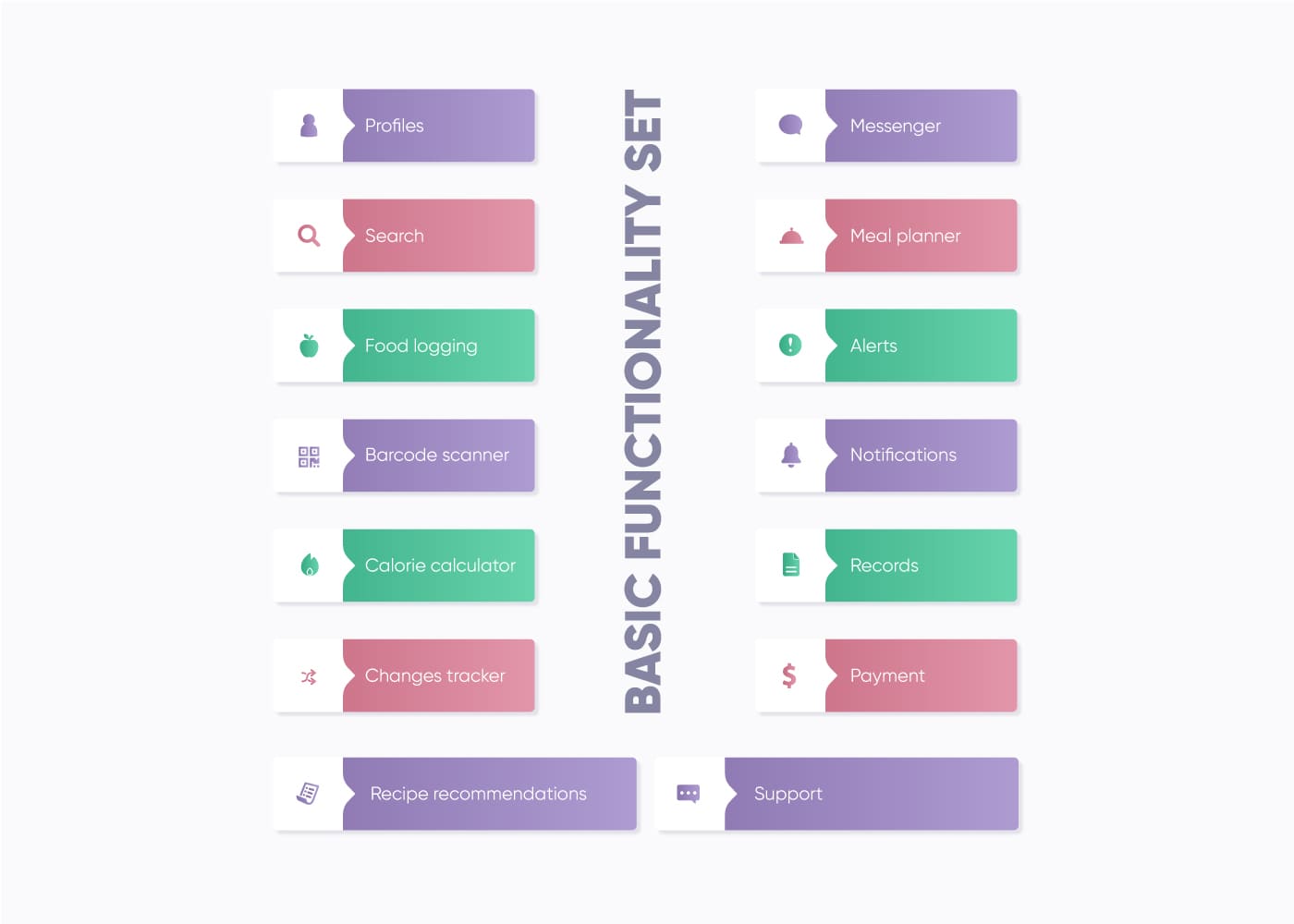 The basic functionality set must include, but not be limited to:
Profiles;
Search;
Food logging;
Barcode scanner;
Calorie calculator;
Changes tracker;
Messenger (if the app implies communication with a nutrition specialist or a friend);
Recipe recommendations;
Meal planner;
Alerts;
Notifications;
Records;
Payment;
Support.
Depending on the type of your diet and nutrition web application, it can include different types of users, such as nutrition experts, regular users, vendors, admins, etc. In addition, your diet service can offer more than just tracking food consumption, fitness activity, and calculating calories.
Even if the primary task was to create an app for food tracking, you will benefit if ask a development team to make the platform flexible to changes and adding new functionality in the future. For example, the application may include a store where users can buy healthy food and nutrition supplements, or it may include a marketplace where trusted vendors can sell nutrition and fitness-related goods.
Features bring power, efficiency and distinguishing characteristics that make your health tracking platform unique.
Diet chart. Without an appropriate diet chart a nutrition application may not be entirely useless, but it won't be maximum useful for its target audience, and thus, won't bring a desired number of loyal users. Moreover, if your diet chart has flaws in its logics it may turn into a bad experience when people won't get a desired result they expect from using your diet application. Thus, make sure that your nutrition app is developed by specialists with an experience in creating different kinds of applications.
When you develop a diet chart feature, make it advanced and more beneficial for the user comparing to your competitors' diet web or mobile platforms.
Healthy food recommendations. If you intend to build the best healthy meal planning app you need to include such feature as recommendations on nutrition. These recommendations can be in a form of a live consulting with a chosen specialist who also uses the app or it may be an automatically generated diet advice built using Artificial Intelligence and Machine Learning technologies.
In case if your application has a marketplace and this feature, you can make them connected to each other, so food recommendations included information on vendors where they can buy these goods with no delays, see prices or online store rating, etc.
Water consumption feature. Proper water consumption plays an important role in healthy nutrition and weight loss. That is why you need to build a food and nutrition tracking tool with a water consumption feature. The logics of this feature may include a calculator that would recommend daily quantities of water individually for each user basing on inputted parameters (age, weight, etc.).
Since this feature can be considered as a part of a basic set, your application will benefit if it is implemented as a "remind & control" solution. To make this feature effective, your web application must have an additional mobile app. By deciding to make an Android diet and nutrition application you can cover a wider audience by giving them a possibility to use reminders and alerts on their mobile device. By setting water consumption reminders your users will be able to reduce their personal water deficiency and keep a personal water consumption record.
Sugar and fat control features. Uncontrolled sugar consumption is one of the main causes of obesity and diabetes. Since today more people are interested in calculating amounts of sugar and fat they consume you need to create a diet and nutrition app with a sugar and fat tracker. This tracker may go in connection with automatically-generated recommendations that fit individual cases.
If your application cannot afford having such advanced ML-based analysis system that provides calculations, it may give users general guidelines on sugar and fat consumption. In this case, you will need to consult with a professional and certified nutritionist.
All recommendations in your app must be based on recommendations of medical professionals!
Applications with user-friendly design and interactive elements have increased user satisfaction comparing to the ones with standard interface and functionality. Use this knowledge to increase your app's popularity and profit.
The calorie tracking feature. When you make a food journal application for Android, iOS or any other mobile operating system, you need to include an advanced calorie tracking option into your health-related digital product.
Your users can track their calories by adding food items into the respective field, so the system can calculate whether they consumed the required daily number of calories. If your product is a mobile application, you can implement notifications and alerts so users won't miss their meal time and eat recommended food products.
Physical activity observation. This feature will require an additional gadget similar to Mi Band that tracks steps, sleeping activity, heart rate, etc. and delivers all gathered data to the application, so users see their information in a convenient format.
A fitness and nutrition application with this feature may seem easy to develop, however, it requires enough knowledge and skills to make it work with no flaws. Therefore, when you decide who will work on your app, make sure all development team members are professionals and have a good experience in building similar applications.
Shopping list organizer. If your application has an integrated shop or even a marketplace, you will benefit financially with a shopping list organizer, because it will make the process of healthy food purchasing convenient and simple. Since this feature usually implies an easy access to a purchase history users can use it to plan their next food shopping.
Making your different features logically connected to each other can help to increase both user satisfaction and your profit.
In case if your diet and nutrition application has a marketplace with a number of vendors that increase, you need to make the system flexible to such changes.
How Much Does It Cost to Develop a Diet and Nutrition App
Any diet and nutrition app cost depends on several factors. Main factors that define how much cost you need to spend on your application development are:
Emergency;
Difficulty;
Experience;
Technology.
Additional factors that have an impact on the financial side of development include, but are not limited to:
Tools and technology availability;
Size of the team;
Platform type and quantity;
Testing and bugfix necessity.
To know how much money you need to spend on your diet and nutrition application development you need to make a final decision on several things, such as:
Main features and functionality;
Who will develop your app;
Presence of PM and QA on your project;
Type of application (web and/or mobile);
Type of mobile application (native, hybrid or crossplatform);
App scalability and flexibility;
Deadline.
You won't be able to determine precisely how much resources you need to spend on development without an assistance of a development company. Don't be surprised to get different sums of money from different development teams on the same amount of work. These cost differences may vary due to:
Company location;
Experience and skills of specialists.
Usually, a developer from the United States provides services for at least two times higher price than their peer from Eastern Europe. Similarly, an experienced specialist has a higher price per hour than a recent graduate.
An Android or iOS diet and nutrition app cost just like the cost on building any web or mobile application depends on different factors. Many software development companies offer such service as project estimation. Usually, companies with years of experience provide estimation for free, because this move increases trust of a future client and competitiveness on the market, which is always good for the brand.
How You Can Make Money with Diet Apps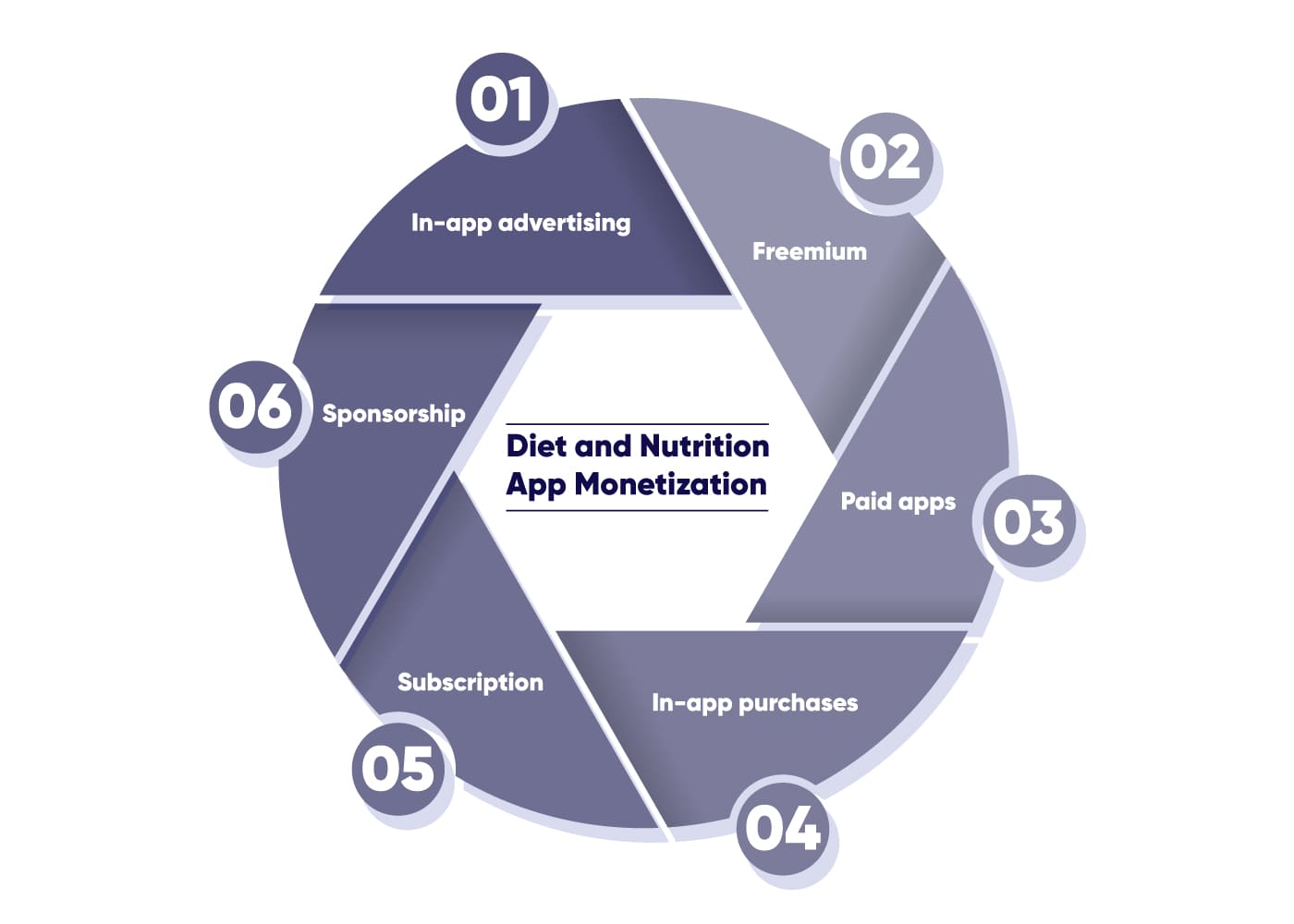 Good monetization program can shorten your investment return process and make it simple. You can choose one monetization model that fits your application best, but you can benefit even more by implementing several money making ways.
In-app advertising. Smart advertising is the key to making more conversions and increase monthly profit. In case if you choose in-app advertising you can make users happy by showing them ads relevant to their needs. For example, you can place ads that promote health-related events, sportswear, food supplements, etc.
Ads non-related to fitness and nutrition will very likely irritate your users instead of making them interested.
Freemium. Making a basic functionality and feature set available for free while giving access to advanced features fee-based is a good business move, because you can make bigger audience interested in your application. If a diet and nutrition application fully satisfies goals and needs of its users, people who use it for free are most likely to convert into members who pay for the app's services. A freemium business model is equally good as a sole monetization way or one of several.
Paid apps. This monetization model implies paying only once for using the application. When making your application fully commercial, be sure to offer users a trial period so they know for sure if it has everything needed for a worthy health achievement. Trial periods can have various durations like 5 days, 2 weeks or 1 month depending on your goal. However, you should note that if you want to develop a commercial application, it must be of the top quality.
Discounts are good for business.
In-app purchases. Health-related applications are easy to monetize, because of its high demand among people of different gender, age, origin, and interests. The application itself can be free of charge for different users, while some useful features like activity tracker or a shopping list organizer can be available only on a paid basis. In addition, if the application includes a store or a marketplace, they can be a handy commercial booster for in-app purchases. It is important that all user actions on payment are most convenient, because if a person finds at least one step of a payment process difficult, they won't finish it.
Subscription. A subscription or a membership business model is one of the most efficient ways to monetize a diet and nutrition application. Giving people an opportunity to customize their membership packs and regularly giving them discounts will motivate users to prolong subscription validity and choose more expensive membership packs. Offer users the variety of subscription duration like weekly, monthly or yearly to win their trust and reduce percentage of app usage termination.
Sponsorship. Such business monetization model perfectly fits health and nutrition topic. You can place just logos of different brands in your app and by making this move you promote other companies that are not your business competitors. Gyms, companies that produce sportswear, food products, supplements, and other are perfect to be highlighted in a nutrition related application. You can promote and be advertised on mutually beneficial conditions.
Monetization models listed above are not the only ones that can bring enough profit in addition to returning invested resources, but they are most fitting to this particular type of application. It is difficult to suggest what model would fit in your case, but your app should be designed flexible to changes so that you'll be able to add or replace monetization functionality to determine which one is good for your business.
Successful Examples of Diet Apps for iOS and Android
MyFitnessPal. Launched in 2005, this diet and exercise tracking application helps its users to calculate and consume required amount of calories and nutrients. The application uses the element of gamification to motivate users achieve their nutrition goals and continue using the app. Health data synchronization along with the possibility to manually add or scan the barcodes of different food products and other useful functionality makes MyFitnessPal one of the most popular nutrition applications for iOS and Android operating systems.
Lifesum. This Swedish health-oriented application was founded in 2013 to help people increase their health and happiness. The outstanding feature of the application is integration of applied technology and psychology. Lifesum offers its users the variety of diet plans and weight loss programs, tracking of carbs, protein and fat, hundreds of nutritious and delicious recipes, and many other features. In combination with a subscription monetization model, the application achieved popularity and officially became App of the Year in App Store in 2013-2015 and Best of Google Play in 2017.
Fooducate. The reason why the application was created back to 2009 was to empower people make better choice regarding their food. This free app allows to scan any food product barcode, see products' nutrition grades, get explanations in a form of a bullet point list, etc. At the moment, the application is developed only for the iOS platform, however, in the near future, the company intends to cover Android and other platforms. Giving users a chance to see the nutrition grade for each product can significantly increase their health condition, because they can choose healthier alternatives for various products.
Lose It! Similarly to the popular applications mentioned above, Lose It has an integrated barcode scanner that allows to get required information on various food products. The application functions on a Freemium monetization model and depending on the type of membership, users get access to calorie, water and exercise tracking, meal planning, workout library, data analysis and recommendations, etc.
These are only few examples proving that applications aimed at the nutrition and fitness field must be useful to their target audience and have the basic functionality set that includes barcode scanner, recommendations on food and water consumption and more.
Conclusion
Diet and nutrition applications will remain popular for many years, because the majority of population becomes highly interested in having a good health condition. Many people live in polluted environment and consume products that contain different pesticides, chemicals, genetically modified foods, etc. and desperately try to reduce damage to their health, which implies good conditions for business.
A popular and profitable diet and health nutrition application is user-friendly, has intuitive design, handy feature set, smart monetization models, and many more. To make your application successful and highly competitive on the market, you need a good startup idea and an experienced development team that will give you a flawless digital business product.