Before web design became a strategically important part of online business, it used to cover the end stage of the development cycle. Modern design goes in parallel with every step of the entire development process and has grown into something more than making a creative and attractive user interface for a software product. Business owners understand the importance of consistent and responsive user experience as well because it defines how end-users will interact with a company, its services, and products.
A single design tool, like Sketch or Figma, helps professionals create efficient solutions for any business faster and easier because:
the built-in capabilities of such tools save hours of manual work of both designers and developers, which speed up the overall software development process;
the collaborative features allow clients and specialists to work in a team and control the entire design process, which increases the quality of design.
Sketch and Figma are strong competitors in the design software market. They are quite similar but constantly offer new or improved features, that's why many designers often compare them. In this article, we are going to make our Figma versus Sketch battle. Based on how we use these tools to create effective solutions for clients, we conducted round-by-round research to define which tool is currently winning.
Why Compare Sketch with Figma?
The buzz around the two platforms became intense in 2018 and is still a popular topic for many designers all over the world. For a long time, Sketch has been the most loved toolkit by designers, helping them provide efficient and responsive solutions for clients, which is proven by the
survey of 2022 by Uxtools.co.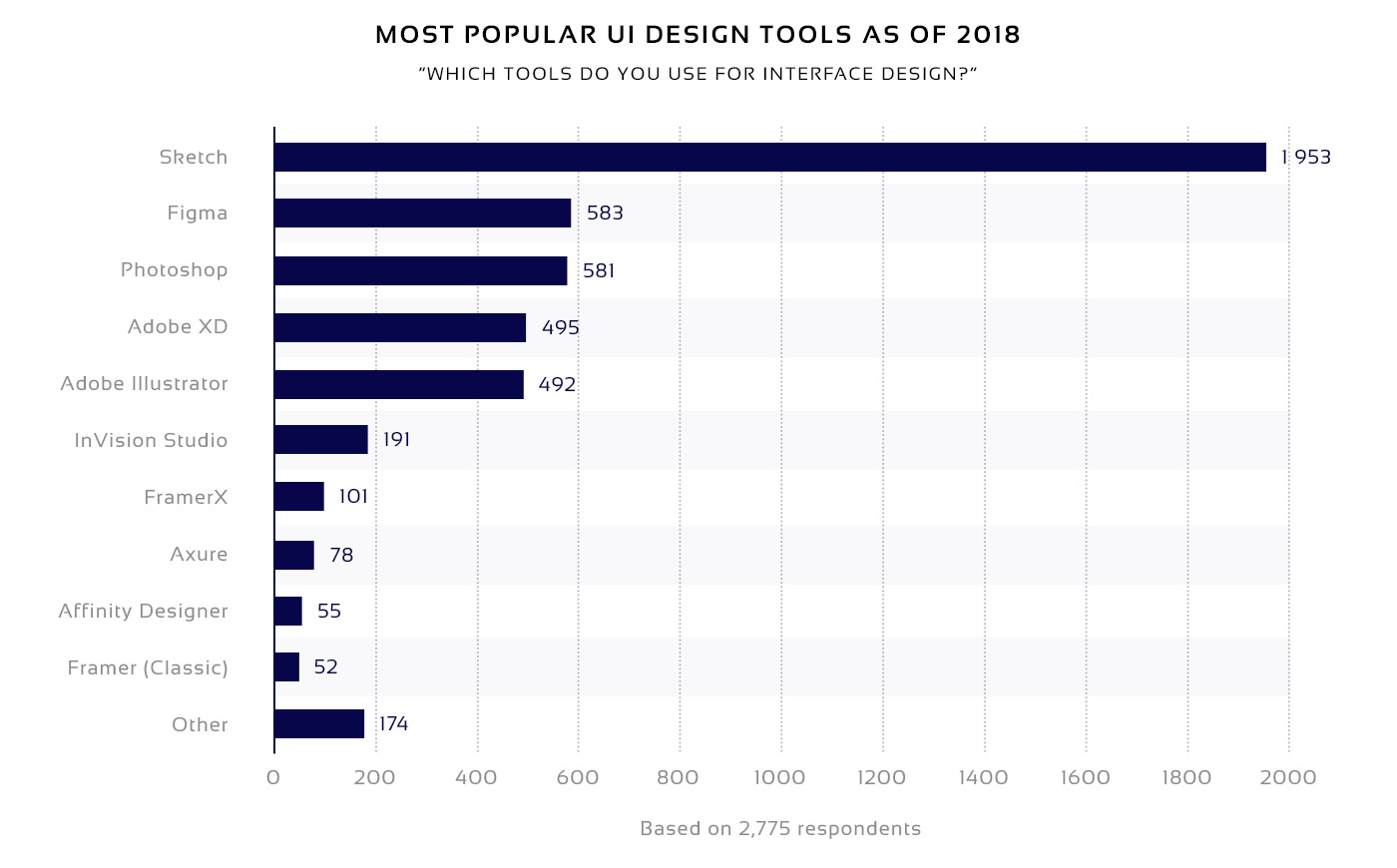 Recently, the platform has started to lose the leading position. Although designing in Figma is similar to Sketch, a few major advantages of Figma caused many design teams to switch to this platform. There are enough articles and videos on the Internet explaining why Figma is better than Sketch; however, it doesn't mean that the Sketch's era is over. With every new update, the competition between the two editors becomes fiercer.
Figma or Sketch: A Head-to-Head Battle
To answer the question: "Is Figma better than Sketch?", we've started a 7-round battle between the two editors. The criteria for our judgment include compatibility with operating systems, functionality, performance, client-to-designer and designer-to-developer collaboration features, prototyping capabilities, additional extensions, and the cost of the program for designers.
Round 1: Operating Systems
If you work with a remote development team, its members may use different operating systems on their PCs. By this criterion, Sketch may limit the collaboration between the team members to some extent. This editor was made exclusively for macOS, so to run Sketch on Linux and Windows, a designer would need to use specific third-party tools.
Figma is the first browser-based designing app, which offers several undeniable advantages over its desktop competitor:
Teams do not depend on specific hardware or software, all they need is Internet access.
No need to save every change in a file because the work is automatically saved in the cloud.
No need to export/import files all the time and use services like Dropbox to share the project. In Figma, team members only need to send each other a link from the app.
No reloading. Figma always displays up-to-date design because it's browser-based.
Sketch has always been a desktop app. However, understanding that teamwork and 24/7 availability of the platform is a top priority today, the Sketch founders announced the start of creating the browser version of Sketch in late 2019.
Winner: Figma. Sketch isn't multiplatform just yet.
Round 2: Performance
The way a team interacts with a tool influences the speed of design and development. Many articles say that Figma outruns the Sketch app in terms of performance. This statement is somewhat misleading since different specialists in a team use different hardware of the capacity that might or might not affect the functioning of both toolkits. Specialists might observe a somehow lower performance of Sketch on platforms other than Mac, considering that the app is intended to run solely on this platform.
Winner: Our practice in using Sketch and Figma showed the high performance of both.
Round 3: Functionality
By defining the functionalities of each platform, you can understand whether the toolsets are efficient enough to boost the designing speed and save your time. At this point, both Sketch and Figma are almost equal. They both have a similar set of plugins as well as drawing and editing tools. Figma adopted certain features of Sketch, namely:
It has an interface similar to Sketch;
It supports most of Sketch formats;
Designers can easily integrate Sketch libraries into Figma.
These criteria make a transition from Sketch to Figma as effortless as possible. The reason why specialists actively move to Figma lies in its built-in teamwork features. Compared to Figma, Sketch isn't that flexible and wasn't initially made for collaboration.
Sketch works good for static design, but it doesn't allow teams to edit files online without the "Sketch for Teams" extension. However, Sketch plugins are efficient for a wide range of specific issues. This platform constantly improves, and with more extensions, we might foresee companies switching back from Figma to Sketch in the future.
Winner: No obvious winner here. Both platforms are similar and keep expanding their functionalities.
Round 4: Collaboration Features
The way clients, designers, and developers work in a team influences the speed and quality of the project. Collaborative features in designing editors allow including clients, developers, content makers, project managers, and other stakeholders in the design process to make it more productive.
Figma
Figma follows the principles of transparency and understanding between clients, designers, and other team members. Several users can have unlimited access to the project and work in the same file simultaneously. Every team member, including clients, can easily review designs, leave comments for specialists in real time, and communicate via Slack integrated into Figma. The observation mode in Figma allows users to follow the screen of another user by clicking on their avatar. With these features, clients get continuous design delivery from the very first day of the work.
Despite being focused on UI design and interactive prototyping, Figma has built-in developer handoff features, which makes implementation and testing processes faster and more efficient. The code mode allows developers to inspect design files and see code in CSS, Swift (iOS), and XM (Android). This code may serve as a reference point for them, considering the peculiarities of how a particular project must be done.
Sketch
Sketch has recently released a promising beta version of the "Sketch for Teams" extension that's similar to the Figma collaboration capabilities. To inspect the design, clients and developers must have Sketch installed in their PC if they use macOS. If team members use different platforms, the task becomes a little more time-consuming. Before the "Sketch for Teams" feature appeared, Sketch made a developer handoff possible with additional tools such as Avocode, Zeplin, or similar.
Winner: Figma. "Sketch for Teams" is still in beta and has yet to prove its potential.
Round 5: Interactive Prototyping
Prototyping capabilities integrated into both design toolkits help you see how users will interact with the software product. Within a few hours, it is possible to make the static design clickable and interactive in a single workspace. The difference between Figma and Sketch here is that Figma implemented prototyping earlier than its competitor. In the past, Sketch used the Craft plugin by InVision to allow designers to create prototypes. In 2018, the platform was improved with a built-in prototyping feature.
One of the major benefits of Figma over Sketch is that it enables designers to add advanced transitions and animations to the design. Thus, with the Figma-made prototype, clients get a clearer and more enliven vision of how their product will work.
Winner: Figma. Sketch has yet to improve its animation capabilities.
Round 6: Third-Party Extensions
Third-party extensions help the design team increase the quality of your product by making it possible to add specific functions. Sketch has been known for a rich plugin and integration ecosystems suitable for many purposes, from styling and text editing to more efficient versioning. While Sketch uses various third-parties like Zeplin, Angle, or InVision for additional features, Figma's native toolset has enough functionality to make a good product without the extensions. Still, the latest updates in Figma enabled designers to use specific third-party tools as well.
Winner: Both Sketch and Figma have the advantage of adding third-party integrations.
Round 7: Cost of Designer License
The cost of the main instruments for designers may affect the overall cost of services for a client. Both Sketch and Figma offer a free trial before charging the specialists. The prices for the Figma plans are:
free for individual designers;
a team plan for $12 a month per user (annual plan) or $15 per user (monthly plan);
an enterprise plan has yet to be set.
Sketch also offers three payment licenses that, on the overall, are more expensive than those of Figma:
a personal license for $99 yearly;
a volume license for $59-89, depending on the number of devices. The more devices you set, the less you pay;
the "Sketch for Teams" license is additionally available for $8.25 (per contributor billed yearly) or $9 a month (per contributor billed monthly).
Winner: Figma.
What We Choose
The results of the battle between Sketch and Figma are more important from a designer's point of view rather than from a business perspective. However, the way these tools are used in the design process can make your software product rise or fall. Our choice doesn't depend on a particular instrument because they are equally powerful and suit well for various types of projects. The most important part of the design lies in the qualification of specialists who work with this software. So, whatever tool is used, you should make sure your team has enough skills for using a particular program.
Summing Up
Although Figma wins due to its multiplatform orientation, lower cost, and teamwork features, the Sketch company provides frequent useful updates and adds powerful functionalities to its software. Just like Figma, Sketch is a powerful instrument for any kind of project, if used by the experienced designer team. If you want to build your product and its design with a creative team that's highly skilled in using both these instruments, contact us to get our help.