A tiny watch on your hand can now be your helper in staying fit, looking more attractive and healthier. This will be a trend for a lifetime, that's why companies willingly catch it to make their products the most profitable. To know how you can benefit from a fitness tracker smart bracelet app, you must learn how they are developed, what kinds of apps are on top today and why, and how much money and time you would need to create one.
Prediction of Revenues by App Purpose
As shown in the diagram by IMS Research, the revenues from sports and wellness applications are expected to make 30.4% of the world wearable technology market leaving the Military and Industrial niches behind. Consider Fitness and Wellness and Healthcare as one because an app for a smart Bluetooth fitness bracelet can now store health sensor data along with nutrition plans and exercises. The infotainment sector holds the leading position and will continue doing it because the need for being informed on the latest news and having fun will stay a top priority for as long as we live.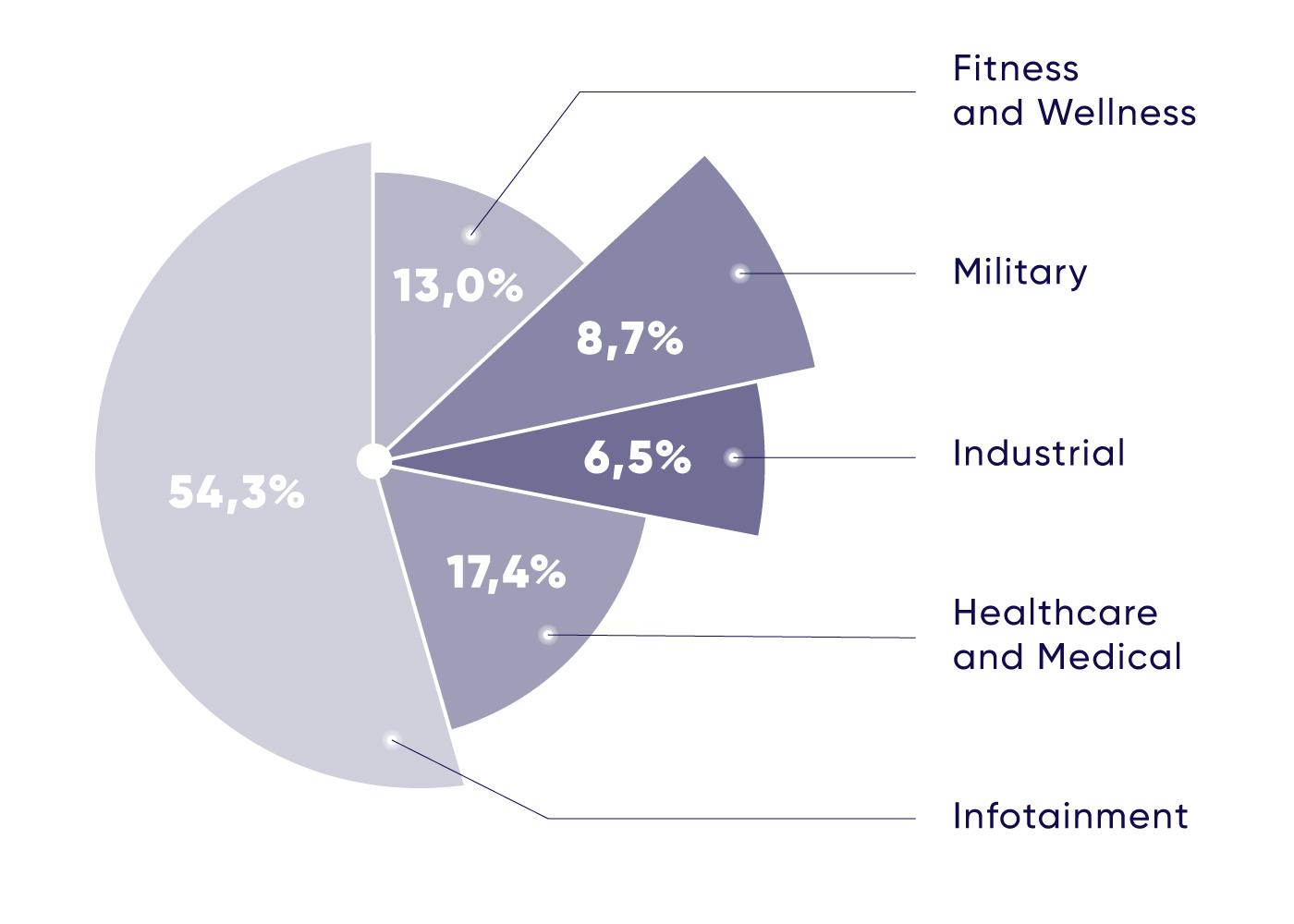 Things to Consider in App Creation
Many companies compete to win the sports app market, but they still struggle to outperform Fitbit. What made this app so great is well-thought planning from the very start. If you want to repeat the success of Fitbit and outrank it, read carefully the information below.
Types of Fitness Apps
If you want to make a fitness bracelet app, but not sure of the features you'd want to add, you must know their types by a purpose:
Activity tracking. Used to record all fitness-related metrics, pace, distance walked or run, steps tracking, sometimes featuring heart rate and sleep tracking.
Diet and nutrition. Aimed at logging food, choosing a diet suitable for the user's workout plan and help keep water balance in a body.
Workout and exercise apps. Usually, include workout plans with exercises categorized by body parts. They also are wellness (yoga and meditation) and personal or virtual coach apps. The latter type gathers advanced animation, recorded or live videos on how to exercise.
Multi-featured apps. Combine the previous three types in one to be able to reach a bigger audience.
Currently, companies tend to create a multi-featured type to attract more users. This type is also convenient because a user doesn't have to switch between different apps to track records for their goals. Most applications that cover a specific niche (e.g., meditation or sleep monitoring) can work with compatible apps, so a user doesn't need to enter their data over again.
Basic Components of Fitness Apps
To know the answer to the question "How hard is it to develop a fitness bracelet app?", you should consider what components you want to add to your product. The standard components of such applications are:
Sign up form;
User profile;
Track records;
Location;
Push notifications;
Media support (animation, audio, and videos);
Payment methods and records;
If you want to develop a Fitbit-like app for an iPhone or another smartphone, you must enable the synchronization with compatible wearables. You may also include the additional features, for example, loyalty programs and rewards, or a questionnaire to keep users engaged in their training. If you want to create a multi-featured option, you must also think of databases for recipes, body sensors, sleep monitors, etc.
Data Synchronization and Security
Wearable and mobile development focus on making any fitness app compatible with as many gadgets as possible. A wearable device connects with a smartphone using Bluetooth Smart technology. This technology doesn't work as ordinary Bluetooth, because most fitness bands or bracelets can have no screen or keyboard that's why there's no password needed. In theory, you can connect to any device without an owner even knowing. Although, hacking a gadget gets more complicated year by year, because of the constantly evolving methods of data security offered by development companies.
The smart Bluetooth fitness bracelet app segment grows so fast that sooner those apps will be featured with more sensors and more medical or military information presented by a user. In November 2017 the fitness-tracking company Strava has revealed a secret location of US army bases. The company claims that its software cannot reveal the data if users don't open it publicly through the settings themselves. That's why it is important to set restrictions on user data opening and warn your users with popups or reminders on how they can manage their privacy.
Attractive UI/UX Design
Within a severe competition between fitness platforms, the design is what exactly determines what platform will take the lead. What makes Fitbit popular is an understandable and user-friendly UI/UX, which conveys the energy, movement, and intensity that people associate with sports. Choose bright and light colors, and think about how you want people to interact with numerous charts and graphs. Too many features can make a tiny bracelet device look clogged. For example, if you want to create an app like Fitbit for Apple Watch, opt for clean minimalistic design.
Adding the elements of motion design is a costly but reasonable idea because animated instructions will help users do their exercises right. Another idea is to focus on smooth transitions that will improve the experience while toggling between pages or categories.
Audience (Fitbit and S Health Examples)
Many companies look up to create an app like Fitbit because the time people spent on this application is impressive compared to its business competitors. The graph below shows that Millennials aged between 18 to 24 are the most active users. Also, Fitbit managed to win over much older audiences, which makes it attractive for all ages. The monthly average time spent on Fitbit is 2:15 hours compared to Samsung Health with the respective 16 minutes.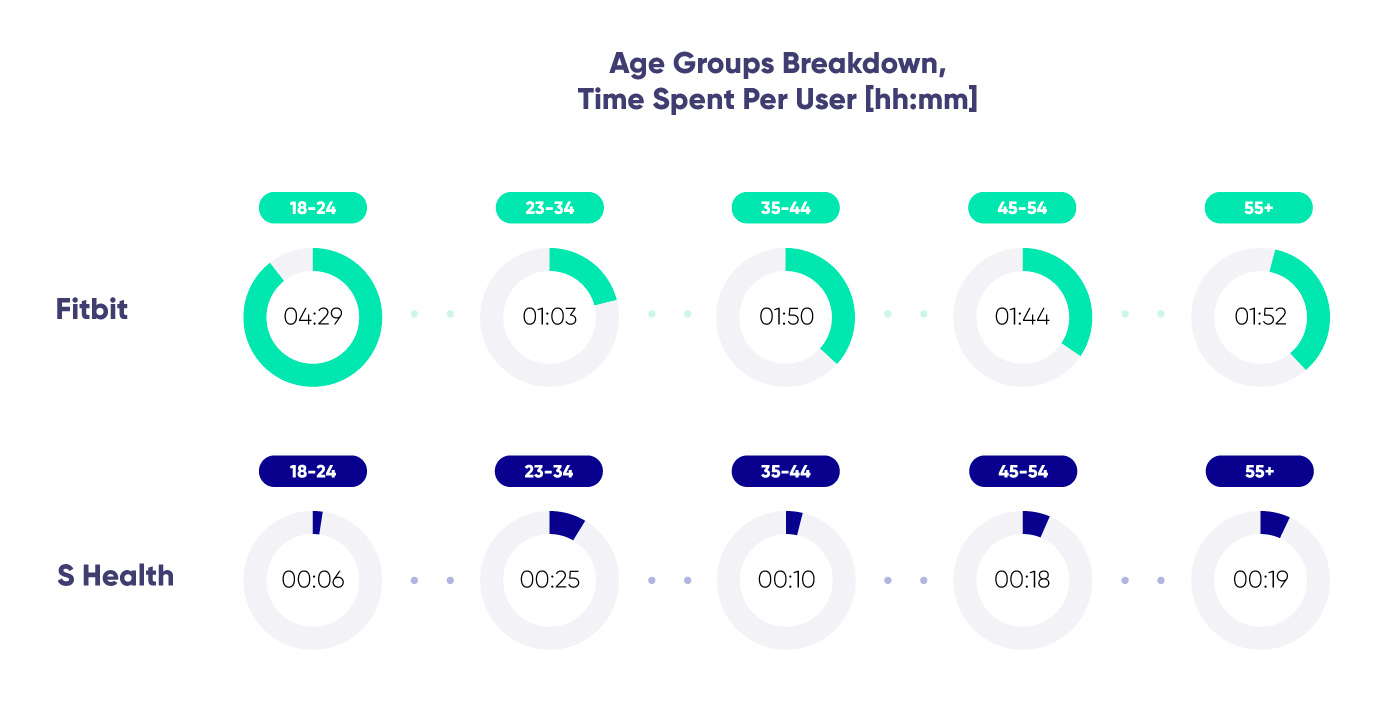 Challenges and Rewards
Many people decide on doing sports, but only a few keep on working out for long. To make people stay on your platform longer, you should add the reward system that would keep them motivated and stick to workout plans. Your application must have:
Challenges;
Reward system;
Leaderboards;
Recurrent reminders.
People tend to value short-term rewards over long-term benefits because that's easier. Such systems usually count user points or achievements, hence, offering to open the additional feature (e.g., advanced daily statistics). To complete your reward system, integrate a leaderboard, which would set a competition between a person and their friends or other users.
Still, the achievement system and leaderboards don't work for people who aren't competitive by nature and this is the case when you need to set reminders. They shouldn't appear too frequently, because this may annoy some users, hence, prompt them to uninstall the application.
Social Media Element
Some companies put emphasis on creating social networks for sportsmen because they combine the popular social media segment with a fast-growing sports niche. Use the elements of a social network and integrate them as a part of the reward system. Your social tools can include:
Friends feed to watch their progress;
Friends rankings and titles;
Ability to connect with other people who pursue the same goals;
In-app messengers.
An app for health fitness tracker bracelet can only get notifications on friends' activity or messages while smartphone apps allow creating a wholesome social network element inside them. Fitness software giants like Fitbit offer to create an account for family, provide guidelines for training children, and allow users to be friends with people they do the same track with.
Ways to Monetize a Fitness App
You can monetize your fitness tracker application by implementing:
Ads integration. May include clicking for a reward or achievement. This option can be useful if you add a gaming element into your app (e.g., mini-games or knowledge checks on calories, nutrition, timing, breathing, etc.).
Subscription fee. You can add monthly, quarterly, or yearly packages to buy and describe their advantages for a user. The payment request usually follows by a free trial to let a user check all the advantages of the app and decide if it's worth paying for.
In-app purchases or paid features. This way can be used to sell new services such as exercises, workout plans, or recipes. You can integrate a store to sell equipment, clothes, or tips on working out.
Sponsorship/donations. Try to find a company that stands to make a profit from the target market you cover. Another way is to get your product crowdfunded. Both options will work if you got a firm plan of what exactly you want to get as an end product and persuade investors that your goals will be achieved.
Prevention of Common Issues
Issues on mobile and wearable devices when running an application like Fitbit can be related to privacy and the restrictions set by the OS on a device. If you compare how Fitbit works on iOS and Android platforms, you can expect a development team to focus on the following:
If you want to make an app for iPhone like Fitbit, you should concentrate more on how users will manage notifications as they often report issues with delayed or missing notifications while other features like speakers or camera are turned on;
If you want to develop an Android app as Fitbit, you should learn the Google permission requirements for the background running, Bluetooth synchronization, and data encryption improvement.
Creating a cross-platform product can be more difficult when it comes to handling issues mentioned above, but it is needed to ensure higher user engagement, so if you don't know the nuances of iOS and Android development, find a trusted company to make an app for you.
The Best Fitness Bracelet Apps for iOS & Android
Below there's a list of the best fitness bracelet apps to help you choose the kind of app that would work better for your business. This isn't a comparison, but a guide for you since every app represents a particular subdivision.
Fitbit
Fitbit is a full-featured app functioning on any operating system. It offers different ways to start training for beginners and has questionnaires on goals that users may want to set for themselves. The platform gained 27 million followers, because of its usability, attractive design and a vast range of features:
Weight management;
Exercises and workouts track;
Diet set (both water and food log);
Sleep management;
Daily fitness step counter and calories tracker;
7-day summary that shows goals for the week and progress at any time of the week;
GPS to track runs, walks, and hikes;
Daily and weekly challenges;
All-day heart rate tracker;
Challenges and solo adventures;
Tips;
Communities;
Synchronization with compatible apps;
Female health settings.
Fitbit has become a brand with the biggest audience engagement in the health niche that reached around 50% of users in a month and surpassed MyFitnessPal and Samsung Health.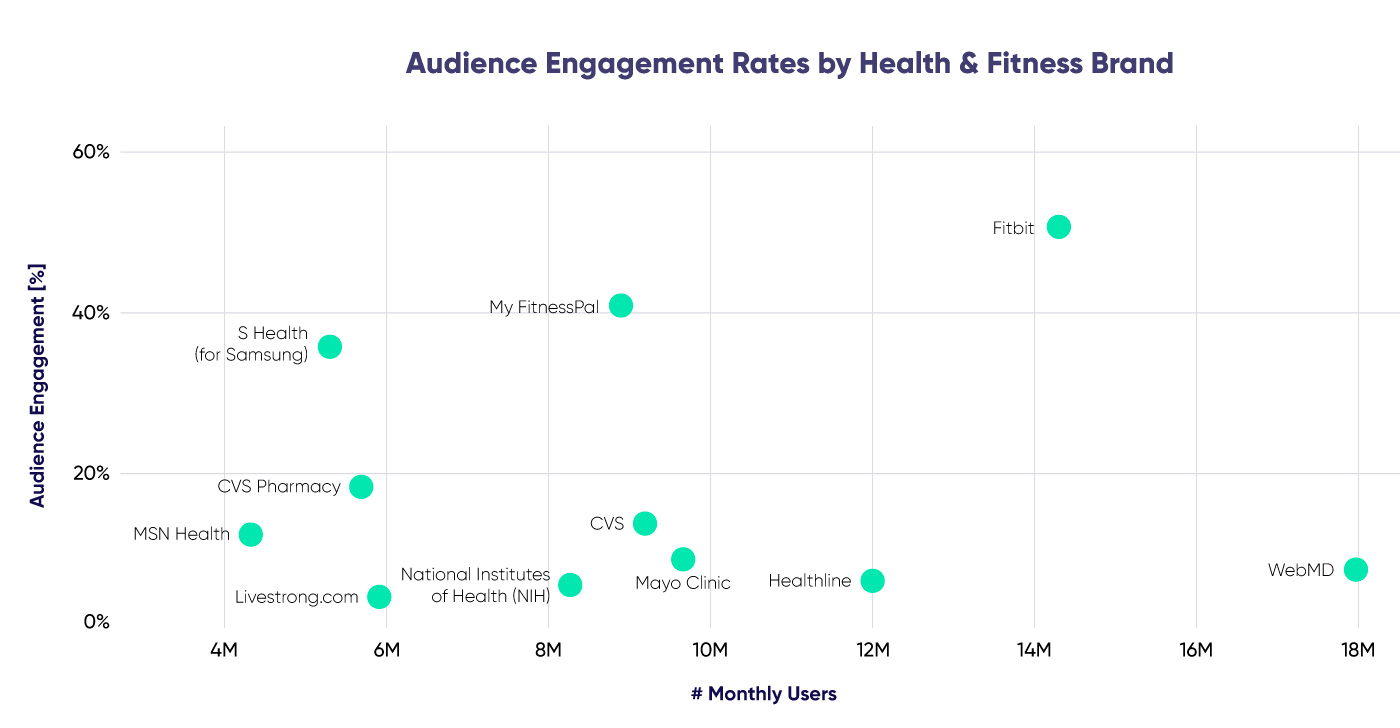 MyFitnessPal
If you want to build a calorie tracker bracelet application, MyFitnessPal is a good example to follow. It contains all the tools necessary for weight loss and proper nutrition. During the sign up a user selects one of three goals - to lose, maintain or gain weight, then enters their height and current weight parameters to help a program find a suitable plan and diet. If users can't find food in the database, they can create a food item, meal or recipe of their own to effectively follow their diet. Based on the user's parameters, the application sets the perfect count of calories for the day and shows the calories remaining every time you add new meals to your board. The main advantages of MyFitnessPal are:
Food database of about 4 million recipes from around the world;
Ability to follow and add cardio and strength exercises;
Barcode scanner used to display the nutrient content count of the meal and add nutrition facts;
Opportunity to keep a nutrition journal on any gadget;
Calorie statistics with a total consumption of proteins, fats, carbohydrates, sugar, dietary fiber, and many others;
Automatic synchronization with other platforms such as GoogleFit, MapMyFitness or Runtastic, etc.
Jefit Workout Tracker
If you want to build a fitness activity tracker app with an intuitive and easy-to-use UI, you should see how Jefit works. It shows training reports on time periods of progress, consecutive weeks of workouts, assessment of muscle strength and endurance. Jefit has a web platform with advanced analytics and plans created by users. Workout contests offered by Jefit are the app's hallmark. The main features also include:
Expanded exercise database categorized by body parts;
Leaderboard for each type of training;
Workout plans for beginners specific to males and females or non-specific to gender;
Activity points count that keeps motivation;
Personalized training (includes videos for exercising);
Picture progress following. Take pictures and compare them to see progress;
A timer that matches the user's resting time between sets;
Cloud data synchronization.
Google Fit
Google Fit is a Bluetooth fitness bracelet app created by the World Health Organization and the American Cardiology Association. It's a game-like step tracker based on collecting points for motivation. If a user has their most favorite activity or exercise, they can choose them from the list of activities and by accomplishing them gain Move Minutes or Heart Points. The app also:
Gets data from an Android device, Wear OS smartwatch or Apple Watch with a heart-rate monitor;
Contains tips for an effective training experience;
Selects activities by your set preferences and rates;
Allows keeping sleep journal;
Has a calorie tracker;
Synchronizes with different devices and many similar apps such as Runkeeper, Nike+, Strava, Lifesum, MyFitnessPal, Basis, Sleep as Android, etc.
Runkeeper
Runkeeper is a fitness app that works with Fitbit and used solely to track cardio activities. Its intuitive and attractive interface allows navigating pages with a single move. The scope of activities comprises running, walking, cycling, hiking, swimming, rowing, skiing, skating, wheelchair racing, etc. The features that make the application popular are:
GPS and stopwatch mode;
Music player and audio assistant;
Race, weight, and pace goals;
Race mode;
Weekly, monthly, and yearly insights;
Ability to create a running group;
List of running challenges.
The activity plan is divided into a set of exercises to do for a definite time. When your workout is completed, the application unlocks another one that is more complicated or longer-lasting.
If you want to create a fitness bracelet app that will stand out from the others, do the research on your competitors. Consider downloading all those apps to your phone or wearable and note their most attractive features and functionality. Learn feedbacks and check how their products impact your own experience.
Key Functions of a Fitness Bracelet Application
To start a Fitbit-like app for Apple Watch or Wear OS, you must know how the charts, records, and condition-specific categories would be integrated into the software. A condition-specific category is used to count blood pressure, heart function rate, sleep activity, stress levels, etc., which makes them adopt the functions of healthcare applications. Let's take a closer look at each of them:
Activity tracking. Counts steps, exercises, and biological parameters if set.
Running activity counter. Uses GPS to build your path and set time to achieve the goal for running, and sets auto-pauses when a user stops on their way.
Records of workout. Indicates a user training progress within a certain time frame.
Heart rate monitoring. Defines an optimal number of heartbeats to maintain the proper physical state for exercising.
Barcode scanners. Some apps have barcode scanners to log food faster and help learn its nutrient content and additional information (e.g. food facts or recipes).
Hydration measure. Also known as water log, it defines the amount of water you need to drink daily based on your weight parameters and sets reminders to keep a user hydrated.
Goals setting & management. Defines how a user will interact with an app and keeps their motivation strong.
Sleep monitoring. Uses an actigraph to measure the time a user spends sleeping and doing activities while awake.
Social share options. Shapes a leaderboard, lets users share their results with other people and is a part of the reward system.
Weight monitoring. Gathers manually entered data of changes happening in a user's body to show progress charts throughout a chosen time frame.
Cost for Fitness App Development
When it comes to developing an app, the question of the utmost importance that arises is "How much does it cost to make a Fitbit-like application"? There's no typical answer to it because a few major factors must be considered such as:
Type and number of features you want to add;
Experience of a development team;
Estimated time for development;
Hourly rate of developers.
However, the cost to build a fitness application can rise or fall depending on:
The urgency of a project;
The complexity of the features;
The technology used for development;
Size of a team set by a client for a project.
If you want to get a quality product, but have limited resources, the advice here is to choose an outsourcing company that has years of experience in healthcare and sports platform development and ensures high-quality work.
Time Estimation of Fitness App Development
Another question that goes along with that of cost allocation would be "How long does it take to build an app like Fitbit?" The development is usually time-consuming but always depends on clients requirements. Besides the development itself, prototyping and testing can take a longer time to obtain the desired result. It ensures though that the software will function with no flaws for long after the release.
There's usually the 3-step prototyping process. The first prototype is made when all requirements are settled. The second prototype is built after the UI/UX design is ready. The operational prototyping is done after the approval of UI/UX. Prototyping is necessary if a client wants to change the requirements and major edits need to be done on the project.
Before creating your application, link up with your development team and discuss the time they would need for development and testing. An experienced team will provide you with timely reports on their progress and make all necessary edits whenever you need them.
Conclusion
The fast-growing number of health and fitness applications caused a great competition on the market. For this reason, you need to think out what features must be included to keep your product competitive and attractive for as many users as possible. That's why it is better to opt for a multi-featured solution with ensured simplicity of navigation. If you want to find a way to include multiple features into your product without clogging your gadget, link up to the experienced software developers and get quality assistance on fitness app creation.