Finding an investor to start your own business may be challenging, especially if you're new to this. However, if you have a source of information and experience to guide you, there will be far fewer obstacles in your way. This article will tell you what qualities you should seek in your key investors, what qualities you and your startup should possess to make investors interested, things to focus on at the early stages of your business, and more. So, get ready to read some professional insights.
Why Your Startup Needs Smart Investments
As a startup owner who wants to create a successful business and build a competitive product, you need to get not just investments but smart investments. Many startup owners are desperate for money and would take the first offer they receive, which is not bad in the short-term perspective but may be consequential in the long run.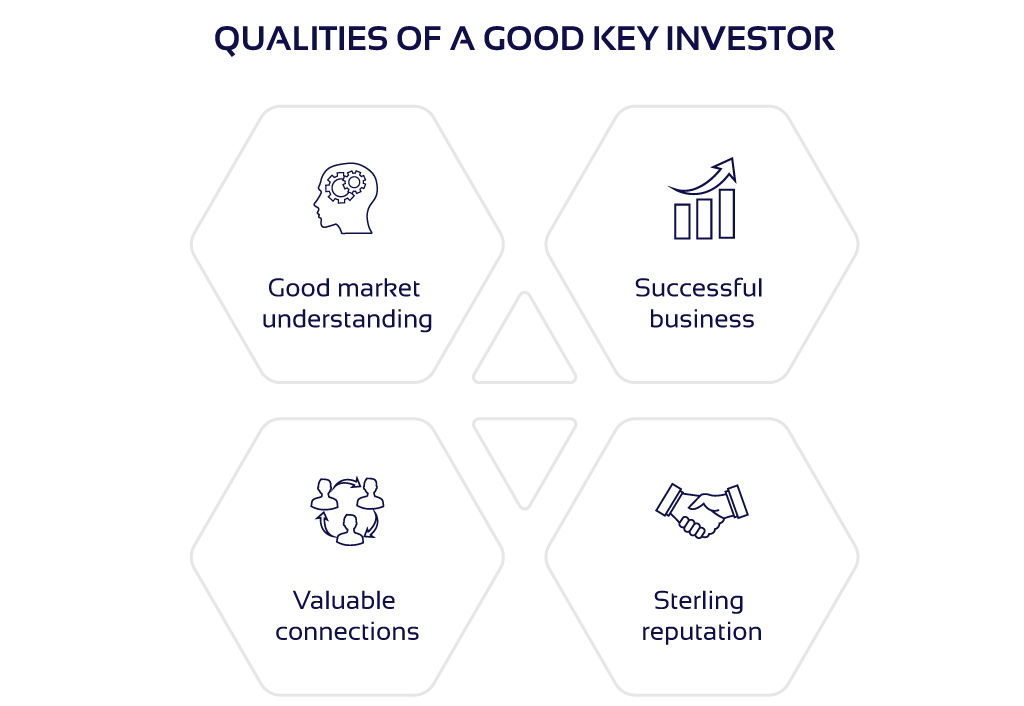 If you're one of the startup owners who want to build their business, you need to search for the right qualities in your investor, such as:
Enough experience or, at least, understanding of your industry or market niche.

Good and long-term experience of investing into startups.

Valuable connections or a network in your business area.

Successful business of their own.

Clear reputation as businesspersons and investors.
Targeting all investors you can reach may seem like a smart move, but it's not. There are different types of funders, and not all of them are healthy for your business.
Investors who have money and just want to get more money. Experts advise thinking twice before deciding to cooperate with this type of funders because it may do more harm than good to your business idea.

Funders who invest in startups just because they have loads of money and don't know what to do with it. This type of investors is less likely to bring you difficulties and pressure, but you also won't get valuable advice and support from them on a regular basis.

Investors who are interested in a specific industry and have many useful connections in it. Such funders are perfect for startups because they can offer money and valuable insights. Most important, they are genuinely interested in your success.
Things Investors Will Focus On When Considering Your Startup
Smart and experienced investors have specific criteria startups should meet if they want to get money. The main and most important criteria are product, team, valuation, and market size.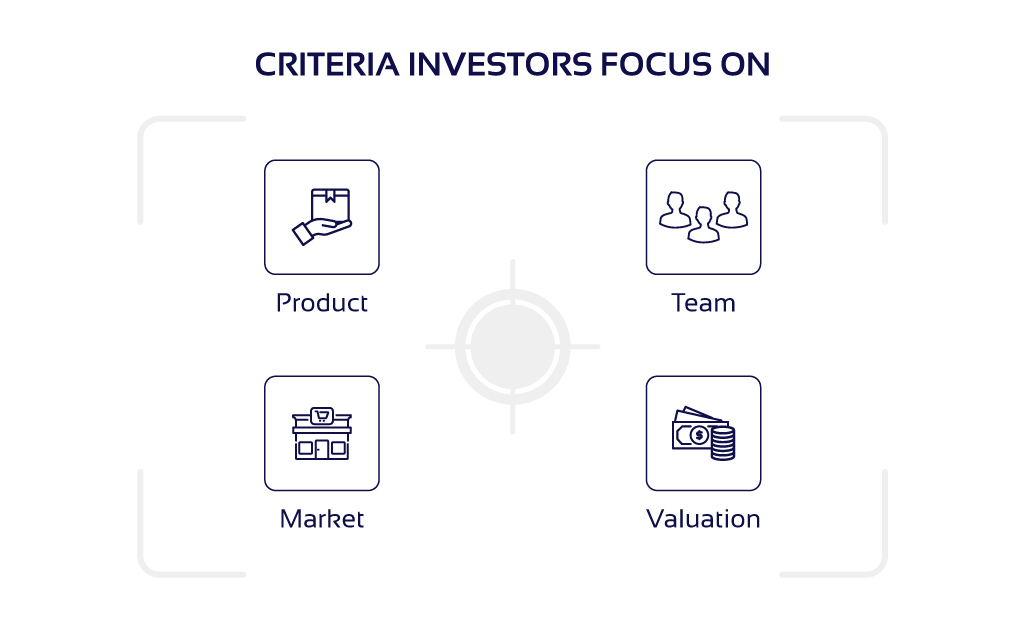 Product. Presenting a working prototype or an MVP version of your product won't be enough for an investor to give you big money. Also, if you're thinking that having a good product idea is also enough to make investors interested, there is a high chance of being disappointed.
Only 10% of startups become successful and survive on the market, which means that 90% fail.
Startups and products may fail for a bunch of reasons. Wrong targeting, inability to adjust to market changes, and weak business strategy are only a few points in the long "not-to-do" list. Back in 2017, one of the most reputable sources presented a detailed chart on the main reasons why startups fail. Even though today is 2020, the reasons cited are still relevant.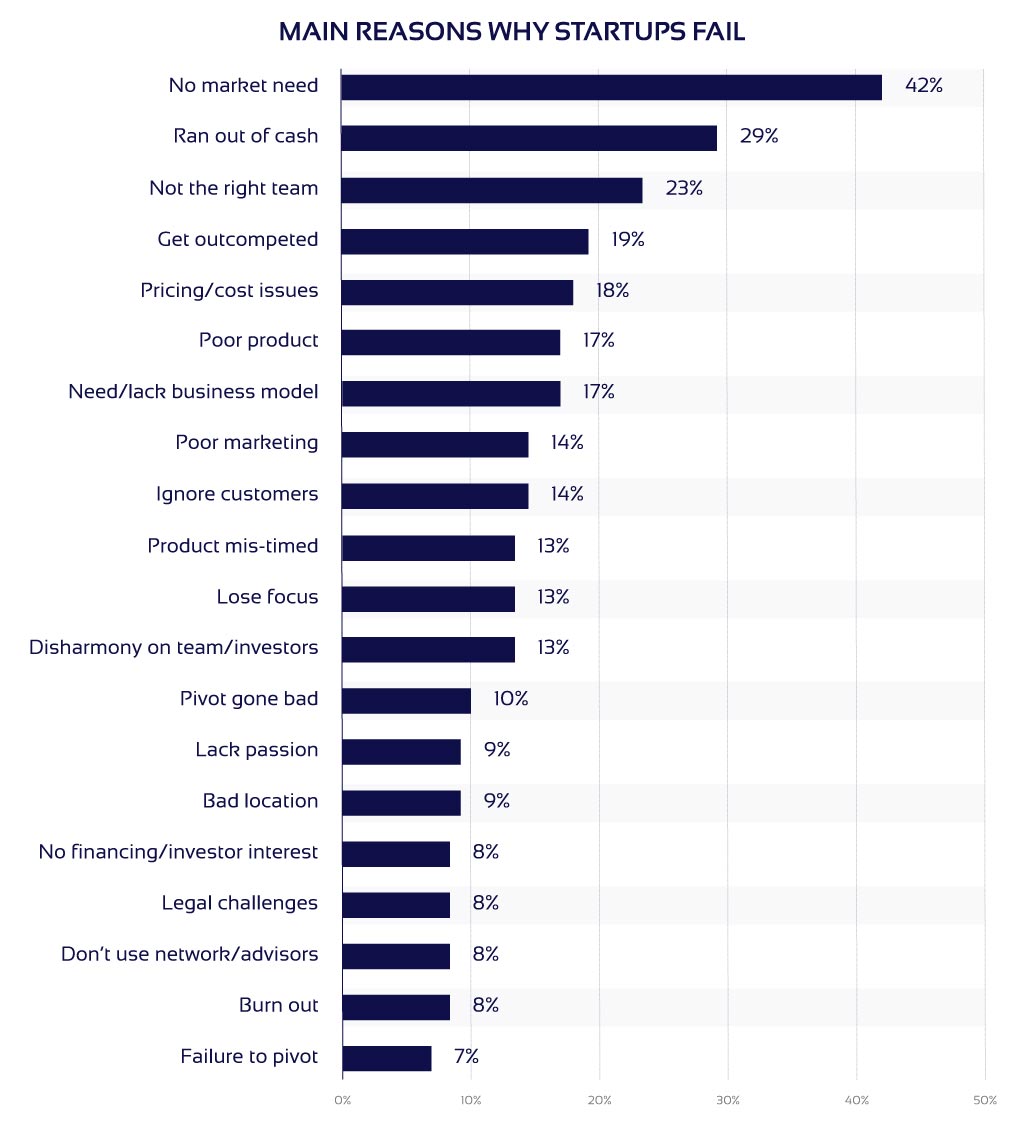 Make your product strong and competitive, and make sure your future investor sees its capabilities.
Team. Experienced and reliable investors always take into account the strength of the startup team when making a decision on funding future entrepreneurs. If you're the only founder and your team consists of separate freelancers, then you need to prepare yourself for being rejected again and again. However, if you have at least one co-founder who is skilled and/or experienced in business and required industry, the value of your startup automatically increases in the eyes of prospective funders, especially if you and your co-founder have expertise in different business and technical areas.
The most significant value in every startup is its team because even the most genius idea and the strongest business plan can be ruined when put in the hands of someone incompetent. Business owners and investors agree that a strong team can turn weak products into profit; thus, make sure that you build your startup with bright and experienced minds.
Your team members may not be the outstanding experts, yet they need to:
- know the basics,
- have at least one year of experience in their field,
- be creative,
- be strong physically and emotionally (because the first year is the most difficult for a startup),
- have excellent problem-solving skills,
and most importantly, they must be passionate about what they're doing.
A thing to think about: Friends and relatives are often not the best partners for business.
Valuation. This aspect of your startup may be one of the hardest, especially if it is your first experience as a startup owner because it is difficult to define the valuation of your business before it has revenues.
The reason why investors look into your valuation is to know how much they should invest in your product and how much they can and should own. As a business person, you also should define for yourself how much of your startup should stay under your ownership.
We strongly advise you to deeply research this topic and consult independent experts because, as a startup owner, you're looking for high valuation (to own as much as possible) while investors want the opposite, and you need to create balance.
Market size. Since investors are most interested in clearly scalable startups, they will also look into the size of your market. At the early stage of your business, it may be challenging to define the limits and expansion of the market; however, you must be fully prepared for answering the questions on the growth possibilities of your currently small business.
Defining the size of your market is vital for attracting smart investments, but it is even more important for you as a business owner to develop a solid business growth strategy.
Things You Need to Focus on When Developing a Product or Its MVP Version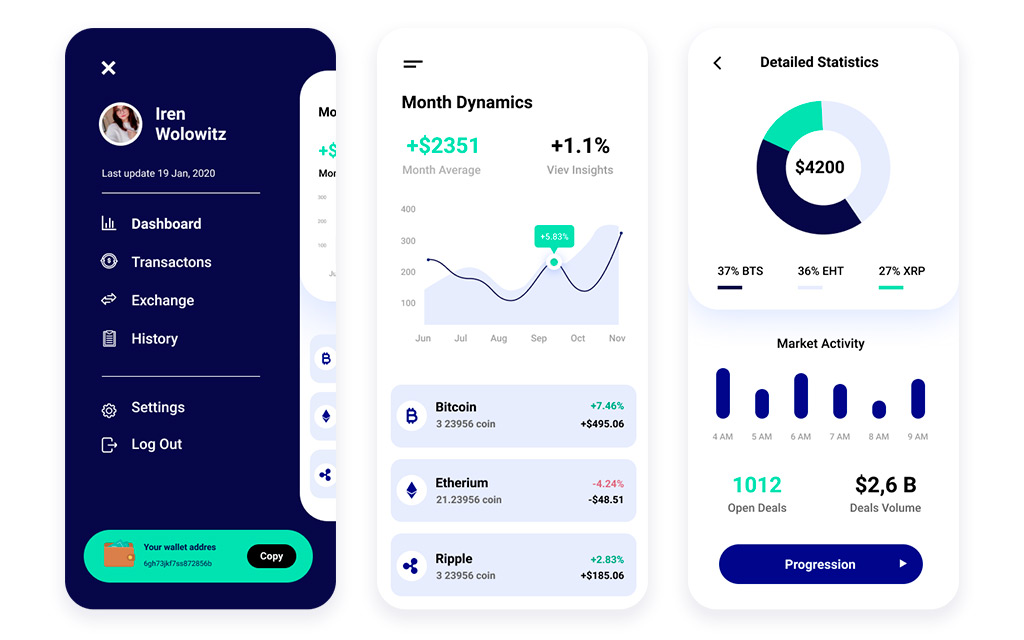 Many problems with startups happen because their owners lack experience and do not pay attention to some vital aspects of the product. Of course, one person cannot know everything, and for this reason, you need a team of diverse experts who will fill out your knowledge and skill gaps.
Below are the things you need to concentrate your resources on if you want the product to be highly attractive to investors and successful on the market.
Target consumer. Products are made to be used by someone. The diagram above states that half of the startups fail because they have no market demand. Your product can be one-of-a-kind, but what is the point of creating something that no one wants or needs? All viable and successful products solve certain clients' problems or needs. Define the needs of your target consumer and make sure your product fully satisfies them.
Target audience. Consumers above all, but you also should think about the target audience. These are the people who won't buy or use your product at the moment, but they can show loyalty to your brand, unintentionally yet actively promote it, and, of course, become your consumers in the future.
Market, niche, industry. Without determining precisely what will be your industry, market, and niche, you may not even bother creating the product. Every industry has its rules and peculiarities. For example, healthcare and travel industries have entirely different goals, target audience, restrictions, and others. However, if you create or occupy a niche that combines two or more separate industries, you can become a new unicorn startup company like Ant Financial (formerly known as Alipay), Airbnb, SpaceX, and many others.
Monetization. A wrong business model can easily ruin the product. The more monetization models you have for your project the better, especially if they include both active and passive ways to make money. Memberships, freemiums, in-app purchases, placed ads are perfect for monetization of web and mobile products. When developing your business model, always consider your product type, market, competitors, industry, and goals to make it most efficient.
Business scaling. Many startup owners don't think about scaling their business at the early stage, especially when they need to seek investments. Don't be one of them because without making your product scalable, you won't get the right investments. Here is a small, but important advice for startup businesses, if you don't determine the growth vectors for your business, you limit your startup capabilities and lifetime with your own hands.
Product functionality. In case your product is an application, it needs to have a set of functionalities that complement each other and solve users' problems or needs. Today, the global market is already filled with all kinds of applications, so your product must be unique and differ from the ones your competitors have. A unique functionality of the product is equivalent to a unique selling proposition that is vital for startup success. If you want to receive more tech tips for startups, I strongly advise you to visit our blog as it has loads of useful information that covers technical aspects of business products.
Product features. Features are commonly known as additional functionality. They may not be vital for application functioning, but they can make the product more beneficial for users as well as distinguish it from similar applications. Before you start the development process, decide what features to include in your product, and how they can help to make the product more attractive to users, and enhance monetization.
Advanced technologies (Artificial Intelligence, Machine Learning, etc.). If you can integrate one or several AI-based solutions in your product, you better use this option to the fullest. Smart technologies may be costly for a startup. Still, products that don't include big data, data processing, AI, ML, or other solutions with similar capabilities are doomed to be thrown under the bus by stronger competitors and users who are no longer interested in your product.
Product launch. Just like with business scaling, the vast majority of startup owners don't think about the product launch beforehand. The moment of product launch is one of the most important, and it is the moment when your startup begins. By the moment of your product launch, you must have fully developed and functioning:
- business plan,
- business model,
- marketing campaign,
- pre-launch promotional campaign,
- main and additional promotional channels, etc.
Product upgrade. It doesn't matter whether you are looking for the right investments or you can load a startup with your own money; your product must be flexible to changes of any kind. Companies that create gadgets and technologies started a race that is getting ridiculous and crazy because of how frequently their products launch. Since people get new offers faster than needed on all sides of their daily life, they get spoiled as users.
Because of this, you need to make your product easy to upgrade at the early stages of development. You cannot even imagine how costly for clients and painful for developers it can be to upgrade the product with bad code. Sometimes it is even more efficient to create a new application than to upgrade the existing one that wasn't made flexible. Thus, make sure your product is created by the professionals to save time, costs, and, most importantly, your nerves.
Competitors. Competitors are both healthy and destructive for your product. The reason why they are helpful for your product is because you can analyze their strong and weak sides, and create a product that can outperform your business rivals. When you get stronger on the market, your competitors become less helpful and more harmful because they can plagiarize and enhance your idea, thus steal your clients. Needless to say, many business owners use shady ways to get and stay on the top positions on the market.
Smart investments. To make sure your key investor is interested in funding your startup, you need to have a clear understanding and answers on:
- how to convey the idea and the key value to investors;
- what problems your product solves for a client;
- what your product offers;
- what is your product's value to investors.
As a person who starts a business and wants it to be successful on the market, you have to be prepared for everything, especially for talking to the people you want to become your key investors.
Final Words
Different markets, niches, and investors have their peculiarities and rules; thus, startup owners need to play by these rules, at least in the beginning. If you take the information from this article and apply it wisely to your product design, development, and promotion, it will help you to get money faster and escape unnecessary expenses.
Right now, you may have dozens of questions on how to create your product from scratch and attract the right investors. For over 14 years on the market, we have worked with hundreds of companies and startups, so you can be sure that
we
are the experts who are qualified to give startups advice and recommendations that work.