Want to start an online grocery store business, but feel that you lack some valuable information? No worries, this article will point out sixteen main things that should not be overlooked by a person who wants to get involved into this challenging field.
Online grocery shopping continues to gain its popularity among people. Today, time became the biggest asset of people of all ages, and instead of wasting time seeking required goods in the shop and standing in the crowd among other shoppers to buy them, you can purchase everything you need on one of the grocery selling websites.
Consider these ecommerce tips below to know more about how to start an online grocery store and become one of the best-selling platforms for your target user.
1. Basics of How Online Grocery Store Works
No matter what kind of business you're about to start, it is always important to study all basics to know for sure if the chosen field is most comfortable for you. Prior to building an online grocery store you need to get a solid partnership with grocery producers or wholesalers, and establish a delivery service, so clients will get their orders in a timely manner.
2. What to Choose: Online Store vs. Marketplace
Depending on to what extent you want to be engaged into your business you need to choose a grocery store business model and decide if it will be your own online store or a marketplace with different vendors. Usually, marketplace is technically more complex than an online store, because it requires more sophisticated admin panel with advanced reporting to exclude possible misunderstandings and even lawsuits.
In case if you want to build an online grocery store that intends to be used in different countries, you'll need to include functionality that allows to pick different languages, currencies, time zones, etc. for ensuring smooth checkout processes.
3. Ways of Monetization
Each business model gives you more than one way to monetize your online grocery store. If you're the only one seller in the store you get money directly from your customers. However, if you choose to be the owner of a marketplace, you can monetize it by taking a commission on each order or make your platform work on a membership subscription basis.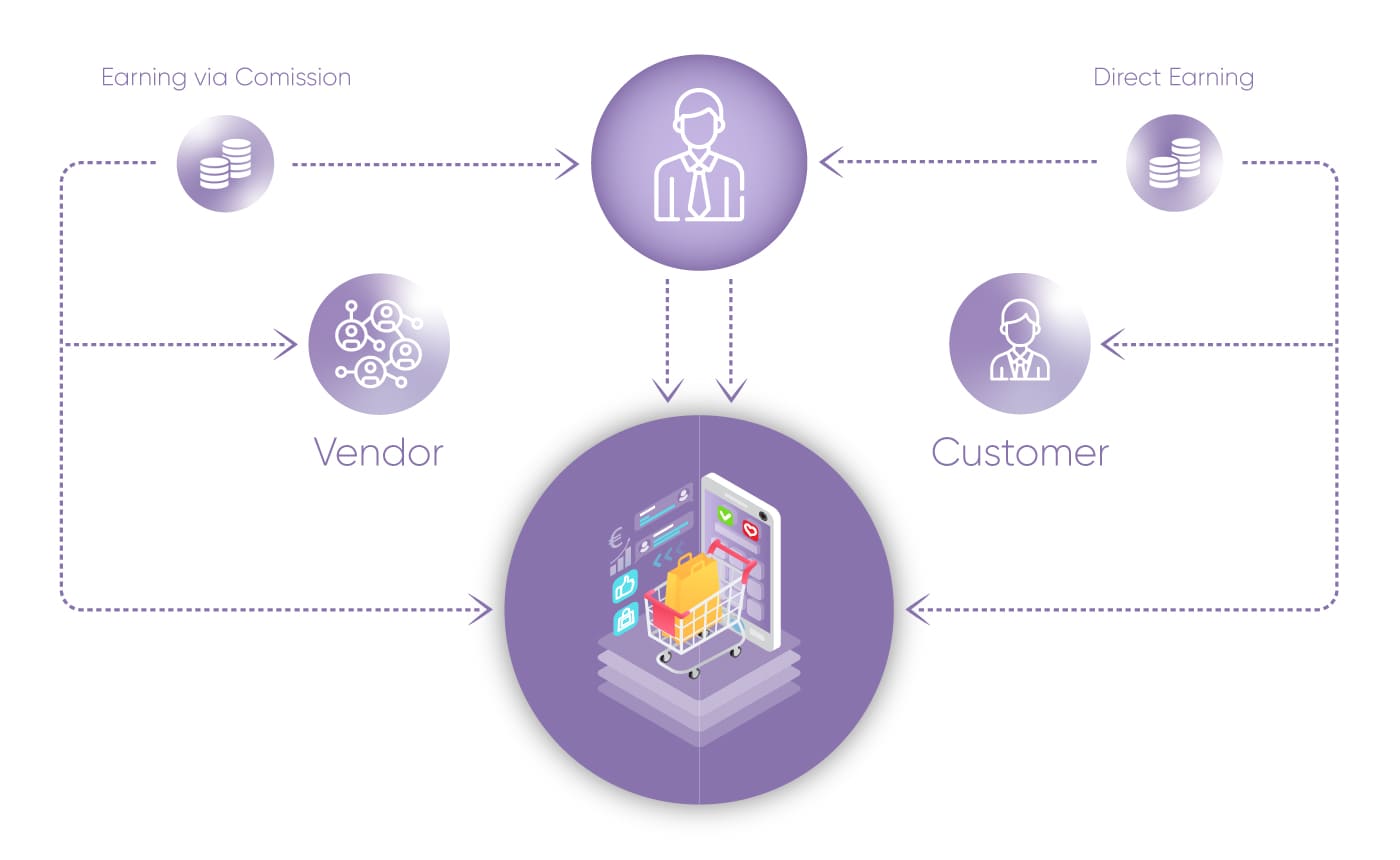 When you start a grocery store, you can additionally monetize it by adding the possibility to host banner ads. However, be careful with your promotion choice, because if your clients start seeing banners with content absolutely non-related to your grocery store, they might get disappointed and move on to your competitors.
4. Functionality That Is a Must
Starting a grocery store online will turn into a very promising business if you carefully think through its functionality. Admins, vendors and end customers must have access to required functionality. Such vendors' actions as creating a profile, mass adding items to the shop, processing orders, receiving payments, must be as easy as registration, creating personal profiles, making orders and payments for end customers.
When specialists develop a grocery store for you, make sure they think through functionality that manages statistics and reporting on order history, product availability in stock, etc.
5. What Features are Better to Include
When you have answers on how to start a grocery business online, but still have gaps in what your store must include, the list below will fill them all. Primary and secondary features should include, but not be limited to:
Advanced navigation and product search;
Adding items to cart;
Consistent pricing with the currency change possibility if needed;
Alerts, reminders and notifications;
Payment and delivery options;
Smart product suggestions and cross-selling;
Ratings and reviews.
No matter what features you want to include into your store, you can rely on skills and experience of our developers to get the result you need and make your online grocery store most profitable and efficient.
6. Payment Details
Any marketplace and online store implies making and receiving payments, so before starting an online grocery store you need to decide what exactly you can offer your users. What may contribute to your competitiveness on the market is giving your end customers a wide range of payment options. Taking into account the nature of your services options must include both cash and wire payments.
The bigger number of options your payment page displays the better and your efforts will be rewarded if you provide all three payment modes to your end customers:
Online banking
Credit/debit cards
Cash on delivery
7. Main Challenges
Without doubts, an online grocery store is more beneficial than an actual store, because there's no need to pay rent, cover utility bills, hire staff, etc. Still, due to nature of grocery goods, this business has certain challenges.
When people choose to purchase their groceries online they expect no delays or any other kind of mistakes, thus, your storage and delivery infrastructure must be flawless. Main challenges usually include delivery failures, spoiled supplies, low profit margins, and a consumer habit that makes people choose to buy their groceries offline.
These challenges are serious, but online grocery business has enough potential to grow stronger and all difficulties can be easily overcome by using various technological advancements and smart marketing. With the help of API, AI, CRM systems, and other advanced business technologies you can create a grocery store and make it highly efficient from the beginning.
8. How to Be Competitive on the Market
Being competitive on the market is even more challenging than making clients satisfied with your grocery shopping platform. To start a grocery store business and survive among giants on the market you need to research and analyze your main competitors and define if they have weak spots. By doing this, you get information on effective strategies to use for your own online grocery store and work on your distinguishing features in business.
Today, having a high-quality service is not enough to get on top of this business field. For this reason, you need to increase and strengthen your marketing position by working with professional marketers and analytics.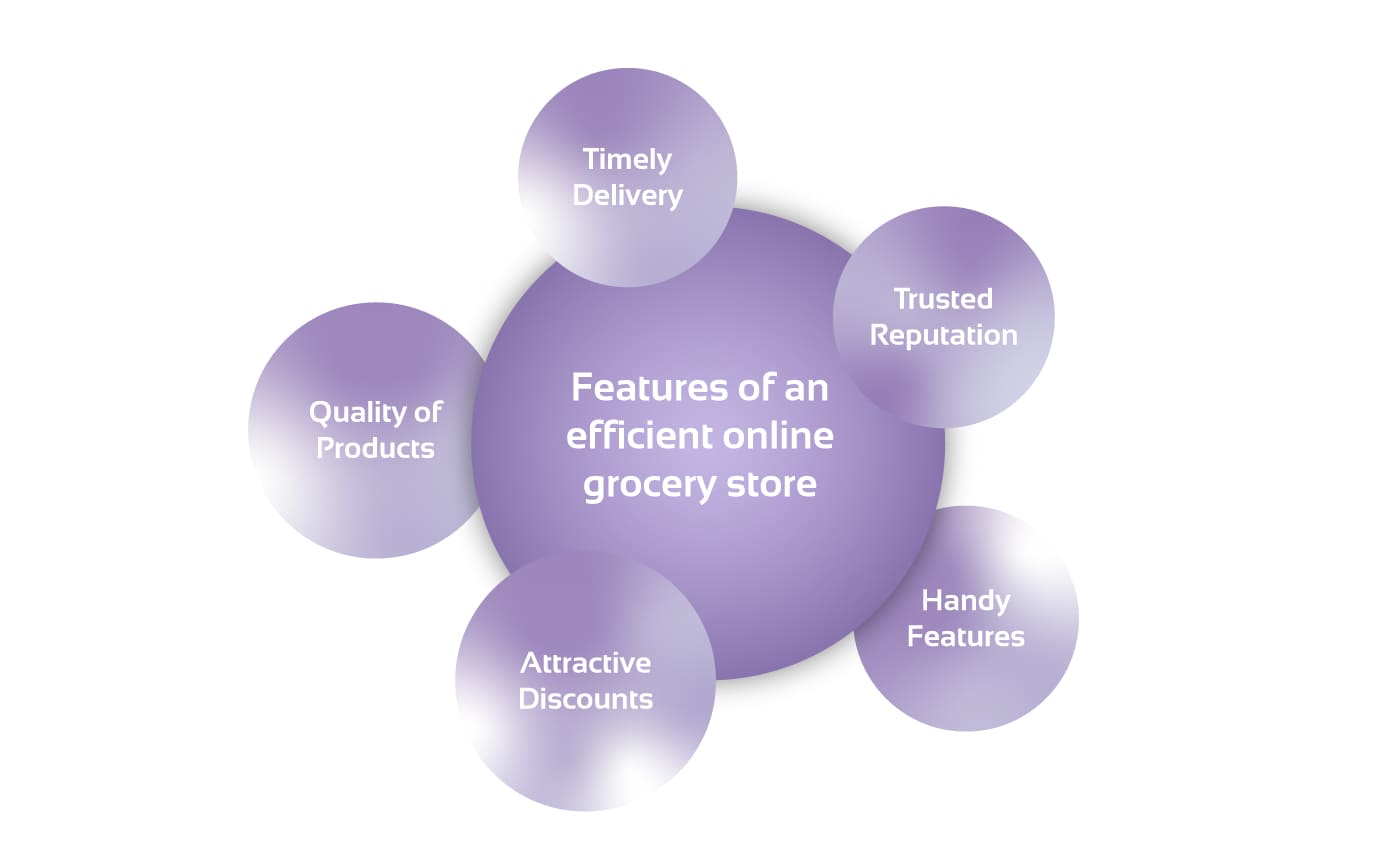 9. Development Tools and Technologies that Fit
Depending on what platform type you want to get - an online store or a marketplace, the set of developmental technologies may vary. It is always better to consult with professionals regarding tools and technologies, especially with the ones who will build you this digital platform.
Basing on their experience and skills, they will advise you certain programming languages, libraries and frameworks for back-end and front-end sides of your online store. Also, your business will benefit with data mining, machine learning, cloud solutions and other technological advancements.
Data mining with its descriptive and predictive analytics power will give you a full picture on changes in your target customer behavior to build the most effective strategy that will help you to get on top of online grocery shopping business.
Artificial Intelligence and machine learning technologies may increase the efficiency of your store and reduce to minimum the necessity in hiring managers and human errors.
Check our Case Study section to see how similar projects were handled by our development team to get more valuable information on what we can do for your own online store.
10. Add a Mobile App
Today, with the growing number of mobile customers, having only one website without additional mobile application is reaching out to small client percentage and restraining yourself from success and high profits. According to the StatCounter service, in December 2018, mobile market share worldwide counted 49,06%, comparing to the desktop share with its 47,2%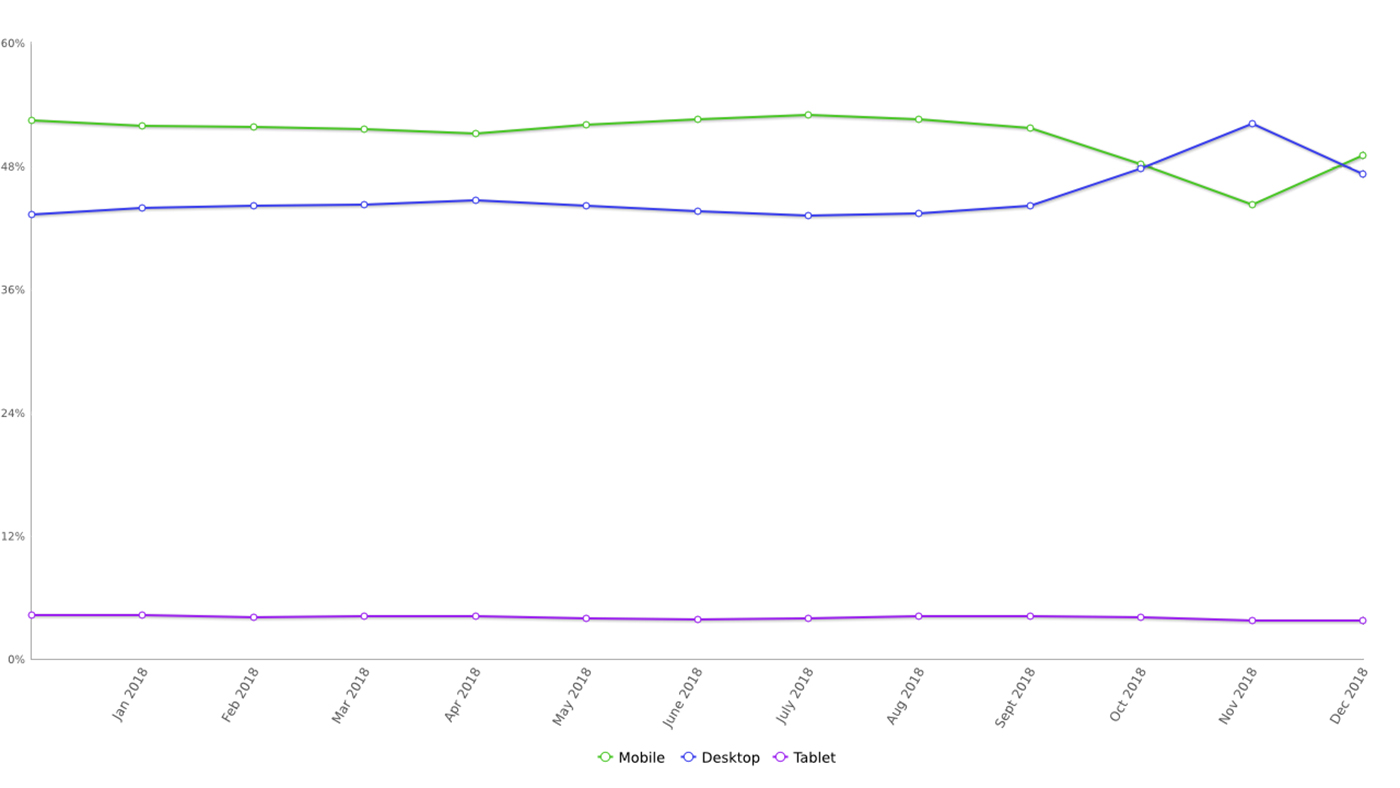 By giving your end customers different options for using your service, you make the process of buying groceries online more convenient. An opportunity to purchase groceries on the go will increase interest into your store and cover all digital ways to your platform.
11. Logics for Different Entities
Opening a grocery store online can be difficult, but once you designed logics for all entities on your platform, it will become a lot easier to develop the entire system and make it flexible in case of changing it in the future.
If your grocery store intends to be a marketplace, there will be three main entities that require implementation of different logics:
Store owner - admin
Vendor
End customer
Since these entities perform different actions and look at your service from different perspectives you need to develop special algorithms for them all. Admin panel of a store owner must give them the possibility to monitor and adjust actions performed by vendors and end customers. Also, admin should have access to statistics and reporting on all orders to manage different kind of situations between sellers and customers.
Vendors as users who sell products on your platform need to add items to the store, edit them, correspond with clients, communicate with delivery parties, viewing statistics on their store and so on.
At the same time, end customers who buy products must be able to view items, add them to cart, create and edit orders, correspond with vendors, rate them, etc.
12. Importance of UI/UX Design
Good UX design is always a huge plus to success of the online grocery store. When a customer is not satisfied with the service for such reasons as they need more time to find needed buttons, have difficulties with finding and reading descriptions for items or simply have problems with navigation, they are very likely will choose your competitor or go offline.
However, when both vendors and end customers can intuitively navigate your online grocery store and are pleased with its interface design, they are most likely to become your loyal clients.
13. Live Chat Support or Chatbots
Today, companies in all industries prefer to use machine learning systems for their support instead of having managers for conversations with their clients. Chatbots steadily replace trained customer support managers and you need to decide what exactly your real-time chatting will look like. Even if you want to have a real person to talk to your customers, make your platform prepared to adding an AI-based chatbot.
This may seem to you as an absolutely unnecessary preparation, however, it will save you both time and money in the future, because minor changes in the back-end side of the software may cause unwanted bugs and serious consequences to your business if overlook them.
14. Discounts and Special Offers
What can make a grocery store customer happier than seeing a good discount on the products they buy on a constant basis or a juicy special offer? This question is rhetorical, but is very important, especially for the companies that have just appeared on the market and have no loyal customers so far.
Even if you don't intend to apply any kind of discounts, make sure that developers who work on your project cover this feature on the back-end side.
Make your discounts attractive to customers and financially efficient for you!
15. Small Details You Shouldn't Omit
Sometimes, presence of small details is what makes good online grocery stores the best ones comparing to other services on the market. Most wanted features by the online grocery store end customers would be:
Wish lists
Star rating
Items comparison
Related items
Safe transactions
At the same time, vendors should have features that would make selling processes on your platform easier. Such features include:
Multi-item upload
Discount or special offer tags
Reports in one click
All these features are not difficult to implement, but they will significantly increase people's satisfaction in your online store.
16. Customer Reviews Rule
People love when they are given a chance to express their opinion, especially when it comes to their shopping experience. By including functionality that allows your online grocery store clients to add reviews to purchased items, you will handle the quality problem and increase trust into your platform, which will attract more loyal clients.
Of course, you will need to consider functionality for disputes on reviews to make both end customers and vendors feel safe and protected from injustice and fraudulence.
To sum it all up…
If you wander how to start a grocery store business and try to gather as much information as possible, you need to consider all things you've read above in this article. Dealing with such delicate item as food doesn't leave much space for mistakes, so you need to be sure that your online store is designed and developed by the professionals who will deal with back-end and front-end sides of your site and application.
You are most welcome to contact us to get a team of experienced specialists to work on your project, so the only thing you will need to do is enjoy the result and start filling your grocery store with delicious goods and satisfied customers.