Business Of Apps, a resource for identifying premier technology solutions in IT, has recently listed Light IT among the Top Mobile App Development Companies in 2021. The world of technology changes on a regular basis, and today almost all enterprises are updated with the best digital solutions. We believe that genuine innovation happens when business, people, and technology collide, and today, investing in your business is more important than ever.
Mobile-Driven World and App Development Services
Software development services are decisive to an array of businesses, with companies in industries like IT, finance, e-learning, healthcare, media, human resource, and many more requiring effective software solutions. Being relentless and unceasingly intense in our efforts, we are constantly focused on delighting our customers. Since our inception 15 years ago, Light IT has continued to expand the customer base with its robust development teams and on-demand technology adoption.
The Constant Pursuit of Being the Best in Digital Product Development
With many years of experience delivering innovative, forward-thinking, and beautiful mobile applications that consistently exceed clients' expectations, we continue to care about tiny but vital details to produce a high-quality product and service for every case.
We are placed among the top development service providers for:
Presenting a proven track record and a diversified portfolio
Quality of UX/UI design
Ability to craft tailored solutions for iOS, Android, or cross-platform
Eagerness to work with new technologies like wearables, AR, VR, Blockchain, Amazon Alexa, and conversational bots
Leading Technologies for Effective Solutions
We offer matchless mobile app development services to a wide range of businesses and assist them in improving their market reach, ROI, and growth. Our solutions are globally acknowledged and stand out in various categories, user experience, and omnichannel capabilities. We determined the best quality IT services that help brands across industries by conceptualizing their ideas and creating products that meet their requirements which lead us to:
400+End-to-end projects delivered
8+Industries successfully covered
15 +Unique features implemented
$200+Million earned for our clients
Mobile app development is Light IT's forte, and we never fail to amaze our clients with our enterprise-level mobile apps. We are delighted to be among the leading development companies of 2021 and want to thank everyone who has contributed to our success. From our team to our clients, we appreciate the support we've received from the people around us. We have enjoyed every project so far but are also open to new ones.
Don't hesitate to contact us!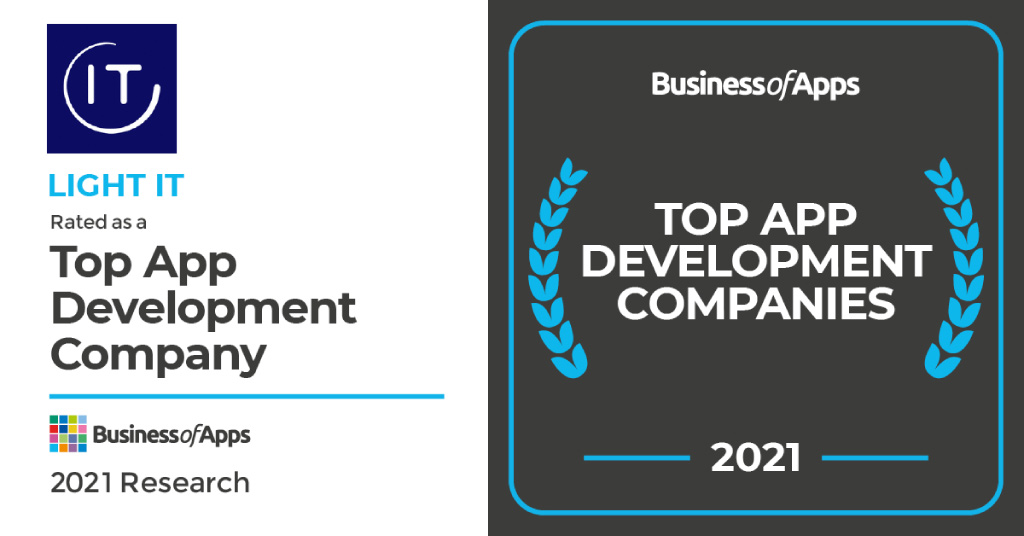 About Business of Apps
It is a premier media and information resource for the software industry. Their news, analysis, and marketplaces provided for app business are recognized globally. They also host comprehensive B2B directories and marketplaces covering app ad platforms, app marketing, app development, etc.