Education is one of the industries that, at first glimpse, should continue being backward-looking and extra conservative even in the modern era. However, information technology in education really changed the face of this business and proved that everyone involved in the process can benefit from it.
No denial, even the most advanced technology can't 100% replace the live human interaction, but it can make people's lives easier and the educational process more productive and engaging. In other words, in 2023 e-learning-related businesses can't survive without introducing the most recent IT trends to the product.
In this article, you'll get a sneak peek of the seven most promising IT trends in education that will rule the industry not only this year but for a couple of years to come. It doesn't mean that it's mandatory to implement all the technology at once, but it might be a good idea to pick a couple of innovations that will power up your business.
Why is edtech vital for any kind of educational business?
Before actually diving into the actual edtech trends, it is important to understand why technology even matters and why it is extremely hard to build a successful educational business without it.
A market demand
Education is one of the industries where an entrepreneur is catering to the audience willing to learn something new. And that is what IT in education represents. Technological innovations became a part of the market demand. The customers prefer to utilize the most advanced tools to help them stay on top of the game.
Considering that the number of educational businesses in the US (as well as worldwide) is expected to grow, the battle for the client will get even more vicious.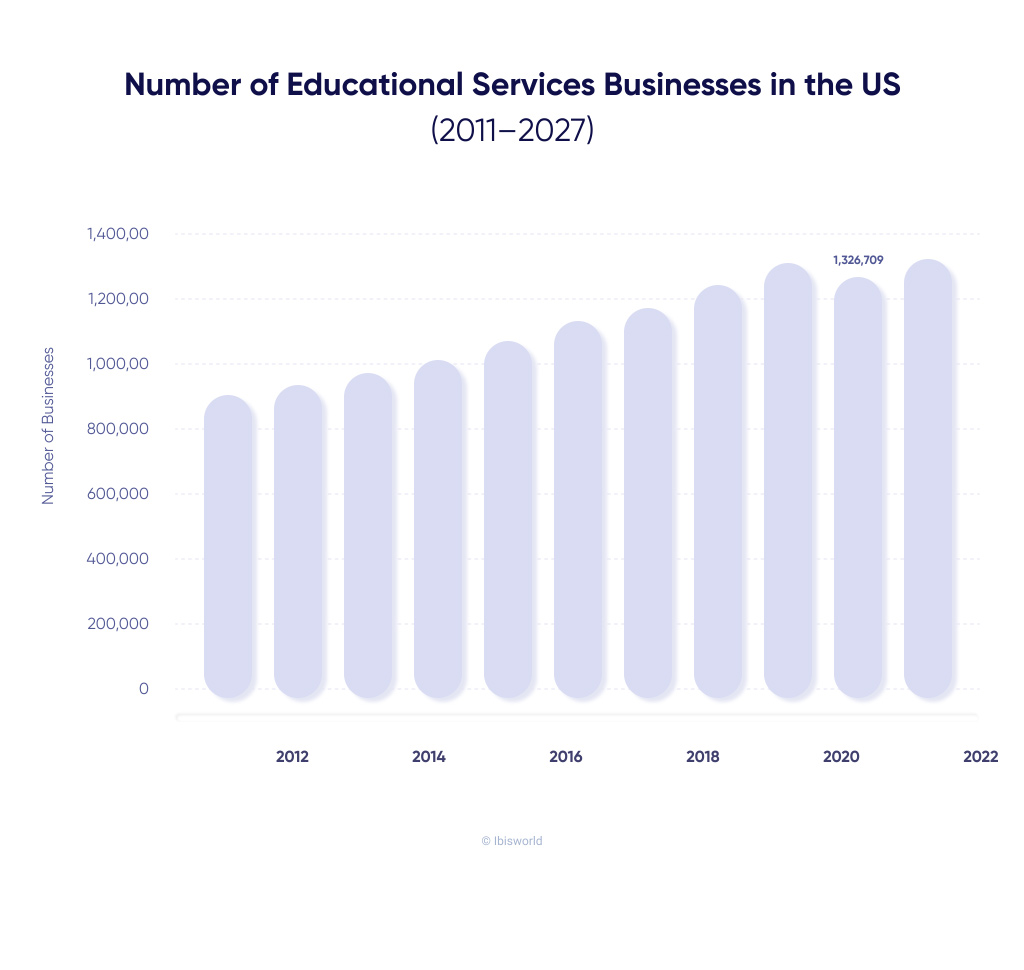 And not to mention the younger generation has grown up with technology and doesn't know any other way to gain and retain knowledge than via tech instruments.
Efficiency boost
The book teaching method that served humanity for centuries is replaced by IT technology not because there's something wrong with it. It is still possible to teach using the conventional methods only. However, IT innovations brought the educational process to another level, and if there's a more convenient and more effective way to do things you bet people will use it.
Edtech makes education easier, more accessible, and more effective in many ways. IT tools carry out mundane tasks, analyze and provide information in a matter of seconds leaving more time for the actual one-on-one teacher-student communication.
Inclusivity
Technology erases most (if not all) of the barriers that inhibit inclusion in education. With the help of state-of-the-art tools, anyone can obtain the desired knowledge and skills without being left out.
And we're talking not only about disabled students but also about people that are not getting the proper education due to social, emotional, or language traits.
Сustomized approach
One of the greatest things about new technology in education is its ability to adapt to the entrepreneur's target audience's needs. The business owner just needs to pick the right toolset.
For example, you're willing to build a platform where all the information will be video-based or create a community for people that enjoy learning while listening to podcasts, or develop an educational solution that will accommodate elderly people. With edtech the sky is the limit!
At the end of the day, it's up to every executive whether or not to go with the benefits IT innovations offer. But the number of business advantages and competitive gains is too impressive to ignore it completely.
Now it's time to get to the actual tech trends and their impact on modern educational business.
Artificial Intelligence
Artificial intelligence (aka AI) is often portrayed as something to be afraid of. For some people, the ability of a machine to execute various tasks faster, more efficiently, and oftentimes smarter than a human being is truly disturbing. But in reality, AI is not threatening at all! It's quite the opposite! AI-based assistants like Siri and Alexa are the perfect example.
One of the key benefits of AI introduction in education is improved personalization. Artificial intelligence can recognize the student's learning pace, areas of interest, and possible problems. It adapts to the needs of each user making the overall interaction smoother and more compelling.
There are some advantages for the teachers as well. AI is the ultimate analytical tool allowing to track progress in real-time, improve student-teacher communication, and automate administrative tasks.
In a nutshell, AI can't outsmart the human and replace the teacher but it can attract customers that are willing to pay for a bespoke e-learning experience. And industry leaders know that. Pick any successful educational platform out there. Chances are it utilizes AI. And the startups willing to get that place on a market are following in their footsteps.
Take Coursera as an example! It's probably the most popular e-learning platform in the world with thousands of educational courses and millions of devoted users worldwide. Coursera CourseMatch is an AI/ML-based tool that allows colleges and universities to get the custom programs by matching courses available on the platform with the ones on-campus.
Another one is LinkedIn Learning. The solution uses AI and ML leveraging a massive amount of data from customers' profiles on LinkedIn to form future courses and close the gap between the present skills and in-demand skills.
Gamification
Some may think that gamification is a trend for preschool or K-12 at best and deny the power of gamification for "adult and respectable" e-learning businesses. But the market proves the skeptics wrong as an introduction of the game mechanics/thinking makes the educational process addictive in a good way.
Gamification in education can be used in many different ways. In fact, there's a trend within a trend where e-learning gamification blends in with other IT solutions to boost the overall efficiency of the process.
For example, an entrepreneur may opt for an LMS with elements of gamification (points, ratings, badges, achievements, etc.) and profit from that. But it's also possible to combine gamification with the use of AR/VR headsets or social media experience. There's no right or wrong answer, just the combination of tools that work for your business.
One of the well-known brands that opted for gamification and won is Duolingo. The platform claims to make learning languages "fun and addictive". The educational process turns into a game with points, levels, and rewards.
Knowre, on the other hand, uses gamification to keep K-12 students engaged while offering the adaptive curriculum that fills in the educational gaps. As a result, the level of frustration significantly decreases and the students regain motivation.
VR and AR
Speaking of AR/VR, it's another information technology trend in education that is on top now and will stay there for a long period of time. The number of AR/VR headsets that will be sold by 2025 speaks volumes for it. As a report by TrendForce claims, the market will reach 43,2 million pieces by 2025. And the number of AR/VR users that experience this type of content at least once a month in 2021 is more than 137 million in the US alone!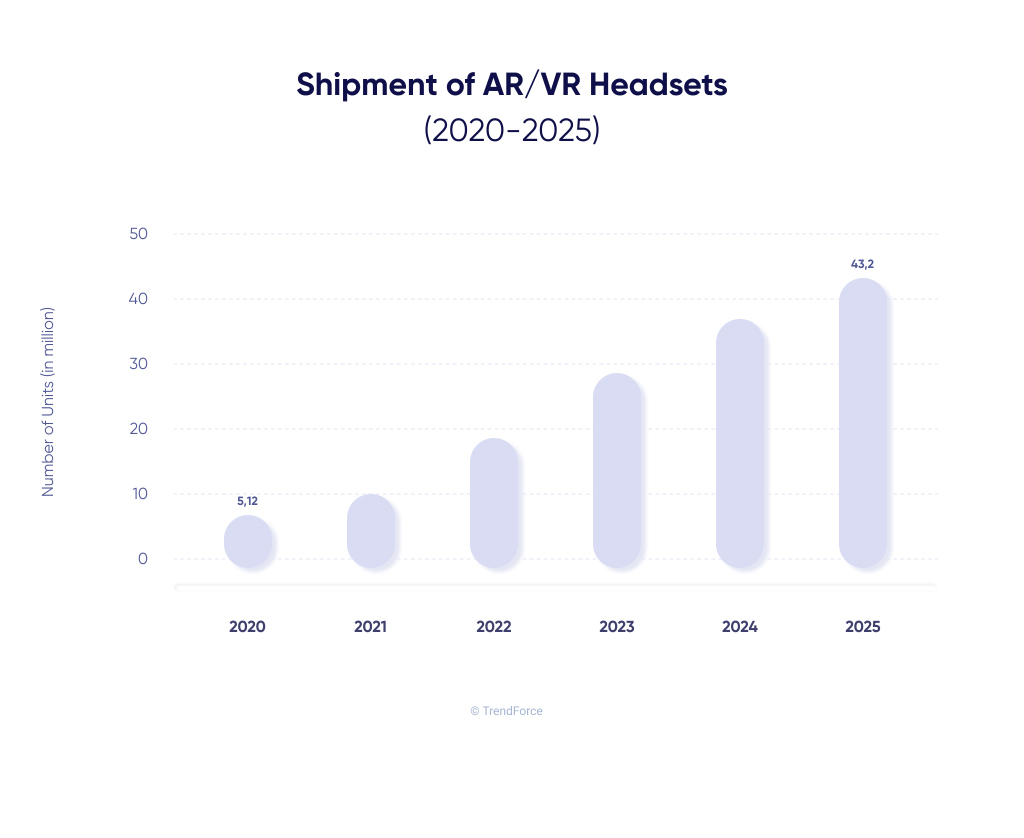 The global pandemics pushed the adoption of augmented reality and virtual reality as it is a safe way to make the educational process more immersive and interactive. The businesses that can benefit from AR/VR the most are training platforms and online classes communities. If you plan to give your customers access to courses that involve practical skills like playing musical instruments or drawing, introducing AR/VR into the mix may be a step in the right direction.
Even if you're not that familiar with the AR/VR trend, you've probably heard of Google Expeditions. It allows the teachers to visualize abstract concepts as well as 3D objects and make the educational process more engaging and entertaining.
Dinosaur 4D+ AR app paired up with specific flashcards allows students to see and interact with 3D dinosaurs while learning about them.
Video-Assisted Education
It's extremely easy to make a case for video-assisted education. Statistics does the job in this case.
45% of the elementary school students claim watching online videos to be their favorite learning method
75% of the employees choose video-based learning over reading
Of course, there are other factors that gave video-assisted education a lift. E.g. the growth of internet accessibility, the reduction of attention span, the need for social distancing, etc. But it doesn't change the fact that the video-based learning process is normalized and will become even more popular over the years.
Considering the pandemics, it's mandatory for a business owner to include some form of video content/communication into the educational solution. Distance education and remote work aren't going anywhere and video becomes a primary tool that brings people together.
This is, probably, the most popular trend for now. Hundreds of platforms offer access to numerous video courses (both professional and educational). Check Skillshare or CreativeLive for inspiration. The platforms managed to monetize the concept of offering video classes held by experts covering popular topics.
Big data analysis
Traditionally educational solutions are aimed to cater to a larger audience. Therefore, comes the need to analyze a significant amount of diverse data. We're talking about the criteria that help to track the students' performance and progress. It includes (but isn't limited to) the following:
Background info
Grades/results
Time per course
Progress/completion
Attendance
Ratings/surveys
Big data analysis is the key to personalization everybody strives for. It collects "raw" data, processes it, and presents it to the teacher in a convenient and clear format. So the more users you plan to engage with the educational solution, the more prominent the need for big data analysis will be.

Civitas Learning, for example, used the power of big data analysis to create a sought-after students' success platform that helps them make smarter academic and career decisions based on the personal data collected from the educational institution.
Illuminate Education is an example of a successful implementation of big data analysis for K-12. The platform provides teachers with access to real-time data, instant feedback, and offers tools for comfortable educational planning and progress tracking.
This is the type of new technology that makes the difference in education as it helps to resolve the common problems faster and avoid backlash in the process.
M-learning
A smartphone hasn't been just a phone or a messaging tool for many years now. These days mobile devices are extremely powerful and can perform the same tasks as computers. The living proof of it is the fact that mobile traffic is higher than desktop and tablet combined. According to a report by Statcounter, it's 60.2% as of December 2022.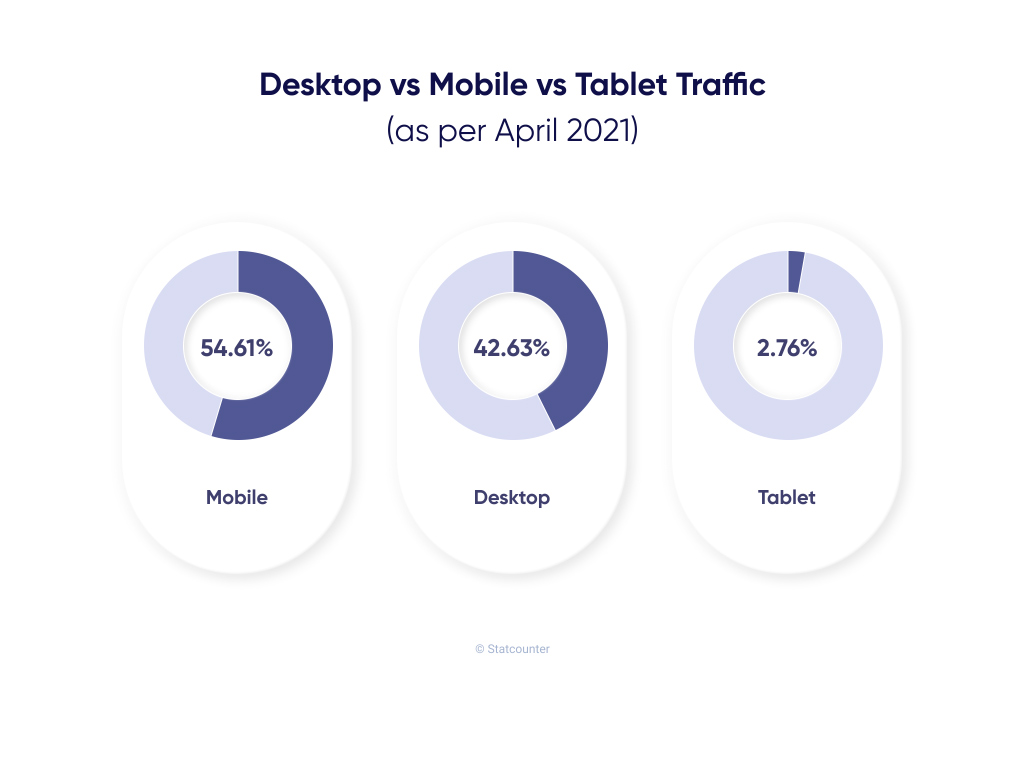 M-learning provides accessibility to education like no other format. The smartphone is always there, people are comfortable using it, and the phone doesn't require any additional materials or preparations to get things going.
That's why entrepreneurs should consider their product to be at least mobile-friendly and/or invest in educational app development. The number of solutions for m-learning is nearly endless. It can be a mobile-based LMS, an app with performance support tools, a visual conference platform, a voice chat or video chat app, etc. Not to mention, all the popular e-learning brands offer mobile solutions and desktop versions. For example, Udemy or edX both provide access to their libraries from mobile devices as well.
Blockchain
The last trend we're going to talk about is probably the most complex and niche embodiment of IT in modern commercial education. At least for now. But in the nearest future blockchain technology in education is expected to skyrocket. And there are many legitimate reasons for that.
Blockchain is known for the Distributed Ledger Technology, which, in a nutshell, is a database where all the transactions and all data have public "witnesses" and every participant can obtain the shared records. As a result, it creates a system with max transparency as the data is stored chronologically and is updated in real-time. Nothing can be lost in this system and everyone can check the available info regarding the progress, grades, attendance, etc.
Besides, nothing stops you from introducing your own cryptocurrency that will serve as motivation both for students and the staff. Tokenization is also a great way to enjoy the benefits of gamification along the way.
BitDegree is a great example of leveraging the power of blockchain in education. This educational platform gives users an opportunity to master relevant tech skills while getting a tokenized reward (scholarship) per course completion.
Parchment, on the other hand, uses blockchain technology to build a trusted digital credentials platform. It gives users an opportunity to be in control of their academic and official records as it helps to create, verify, and share blockchain-backed credentials (transcripts, academic merit, educational info, etc.).
Conclusion
Now that you know how important is the role of information technology in commerce education, it's time to walk the talk! If you're interested in introducing one or several of the hottest IT trends into your educational business, don't hesitate to contact Light IT. Our team has more than 10 years of experience working on top-notch e-learning solutions both for the web and mobile. And our experts are always ready to assist you and make your project live up to its true potential!