You have probably noticed a credible chatter around Clubhouse for the last half of the year. In this digital era, social media is a unique world with a strong user-base. Many have puzzled about what is behind it and how to create a spontaneous voice chat app like Clubhouse. The purpose of this article is not to hype on this topic and multiply the existing hundreds of pages about its phenomenal rapid success. We will share some of its drawbacks, security issues and give you some advice.
A friendly reminder: To shine the brightest in the app store, you will require certain things beyond the regular stuff offered in the market, and Light IT can help you with that.
So, let's get the ball rolling.

What is unique about this Clubhouse, and how to get into the app?
Many have not yet had time to get used to TikTok reality while already looking to flock to the newest social network. Yes, the app has captured the zeitgeist. Millions of users are imbued with this voice-only chat application, the brainchild of Alpha Exploration, founded just a year ago by guys from Google and Pinterest. At first, the Internet was full of articles that it was almost impossible to get into there. Invites were sold for $50, 100, and even $800. It's a cheap manipulation to attract as many snobs as possible.
There are three ways to get invited:
Ask somebody who already uses the app to share an invitation (each clubhouser has two invites when entering the app.)

Be invited by someone who has your phone number in their contacts. They just find you on the social network (by providing access to your contacts) and click "Let them in!". The number of such "invitations" is unlimited.

Download the application and send a request for authorization (waiting list.) But it's down to luck. You can wait up to three weeks for approval.
What's inside this social media app?
The app by design is a mix of live-streaming and podcasting, and it does not provide any chats. There are no "faces," only rooms limited by 5000 people. While onboarding, the user needs to add a profile photo, short description, and specify interests. Clubhouse suggests lists of rooms according to the specified information and also recommends other people you can follow. There are clubs with rooms inside them. There is also a list of virtual spaces created by people you follow.
Two ways of interaction are available: founders of the spaces (rooms) who are at the same time, moderators, and listeners — by default, all users who enter the room. The founder can delegate additional moderators. If someone wants to speak, he/she needs to press the Raise Hand icon, after which moderators decide whom to give the floor. The user can follow other people and be notified when they are on air. There are rooms anyone can enter at any time and turn on the mic or remain a listener. Some are hosted by a couple of speakers and closed for others. There are also rooms with just two speakers and around five thousand listeners inside, and anyone can "raise his hand" to express an opinion.
Number of active Clubhouse users 2020-2021
In February 2021, Clubhouse had 10 million downloads globally. Clubhouse app has about 10 million active users weekly.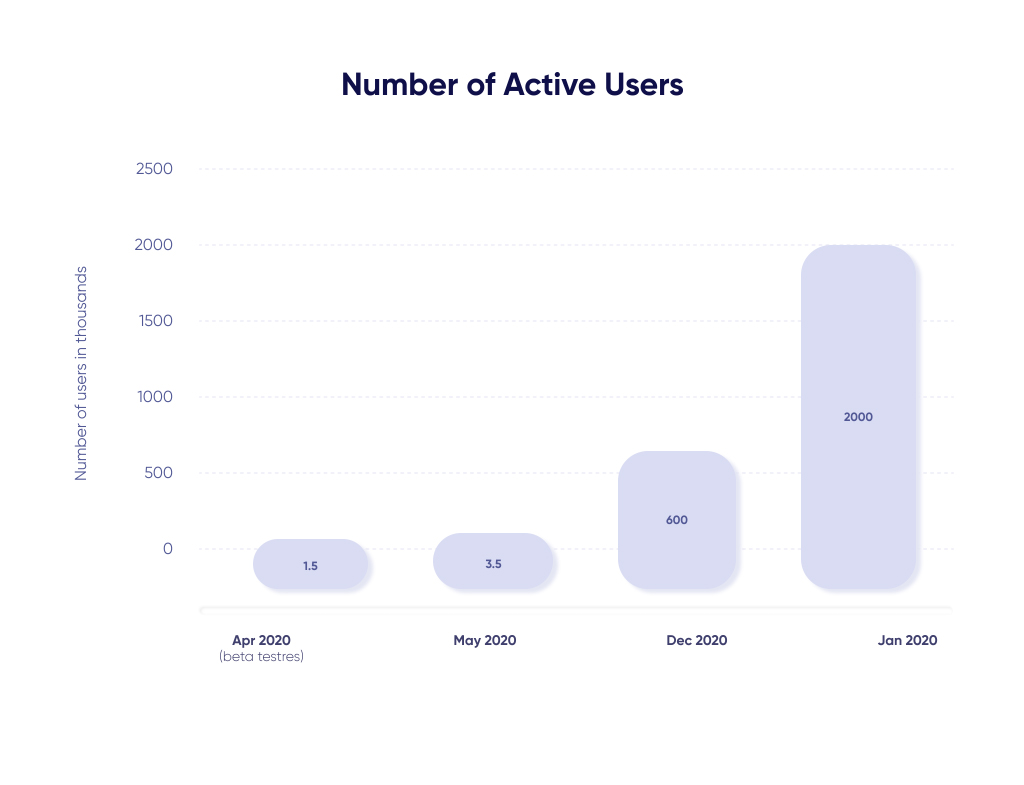 Why audio-format app skyrocketed in 2021?
What can I say? The era of audio creators has arrived. Video calls tie users to their places. There's rarely an option to do something at the same time when having a video session. The good thing about audio chats is that you don't need to prepare as much as you usually do for video chat. I mean dressing up, doing your hair, remove mountains of stuff from your background. It is more about spontaneity and unfiltered, nonstop oversharing of the avalanche of thoughts that need to be heard.
Moreover, here you don't need to think about how to photograph something from the right angle. You don't need to rewrite your post five times to make it short and to the point. You just need to look for like-minded people, listen to the opinions of smart people, and help others with advice.
Many people compare the Clubhouse experience to sitting in a bar with friends and leisurely chatting about the professional and the personal. At the same time, the Clubhouse is now primarily focused on the business audience — they go there for networking, partnerships, and professional boost.
Why is Clubhouse so popular?
Clubhouse managed to effectively satisfy seemingly opposite needs — the longing for fame and the pursuit for elitism and isolation. This may be genuinely a revolutionary new media that is worth paying attention to. Once upon a time, this is how WhatsApp began.
The real value of Clubhouse is not the technology. It is the freedom of speech and global connections, and it is the evolution of podcasting.
However, this is not a new approach — calls on the radio were invented many decades ago. But it soared thanks to bringing the information perception technology. These were wireless headphones in the ears that made it possible to create and consume new content. Live audio has taken an influential place in social media, mainly because it allows speaking out publicly or "podcast" in real-time with zero investment. It enables to spread a word with a network or become speakers with a simple raise of the hand (and permission from the moderator.)
If you ask a Clubhouse user why they like this app, in 90% of cases, the answer will be associated with the fact that there are many influencers and famous figures there, and the others got this chance to stay closer to their idols. Mere mortals are invited by superstars and businesses to talk, where in the evenings, you can meet Mark Zuckerberg and Elon Musk. It's no surprise that the Clubhouse took off, and there is an explanation for this. Among the others, Clubhouse's investor is one of the world's preeminent venture capitalists, Mark Andreessen. He pulled some of his strings, and some very popular celebs registered on the social network. The rest caught up on their own.
One of the enticing things about this app is that there is no differentiation into social classes. You can listen to the conversation of authoritative personalities and participate in it completely free of charge.
Clubhouse avalanche sweeps everyone
Number of weekly active Clubhouse users from April 2020 to January 2021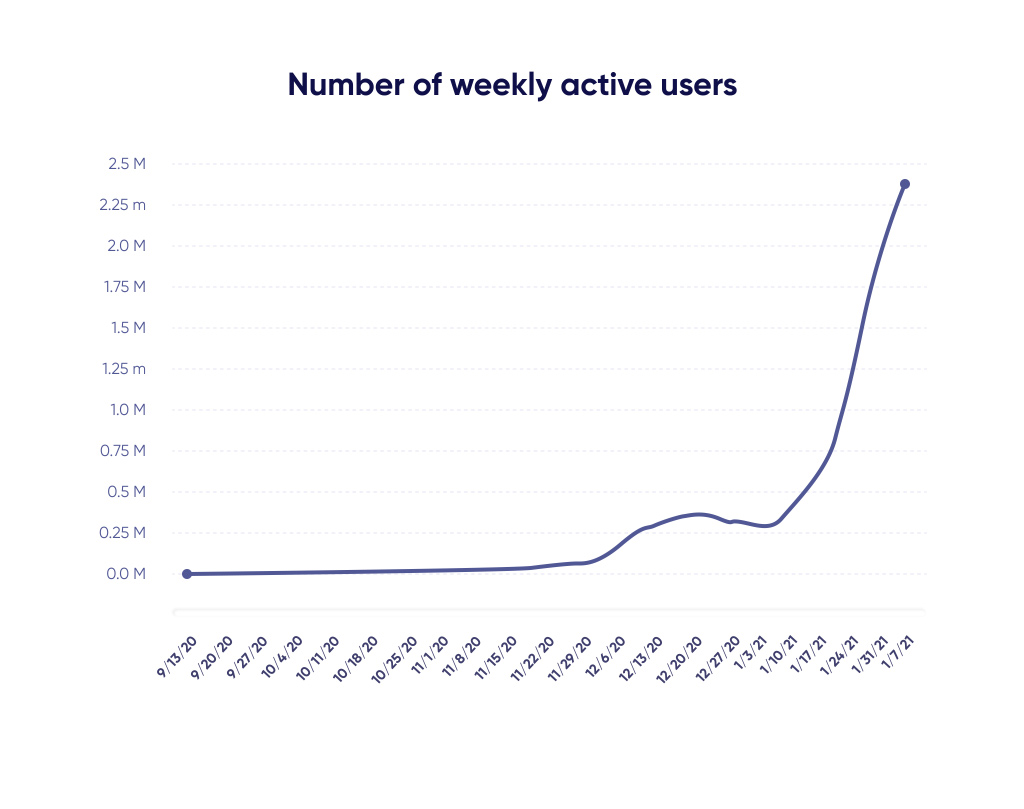 Today, if every second user of the app is a coach or trainer, every third user is a TikToker or podcaster. If you are part of some fan club, you will love it there. Due to the pandemic and the decline in social activity, many of us have experienced FOMO (fear of missing out) — the fear of dropping out of social life and missing out on important things. It might be the feeling that paved the way for the Clubhouse explosion. As always, at the right time in the right place. Some make jokes that this Clubhouse enchantment is like PTSD. Stockholm remote syndrome. As if people aren't tired of Zoom at all. But, seriously, do you know why do we want to listen to all this? Because it is easier for the brain to consume such content. Therefore, we are falling into these oceans of content. Real-life has no chance, as Oscar Hartman says.
Develop a Voice Chat App Like Clubhouse
Building an app like Clubhouse is impossible without rigorous planning. Below we will dive into the entire development process step by step and guide you through each stage. Let's go.
Do the market research
A fantastic business idea is half the battle. The other half is painstaking analytical work and careful planning. During this stage, you need to determine the feasibility of launching a new business in the selected niche. Knowing the market helps to understand your intended audience better. The market analysis starts with the collection of data that will need to be further structured and processed. Objectives and goals determine what information is sufficient for analysis.
If you research the market without having a list of questions in front of you, you risk spending much time collecting and processing unnecessary information.
At this stage, it is also crucial to:
Research of the demand and target audience
Management decisions can't be made without analyzing the target audience in the business.
Analyze your market competitors
It often happens that the idea you want to implement is already implemented on the market, and you will need to rethink your project. Take your time to conduct profound research, find the weak points of other cases to make these features your competitive advantage.
Select monetization model
Now there are several dozen ways to make money on a mobile application. Some models allow you to start earning immediately after release, while others involve increasing income from monetization after a while. Generally, some monetization methods are more popular than others. There can be distinguished such models as advertising (cost per click, cost per mile, cost per action), subscription, in-app purchases, freemium, sale of goods, sale of user data, direct application fees, and various combinations of the above.
Select implementation scheme
When you already shaped your project's vision, you need to brainstorm and build a business model that matches the founders' goals and the market situation.
Hiring a team of experienced specialists/team engaged in the release of the same (similar) product;

Gathering your own team (if the idea is unique and you have enough resources).
Aspiring entrepreneurs often turn to remote specialists ready to create the first version of the product with a low cost for subsequent testing and revision. If it is successful, the first income and profits appear, they organize a full-time team for permanent work.
Product managers working in large companies have a perk: as a rule, they have a team of qualified specialists at their disposal, so it takes a minimum of time to choose an implementation scheme.
Tech Stack
Your voice app must go with high-quality audio to make successful inroads. It needs to be backed by a robust backend implemented by Elixir, .NET, and C++. As a framework, you can use Node.js or Spark.
For the client-side, you will need first to determine a choice of platforms. If you are going to build an app for Android, use Kotlin or Java. If the app will be for iOS, use Swift or time-tested Objective-C. You can also always opt for cross-platform development and use React Native or Flutter frameworks.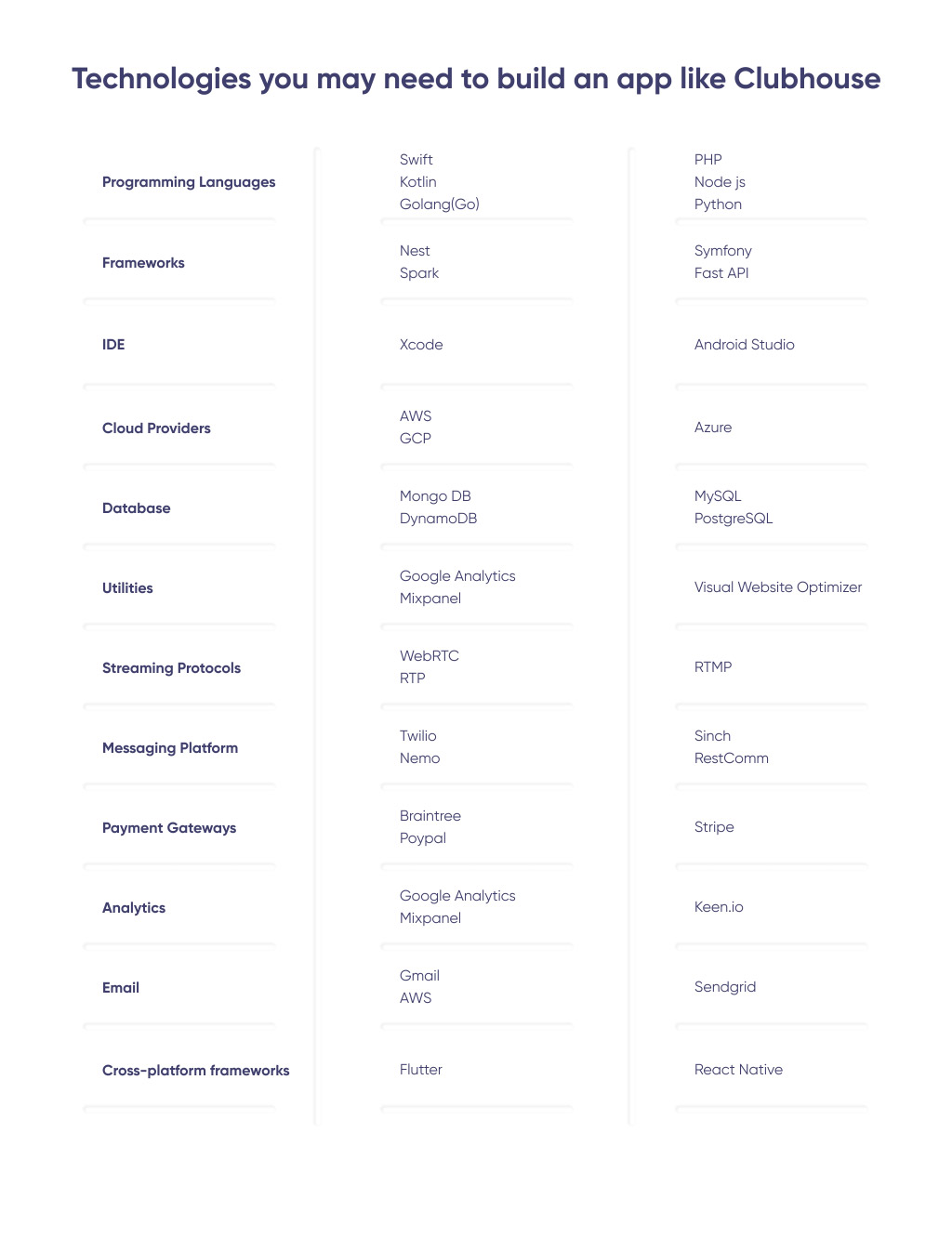 Security
Consumer concerns about data privacy and security are at an all-time high. However, people prefer to consider voice apps, like other communication apps, their territory of privacy — a place where they can talk about whatever they want, knowing that what happens in the app stays in the app. But, there are at least two major shortcomings connected with security in Clubhouse.
Your talk is actually recorded
That means that if someone does report a problem, the conversation or speech will be recorded and saved. And Clubhouse isn't clear about what happens to it then, other than saying it is saved to allow the company to decide. It doesn't say who can listen to it or under what conditions. The accusation that "Clubhouse" records all user conversations is a severe charge. The app's privacy policy reveals that recordings are not stored after the meeting is over unless there is a violation of the terms of use ( cf. Clubhouse Privacy Policy, No. 1 - Personal Data You Provide).
Though, the only way that app developers wouldn't have access to a user's raw audio is if Clubhouse employs end-to-end encryption (E2EE) using a customized encryption method. Doing so would require Clubhouse to distribute public keys to all users. That doesn't exist yet. E2EE is hence highly questionable.
The app you can't escape that easy
In the case of Clubhouse, when you want to quit forever, you have to email the support to make the request and hope they acknowledge it. Your app shouldn't limit the ability to delete it. This is a privacy issue you can eliminate.
MVP — determining the primary features of the product
As you already did a thorough analysis of the market and competitors, you can decide what characteristics and competitive advantages to invest in initially. Talk to your target audience: they will tell you what matters most to solve the problem.
Don't waste time planning all possible functionality early in the product launch. Your task is to make the first tests and collect feedback from the target audience.
Core features
Profile Creation
Contact Invitations
App Hallway
Admin Privileges
Private Rooms
Search Function
App Clubs
Hand Raise
Customizable Notifications
Calendar Integration
Moderation
Test
Any marketing research has a small margin of error. To minimize, conduct a series of tests before launching an entire marketing campaign.
Gather a focus group (potential customers) and let them interact with the product. They will tell you how convenient and high-quality it is, whether it meets the declared characteristics, solves customers' problems, etc.
Based on this information, review your marketing strategy and consider what changes need to be made to achieve maximum efficiency:
building a team capable of solving the assigned tasks;
attraction of financing (funds of founders and/or external investments) and other resources;
optimization of the risks of the project and founders.
The drawbacks you can omit when building a voice chat app like Clubhouse:
It is available only for iPhone users, starting with iOS 13 and iPhone 7.
A need to improve the algorithm, so users are directed toward conversations they actually want to hear or participate in.
A need to identify and restrict spiteful or illegal content on time.
The radio invented by zoomers. One drawback of the Clubhouse for me, personally, is that you can't record the conversation and listen to it later. Of course, it makes no sense to record every conversation, but it would be convenient to have a button to start recording and then listen when there is time. Some conversations last 2, 3 hours or more (people, do you really have so much free time? If so, I really feel envy). I just do not have so much time and charge on my iPhone, and this application will drain the battery very quickly. It's a pity because sometimes the discussion is worth being heard.
Valuable content is lost in the chinwag about too obvious things. It becomes more challenging to find something worthwhile and insightful in this universe of thousand of mics on air.
Develop an app with no possibility of recording what is happening in rooms, so all speeches are carried out only in live mode.
Moderation is not debugged. Therefore, disrespect can arise between the participants in the rooms. It should be their top priority.
Founders draw in users by adding such functions as donations, tickets, and subscriptions, so users can pay directly to the in-app room creators. According to the ballpark figures, with new funding raised since its rollout, Clubhouse has become a Unicorn startup and now worth $1 billion, standing alongside Airbnb, Uber, and SpaceX.
How much does it cost to build an app like Clubhouse?
An app cost can vary depending on the business's specifics and the choice of the operating system. The below features will influence the price of your future app:
Hybrid vs. Native development
Mobile app design
Features-set
Location of the agency
Hourly rate of your development team
Team size
Project size and complexity
Technology stack
Number of team members on the project
Time frame
Assuming that your app is not overly complex and wired with tons of features, the cost to create an app can vary from $40,000 to $85,000.
Conclusions
Despite the popularity of the Clubhouse app format, there is still room for improvement. More features can be added to diversify the user journey, such as Notice Boards' so every room could announce all the latest developments, instructions, FAQs, etc. Many like the format of non-recording, I believe, because of novelty and kind of freedom of expression. But, in a short while, I suppose they will realize the lack of some archive feature where previous room sessions can be recorded and automatically uploaded to folders or create playlists for repeat listening. This feature can come in handy for educational institutions.
Furthermore, an audio-video platform where users can listen to conversations, interviews, and discussions between like-minded people on various topics can be more valuable. I'm just saying that you don't need to gaze at the success of other projects that soared sky-high. You need to focus on what they lack and make it your app's killer-feature. The audio & microphone capabilities in any smartphone combined with an excellent UX and right user permissions will allow you to create an app that will offer an unmatched user experience that can outperform Clubhouse and spur faster adoption.
It is difficult to predict the future of this new service amid the pandemic. Now it is attractive to the audience, the number of downloads is growing, users are demanding more invitations. But when the restrictions are lifted, will people need such service to communicate? Perhaps most will return to the time-tested podcasts, which can be paused at any time.