In 2023 the necessity to hire an app developer is a burning question for businesses of all sizes. Larger enterprises aspire to equip software engineering departments with smart and the most experienced web and mobile development professionals they can find. But the majority of companies (we're talking medium and small businesses) have to seek for an alternative. Whether this alternative is seeking assistance from local/international IT companies or freelancers.
Even though the global IT market is growing rapidly and the labor market offers an employer countless hiring options, the fuss associated with hiring app developer or even a fully-staffed team that will get the job done can be overwhelming. Light IT Global has created a detailed guide that describes the process thoroughly and intends to help businesses hire app developers that deliver state-of-the-art products according to the customer's expectations to make this hard road a little easier and to stimulate business owners to avoid hidden pitfalls.
This editorial will be helpful both to those who want to sign on a web and a mobile app developer. Though, we will focus primarily on mobile applications. And if you're interested solely in investigating the topic of choosing a web dev expert, check our article that will reveal how to hire a web developer.
4 types of cooperation: relevant hiring options review
Let's start with the burning question. Where to find the skilled workforce able to create an app? You have multiple channels to help you hire an app developer (either web or mobile). The first thing to decide is whether you would like to cooperate with a company or a freelancer. It is important because you'll discover different types of contractors on different platforms.
Should you put together an in-house team, hire app developers that freelance or a company? Any business owner should remember that there's no 100% right or wrong answer to a question. In some cases, opting for a freelancer is more beneficial than choosing an app development firm and vice versa. And there are times when the in-house team will be a recipe for success. What are those cases? Let's review them!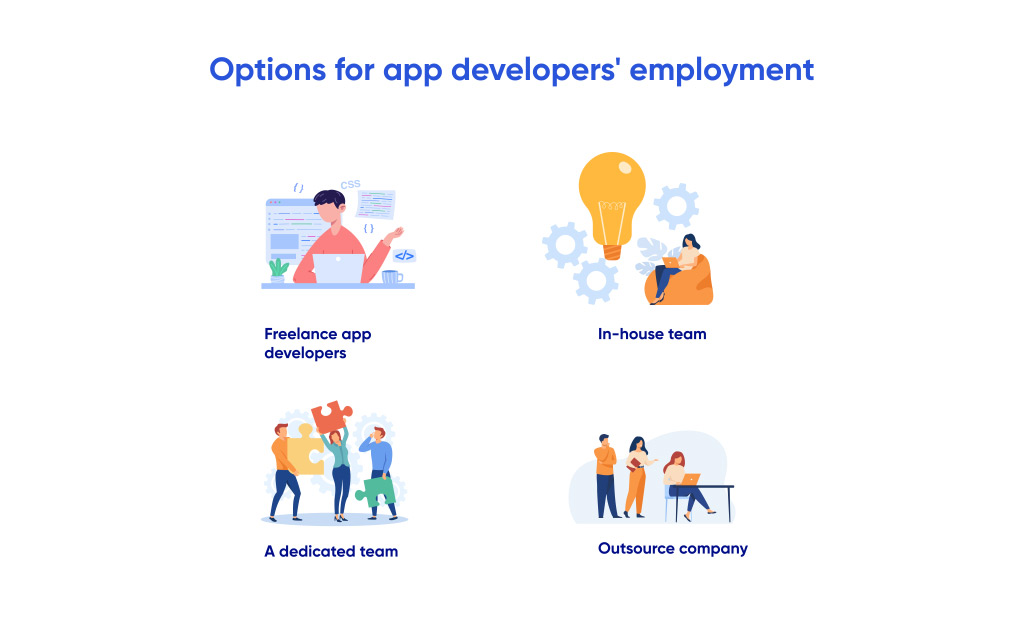 The price is one of the prominent assets of working with a freelance app developer (or several freelance contractors). Sometimes even high-level freelance developers charge less than IT agencies do. Though some exclusions do apply, as a rule of thumb, freelance app development costs less. And let's have clean hands, many small businesses and startups will choose a cheaper option as budgets are often tight.
Another viable perk is flexibility. It's easier and faster to end the cooperation with a freelancer and just hire another one. Luckily, the international market is full of specialists. Hundreds (if not thousands) of them will be willing to work on your project.
There sure are some darker sides to this kind of partnership. Freelancers work slower than well-established teams. They may not meet the discussed deadline. The code may not be that great as there's little external control. Communication issues may appear along the way. Hiring a freelancer can be a stressful unjustified choice. But also effective and advantageous.
So, when is it profitable to hire mobile app developers on a freelance basis?
Smaller, more simple projects
Working on particular tasks
Projects with detailed requirements
Building an in-house team is, in a way, the reverse of trusting the project to a freelancer. An in-house development crew or a fully-functioning IT department is a sure-fire way to bring even the most technically daring projects to life while having full control over the process. It gives a business owner confidence as they can see that the IT professionals work hard every day to create a successful product.
Besides, there's nothing quite like the experience of working shoulder to shoulder to achieve a shared goal. When forming their in-house team, entrepreneurs are able to choose people who not only have a strong technical background but also are psychologically compatible and easy to work with.
Is creating an in-house IT team the best way to hire app developers? It sure is for some businesses, but this hiring option also has drawbacks. Firstly, it is not only costly but resource-consuming. The business owner is not only paying for the development services but also for sick leaves, vacations, etc. Providing the team with all the necessary equipment (hardware + software) is also on the entrepreneur. And it's not profitable to finance an in-house team if it's only for single project development.
When is it better to hire an in-house team?
Long-term projects
The need to develop digital solutions regularly
The business has plans/potential to grow or scale
A contract with an IT agency is popular with companies of all levels needing technical assistance and individuals willing to hire an app developer. It is 100% safe yet gives an employer plenty of room for quick changes and smooth adaptation.

You can award a contract to an app development firm and outsource all the tech, management, and marketing work without worrying about anything. You may trust the provider with only the implementation of certain duties, responsibilities, or development stages. Or you can get a dedicated team and take over the management completely. It depends on your preferences, working style, and financial situation.
But is adaptability the only benefit cooperation with a software development agency can offer modern businesses? There's so much more one may not have considered!
The price range for hiring app developers from an IT company can vary significantly. You can find low-cost offers and sky-high fees. But the greatest factor is that with the help of nearshore software development and offshore outsourcing, it is pretty easy to find that golden price-quality ratio and receive an amazing market-ready application without spending a fortune on it. Plus, considering the sums users around the world spend on mobile apps, cooperating with an agency can be the smartest investment possible.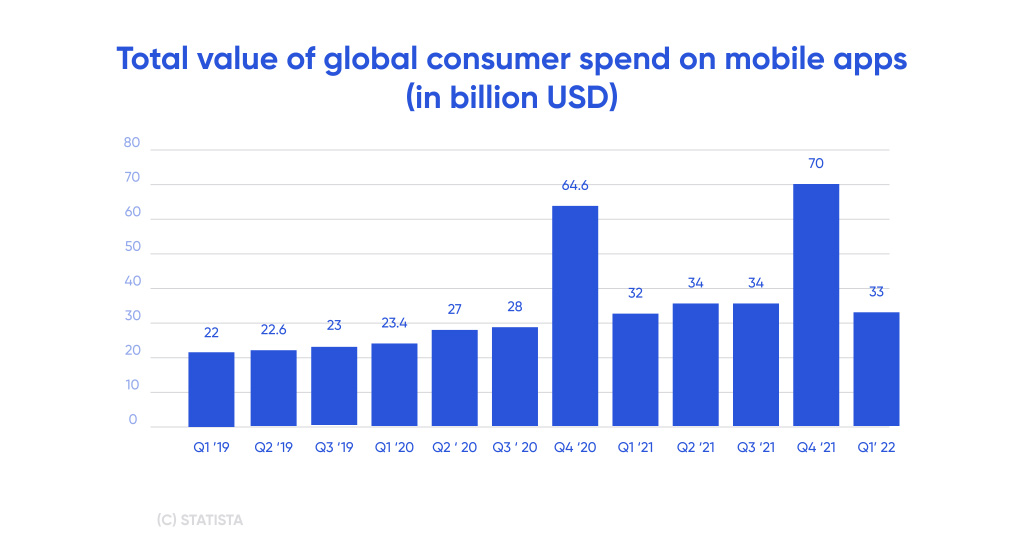 Some may think that working with a service provider from across the globe is risky and maybe even not legal. In reality, it's the opposite. Different legal documents always protect the customer. Besides, the software development agencies cherish their reputation above anything.
What are the best scenarios to work with a development company?
If all you have is an app idea
If you plan to change the app's functionality on the go
If you require an "all-inclusive" service
If you want to hire a dedicated team
As you might have noticed, we've mentioned the dedicated team concept a few times now. Let's clarify the definition and point out some of the perks of this hiring option.
Benefits of hiring app developers as a dedicated team
A dedicated team is not the same as an in-house team. It is a cooperation model in which the software is created by a team, which is granted to an entrepreneur by a software development company.
The key features of a dedicated team approach:
Long-term cooperation
The teammates are chosen to meet the customer's demands
The management process can be held either by a service provider or a customer
The experts work solely on the customer's project/tasks
The customer is in full control of the team's work process
As you can see, there are some similarities with the in-house team employment model. Yet, in this case, the team is not working from your office, you don't have to pay for the benefits package, and the team augmentation process is generally way simpler and less nerve-wracking.
Now let's cover the advantages of hiring app developers as a dedicated team.
When working with a dedicated team, a business owner may not fear any financial traps as the pricing is strict and clear. The customer pays a salary to each team member plus a discussed fee established by an agency that has provided the experts.
The social package payments like sick leaves or vacations are usually covered by the service provider (the agency), and the customer doesn't have to worry about that. It helps to cut costs significantly.
Full focus on the project and maximum dedication
As the hired developers work exclusively on the customer's application, they gain a profound understanding of its specifics, the project's business goals, and the employer's expectations. All of this helps to ensure that the final product will not only be qualitative but marketable, trendy, and profitable.
Quick scaling and replacements
Long-term application development increases the likelihood of a sequence of events in which a customer will hire an app developer to either augment the team or replace one of the professionals who had to leave the project for one reason or another. In this case, the employment process will be smooth and quick. All the business owner has to do is to contact the agency and request the addition to the staff. It will be taken care of, saving the customer time and nerves.
Working only with the experts that understand the domain specifics
This one is especially relevant for healthcare, finances, or energy industries. Compliance, specific security requirements, superb computational accuracy, and many other aspects must be considered. And that is not something a developer can learn overnight. The understanding of an industry comes with experience. And a dedicated team model allows an entrepreneur to only hire app developers that rise to the challenge.
High adaptability at all stages
A dedicated team model is often chosen for projects with unclear or changing requirements. Think about it this way, when you have a tech crew that can turn into the software your every idea, wouldn't you use this opportunity to test out different concepts, visions, and theories? At the same time, the tech professionals know the project inside-out and will come up with the most effective solution when it's needed.
Where to hire mobile app developers?
Let's break down one of the crucial elements of the employment process and explain how to hire an app developer with minimum effort. Where can a small business owner or a startupper without experience with IT hire an app developer with minimum risk? This editorial will cover four of the most popular and sure-fire ways to find highly qualified tech specialists.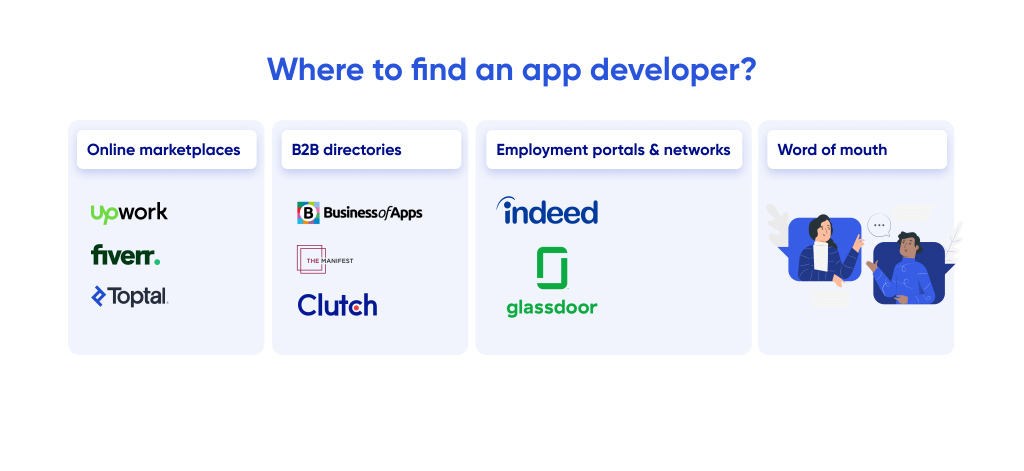 Online marketplaces
Dozens of well-established online marketplaces out there help business owners hire an app developer or even the whole team at once. Some are niche, the others are more comprehensive. There are national and global platforms, well-known brands, and market newcomers. The choice is truly impressive.
The most popular resources you've probably heard of are Upwork, Toptal, Guru, People per hour, and Fiverr. The list can go on.
What do these marketplaces have in common? They are easy to use and intuitive. So even if the business person is uninformed on how to hire an app developer, they will be able to find a suitable candidate in a matter of hours.
All the entrepreneur has to do is create a "job" that describes the work that needs to be done, deadlines, budget, and preferred tech stack. Keep in mind that many of those items are optional. For example, you may set up an approximate budget or even choose one of the categories (low, medium, high). The list of essential project information the business owner must provide will depend on the platform. After that, the applicants will send their "bids" containing info about their experience, financial expectations, and vision regarding the project's implementation. If the customer has chosen a worker, the cooperation starts The communication is usually held within the platform.
Some may assume that such marketplaces may be useful only for those entrepreneurs who plan on hiring app developer who prefers to freelance. But that is not true. Companies also use these resources to search for new prospects, and you may (if desire) hire a professional team specializing in all-around development.
The cost range is a great perk of searching for app developers on these marketplaces. By creating a job post there, an entrepreneur can learn about the medium prices, which will help to budget the development later.
B2B directories
Looking through UpCity, Clutch, Business of Apps, The Manifest, and other B2B directories is an effective way to hire app developers. Especially if the business person tilts toward cooperation with a software development agency.
The directories make the screening process easier, allowing the interested individuals quickly research all the available options. The platforms contain information about the IT companies providing different types of services. It usually includes the company info (+ website link), trustworthy real-life reviews, prices, and portfolio.
To hire mobile app developers, the business owner just must choose a "mobile app development" category and the region (country or state). Some directories provide more extensive filtering options to narrow down the search. The common practice is to scroll through the "top developers" category where the cream of the crop is gathered.
Tailored search results can be very helpful as the offered companies always meet the most important criteria: location, experience in a specific industry, good customer feedback, an extensive portfolio, and a suitable rate. No time-wasting and meaningless interviews.
Employment portals & networks
Platforms like Indeed, Linkedin, or Glassdoor can help the business owner in many ways. For example, a job posting on one of these online portals will captivate many competent applicants if one wants to hire an app developer for an in-house team.
These resources can also help to get more information about the company you're considering as a possible partner. And it's not just white-washed info you'll find on their website, it's real reviews from the customers and employees. And knowing how the company treats its staff can be a powerful proof-point influencing the decisional process.
Besides that, the salary information will help you hire app developer who is skilled but not too expensive, plan a realistic budget, and not overpay individual contractors and companies you'll be working with.
Word of mouth
This one is less widespread among business owners, especially first-timers. Some don't know whom to ask or simply don't have the necessary business connections. The others fear that the recommendation may actually hurt their business. Still, for the most part, these fears are nothing more than over-worrying.
Word of mouth is a great way to hire an app developer if the entrepreneur selects a solid approach. Question friends, peers, and credible contacts if they can recommend you a freelancer or an app development company they've already worked with.
By any means, you shouldn't neglect the research stage (which we'll discuss in detail in the next section). Yet, the candidates recommended by someone you know should be on the top of your list.
Another critical aspect is that word of mouth will help discover possible specifics and drawbacks that may appear during the cooperation. Ask the important questions regarding the communications style, the future contractor's will to compromise or come up with creative ideas, if there were any force-majeure circumstances, etc. An in-depth interview will help you make a balanced decision you won't regret in the future.
Hire app developers easily and effectively. A step-by-step process
Now let's break down the employment process into easy-to-follow steps anyone can complete and receive a good result in the end.
#1 Document the requirements
Start with writing down all of the expectations, wishes, and preferences. Document everything, even the minor details. Take your time and spend at least several days thinking out the concept of your application and the future cooperation process.
At the end of this step, you should have a document(s) that contains all the information about the application you find relevant. To make it easier and less ambiguous, we suggest creating a list with short, clear items like:
I need an app that works on Android and iOS smartphones
I have $25K to spend on it
The people should be able to book tickets to events in their country and abroad
I need a blue and red logo
The user should be able to pay for the tickets with a credit card or via PayPal
I want to receive an MVP at the end
I need the app to be ready in 4 month
I am ok with outsourcing the project to a foreign company, but the time difference has to be less than five hours
I don't want to work with a freelancer
…etc.
As you can see, the list doesn't necessarily have to be heavy on technical details. Though, if you're able to provide them, it's always a plus. All you need at step one is to write down all the aspects that will make the cooperation pleasant and profitable for you. Later you will make a choice based on how well the candidates can meet those requirements and if they "check all the boxes."
#2 Pick the type of cooperation
We've already discussed the topic of cooperation types in this article, so let's keep it short. Weigh all pros and contras and decide whether you will build an in-house IT team, hire an app developer who happens to be a freelancer, or work with a software development company.
Another important aspect to consider is the payment/business model. The most common are:
Dedicated team (paying monthly salaries to all the team members + the fee from the service provider)
Time & material (paying only for the hours the team has spent working on the project + the material costs)
Fixed-price (paying a pre-agreed amount of money for the development services)
#3 Research the market
Depending on the choice you've made earlier, start the market research process. Browse through the digital platforms we've talked about previously. Ask your peers if they have a company/individual to recommend to you. Check out the websites of multiple app development companies and compare their approach, rates, and portfolios. Download several popular apps from Google Play and App Store to better understand the trends. And if this step changes something about your vision or expectation, go back to the first step and update the document you've created, adding the relevant info. Creating a list of candidates (companies or individuals), you find promising and would like to work with is also useful.
#4 Narrow down the search
At this stage, it is time to make more specific steps towards the goal, which is to hire an app developer or a team. Take a look at the research results from the previous step. Go through the list and exclude the candidates that do not meet the basic requirements. For example, cut off the providers with unaffordable rates or not impressive portfolios and lacking trustworthy customer reviews. Your goal here is to narrow the search to about 5-10 possible contractors you will interview.
#5 Interview the candidates
Contact the chosen developers/companies and tell them about your project. Share the information and the documents you have. Answer their questions and ask yours. This is the perfect moment to ask for a presentation or some references and find out about the contractor's communication style, values, and work ethic. Make sure you're happy with the answers you're getting. If something seems suspicious or bothering, it's a red flag. It is safer not to consider that candidate anymore.
#6 Get the quotes and estimations
Part of the initial communication stage is usually receiving the quote/ballpark estimation for the future product. It should be completely free, and if the possible contractor asks you to pay for it, eliminate them from the list of candidates.
Be ready to answer some questions regarding your vision and preferences and then wait for a few days as the estimation (even the rough one) takes time.
Gather the quotes/estimations from all of the candidates you consider and proceed to the next step.
#7 Analyze the results
Compare the estimations you've received. Are they similar? Do different contractors offer you more or less identical rates and terms? Have they shared some extra information (e.g., proposed to use a certain tech stack)?
Evaluate the approach the candidates took when creating the estimation. If it looks reasonable and well-thought-out, it's always a good sign. Remember that this kind of estimation is not exact and may change later if unforeseen circumstances arise (e.g., you'll be willing to add extra features or only hire app developers with the highest qualification, etc.)
#8 Make a choice and launch the discovery phase
You should have from one to five cooperation proposals with estimations or quotes by this stage. Choose one that works for you, sign the contract (and let the contractor sign the NDA or other necessary documents), and proceed to the discovery phase.
During the discovery phase, you and the team you're working with will better understand the concept and the strengths of a future application and develop ways to ensure its market success.
Keep in mind that the discovery phase doesn't include the development itself. It paves the way for it and creates favorable conditions for a smooth, uninterrupted, and trouble-free workflow.
Top-8 mistakes when hiring an app developer
Making mistakes is a part of life. Yet, in business, the cost of even the slightest misstep can be fatal. So how not to back the wrong horse and hire an app developer you'll be happy with? Remembering the eight most common mistakes employers make will help! Let's review them all!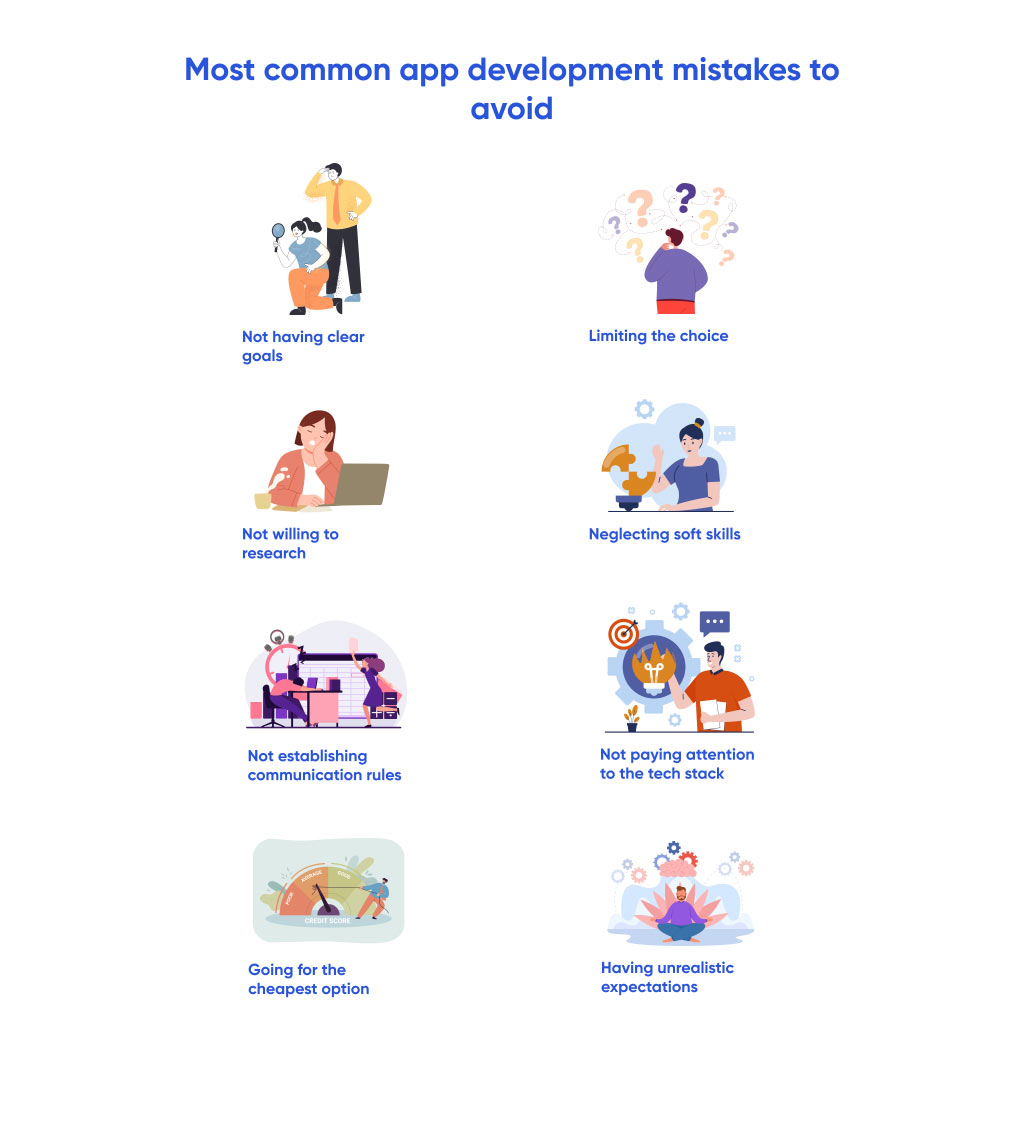 #1 Not having clear goals
I need an app developer to develop an app, but I'm not sure what it's going to be… Far too many business owners start to look for a tech professional, not even having the idea of what kind of result they want to receive in the end. That is a recipe for disaster.
The employer doesn't have to have a detailed tech specification waiting for the developer. Still, prior to signing a contract and hiring app developer, set up some defined, achievable and measurable goals for the project.
#2 Not willing to research
Don't go for the first offer you'll receive. Yes, the global IT market is huge and ever-growing. Yes, by 2024, the number of software developers in the world will exceed 28 million. Yes, the search for the right candidate can be overwhelming. But that is not the reason to abandon the research completely and "work with what is offered."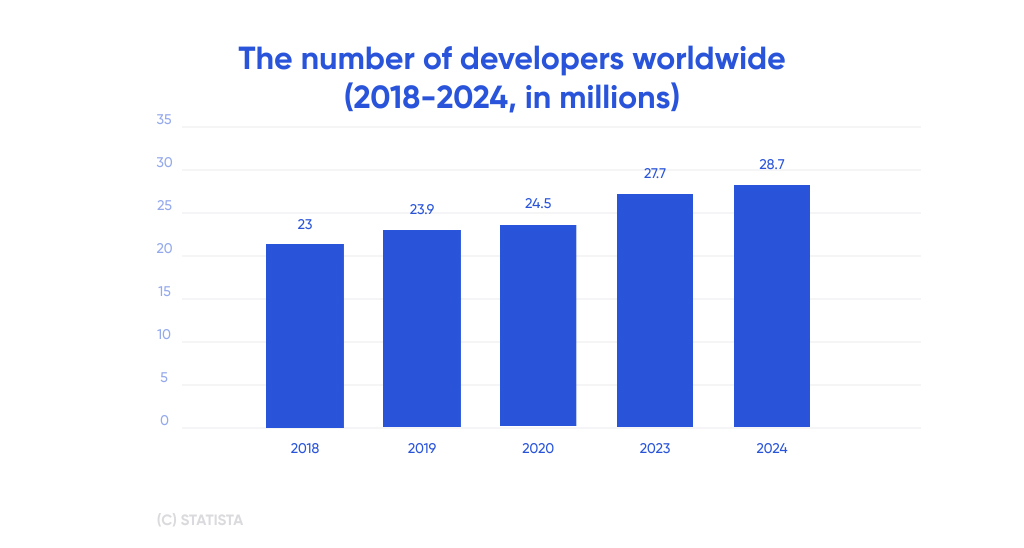 Poor research more often than not leads to growing development costs, unsatisfactory product quality, miscommunication, and broken deadlines. All of that is preventable if the business owner takes some time and is not rushing to hire an app developer who just happened to be the first available.
#3 Not establishing communication rules
Communication is the key to the project's success. There's no way to build a successful app without having to spend time talking about the ideas, expectations, problems, and solutions. The app development is not about paying the service provider money, disappearing for six months, and then returning to accept the job. The chances are, you will not be happy with the result.
Establish communication rules that work for you. Sure, the employer doesn't have to be online 24/7, but regularly scheduled calls and meetings will make the cooperation much more productive and pleasant.
Otherwise, you risk finding yourself in a situation where the development process is going on for months, but you don't know anything about what's actually going on.
#4 Going for the cheapest option
The golden rule that will help you hire an app developer you'll be 100% happy with is 'keep the balance.' Any business person looks for ways to cut costs. But sticking with the contractor that has offered the lowest rate is extremely dangerous.
You might receive a working application, but the code quality will most likely be just as low as the rate. A cheap app is not a smart investment as, over time, more flaws and weaknesses will come up. And oftentimes, building the new app from scratch will cost you less than tweaking and improving the existing one. Don't be penny wise and pound foolish.
#5 Limiting the choice
IT is a global industry. Businesses are not limited to cooperating exclusively with the representatives working on the national market. You can hire an app developer from any country, any corner of the world. So explore all the opportunities and don't set up the limits you may regret later.
Some entrepreneurs prefer to play it safe, but excessive caution comes with the price. Instead of working with the best, you'll be stuck with what is brought to you.
#6 Neglecting soft skills
The app developer should commit to clean code practices, have extensive experience, meet deadlines, and be familiar with the latest tech trends. Sounds like a nice professional description?
It is, but it hides one of the common mistakes — ignoring soft skills. Yes, the developer should be able to produce working code. It's their job. However, if you hire an app developer with the most amazing skill set in the world but they can't communicate, cooperate or accept criticism, it will affect the product's future success and the employer's mental health. Soft skills are important, don't forget about them.
#7 Not paying attention to the tech stack
Tech trend isn't just a buzzword. Technologies appear, grow, peak, and get replaced with something new and fresh. Getting into the nuts and bolts might be hard for someone who isn't close to the IT world. But understanding the basics is very important if you plan to hire an app developer with relevant skills.
If the employer isn't paying attention to the developer's preferable tech stack, they risk receiving an application that will be hard to maintain or not interesting to the audience. Familiarizing yourself with the tech trends isn't as hard as it may seem. Search for the most popular technologies, learn some names, and you'll be ok.
#8 Having unrealistic expectations
Hiring app developers who know how to create a modern digital product is vital for a business that requires a market-ready solution. Yet, the employer shouldn't burden the contractor with the weight of unrealistic expectations.
No team, even the most professional and expensive one, won't be able to deliver a complex application in a few days. No manager or developer will be there all the time to answer your emails within five minutes during holidays or at night. Don't hire app developer and expect them to create a product's design for you.
The less unrealistic expectations one has, the fewer problems they experience during the cooperation.
How much does it cost to hire an app developer?
Let's wrap it up with the most interesting and valuable info — the prices! It is vital to remember that the amount a business owner will have to pay to hire an app developer will be formed by multiple factors.
The contractor's location
The cooperation model
The project's specifics
The timeframe
The additional services
The contractor's location is probably the most important aspect of price setting. The same app development services the teams provide with an equal number of experts with the same qualification and experience will cost differently in different countries.
For example, the average software development price in the US is between USD 75-100 per hour and goes up to USD 150. While software outsourcing to Ukraine allows cutting costs up to three times as the average rate here is USD 25-45. Is it more profitable to hire app developers from the most popular IT destinations like Eastern Europe or Asia? Definitely!
The cooperation model also influences the price directly. Freelancers charge less. That's the fact. You can hire an app developer specializing in Android for USD 13-18 per hour. iOS developers cost a little higher. Sure, the mentioned numbers are on the lower end of the spectrum, but they are legit. Hiring app developer as a part of the team provided by an IT company is more expensive than cooperating with a freelancer. And creating an in-house team from scratch is the most resource-consuming and costly option out there.
The project's specifics shape the price in so many ways! Hiring app developers for smaller basic projects will cost less as even junior or middle-level experts will be able to deliver a decent product. Complex custom apps will cost more as more professionals will be involved, and their skill levels will be higher as well.
If the developers' level grows, so does the price. E.g., entry-level developers can charge less than USD 20, middle-level professionals work for around USD 50 per hour, and the senior experts charge USD 100+
The chosen platform is also important. Native applications development has a higher average price in comparison to cross-platform development. For example, React Native developers' average rate is between USD 25-70, while iOS developers charge USD 45 and higher.
The timeframe is a secondary factor, but it still is important. Don't establish strict deadlines if you plan on hiring app developer and saving coins simultaneously. Both in web and mobile app development, a tight schedule means spending more money as more resources are required to meet the deadline.
The necessity to order additional IT services required after the development stage is over is not so obvious to many business owners. If you've managed to hire app developers and create the solution, it doesn't matter it's time to rest on your laurels. The app requires regular updates, security and vulnerability checks, bug fixes, and other post-launch work. And all that work means you'll have to face additional expenses. Make sure to hire an app developer to take care of all that, or include the post-launch services item into the contract with the company you want to work with.
Final words
Hiring app developers is not as complicated or intimidating as it may seem. If you're willing to invest some time in learning and investigating the subject, you can end up reaping all the benefits the IT world can offer!
Choose the right expert or a team once and forge strong business connections that will be mutually profitable and will last years! Who said you should hire app developers that you've never worked with before for each project you plan to implement?
Light IT Global hopes that this guide was clear and helpful. We want your app development journey to be as simple, effective, and pleasurable as possible. And of course, you can always contact us, and we will help you not only hire an app developer who will create amazing software for you but build the whole team that will transform your idea into money-generating software!