Everyone loves free apps. The mobile app market is filled with various offers, that's why people got spoiled and don't understand why pay for something they can get for free. To beat your competitors, you need to know how to make your mobile product commercially viable, so read this article and learn more about app monetization models.
Types of Mobile Apps
The number of app downloads over the globe increases constantly, which indicates that the mobile market will remain profitable for years. The popularity of different types of mobile applications varies depending on targeting, location, and other factors.

The main and most popular types include but not limited to:

- Gaming apps;
- Business apps;
- Lifestyle apps;
- Health apps;
- Shopping apps;
- Education apps;
- Social networking apps;
- News apps;
- Entertainment apps, and others.



The diagram below indicates that gaming apps have more downloads and bring higher revenue to their owners. Because of its profitability, the gaming market is overcrowded with all kinds of offers and became hostile to startups.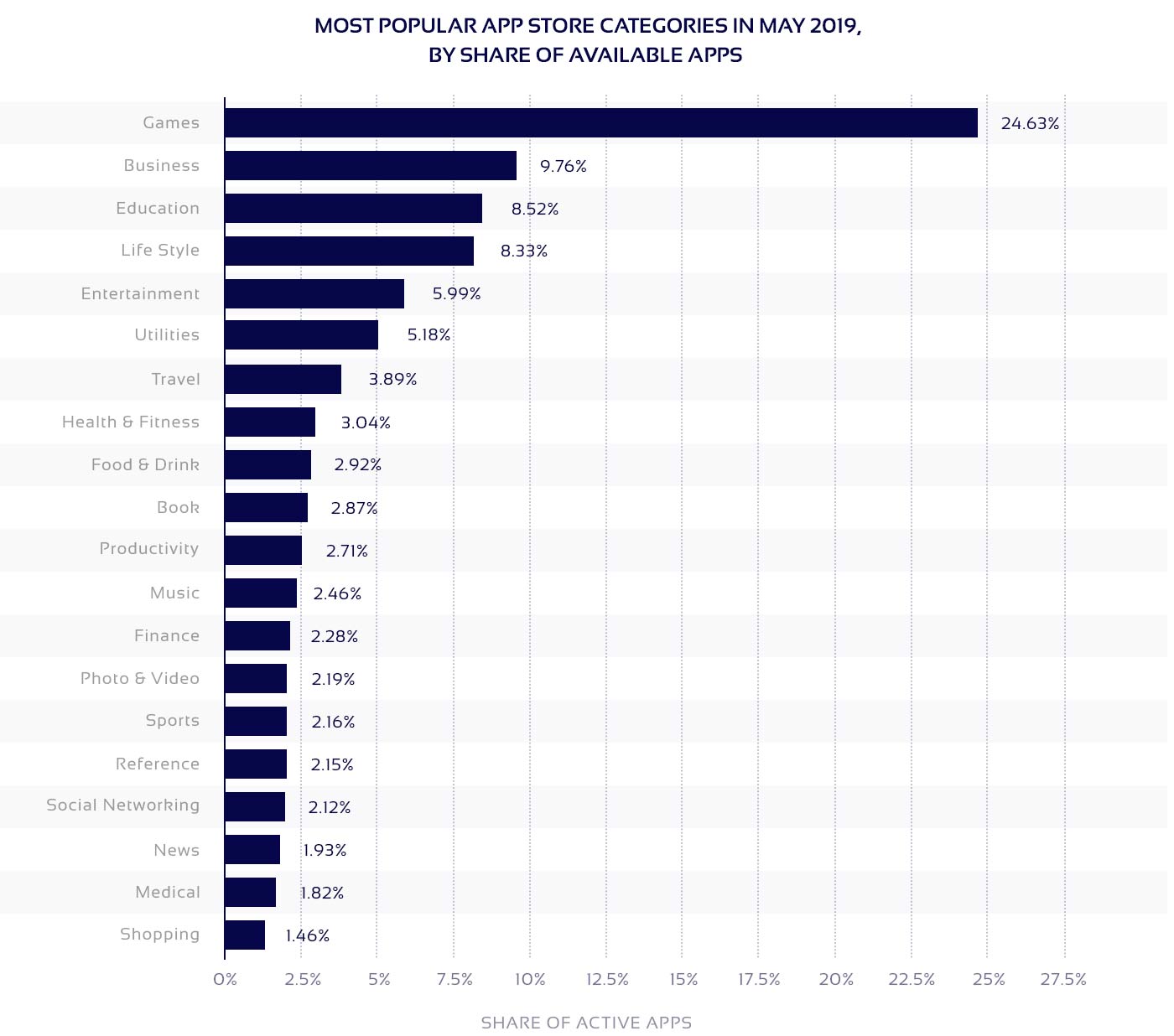 Find out what applications are active on the market in both Google Play and App Store as well as how do free Android apps make money along with identical iOS apps to decide which target platform suits you best to develop and monetize.
Free Mobile App Market Research
Free applications have always been more popular than the paid ones, which indicates that free applications have a great commercial and competitive capacity in the free app vs. paid battle. According to one of the most reputable statistical services Statista, in June 2019, Google Play had only 4.4% of paid apps, compared to 95.6% apps that can be downloaded and installed for free. In the same period, Apple's App Store counted 10% of paid apps and 90% of free applications respectively.

The number of mobile application downloads around the world counts in billions and grows each year. In 2022, this number is expected to exceed 258 billion.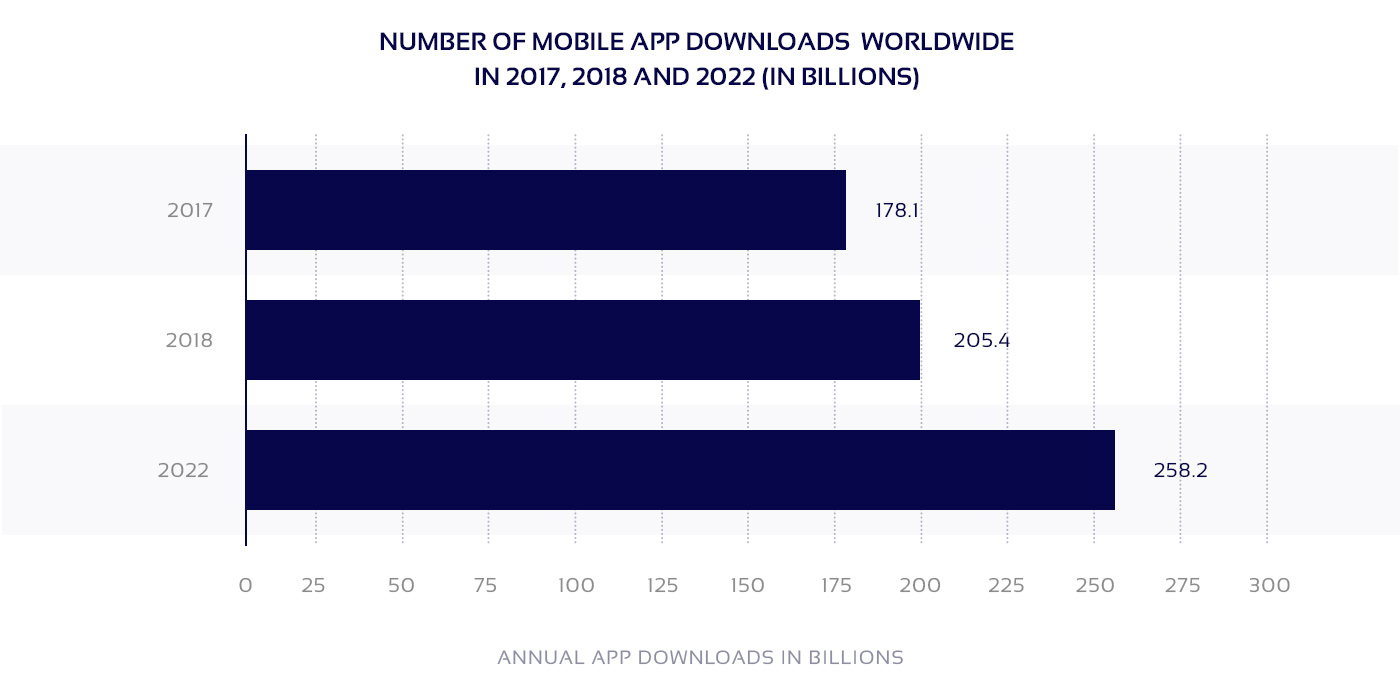 What you need to do is to provide deep mobile application market research and look at your future digital product from such sides as:
Competitiveness on the market;
Trends and shifts on the market;
Target audience (age, gender, income);
Location (countries, regions, cities);
Product uniqueness and viability;
Main product weaknesses and threats (internal, external);
Mobile app market niche;
Partnership opportunities;
App development costs;
Monetization ways, etc.
Detailed and solid market research is the key to creating a successful and financially rewarding mobile application that won't need excessive investments, so don't underestimate the importance of this step in your mobile app monetization strategies development.
Free vs. Paid Apps: Pros and Cons
When it comes to mobile app monetization, free and paid applications have their own advantages and disadvantages that make startup and business owners decide what type suits their goals and expectations best.
Free Apps – the Pros.
Since these applications are available for free, they have a variety of advantages for users that include:
Increased attractiveness;
More installs;
More people to show ads;
Numerous monetization opportunities;
A bigger number of positive reviews (which is good for a brand);
Lower expectations from users.
People tend to appreciate things they get for free, are less irritated by the ads shown and don't expect the app to have the highest quality.
Paid Apps – the Pros.
Such apps are beneficial from the financial perspective and offer their owners:
Increased user loyalty;
Enhanced user activity;
Fewer competitors on the mobile app market;
Money from every download;
Better app engagement;
More good-quality leads;
No necessity in showing ads.
When people pay for the possibility to use a mobile application, their user expectations increase significantly. In return, they want to get top-quality user experience and don't want to be irritated by random ads.
Free Apps – the Cons.
To make sure that building a free app to monetize is a good business idea, consider the list of their disadvantages below:
An enormous number of free apps on the market;
Revenue is not guaranteed;
Low loyalty rate among users;
Ads may irritate and distract users.
Knowing these negative sides of making money on free applications should be useful for building the most efficient monetization strategy.
Paid Apps – the Cons.
The pay-to-use type of applications has several weaknesses that are the main reasons why they have such a small market share comparing to use-for-free apps. The main disadvantages include:
Fewer downloads even if the price is low;
Limited target audience;
High user expectations;
A limited set of monetization options;
Additional ads will irritate users.
Paid applications are not so easy to monetize, and they always must be extra useful and valuable for their users.
These lists of pros and cons are not extensive, yet they cover main reasons that help to decide if paid or free apps are worthy of putting time and money on development, promotion, and maintenance.
iOS vs. Android
Even though the variety of mobile operating systems is not limited to Android and iOS, these two platforms are undoubtedly the leaders of the worldwide market in 2019.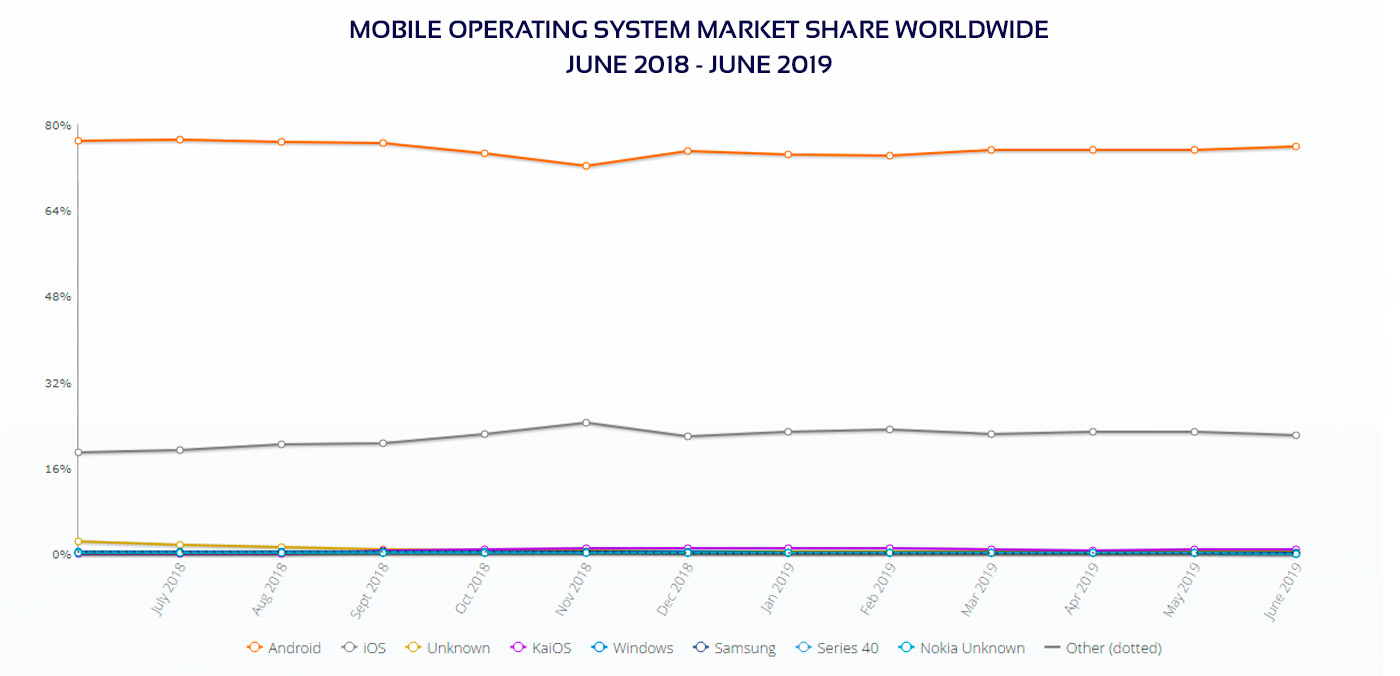 The same picture can be observed in Europe.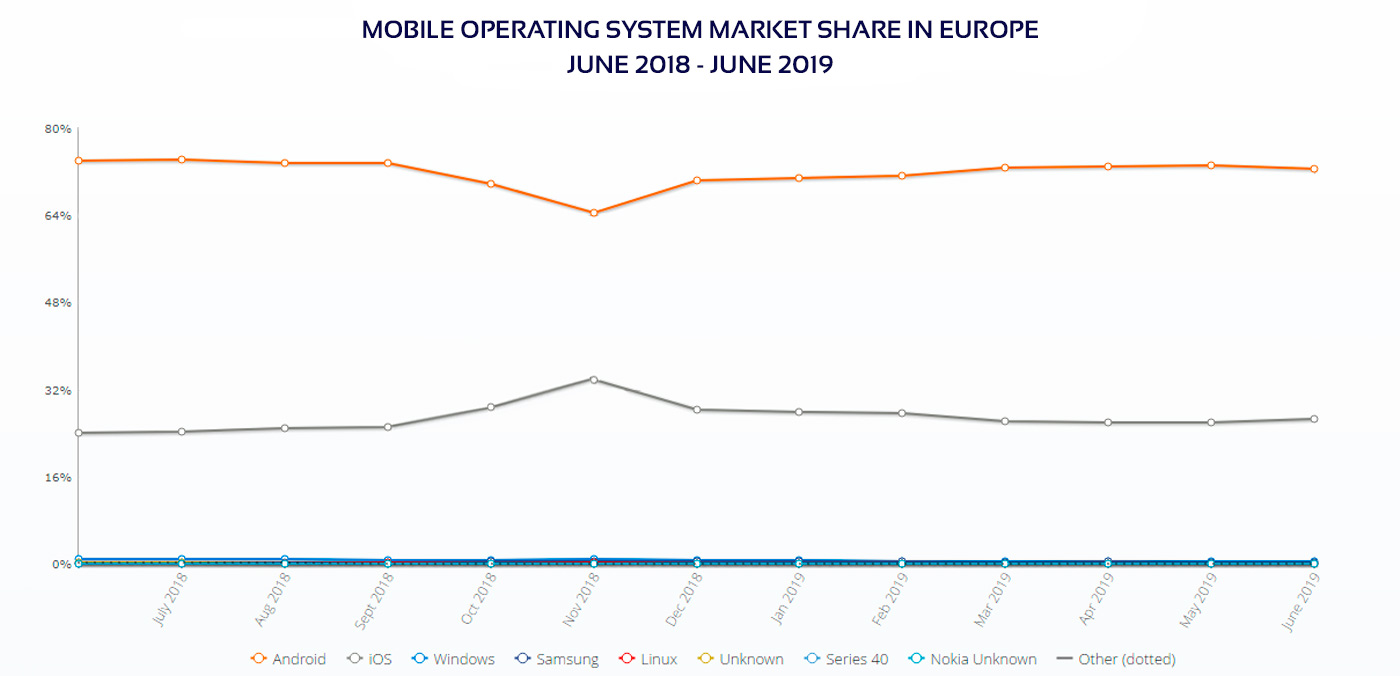 Android may be on the leading position worldwide and in Europe, but in the United States, the current market share of mobile operating systems is different. According to the Statcounter service, iOS remains dominant on the US market and leaves the Android OS on the second place and other operating systems far behind.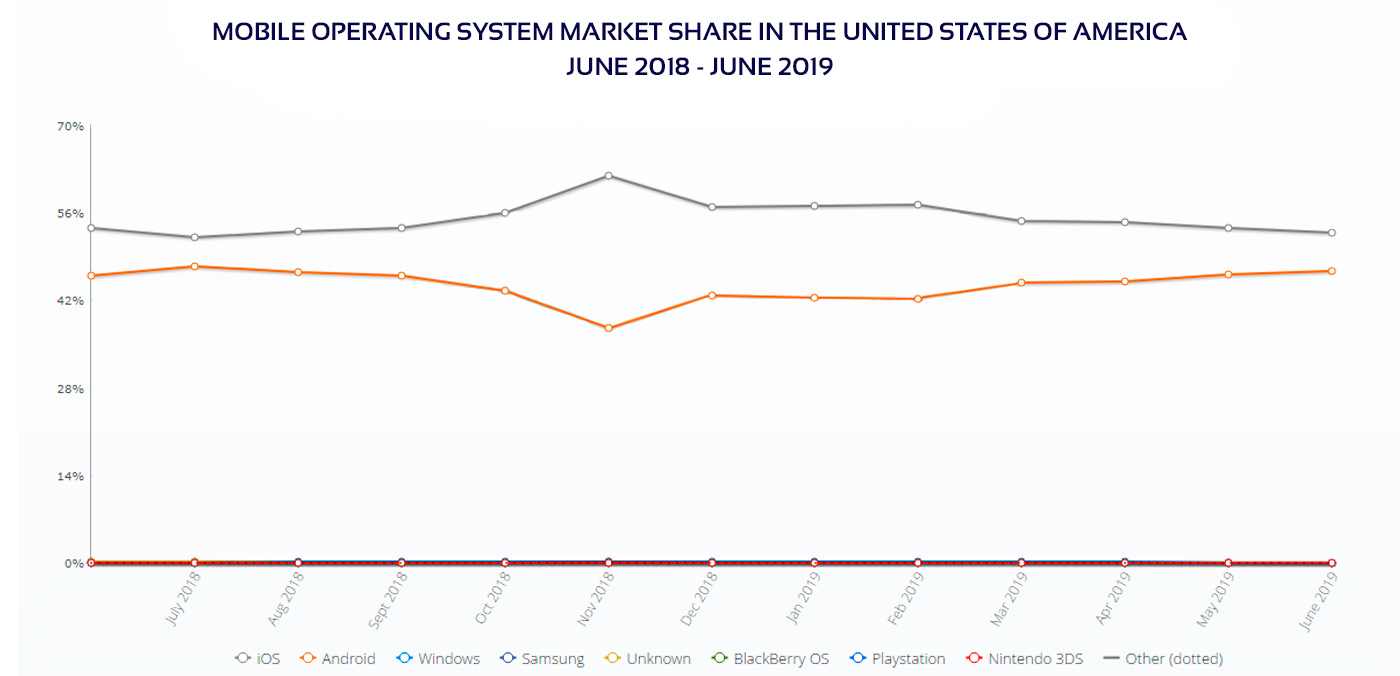 The present mobile market share in Canada is very close to the one in the United States; thus, before you decide what mobile platform to cover first, research mobile trends and how apps make money in different locations.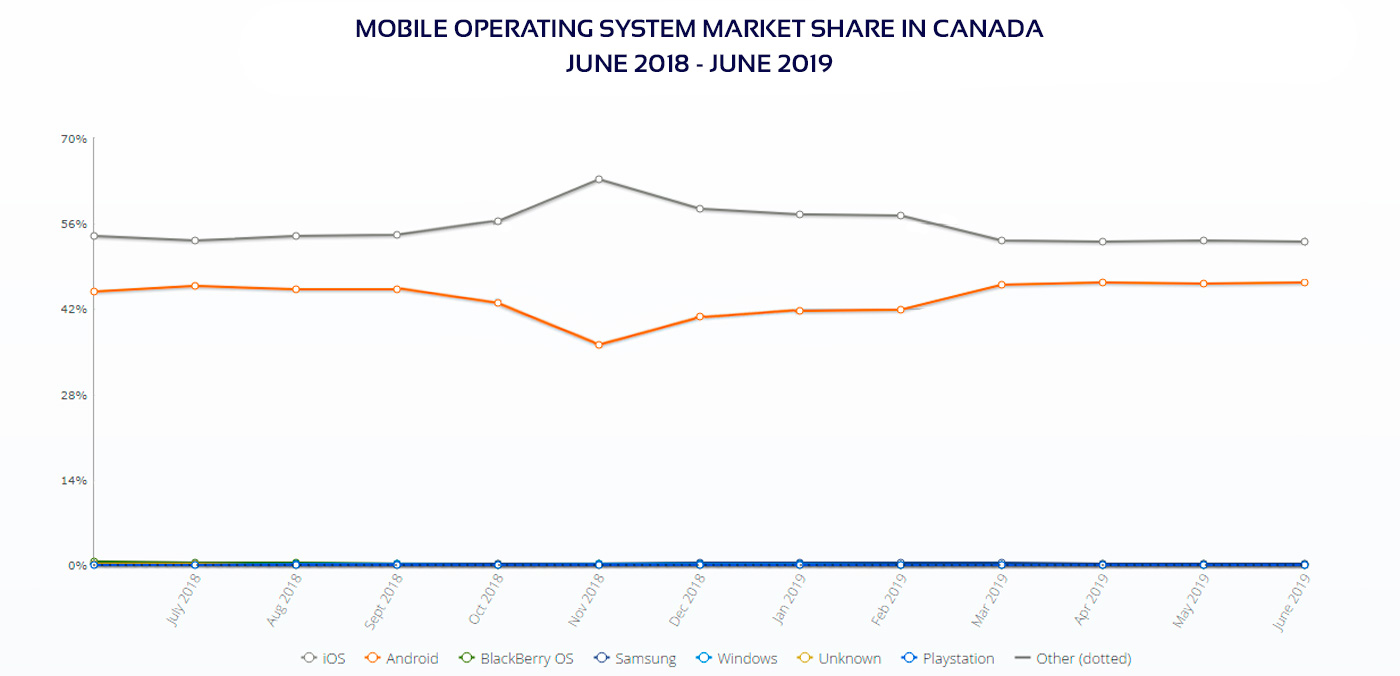 Mobile app worldwide downloads and revenue also differ for Google Play and App Store. According to Sensor Tower, Google Play has +16.4% installs in 2019 comparing to 2018, and is about 2.8 times greater than installs on the App Store.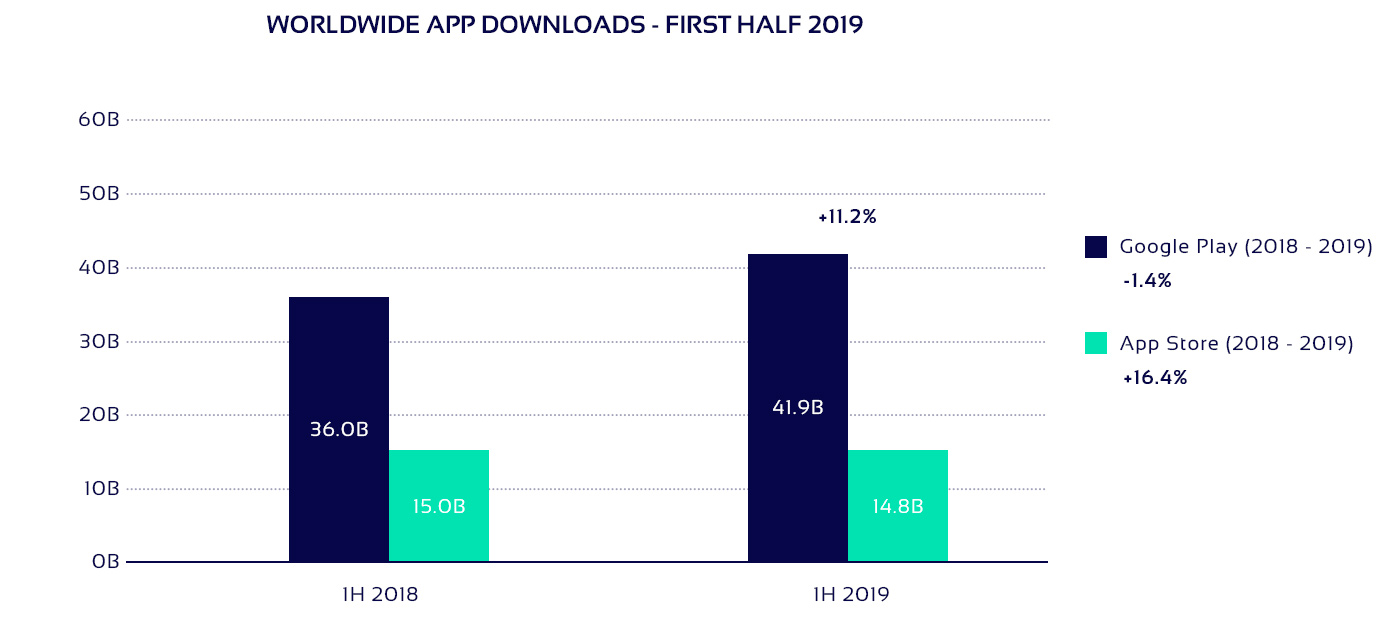 Even though Google Play has more installs, the App Store still generates more revenue even after iOS downloads fall due to a downturn in China in 2019.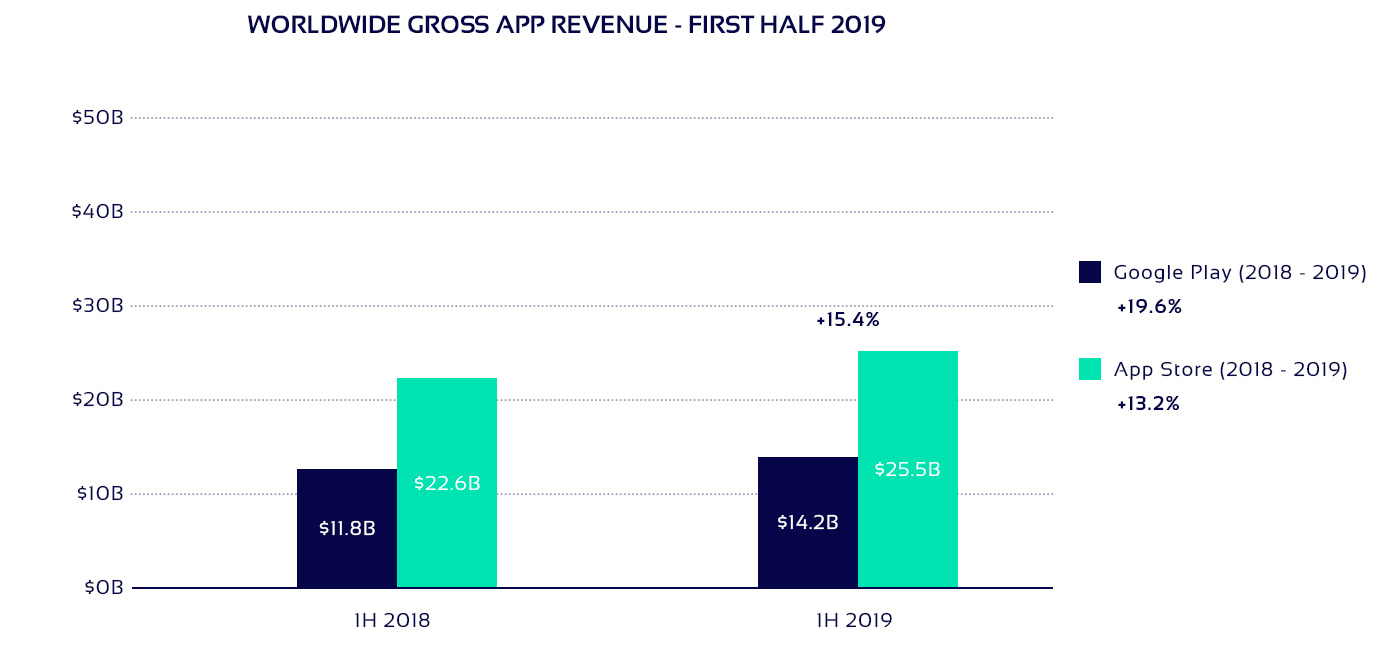 Mobile applications that cover both Android and iOS are the most financially efficient because they cover a bigger audience. You can have one hybrid mobile app to monetize that will work on both platforms, or you can get two native mobile applications that will have better performance and functionality compared to the hybrid and cross-platform types.
How to Make Money from Apps if They are Free
Free apps can bring more money than paid ones with the right combination of monetization models listed below.
Advertising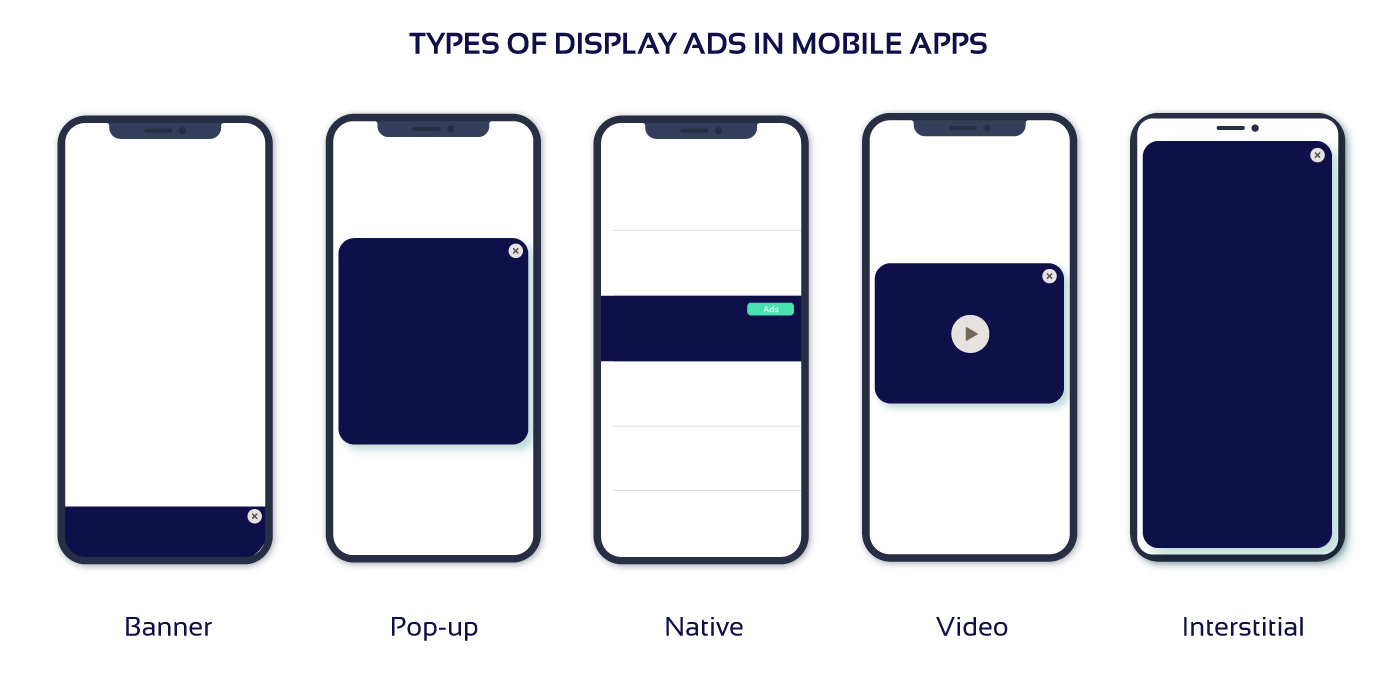 Advertising is presented in many forms and to know how much money do apps make per ad you need to know what ad types you can apply. The leading mobile ad formats are:
- Banner Ads
.
Being one of the most widely and successfully used ways to monetize a free application it is also handy for users because it doesn't interfere with app usage. You can show banner ads in one of their traditional locations - at the top or the bottom of the screen or think of a more creative location for them. The possibility to display ads in different sizes is convenient for users and effective for app owners.
- Interstitial Ads.
Monetizing your app with full-screen pop-ups can be a good way to increase revenue if the ad display logic is close to nonintrusive. For example, it can be shown after a user completed some action such as finished photo editing and uploading, or won a level in a game.
- Pop-up Ads.
These ads are something between banner and interstitial ads. They have a bigger size comparing to banners and appear on predefined logic, such as after fulfilling a specified action like tapping on the button or when the session surpasses 2, 3 or 5 minutes.
- Native Ads.
This ad type is possibly the best one from the user perspective because they look like a natural app element. Thus, users tend to less consider them a product or service advertising. This monetization method is getting more and more popular each year, and even though it may have a lower revenue capacity comparing to other methods, it is still a rewarding advertising strategy.
- In-app
Video Ads
.
This type of advertising is effective only when you reward users for watching it till the end or till the moment they can skip it and proceed to using the application. The longer the video is the more valuable reward you need to give user because granting a user with one coin for watching a one-minute video will most likely upset them.
Upgrade to Remove Ads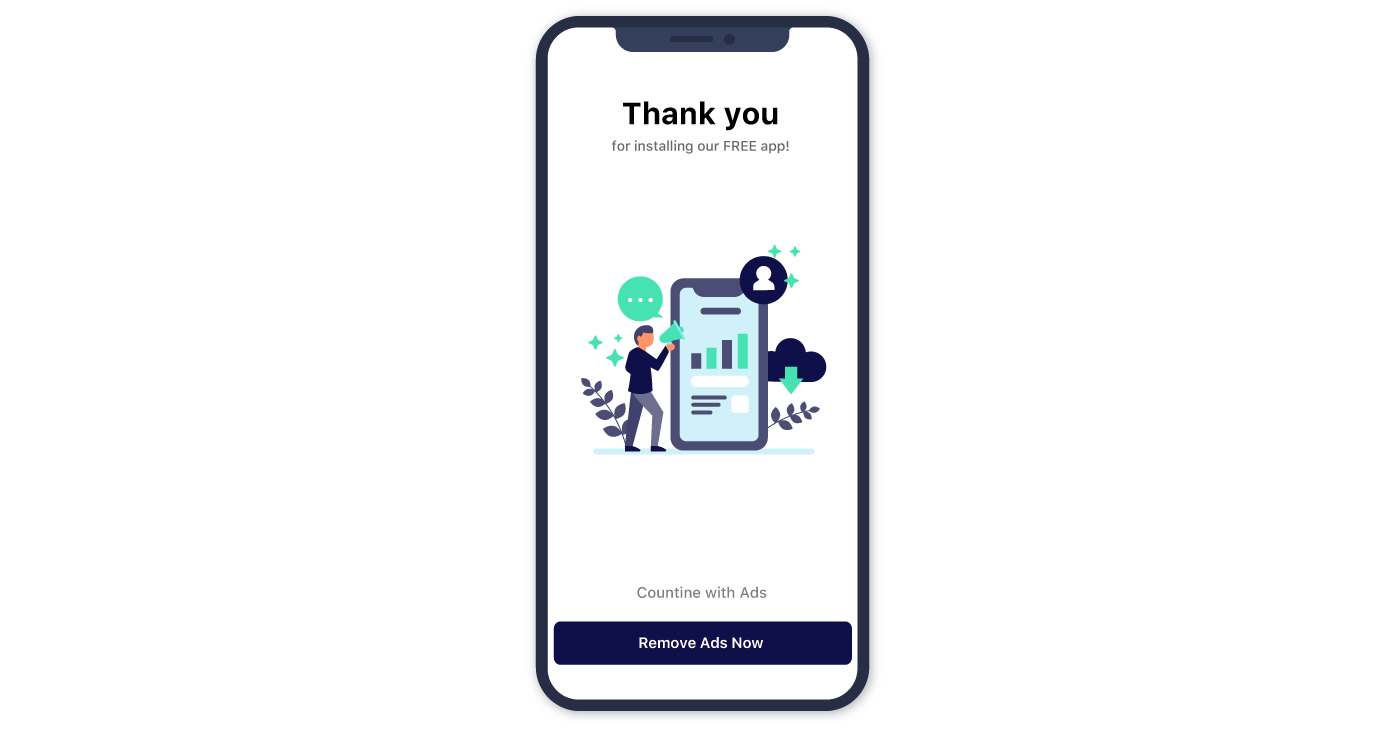 Advertising can bring you even bigger profit if you give users the chance to upgrade their accounts to remove ads. Commercial ads usually annoy users, and many of them are willing to pay for never seeing them again when using your mobile application.
Adding this monetization model to your free application is a good move because it will help you to cover and engage a bigger audience and increase the quality of user experience. However, if the upgrade to remove ads model won't be efficient enough, make sure that the app architecture is flexible to changes and removing it won't result in platform malfunction.
Affiliate Marketing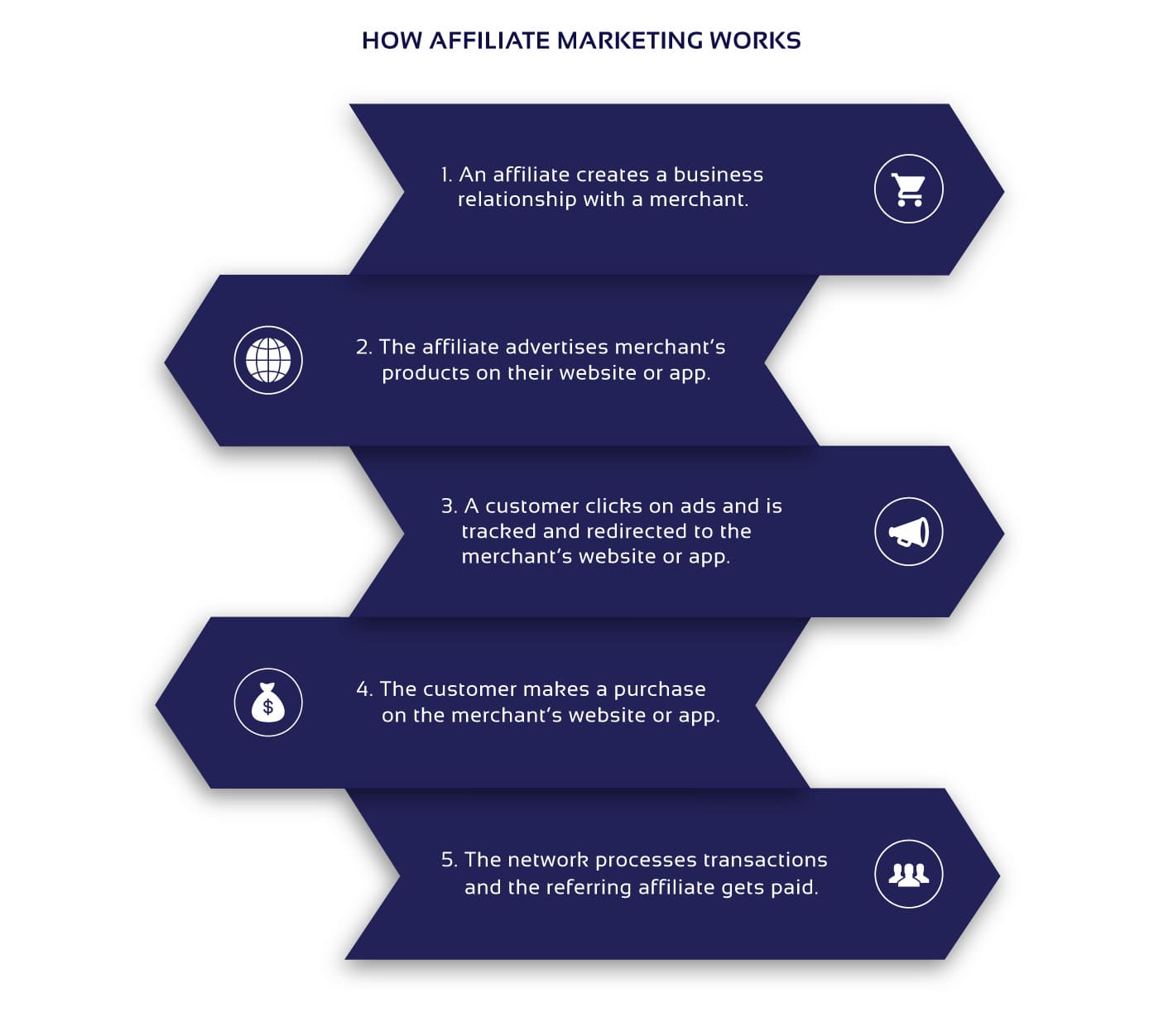 Since your application will be a placement for ads, your role in affiliate marketing is a publisher. Along with the affiliate marketing efficiency increase, the number of advertiser-affiliate platforms grows continuously. As a publisher, you need to register on a platform like TrafficStars, TrafficJunky or TrafficFactory and submit your application so advertisers can choose it to place ads.These platforms offer various monetization programs, and basically, do most of the work for affiliates. The main advertising models are:
- Pay-per-impression.
Affiliates get paid based on the number of ads impressions. The more times you show someone's ad, the more you get paid for it.
- Pay-per-view.
Views are more valuable than impressions because this model implies that users watched the full ad or watched it for at least half a minute if the video is longer than 30 seconds; thus, they got more information on the advertised product or service.
- Pay-per-click.
Is the most simple affiliate
marketing
model because it has plain logic, which is one click on the ad equals one payment for this action. Cost per click is bigger than costs per impression and view because this action is more valuable for the advertiser.
- Pay-per-action.
In this case, publishers get paid for specific user actions towards the ad and advertised product. These actions may be file downloading, survey filling, and more.
- Pay-per-lead.
Cost per lead is always higher than payments for models mentioned above because a person fulfilled such important action as filling out the registration form; thus, giving their contact info to the advertiser.
- Pay-per-install.
Affiliate marketing platforms cover different kinds of ad-triggered user actions and offer a good price in their
cost per install
programs. Since people don't install applications actively after viewing ads, it may not be highly efficient as a primary monetization way.
- Pay-per-sale.
According to this model, a publisher can get revenue as a predefined percentage from every sale generated by the ad or as a preset sum of money on an affiliate marketing service.
You can test different monetization models and their combinations as well as try different affiliate marketing platforms to find out which ones will bring you more revenue and won't scare away app users.
In-App Purchases

Your application may be installed and used for free, but it doesn't mean that you cannot include different kinds of purchases and offer additional features at a reasonable price.
In-app purchases prove to be most effective for such applications as:
Games;
Online dating;
Messengers;
Stores.
Depending on the type of your free application, you can offer its users to give away their real money to buy:
Virtual currency;
Extra lives;
Additional levels;
New filters;
Advanced characters;
Features upgrade;
Offline goods and services.
Сontinue reading If you wonder how do free apps make money without ads. There are plenty of other ways to monetize any application with ease.
Freemium

This free-to-use model can be successfully applied to such free mobile applications as games, messengers, dating apps, etc. Freemium universally implies that users can download and use the application for free, but they have access to the basic set of features. A full feature set becomes available only after upgrading the app to its paid version. Even though it takes more time to reach desirable profits, freemium applications can build bigger profits than paid apps.
G Suite, formerly known as Google Apps for Work, uses the freemium model. The company gives any person an opportunity to use a limited set of apps like Gmail, calendars, documents, spreadsheets and presentations, Google cloud storage, and others for free. However, an advanced set is presented in basic, business and enterprise editions with 14 days trial period.
Donations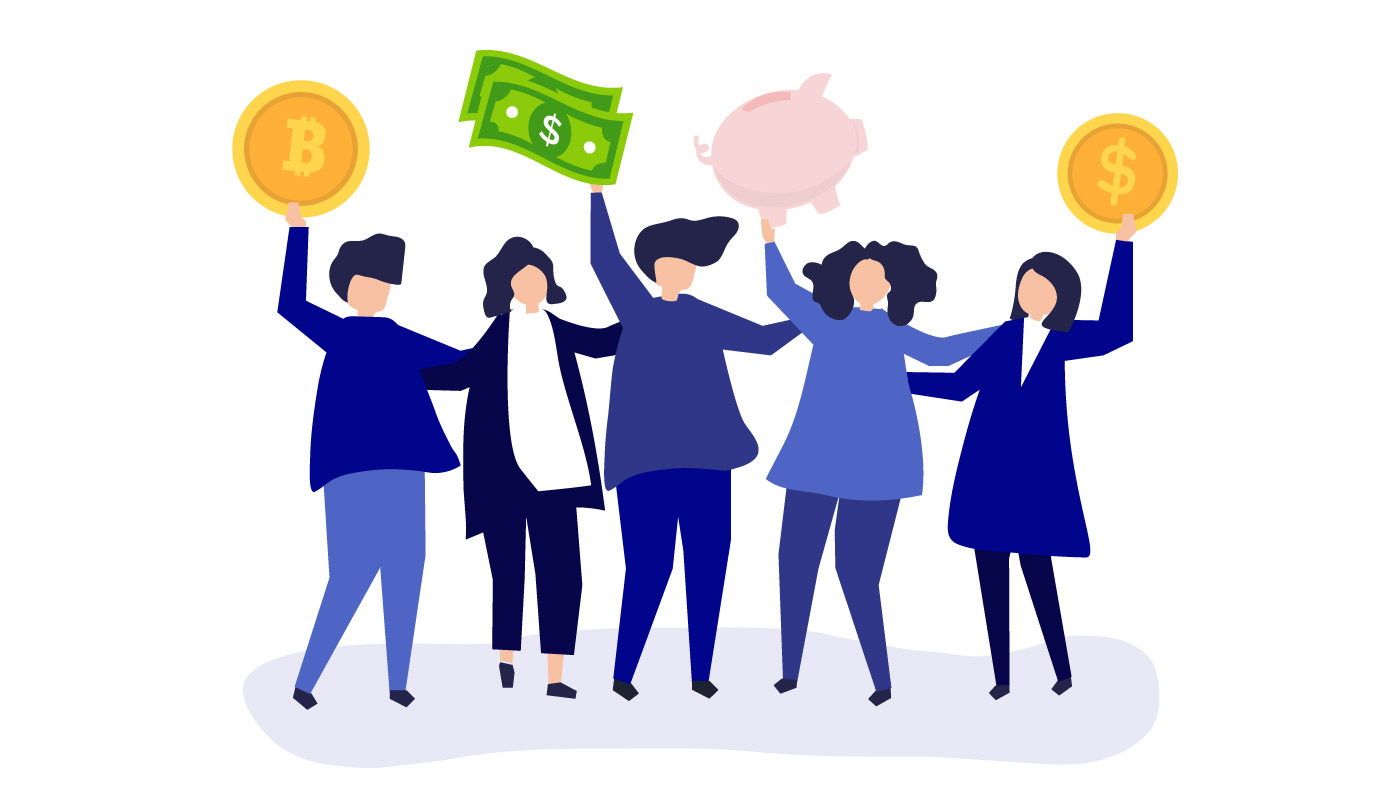 Instead of showing users ads or charge them for upgrades or premium content, you can try to make money using the donation business model. One of the best modern examples of app monetization is Wikimedia fundraising that implies asking users to choose different sums of money to donate for using this free online encyclopedia service.
Asking to donate money has already caused controversies among Wikipedia users, whose opinions divided as follows: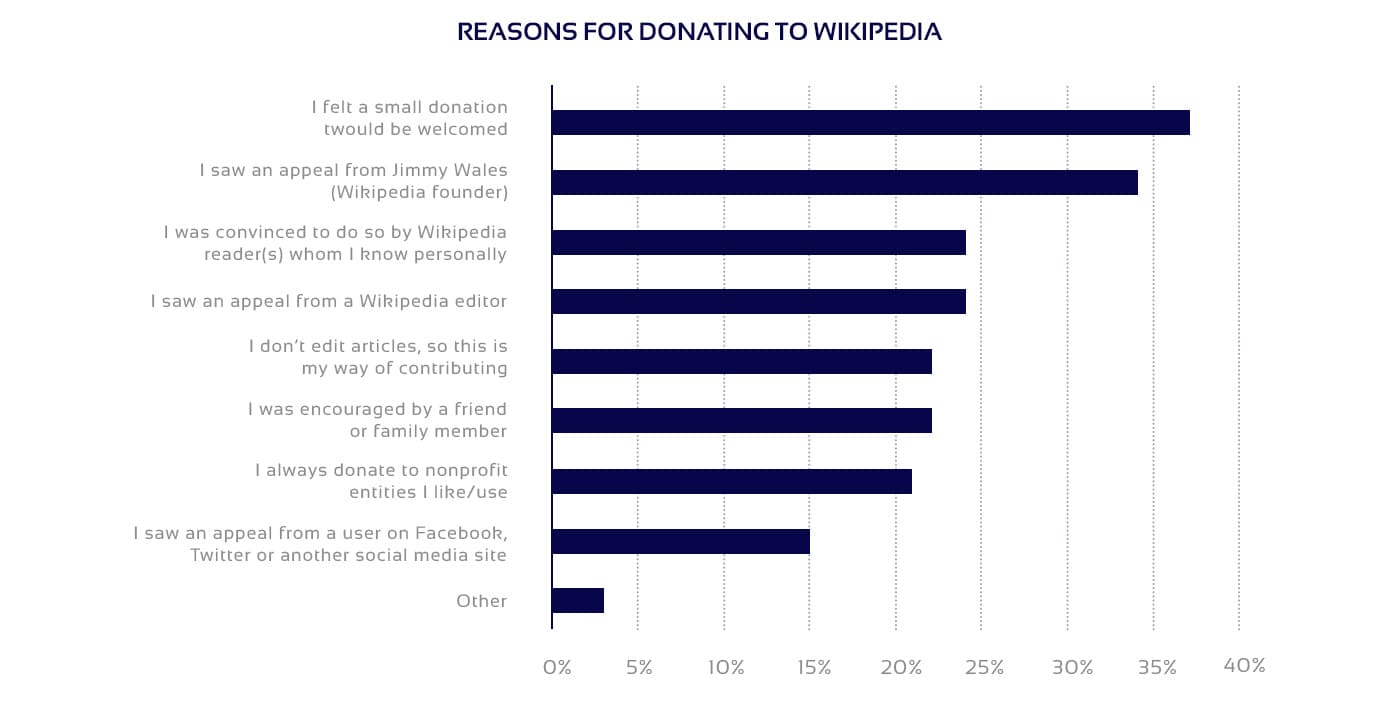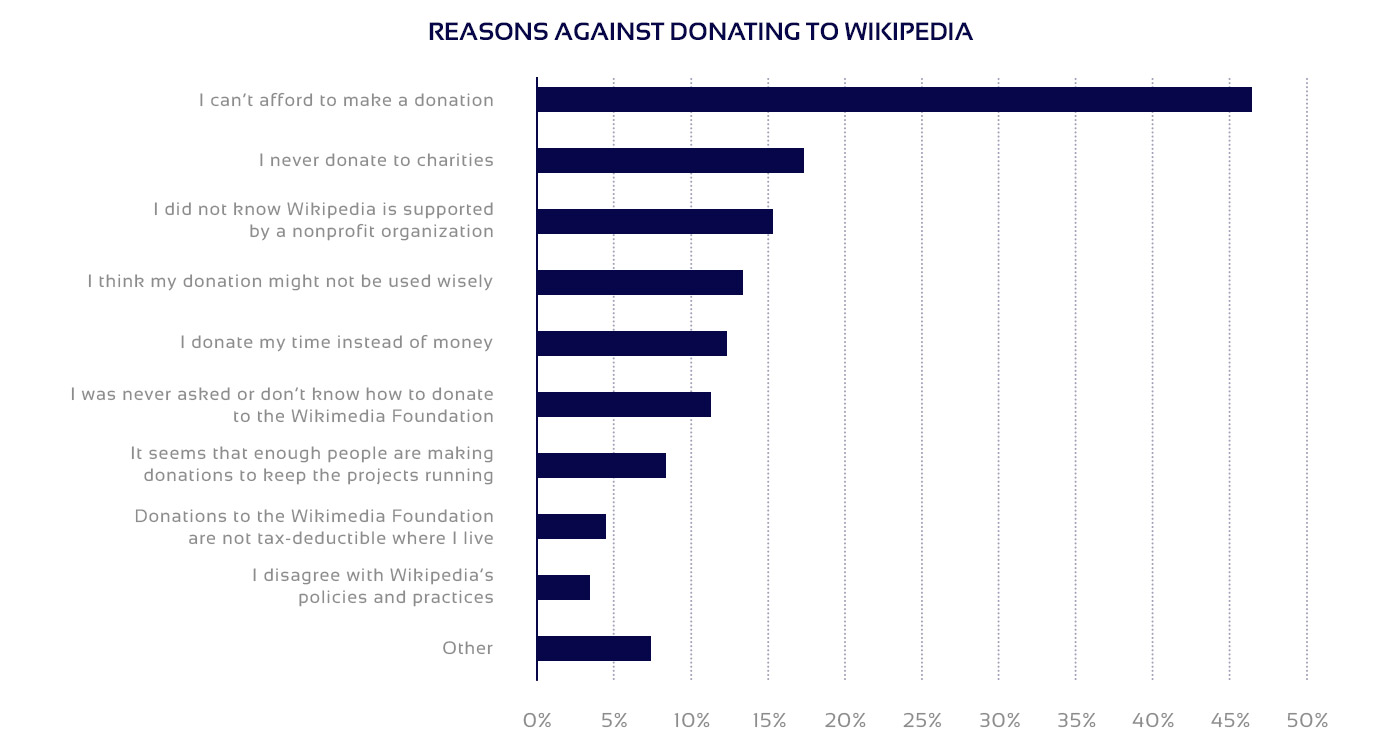 Selling the Product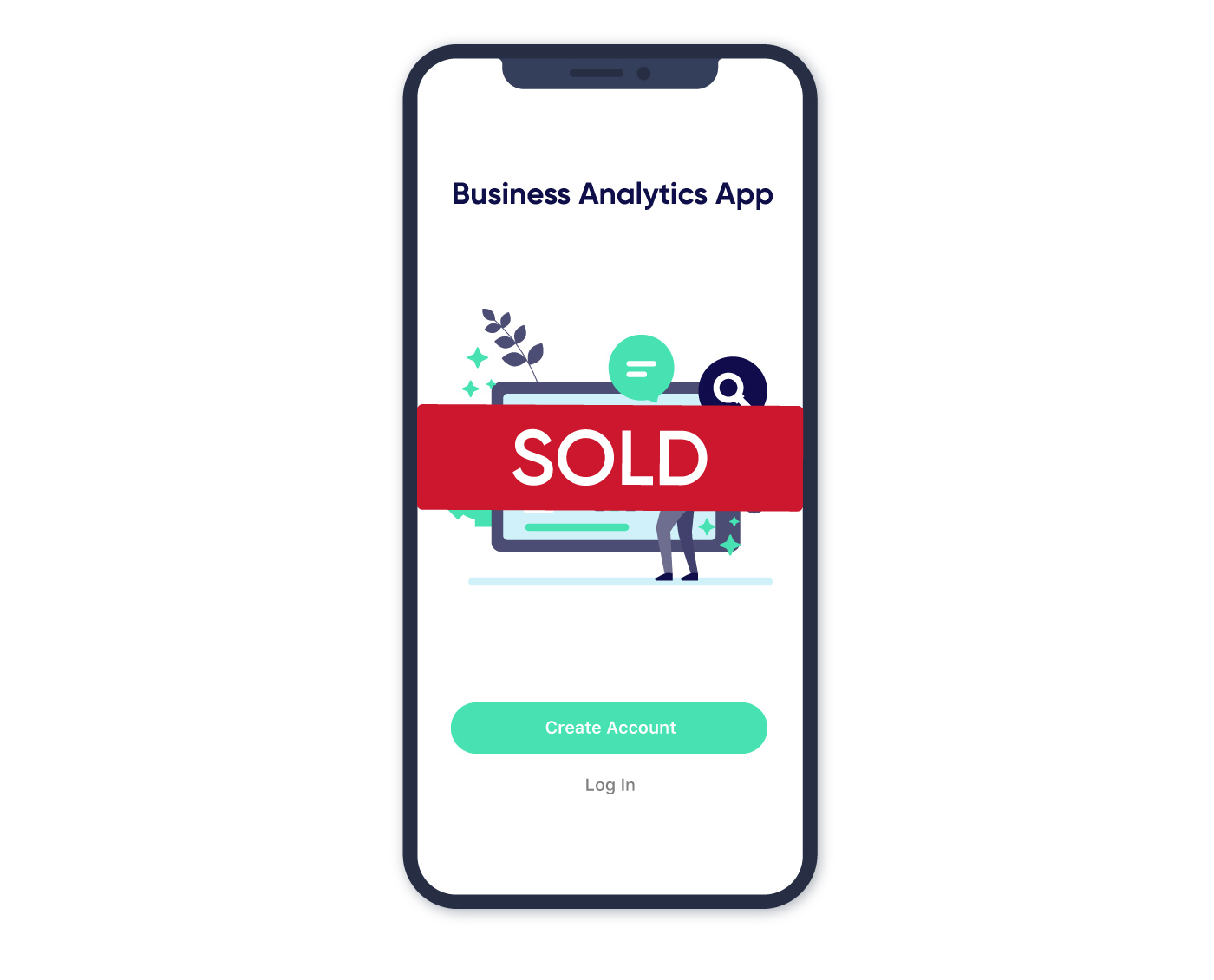 In case if you don't want to research how to monetize an app or don't want to spend time, money and other resources on permanent app promotion, maintenance and monetization you can just sell it. To get desired revenue from this kind of monetization, your application must be either unique and innovative or popular among users.
You are most likely to successfully sell:
Idea. If you have created a unique, interesting and financially rewarding idea for an application but have no desire to deal with it on a regular basis you can sell it on Kickstarter or any other similar platform.
Application. You may not need to seek buyers because they will very likely to find you themselves if the idea proved to be viable, genuinely innovative, and/or became highly popular. One of the best modern examples is Instagram that was purchased by Facebook in 2012.
Information. Instead of selling the information collected from your users such as emails, phone numbers, real names, and others (which is immoral and illegal), you can collect and sell information on what ad types captured their interest, time they spent on ads view, etc.
When it comes to collecting information on your free application users, it would be wiser to use it for your own benefit and future profit instead of selling it to the third party.
Collecting information on user:
engagement,
activity,
interest
can help you increase revenue from your other free or paid apps by using it for client experience personalization or timely business strategy adjustment to fit market trends and changes in user interests.
Final Words
We hope this article satisfied your interest in
how do apps make money
and gave you an understanding of what you need to do to turn your mobile application into good revenue. Even though the topic covers
app monetization models
, we also should mention that if you want to make money on your application, it must be high-quality. To make sure that the app works smoothly and its updates don't result in the service malfunction, leave its creation to the hands of
mobile development
experts. Whether you have any questions on how to get an application for Android and iOS, and how much time and money it will cost you, don't hesitate to
contact us
. We will provide you with extensive IT consulting and professional advice.