Today, the eCommerce market is overcrowded with hundreds, and even thousands of companies and startups, which makes these companies offer their clients more advantages to increase attention and transactions. A mobile app for an eCommerce website is one of the most useful supplements that can be used to boost active audience engagement, and this article covers seven main business benefits of having a commercial mobile app.
Let us start with statistics on mobile application popularity.
Statistics on eCommerce Mobile App Usage
Nothing will give you a bigger picture than statistics, and it shows that in 2018, website traffic generated through mobile devices worldwide reached 52.2%, comparing to 35.1% in 2015 and only 0.7% in 2009. The smartphone market continues to show strong and solid growth for years, and due to the fact that mobile internet gives people living in remote areas with no infrastructure access to websites it can bring advantages for many companies. An eCommerce mobile application is always more convenient in usage than a website's mobile version, and for some users it may be the only option to buy something from your store.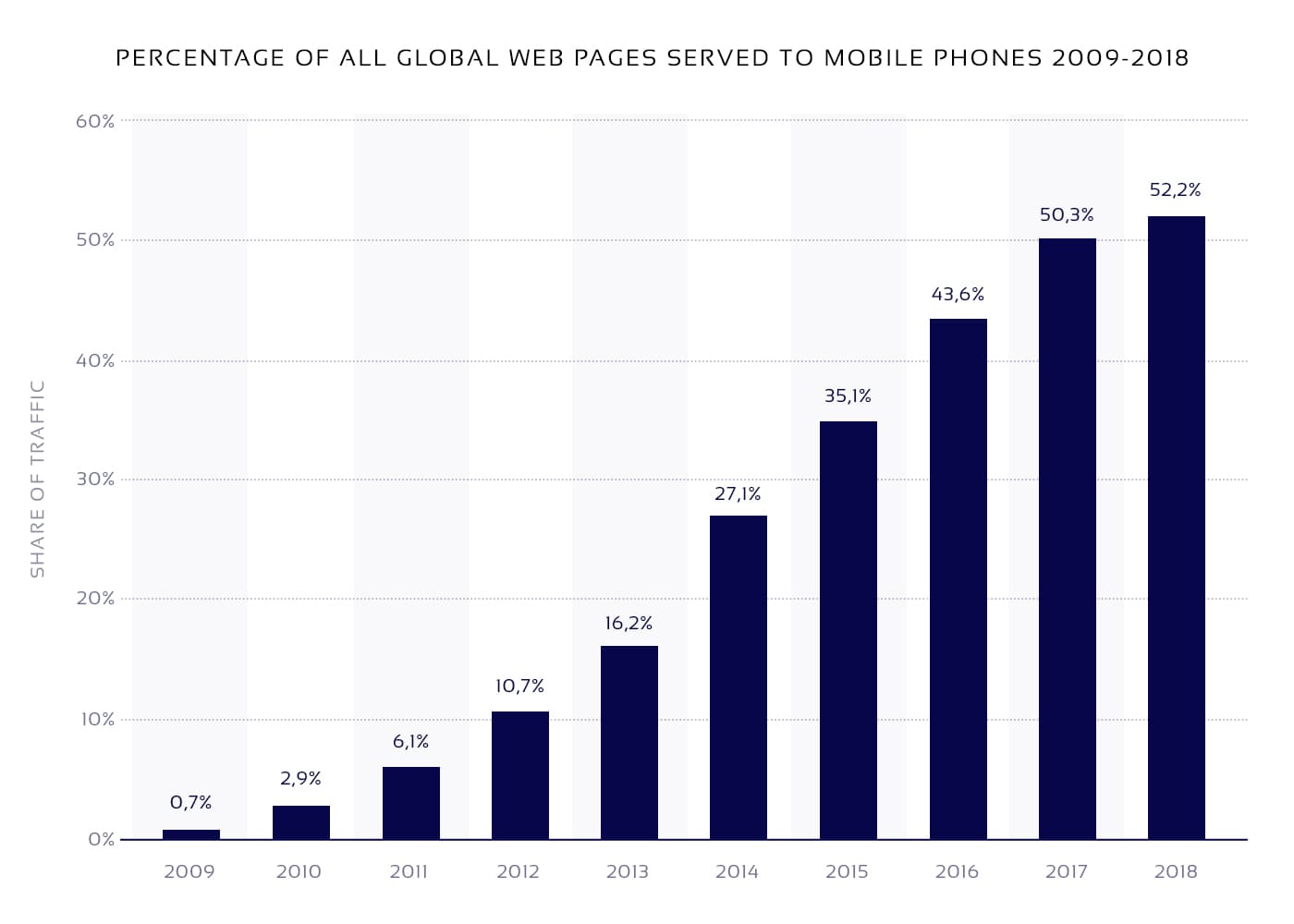 The number of mobile shoppers constantly grows and eCommerce website owners who still hesitate whether they need a fully-functional mobile application need to consider the numbers below.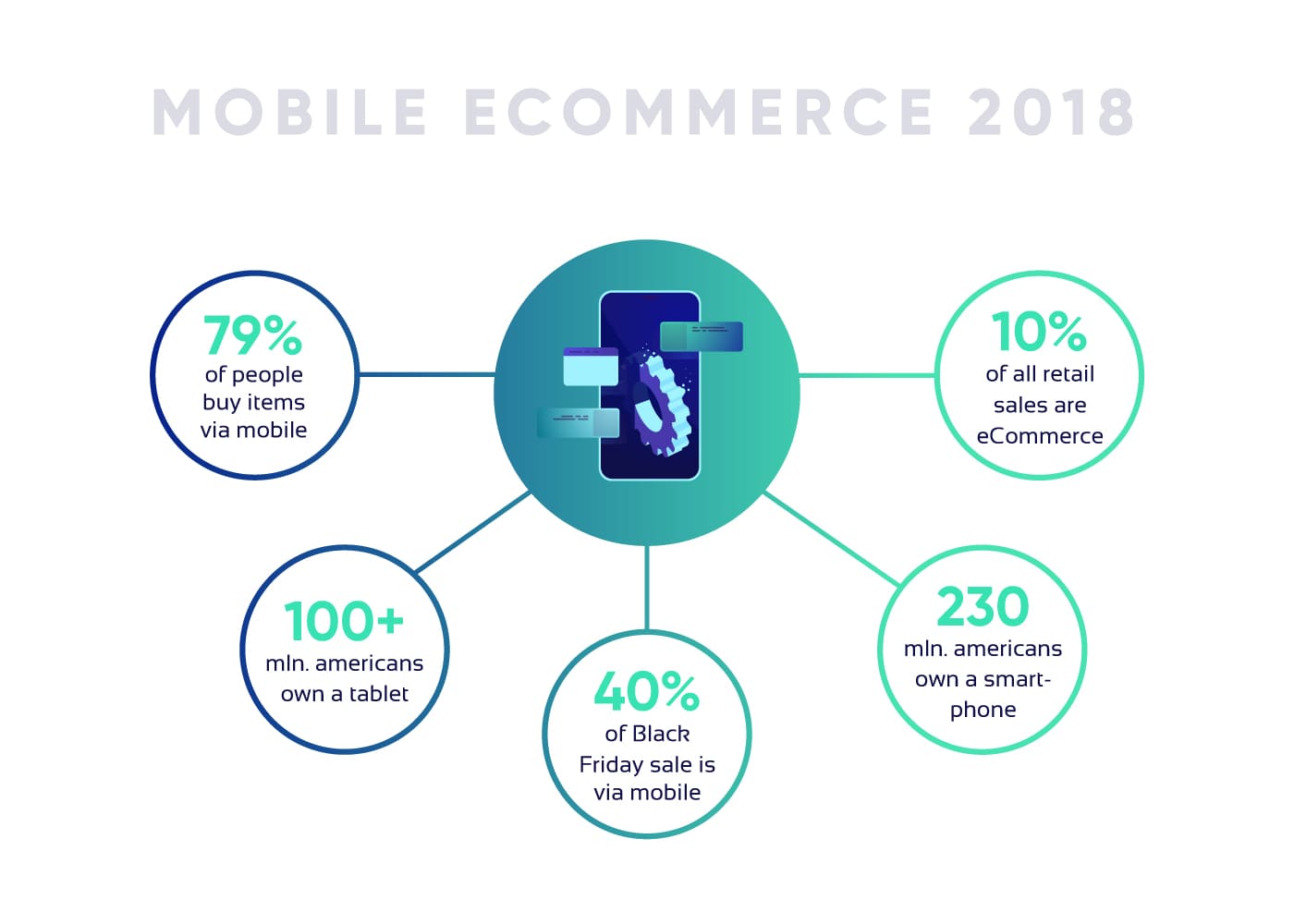 Today, having a mobile application for retail and other businesses is no longer a luxury, but is already a necessity. Consider 7 main reasons below why getting it is right for your online eCommerce company.
Benefits of Mobile Apps for Customers and Business Owners
Benefit 1: Customers Prefer Using Apps over Mobile Browsers
Today, any website without an optimized user-friendly mobile version won't show good results on conversion and profit. When it comes to rating and promotion, Google will give a significantly higher search position to a mobile-friendly website. However, an optimized eCommerce website with a mobile app will be a priority not only for search engines, but also for real customers.
One of the most reliable statistics online services show that the number of non-gaming apps constantly grows and by 2022, the number of downloaded applications will reach at least 258.2 billions worldwide.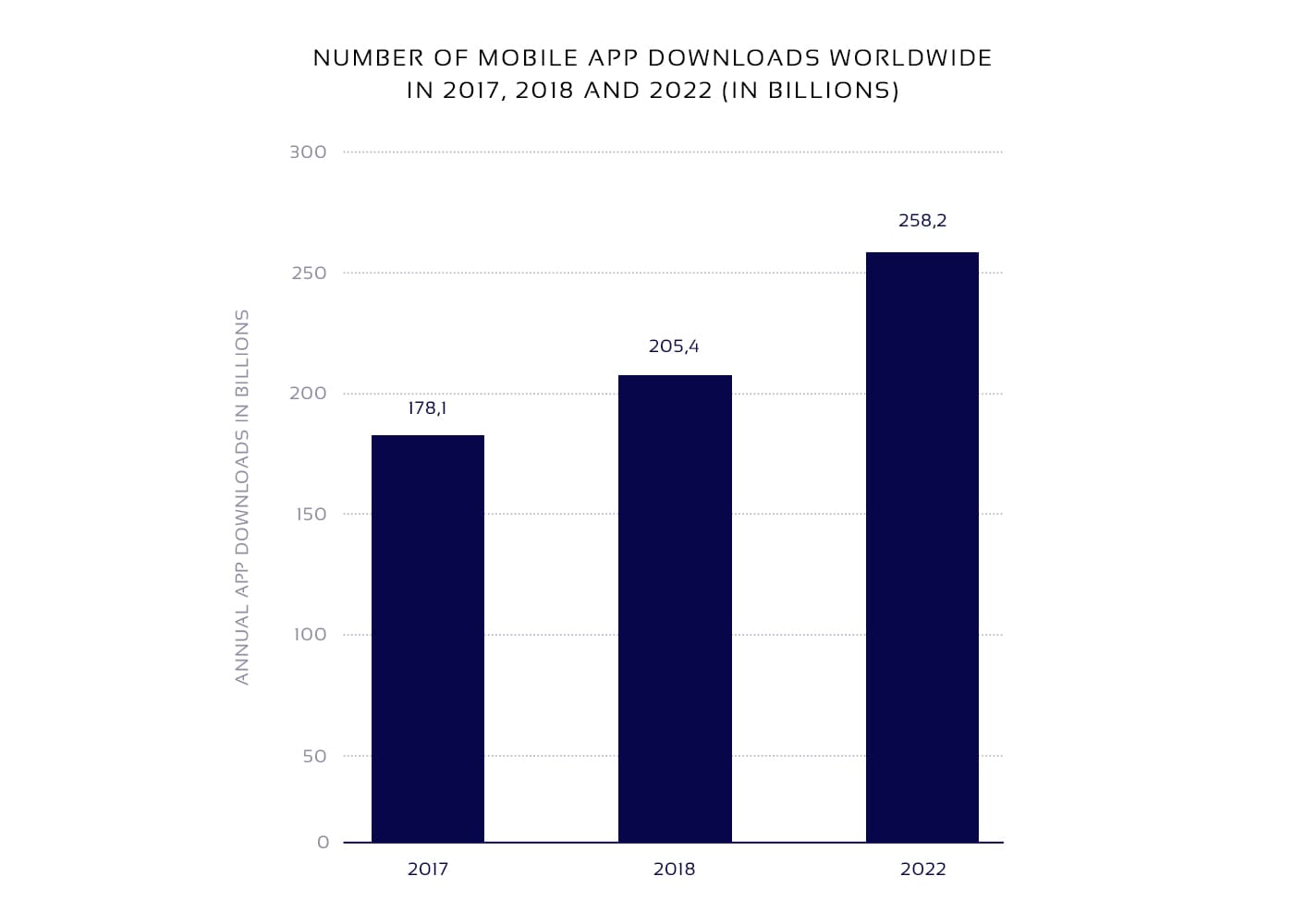 Benefit 2: Enhanced Customer Engagement
Today, customers are spoiled with the variety of choices, that is why, having an app is not a trend anymore, but is "a must".
Just having an eCommerce shopping app is not enough for profit and brand loyalty increase. You need to get a great application that will have user-friendly UX design and flawless logic that will make customers want to use it on a regular basis.
Of course, the first thing you need to do is to research and analyse your competitors' applications to make your own app of the top quality. If you want to succeed in business, you need to watch and learn from the giants and from the ones who steadily get higher positions among their business rivals.
One of such examples is Amazon. Back to 2015, dozens of articles pointed out that during the holiday period in 2014, about 70% of customers used their mobile devices for shopping on Amazon.com. According to Statista, Amazon remains to be the most popular mobile shopping app in the U.S.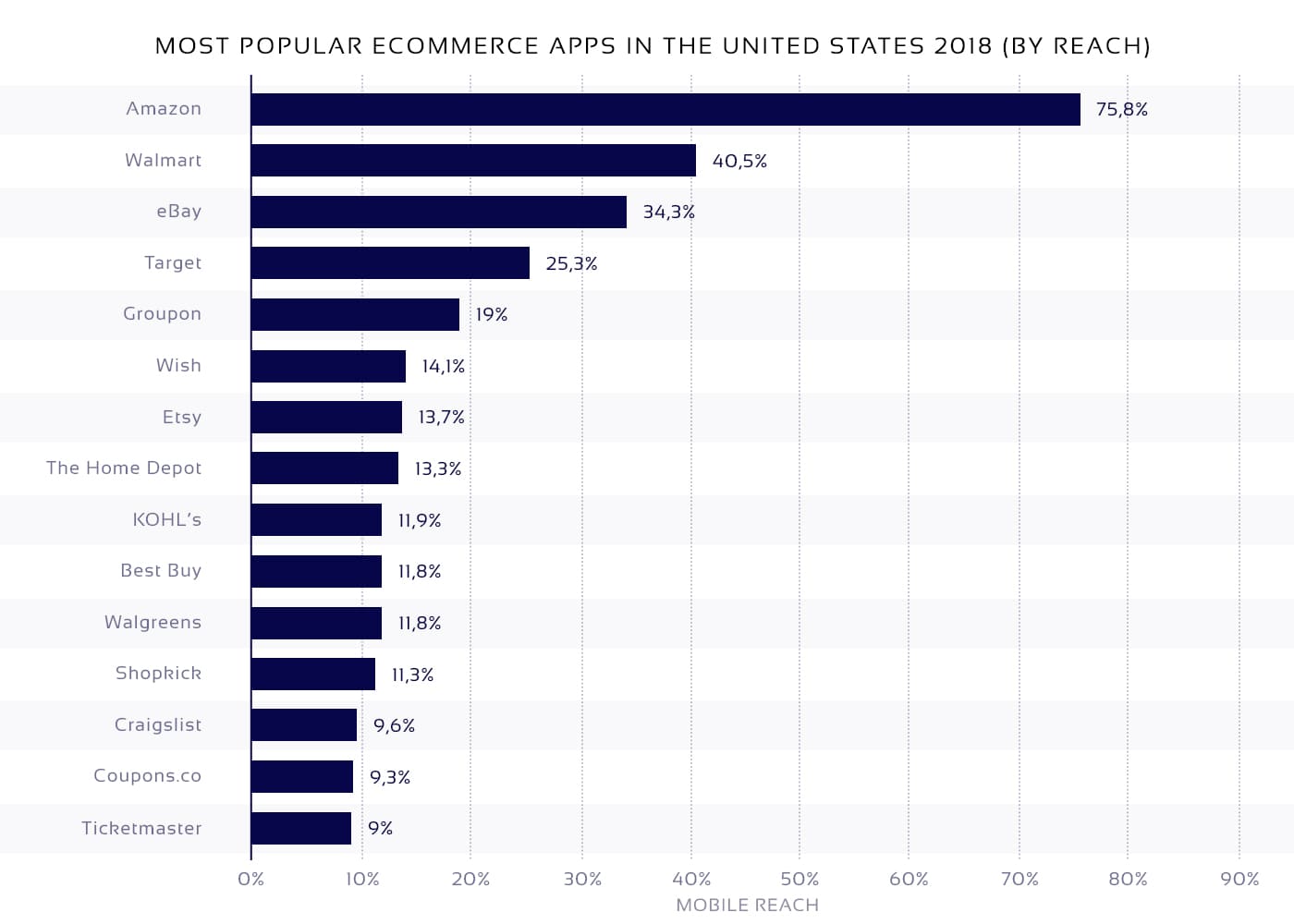 The statistics show that people of all ages use applications on a daily basis and the most solvent age group is Millennials. Your application must be convenient for all age layers to cover bigger audience for bigger profit.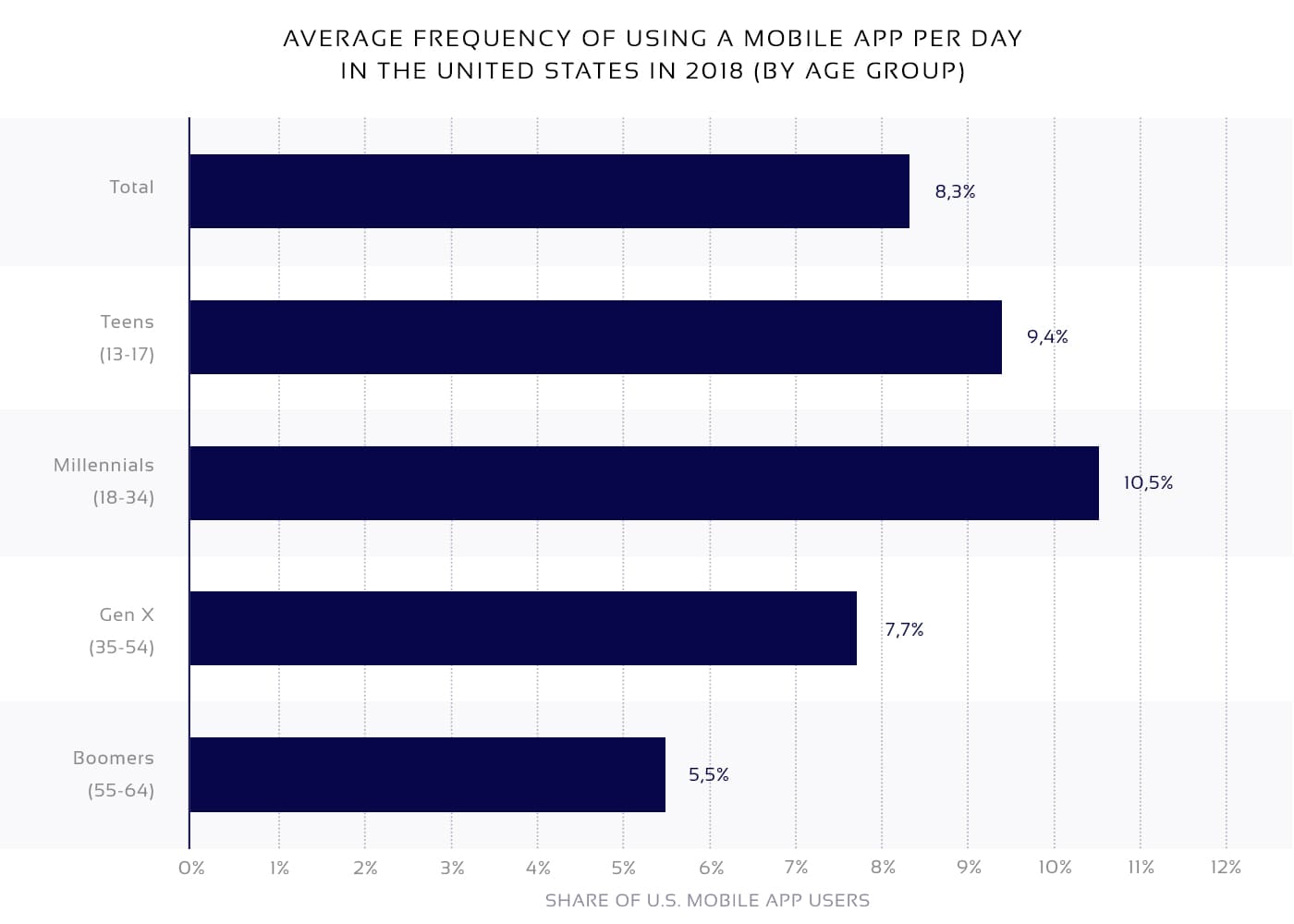 Benefit 3: Bigger Number of Successfully Completed Orders
Since people spend more time on the internet via their smartphones rather than desktop computers, you can establish stronger connection with your clients by giving them an app as an additional shopping option. By making your website and application synchronised, a customer can add items to cart using a tablet or a mobile device and finish purchase on the computer or vice versa.
In case if you also sell some unique or rare items that are in good demand among customers, the app will give them a chance to be in time for purchasing them by offering instant access to their account and cart.
Mobile application design can be more responsive and convenient for purchasing and checkout processes, which also will be a plus for business.
Benefit 4: Reaching out To Customers Using Alerts & Notifications
Alerts and notifications are the best marketing tools that increase the number of sales, thus, benefits of a mobile app for eCommerce platform is undeniable.
Push notifications is one of the biggest benefits of mobile apps over mobile browser. By using them in retail business apps you can inform customers about sales and discounts, news, unfinished purchase, etc.
Use Push notifications to communicate with customers.
Push notifications may significantly reduce your cart abandonment rate, because you can automatically send reminders on unfinished orders and special offers on items in users' wish lists. Such notifications may increase brand loyalty and interest if make them personalised and adjusted to different user categories and logics.
In addition, customers will be grateful for notifications on items of their interest that are back in stock.
Benefit 5: Increased Brand Loyalty and Retention
People who decided to download your application already show loyalty to your brand and readiness to invest in your eCommerce website and a mobile app.
Mobile applications are commonly easier in use, thus, make shopping and payment processes simple and convenient. The main reasons that make people choose eCommerce mobile apps over sites and their mobile versions are stored settings, speed and convenience in use. These three compounds are not the only ones that attract users, but they are most vital for application popularity among its target audience.

Having both website and application is always good for brand image, because customers see that the owner of the online store is willing to grow, develop, and may intend to cover a wider range of items.
Adding loyalty programs may also have a positive impact on its efficiency, because benefits and rewards for using the application is among the main reasons for app usage. People always value brands that solve their problems and provide most comfortable and trustworthy environment for shopping.
Benefit 6: Converting "Just Browsing" into Profit
Desktop computers significantly limit conditions to access your online store. Mobile devices like smartphones and tablets can be used almost everywhere, so a person doesn't need to be at home or at work to access your site. A properly designed and developed by professionals mobile app for eCommerce opens bigger opportunities for business, but only in case if it is high-quality.
Since an application is more convenient in usage, your target customers can use time spent on the road or standing in line on browsing and shopping on your service. Under such conditions, customers are less likely to purchase something, but they are more likely to browse through your items or check out new discounts and special offers (especially if they receive notifications with personalized content). Also, they are more likely to add items to cart or a wish list and complete transactions later.
Remember that if you want to make people want to use your eCommerce app on a regular basis, you need to trust its design and development to an experienced team that includes quality assurance specialist to be sure that your service offers customers user experience of the highest quality and your application has no malfunctions and flaws in its architecture and logics.

Benefit 7: Better Promotion with Social Media Share
When you build a mobile eCommerce app, make sure that it has an integrated connection with all popular social media services. Also, you will benefit if your application will be flexible to possible changes and adjustments that contribute to its promotion among your target audience.
You may implement a loyalty program and offer benefits to customers willing to post promoting materials in a form of a good review or a feedback with a link to your store or separate items on their personal social media accounts. To motivate customers use your built-in social media share feature you'll need to make this process as simple as possible in addition to offering a reward.
Successful promotion equals higher conversion rates and is one of solid indicators of brand loyalty among active clients.
Conclusion
Many eCommerce business owners seriously underestimate the importance of having a good-quality mobile application in addition to the website. However, in retail business, an app can satisfy target customers' needs few times more than a regular website, because an average internet user tends to use mobile applications instead of less fast and convenient mobile browser version.
Shopping must be simple for all users, that is why, top-quality mobile applications with their simplicity are good for business and have advantageous impact on company growth. Information has always been a key to success, but without professional development assistance this information is useless, so contact us and our experienced developers will create an eCommerce mobile app that fully corresponds to your idea and business needs.