Companies of any size and specialization face fierce competition when they enter the mobile app market. This situation prompts them to follow all emerging digital trends to stay valued. Understanding the significant impact of artificial intelligence on business, leading companies like Amazon, eBay, or Tinder use AI in their apps to the fullest extent to drive personalized mobile user experience and increase profits. Startups also tend to raise more funding for AI integrations, thus, making their way to high marketability and competitiveness.
Each year more AI apps become viral and bring higher recognition and bigger profits to their owners. Some of these apps even became indispensable. To help you find out what exactly AI does to make mobile apps so popular, in this article, we provide 10 examples of successful AI-powered apps for Android and iOS platforms.
Artificial Intelligence for Mobile Experience
Previously on our blog, we outlined how artificial intelligence is changing business for the better and described the benefits of the AI-based systems. To use all the advantages of these systems and drive business growth, entrepreneurs choose to go mobile. Although artificial intelligence app types aren't limited to chatbots and voice assistants, conversational AI remains the most popular in terms of mobile usage.
Other frequently-used AI integrations relate to the ability of systems to predict user's further actions from past interactions. These interactions make it possible to increase user satisfaction by delivering what users want before they even request it. Such systems also give recommendations on products or services based on user behavior in an application. Considering these popular uses of artificial intelligence, we created our list of 10 AI Android apps and mobile solutions for iOS.
Top AI Apps for iOS and Android
Based on the ratings in the App Store and GooglePlay Store, we selected 10 mobile apps that belong to various business fields to show how different industries benefit from AI implementations. This list includes the apps created by world-known trend-setting companies as well as the applications that have gained vast popularity recently and keep holding strong positions on the market to this day. Now let's begin with our rating.
1. Voice Assistant Tools: Amazon Alexa
A mobile app for this famous virtual assistant created by Microsoft allows users to enjoy all aspects of infotainment, planning, and scheduling features. With voice recognition, the app helps users manipulate other Alexa-powered devices such as smart house utilities, tablets, TVs, wearables, cars, etc. from the phone. It converts speech into text and uses the Wolfram language to provide accurate answers to the questions asked. More and more people trust their routine tasks to this personal assistant, making the Amazon company gain record-setting profits every new quarter.
Feature range: list-making, alarm and reminder setting, product ordering, audio streaming, messaging and call making, information browsing, and many others.
Key AI implementations: voice recognition, Wolfram's technology for collecting data and answering questions, etc.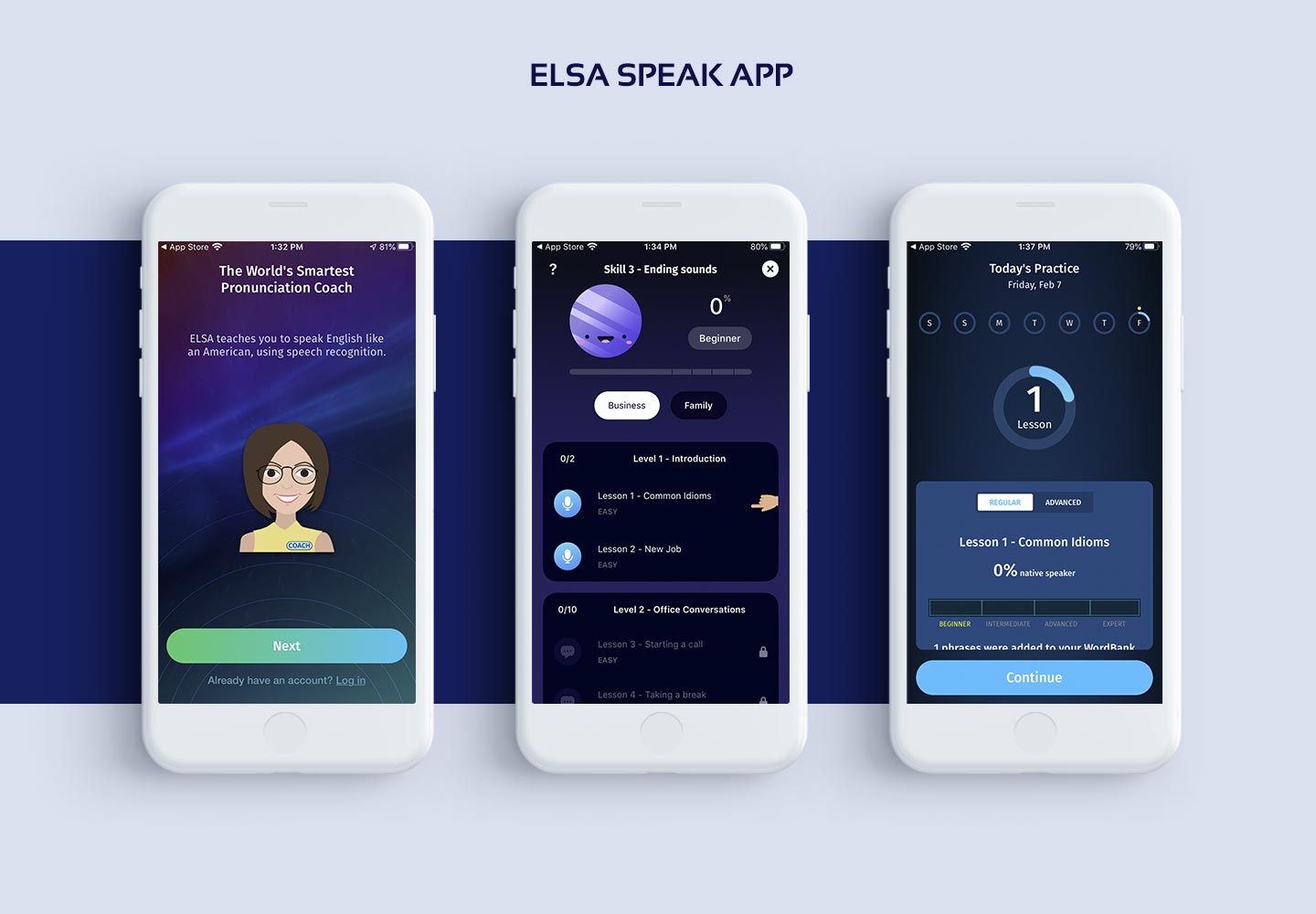 2. Education: ELSA Speak
ELSA speak is a bot-aided English speaking coach mainly aimed at reducing accent. The app learns from speech data. It uses voice recognition technology to listen to learners' accents and defines the "quality" of pronounced words with red, yellow, and green color according to the rules of American English pronunciation. When the speech fragment is analyzed, the app presents audio tips on mouth and tongue positioning for better articulation.
Feature range: progress tracking, language proficiency assessments, personalized practicing curriculum, lessons, vocabulary, etc.
Key AI implementations: speech recognition, machine learning.
3. Retail: eBay
The eBay system uses the powers of artificial intelligence to the fullest extent to provide users with a convenient shopping experience. This shopping app is programmed to understand the context of the customer's search and offer a full list of relevant goods, which decreases the search time to seconds and increases customer satisfaction. Machine vision helps the app find the required item by the photo that a user added for a search request. Besides, machine learning lets sellers find out and compare current costs of specific goods to help them sell products faster.
Feature range: shopping lists, cart, ratings and reviews, wish list, notifications, messaging system, media files support, payment system, etc.
Key AI implementations: computer vision, translation, machine learning, natural language processing.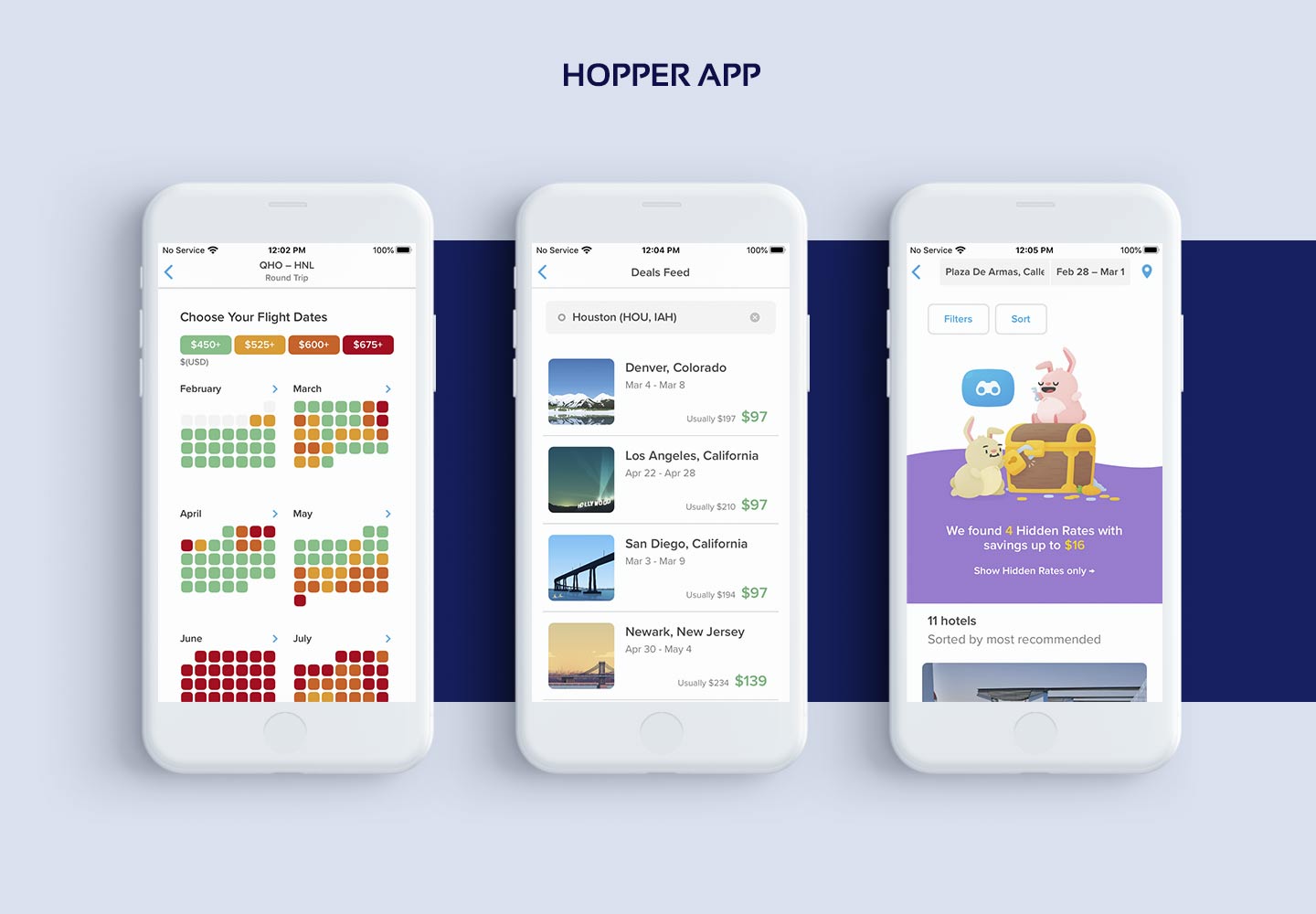 4. Travel: Hopper
Predictive capabilities of this booking application help millions of users get accurate insights on the costs of hotel rooms, flights, and car rental up to 1 year in advance. As soon as a user enters the required destination, the app presents information on fares, most convenient travel dates, and can predict whether the prices for the specific trip are likely to increase or decrease in the future. Based on user search and preferences, it provides smart notifications on changing prices for the viewed offers. These features made Hopper indispensable for all travelers in finding cheap trips.
Feature range: flights and hotel search, calendar, notification system, filters, personalized trip recommendations, customer support, etc.
Key AI implementations: machine learning.
5. Fintech: Cleo
Cleo got the title of the best budgeting assistant app of 2019 due to the high effectiveness and a sense of humor. Besides providing users with information about their bank accounts, money spent and left, calculating expenses, or sharing tips on saving money, a chatbot has the distinctive so-called "roasting" and "cheering up" modes. By using a special command "Roast me" and similar, a person gets a lecture from a chatbot about wasting money. Users can also ask for some cheering up when they're running out of money.
Feature range: expense keeping, goals setting, affordability calculator, cashback rewards, weekly games and quizzes, charts, SSL encryption, etc.
Key AI implementations: chatbot assistant.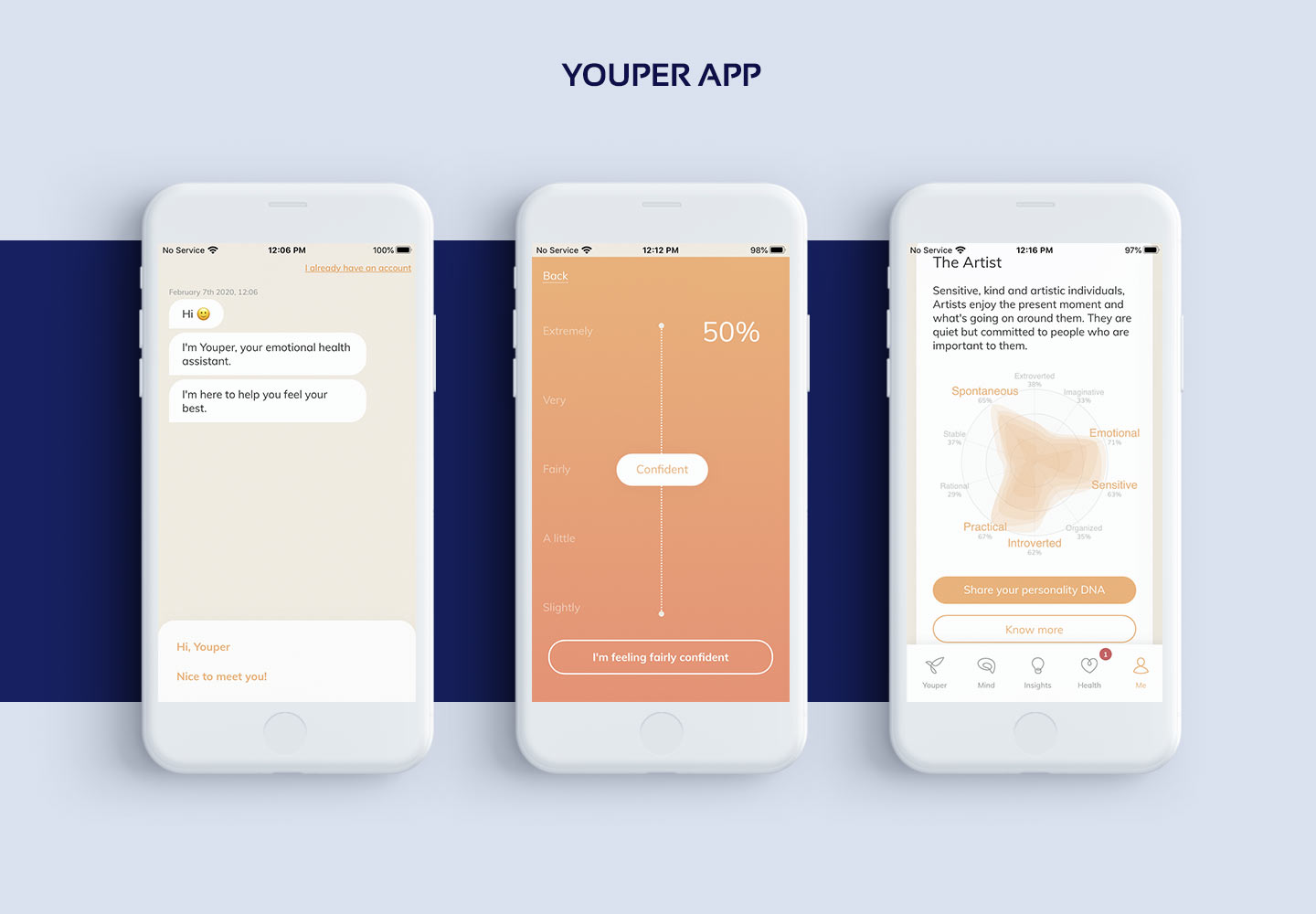 6. Mental Healthcare: Youper
As more people tend to create a psychological bond between them and their mobile devices, apps like Youper became highly popular in stores. Youper is a mental health assistant that uses AI powers for empathetic, supportive and private conversations and mindfulness practices. During the conversations, a chatbot offers various psychological techniques to users to help them overcome emotional struggles. This attractive and user-friendly platform also serves as an additional tool in professional mental health therapy.
Feature range: personality assessments, mood tracker, emotional state tests, exercises for practicing gratitude and mindfulness in audio and photo formats, etc.
Key AI implementations: chatbot therapist.
7. Dating: Tinder
In 2020, Tinder expanded its AI potential by introducing a new feature to the app, other than matching algorithms and Super Like swipes. Previously, Tinder creators put efforts into analyzing user data and behavior for finding a potentially perfect match. As more sexual harassment cases become associated with online dating, especially for women, the focus has expanded to safety issues.
Within this year, the company plans to implement a message moderation using the capabilities of AI. Since users have a different understanding of appropriate or inappropriate content, the task for AI is to detect potentially offensive messages and ask a user about their attitude to them. Thus, the system will eliminate unwanted content for each user individually.
Feature range: profiles, photo uploading, messaging, swiping, Super Likes, etc.
Key AI implementations: machine learning, image & text recognition.
8. Media & Entertainment: Pandora
Although the Pandora music streaming service has been in business for 20 years already, it has taken the 3rd place among radio streaming AI apps for iPhone just recently. The mix of musicology and data science made it possible to produce the app that analyzes the listening habits of users and provides them with the songs they exactly want to hear at that moment.
Using the Voice Mode, music lovers can get the desired track even if their requests are vague, for instance: "Play something for me" or "Let's listen to something new." To fit any mood of a person, the AI system decomposes every musical piece into the smallest attributes to understand the mood of the song. The app creators named this feature "Music DNA."
Feature range: customized Pandora modes for sorted music, podcasts, contextual recommendations, music collections, downloading service, playlists, etc.
Key AI implementations: voice and speech recognition, machine learning, a Voice Mode assistant.
9. Photo Editing: Gradient
Artificial intelligence made Gradient a viral app in the last months of 2019. It was the Gradient app that caused the burst of celebrity lookalike pictures posted on every social media platform by thousands of people, including celebrities themselves. Although the hype about this feature ceased, this photo editor remains popular for the effects that offer users to edit their face shots with AI-powered painting features.
Feature range: filters, editing instruments, special effects, etc.
Key AI implementations: face recognition, image recognition.
10. Gaming: AI Dungeon
Inspired by the famous Dungeons & Dragons RPG system, a Utah college student Nick Walton created a viral adventure game, working in his dorm. The distinctive feature of the game is freedom – a user is the one who picks their path in the game. The game is built upon the OpenAI text production system that generates a limitless number of scenarios for an adventure. Basically, a user can do anything that can be ever expressed in words using their imagination. This fact made the app highly popular, and now it produces over 70 000 stories per day for its fans.
Feature range: AI-generated unique text stories.
Key AI implementations: artificial neural networks, deep learning.
Conclusion
The applications included in our list show that the adoption of artificial intelligence into mobile solutions help various companies to achieve several goals at a time:
create more personalized user experience;
study user behavior patterns to provide improved service;
ensure faster service with predictive abilities;
increase user engagement based on analyzed data;
handle security problems, etc.
Once implemented in your app, artificial intelligence deals with user retention for you. Smart technologies make it possible to shorten time on studying the audience, defining their preferences, and decrease the expenses compared to traditional methods of user research. However, the creation of advanced features is possible only with masterful programming skills and high expertise. Our team specializes in the implementation of artificial intelligence and machine learning into systems of various complexity. Contact us if you want to get a high-quality AI-based app for your business.